Best Gym Accessories
In a Hurry? Editors choice: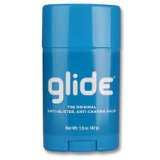 Test Winner: Body Glide Original Anti-Chafe Balm

So, you're pumped up and ready to hit the
gym
. You have your workout clothes on, your gym bag is packed, and you've had your smoothie. Did you double check your
bag
to make sure you have everything you will need? Don't forget your earbuds, your protein bars, and your water bottle. Are you planning a heavy workout? Do you have the extra support you need for your wrists, knees, and elbows? What about your gloves for gripping the bar without getting blisters? A lifting
belt
? Did you get some chalk or something to apply to your palms, so the bar doesn't slip from your hands? What about cycling and
yoga
? You will need extras for those things too. How about a headband that will work with or without your helmet to catch your sweat? Check out our top picks below!
Standout Picks
Criteria Used for Evaluation
Value
Getting the most for your money is always an important factor. The more features of the accessory, the higher the value. You should also factor in the quality and life of the accessory when you are considering the value. The longer the accessory will last, the more value it will hold. You should also consider the quality of the brands when factoring in these criteria. Anytime you can purchase something in packages of two or more, you will be getting a bargain, and that too means added value. Don't make it a habit to buy something just because it is cheaper, you might be disappointed when the product doesn't last as long as expected. On the other hand, sometimes you might pay more than you should for a product. Use good judgment and do some comparison shopping before you make a final decision, assuring you are getting the best product for the money.
Features
When you're looking for gym accessories that meet your needs, the features are an important factor to consider. You will be using the accessories for different purposes, so of course, it will be necessary to compare the features assuring they are compatible with your needs. While added features are a great touch, some of them might be a hindrance if it's a feature you can 't use. On the other hand, if you need a special feature, then you want to be sure the accessory you're looking at provides everything you need. A good example would be the use of wrist supports for carpal tunnel or an elbow sleeve for tendinitis. If you have weak knees, then you will want to prepare yourself with a wrap that will add support. A good set of earbuds will have your blood pumping if you're running on a treadmill and having a slip-free yoga mat will make the exercise more enjoyable and safe.
Portability
Obviously, the accessories need to be easy enough to carry with you to the gym, so for that reason, you want to examine the portability of the product. Be sure it's lightweight enough that you can easily carry it on your person or in your bag. Check the size and durability for tucking it away into your bag, locker, or the trunk of your car. You might consider folding or rolling a towel and tucking it under the straps of your gym bag or yoga mat. If you're carrying headgear, earbuds, or electronics, you might consider a spot inside the pocket of your bag or even in your purse. For things such as hand sanitizer, liquid grip, or other things in small bottles, you can hook them on to the outside zipper or hoop rings of your bag.
Ease of Use
Make sure you are familiar with the operation of the accessory before using it. A heavy workout can create enough sweat on its own without adding the stress of stopping mid-way through to figure out how your accessories work. You should familiarize yourself at home before hitting the gym just to be sure you know how everything works. If you are using clothing accessories such as belts, wrist or knee supports, or headgear, you might want to consider breaking them in at home before attempting to use them for the first time at the gym. This will add comfort to your workout that could otherwise cause blisters, chafing, or other issues from stiff new accessories.
Top 10 Picks
1

. Manduka eQua Mat Towel



One important essential you will need for your Pilates or yoga class would be a hand towel that will protect your mat from excess water that pours from your skin.
Read more
Features
This 72-inch microfiber towel will grip to your mat providing the perfect non-slip surface that you will need to complete an exceptional workout. It absorbs the sweat extremely well and will serve the purpose as a towel for drying off when your heavy workout is finished. It's not only durable enough to take the beating of your workouts, but it will also hold up well during wash after wash in the machine.
Portability
It's soft and light enough to roll up to fit conveniently in your gym bag; store it nicely on the straps of your yoga or Pilates mat, or keep it in your locker, this towel might be one of the most portable pieces of equipment you own.
Ease of Use
It's easy to use this light soft, towel. Just place it on top of your workout mat, it's that simple. When you're finished, ass it to the wash and hang it to dry, it doesn't get any easier than this.
Value
This valuable piece of workout equipment serves the purpose of a towel and a non-slip surface. It's durable and will stand the fight against a lot of sweat and a heavy work out. The price is right, and it will last a long time, so why would this not be the perfect accessory to add to your gym bag?
Summary
Everything you need that is included in one item is always a good choice. Use it for a non-slip surface during your workout and dry off when you're finished. It absorbs the moisture extremely well and dries in no time. With its dual uses and great value, you can see why this towel is on our list.

2

. Headsweats Performance Headband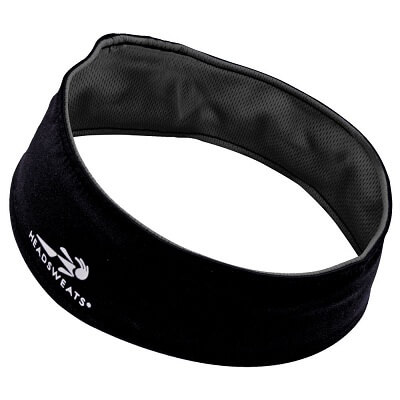 When you are into a heavy workout, the last thing you want is interference from the sweat rolling down into your eyes. For that reason, you should consider this headband as a good choice for one of your gym accessories.
Read more
Features
This cloth headband will not disappoint you with its great performance and durability. It will fit comfortably around your head keeping the sweat in place no matter how hard you work out. You will no longer have to stop mid-way through your exercise to wipe the sweat out of your eyes, imagine how great that will be. It is so lightweight that you might forget you have it on, and it's so perfect that you can wear it under your helmet with ease.
Portability
It's so portable that you can fold it up and toss it in your bag. Hang it from the mirror in your car or stuff it inside your helmet for safe keeping.
Ease of Use
It slides on and off of your head without a problem and your helmet will easily slide right over your headband when you're ready for a bike ride. It's reversible and dries quickly for the next use.
Value
With an extremely affordable price wrapped up inside the high-quality material, this lightweight, reversible headband holds a lot of value.
Summary
Nothing is more annoying than sweat running down your face while you are trying to enjoy a heavy workout. With this handy, lightweight, and durable headband in your gym bag, you will never have to deal with that annoyance ever again. This headband could be used during a long hike and even when you're doing your outdoor chores. If you sweat, you will definitely want to have this headband on your side.

3

. Body Glide Original Anti-Chafe Balm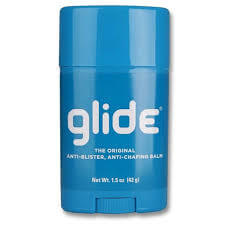 If chafing often interferes with your heavy workout, you will want to consider keeping an anti-chafe stick in your gym bag.
Read more
Features
Much like a deodorant stick, this anti-chafe balm can be applied to all your high friction areas to protect your skin against skin irritation and blisters. Use it anywhere, even on your feet and get instant results. You won't have to put a sudden stop to your mile run and the best part is that you can put it on in the morning and it will last most of the day. It doesn't leave a powdery residue and it's allergen free, so you won't have to worry about your sensitive skin breaking out from the balm.
Portability
The stick is 1.5-ounces and stows away just like your deodorant. You can easily keep it in your gym bag or toss it in your cosmetic tote when you travel. When all else fails, this balm is small enough to carry in your pocket.
Ease of Use
It's easy to open and it applies the same as a deodorant. After the application, simply put the lid on securely and put it back in your bag.
Value
When you consider the expense you will incur on medication for your skin irritations and blisters, this is a wonderful value.
Summary
You will never have to stop short of your workout again with this anti-chafe balm in your bag. Simply apply it and forget it. You will be able to walk and run in comfort like you've never felt before. If you are in the military, in the marching band, or you work outside in the heat, you will enjoy the satisfaction you will get from this balm.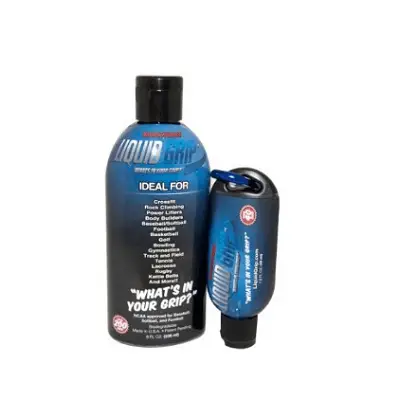 You need to get a grip when it comes to serious weightlifting, so you should consider this liquid grip combo kit as an accessory to your gym bag.
Read more
Features
This liquid grip is so much better than chalk because it isn't messy, and it doesn't leave marks behind on everything you touch. It comes with a larger 8-ounce bottle and a smaller 1.5-ounce bottle with a clip to hang near you during your workout. It has a pleasant scent, so you won't be embarrassed to use it and it won't make you nauseous during your workout.
Portability
With the two bottles, you will always have enough liquid grip to satisfy your needs. Keep the larger one in your bag or locker while the smaller one will conveniently clip on to your other accessories for quick use. It won't weigh you down no matter where you keep it.
Ease of Use
It's simple to use and a little goes a long way. Just apply a small dime-sized amount to the palm of your hand, rub your hands together, and wait for it to dry. It will last long enough to give you the grip and control you need on the bars. When you're finished, just wash your hands with soap and water, it's that's easy.
Value
The price is right and it will probably last longer than chalk, so why wouldn't this make sense for the value?
Summary
Some gyms won't allow chalk because of the mess, and without something, those bars can slip right out of your hands, that's where this handy liquid grip comes in. It's portable, easy to use, and a little will go a long way. This is the perfect companion for weightlifting, rock climbing, cross fit, or any other intense workout where you will need a good grip.

5

. Schiek Leather Competition Power Lifting Belt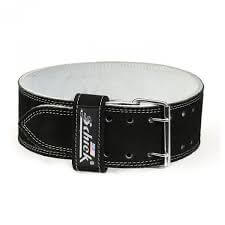 If you are a powerlifter, extra support is extremely important, that's why you need to consider using this powerlifting belt during your next session.
Read more
Features
This extremely thick leather belt will fit you high or low, so your lifts are more solid. It's made of good quality materials and the construction is undoubtedly durable. The buckle provides two prongs for added assurance that the belt won't loosen or slip during the workout. Choose the size according to your pant size and expect the belt to be stiff until it's worn a few times.
Portability
It's easy to roll and toss into your gym bag or wear it to the gym if you want to cut out less time getting ready for your lifting.
Ease of Use
It's easy to put on and buckle, but it can be a bit difficult to unbuckle when you're finished, so plan the time accordingly.
Value
For the money, this is definitely a high-quality belt with excellent construction and support. It will last a long time and it's well worth the money spent.
Summary
This belt fits great, it will give you excellent support, and it looks good too. The thick leather shows off the quality in the belt and the two-prong buckle assures it will stay in place. This one is perfect for powerlifting, deadlifts, and squats.

6

. Trideer Workout Gloves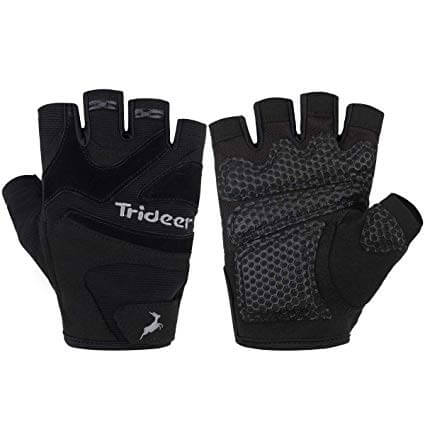 A good pair of workout gloves is an essential piece of equipment when it comes to avoiding blisters from powerlifting. These lightweight gloves will become your best friend in the gym.
Read more
Features
Made of a soft microfiber material for comfort, these gloves also provide a breathable mesh on the palm side for added comfort and stability. They provide two straps that will adjust for a proper fit and the extra padding will aid in the comfort of a firm grip. The thick wrist support assures long-lasting positive strength in your grip. You will want to choose the size of these gloves carefully to get a proper size because they do tend to run small.
Portability
Although durable, these gloves are lightweight enough to carry with you everywhere you go. They will tuck away conveniently in any pocket of your gym bag, keep them wrapped in your towel, or stow them in your locker.
Ease of Use
They are easy to put on and with the loops, in the fingers, you can easily take them off. They will stay in place with the adjustable Velcro straps on the wrists. You will have them on and off so quickly that you will have no downtime.
Value
Think about how much money you will save with these gloves when you no longer have the need to buy blister treatments. The price of these gloves alone is less than most of the treatments you would buy. So, it's a no-brainer here where the value lies with these workout gloves.
Summary
Knowing that you will get an excellent grip without worry of slipping, and no more blisters say all you need to know why these gloves should be at the top of your list when it comes to one of the best gym accessories you should have.

7

. GASP Hardcore Wrist Wraps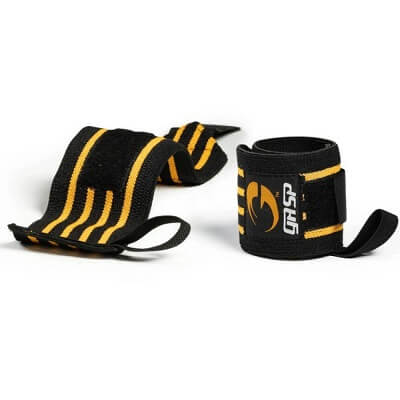 When it comes to lifting, you need to keep a strong secure grip on the bars, so for that reason, you should consider this pair of wrist wraps to assure a tight grip.
Read more
Features
This pair of hardcore wrist wraps provide the stiffness you need to keep your wrists from bending, but at the same time, they offer enough elasticity to keep you comfortable. They are made of high-quality materials and they offer a thick adjustable thumb strap that can be removed, so it won't be in the way of your lifting.
Portability
They offer excellent portability; roll them up or lay them flat, either way, they will pack nicely inside your gym bag. They are lightweight and easy enough that you could even Velcro them to the straps of your bag for easier access.
Ease of Use
Just put these wraps on your wrist and Velcro them in place. Use the thumb strap to adjust the size and you're all set. When you're all finished they will wash up like new for the next time, you couldn't ask for an easier wrist wrap than this one.
Value
There is value in a product that both, prevents injury and assures better performance, and this one definitely fits the bill in both those categories. It is the best wrist wrap for the money and you will find it to be well worth the investment.
Summary
If you suffer from carpal tunnel but you don't want to give up powerlifting, trust this pair of wrist wraps to aid in the comfort without giving up your workout. Consider these wraps for heavy benching and shoulder pressing too, you won't be disappointed in the performance.

8

. Harbinger 46300 Red Line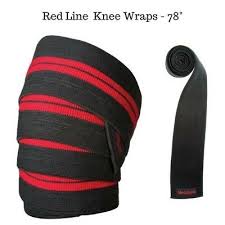 If you feel the pain in your knees from your heavy leg presses or squats, you will want to rely on these remarkable knee wraps for a better weightlifting experience.
Read more
Features
Much like a bandage used for an injury, this elastic wrap will provide the support you need to keep your knee functioning during your lifts. It is 3-inches wide and 78-inches long with high performance and outstanding tension. It is a high-quality knee wrap with a good amount of elasticity that will last the duration of your workout. The performance of this knee wrap won't let you down.
Portability
It's small and lightweight, making portability a breeze. Keep it in your pocket or hide it in your bag, no matter where you keep it, it won't take up much room.
Ease of Use
Although there is no Velcro or hooks to connect to the end of the wrap, you can tuck it into the loop and it will not unravel. It does take a little time to perfect the positioning and securing of the wrap, but after a couple times, you will have it down to a science.
Value
This is an affordable gym accessory that you should consider and when you get a pair of these, it is like getting two for the price of one.
Summary
If you're a serious weightlifter, this is a must-have for your gym bag. Not only will it keep your knees pain free, but it will also help to improve your performance. It's made of high-quality, heavy-duty materials and the elastic won't stretch or come apart with heavy use.

9

. Sling Shot Strong Elbow Sleeves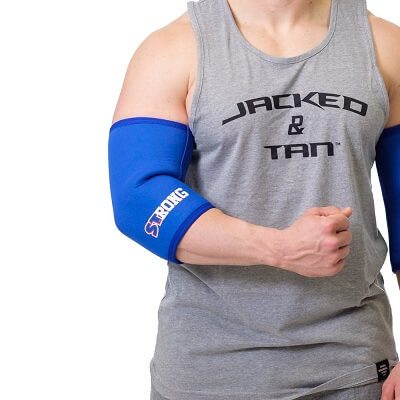 If you have pain from tendonitis in your elbows, don't let that keep you from lifting, instead, consider a pair of strong elbow sleeves to offer the added support you need.
Read more
Features
This pair of elbow sleeves will increase your strength while offering full support. They are thick and durable with high-quality material and stitching that, unlike others, won't come apart when you touch it. Although there are several sizes available, they might not match to your exact fit, so heed caution when choosing the proper size for your arm.
Portability
This is another piece of equipment that is easy enough to tuck into your gym bag or locker without a hassle. They are soft and will fit together like a glove freeing up room for other things in your bag.
Ease of Use
It might take a little more time than you would expect to get used to putting these on, but once you get it down, you will have the ability to put them on and off with your eyes closed. They don't require any special buckles, ties, or hooks, they just slide right on and they won't cut off your circulation.
Value
They are extremely cost-effective and, knowing they will help with your elbow pain is value enough, not to mention you are getting two for the same price.
Summary
If you are into benching or military pressing, these are just what you need. They offer excellent support for heavy compound presses and squats as well, but no matter what you are into, these elbow sleeves will serve as the perfect companion to keep your elbows strong and pain-free.

10

. Dr. Cool Chill Sport Cooling Towel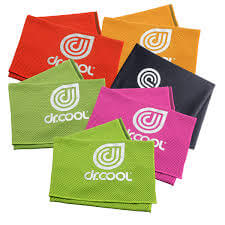 At the end of a serious workout you need time for cooling down, not only do you need to restore your electrolytes, but you also need a good cooling towel, that's why this one made it to our list.
Read more
Features
This is a chemical-free 15x36-inch towel that is designed to keep you cool with just its moisture. It's stretchy, soft, and lightweight; it will keep you cool for hours, and it comes in an array of colors.
Portability
It folds up neatly for easy packing or you can hang it from a pocket or belt hoop. No matter where you go, this cooling towel can go with you without a problem.
Ease of Use
To get the full effect of this cooling towel, wet it and wring it out. Then simply wrap it around your neck or place it in your other warm spots to cool off. It gets much cooler than you would expect, and it stays cool for a long time.
Value
Keeping cool and staying comfortable are both important factors when it comes to working out. With a cooling towel such as this one, added to it the economical price, you will see the value racking up in front of you.
Summary
You don't want to get overheated while doing your outdoor chores, so wear this towel while you mow the lawn. If you're running a marathon or working out, you will need to stay cool and hydrated too, so consider this as part of your clothing. No matter what you're doing in the heat, this towel will keep you cool.

Subscribe to our Newsletter