Best Gym Accessories
In a
Hurry? Editors choice: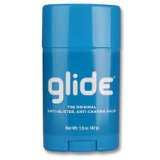 Test Winner: Body Glide Original Anti-Chafe Balm

So, you're pumped up and ready to hit the
gym
. You have your workout clothes on, your gym bag is packed, and you've had your smoothie. Did you double check your
bag
to make sure you have everything you will need? Don't forget your earbuds, your protein bars, and your water bottle. Are you planning a heavy workout? Do you have the extra support you need for your wrists, knees, and elbows? What about your gloves for gripping the bar without getting blisters? A lifting
belt
? Did you get some chalk or something to apply to your palms, so the bar doesn't slip from your hands? What about cycling and
yoga
? You will need extras for those things too. How about a headband that will work with or without your helmet to catch your sweat? Check out our top picks below!
Standout Picks
Criteria Used for Evaluation
Value
Getting the most for your money is always an important factor. The more features of the accessory, the higher the value. You should also factor in the quality and life of the accessory when you are considering the value. The longer the accessory will last, the more value it will hold. You should also consider the quality of the brands when factoring in these criteria. Anytime you can purchase something in packages of two or more, you will be getting a bargain, and that too means added value. Don't make it a habit to buy something just because it is cheaper, you might be disappointed when the product doesn't last as long as expected. On the other hand, sometimes you might pay more than you should for a product. Use good judgment and do some comparison shopping before you make a final decision, assuring you are getting the best product for the money.
Features
When you're looking for gym accessories that meet your needs, the features are an important factor to consider. You will be using the accessories for different purposes, so of course, it will be necessary to compare the features assuring they are compatible with your needs. While added features are a great touch, some of them might be a hindrance if it's a feature you can 't use. On the other hand, if you need a special feature, then you want to be sure the accessory you're looking at provides everything you need. A good example would be the use of wrist supports for carpal tunnel or an elbow sleeve for tendinitis. If you have weak knees, then you will want to prepare yourself with a wrap that will add support. A good set of earbuds will have your blood pumping if you're running on a treadmill and having a slip-free yoga mat will make the exercise more enjoyable and safe.
Portability
Obviously, the accessories need to be easy enough to carry with you to the gym, so for that reason, you want to examine the portability of the product. Be sure it's lightweight enough that you can easily carry it on your person or in your bag. Check the size and durability for tucking it away into your bag, locker, or the trunk of your car. You might consider folding or rolling a towel and tucking it under the straps of your gym bag or yoga mat. If you're carrying headgear, earbuds, or electronics, you might consider a spot inside the pocket of your bag or even in your purse. For things such as hand sanitizer, liquid grip, or other things in small bottles, you can hook them on to the outside zipper or hoop rings of your bag.
Ease of Use
Make sure you are familiar with the operation of the accessory before using it. A heavy workout can create enough sweat on its own without adding the stress of stopping mid-way through to figure out how your accessories work. You should familiarize yourself at home before hitting the gym just to be sure you know how everything works. If you are using clothing accessories such as belts, wrist or knee supports, or headgear, you might want to consider breaking them in at home before attempting to use them for the first time at the gym. This will add comfort to your workout that could otherwise cause blisters, chafing, or other issues from stiff new accessories.
Subscribe to our Newsletter