Best Gym Mats
In a
Hurry? Editors choice: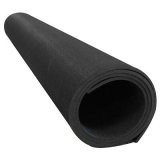 Test Winner: RUBBER-CAL

Whether you come here today for commercial reasons or for personal reasons, you probably already understand why owning a gym mat (or mats) is important when you perform basic exercises. Even simple workouts such as pushups, sit-ups, crunches, planks, and even jumping jacks can be safer and improved when you perform them on a gym mat. Of course, this is something that can also make gymnastics safer as a whole. Either way, for fitness enthusiasts, it is a good product to own but you need to be fully aware of what to look for when buying one. Even though it really is simple at its core, the best options out there will offer comfort, stabilization, and will be crafted of high-quality materials. And, before we get into the beef of this guide, let's take a look at some of the best models on the market currently.
Standout Picks
Criteria Used for Evaluation
Comfort
This right here is the main reason why gym mats are effective, in the first place.
One of the primary reasons why you should invest in a gym mat is for safety and protection. After all, when you are performing even the most mundane of exercises, sometimes accidents can occur. In an example where you fall down, having a cushioned surface to soften the blow is going to be ideal. Of course, the same cushioned surface can also provide a stable and comfortable base for your knees and joints. To wrap all this up, gym mats should be comfortable so look for models that are indeed just that.
Yet, what features do you need to keep a special eye on? Well, the first is the thickness of any one model. While you may think the thicker the better, mats that are too thick can be troublesome. Though this extra padding is nice for cushioning, too much thickness can cause you to sink and this can negatively affect your workout performance. At the same time, models that are too thin will not offer much padding or shock absorption properties. Oh, and as for the material, you will often see foam be utilized. There are different types of foams but that will be touched on further in a different section.
Stability
Look for both sides of the mat to offer stabilzation.
The last thing you want is for the exercise mat that you are using to slip out from under your feet. After all, this becomes counter-intuitive to the safety that it is supposed to enhance. In order to assess the stability of any given model, you need to analyze the design of both the bottom surface and the top platform. With the former, what you are looking for is a bottom that is going to stick to the surface it is on. This can be accomplished with unique patterns, specific materials (such as rubber) and any sort of texture. It may seem subtle, but an anti-slip bottom is one of the most critical features of any gym mat.
However, why does the top matter? While the top will not dictate how frequently the actual mat moves around, it can cause you to slip if it is too slick. Oftentimes, this will be a greater possibility when you begin to sweat. Clearly, the best models out there will combat this but even if they do not, you can always wear specific gear to help enhance your grip. Also, this is a good time to point out a different type of model you will see. Some will come with interlocking tiles and while this can be nice, ensuring that the tiles will stay firmly together during your workout will be important to keep an eye on.
Durability
It is simple; a high-quality gym mat will last longer than one made of low-grade materials.
Unless you want to buy an exercise mat once a year, you should probably place an emphasis on buying a model that is built to last. The main way to ensure this is to look for options that are engineered with high-quality materials. Now, and this is worth mentioning, you can play a role in the longevity, as well. The manner in which you store and treat your mat can go a long way in dictating how long it will last. Back to the matter at hand, though, the materials that are utilized will be the main focal point.
As mentioned, foam is a very popular material in the engineering process of gym mats. And, there are two main types that you will often see. The first is known as ethylene-vinyl acetate (EVA) foam while the other is known as expanded polyethylene (EPE) foam. Out of the two, EVA foam is actually more durable. It is primarily due to the density and the tear strength advantage that this foam holds over EPE. EVA foam also tends to be more resilient, as well. This is not to insinuate that EPE foam is bad by any means. But, when it comes to longevity, EVA rules. Of course, you will see some options designed with vinyl coverings or even with recycled rubber.
Size
This all comes down to your preferences and how you want to use the mat, honestly.
Right now, it is time to for you to answer a very important question; how much surface area are you going to need? This is extremely vital to answer because it is going to dictate which gym mats you will have interest in. Different models will be outfitted for different purposes and if all you need is a small isolated area, then there is no reason to buy one that is six-by-six-foot, for example. Now, for the average person, what is a good way to determine the size to buy?
Generally speaking, for the width, you should measure the widest part of your stomach and add a foot. For your length, take your height and add six inches. These dimensions should be the minimum size you buy (as you can always buy larger if you want even more space). To make this easier on you, some sellers will provide you with several different sizing choices.
Portability
Most models will be portable, admittedly, but there are certain features that can enhance it.
Not all of you will be interested in using your new exercise mat strictly at home. Perhaps you intend to take it with you to the gym or even to a friend's house. In this instance, it is helpful when it is optimized for transport. Thankfully, most models on the market are so you are in luck. With that being said, not all gym mats are built the same. Two examples of such are rolling models versus folding models. With those that are designed to roll compactly, they should be equipped with straps to secure them so they do not unravel.
As for folding models, these will be easier to work with but will not be as compact. It really is a tradeoff of compactness for convenience, if you think about it. But, either way, you go, it is optimal if an included carrying strap is integrated. With this, it will be much easier to carry around your mat from location to location.
OUR TOP PICKS FOR THE BEST GYM MATS
Subscribe to our Newsletter