The Best Yoga Mats
In a Hurry? Editors choice: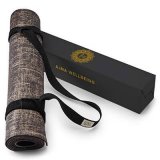 Test Winner: I am Athletics - Natural Jute

Yoga is a wonderful activity that is not only great for the body but for the mind as well. It can be an activity that builds your muscles and your mind at the same time. Imagine doing yoga on the beach, or between the trees in nature
surrounded by the sounds of the birds,
there is nothing more meditating and peaceful than that. Although these natural settings are perfect for yoga practice, without a yoga mat you would be considerably less comfortable than you would with one. A yoga mat not only provides a flat surface but serves as a barrier between you and the debris on your ground surface to ensure you are in a place of zen and can
focus on meditation.
Check out the list below to find your next zen mat!
Standout Picks
Criteria Used for Evaluation
Top Ten Yoga Mats
1

. Gaiam Print Premium Mat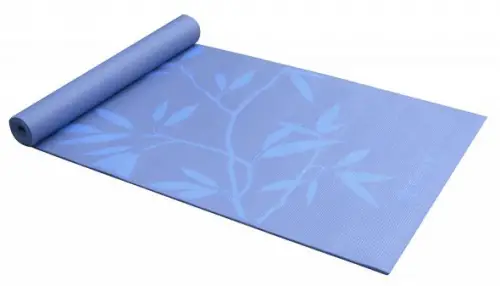 Gaiam is an Australian company that specializes in yoga mat production. They are a well-known yoga brand that spreads positive energy through their high-quality products. Their offer of yoga mats is wide and they have a proper yoga mat for every posture. They have so many variations of products that you might as well customize your own yoga mat and simply find it among the pile of mats. Besides the quality of their mats, they also focus on the design, which comes in many variants and colors.
Read more
Materials
This mat is made from PVC material, therefore its stability and durability are both top-notch. However, they use a specific type of PVC material that is free of phthalates that are extremely harmful to the human body as well as the environment. The rough surface offers great traction. However, once you purchase the mat it can be slippery since it is covered with a layer of protective material. In order to get rid of it, you must wash it with warm water. After this, grip performance is excellent.
Size
Although there are many variants from this mat that you could check out from one of our links, this particular version is a standard one with a length of 68 inches and it is wide 24 inches. The thickness is 5 millimeters which is the standard thickness for a good quality yoga mat. The mat is thick enough and it provides a great cushioning on your knees and joints. The weight of the mat is around 3 pounds which means it is pretty lightweight.
Use
Although this mat offers great support, it is not recommended for hot yoga as it tends to get slippery because of the nature of the PVC material. However, if you are determined to make it work, simply put antiperspirant on your hands and feet or even better, get a towel mat and use it during your practice.
Value
Although the mat doesn't come with a strap to carry it, it does offer a free yoga workout download. This mat is moderately priced and well worth it.

2

. I am Athletics - Natural Jute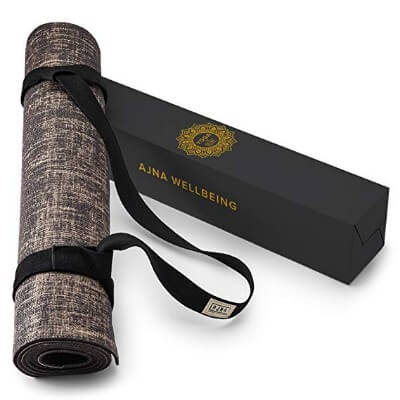 Although the "I am Athletics" brand is not well known and established on the market, this company has managed to make a high-quality product that threatens some of the top brands with its features and price range. The company has created its presence on the market with its high-quality sports accessories and athletic apparel. However, they have focused their efforts on this one Natural Jute yoga mat which is also their leading product for a reason.
Read more
Materials
This yoga mat is made from Jute material combined with Linen and Eco PVC. It is an eco-friendly and non-toxic material that lets you express your emotions in a healthy environment. Even though it has some Eco PVC in its content, it is a low percentage and it provides the mat the density and firmness that is required for some more balancing positions in power yoga styles. This material, which is often avoided by other brands, adds to the durability of the mat. By combining a soft and light material such as jute with Eco PVC, a specific material blend is obtained that will allow you to use this mat for years. The Jute is also making the yoga mat easier than with any other material so that you can transport it more easily.
Size
The total weight of the mat is 3, 4 lbs which are not so light although it is not too heavy as well. You would be able to carry it with you if you are practicing yoga somewhere other than the comfort of your home. The thickness is 5 millimeters which would usually be too soft if it wasn't for the PVC component in the mat. The size is 72'' x 24'' which is a bit longer compared to the regular size. This suggests that the yoga mat is intended for more difficult yoga positions that would require more space and stability. Having these features in mind it is safe to conclude that this yoga mat provides the user with the perfect amount of comfort, traction and cushioning.
Use
The main concern when practicing yoga, especially when learning the more challenging poses, is the slipping on your yoga mat. However, the "I am Athletics" company has solved this issue by making both surfaces rougher, therefore producing an anti-slip yoga mat that you can trust while practicing. Simply step on your mat and forget about the environment including the ground under you. You are safe and centered with this yoga mat. It is also suitable for practicing Pilates or fitness although softer mats are more convenient for such sports.
Value
The mat also comes with a carrying strap that doubles as stretching straps. This is one of the most expensive products on our list but with its combination of durability, versatility, and great customer feedback, it's easy to see why.

3

. Jade Harmony Professional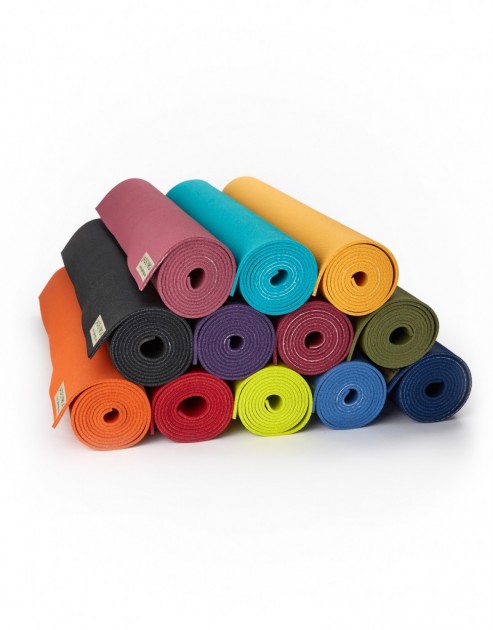 The Jade Harmony Professional offers you a nice yoga mat from an environmentally friendly brand. Not only is this mat made from recycled rubber, for every one of these mats sold, but JadeYoga also plants a tree to help the planet.
Read more
Materials
The Jade Harmony Professional is made to be eco-friendly, and a renewable natural rubber is used in this mat to help provide excellent grip and cushion. No synthetic plastics are manufactured into this product.
Size
The weight of the Jade Harmony Professional is 3.2 pounds, so you get a decently lightweight product. The mat's thickness is 3/16", which gives you a log of balance and stability. Also, the mat comes in two sizes, 68" and 72", so you can pick the size you need.
Use
This is the most popular mat from JadeYoga. The Harmony mat is great for all types of yoga and provides an excellent grip.
Value
For every one of these yoga mats that is sold, JadeYoga plants a tree, so you know you'll be helping the environment by making a purchase. Also, this mat comes in a wide variety of colors and is very easy to wash and keep clean. The price of this mat is pretty high but remember that you're doing something great for the environment and you'll feel better.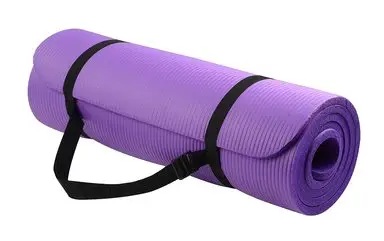 TPE yoga mat stands for Thermoplastic Elastomer which is slowly replacing the PVC yoga mats. Although these mats are not considered as environmentally friendly mats, the material itself is not included in the toxic plastics list that Greenpeace has made. Although some consider TPE mats as a sustainable alternative to PVC mats, this subject still remains disputable.
Read more
Materials
Having in mind the above-mentioned arguments, it is up for you to decide if the TPE material is Eco-friendly or not. However, the manufacturing company promotes it as such. Even though it is debatable whether it is beneficial for the environment or not, it certainly has advantages for the user. It is extremely durable and non-slippery. With it being the healthy substitution of PVC, it is safe for the user because of the absence of lead, phthalates, heavy metals and rubber materials.
The mat is also odor-free and hypoallergenic on both sides. All TPE yoga mats are considered hypoallergenic since they are free from the harmful chemicals that could affect your body if you breathe them in or they get in touch with your skin.
Size
The length of this yoga mat is longer than the standard one and it measures 72 inches. Higher quality yoga mats are usually longer in size, although this rule doesn't always apply. It is also extra thick 6" which allows you to practice power yoga styles with greater stability while feeling safe. The weight of the yoga mat is only 2 lbs which makes it one of the lightest mats on the market. This makes it more suitable for transporting it to longer destinations.
Use
It can be used on both sides and it offers a different density on each side. One offers you a harder surface for more challenging yoga poses and the other one is the softer side which is more convenient for the relaxing yoga styles. However, both surfaces are non-slippery and they both attach well on the ground and feel nice on your skin. Their surface is rougher on the one side and smoother on the other side. However, both surfaces are rough enough so that you don't slip in case the mat is wet.
Value
The manufacturer also offers a guarantee if you are not satisfied with the mat for any reason. Either you can get your money back or a replacement of the product is possible. The company does so because it believes that once you have tried a high-quality product such as this one, you will never want to come back to low-quality mats again. The maintenance of the TPE yoga mat is very simple and it is a lot easier than PVC since it can endure harsh chemicals without getting damaged or change its properties. Washing it in a machine is not recommended.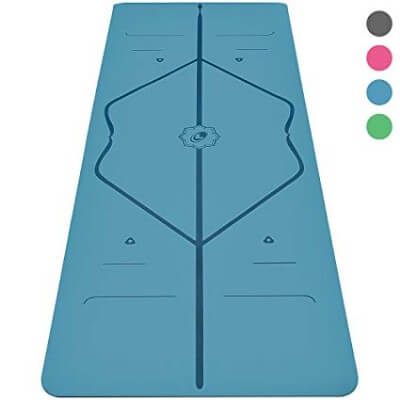 Liforme isn't one of the most well-known yoga mat creators but they are certainly making a name for themselves. The founder of the company, James, spent five years researching and perfecting the design of these mats. The most important aspects for him were grip, alignment cues, and using eco-friendly materials.
Read more
Materials
Liforme mats are made without toxic materials and without PVC. If thrown away, they will actually biodegrade in one to five years. This mat is made from natural rubber and a specially engineered eco-polyurethane. To make you feel even more confident in your purchase, even the packing of the mat is able to be recycled.
Size
This mat is slightly longer and wider than a traditional mat. The dimensions are 72.8" long x 26.8" wide x .16" thick. It weighs approximately 5.5 pounds. The large size and heavier weight are great for many things but make it a bit more difficult to travel with the mat. However, a zippered carrying case is included.
Use
This mat is great for many types of yoga. The "AlignForMe" system features a lotus in the center of the mat, a central line, end to end lines, reverse points, and even 45-degree angle lines to help with the positioning of your feet in certain poses. This great design allows you to feel more confident and stable in your poses. Another feature of this mat is the "GripForMe" material. With proper care and cleaning, this mat will stay grippy for many years and many practices.
Value
It's true, this is the most expensive mat on our list. However, we appreciate the consideration of Mother Earth in the production and shipping of the mat, the innovative "ForMe" additions, included a carrying bag, and four color choices available. There is no warranty offered with this mat, but based on the confidence of the company and customer reviews, that doesn't seem to be an issue.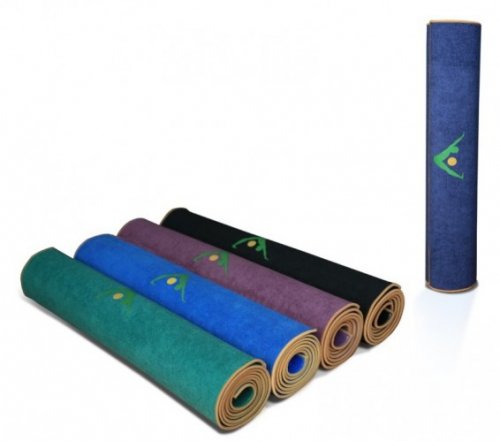 The Aurorae Synergy Mat is a great choice for those people who want a product that's basically a mat and a towel combined into one. With this mat, you get a durable option that grips well and remains odor-free.
Read more
Materials
The material comprising the Aurorae Synergy Mat is a lush non-slip microfiber towel surface top, and a 5mm patented per Yoga mat bottom surface. This helps you avoid having to purchase a towel, and also makes the mat easy to use because it will prevent slipping while you work out.
Size
This yoga mat weighs about three pounds, so it isn't too heavy if you need to carry it from place to place with you. It also provides you with a 5mm of thickness. The size of the mat is 72" by 24".
Use
This mat is designed to help you grip as you sweat more, meaning you don't have to worry about slipping around. Also, since it includes a towel-like top, you won't need to purchase an extra towel. You'll also love the fact this mat doesn't produce odor, even as you sweat.
Value
These mats come with a two-year guarantee. The price is well-deserved especially considering that you get a towel and mat all in one.

7

. Body by Yoga Luxury Cork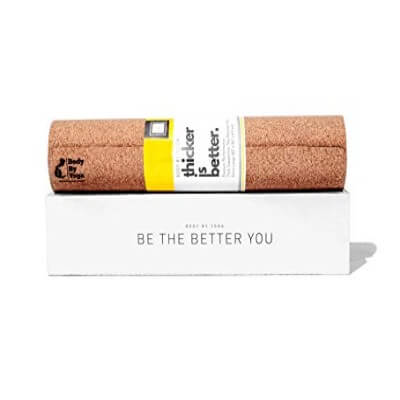 The slogan of Body by Yoga's cork mats is "Sliding is fun. Just not in yoga." With this mat, you can feel confident that you will have an "epic" grip. This is another mat that features alignment markings to help improve your practice. Best of all, this mat was created by yoga instructors.
Read more
Materials
What makes this mat stand out from the rest is the fact that it is made from Portuguese cork. You may have heard of cork yoga mats in the past, but Body by Yoga has upped the ante. The cork on this mat is six times thicker than the cork used on other mats. It is non-toxic, sustainably sourced, easy to clean, and sweat absorbing. The rubber base is sourced from trees in Vietnam and is also non-toxic.
Size
This mat is larger than a standard mat. It measures 26" wide x 80" long. Overall, this gives you fourteen more inches to stretch, twist, and turn on. While we can all agree on the benefits of a cork mat, it is also known to be heavier than your typical mat. This particular mat weighs just under nine pounds.
Use
Trying to think of an exercise that this mat would not be great for is difficult. It feels great to the touch, provides a great grip, and provides a bit of cushion. It would be great for Vinyasa flow, hot yoga, ab work, and more.
You will notice that there are three different buying options. The Classic is plain, The Warrior features Perfect Posture Alignment Lines, and The Man Flow Yoga includes a yogi logo in the center and Perfect Posture Alignment Lines. Although the last option is called "Man Flow," it is unisex. Alignment lines can be incredibly useful for anyone who is practicing at home or working on improving their practice. The lines help to keep you centered, aligned, and in the correct position.
Value
This mat is priced only slightly higher than the others on our list. You can rest easy knowing that you are investing in an eco-friendly and durable product. After purchasing, receiving, and registering your product, you lock-in a one year warranty and will have access to other useful tools. You will be able to view tutorials about the Perfect Posture Alignment System, receive three free workouts, and a discount code for 50% off a Body by Yoga DVD.

8

. Manduka PRO Yoga and Pilates Mat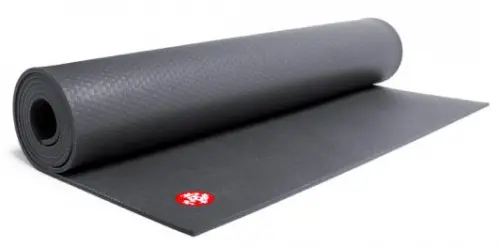 The Manduka Pro yoga mat is not a product neither a company that is accidentally on the yoga market. This brand has been manufacturing and improving yoga equipment technology for years. They are known for providing every type of yoga mat that you might need. Whether you need an extra lightweight one or one with ultimate density and cushioning, Manduka has a yoga mat for every occasion. However, being the top in the yoga industry literary comes at a price. This mat is a bit pricier than our other suggestions and if you are not willing to spend some more on a yoga mat, then this is not the right choice for you. In this case, we recommend looking through our other suggestions.
Read more
Materials
Although this Manduka mat is entirely made of synthetic materials, they have a certain technology of production that prevents the toxic emissions of the PVC materials from getting released into the air. The Pro line of yoga mats, however, does contain PVC which also adds up to the weight of the mat. The synthetic blend of materials that Manduka is using in this line is safe for the environment and safe to be in contact with your skin. Their products are also approved and certified by OEKO-TEX.
Size
This mat is offered in two different lengths. The standard one is 3.4 kg and it is 6 millimeters thick. The thickness implies that the mat is not suitable for more difficult poses, however, the density of the mat makes up to the thickness. This mat will provide you a stable surface for any yoga pose. The thickness of the extra-long mat alternative is the same, although it is a bit heavier. With its weight of 4 kg, this mat suggests that it is not convenient for transport unless you are traveling to your yoga studio with a vehicle. The extra-long mat comes in 215 cm x 66 cm dimensions.
Use
This mat is usually used by yoga instructors and people who have practiced yoga for years and challenge their bodies on a different scale. However, if you intend on practicing yoga for a long time, this mat will improve your postures as well as your overall performance. Because of the almost smooth surface of the mat, there is a possibility that it gets slippery if you tend to sweat excessively. However, it does have a closed-cell surface that will prevent the sweat from seeping inside the mat and cause slipping. It is also important to mention that the first few times you would be using the mat it is a bit slippery. However, after a while, the performance grip improves. If you mind this, you could wash it with saltwater and it will provide great support from the start. The slipping layer is actually a protective layer on top of the mat which is added in the manufacturing process.
Value
The material of the mat is designed to last the user a lifetime. It is economically more efficient for you to get one high-quality yoga mat than to replace them every once in a while with cheaper versions. However, this is a personal decision and you should decide a budget for a yoga mat you will be content with. This is a yoga mat that you will only be getting once in a lifetime, it could never wear out.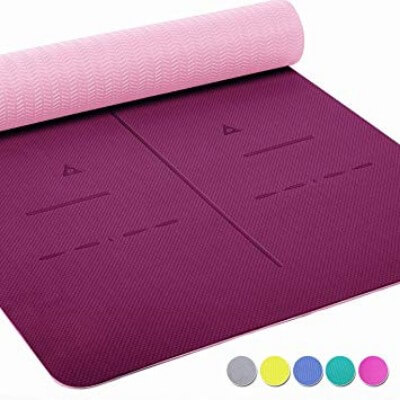 Non-toxic and oversized mats seem to be trending right now. Hey, we're not saying it's a bad thing! This next addition fits the bill and is available in six great colors. Heathyoga has been creating yoga accessories for ten years now and shows no signs of slowing down.
Read more
Materials
This mat is free of PVC, latex, and heavy metals. It is made from a newer material called Thermoplastic Elastomers, aka TPE. TPE is known for its high elasticity and smoothness. This is a newer material and shows great promise, but upon further research, we found that it actually has not been fully tested. While we wait for these results, we can tell you that it is also free of BPA, lead, dioxins, and phthalates.
Size
The dimensions of this yoga mat are 72" long x 26" wide, with a thickness of 6mm. Even with the extra length and width of this mat, Heathyoga managed to keep the weight low at just about 2.8 pounds. As mentioned, this mat comes with velcro straps to wrap around the mat and a carrying strap to attach to the velcro. The weight and convenience of this mat make it a great mat to toss on your back and bring anywhere.
Use
Reviewers enjoy the softness and cushion that this mat offers. It is great for many different styles of yoga and features non-slip traction on both sides of the mat. Heathyoga does not recommend this mat for hot yoga unless you also purchase the Heathyoga towel.
This mat also includes alignment lines. These lines are a bit more simple than others we have seen but will still help guide you to achieve balance and a deeper stretch.
Value
One of the best things about this mat is the price! This mat is one of the cheapest on our list, but not for lack of quality. There is a one-year warranty included with this mat and customers have been impressed with the customer service.

10

. Kulae Elite Hot Hybrid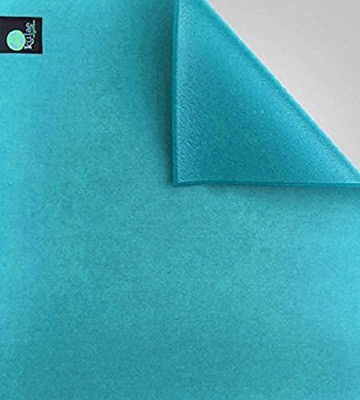 The Kulae Elite Hot Hybrid Mat gives you a very comfortable choice that's made from all recycled materials. The mat is soft to the touch and does a great job of holding grip while you work out.
Read more
Materials
With this yoga mat, you get a two-in-one deal, since you'll have all the functionality of a mat along with the grip of a towel. Designed with environmentally friendly ECO PER and Bamboo Microfiber, you'll get a very comfortable mat that is made from all recycled materials.
Size
The Kulae Elite Hot Hybrid Mat weighs only 3 pounds, so it is very lightweight and easy to carry. The mat is 4 mm thick, and 72" by 42" in size.
Use
This mat is designed for all styles of yoga, even the sweatiest of classes. The extra 2mm of cushion helps to keep your joints comfortable. This yoga mat is machine washable, and you can throw it in and wash it on a gentle cycle. Make sure you hang it dry. The mat will stay soft to the touch even with several washes.
Value
This mat is slightly expensive but combines a microfiber towel and yoga mat in one. It is reliable, easy to take care of, and versatile.

Subscribe to our Newsletter