The Best Treadmills Fully Reviewed
In a
Hurry? Editors choice: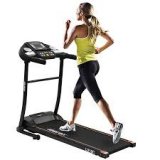 Test Winner: Merax Electric Folding

If a treadmill is your favorite machine in the
gym
, it would certainly be useful for you to consider getting one for home. Purchasing a treadmill for your house can help you to save a lot of money in the long run, because you won't need to be paying gym fees anymore. Also, the treadmill will be right in your home, so its accessibility will be highly convenient. Not to mention, many people find that having a treadmill in their home increases their motivation to work out because then it serves as a visual reminder to
work
out. In this buying guide, we are going to be providing you pointers and useful advice that will help you choose the best treadmill to have a safe and effective 
workout
 session within your own home. Also, it is recommended that you get a pair of quality
running
shoes and consult a trainer.
Standout Picks
Criteria Used for Evaluation
Safety Hazards
Safety must be on a high level. Although the dimensions of the treadmill are also considered safety precaution, there are other safety requirements when it comes to treadmills. In case you slide off the treadmill trail, it should have a safety switch that will automatically turn off the treadmill. Another option is a large red button that will allow you to switch from 12 km/h to 0 in a second if you feel like you can't move your legs anymore.
Even though these assumptions might seem impossible to you at the moment, it is a potential reality that happens more often than you think. Most treadmills also have safety handles that are very useful for stability. Most people who are using treadmills for the first time are feeling safer if they hold the handle while running in the beginning. It might seem strange to you, but it is an effective way of letting go of the treadmill fear some people have.
Style
A magnetic treadmill is working with magnets whose distance is controlled by turning the treadmill "wheel". When the magnets are closer, the resistance is greater.
The mechanical treadmill also has a resistance system that is connected to a belt and a steel part. When the control wheel is spanned, the belt is tightened or relaxed depending on your resistance desires. The magnetic and mechanical treadmills are significantly cheaper and they are not used as much. However, if you wish a treadmill, but you have a limited budget, this is the option to go for. They are working with the help of the user who is turning the belt mechanically. The engine treadmill, however, is the modern type of treadmill and it is the most popular one as well. It has a more complex system of working and it uses an engine that turns the belt and turns on the treadmill. That said, engine treadmills are the most effective ones for lowering the amount of fat in the organism and getting your body in better physical shape.
Speed
The cushioning is what makes a difference in the feeling while running. It is very important for the health of your joints as well as the comfort level while running. People who have knee issues or ankle issues will be especially grateful for this feature. In fact, a better cushioning means that the belt is constructed with a softer rubber surface that absorbs part of the impact and makes the running a bit easier.
If you are using the treadmill only a few times a week, this is an extra feature that you might not even notice, but if you are a runner, an investment in soft cushioning could mean a great deal to you in the long run. This doesn't compensate for high-quality running shoes, which are also a must even though you are running in the commodity of your home.
Advanced Features
A control board could be inspiring or it could contain a bunch of unneeded features you are never going to use. For this reason, it is important to get only what you consider would be useful for you. By excluding some of the features from your shopping list, the price of the treadmill will significantly drop and you will be left with only the most essential features for you. As for your options, you have a pulse meter, the option to connect your treadmill online so that you could publish your training on a social platform, different intensity programs of running or walking, simulation of a natural environment, a radio or an MP3 player, etc.
Subscribe to our Newsletter