Best Minimalist Running Shoes
In a
Hurry? Editors choice: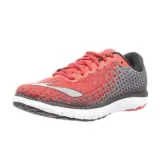 Test Winner: BROOKS PUREFLOW 5

Right off of the get-go, it is important to note that not all of you reading this currently may be fit for a pair of minimalist running shoes. Now, while this guide is not being created to detail who among you should be seeking this type of footwear, it is vital to know that they will not be for everyone. Specifically, if you have had foot injuries in the past that have plagued you then you may want to stay away. But, for those of you who know that this is what you are after, this guide is for you. After you are done here, the hope is that you will have absorbed enough of this information to wisely be able to choose your next pair of minimalist running shoes.
Standout Picks
Criteria Used for Evaluation
Fit
When it comes to any type of footwear, the fit is going to be the be-all and end-all.
This section should be a piece of cake, right? After all, these types of running shoes will fit in the same manner as the ones you are wearing currently, right? Well, only if you are currently wearing minimalist models. The reality of the situation is this type of footwear is going to fit a little differently than traditional running shoes. Mainly, you want the minimalist pair you buy to fit like a glove. In other words, they should be snug and secure with not a whole lot of space around your toes. Of course, the toe box still needs to be wide enough to be comfortable. Oftentimes, you will find models with narrow toe boxes and heel areas and this can be problematic if you have wider feet.
In addition to this, you can also pay attention to the closure system. The more preferred option is probably going to be a lace-up closure system but some models will sport integrated strap closure systems. The choice is ultimately up to you.
Comfort
While this type of footwear will cut down on the comfort a bit, you still need to look for it.
Along with the fitting, this is where minimalist running shoes are much different than traditional models. First off, understand that a typical pair of minimalist shoes is going to be right in-between a full barefoot shoe and a traditional one. A primary difference with minimalist models, though, is that the heel-to-toe drop will be reduced and there will be a reduction in the arch support, as a result. Now, in regard to comfort, here are a few things to keep in mind when you go to buy a model such as this.
Firstly, you ideally want to look for a model that has a strong balance of certain traits to suit your running style. Beginners may be looking for enhanced cushioning as there is an adjustment period that will take place when you switch to a minimalist approach of running. Of course, going back to the arch support, some models will offer enhanced arch support and this can be helpful if you roll your ankles inward or outward when you run.
Breathability
Do you really want to run and feel your feet become clammy due to overheating? No; then look for a model that is breathable.
Now, here is where things should be a little familiar to you. If you have taken the time to buy a high-quality pair of running shoes in the past, then you should be fully aware that their breathability is one of the most critical characteristics. The same applies here and just because these models will be outfitted with a minimalist mindsight, it does not necessarily automatically mean that all models will be breathable. Thankfully, most designers understand the importance of the breathability and do everything in their power to ensure that their model is. As for what makes this possible, it comes down to a few features.
Firstly, the best designs will sport integrated mesh uppers. Mesh itself is a fabric that is extremely porous and this allows it to maximize airflow. As for what the upper is, this is a term that is used to reference the part of a shoe that covers the toes. So, that makes a mesh upper a match made in heaven. Also, you can look for mesh linings as this can also enhance the breathability. And, of course, never forget to look for shoes that are lightweight.
Durability
Come on now; who really wants to replace their shoes within a few months?
Raise your hand if you are looking to buy a new pair of shoes that are made with cheap materials that will maybe last you a few months? Everyone's hand should be down unless you enjoy investing in a new pair of running shoes every other month. Now, with that being said, there were a few models that appeared on this list that had notable durability issues. What gives with that? Well, a lot of it does depend on various outside factors and how you run. For example, the terrain you run on can accelerate the wear of the sole and how hard you land can also put extra stress on the heels. In both of these instances, you buy the same exact model as someone else and find that theirs lasted longer than yours.
However, it still goes without saying that the model you buy should integrate high-quality materials and high-quality craftsmanship. Two key areas to keep an eye on are the uppers and the sole, specifically. For the upper section, the mesh that is integrated should be durable enough to last. If it is thin and deteriorates and wears quickly, you may or may not want to buy that model. As for the sole, look for high-quality rubber and even Vibram as you do not want to skimp on it.
Traction
Depending on the type of running you plan to do, you may want a sole that offers optimal traction.
The last section left off in a perfect spot as this section right here is all about the sole. The sole (also called the outsole) is the bottom layer of a shoe and it will deliver the traction. That is if it is designed to do so. Of course, the traction you require will also depend on the running that you plan on partaking in. For example, if you plan to do some trail running in diverse terrains then you will probably want a rubber sole that sports flex grooves.
Even if all you plan on doing is running on pavement, though, you will still want to look for an exceptional sole. This is where Vibram comes into play. Vibram soles have been touted as being extremely durable and slip-resistant. And, even on the toughest of terrain, they have been known to deliver top-notch traction.
10 BEST MINIMALIST RUNNING SHOES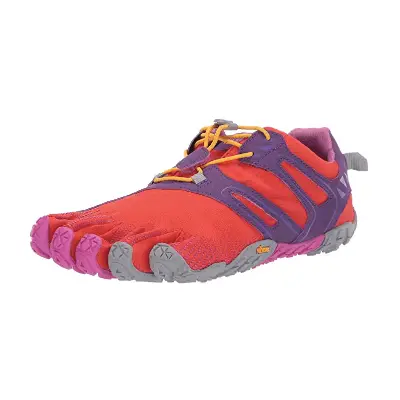 As you can see from the photos, this right here is a true barefoot shoe. The V Trail Runner is among the fabled FiveFingers lineup of footwear from Vibram and is perhaps the best of them all.
Read more
Fitting
Even though there have been some buyers who have noted that this can run tight and narrow, it is designed to mimic barefoot running and that means you should measure your exact foot size.
Comfort
In addition to the subtle amount of cushioning that is provided, these running shoes are comfortable enough to be worn without socks (which is a big plus for barefoot running).
Breathability
There were several previous users who felt that the breathability of this model was exceptional. This is even better if you choose to omit socks.
Longevity
What is really nice about this model is that it is engineered to withstand tough use. In fact, previous wearers even indicated no signs of wear were shown after several months of use.
Traction
Being designed with an optimal sole, this is designed to handle rougher terrains. It will provide traction even on slush and muck.
Overall
For a barefoot running experience, it just is not going to get much better than this. While the Trail Runner can take some time to break in, it is brilliant once you do.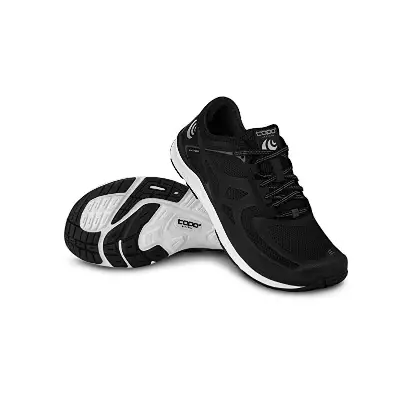 It is hard to argue that the ST-2 Running Shoe is one of the best. After all, it sports lightweight mesh that enhances the breathability and it is designed with a wider toe box.
Read more
Fitting
One of the best features of the ST-2 is the wider toe box. Too many shoes are tight in this area so it is a huge plus that Topo Athletic took the time to address this. Also, the collapsible heel counter delivers a sock-like fit.
Comfort
In spite of the fact that there were a few naysayers who felt the sole of the ST-2 lacked sufficient cushioning, a majority of reviewers felt otherwise and noted that the overall cushioning was superb.
Breathability
In addition to the fact that this is light in weight, to begin with, it is also outfitted with lightweight mesh and printed techniques to eliminate seams. All of this combines for a more breathable shoe.
Longevity
The best models will last for a good while and it is safe to say you can expect that from the ST-2. Many previous buyers have applauded the sturdy build provided here.
Traction
Being designed with a four-millimeter rubber outsole, this is able to deliver traction on various surfaces and also remain comfortable on roads, in the process.
Overall
Even though Topo Athletic may not be the first designer you think of when imagining the best minimalist running shoes, they better have your attention now.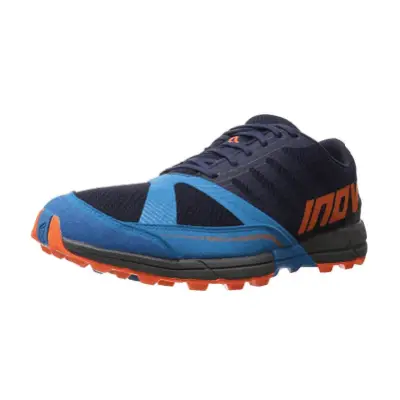 From a model that is lacking in response to one that nails it out of the park, here is the Terraclaw. In addition to a boatload of other features, this is what makes this shoe so great.
Read more
Fitting
The fitting of the Terraclaw may be the best aspect of the entire design. In addition to the close-fitting heel which helps to lock your heel into place, this is also engineered with a wide toe box.
Comfort
Thanks to the integration of the shockzone technology, the Terraclaw is able to achieve an optimal combination of responsiveness and underfoot protection. Oh yeah, and the lace-up mesh upper also enhances the comfort.
Breathability
Speaking of the lace-up mesh upper, this also comes into play when assessing the breathability. Indeed, the implementation of mesh will improve the airflow.
Longevity
Overall, this is a model that is designed with high-quality materials and it certainly shows.
Traction
If there is one caveat to the Terraclaw it is its sole. It does sport triangular lugs that help to release gravel and debris but it lacks suitable traction on muddy and sloppy terrains.
Overall
With a better sole design, this could have possibly secured the top spot on this list. Yet, third is certainly not bad and nobody is going to scoff at the overall design of the Terraclaw.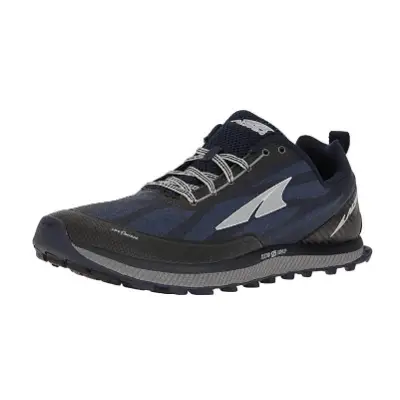 Altra is a brand that many of you have probably heard of and there is a good reason for that. It just so happens that their Superior 3 is an extremely lightweight shoe that offers enhanced stability.
Read more
Fitting
Unfortunately, there have been a number of reviewers who have commented on the narrow fit of the Superior 3. Plus, there are no additional widths available (which would have helped resolve the issue).
Comfort
While the fit can be troublesome, the overall comfort provided is quite good. This is thanks to the lightweight nature and comfortable fit (for those who do not have wide feet).
Breathability
In addition to the lightweight nature of the Superior 3, it is also outfitted with a durable and breathable upper.
Longevity
One of the most talked-about aspects of the Superior 3 is the improved mesh upper that was integrated as it is much more durable. Additionally, the outsole appears to be durable, as well.
Traction
Due to the small lateral flare that is built into the sole of this shoe, the overall stability is improved. All in all, several users were satisfied with the reliable traction.
Overall
If you do not have wide feet, then the Superior 3 needs to make the cut for your final decision. With that said, it may be too unbearable otherwise.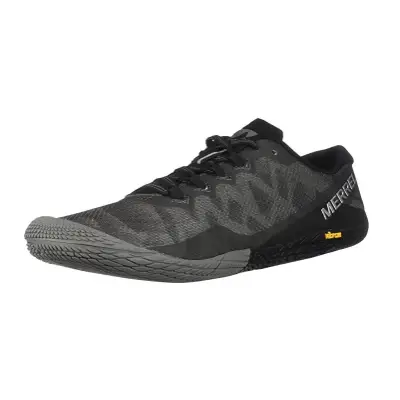 The Vapor Glove series from Merrell has delivered some awesome shoes but all of them have the same issue. Merrell was not able to address the durability issues but without question, their Vapor Glove 3 is utterly superb while it lasts.
Read more
Fitting
A couple of reviewers have criticized the fit of the Vapor Glove 3. One user noted the toe box was small and another one that the midfoot area had an inaccurate fit.
Comfort
When it comes to comfort, Merrell nailed it with their Vapor Glove 3. Past the lightweight and flexible nature of it, it also sports improved arch support over its previous generations.
Breathability
As with most minimalist running shoes, the Vapor Glove 3 is specifically designed with lightweight materials to enhance the breathability.
Longevity
It was alluded to earlier and yes, the Vapor Glove 3 has notable durability concerns. It has been reported by various users that the outsole has separated after a few uses and that the upper mesh can quickly deteriorate.
Traction
Thanks to the integration of the Vibram sole, you can take comfort in knowing that optimal traction will be provided on most terrains.
Overall
The million dollar question is could the Vapor Glove 3 really be worth it? It really is a tremendous model but the noted longevity issues are well-documented.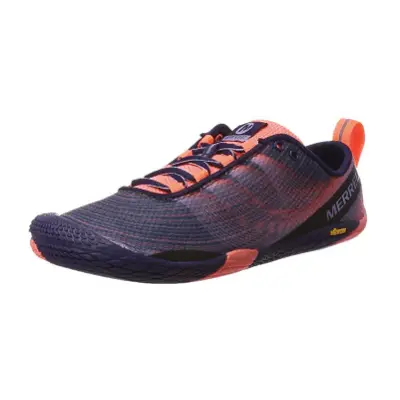 One would think that the Vapor Glove 2 would be obsolete with the Vapor Glove 3 but it is still an excellent model that deserves its praise. However, it too does have documented issues with its durability.
Read more
Fitting
Do note that there have been a few testers who have advised to order a size larger here (you could go with just a half-size). That is because the fit can be tight if you order your normal size.
Comfort
Although the Vapor Glove 2 is far from uncomfortable, it has been noted by some buyers that a midsole cushioning system would have helped to improve the overall response.
Breathability
Wow, this is where the Vapor Glove 2 shines. It has been designed with an upper unit made of mesh and a mesh lining that has been coated with odor-wicking technology.
Longevity
Though the sole of this shoe is made with an extremely durable Vibram layer, it has been documented by various users that the upper unit can tear after a few months of use.
Traction
The same Vibram layer of the sole that enhances the durability also improves the overall traction you receive.
Overall
Much like with its successor, the Vapor Glove 2 does have durability concerns. Yet, it is a highly breathable and lightweight model that is designed to perform.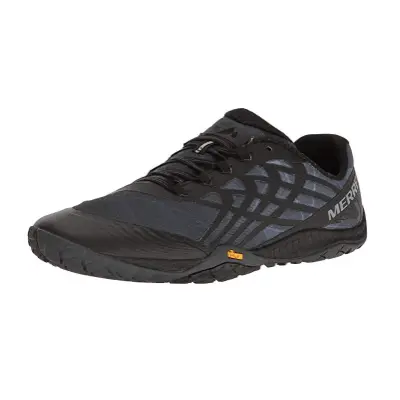 This is the third straight model from Merrell and that should go to show you the quality of the company. Their Trail Glove 4 is a part of a different brand of shoes and is quite good in its own right.
Read more
Fitting
Although there were some users who noted this can fit loose in the ankle area, others claimed that the fit was like a glove. Also, the laces and tongue do provide a secure fit.
Comfort
The laces and tongue also enhance the overall comfort, for the record. Adding on to this is the flexibility of the Trail Glove 4 as it improves the overall experience.
Breathability
To ensure their shoe would not be unbearable to wear during hotter climates, Merrell designed it with a breathable mesh lining and a mesh and TPU upper.
Longevity
Now, the integrated mesh upper is great and all but it is thin. Gee, Merrell sure likes to design shoes with durability issues, huh?
Traction
Overall, the grip that is provided from the sole could have been better. On slippery terrains, you will probably not get too much traction.
Overall
Just because this is the third straight model from Merrell to have documented longevity issues, it does not mean the company is incompetent. It just means that users who want to run on a daily basis may want to look elsewhere.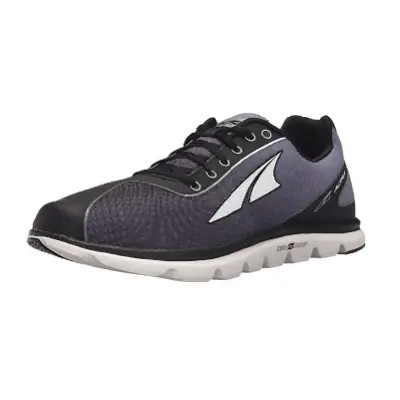 If you can deal with a shoe that offers a little less cushioning and arch support than its predecessor, then you can enjoy an extremely breathable and durable improvement from Altra.
Read more
Fitting
Both the heel area and the toe box of the Altra One 2.5 are narrow, based on consumer feedback. You know the deal here; those of you with wider feet may want to pursue other options.
Comfort
Some testers felt that the Altra One 2.5 offered less cushioning and arch support than its predecessors. But, for the record, it is designed with a midsole that delivers a balance between flexibility and cushion.
Breathability
Altra integrated quick dry air mesh into their design and it does wonders to improve the overall breathability.
Longevity
It seems that Altra was able to design a more durable shoe with their One 2.5, according to various testers of the product.
Traction
To improve the ride, flexibility, and overall traction of this model, it has been designed with a blown rubber sole.
Overall
Although the One 2.5 skimped out a bit on the arch support and the cushioning, it does boast improved build quality and excellent traction for various terrains.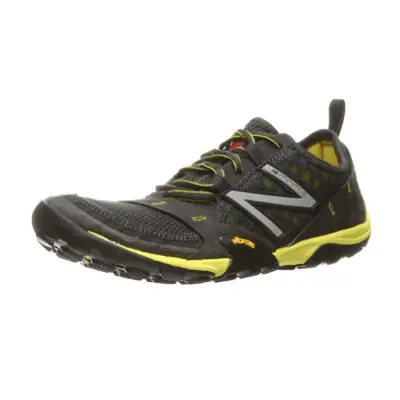 If nothing else, you know that you will get a high-quality running shoe from New Balance. While their Minimus model has a bit of the Vapor Glove syndrome (durability issues), it is great.
Read more
Fitting
It is noted by New Balance that their model runs small. In specific, various users have reported that the toe box is quite narrow.
Comfort
When it comes to comfort, support, and ample cushioning, it seems that the Minimus from New Balance is the best of them all. It has been raved about in all three areas.
Breathability
In addition to the antimicrobial treatment that has been applied to reduce odor, this is also a very breathable shoe in and of its own.
Longevity
There is good news and bad news. It seems that the sole of this model is very durable but the same can't be stated for the upper mesh. According to a few runners, this section rips far too easily.
Traction
Not only is this designed with a Vibram sole but this same sole also sports flex grooves. This combines to provide you with stellar traction on rocky terrains.
Overall
What is most impressive about the Minimus is its excellent combination of comfort and breathability. Some slight flaws aside, this is what sells this bad boy.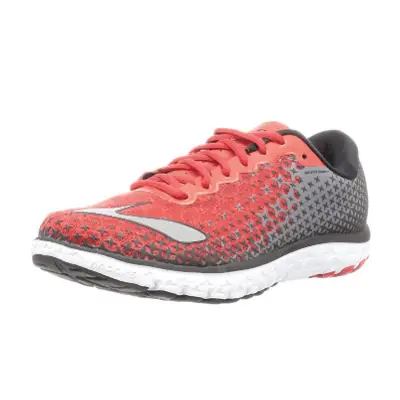 In spite of some slight durability concerns, the PureFlow 5 is a great option that sports blown rubber pods for improved traction and breathable fabric lining.
Read more
Fitting
Much like with the previous New Balance shoe, Brooks makes mention of the fact that their PureFlow 5 runs small. This time, though, it seems that it runs small in the heel area.
Comfort
While this is indeed a minimalist running shoe, it does not sacrifice comfort or cushioning. This is thanks to the full-length BioMoGo LT midsole that is built-in as this delivers adaptive cushioning.
Breathability
The soft and breathable lining is what enhances the overall breathability of the PureFlow 5 to prevent your feet from overheating.
Longevity
After only a few months of average use, the sole began to break down on a few buyers.
Traction
It is pretty obvious just by looking at the photos but the blown rubber pods that are integrated into the outsole help to improve the overall traction.
Overall
If you are looking to switch to a minimalist style but do not want to sacrifice the cushioning, then the PureFlow 5 is an excellent choice all around.

Subscribe to our Newsletter