Best Workout Tank Tops
In a Hurry? Editors choice: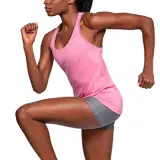 Test Winner: UNDER ARMOUR TWIST

Have you ever been embarrassed by noticeable armpit wetness and stains while exercising? First of all, you shouldn't be, it's natural, but a workout tank top takes away the possibility of pit stains. Indoors or outdoors, chances are that you are going to
work up a sweat
during your exercise. Keeping all of that hot air next to your body not only creates an uninviting stench but is also uncomfortable. Giving your armpits room to breath makes can really transform your workout.
However, it must be noted that not any old tank top will do! There are specific material blends, fits, and shapes that drastically hinder or improve your experience. A fabric that absorbs and evaporates moisture quickly is ideal. Perhaps, most importantly, is wearing something that makes you feel confident. Whether fit, breathability, or color is your top priority, there is something for everyone here.
Standout Picks
Criteria Used for Evaluation
OUR TOP PICKS FOR THE BEST WORKOUT TANK TOPS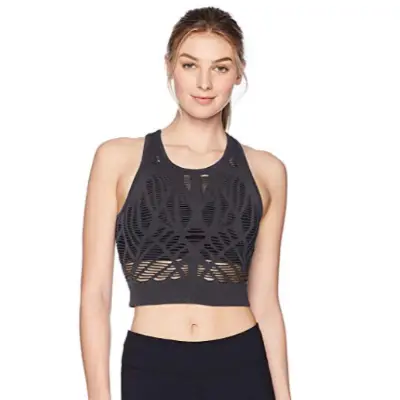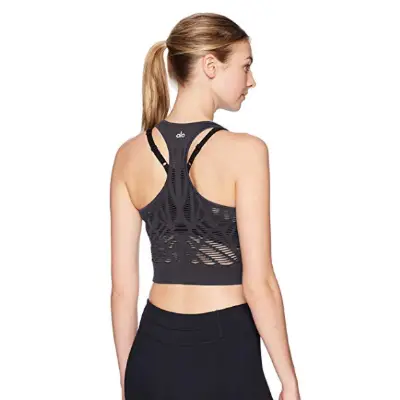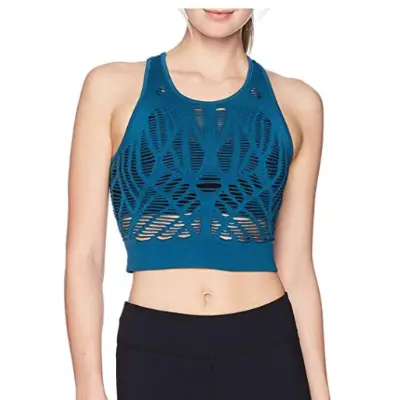 This top model right here is suitable for women. It is actually a crop top and due to its polyester and spandex blend, four-way stretch material, and breathable core, it is awesome for highly intensive activities.
Read more
Breathability
This is about as breathable as it gets. The main aspect that lends its hand in this regard is the cutout details. These vastly enhance the ventilation that you will be provided.
Sizing
Even the best garments on the market can fit either too tight or too loose but this does not appear to be one of those examples. Most previous buyers have claimed it has fit them true-to-size.
Materials
There is not lining present over the bust so a sports bra will be required with this top. As for the main fabric blend, this mixes spandex and polyester.
Comfort
Two main features enhance the overall comfortability here. First off, the four-way stretch fabric allows you to move freely in any direction. Secondly, the construction is seamless.
Color
There is a really good variety of color options as you have several lighter and darker tones to choose from. Most of you will be able to find a style for you, let's just say that.
Overall
From a quality standpoint, this is just about perfect. Now, the price of admission is a bit steep and not many of you will be willing to pay this kind of price (and that is fair).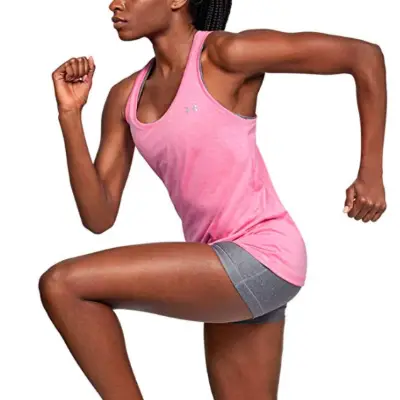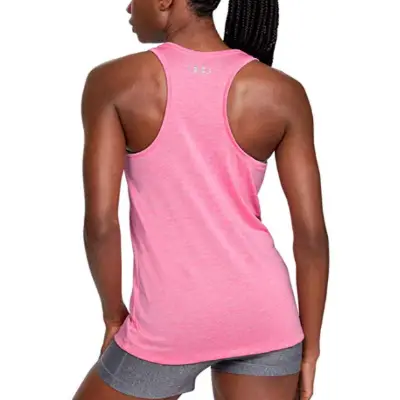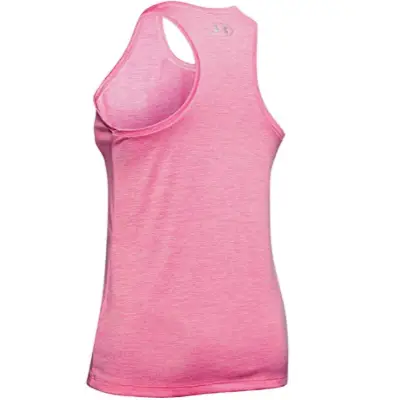 Come on, you knew Under Armour would make an appearance on this list. It is worth noting, though, that they tailored their model to deliver a more generous and relaxed fit.
Read more
Breathability
In addition to the fact that this is designed with a moisture transport system to wick away sweat from your body, it also equips anti-odor technology to prevent the growth of microbes that cause odor.
Sizing
Indeed, the fit is intentionally made to be more generous and relaxed. Yet, there have been a few reviewers who have noted that the fit can be a little too loose if you go with your normal size.
Materials
This is 100 percent polyester and it has an excellent feel to it. As it is polyester, as well, it sports quick-drying capabilities.
Comfort
Not only does the lightweight stretch construction improve your mobility in all directions but the UA tech fabric is incredibly soft and delivers all-day comfort.
Color
All in all, there are well over a dozen colors to select from. Several of the selections do resemble each other quite a bit, however.
Overall
When you put your trust in a high-quality brand, typically good things will happen to you. That is the case here as Under Armour proves why they are so highly regarded when it comes to athletic wear.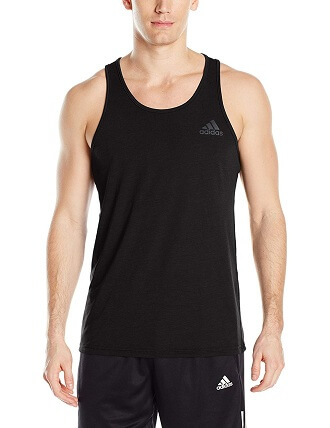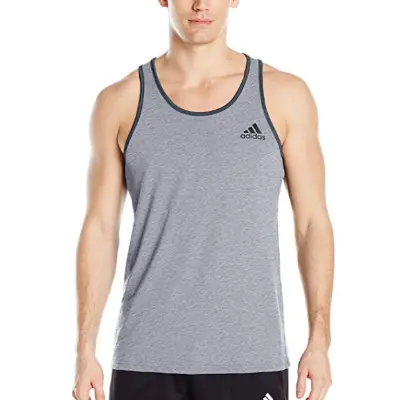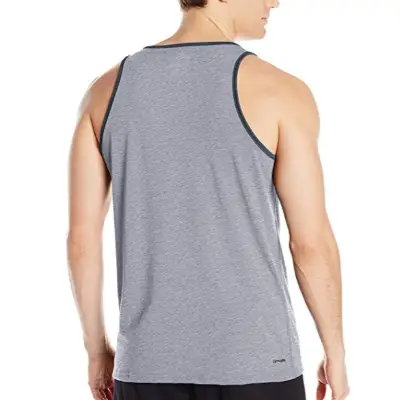 As simple as this workout tank top is, it is amazing how fantastic it is. The polyester and cotton blend is incredibly comfortable and the moisture-wicking Climalite fabric enhances the breathability.
Read more
Breathability
As was just mentioned, this tank top is indeed made of Climalite fabric and this is going to wick away moisture from your skin as you sweat.
Sizing
This actually fits more like a compression shirt so if you are looking for something a bit less snug, you may want to order a size up. Of course, various users have also noted that this is quite long (length-wise).
Materials
While most options on this list are made up of 100 percent polyester, this is actually a blend of polyester (80 percent) and cotton (20 percent).
Comfort
Being made with soft jersey, this has a lightweight and soft feel against your skin. For longer sessions, you should enjoy this ideal combination of comfort.
Color
Though there is not a boatload of different color options, the selection that is there is quite good.
Overall
In spite of the snugger fit that you may or may not be appealed to, this is an excellent option for men. Much like with Under Armour, Adidas is also a top-end brand so that helps.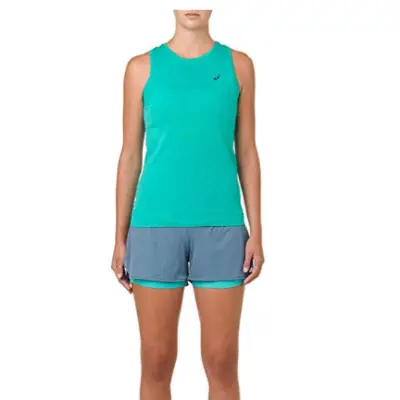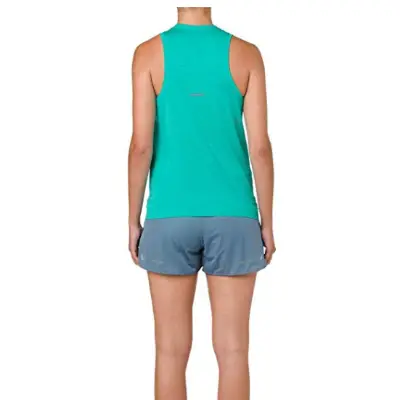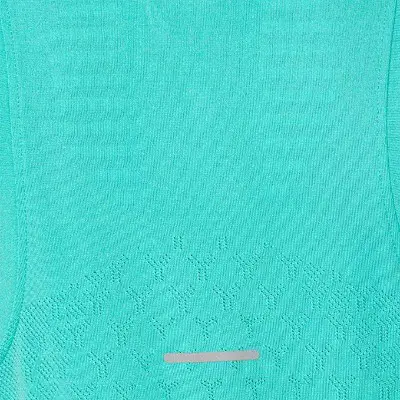 If you are looking for a bit more coverage than some of our options, you will definitely want to check out this option from Asics. It is lightweight with a loose fit and great breathability. While it is only available in four colors, the coral and sea glass colors are quite striking.
Read more
Breathability
As with any shirt this shape, the ventilation provided is impressive. You receive great airflow through the armholes and also feel much cooler by just having your arms bare. To further enhance the breathability of this garment, it is equipped with Gel-Cool technology which gives the fabric a sort of 3D effect. The fabric has small holes in it that allow air in and out, making it a very breathable garment.
Size
This Gel-Cool shirt is intended to fit slightly loose. It does not hug the body but still maintains an attractive shape. It is available in a wide range of sizes, from Extra Small to Extra Large.
Materials
This garment is made from 72% polyester and 28% spandex. There are no extraordinary treatments that make it difficult to wash. It also features a small reflective Asics logo on the top right.
Comfort
Thanks to the casual fit of this shirt, it does not affect your ability to move, stretch, or run. It is also seamless which highly lessens the possibility of chafing. Reviewers love the lightweight comfort and full-coverage of this garment.
Color
Whether you are looking to stand out or not attract attention, there is a color option for you. You can choose from bright colors, such as coral or sea glass, or more muted tones, such as gray or black.
Overall
Unless this just plain out isn't your style, there is not much to dislike about this option. It is lightweight, comfortable, and impressively breathable. While more color options would be nice, we do admire the four options.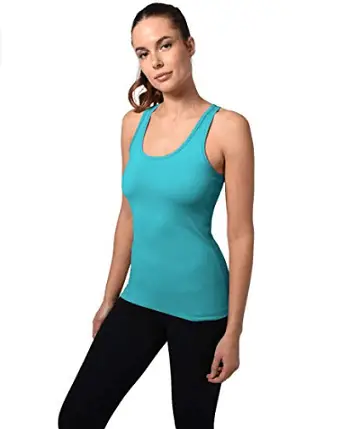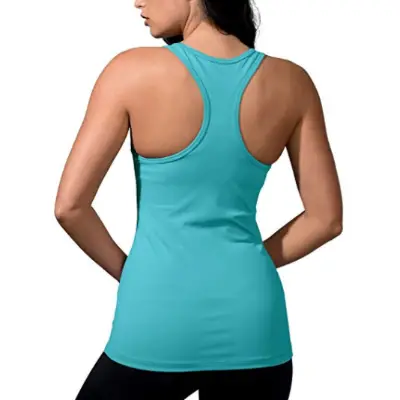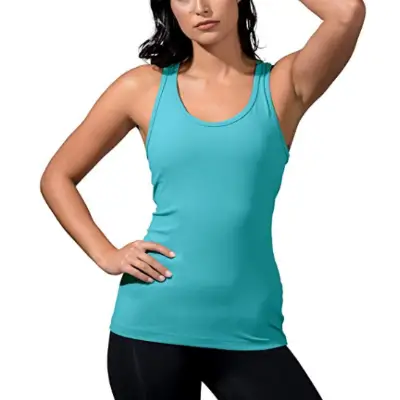 Another great option for women, this one is presented by 90 Degree by Reflex. And, though it can tend to bunch up at the bottom, it sports a breathable and comfortable core.
Read more
Breathability
Thanks to the moisture-wicking fabric that has been utilized here, this is going to keep you cool during workouts and on hot summer days.
Sizing
Please note that this option is intended to be fitted. One of the issues that are present here, however, is that the bottom tends to roll up a bit while you are moving your arms.
Materials
The compression-type fabric that is present is a bit on the stiffer side (though it is not exactly uncomfortably stiff).
Comfort
Comfort is not an issue here, let's just say that. The four-way stretch material, in a way, counteracts the issue of the bottom rolling up as it allows you to move around freely.
Color
Yes, some of the color options do repeat themselves a bit but, for the most part, the variety is there and that is all you can really ask for.
Overall
The potential remedy to the "rolling up" problem is to order a size up. On warm and muggy afternoons, though, you will adore this particular garment.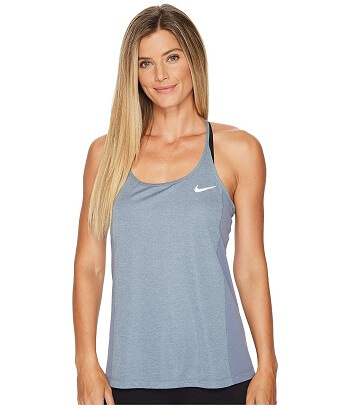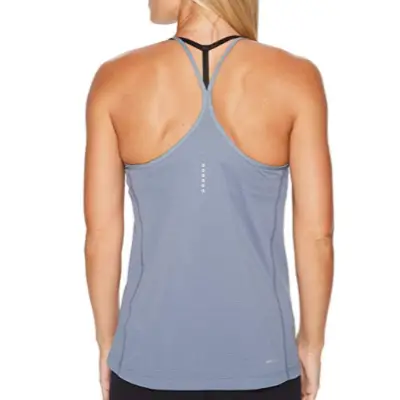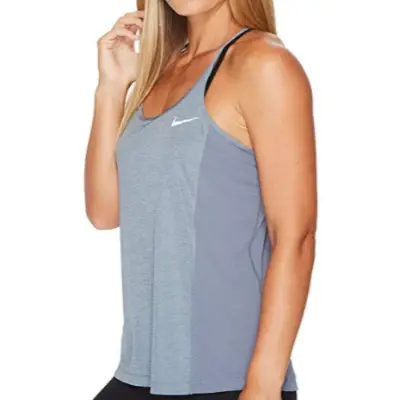 Nike finally makes it on this list and it was pretty much inevitable. As great as their garment is, though, be aware that virtually all previous buyers have recommended ordering a size down.
Read more
Breathability
In addition to the fact that the Nike dry fabric allows you to stay dry, clearly, there are also side panels integrated that are made of mesh for improved breathability.
Sizing
Yep, if you want to take the advice of previous buyers then you should order a size down here. This simply has been known to run large.
Materials
The all-polyester composition should not be too much of a surprise at this point but just note that cotton nor elastane are utilized here in the slightest.
Comfort
First off, the racerback design allows you to obtain a free range of motion. Yet, what also enhances the comfort are the flat seams.
Color
If you are not a fan of blue then you cut the color selections in half, basically. Though a lot of light colors are available, the selection could be a little better, admittedly.
Overall
Once again, you have to contend with a tank top that can be finicky in its sizing. Truth be told, this is just something that you have to learn to put up with when shopping online.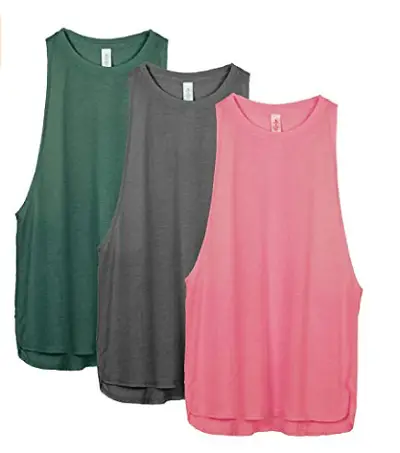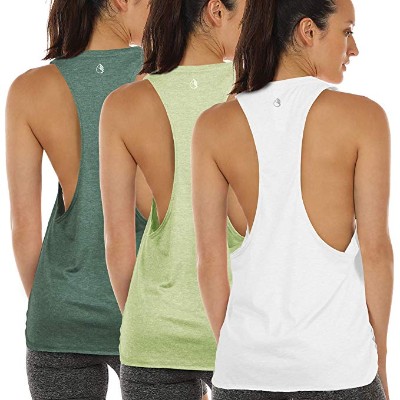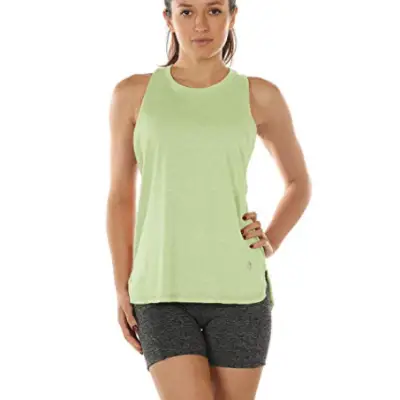 Due to the exaggerated armholes of this next option, you will either like it or hate it. There may not be an in-between, quite frankly, but from a quality perspective, this is great.
Read more
Breathability
Well, would you look at that? This bad boy right here is designed with sweat-wicking fabric. It is almost like that is a staple of this sort of thing.
Sizing
You have probably seen people wear tank tops like this. As alluded to, the armholes are literally enormous. All in all, previous users have noted that this fits very loosely as a result.
Materials
Though this mostly comprised of polyester (70 percent), there is also a nice hint of rayon (30 percent). Overall, this makes the fabric pretty darn soft.
Comfort
In addition to the natural softness, the flatlock stitching was engineered to reduce the amount of chafing that persists.
Color
You know this is about what you would expect for the color variety. Most of the available colors are lighter in tone, though, so do be aware of that.
Overall
Look, there is just not going to be much of a middle ground here. What will make or break this purchase are the exaggerated armholes. As for the quality, it is more than present.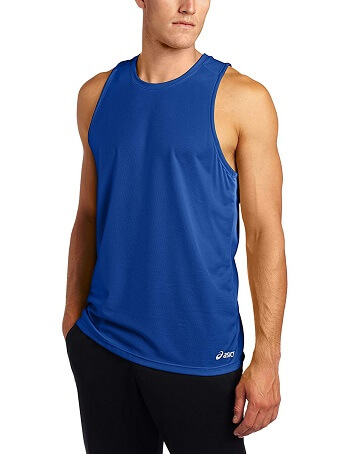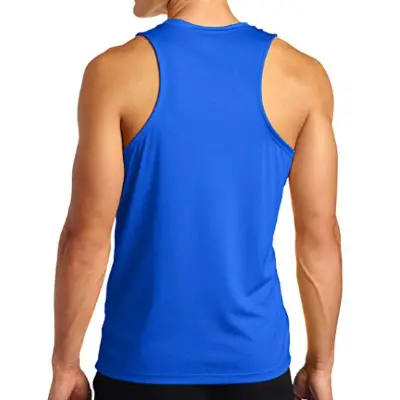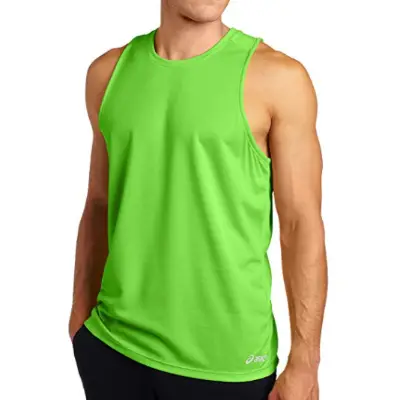 Speaking of running shoe brands, how about ASICS? They also prove their worth in the world of workout tank tops as this one is perfect for all you men out there reading.
Read more
Breathability
What is able to deliver the breathability here is the texturized mesh that has been implemented. Not only does this enhance the ventilation but it will also wick away sweat.
Sizing
Truth be told, the sizing has been all over the place here. For the most part, most buyers agree that it is a little too tight in the upper region and too loose in the stomach region.
Materials
As with most of the options on this list, this is made up of quick-drying polyester. For the record, this is comprised of 100 percent polyester.
Comfort
The same texturized mesh that was just alluded to also enhances the overall comfort here. Overall, this is just a comfortable option.
Color
Unlike other workout tank tops, there is not a ton of variety here. There are a few different variations of blue and a few other colors, but that is about it.
Overall
The sizing is going to scare off a lot of you here and that is fair. Everything else is top-notch, however, so if you can find the right size it will be worth it.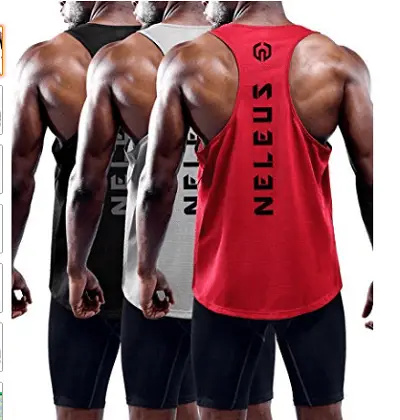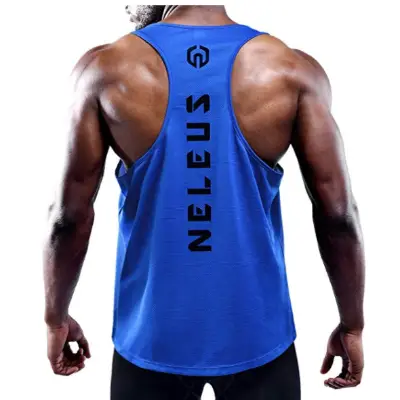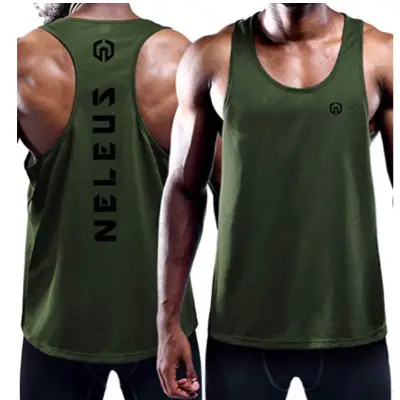 For all you muscular men out there who enjoy Y-Back tank tops, you will probably be digging this next option here. It is offered in a pack of three so that is really nice.
Read more
Breathability
All in all, the moisture-wicking fabrics are going to do just that, wick moisture away. But, what also helps here is the mesh fabric that has been strategically placed for ventilation.
Sizing
The fitting is pretty loose but what various users have commented on is the "weird" cut at the bottom of this shirt.
Materials
It is worth noting that the main fabric composition is polyester. However, various reviewers have noted that this feels like old jersey material. So, not all of you will be appealed to this sort of thing.
Comfort
Many gym fanatics and bodybuilders will appreciate the Y-Back design of this model. Of course, the feel of the fabric is not that soft so do not expect a luxurious experience.
Color
Neleus actually sells their tank top in packs of three. This enhances the value but it is worth noting that you can't pick the three specific colors (there are merely different color combinations available).
Overall
Even by just glancing at the photos, you can tell that this almost resembles a jersey. The Y-Back design is going to be very compelling to several of you, as well.

10

. UNDER ARMOUR HEATGEAR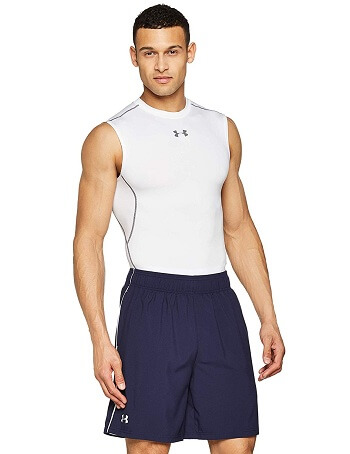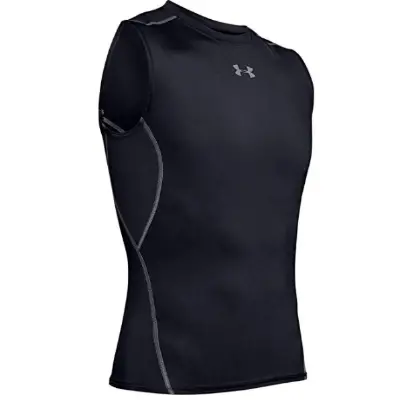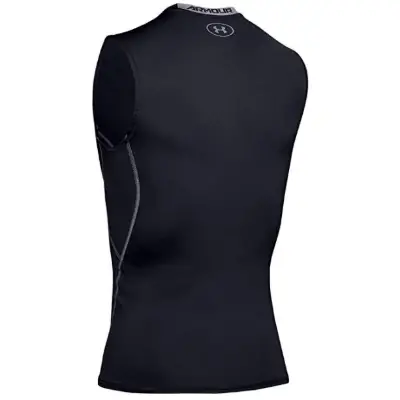 Compression wear in and of itself has several known benefits when it comes to exercising. So, it makes sense that a model such as this would make an appearance on this list.
Read more
Breathability
All sorts of features enhance the breathability of this garment. This includes the material that will wick away moisture from your skin, stretch-mesh underarm panels and mesh panel on the back of the neck.
Sizing
Overall, this seems to run small and as it is a compression shirt that is not too much of a surprise. Also, it can have issues with bunching up at the bottom.
Materials
What allows this to work as compression gear is the elastane that is implemented. 16 percent of the blend is this and the other 84 percent is polyester, for the record.
Comfort
Despite the fact that the four-way stretch fabric is really nice, various previous buyers have reported that Under Armour changed the feel of this fabric (it is a bit rougher).
Color
The color variety is actually severely limited but the few options that are present are really good at least (white, black and carbon heather).
Overall
Hey, at the very least, this is an Under Armour model. In all seriousness, the compression fit will make this appealing to several of you but the rougher feel of the fabric is a bit of a bummer.

Subscribe to our Newsletter