Best Running Jackets
In a
Hurry? Editors choice: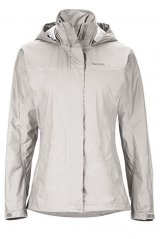 Test Winner: Marmot PreCip

What's the forecast for today? A
drop in temperature
? Rain? Wind? A change in the weather doesn't need to affect your daily jog. Many running jackets are so lightweight and portable that you won't even notice you're wearing it. It is a common misconception that any jacket will do. For optimal comfort, a running jacket should fit well and be made from a breathable material that provides ventilation. With a plethora of options, seeding out the good from the bad can be a long process. To jump-start your research and help you continue your daily running routine, we have rounded up the best of the best running jackets that are available today.
Standout Picks
Criteria Used for Evaluation
Breathability
Probably the most important feature you'll want to analyze when searching around for the best running jacket is breathability. Since running is a very aerobic form of training, you're going to perspire a lot when you do it, and you need something that's going to ventilate that extra heat and sweat out of it.
Even for runners that don't perspire greatly as they move, breathability is going to be an important feature because the better the jacket's ventilation, the more heat, and moisture it will release, and the more comfortable you will feel as you move. Even if you've got a great jacket that protects you against the weather elements effectively, if that jacket doesn't vent well, you're going to feel soaking wet in your own sweat as you run, something that won't make you feel happy or comfortable as you move.
Since you want to stay as dry as possible both inside and out as you run, you want a jacket that can ventilate well while still providing excellent weather protection. One of the best-ventilated jackets on our list is the Outdoor Research Boost since it's very breathable even for runners traveling long distances.
A jacket's breathability depends on a few things. The fabric is certainly important, as is the jacket's design, but the vents on the jacket will certainly also tell you how breathable a jacket is. Some fabrics are made to be highly breathable and evaporate moisture, but not all fabrics can do this. If you opt for a jacket that has a fabric that can't handle moisture well, then you want to make sure that jacket comes with a decent ventilation design so that its vents can pull the moisture out of the fabric.
Jackets made with good ventilation systems usually include mesh panels to help vent out moisture, and also have vent flaps to go over the vent areas in case the temperature drops. Where those mesh vents are located will determine a lot about how breathable the jacket is. Most runners that do a lot of uphill running and know what it feels like to work out with a higher heart rate appreciate a jacket that ventilates well during that time.
So depending on the jacket's fabric, and the way the vents are constructed, you'll feel a big difference in breathability between various jackets as far as heating up and perspiration are concerned. How much breathability and venting you'll want or need will depend a lot on how far and how often you run, but make sure your jacket ventilates well enough for you will be a top priority.
If you're a more casual runner, then a jacket that provides average breathability and ventilation will probably be just right for you and save you a bit of money if you're on a budget. However, for more hardcore, daily, long-distance runners, maximum ventilation in a jacket will be essential.
Weather Resistance
The second most important feature to consider when selecting the best running jacket for your needs is the jacket's weather resistance features. If you wind up with a jacket that doesn't protect you from the weather at all, you won't stay dry or feel comfortable while you run.
The real reason most runners purchase running jackets is to give them optimal protection from the weather so they can still run outside on cold, rainy, or days when the weather is less than perfect. So, ditching a jacket with good weather resistance defeats the purpose of owning a decent running jacket.
With a good weather-resistant running jacket, you'll still be able to run when the weather is cold or drizzling, as long as your jacket works well for good breathability. After ventilation, weather protection becomes the next most important feature, since it'll mean you won't be restricted to running only on certain days because of the weather.
All of the jackets we've provided on our list offer different levels of weather protection and water resistance, although most running jackets are not made to be totally waterproof. However, all of the jackets we've outlined here on our guide will give you some protection from the weather.
Probably the best and most weather-resistant jacket on our list above is the Arc'Teryx Incendo since this jacket is made to keep runners dry during long-distance runs while also repelling wind well. So, if you're a runner that plans to run in any weather condition, the Incendo provides some of the best weather resistance around.
However, if the Incendo is out of your price range or doesn't quite meet your needs, all of the jackets on this list offer a variety of weather protection, and many of them use a DWR finish on their jackets to help repel water. While a jacket with a DWR finish will help repel water well, you'll also need to make sure you take good care of it and wash it correctly, or else the DWR finish will break down and wear off.
Some jackets have DWR coatings and other fabrics combined into that finish to help repel and dry out water faster, and other jackets are made to use the runner's body heat to help dry the jacket faster. Depending on where and when you plan to run, however, you do have a few options for a good weather-resistant jacket.
For the more casual runner, a jacket that offers average weather protection will probably be enough, just in case that person gets got in a downpour. However, for the hardcore runner, something like the Incendo jacket, with plenty of weather resistance, will provide optimal protection while outside.
How much weather resistance you need (you do need some, no matter what) will depend on the type of runner you are. So the more casual runner looking to buy something on a budget might be able to save a bit of money in this department, but that person will still need a jacket with some type of weather protection.
Comfort
A jacket's comfortability is another important feature, although it is something that can vary from person to person based on opinion. How well a jacket fits and how mobile it is as you move are really important features for you to focus in on when you're figuring out how comfortable a jacket is for you.
Some jackets are made to be very flexible and adjustable, meaning they won't restrict your movements at all as you run. Often times, this feature has to do with some kind of stretch material being woven into the fabric as well as how the panels and seams are made and placed in the jacket. Jackets that are made to be comfortable usually have panels and seams that won't rub up against your skin or irritate you as you move.
Some manufacturers design their jackets with comfort in mind, while others seem to forego this feature. Really, comfort is going to be a matter of personal opinion, but you want to make sure you purchase something you'll feel great in that's flexible enough to help you out as you run, and that doesn't irritate your skin or frustrate your running style.
While you might try on a running jacket in a store that feels great while you aren't moving, remember you need to feel good in the jacket while you are moving. So, when you're trying the jacket on, you need to look for a few features as well to ensure it'll feel great as you run.
When looking at your potential jacket choices, rather than just basing your judgment on trying the jacket on alone when you're not moving, look for a jacket that fits slightly loose and has stitching that is soft in the seams, as well as a material that stretches decently. Jackets that feel stretch typically provide you with more flexible movements when you are out running.
Still, comfort is one of those features that depends heavily on a person's own opinion, so it is something you will have to judge yourself. It's always a good idea to try on jackets and move around a bit with them just to see how they move with you so you can try to judge how comfortable you'll feel wearing the jacket while running.
Features
The features of a running jacket can make or break it. One of the most prominent features that we looked into was the pockets. When you are running, holding something in your hand doesn't quite feel natural. Some people bring their phone for music or emergencies, but where do they keep it? The zippered pocket of your running jacket is a great spot to hold a bit of cash for a water or coffee stop, a cellphone, or keys.
A specific type of pocket that is great for runners is a media pocket. A media pocket allows you to securely keep your phone or mp3 device and thread the headphones through the pocket and inside the jacket.
Subscribe to our Newsletter