The Best Rain Jackets
last updated:
Feb 24, 2020
No matter where you live in the world, we all share the weather condition called rain. Rain is great for farmers crops, or our lakes and rivers, but for the common adventurer, it can be quite a buzzkill. The rain might stop some of us from experiencing the outdoors but for many, a quality rain jacket is the defense against the rain and allows for you to experience the outdoors no matter the weather. For every adventurer, it is highly recommended to have a quality rain jacket in your arsenal of gear. Now, if you have made the decision to invest in a quality rain jacket but with the number of options on the market, you do not know where to start in finding the perfect rain jacket for you. We have done the research and listed the best rain jackets on the market.
In a Hurry? The test winner after 10 hrs of research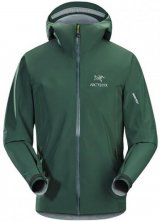 Arc'teryx Zeta LT Jacket
Why is it better?
C KNIT technology liner
Wicks sweat
Light
Packable
In a
Hurry? Editors choice: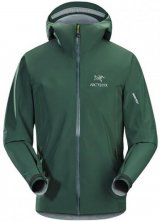 Test Winner: Arc'teryx Zeta LT Jacket

12
Researched Sources
2.3k
Reviews Considered
10
Hours Researching
18
Products Evaluated
Materials
Insulation
Features
Water Resistance
By Default
Our Top Picks for the Best Rain Jackets
Criteria Used for Evaluation

Materials
When looking for a rain jacket the most important feature is that it actually keeps you dry from the rain. And although a cheap plastic or rubberized raincoat will do this, it will also keep your sweat inside the jacket. So you need a breathable but also waterproof fabric. Gore-Tex is the oldest and possibly the world leader in breathable waterproof fabrics, but others are available, eVent, Sympatex, MemBrain Strata to name a few, plus the many generics are now available. You also have the choice of laminate or coated fabrics.
All breathable and waterproof fabric work because they prevent or repel water from the outside but also allow perspiration vapor to escape allowing for the body to maintain a good temperature via the evaporation of sweat. To do this the fabric has to have special features on the inside and outside of the fabrics.
The outside of the fabric, the side that will face the elements and rain (or face fabric) will be treated with a DWR (durable water repellent) finish. The purpose of this finish is to cause water to bead and roll off the fabric instead of soaking into the fabric and adding to the weight. Over time this coating may become less effective due to dirt, grease, abrasions. It is advisable to clean these fabrics regularly, and occasionally you may need to re-apply the DWR with a spray on DWR.
The inside of the fabric, the interior will either be coated or laminated. The coating is liquid chemical solutions which have been applied to the inside of the fabric, like painting the wall. Obviously, these coatings are super thin and a lot more flexible than paint. Laminates are another material, a waterproof and breathable membrane is applied to the fabric wall. Similar to covering your kid's school books with sticky back plastic or a cell phone screen protector. The laminates are either a stretched PTFE (polytetrafluoroethylene), or Teflon to use DuPont the paint and chemicals companies brand name, PU (polyurethane) film or Polyester film.

Insulation
Insulation is all about having very good waterproof and breathable materials. The membrane is applied to the inside of the jacket fabric, forming a single material. A light and loose jacket liner is added to protect the membrane. This is mainly found in jackets used for general every day walking around town use. 2-Layers offer good waterproof and breathability, but they are heavier than 2.5-layer and 3-layer but are usually reasonably priced. This is the lightest way of creating a waterproof and breathable fabric.
They take the fabric and apply the membrane to the inside (layer1), then they apply a polyurethane coating is applied to the first layer (layer 2), then a protective print (.5 layer) is placed over the second layer. These are generally not as breathable as other methods but a lot lighter if this is an issue for you. These are the hardest-wearing and will take the most punishment. There are no coatings to be rubbed off or contaminated. The membrane is sandwiched between an outer face fabric and an interior lining fabric. 3-Layers give the best performance, with regards to waterproof and breathability and are lightweight, but are generally priced the highest

Features
Every rain jacket needs a hood, and the hood needs to be useful for you. Most hoods have adjusting cords to adjust the fit and opening of the hood. Many jackets have hoods which can be rolled up and stored in the collar or even slipped off completely. Pockets, how many do you need or want, some jackets have so many pockets you might not need a day pack at all, others have a minimal amount or none. Will you want to be able to access your pockets whilst wearing your pack? Check the positions of the pockets are good places for you. Check the zips, are they coated zips to maintain the waterproofing, do the pockets double up as air vents with mesh inners.
And maybe most importantly, how easy is it to pack, is it light, does it pack really small, does this even matter to you. Maybe you just like the color.

Water Resistance
Depending on what brand and style of jacket you decide upon to purchase, you'll want to know a little bit about the waterproofing methods used by the manufacturers. There is really no consistency with rating how waterproof a jacket really is, and even though some jackets are advertised with what sounds like great waterproofing protection, it's important to remember that not all waterproof jackets are created equally. A lot of how waterproof a jacket is will depend on the coats, layers, laminates, and other factors. The jackets we've listed above all offer decent water protection at the very least, and what that waterproofing method was we discussed with each jacket. Also, when you are taking a look at how waterproof a jacket is, you'll need to take a look at how good is, how well the cuffs seal, if the jacket is fully seam-sealed, how the hood covers your head, the pockets, pit zips, and front-zip closures.
Expert Interviews & Opinions
Most Important Criteria
(According to our experts opinion)
Experts Opinion
Editors Opinion
Users Opinion
By Default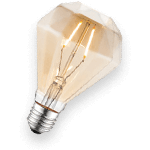 Do Your Homework
When deciding which jacket is best-suited to your requirements, you'll need to think about how often you will be wearing it, where you will be wearing it, how much ventilation you need, and how much money you can spend. Also, make sure you evaluate the jacket's materials, features, style, and functionality because considering all of these can help you make a well-informed final selection
Gore-Tex
Both Gore-Tex and eVent use a PTFE membrane as a laminate, Gore-Tex also applies a very thin polyurethane film as a protective layer on the PTFE to protect it from dirt and other contaminants, eVent doesn't. Both have many advantages. Both have excellent waterproof performance, both have excellent durability, but eVent has better breathability than Gore-Tex.
Other Factors to Consider

Comfort
When trying to select the best rain jacket for you, you'll need to consider when you plan on wearing your coat, where you plan to perform your outdoor adventures, how long you plan to be outside, and how often. Some more casual outdoor enthusiasts will be fine with a lightweight jacket while others might need something more extreme for their year-round activities. Comfort and movement both become very important features to examine when looking for the best rain jacket to suit your needs since you don't want any movement restriction or lack of focus to create injury. However, much of what you may need in your rain jacket will depend on your budget and plans, so make sure you factor that in before you purchase the best rain jacket for you.
Frequently Asked Questions
q:

What are some of the features I should look at before I purchase my jacket?

a:

We've covered the jackets that have the best features on our list, and mentioned the different features each product had that made the jacket a good choice. When you are considering your features, you want to make sure you get a jacket that is fully seam sealed so that it is very waterproof. Also, make sure you take a look at the jacket's hood and ensure that it cinches fully around your neck, feels comfortable, and can protect your head from the weather.

Wrist cuffs are another important thing to look at because if the wrist cuffs don't cinch down or hold in place, then it becomes very difficult to ensure the jacket is totally waterproof. Also, look at the zippers on the jacket, as some are fully waterproof, while others are not. If you can get a jacket with waterproof zippers, then you'll never have to worry about your items getting wet when you zip them into your pockets. This is a great thing to have if you plan on carrying a lot of electronic items, or even just your cell phone, along with you when you are active outside. Also, make sure the jacket has enough pockets for you so that you'll be able to more easily organize your items and take them along with you anytime you need to.
q:

Should I worry about fashion when I select my jacket?

a:

Some people are quite particular about what they wear, even if they are purchasing a jacket to help them while they are active outside. Fashion is really one of those things that are up to personal preference, and how many styles you really need when you are looking for a jacket that will perform well while you are outside. If fashion is important to you, we have listed several stylish fashion options on our list for you, functionality really should be your primary concern.

However, there is no reason why, if you like one of the more fashionable jacket choices and like the amount of functionality that jacket can provide you, you can't buy it. So, if the style is important, then take a look at some of the more stylish choices to help you make your selection. Just remember that you don't want to consider fashion over functionality when you try to make your selection and keep your mind open to how well the jacket performs first for you over fashion and style before you purchase your jacket.
q:

Is it important to make sure I get a jacket that is lightweight?

a:

A lightweight jacket is an excellent idea if you know you're going to be packing your jacket and bringing it along with you on your trips. If you like to hike or backpack, and need to carry your jacket along with you, then the weight factor is certainly something you'll want to look into. However, the weight of your jacket might not really be an issue if you aren't going to be packing it down and carrying it with you.

So, if you are simply planning on wearing it around for casual errands or outdoor activities that are relatively short in nature, then weight shouldn't be a problem unless you prefer to wear jackets that are comprised of lightweight materials. If you do prefer wearing lightweight jackets and clothes when you are active, then, of course, go for a jacket that is more lightweight. However, if you aren't going to be carrying the jacket along with you often, then you have some room to move when you try to decide upon the weight factor of your jacket.
q:

How breathable do I need my jacket to be?

a:

You do need to consider how breathable your jacket is before making your purchase. You need some kind of effective ventilation technique designed into your jacket to keep you comfortable each time you wear it. Without good ventilation methods, your jacket can overheat you and cause you to sit for hours in your own sweat, which is a very uncomfortable experience. In fact, that type of experience can be so miserable, it might make you call it quits on any outdoor adventure you are busy taking at the time, which can be extremely frustrating.

Breathability can be a matter of personal preference, depending on how much ventilation a person feels he or she really needs. However, some kind of breathability is going to be important anytime you wear your jacket, so that you can stay comfortable while outside. So, look for jackets that have various ventilation methods, including mesh panels, armpit zips, and other vents and features if you know you will want a jacket that can breathe quite well. Most of us know just about how much of our own sweat we can take when we are active, so factor that into your decision.
q:

What is DWR treatment on a jacket?

a:

Many jackets use DWR treatments to help make their jackets waterproof. DWR is an effective way to make a jacket water resistant, although DWR alone can't make a jacket fully waterproof. Some jackets that use DWR coatings have other waterproof layers tied into them as well, which can help add a boost of waterproofing to the otherwise usually water-repellent DWR. Many brands use DWR coating methods, and just like waterproofing, not all DWR treatments are equal to others. However, many nylon and polyester jackets are designed to be hydrophobic and also feature DWR treatments on the jacket to pack a double punch. One problem we see sometimes with DWR laminates is that if you wash them too often, they can wear off quickly. However, DWR coatings can be maintained or replaced, depending on what caused the DWR coating to wear off.
Subscribe to our Newsletter