Best Backpack Rain Cover
In a Hurry? Editors choice: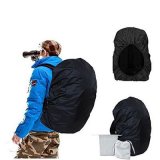 Test Winner: Joy Walker

Seasoned backpackers can have a trek ruined by rain as their belongings and backpack get soaking wet and their gear potentially ruined. With never truly knowing whether it will rain or not on your next trek, it is best to always carry a backpack rain cover to help fix and prepare for this problem. What makes a rain cover such a necessary addition to your kit is its simple function: protecting against water.
We might underestimate the necessity of a cover, either because packs, especially trekking and
hiking backpacks
, might seem to keep the water out, or perhaps we don't think about how much of a hassle it can be when our equipment gets wet. Check out our buying guide below and find a simple yet effective rain cover for your backpack, so the next time it starts to rain, you will be covered.
Standout Picks
Criteria Used for Evaluation
Water Resistance
Perhaps the most important criteria, or the first thing that comes to mind with a rain cover. After all, it's there to keep your backpack dry, so how well does it do the job? Essentially, protection from water comes down to whether the material is waterproof or water-resistant. What many users don't realize is that when a product claims to be waterproof, it means it can withstand complete submersion in water. Truly waterproof construction uses a process called ultrasonic welding, which requires expensive materials, expensive technicians and expensive machinery. Think about the numbers of seams on a backpack, especially one that most outdoor enthusiasts would want to use, and how much work, time and money it would take to fully seal all of these. This isn't even taking into account the actual material the pack is made of, and how heavy this can start to make it when it's the primary fabric from which the bag is made. So, the difficulty with making (and being able to afford) a functioning, useful and light fully waterproof backpack is becoming clearer, and why a cover is a much more viable option.
Most of our picks claim to be waterproof, and it is likely true. It's not such a bold claim with an open backpack cover as it is with a raincoat or backpack, which requires all-over protection. The more important thing to consider for a cover is that with the average deluge in one session being 3000mm, it's unlikely you'll need complete-submersion protection. Furthermore, this doesn't really apply to covers, as it is only protecting the portion of the backpack that is exposed ie. not against your back. When looking for protection against water, think about your lifestyle, habits, and when and where you'll be using the cover. All our picks, apart from the couple at the water-resistant end, are waterproof and so will serve most users' needs. Given that you're pretty much covered on the water protection front, read on for the other criteria that you need to consider, and may help you make your decision.
Materials
Rain covers are actually made from a variety of fabrics and house more technology than you might expect. Here we'll explore some of the terms and names you'll come across.
Nylon:
One of the most common materials for rain covers. As a plastic fiber, it naturally resists water, tears, abrasions, mold, and mildew – effects which are enhanced if it is treated. It also stretches for a better fit and is easy to clean, but prone to fading and is non-recyclable.
Polyester:
Up there with Nylon in terms of popularity, polyester also resists water, with absorption very slow, but it is not as flexible. However, it is cheaper and won't shrink, which is an important attribute for a product designed to get wet. Unfortunately, it will hold oily stains.
Denier:
Nylon and polyester are both measured in denier, which is a standard based on a single strand of silk being equivalent to one denier. So if a fabric is listed as 300 denier, it means that one strand is roughly equal to 300 strands of silk thread. You can see what this starts to mean for thickness and durability as the denier count gets higher! High denier and a close weave aren't enough on their own, however, as water can get through any gap.
Coating:
This will usually via lamination or sprayed on silicon or polyurethane. Teflon and PVC are also used. Coating or impregnating adds protection without adding weight, as is the case with fabrics where the durability is built in, such as taffeta.
Style
We've gone with this terminology, rather than 'design' to distinguish it from the technical aspects of how the cover is made. Although for some users, having your gear match, look good, or be discreet in a natural environment is important, these criteria aren't just about looks.
The really important reason why we've included the appearance of the cover as a factor is to do with safety. Particularly when thinking about longer treks and trails, it is necessary to think about the light conditions. This can be low light in the evening or at night, but also consider fog and the visibility issues that come with heavy rain (a likely risk factor if you're using a rain cover).
This is one reason why we see that the majority of what's on the market focuses on larger-sized backpacks. If you've got a small bag, it's likely that you're only on a short trip, where you can soon find shelter, and won't be exposed to the elements for too long. A larger backpack implies you're on a long excursion and need to carry most of the things you need, and so may find yourself outside without protection for longer periods of time. With that in mind, we've judged our picks based on how visible they are in low-light, and whether they include any reflective elements.
Features
ou don't just want your rain cover to fit, you need it to stay where it is in potentially high wind and heavy rain. As an additional piece of equipment that isn't ready-attached to your bag, and often isn't by the same manufacturer, getting this right is all-important.
While there are two broad schools of thinking – elastic and drawstring – we found the distribution among the best-rated covers out there about equal. Furthermore, there doesn't seem to be overwhelming evidence in favor of one over another. If your choice of cover isn't made by virtue of other factors, it will likely come down to which one provides the best coverage for the kind of backpack you have. Some of our picks fare better or worse for packs with high or protruding straps, while some offer special attachments for hip-belts and harnesses for extra security. Think carefully about access points on your backpack.
Another major consideration in this area is any extras you carry on the outside of your bag, and whether or not the amount you carry tends to fluctuate. In these cases, you may want to think about getting a cover which has some slack allowance depending on your usage.
A good general rule is to go for the larger size if your backpack capacity is on the border between two cover sizes. However, some will want a perfect fit, which means you'll need to check and try a few to get it right. One way around this is getting a cover which corresponds to your brand, like the CamelBak. Beware: too a fit that's too tight could mean the cover cannot provide enough of a barrier as it touches your bag or leaves gaps at the top or bottom, and too loose may mean it catches the wind or falls off.
Top Ten Backpack Rain Covers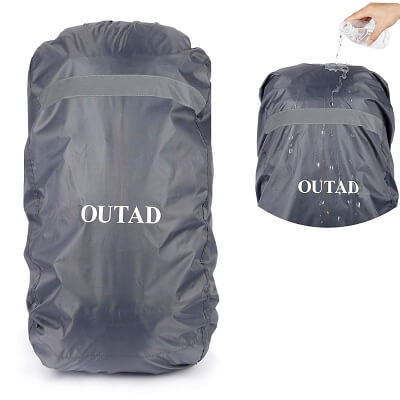 This one is really about durability and heavy-use. This is reflected in its weight and size when folded, but packs a few features which might just clinch the deal for those who enjoy taking to rougher terrain.
Read more
Waterproof v Water-resistant
Waterproof, with OUTAD even guaranteeing it, reports of a dry pack after nine hours have been made. The material is rip-resistant polyester Oxford.
Appearance
Available in four colors, with only a logo, the crowning glory of the OUTAD's design is its reflective strip. It's 1.5inches wide, spans the whole back of the cover and is highly visible in the dark.
Weight
At around 6 oz, it's one of our heaviest covers, but this seems to bear out given the durability and doesn't prove to be a problem for most.
Fit and Fastening
The OUTAD is elasticated, rather than drawstring, and seems to represent the best parts of this fastening method. Although not adjustable, in only two sizes it seems to snap to the size of most packs. The relatively wide ranges, 35-55L and 55-80L, are bold, but don't seem to cause fit issues. A useful and and rarely seen feature is the cover's button-fastened elastic band across the opening, to further secure it around your backpack.
Pack Away
The cover comes with a separate drawstring carry bag, measuring 9x4x3 inches when in use. Again, it's not the smallest or lightest cover to transport.
Extra Features
The OUTAD features worth mentioning are its reinforced, double base for durability when placed on the ground, and the drainage hole in the bottom for any collected water.
Summary
Overall the OUTAD is known as a heavy-duty cover, and lives up to its reputation. It's probably our favorite for durability and scores consistently highly. If you're looking for something that'll see you through a hike, can be set down in rougher conditions, and is great value for money, the OUTAD is for you.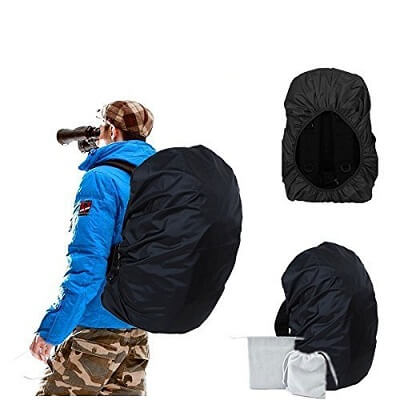 Known as the inexpensive yet durable cover, there's not a lot to say about the Joy Walker, except that it's waterproof, and will fit your backpack, which is what we're all here for. With some additional technology without too much concession to weight, it's one to take a look at if you just need to keep your stuff dry.
Read more
Waterproof v Water-resistant
The Joy Walker's secret weapon is in its 300 denier 'double-construction' Nylon. Featuring three layers, the outer is rip-resistant and protects against scratches, dirt and sand; the inner membrane protects, and the inner layer is fully waterproof against rain, fog and snow. With average rainfall in one downpour at 3000mm, the Joy Walker with its 5000mm promise certainly has got you covered.
Appearance
The Joy Walker comes in three bright colors and black, with no branding at all. This could seal the deal for those who don't like a lot of distinctive features, which can draw attention to your backpack when you might be carrying valuable equipment. The main downside in terms of appearance is that there is no high-visibility or a reflective element.
Weight
Not varying much with the extensive array of sizes, the Joy Walker's average weight is in the mid-range at 4.4oz.
Fit and Fastening
It's large. And we mean large. Available in five sizes, with ranges spanning 15-90L, there's basically a size to fit any backpack going. There is no drawstring fastening or an extra strap, just an elastic rim. In general this doesn't seem to cause fit issues, although occasionally it can be pushed off by your backpack straps so ensure you get the right size and check it while wearing.
Pack Away
Comes with a separate velvet pouch. We're not sure why it's velvet, and presumably wouldn't stand up to nearly as much as the cover itself, but it's not a major issue and does at least fold up to a small size.
Extra Features
Light on extra features, but it's another one that ticks the main boxes in keeping your bag dry and so doesn't need to rely on anything else.
Summary
The Joy Walker is the simple stalwart with a hidden twist. It does what it says on the package and has become the go-to for many hikers. If you're looking for extras or something for the nighttime, this might not be your choice, but it's a can't-go-wrong option for a basic cover.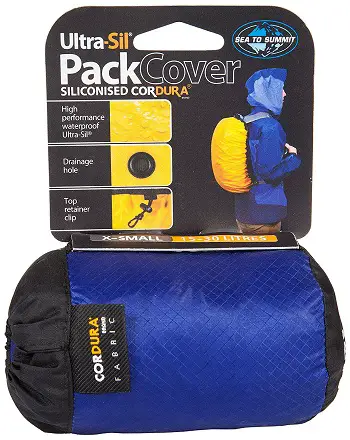 Don't be put off by the ultra-light credentials, this cover packs a punch and is a favorite among many. With some great colors, it's the siliconized technology which makes the Sea To Summit stand apart.
Read more
Waterproof v Water-resistant
The pride and joy of the Sea To Summit is its patented Ultra-Sil™ siliconized cordura 30 denier Nylon. It certainly works, with its many loyal fans praising it as the best. Added to this technology is a seamless design for no-leak protection. It's also proven to hold up well against scratch and rip hazards, even on extended rough trail hikes.
Appearance
Coming in seven bright colors, with a slight shine and contrasting seams, the Sea To Summit certainly looks the durable, well-built part. The green blends nicely into its surroundings if you're in the wilderness and want the full experience. There isn't a high-visibility or reflective element for low light, however.
Weight
Ranging from 2-4.6oz across four sizes, it's a mid-weight cover.
Fit and Fastening
Firmly in the drawstring camp, with the tight opening the only way in along with the lack of seams. There's also a strap around the middle and a clip at the top for additional fixings, and it has to be said, it looks like one of our snuggest fitting covers. The four-size range works for packs 15-95L, and fits pretty true to size; we recommend a size larger if you store extras on the outside of your pack. It also works well with a variety of backpack brands.
Pack Away
The Sea To Summit folds and packs up into its truly tiny, hand-sized, attached carry bag. It also has a drawstring fastening and is made from the same Ultra-Sil™ material, so you can use it to carry small items when not in use and get the same protection your backpack does.
Extra Features
We love the extra-durable, extra-small carry bag, and counts as an extra feature because it's so useful.
Summary
With its specialized technology, relative light weight and snug fit, this is a good all-rounder, and the last cover many users will consider having tried it. Slightly more expensive than some of our other picks, we think it represents value for money due to the extra durability.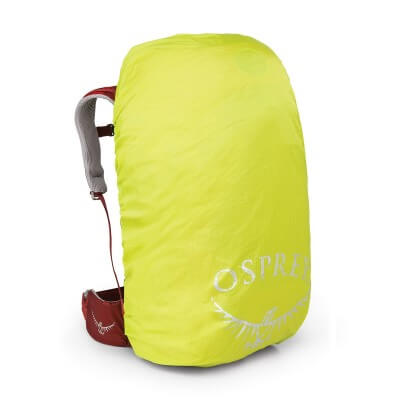 Despite its sister product, the Osprey Ultralight, being perhaps our highest rated and most popular choice, we still thought the Osprey Ultralight High-Vis deserved a place in our list. Partly because covers with lots of high-visibility elements are rarer, but also because it scored well in its own right against the other Osprey model.
Read more
Waterproof v Water-resistant
Osprey claim fully waterproof, but reports vary, which may be down to the relatively light 70 denier ripstop Nylon. It could also be a case of the small size range, just 10-20L and 20-35L capacity, meaning they don't fully fit the backpacks tested on. However, the seams are taped, and Osprey are certainly known for their credentials.
Appearance
As expected, where the Ultralight is primarily dark with a reflective logo, with the High-Vis Osprey have gone fully luminous with the body of the cover. There's also the familiar reflective logo. Does its job and works well at nighttime.
Weight
Very lightweight at around 3oz.
Fit and Fastening
The classic Osprey adjustable cinch, and hip-belt and harness attachments, make for a secure fit. As above, ensure it's the right size for you; we'd advise going for the Ultralight if you need a larger size, rather than making the High-Vis fit and being disappointed.
Pack Away
One of the best, the High-Vis comes with the attached pouch, in the same luminous material. This takes it down to the size of a tennis ball, so won't take up any space or weight when not in use.
Extra Features
The blinker light attachment means that it will appeal to cyclists, the classic market for high-visibility products.
Summary
Overall, great to see Osprey and its popular, high-quality product encompassing full high-visibility as well. It will certainly win them a lot of fans. If you want an Osprey but aren't sure which one, how and when you use your backpack will likely make your choice for you. If you do a lot of cycling or running in the evenings, it might be worth it for you.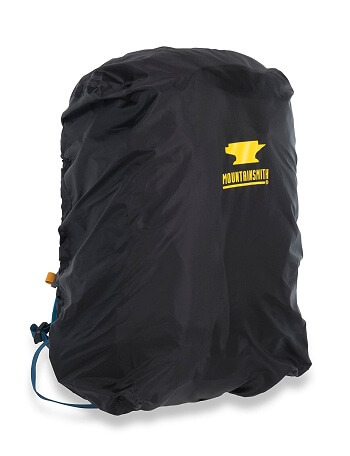 An underdog among our picks, mainly for its understated design and lack of obvious extras, the Mountainsmith shouldn't be underestimated. Its taffeta construction, combined with a light weight and some clever features make it one to watch.
Read more
Waterproof v Water-resistant
It's waterproof, and made from the rarer Nylon Taffeta 190T, offering a good weight to material ratio given this heavier fabric. Managing to make this work means that being able to use this material is a quiet bonus for the Mountainsmith. The seams are sealed and taped for added leak-protection, all its waterproof features keeping a pack dry for a week of nights outside the tent.
Appearance
A relatively simple look, coming in only black and with minimal yellow branding - the anvil reminding us of Mountainsmith's aims of durability. No high-visibility elements, but it's another choice for those looking for something discreet.
Weight
The biggest of the four sizes doesn't reach 4.5oz, which is impressive for an overall 10-100L pack range.
Fit and Fastening
The cover has a full-circumference drawstring for snugness. Sometimes it doesn't fully cover the shoulder straps, but this may be down to getting the right fit. There's also a hook and loop closure to keep the cover secure. However the exciting feature we liked was the angled extra cord attachments to reduce strain when having to adjust to backpacks with different designs.
Pack Away
Sometimes considered the 'holy grail' of stuff sacks or carry-bags, this one is integrated into the cover itself for ease of use and less likelihood of loss.
Extra Features
Again, not a massive amount of bonus features, but the Mountainsmith holds its own with some great design elements.
Summary
While you might scroll, or should we say hike, past this one, the Mountainsmith definitely has some features which allow it to sneak up and join the rest of the rain cover pack.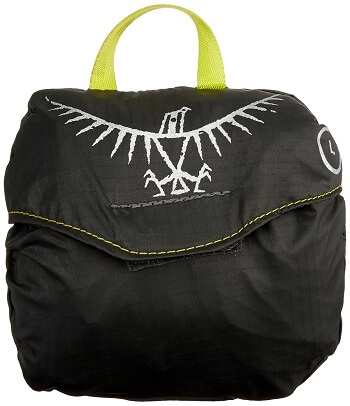 For many, it's the first and last in backpack rain covers. A consistent favorite, the highest scoring, and the only product on our list which crops up every time someone mentions 'backpacks' and 'rain'. Take a look at its features to see why this is the cover keeping so many backpacks dry.
Read more
Waterproof v Water-resistant
Waterproof 40 denier ripstop Nylon with a PU coating. In tests it kept backpack and belongings dry over five miles, or six continuous days of rainfall, including overnight. The material isn't known to be the most durable, probably the cover's main concession to its light weight.
Appearance
The Osprey Ultralight comes in black or gray, with contrasting yellow or gray stitching and carry bag handle. Its most prominent design feature is the Osprey logo, which is, admittedly, on the large side. However, the added design elements are reflective, so you get a low-key cover with safety elements built into the design.
Weight
2-4.8oz depending on the size (M, L, XL). In practice these weights have come out higher, but for the size and coverage, it still lives up to its Ultralight name.
Fit and Fastening
Fits to your pack with a fully-cinched drawstring, with bungee cord hip-belt and harness attachments, adding extra security in the wind. The seams are also taped to prevent leaks. For comparison, the large size fits a 50-55L pack. This gives a pretty good range of coverage across the three sizes, considering each one is versatile and fits with about five leters each way. Also popular for fitting Osprey and other backpacks alike, being chosen by many regardless of backpack brand.
Pack Away
The Ultralight comes with its own carry-bag, and folds down into this to around the size of a tennis ball. This, combined with the light weight, is perhaps the key to this covers popularity.
Extra Features
With its coverage, given its light weight, being the unique selling point, its basic design is encompasses the extra features others would like to boast. One standout element is the blinker light attachment (light not included) for cycling, nighttime or foggy hikes, adding to the reflective safety features already in the print and design.
Summary
The Osprey Ultralight, despite occasional claims of a lack of durability on rough surfaces, still comes out on top of most lists, so there must be a reason why so many hardcore hikers and professionals keep coming back. It could be that weight is indeed the most important factor, but the bonuses of the Ultralight don't end there. It hits all the bases to become an unmissable all-rounder for all weather.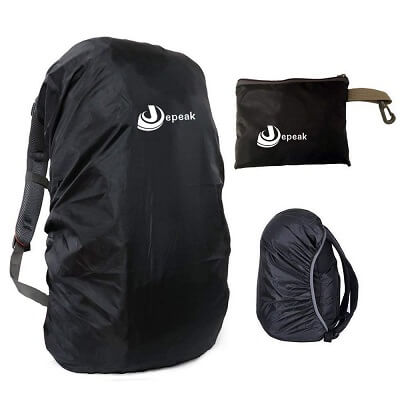 Lesser-known and without the product range of some of our other picks, the Jepeak still scored well, and that shouldn't be underestimated.
Read more
Waterproof v Water-resistant
Made from waterproof, 300 denier, PU-coated Nylon, boasting more than 3000mm (average rainfall in one session) resistance. It's also fairly wear-resistant and scratch-proof.
Appearance
Three colors including black, there's no high-visibility, but the orange is very bright and noticeable for fog or low light. The cover has minimal, unobtrusive branding.
Weight
4.3oz, mid-weight among our picks.
Fit and Fastening
Elastic lined inner edge, and adjusts to fit quite well considering there is no manual adjust or tighten. Obviously Jepeak doesn't have the broad size range of other brands, with this model fitting 30-40L packs, and a bigger size going up to 40-50L. Reports vary over backpack strap coverage, our tip is to ensure you get the right size, especially if your straps sit right on top of the bag.
Pack Away
The Jepeak folds up to near pocket-size, and comes with a carry bag with clip for easy carrying and access.
Extra Features
Nothing special to highlight here, it definitely isn't stocked full of features, but for some users the basics are all they're looking for.
Summary
While definitely not our highest-rated cover, it's a very good value safe bet for keeping your stuff dry. It hasn't got a lot of fancy features, but sits firmly in the 'does the job' category. A good find for versatility and durability. What's popular doesn't always need to be the most high-spec, especially if people find it useful.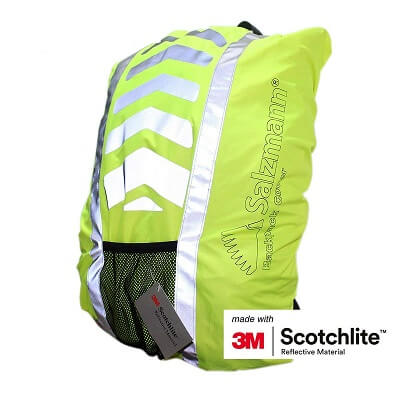 While much less well-known in the market, we thought the Salzmann was worth including for its near unique look and features. Our picks so far haven't all had high-visibility elements, let alone put them so front and center. It's certainly eye-catching, but how does the Salzmann stack up against our other covers?
Read more
Waterproof v Water-resistant
The treated polyester is fully-waterproof, refreshing in a smaller capacity cover. This durable material and the reflective Scotchlite™ is likely the reason for the higher weight.
Appearance
In four luminous colors and black, with top to bottom reflective strips and chevrons, as well as three all-over silver luminous designs, the appearance is undeniable. However, it's not just about good looks. The reflective material has 3M credentials behind it, being their Scotchlite™ material, visible to drivers at night up to 200m away, and improved for this cover in 2017 after the earlier 2014 model.
Weight
Heavy for a smaller cover at nearly 5oz.
Fit and Fastening
Elastic drawstring pull cord, as well as stretch bands across the cover, keep it tight to your backpack. This is important in a product so clearly marketed to runners and cyclists. It's small, with a 25-36L capacity, and will fit snugly on most bags. There is a larger, 40-50L capacity model, but the size range is limited as compared to other covers. Trying to fit the Salzmann onto a backpack that it's too small for may cause coverage issues. Again, the limited range is likely down to the complex and intricate reflective design elements.
Pack Away
There is no built in or included carry bag or pouch. It folds away to a small size for stowing.
Extra Features
There is a handy mesh pocket on the outside of the cover, for those moments when you need to stow something momentarily or when it's not raining, obviously. Some bundle deals offer a cycle helmet cover as well, perhaps confirming Salzmann's target audience with this cover.
Summary
One of a whole host of products featuring the Scotchlite™ technology, you'd be forgiven for thinking there's only one thing on the menu with the Salzmann. In a way it's true and deserves its place, with visibility on roads and trails being such an important issue. It's always going to be quite specialist, but one of the best if that's what you're looking for.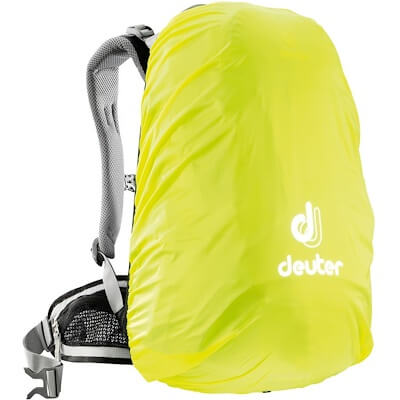 The Deuter III is one of our largest picks, and more than any other fields claims of perhaps being too big. With only two other Deuters in the range, they span a 70L pack capacity range among them, which might explain the extra material some find hanging around on their pack. However, we think the Deuter's got enough to justify its popularity.
Read more
Waterproof v Water-resistant
Definitely waterproof and proven in user tests under hours of constant rain. It's another PU-coated taffeta Nylon, with a slightly lower 190 denier thread count - perhaps the reason for it's mid-weight despite being a large cover made of a heavier material. The seams are also tape-sealed to minimize leaks.
Appearance
We love the 'cool blue' and neon color options. Simple and bright for low light, with reflective branding in the middle to catch the light at night.
Weight
For such a large cover, with a big pack capacity, the Deuter III weighs only 4.5oz.
Fit and Fastening
In general, the large size and shape is either a major bonus or a slight irritation, depending on what you need the cover for. The Deuter III's sister products, the Deuters I and II, broaden the range of sizes available at 20-35L and 30-50L respectively, compared to the Deuter III's 45-90L. However, it's really the large scope these three models cover within themselves that will likely divide opinion. It's got an adjustable drawstring to tighten, and a flexible inside band for extra security, but with it's rectangular shape to fit trekking packs and broad range, some report that it hangs loose and the fit is affected.
Pack Away
The attached storage pouch is also a drawstring close, and features the same reflective elements as the cover itself. It also has tabs for looping or clipping to other bags or equipment.
Extra Features
Perhaps not an advertised or intended extra feature, but one advantage of the large size and durability is that it can be used as a floor mat as well when not on your pack. The extra material also means extra space, allowing for those additions and filled up outside pockets on your pack.
Summary
It's not going to suit all users, but the colors are bright and fun, and whatever your capacity needs, the large size range definitely makes the Deuter a versatile option. It's got everything else you'd want from a rain cover, so it's really just thinking about whether you need that extra space.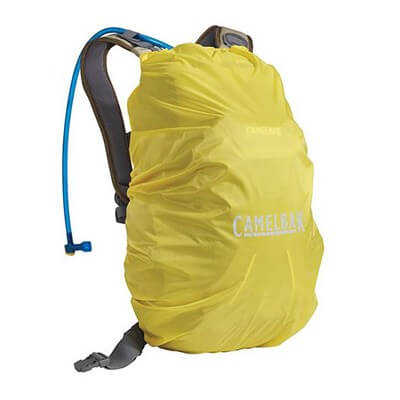 A cover from a brand well-known and associated with water, but perhaps not rain! In fact, the Rain Cover M.U.L.E. is designed for three of CamelBak's famous water bladder designs, as well as other brands. The name certainly lends credibility to this top-rated cover.
Read more
Waterproof v Water-resistant
Water-resistant and works well in light rain. It's made from coated nylon, and although not fully waterproof, it's a good quality fabric with ripping and damage not a problem we've experienced. However, this may be because it doesn't end up in many heavy-duty situations due to the design.
Appearance
The CamelBak comes in distinctive yellow; bright and easy to see in the daytime, and visible in the dark. Other than that, there's just a minimal white logo, but the yellow is certainly enough to go on.
Weight
The CamelBak is very light, half or even a third of the average size of most of our picks. It makes sense given the cover's relatively small size, with a backpack size range of just 25- 38L.
Fit and Fastening
The CamelBak is nice and snug, with a drawstring cinch and three attachment points - a secure for such a small cover. It also has a hook and loop closure system and a velcro buckle. This, combined with the compact size, really gives it an audience in cyclists and athletes.
Pack Away
Despite there being no bag or pouch, the CamelBak folds to the size of a napkin, its small size again meaning it doesn't need to compete or carry the features other covers need to have as standard.
Extra Features
It's not strictly an extra feature, but likely attracting existing CamelBak owners, the built-in benefit is that if you're already using a water bladder bag, you won't need to remove the cover either for drinking.
Summary
So, with its small size range, water-resistance only, and lack of bells and whistles, the CamelBak may not be for everyone. However, for light use, visibility and alignment with the brand if you own one of their very popular water bladder packs, it could be just the right fit.

Subscribe to our Newsletter