Best Hardshell Jackets
In a
Hurry? Editors choice: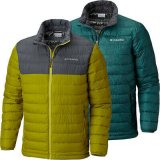 Test Winner: Columbia Crested

When the cold temperatures come and the leaves begin to change color, this is an indication that we need to dig out our
best winter jackets
so we can stay warm while doing our day to day errands. Now, if you do not have a proper jacket that will keep you protected and give you a comfortable feel than it is time now to invest in one so when the cold weather does come, you are prepared.
One of the best types of jackets to invest in as they are a well-rounded jacket and can be used for multiple outdoor activities is a hardshell jacket. It will not only keep you warm but also dry as it is a versatile jacket that will be the best at fighting the nasty weather conditions that the fall and winter can bring.
Standout Picks
Criteria Used for Evaluation
Materials
It goes without saying that jackets, by themselves, need proper construction and technology to achieve their designed purpose. However, it is enhanced with hardshell jackets as their main purpose is protecting you from the hazardous weather outdoors. If there are blimps in the design and they are unable to achieve this level of protection, they are nothing more than an overly-expensive traditional jacket. This can't happen, and typically will not when you see the following characteristics of the overall construction.
Best hardshell jacket achieve their waterproof and windproof capabilities with fabric and technology integration. For example, Gore-Tex, AscentShell, and Dry. Q Elite. These are just a few, but they all provide the utmost in weather-resistance. You can put your faith in them that they will deliver top-of-the-line technology. Past this, you can keep a special eye out for other features. This could include a micro-seam allowance, or specific seam tapes, that reduce the weight or gusseted underarms and articulated elbows for enhanced freedom of movement.
Also, you may want to take note of any integrations that are made to provide extra resistance against corrosions and damage. Just know, however, that a best shell jacket is specifically designed to prevent the weather from altering your experience. If nothing else, most will accomplish that very well.
Features
The Overall Design of the Hood
The torso on the jacket is just one section of it and you need to pay attention to the construction of the hood, as well. In times of torrential downpours, you will find it necessary to wear your hood. But, there is more to it than you might initially think. Manufacturers will use the same fabric on the hood to ensure it has all the weather-resistant jacket properties of the torso. However, this alone will not provide you with a capable hood.
First and foremost, keep an eye out for adjustability and removability. The former is critical as you may want to adjust the way the hood fits (but doing so without restricting your vision or mobility). However, the former is not necessary but nice in the instance you want to remove the hood completely. Also, take note if the hood has a wire-brimmed as this can help provide shape and definition to it.
Finally, bikers, climbers, skiers and any others who partake in dangerous activities, may want to wear a helmet with the hood on. Thus, you will often see a hood as helmet compatible. This just means that you can adequately wear a helmet with the hood up without it feeling unnatural.
The Number of Pockets and Their Practicality
No matter what product you are looking into, there will come a moment where you are exposed to a factor that is a matter of opinion. In other words, one that is strictly personal preference. While a little anti-climactic, this so happens to be pockets when assessing best shell jacket. For some, they may be one of the most important factors to consider. Others may see them as an addition rather than mandatory. Either way, you stand, these are some of the ways to assess the pocket design.
First, analyze where the pockets are located. This could be in the interior, on the chest or near the bottom where your hands would go. Sometimes, hand pockets are just nice to place your hands inside (whether for rest or warmth).
Chest pockets are great for holding key essentials and valuables, just as interior pockets are. Which ones do you think you will utilize? Once you answer this, you will know which ones to prioritize. After which, figure out if the placement will be an issue for you. As you noticed, some of the entries on this list had impractical locations.
Style
It is important for clothing, especially ones with specific integrations, to be designed with the utmost efficiency. However, have you ever wore a piece of clothing and not cared about the colorization? As people, it is human nature to invest in apparel that matches your style. This will vary from person to person, so it is convenient when sellers provide you with multiple color options.
As for sizes, you will not get much use from a this jacket that does not fit you. This one is a no-brainer, but there will be times where a specific model will fit smaller than usual. If need be, you can always look at the seller's size charts for extra precaution.
Top Ten Hardshell Jackets
Subscribe to our Newsletter