Best Waterproof MP3 Players
In a Hurry? Editors choice: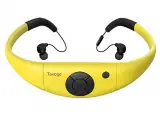 Test Winner: Tayogo

Music makes everything better. It adds a level of enjoyment and enrichment to our lives and makes mundane or difficult tasks like exercise more interesting and fun. Whether you want to listen to music while swimming laps for exercise, or while doing recreational water activities like boating, or if you simply want to guard against accidental water contact from rain or splashes, then one of the best waterproof MP3 players should be on your list of must-haves. In this guide, we will look at the ten best products on the market. We'll examine their features and what makes each of them great so you can easily choose the one that is best for your particular needs.
Standout Picks
Criteria Used for Evaluation
Accessories
Cool accessories can be both practical and fun.
When researching these products, we looked at not only the product itself but also the accessories that came with it. When the product included accessories, it certainly added to the appeal and value of the particular model. We considered the fact that accessories such as goggles and swim caps might be good or bad depending on how you look at it.
On the one hand, they are a nice inclusion that is practical and would obviously be needed by anyone who plans on swimming. But on the other hand, if you are an avid swimmer in the market for one of the products on this list, then you probably already have your own goggles and swim cap that you use and like. You might be partial to a certain design or brand and the ones that come with the product might not be the kind you want and might not be that well made. Some users express the opinion that they'd rather just have a lower-priced product than accessories like these.
When researching, we found some products that came with accessories, and some that didn't in order to satisfy both of these sides of opinions. Some accessories might be really practical for everyone, though, and that includes the special kind of gel that you use to get a tight seal with the earbuds. That is a product that not every person has laying around already, and so it is nice when it is included. One accessory that we counted as a necessity was earbuds. We made sure that every single product came with everything you need for you to start listening right away. For most this meant including waterproof earbuds plus several tip sizes. For a few, no earbuds were needed due to the design of the product.
Durability
These products need to be both safe and long-lasting.
Usually, electronics and water don't mix, but that's not the case with these products. They are built to withstand what is usually a very harsh environment for electronic devices. They have to withstand the pressure of several feet of water and be able to be submerged for long periods of time without sustaining damage.
We looked for products that can go very deep without problems, and also that can be in the water for long periods of time so that they will be safe for your entire time in the water. We featured at least some products that can also withstand saltwater and sand. Depending on how you plan to use the product, you may or may not need this, but we wanted to feature a range of capabilities for all needs.
Battery Life
The music lasts only as long as the battery.
We were pleased to find that nearly all of these products have excellent battery life. We wanted to make sure they charged quickly and then lasted a long time. No one wants to run out of battery in the middle of a workout session. Another problem we thought about was that since the batteries on these last so long, it's very possible that you might not know you're getting low on battery until you're just about ready to leave for the pool. That's why we looked for quick charging options so you can recharge while you get ready to go and even in the car on the way there.
Capacity
The device needs to be able to hold all your songs.
We wanted to find options that could hold your entire playlist and that could play music for the entire time you are participating in your chosen activity. It is annoying to run out of storage room and so we looked for products that had a good amount of storage capacity. The nice thing about music, though, is that it doesn't usually take up much room, so when researching and sometimes seeing numbers like 2GB or 4GB, we had to realize that in a situation with photos or videos that would be hardly anything, but in a situation like this where music is involved, it is actually a lot of room.
Value
Products should be worth their cost.
We looked for products that give you the most quality and use for your money. Any included accessories also added to the overall value of the product, but one of the biggest aspects to determine value was quality. We wanted to make sure that the products we researched were made to withstand the most rigorous underwater use so we could be sure they would also withstand casual use around water, or even just accidentally getting wet.
Top 10 Picks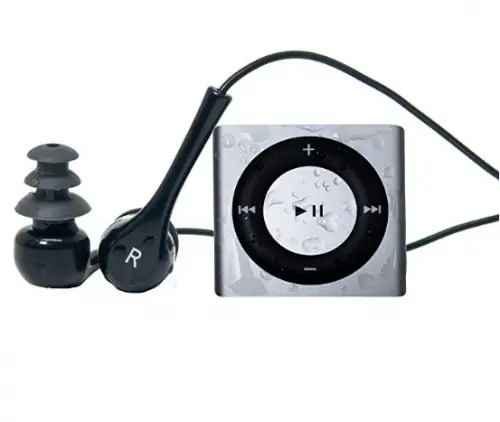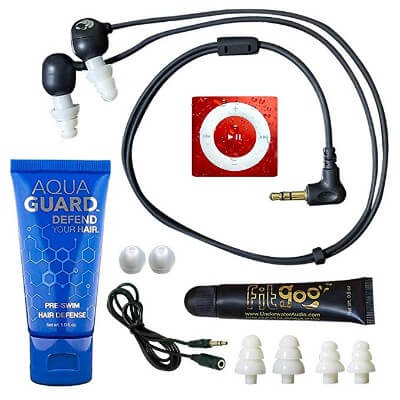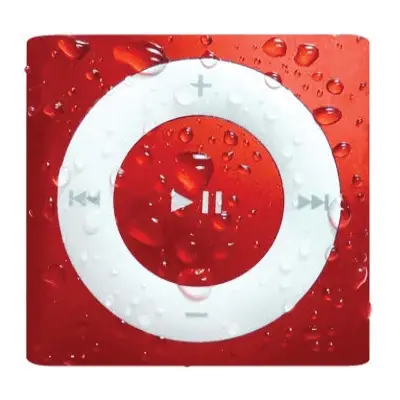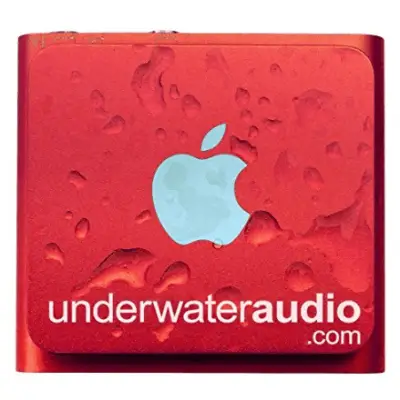 This is one of the best options out there especially for those who want to use it for swimming. It is designed in every way to be perfect for that sport and to withstand both water and pool chemicals.
Read more
Accessories
This product from Underwater Audio comes with some great accessories including earbuds, a 30 minute swimming workout track from Olympic gold medalist Rebecca Soni, FitGoo (which is a gel designed to help ensure the earbuds are watertight in your ears, and AquaGuard (which is a product that you can use to protect your hair from being damaged by chlorine). The workout track from Rebecca Soni is an intermediate level and includes a warmup, technical drills, and intervals.
Durability
This Underwater Audio product resists corrosion from saltwater and chlorine. The included earbuds and FitGoo also help with durability since they create a watertight seal that prevents water from getting into the earbuds and causing damage. The one year warranty is certainly nice so you can use the product risk-free for a year and see how durable it seems to be for your needs. Some users had trouble with durability. They would buy one of these and have it quit working after a few years of use, but they still liked the product and how it works.
Battery Life
With 15 hours of battery life, you should have no trouble getting through a workout session or any kind of water activity without having to recharge. This product can be easily recharged by connecting to your computer or to an adapter in a wall outlet.
Capacity
With 2GB of storage, the Underwater Audio has one of the smallest storage capacities on this list, but can still hold hundreds of songs. Another great thing is that it allows you to make multiple playlists.
Value
This product is one of the most expensive you can find, but also one of the best quality products you can find.
Overall
We love how this product from Underwater Audio is extremely high quality. We are also happy that it comes with some great extra accessories and a preloaded swimming workout track.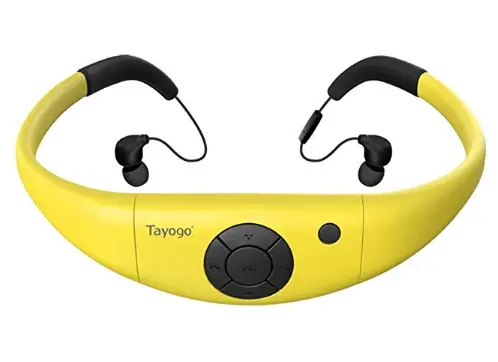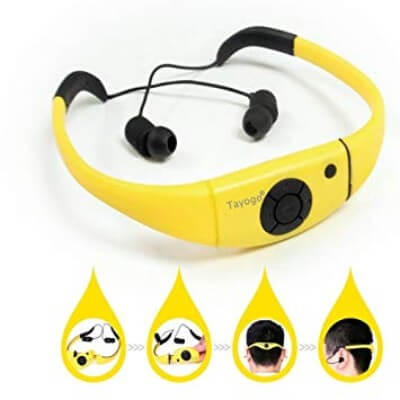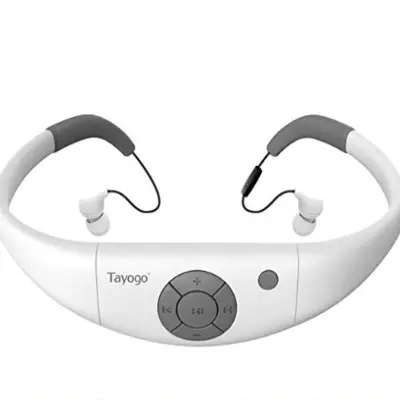 The great thing about the Tayogo is that it is hands-free and easy to keep with you. You can wear it on the back of your head kind of as if it were backward sunglasses, or you can wear it around the back of your neck. Either way, the Tayogo is designed in such a way as to be convenient.
Read more
Accessories
The Tayogo comes with an attached pair of earbuds plus three extra pairs of earbuds, a pair of swimming earplugs, a USB cable, and a user manual. Some users report that the earbuds are a little fragile, so it is a good thing to have extras that come with the product. The extras are in different sizes though: small, medium, and large. The Tayogo comes in three color choices. The colors are black, white, or yellow. You also have the option to get the product with or without Bluetooth. If you do get it with Bluetooth, you can take phone calls.
Durability
The durability of the Tayogo is aided by the fact that the product is coated with silicone which is great for keeping the water out and ensuring long-lasting use. The Tayogo is good in water up to three meters deep. Another great thing about the Tayogo is that it is extremely heat resistant. It can withstand high-temperature water (up to 60 degrees Celsius) making it an excellent choice for use in hot springs or a hot tub.
Battery Life
Users report that the Tayogo has excellent battery capacity. The brand states that the Tayogo needs to be used at least once every three months or the battery will stop working. The Tayogo needs to be charged for about one and a half to two hours and then can be used for six to eight hours.
Capacity
The Tayogo has a removable USB flash drive that has 8GB of storage and can hold up to 2000 songs. The product can support several formats of song files including MP3, WAV, OGG, WMA, AAC-LC, and DRM.
Value
The Tayogo is much lower in price than a lot of similar products on the market, which is great because the product is well made, has a practical design, and has a ton of storage capacity.
Overall
We love how the Tayogo comes in some cool colors and a cool design that would be fun and practical to wear.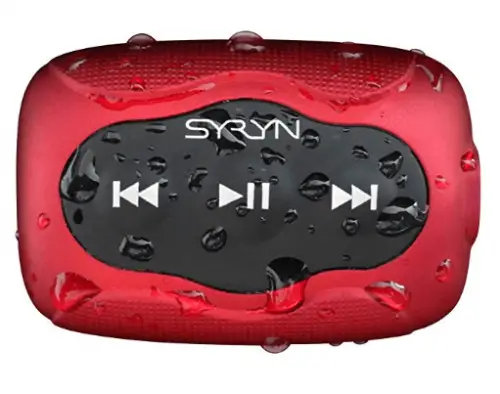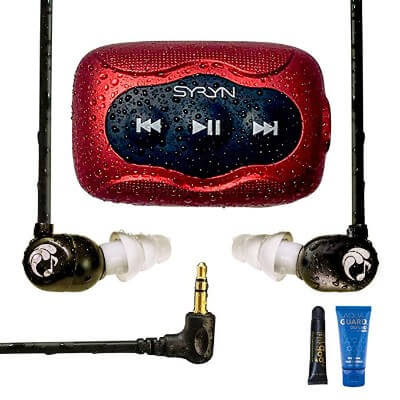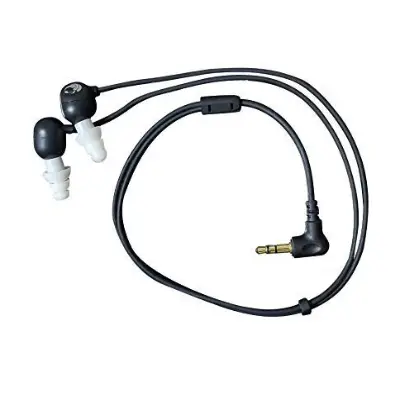 The SYRYN comes with four earbud tip sizes so you can get a nice tight seal for not only keeping the water out but also being able to hear your music more clearly. The earbuds are designed to work with flip turns when swimming laps.
Read more
Accessories
The SYRYN comes with a set of earbuds with short cords for convenience, but it also comes with a one-meter extension cable in case you need a longer cord. The SYRYN package includes several earbud tips in different sizes, plus some Swimbuds Ampyx swimming goggles, a Swimbuds Brizo swimming cap, a container of FitGoo, and a tube of AquaGuard Pre-Swim Hair Defense.
Durability
As with any waterproof electronic device, there is the potential for it to fail on some devices. Sometimes you just get a product that has a defect. This is something users have experienced with the SYRYN. Some have gotten one only to have it fail after a few uses because of a defect, but this problem can be solved using the one year warranty that comes with this model. The great majority of users, however, have had great success with the SYRYN's durability, saying it lasts for years. One good thing is that the SYRYN meets IPX8 standards and can be submerged in water up to ten feet deep.
Battery Life
One thing users liked about the SYRYN was that the battery is long-lasting and is quick to charge.
Capacity
There is 8GB of storage on the SYRYN. Songs can be loaded from your computer. This product supports the audio formats of MP3 and WMA. Some users stated that it would be nice if the product supported more file types.
Value
The SYRYN comes at a low price. The value is quite high since it also comes with so many accessories, although some users have said that they wished the product would come at a cheaper price rather than including accessories.
Overall
One of our favorite things about the SYRYN is the design of the included earbuds. They fit deep within the ear and have an accordion design to prevent water from getting in.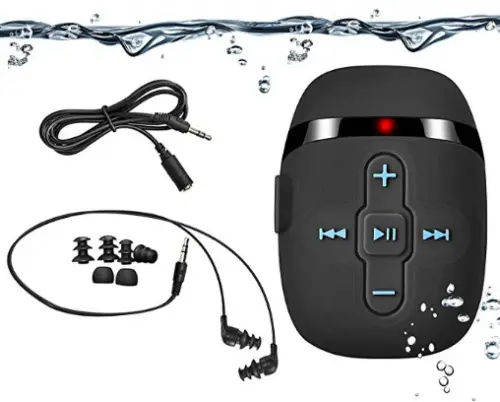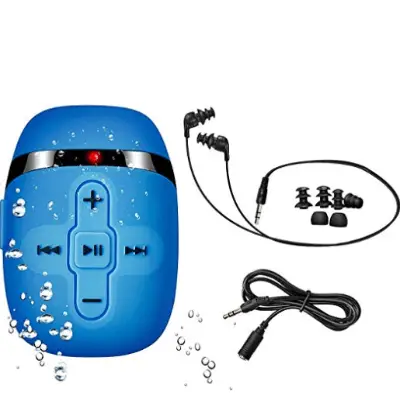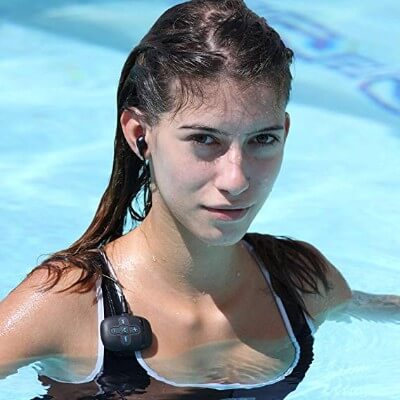 One of our favorite things about the SEWOBYE is that it was designed to be used without having to look at it. The control buttons are raised so you can control the device entirely by feel. Another great thing is that the product is smooth to the touch and has rounded edges.
Read more
Accessories
The SEWOBYE comes with three pairs of earbuds in different sizes, an extension cord for the earbuds, and a USB cable.
Durability
The SEWOBYE can withstand water up to 10 feet deep, and the stereo jack is gold plated to prevent any corrosion.
Battery Life
The SEWOBYE needs to dry completely before being connected to a computer and charging. The brand recommends drying it off with a towel and then letting it sit to dry for at least six hours. That being said, the SEWOBYE has excellent battery life. It can be played for up to 16 hours on one charge, and charging time takes only about an hour and a half.
Capacity
There are 8GB of storage on the SEWOBYE and it supports the audio formats MP3, ACELP, WMA, AAC-LC, APE, WAV, and FLAC.
Value
The SEWOBYE is a nice, low price product, and we like that it comes in two color options: black or blue.
Overall
The sound quality on the SEWOBYE is high quality and is HIFI lossless.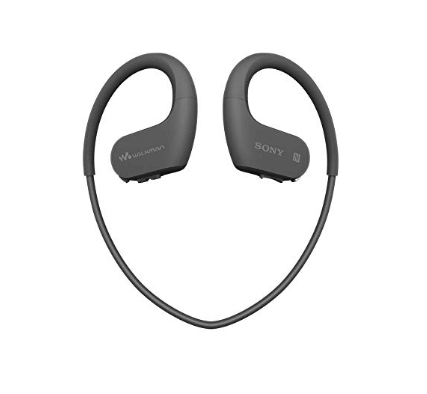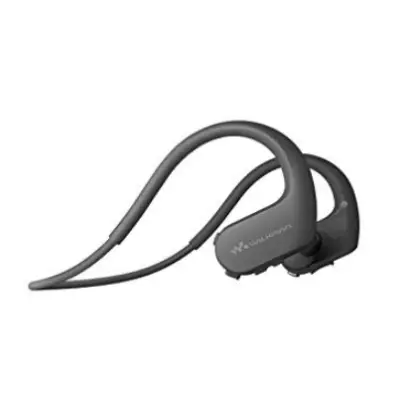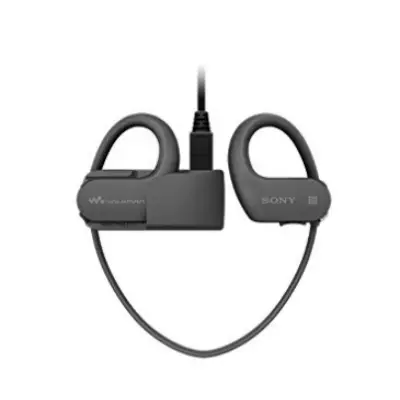 The nice thing about the Sony Walkman is that it is so sleek and minimal. It looks like a pair of small headphones, but it is actually also an MP3 player. It's built to be tough and to not get in your way.
Read more
Accessories
The Sony Walkman comes with a Bluetooth remote control to make it easy to change songs or playlists, raise or lower the volume, and any other controls. The Sony does have some other unique features, though, too, like an ambient sound mode which uses built-in microphones to allow you to hear outside noises even while listening to music. So you will be able to hear people talking, water splashing, and any other typical pool or ocean environmental sounds. The Bluetooth capabilities allow you to stream music from your phone, but this can only be done when outside the water since Bluetooth will not be able to connect when submerged.
Durability
Both saltwater and freshwater are fine for the Sony Walkman. It can withstand temperatures from 23 degrees Fahrenheit to 113 degrees. Sony was designed with extreme sports in mind. It is IPX5/8 rated and can stand depths of up to 6.56 feet. The Sony can also withstand small particles like dust or sand making it ideal for activities around the ocean and on the beach. One thing to keep in mind is that Sony can be in the water for 30 minutes time, but a longer length of time has the potential to cause damage.
Battery Life
For a full charge, it takes approximately three to four hours of charging time. A full charge will last for about 12 hours of use. But Sony also comes with another handy feature which is a quick charge mode. Using this, you can charge for three minutes and get 60 minutes of usage time.
Capacity
Sony has 4GB of storage space.
Value
Sony is quite a bit more expensive than a lot of models. It is a high-end product with some extra durability.
Overall
We love that the Sony Walkman comes with a remote. That is a pretty cool feature and could definitely be very practical as well.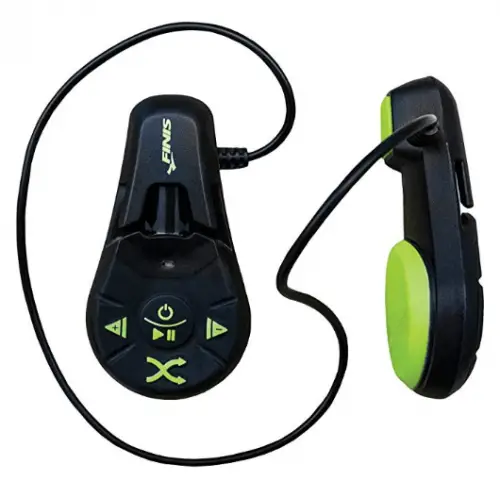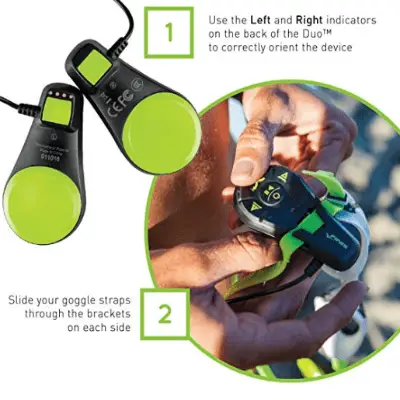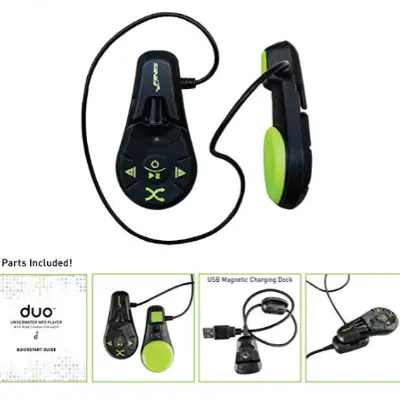 For those who have a hard time finding earbuds that will fit, or those who simply feel uncomfortable with earbuds, the Finis Duo is the answer. Its technology doesn't use earbuds and instead transfers sound into your facial bones.
Read more
Accessories
Although the Finis Duo doesn't come with any extra accessories except for the magnetic charging station, it does have some amazing features on its own. The bone conduction technology is pretty amazing. The product sits on your goggle straps right alongside and in contact with your cheekbone. The sound travels through your cheekbones and into your inner ear. Users report that the sound quality is excellent. This technology is specifically designed for underwater use and probably won't work quite as well out of water. The Duo has built-in clips for attaching to your goggle straps on each side of your head.
Durability
One great thing is that because the Finis Duo does not need earbuds, there is much less potential for water to get into it anywhere. This makes it very durable. One durability issue users have reported is that minerals can leave buildup on the place where the product connects to the charger. This can be simply and easily fixed by cleaning.
Battery Life
The Finis Duo comes with a unique charging dock that the product attaches to via a circular, silver-colored magnet. The battery lasts for about seven hours of playing time per charge.
Capacity
With 4GB flash memory capacity, the Duo can hold about 60 hours worth of songs. That is equal to two and a half solid days of listening. If you use the product for an hour every day, you could easily listen to different songs every day for two months.
Value
The Duo is a high priced option, but we can certainly see why. It has some amazing and unique technology that might work even better than earbuds.
Overall
We absolutely love this unique and well-designed option from Finis. The Duo is an amazing piece of technology and utilizes an interesting method of sound transfer.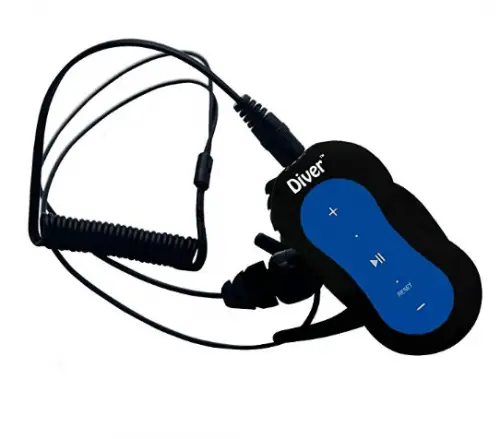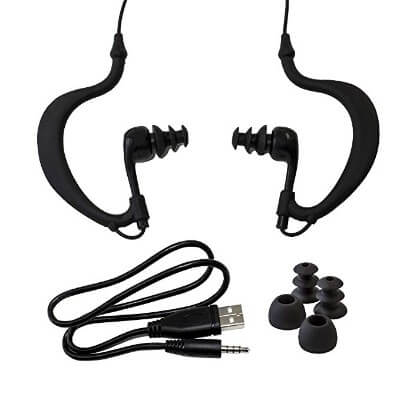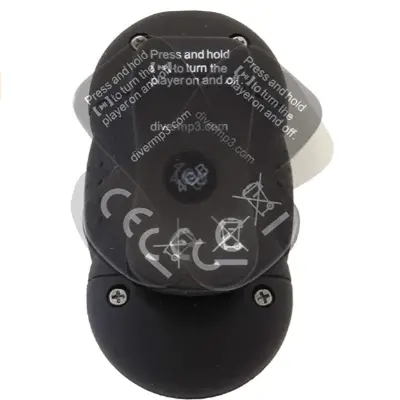 Here is a nice solid product from Diver. It is thoughtfully designed for use in and around water and has some pretty amazing durability standards.
Read more
Accessories
The Diver comes with a set of waterproof earbuds that have a coil in them so they can be extended up to 32 inches but they also stay out of your way.
Durability
The amazing thing about the Diver is that it can be fully submerged for up to 24 hours without being damaged. This is a longer amount of time than most products. Another great thing is that the Diver floats so if you drop it, it will be easy to retrieve.
Battery Life
The battery of the Diver lasts for about 16 hours of playing time per full battery charge. If used only a few times a week, the Diver might only have to be charged once or twice a month.
Capacity
There is 4GB of space in the Diver.
Value
The price of the Diver is on the low end of the range. It is lower than some products but closes at a price to a lot of similar models.
Overall
We really like the great durability of this model. We are happy to see how it can withstand water for so long and that it floats in case it gets lost.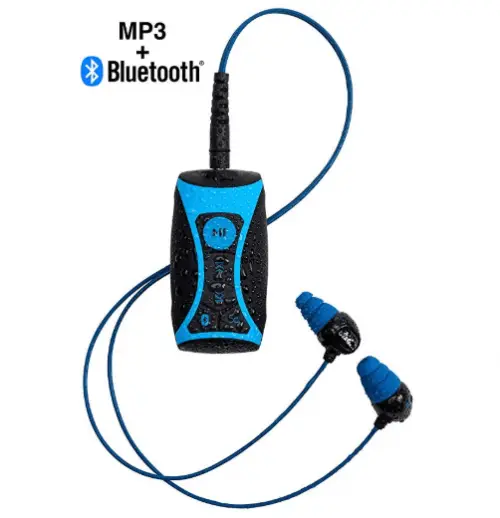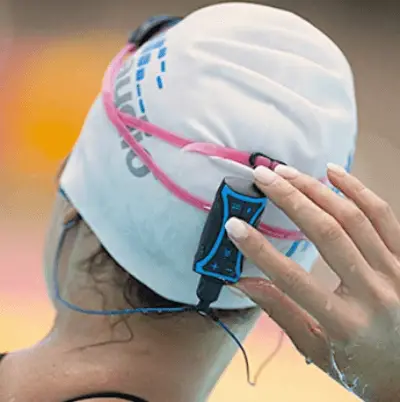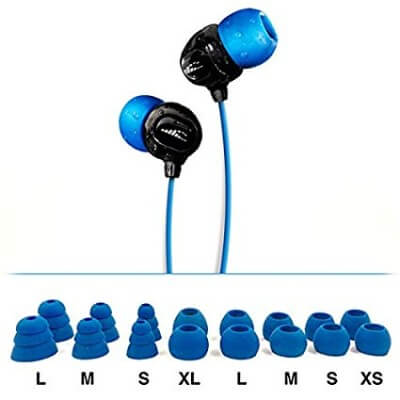 With amplified bass for excellent clear sound underwater, the H2O Stream avoids a common problem of tinny-sounding audio.
Read more
Accessories
One thing that could be considered an accessory is the preloaded music that comes with the H2O. The music is relaxing in style and will help you focus. The H2O also comes with eight different pairs of earbud tips in different sizes to help you find the absolute best fit. The sizes range from extra small all the way up to extra large.
Durability
The H20 can withstand depths of up to 12 feet of water, and amazingly, can be submerged for an unlimited amount of time without becoming damaged.
Battery Life
The battery of the H2O lasts for about 10 hours of playing time.
Capacity
The H2O Stream has a capacity of 8GB or around 3000 songs.
Value
Higher priced than some products, but lower than many others, the H2O is just about exactly in the middle of the typical price range.
Overall
We love the hydrodynamic design of the H2O Stream. Everything about it is designed for optimal water use including the shape and the sound design.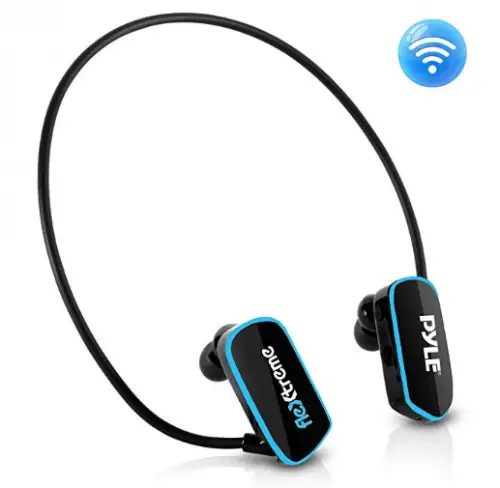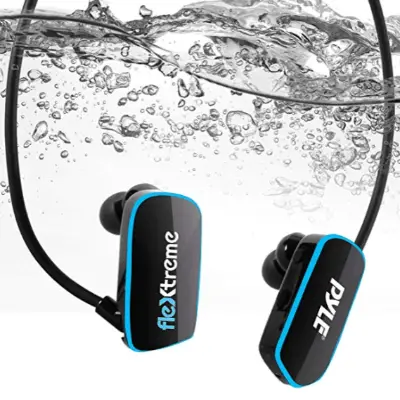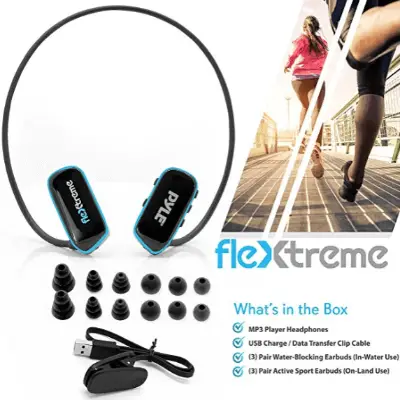 What we especially like about the Pyle is that it comes with sets of earbud tips for both water and land so you can use it in all your recreational and exercise activities.
Read more
Accessories
The Pyle includes earbuds with three different sized underwater tips and three different sized dry tips. It also includes a USB cable with a clip for charging and data transfer. The Pyle can be purchased with or without Bluetooth. The earbuds block interference.
Durability
The Pyle is built using marine grade construction and is both flexible and adjustable. It resists interference and is built to fit comfortably in your ear. One problem users have encountered is when one earpiece quits working while the other side still works. There's always the potential for this and it could be frustrating.
Battery Life
The battery of the Pyle takes about two hours to charge and lasts for about ten hours of use.
Capacity
The Pyle holds 8GB of music and comes with a high-speed data transferring USB 2.0 cable.
Value
The Pyle is low on the price spectrum. If you get it with Bluetooth capabilities, it costs just a little bit extra, but still not too much.
Overall
Fit shouldn't be a problem with the Pyle since it is designed to fit all head shapes and sizes and is adjustable as well.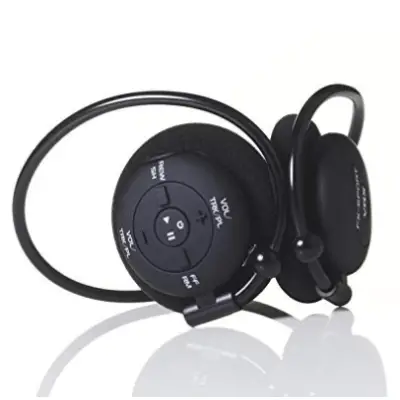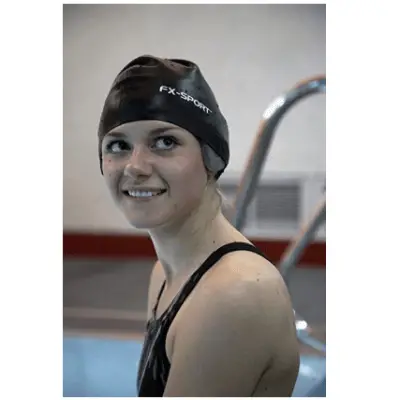 Bad news first: you need to separately purchase the silicone waterproof accessory to use this device underwater. While some of you may be thinking that this product has no place on this list, there was no way we could leave it off. It is packed with innovative features and is incredibly customizable. This is a great device that will be your ideal exercise mate in and out of the water.
Read more
Accessories
This VRX player arrives pre-loaded with workout programs from FX Sport's Workout Store. There are daily routines, as well as twelve-week programs to choose from. There are options for all different levels, intensities, and sports. You'll find programs for circuit training, gentle toning and conditioning, marathon preparation, and most importantly, swimming. The swimming programs offer a lap time pacemaker and a tempo trainer. The tempo trainer allows you to set a goal of strokes per minute and can either say "stroke" or simply beep every time you should be stroking. You can choose to hear this on its own, over your music, or even set it to remind you for five seconds every thirty seconds.
If you are not a fan of having other people tell you what to do, you can create your own routine or motivational messages. You can set the timing of each message to help keep you going strong throughout your routine.
Durability
At only 6.4-ounces, this product is lightweight but still durable. Without the swim accessory, they are sweatproof and rainproof. With the separately purchased silicone skin accessory, the product becomes waterproof. There will be some air in the silicone accessory after you insert the headphones and it is not necessary to squeeze it all out. It actually improves the bass. The depth that you can take this product down to has not been listed, but reviewers have taken it down to about six feet without issue. There have been no durability concerns and reviewers have been thoroughly impressed with the customer service of FX Sport.
Battery Life
The battery life of this product is long enough to last through any normal workout routine. It will last for up to five hours and gives you a beeping low battery warning. It uses a USB cord to recharge the included lithium-ion battery and charges quickly.
Capacity
From what we have gathered, after accounting for the space that the exercise programs take up, there is still 8GB of storage left for all of your favorite songs and podcasts. You can alter the bass and treble settings to create a crisp sound. There are easily accessible volume, skip, fast forward, rewind, and shuffle buttons.
Value
This is the third generation of this product, and as you can see, it is impressive. The price of this item is much higher than others on our list, and you also need to remember to add an extra twenty-five dollars or so for the silicone skin waterproof accessory. However, this is a feature-packed and durable product that makes a great partner for any workout session.
Overall
Some may argue that these are not truly waterproof and have no business on this list, but did you read all of those features? The silicone accessory makes this impressive product even better and ideal for swimming.

Subscribe to our Newsletter