Best Swimming Kickboards
In a Hurry? Editors choice: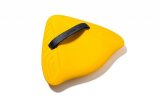 Test Winner: FINIS ALIGNMENT

Swimming is not just all about fun and games. For some of you, the art of being in any body of water (in specific, a pool) is to provide yourself with a workout. And, while this can be achieved without any specific devices these same devices can also completely amplify the experience. Today, let's talk about one such device and it is known as a kickboard. In concept, this is a very simple tool and it allows you to strengthen your kicking motion in the water. But, for such a simple tool, it is quite amazing how much goes into buying one. Our goal for you today is to simplify that process and leave you feeling confident that you can buy a model that fits your needs to a T.
Standout Picks
Criteria Used for Evaluation
Materials
Get used to seeing EVA foam because this is by far the most popular material within the market for this tool.
It should not have taken very long for you to realize that EVA foam is the go-to material in the world of swimming kickboards. And, even though not all models on the market will be made out of this foam, most will. So, with that being said, what is so great about it? Chances are, you have heard of it but do you know exactly what it is? For the record, it stands for ethylene-vinyl acetate and it is merely foam that is blended from copolymers of vinyl acetate and ethylene (it is also closed cell). But, what makes it an excellent material (and perfect for this type of tool) are its vast properties.
First and foremost, it offers superb cushioning and this enhances the comfort when you use a kickboard in the water. Of course, at the same time, EVA foam also remains incredibly resilient and durable. In large part, this is thanks to its closed cell structure as it sports excellent resistance to oils, moisture, water, and even sound. Oh, and one last thing, it also provides strong buoyancy. All in all, it is not too difficult to see why so many engineers around the world choose this particular material.
Texture
Not only is this about the texture but it is also about the overall handling in general.
When you analyze how you are supposed to "operate" this type of tool, it becomes apparent very quickly that the handling a specific model provides is going to be vitally important. After all, you generally hold a swimming kickboard out in front of you and grip it with your hands. Now, depending on the model that you pick, you may have different manners in which you can handle it. For example, you will often see designs on the market integrate slots. Though simple in nature, these provide your hands with a different position and this can completely alter the experience.
Of course, the most natural position for your hands is going to be on the ends of the board. So, in this sense, you need to look for models that are not slick. Thankfully, this is another advantage of EVA foam as the texture is generally very easy to grip. Then again, you could look for designs that are engineered with some sort of grooving on the sides to amplify the grip even further. Basically, you do not want to be slipping off the board when you are using it.
Versatility
There are actually different types of design styles on the market and this is where you will see the versatility come to the forefront.
In all reality, you could dub this section either "versatility" or "style". The two really do go hand-in-hand here and it all comes down to the fact that there are different types of designs available on the market. As opposed to pull buoys, the market for swimming kickboards is much more extensive. In general, there are three very popular design styles that you can choose from. The first is what is known as tombstone kickboards and they are called this simply because that is what they look like. If you want a classic design then this is the way to go. Chances are, you have seen these versions before because they most likely are available at your local pool. They remain popular thanks to their simplicity and hydrodynamic design.
However, you also have arrowhead kickboards. These are much different and the first aspect you will notice is their size difference. They are actually much smaller and due to this, they provide less buoyancy. This results in slimmer drag profiles and more challenging workouts as a result. Oh, and lastly, you can't forget about pull kicks. Essentially, these take the premises of pull buoys and swimming kickboards and join them into one design.
Size
While any size can feasibly work, you may have a preferred choice.
For some products, the size is going to dictate everything. Well, that is not exactly the case here. Now, do not get it twisted; the size of a kickboard is going to play a role in your final decision. At the same time, though, you could feasibly work with any size out there. Unlike shoes where you literally need one specific size, you could ignore the size entirely here and still be satisfied with your purchase. Okay, so then why is it even being talked about, then?
Here is the deal and this was alluded to in the previous section; it all comes down to the workout that you want. You see, if you consider yourself an advanced swimmer then you may be seeking a more challenging workout. If this is the case, avoid larger kickboards as they will offer greater floating support and easier experiences. Of course, if all you are trying to do is improve your water kick, then larger designs can be perfect.
Color
No, this is not super important but hey, what is wrong with wanting a specific color?
It actually is quite amazing that the color of anything can play such an important role in the buying process. Now, you can make an argument that it is irrelevant here as it is not going to affect the performance in any way. Then again, will the color ever? For garments, it could, because, in hotter weather, lighter-shaded clothing will be preferred. But, you understand the point. In all reality, though, perhaps you simply want a swimming kickboard that is going to stand out from other pool equipment.
And, do not believe that you are a shallow individual because you actually care about the color of the model that you receive. For anyone who tells you otherwise, ask them why sellers on the market offer their models in different colors. You see, they are smarter than us all as they understand perfectly that their model will sell better if they offer it in different colors. It really is a simple marketing strategy but as they say, variety is the spice of life.
OUR TOP PICKS FOR THE BEST SWIMMING KICKBOARDS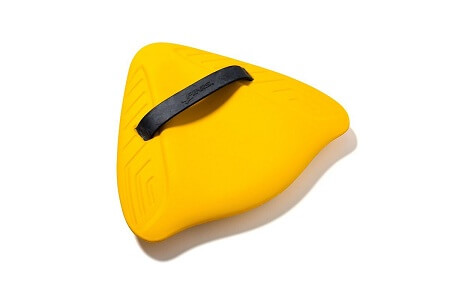 Not only is the top option here incredibly unique but it is also just a brilliant design. Even though it is much smaller than your prototypical model, it sports a stabilization strap and a hydrodynamic design.
Read more
Materials
As with most top-end models on the market, this right here is made of durable and lightweight EVA foam. Also, this same material will prevent skin irritation.
Handling
It was previously mentioned and indeed, this does sport a stabilizing strap. What this allows you to do is control the board without gripping it with your palms.
Versatility
Here is the deal; the hydrodynamic design makes this ideal for all sorts of competitive strokes. However, even though the seller claims a snorkel is not mandatory, it pretty much is. Due to the nature of this design, your head will be under the water more often than not.
Size
Yes, this is a smaller model. Yet, it is designed in this manner purposely. This smaller stature is going to reduce the pressure on your shoulders.
Colors
This right here is yellow and that is the only color that is offered specifically. It is bright and colorful, though, so few people will have issues with it.
Overall
There is a reason why so many other buyers and experts have raved about this design. It is both unique and extremely effective and for most consumers, this will be a magical combination.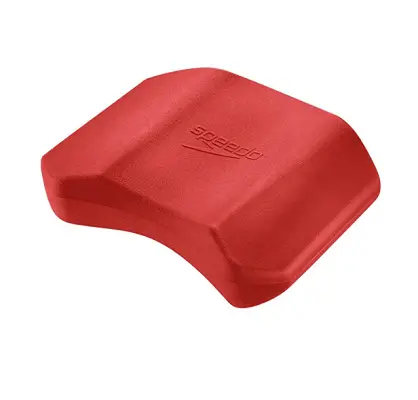 Spoiler alert, you will see Speedo a lot on this list. Back to the matter at hand, this is actually a pullkick which is a combination tool. Its unique shape and design you will either love or loathe, admittedly.
Read more
Materials
Now, it is actually not specified by Speedo what material this is made of. It can be assumed that it is EVA foam and, for the record, few buyers have had anything bad to say about the durability.
Handling
This is actually engineered for both comfort and superior wrist support. As a pull buoy, there is a groove in the middle that helps you grip it.
Versatility
It really does not get much more versatile than this. As it is a pullkick, it can be used as a pull buoy and a kickboard. But, for the former, it is going to take a little more effort due to the shape and the size.
Size
At 10.5 by 9.25 by 2.5 inches in size, this is not very large and is not necessarily puny, either. As mentioned, though, it can be tough to use as a pull buoy due to its somewhat smaller stature.
Colors
Speedo provides you with two color options to choose from. You can either go with red or black.
Overall
Admittedly, some of you will not be a fan of this kind of tool. Some will feel it is a jack of all trades and master of none. However, though it takes some effort, it can be quite effective as both a pull buoy and kickboard.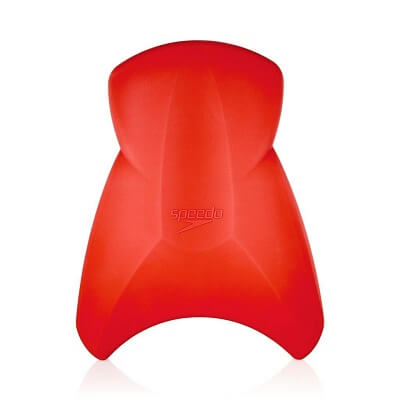 This is a more traditional model but even so, this is still yet another unique model from Speedo. Though it lacks integrated slots or anything like that, it is much thicker than other models and is ergonomically designed.
Read more
Materials
If one thing is certain, it is tough to question the quality of Speedo's product. This is another prime example as it is has been developed with the latest materials and technology.
Handling
While there are no integrated grooves or handles, this is designed in a manner that will offer your arms both comfort and support during use.
Versatility
Again, as mentioned, there are not too many hand positions to achieve here. Yet, the shape and ergonomic design allow for perfect positioning in the water.
Size
One previous buyer commented that they were upset with the smaller nature of this model. However, in regard to the thickness, it is far from small.
Colors
Really, this is designed and colored in a similar manner as the previous Speedo option on this list. Of course, can you really go wrong with red?
Overall
Though the price may seem a bit steep for this type of training tool, it really is worth it due to the quality of the product. This is alluding to the materials and the effectiveness, quite frankly.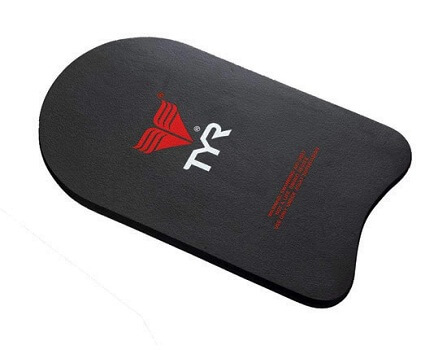 TYR is much like Speedo in that it is a brand name that is plastered all over this type of technology. With designs such as this, it is not really hard to see why, either.
Read more
Materials
For both extended life and performance in the water, TYR constructed their model out of durable closed cell EVA foam.
Handling
In regard to the handling, it all comes down to the texturing of the foam here due to the lack of handles. Thankfully, finding an ideal grip on this will not be difficult.
Versatility
As hinted at, this is a truly basic design. It is not countered or streamlined and really only serves one purpose.
Size
At 20 by 11.5 inches, this is actually a pretty big board. If your children wanted to play their hand at this, it would be too large. For most adults, however, it should be ideal.
Colors
Although this offering is in black, it is noted in the product description that this is also sold in yellow (if you prefer that style).
Overall
If there ever was a cliché and prototypical swimming kickboard, this would be it. It is made of EVA foam, sports a very simple rounded edge, and is a very effective training tool, after all.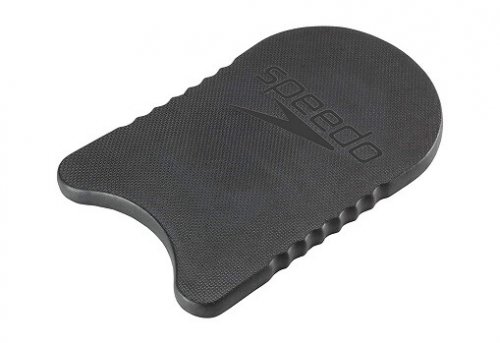 Well, would you look at that? It is Speedo again and of all the three of their models on this list, this is the most basic. Still, the finger scallops on the side enhance the grip fantastically.
Read more
Materials
Surprise, surprise, this is a kickboard that is made of lightweight and textured EVA foam.
Handling
In addition to the textured nature of the foam itself, there are also underside finger grooves that are integrated and these enhance the grip that you can achieve.
Versatility
This is shaped exactly like the previous option and that means that, while very effective, it is a very basic option for sure.
Size
Now, at 18 1/4 by 11 5/8 inches, this is a good-sized model. Yet, in spite of this, there have been a few buyers who have noted that this was too small for them.
Colors
Speedo provides you with a decent selection of colors. You can buy their model in either black, blue or lime.
Overall
Really, the best way to describe this is simple yet effective. Of course, its brilliance comes with its simplicity as the texturing and the integrated grooves enhance the grip you can achieve tremendously.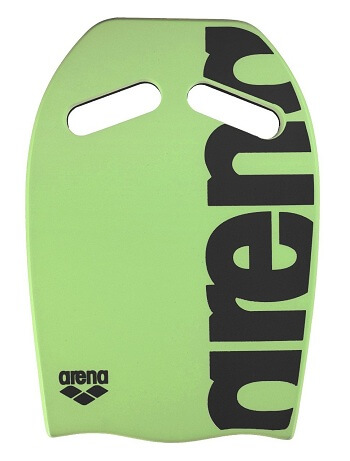 What is really nice about this design, outside of the fact that it is made of EVA foam and engineered by Arena, is there are integrated slots that provide additional hand positions for you.
Read more
Materials
The cat was already let out of the bag but at this point, you are becoming accustomed to seeing models made out of EVA foam.
Handling
Even if you did not want to use the integrated slots for handling, you could always grasp the edges of this board. That is what is so great about it as both methods allow for optimal grip.
Versatility
The aforementioned slots allow this to be versatile because you can completely change up how you hold this board. It may seem simple but once you mess around with the different positions, you will understand why they are so nice.
Size
Overall, this seems to be outfitted for smaller people. This does not necessarily insinuate, though, that it is a children's model as some adults will find great use out of this.
Colors
First off, the Arena logo on each of the color options is superb. Oh, and speaking of which, there are indeed multiple color options including green, orange, pink, and gray.
Overall
Size is everything and for some of you, this is simply not going to cut it. There is really nothing "wrong" with this model but its smaller size will be the deal breaker for you.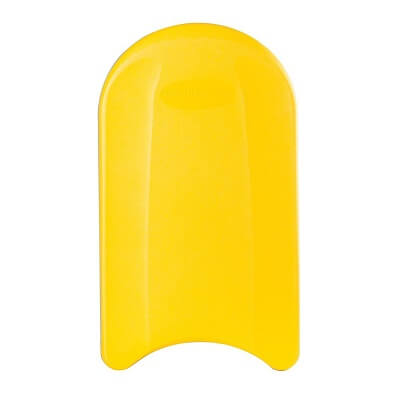 As you can see from the photos, this is really as basic as it gets. But, you know, in a world that is focused on the next and most advanced technological breakthrough, sometimes it is "basic" that gets the job done the best.
Read more
Materials
Being made of EVA foam, this is going to be resistant to the effects of both UV rays and chlorine. Oh yeah, and overall, it will also hold up to user abuse.
Handling
Though it can be difficult to see from the photos, this actually sports molded sides. These assist in allowing you to find and achieve a superior grip.
Versatility
Even though this is hydrodynamic on the surface, it is not really so underwater. On another note, the rigidity of this board allows for excellent support.
Size
When compared to other options on the market, this really falls in the middle of the pack in regard to its size. It is not puny but it is also not very large (it measures 19.25 by 11 inches, for the record).
Colors
A really solid selection of color choices is available with orange, green and yellow just being a few of them.
Overall
Really, one of the features that really sets this apart is its molded sides. Yes, this is a very simple feature but it really can make all the difference in the world in the water.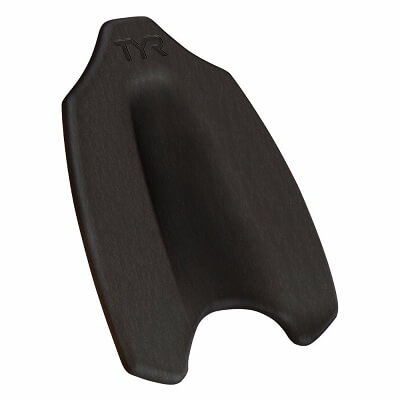 Now, this is a completely different offering from TYR. They made an appearance on this list earlier but as opposed to that one, this sports specific hand cutouts that are designed to provide proper hand placement.
Read more
Materials
It is stated that this is made using the highest quality of materials and this is proven because it is made of EVA foam.
Handling
Yep, this is indeed unique and it all comes down to the shape. There are flat surfaces and these provide an optimal location for your forearms to rest.
Versatility
In addition to the hand cutouts, this entire design is three-dimensional. What this allows for is enhanced control over kinetic movement which is nice.
Size
Various buyers have commented on the smaller size of this model and have noted that it simply is not optimized to hold larger individuals up.
Colors
The straight black design is certainly nothing special but it is also not an eyesore by any stretch of the imagination.
Overall
What most users will love about this swimming kickboard are its three-dimensional design and foam composition. But, as with other options, some of you will not be fond of the smaller size.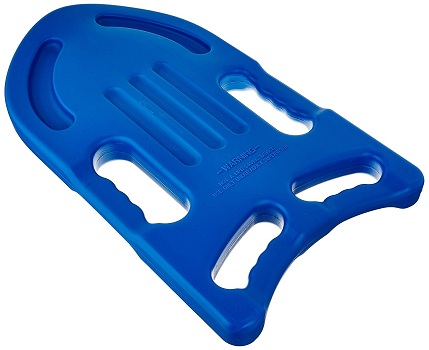 No one can say that there are not unique kickboards on the market and this just happens to be another. Most notable of which is the material composition (which is not EVA foam).
Read more
Materials
Well, would you look at that? Poolmaster introduces a model to this list that is not made of EVA foam. Instead, it is made of unbreakable polyethylene. And though it lives up to its unbreakable claim, it is also quite hard and is not nearly as forgiving as foam.
Handling
Perhaps no other model on the market has as many handle options as this one. There are multiple indents and slots integrated as you can see from the photos.
Versatility
Does it really get more versatile than this? Think about it, each time you use it, you can place your hands in a completely different position.
Size
What is really nice is there are both small and large size options available for you to select between. Even still, there have been some users who have criticized how small this is.
Colors
Blue is pretty much the cliché color of swimming tools and that is what you get here. There is nothing wrong with the color, per se, however.
Overall
Granted your kids do not get ahold of this and treat it as a weapon, it should be a great tool for you. But, you may have your heart set on options that are made of EVA foam and that is fair.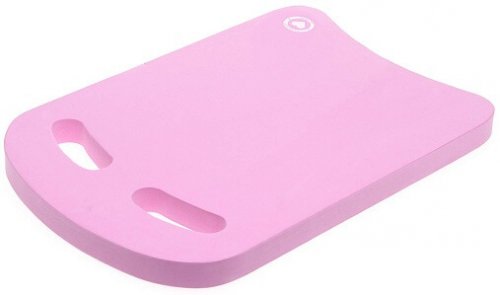 You know, many of you out there will probably not be overly enamored with this last model. At the end of the day, however, it is an effective, albeit quite simple, swimming training tool.
Read more
Materials
For the record, the EVA foam that is utilized here is free of formaldehyde and phthalate.
Handling
Whether you want to grab on the sides of this kickboard or latch onto the integrated slots, the handling will be superb either way.
Versatility
In spite of the integrated slots, the biggest complaint amongst previous users is that this does not float all that well.
Size
This is not only thinner but also shorter than most of the models on the market. Both go a long way to explaining why so many users have had performance issues with it.
Colors
There is certainly not a lack of variety here as there are several color options available (such as blue, green, pink and orange).
Overall
Among all the entries on this list, this is perhaps the one that is hardest to judge. You see, it is effective and well-designed (for some) but it simply will not provide enough buoyancy for most adults.

Subscribe to our Newsletter