Best Swimming Kickboards
last updated:
Mar 17, 2019
Swimming is not just all about fun and games. For some of you, the art of being in any body of water (in specific, a pool) is to provide yourself with a workout. And, while this can be achieved without any specific devices these same devices can also completely amplify the experience. Today, let's talk about one such device and it is known as a kickboard. In concept, this is a very simple tool and it allows you to strengthen your kicking motion in the water. But, for such a simple tool, it is quite amazing how much goes into buying one. Our goal for you today is to simplify that process and leave you feeling confident that you can buy a model that fits your needs to a T.
In a Hurry? The test winner after 2.75 hrs of research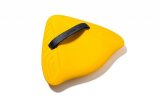 FINIS ALIGNMENT
Why is it better?
Sports a hydrodynamic design
Equipped with a stabilizing strap
Designed with EVA foam
In a
Hurry? Editors choice: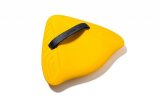 Test Winner: FINIS ALIGNMENT

4
Researched Sources
20
Reviews Considered
2.75
Hours Researching
15
Products Evaluated
Materials
Texture
Versatility
Size
Color
By Default
OUR TOP PICKS FOR THE BEST SWIMMING KICKBOARDS
Criteria Used for Evaluation


Materials
Get used to seeing EVA foam because this is by far the most popular material within the market for this tool.
It should not have taken very long for you to realize that EVA foam is the go-to material in the world of swimming kickboards. And, even though not all models on the market will be made out of this foam, most will. So, with that being said, what is so great about it? Chances are, you have heard of it but do you know exactly what it is? For the record, it stands for ethylene-vinyl acetate and it is merely foam that is blended from copolymers of vinyl acetate and ethylene (it is also closed cell). But, what makes it an excellent material (and perfect for this type of tool) are its vast properties.
First and foremost, it offers superb cushioning and this enhances the comfort when you use a kickboard in the water. Of course, at the same time, EVA foam also remains incredibly resilient and durable. In large part, this is thanks to its closed cell structure as it sports excellent resistance to oils, moisture, water, and even sound. Oh, and one last thing, it also provides strong buoyancy. All in all, it is not too difficult to see why so many engineers around the world choose this particular material.


Texture
Not only is this about the texture but it is also about the overall handling in general.
When you analyze how you are supposed to "operate" this type of tool, it becomes apparent very quickly that the handling a specific model provides is going to be vitally important. After all, you generally hold a swimming kickboard out in front of you and grip it with your hands. Now, depending on the model that you pick, you may have different manners in which you can handle it. For example, you will often see designs on the market integrate slots. Though simple in nature, these provide your hands with a different position and this can completely alter the experience.
Of course, the most natural position for your hands is going to be on the ends of the board. So, in this sense, you need to look for models that are not slick. Thankfully, this is another advantage of EVA foam as the texture is generally very easy to grip. Then again, you could look for designs that are engineered with some sort of grooving on the sides to amplify the grip even further. Basically, you do not want to be slipping off the board when you are using it.


Versatility
There are actually different types of design styles on the market and this is where you will see the versatility come to the forefront.
In all reality, you could dub this section either "versatility" or "style". The two really do go hand-in-hand here and it all comes down to the fact that there are different types of designs available on the market. As opposed to pull buoys, the market for swimming kickboards is much more extensive. In general, there are three very popular design styles that you can choose from. The first is what is known as tombstone kickboards and they are called this simply because that is what they look like. If you want a classic design then this is the way to go. Chances are, you have seen these versions before because they most likely are available at your local pool. They remain popular thanks to their simplicity and hydrodynamic design.
However, you also have arrowhead kickboards. These are much different and the first aspect you will notice is their size difference. They are actually much smaller and due to this, they provide less buoyancy. This results in slimmer drag profiles and more challenging workouts as a result. Oh, and lastly, you can't forget about pull kicks. Essentially, these take the premises of pull buoys and swimming kickboards and join them into one design.


Size
While any size can feasibly work, you may have a preferred choice.
For some products, the size is going to dictate everything. Well, that is not exactly the case here. Now, do not get it twisted; the size of a kickboard is going to play a role in your final decision. At the same time, though, you could feasibly work with any size out there. Unlike shoes where you literally need one specific size, you could ignore the size entirely here and still be satisfied with your purchase. Okay, so then why is it even being talked about, then?
Here is the deal and this was alluded to in the previous section; it all comes down to the workout that you want. You see, if you consider yourself an advanced swimmer then you may be seeking a more challenging workout. If this is the case, avoid larger kickboards as they will offer greater floating support and easier experiences. Of course, if all you are trying to do is improve your water kick, then larger designs can be perfect.


Color
No, this is not super important but hey, what is wrong with wanting a specific color?
It actually is quite amazing that the color of anything can play such an important role in the buying process. Now, you can make an argument that it is irrelevant here as it is not going to affect the performance in any way. Then again, will the color ever? For garments, it could, because, in hotter weather, lighter-shaded clothing will be preferred. But, you understand the point. In all reality, though, perhaps you simply want a swimming kickboard that is going to stand out from other pool equipment.
And, do not believe that you are a shallow individual because you actually care about the color of the model that you receive. For anyone who tells you otherwise, ask them why sellers on the market offer their models in different colors. You see, they are smarter than us all as they understand perfectly that their model will sell better if they offer it in different colors. It really is a simple marketing strategy but as they say, variety is the spice of life.
Expert Interviews & Opinions
Most Important Criteria
(According to our experts opinion)
Experts Opinion
Editors Opinion
Users Opinion
By Default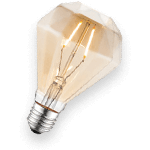 Materials
With some products, they can be made with a plethora of different materials. However, it is pretty simple here. Upward of 90 percent of top-end models on the market will be made of EVA foam (and this percentage may even be higher). When you analyze the properties and characteristics of this type of foam, though, it becomes apparent very quickly why this is the case. Just take a look for yourself.
Texture
This is truly where there begins to be some diversity with the top models on the market. Though all of them hold the same general premise, the manner in which they are handled can alter significantly. From one model to the next, there may be entirely different ways to "operate" them. Some designs will be very simple while others will integrate slots and grooves. Either way, just ensure that you will not be slipping with the model that you ultimately end up going with.
Versatility
Perhaps you are thinking about how versatile this type of tool could really be. Yes, each option on the market offers a simple premise, as mentioned, but their diversity comes with their style. Indeed, this is where you really see the versatility between the different available models. As you will see in this section, the style can literally change everything. Think long and hard about what you truly are looking for here.
Frequently Asked Questions
q:

What do they do?

a:

It has been alluded to quite a bit during this guide that this is a simple type of tool. Yet, what exactly is the purpose of buying one? Truth be told, the main reason is that it can offer you a focused workout. While it is not going to engage all of your muscles while you use it, what it will do is allow you to focus on your stomach, hip, and leg muscles. Essentially, you are completely taking your arms out of the equation and are using your legs to be the driving force.
q:

What are the benefits?

a:

Okay, so you know understand why you would want to use one. However, now the question is what are the benefits of doing so (outside of engaging the muscles previously documented)? First and foremost, it allows you to take a break from working out your arms. As you know, many swimming routines and exercises require the work of your arms. And, you should never overdo it so this tool allows you to continue your workout while resting your arms. Also, a kickboard itself is going to improve your balance and buoyancy during use.
q:

Is EVA foam flexible?

a:

Earlier, EVA foam was raved about for its vast properties and excellent benefits. Though consumers around the world have had many questions about the foam, this one right here is one of the most common. So, with that in mind, is it indeed flexible? The short answer to this is yes, it is. The primary reason is it is elasticized closed-cell foam and it sports rubber-like properties. If you know anything about rubber then you know that it is flexible. At the same time, though, much like rubber, EVA foam is not going to lose its shape if it is flexed.
q:

Are these for children?

a:

Answering this question can be tricky because it depends on how you look at it. On the one hand, swimming kickboards are not toys and they should not be used in this manner. No, they are not exactly dangerous but they are also not intended for roughhousing (even though EVA foam is a very durable material and could probably take it to an extent). On the other hand, children can get use out of them as flotation devices. However, let's get something clear, they are not safety floatation devices and should never be used as such. With the right size, though, your children may get as much use out of them as you do (as training tools).
q:

Will you sink when using them?

a:

If you know anything about the science of floating in water then you know it comes down to several factors. So, to outright claim that this type of device will prevent you from sinking is not fair. Yet, that is what it is designed to do but, again, it comes down to several factors. One critical one is the size (of both you and the kickboard). Flimsy and small models may not be able to provide you with the buoyancy you need to keep you afloat. Of course, what you also need to remember is that you will need to engage your legs to keep your body afloat.
q:

Can EVA foam be recycled?

a:

As great as EVA foam is, it is not going to last forever as nothing does. So, in the instance where your model begins to wear down and deteriorate, the best bet is for you to recycle it (if it is made of EVA foam that is). Now, the market for recycled EVA foam is not exactly high but that does not mean that you can't contribute to the cause. After all, this type of material is environmentally friendly and can cut production costs.