Best Stand-Up Paddle Boards
In a Hurry? Editors choice:
Test Winner: ATOLL SUP

There is nothing like a gorgeous day on the lake and being able to use your stand up paddle
board
to paddle out to the middle of the lake to fish or even do some calming yoga. Stand up paddle boarding is a terrific water-based recreational activity for the summertime that not only provides a relaxing experience but also is a great core workout as you have to maintain your balance while gliding over the water. Even though you are using your core, it is quite easy to pick up, so this activity accommodates for the entire
family
as anyone can pick up paddle board and glide over the water with ease. Below we have listed the top ten best stand up paddle boards in the market today and included details for each board to help you decide which one suits your needs best.
Standout Picks
Criteria Used for Evaluation
Value
This is a very special criterion; one in which can sway people away from a product before they ever give it a chance. Not too many factors can own this claim and, of course, this is alluding to the price. If everyone made the same amount of money, the price would never be an issue. Unfortunately, the world is a bit more complex than that and some people need to remain on a budget. But, even if you are on a budget, you should be able to find a quality model that will be ideal for you.
As you recently learned, however, SUP boards can be extremely steep when it comes to price. Some models can creep up into the four-figure range, but you also can find some under $500. Either way, if you want to buy a brand-new paddle board, you must enter in with the mindset that you are willing to spend a good deal of money. The key is to compare the prices of different models against one another to conclude which one is the most reasonable for you. Even though a particular SUP board may still cost a couple of hundred dollars, it could still be significantly cheaper than other models.
However, even for the extra expensive versions, these boards truly are worth every single penny you spend for them. The pure enjoyment you will find yourself having with your family will compensate for the potential dip in your savings account.
Style
At the end of the day, the price may be your deciding factor. But, the paddle board itself is what you are investing your hard-earned cash into. So, one with a quality design is an absolute necessity. As you noticed throughout the list, a majority of the SUP boards were cheaper. This is not a coincidence and there is a reason why they appeared time and time again. Outside of any other design choice, strictly being inflatable can be a huge advantage. Specifically, because of its ability to be deflated for easier transport, stable-nature when fully inflated, and soft surface if you accidentally fall.
But, manufacturers who choose to make their boards must also add protection and additional features to complete the design. For starters, any models constructed from military-grade PVC, or wrapped in an additional layer of PVC, are a great choice. This is thanks, in large part, to PVC's durability, abrasion resistance, lightweight nature, and safeness (being non-toxic). In fact, products that are constructed from PVC are so durable that frequent fixes and replacements are not necessary. In addition, board's that include resistance against corrosion (which PVC will mostly cover) and anti-skid pads for secure footing are good to look for.
Now, these boards clearly hold a great advantage over the rest of the competition. But, they are not perfect; which means other models do have some advantages, as well. Perhaps the biggest is you do not have to waste excess energy blowing air into them. However, solid SUP boards also tend to have greater speed and agility.
No matter if you choose air-filled or solid, another great design feature to look out for is if there is any way to hold attached cargo or items. This is typically achieved with either various D-rings or a bungee system. With them attached, you can bring along coolers, life jackets (if you want smaller children on it), or other accessories.
Weight
Now, it is time to look at some specifications and why they should be important in your buying process. If you are ignorant when it comes to understanding why the weight, length, width, and thickness are important than you may be wasting your time altogether. First off, let us analyze the weight capacity that each board will hold. Each manufacturer's weight capacity for their SUP board will fluctuate as compared to the rest. Thus, you can't automatically assume that it will properly hold you (or other members of your family and friends that may ride it) without risking damage or sinking.
Thankfully, most designer's will make it very clear what their board is capable of holding at one time. Most of the SUP boards on this list range from 225 to 350 pounds; which will accommodate most individuals. But, if you are a little bit on the heavy-side (or know people that will use it are) you will want to pay extra attention to the weight capacity. If it is right on the dot, you may want to look for one with a higher limit because it is a good idea to adapt for a little bit of leeway.
Secondly, you need to determine how important each measurement is to you. In general, SUP boards are measured length by width by the thickness and each is very important. The good news is most manufacturers will build their board with similar dimensions. But, in the situation where they are a little different, the length and width determine how much space and maneuverability you will have while standing on the surface. The thickness, on the other hand, plays a part in determining the stiffness of the board (with the thicker it being, the stiffer).
Accessories
Typically, when you talk about extra accessories for a product they are only used as an extra incentive to purchase it. For SUP boards, especially those that need to be inflated, they are a little more valuable and often times required. This is because if you received a plain SUP board with nothing extra included, you would need a pump (if it needs to be inflated) and a paddle for navigating (as it does not operate as a traditional surfboard). As for the other accessories often included, while not necessities, they greatly enhance performance and convenience.
For starters, the included pump and paddle are two very important accessories that are typically included with SUP boards. Obviously, if the board is solid then you will not need concern yourself with this. But, when they are, they are quite massive in size and need a lot of air to fully inflate. For some of the entries on this list, the included pump was below-average. If this happens to be the case for a model you are considering, you should not let this alone sway your decision. As you could simply invest in a superior hand-pump. However, it is still convenient when one (even if it is nearly-incompetent) is included.
Now, for the paddle. The makeup of the paddle itself is important, whether aluminum-alloy, fiberglass, or other, but you should truly prioritize models that are adjustable. Each person who operates the board will likely need the paddle at a different height setting. It is a simple concept, but an extremely important one. For the rest of the pack, which typically consists of an ankle safety leash, repair kit, removable fins, and a valve wrench, they are worth mentioning as well.
With an ankle safety leash, you can attach your ankle to the surface of the board. In the instance where you fall into the water, this will prevent the board from fleeing away. An included repair kit will allow you to manually fix any scuffs or damages that appear. Use discretion, as if you put a basketball-sized hole in the board the kit will most likely be rendered useless. But, it is convenient for simple fixes to prevent it from being unusable.
Then, there is the removable fin/fins that come with the board. Adding fins on a SUP board will allow you to improve the directional stability of the board. They can provide lateral lift and allow an easier time for you to control the direction. Lastly, it is nice when you receive an included valve wrench in instances where the compartment used to store air is difficult to open.
Top 10 Picks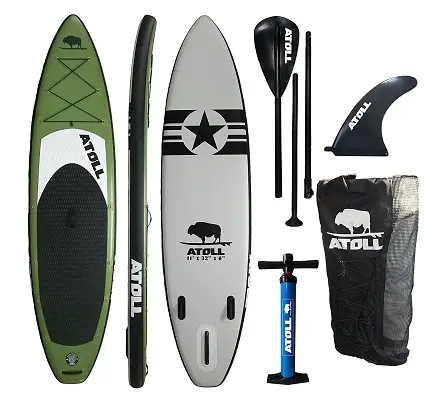 Atoll created a near masterpiece with their SUP board, it is just unfortunate that they typically ask an arm and a leg for it. Outside of the steep price, this SUP board is as perfect as it gets. If you have the money, do not hesitate to pull the trigger. The included backpack is large enough to carry the pump, paddle, paddle board, and repair kit. Just know, with all that in one trip, it can be fairly heavy.
Read more
Value
For several, this model will be too expensive. However, hardcore enthusiasts who do not mind spending the extra dollar will probably choose this one over any others.
Style
This board is fully wrapped with an additional layer of PVC material and rigged with 14 D-rings that will hold anything you need during the trip.
Weight
The company claims this has supported people upwards to 300 pounds and it measures 11' x 32" x 6".
Accessories
This ATOLL stand up paddleboard comes with many amazing accessories including a black aluminum-alloy adjustable paddle with a nylon blade, a repair kit, a High Pressure Bravo dual action hand pump (inflates when pushing down AND pulling up) 3rd generation hand pump (up to 15psi), front and back bungee tie downs, travel backpack with waist strap, a nice travel backpack that helps with transporting the paddle board, a detachable extra durable removable fin, and a Bravo dual action hand pump in case you need to inflate or deflate the board wherever you please.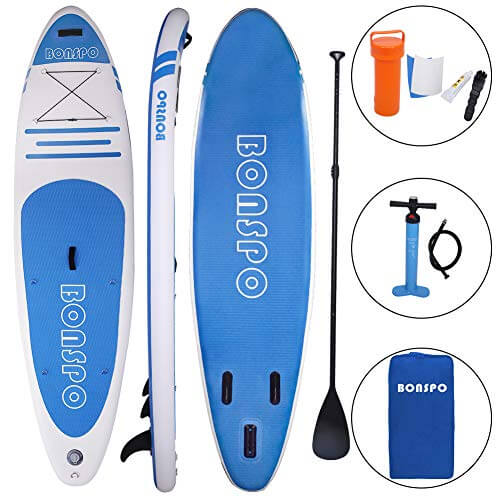 This BONSPO Inflatable Stand Up Paddle Board with SUP Accessories comes with a backpack including a paddle, a leash, a pump, a repair kit, and a bottom fin for paddling. This is a perfect stand up paddle board for beginners with its non-slip layers on top of the board with a cushion on the paddleboard in case you fall or slips or accidents occur. The board has an extra wide design and measures in at 10'6 x 31'' x 6'' with a max capacity of 275 lbs. The 31" width. This BONSPO Inflatable stand up paddle board can be inflated or deflated in just 6 minutes which makes it great for portability.
Read more
Value
This BONSPO Inflatable stand up paddle board is a bit more expensive when it comes other paddle boards on our list but with what it does come with it is a great deal. The shipping cost is almost the cost of the actual paddle board and has import fees.
Style
This stand up paddle board is great for all types of outdoor activities including yoga, fishing, fitness, cruising, or even kayaking. This is a perfect beginners paddle board as it comes with a non-slip layer deck that helps cushion your fall when you slip or in case of an accident occurring. There is a D rings on the Stand-Up Paddleboard that enables you to attach a seat to your board for you to sit-on-top kayaking. This paddleboard can be quickly inflated or deflated within 6 minutes so it makes it a great paddleboard to bring with you in any terrain.
Weight
This BONSPO inflatable SUP measures in at 10'6 x 31'' x 6'' with max capacity of 275 lbs. The 31" width. The board itself weighs in at 29 pounds so it is easy to carry and bring with you on adventures before it is inflated.
Accessories
This stand up paddle board comes with many great accessories including a carrying backpack, a paddle, a leash for you to attach to your leg while using it, a pump to inflate the board, a repair kit in case it does need fixing, a bottom fin for padding, and an extra cushion for the paddle board to help in case you fall or slip to keep you safe. When it comes to the fin that is included 1 large (removable) fin is already on the board and 2 small fins come with the paddle board for improved tracking.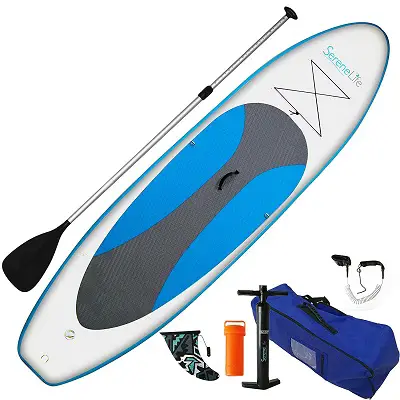 At the top of the heap sits the SereneLife Paddle Board. Combining its superb quality and reasonable price, it is no surprise to see why. Its nature and material allow it to deflate and roll-up into the convenient storage bag for easy transport. All in all, no paddle board combines the SereneLife's price, quality, design, and storage capabilities.
Read more
Value
Compared to the competition, the price is below-average (in a good way). While paddle boards are not cheap, this version is cheaper than most.
Style
With marine-grade water-resistant and corrosion-resistant construction and three bottom panel fins to increase speed, maneuverability, and steering, the design is impeccable.
Weight
The board, when inflated, measures 10' x 30" x 6" (length, width, thickness), and will hold up to 275 pounds.
Accessories
All the essentials come packed with this board, including an ankle safety leash, paddle, and a manual air pump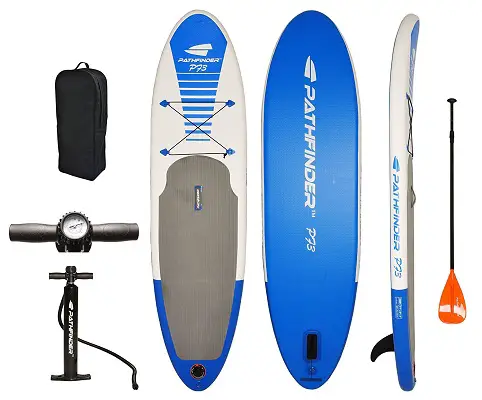 Sometimes, a paddleboard comes around that combines tremendous quality with a price tag that everyone can handle. That paddleboard is the PathFinder model. Its nature allows it to be rolled up with ease and carried in the included storage bag. It may not be as heavy-duty as other SUP boards, but it has a price tag that will be more reasonable for a vast amount of people.
Read more
Value
Yes, this is finally a model that the average Joe can afford. At least, as compared to some of the other paddleboards on the market.
Style
With a PVC exterior and strong multi-layer drop stitch, the construction is built to last. The large deck pad gives you plenty of breathing room, while the bungee and D-ring systems allow you to attach extra accessories.
Weight
Measuring in at 9'9" x 30" x 5" and having a capacity limit of 240 pounds, it will accommodate most people in your family.
Accessories
A valve wrench, adjustable aluminum paddle, carry bag, pump and detachable center fin are all included.

5

. TOWER PADDLE ADVENTURER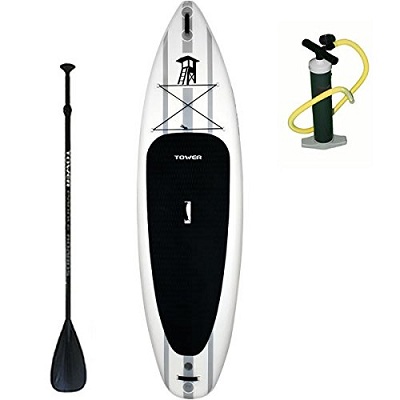 For the last several models, it is as close as flipping a coin. Once again, this SUP board is brilliantly designed. When rolled up, it is about the size of a sleeping bag and can be easily stored in your vehicle. Superb is the best word to accurately describe the Adventurer and it succeeds in every major category possible.
Read more
Value
At this point, you are beginning to understand that SUP boards are not cheap. You do get what you pay for and the Tower Paddle Adventurer is no exception.
Style
On the nose and tail, there are convenient carrying handles. Built with drop-stitch material and military grade PVC, you also need not concern yourself with accidental cracks and nicks.
Weight
It measures 10'4" x 32" x 6" and will hold up to 350 pounds on the water.
Accessories
For your convenience, a fiberglass paddle, pump, and removable fin are included with your purchase.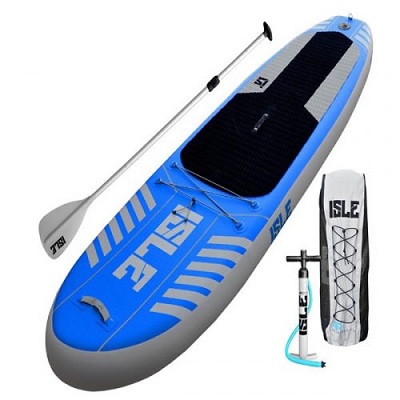 The ISLE Airtech is a fabulous combination of quality and design. But, once again, the price could steer people away. When not inflated, it is fairly easy to store and transport. Without the price tag weighing it down, once again, this could have taken the top spot. But, as it is, it is an expensive (but elite) paddleboard.
Read more
Value
This is another model that will run you a little extra than you probably wanted to go. The best bet, find it on sale. But, it is worth the money.
Style
Being constructed from military-grade PVC, this board is durable and will not be damaged easily. In addition, it is equipped with bungee systems and nose and tail carry handles.
Weight
It will hold up to 275 pounds of mass and measures 11' x 32" x 6".
Accessories
Outside of the paddle board itself, you also receive a high-pressure pump, carry a backpack, adjustable aluminum paddle, and a removable travel fin.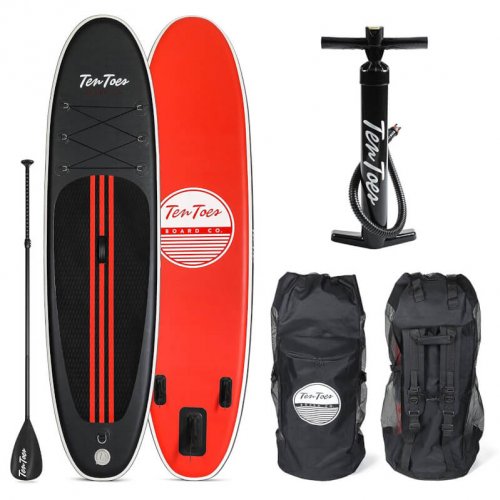 While not the best version you will find, the Ten Toes stand-up board will more than suffice and still deserves recognition in its own right. For easy storage, it can be rolled up into a compact package. There is truly nothing wrong with the board itself, but nothing puts it over the top either.
Read more
Value
Not too expensive but not extremely cheap, this board falls right in the middle of the pack in terms of price.
Style
The framework, which is held together by thousands of strong threads from top to bottom, is covered with a multi-layer protective shell of military-grade PVC.
Weight
10' x 30" x 6" with a weight capacity of 250 pounds.
Accessories
This SUP board comes equipped with a manual pump, repair kit, lightweight aluminum paddle, and three additional fins.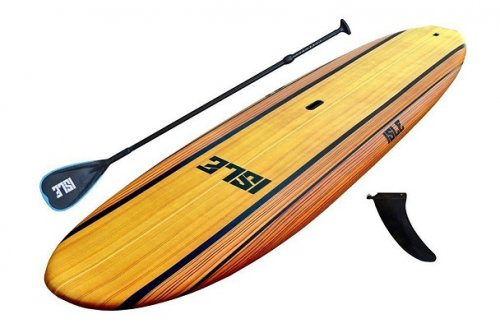 Last, but not least, is the ISLE Classic Soft-Top SUP Board. A visually appealing, faux wood design could put it over the top for a select few people. While there is no storage bag and it will not roll-up (as it is made from foam), the center carry handle and lightweight nature ensuring easy transport. The foam design may not be quite as efficient, but the faux wood finish is a beautiful touch.
Read more
Value
Right down Broadway for this one; not too cheap and not too expensive.
Style
The top features a nice, soft construction with a triple stringer system designed from foam; while the bottom is high-density.
Weight
10'8" x 31" x 5" with a capacity of up to 275 pounds.
Accessories
A removable fin and adjustable paddle are included with your purchase.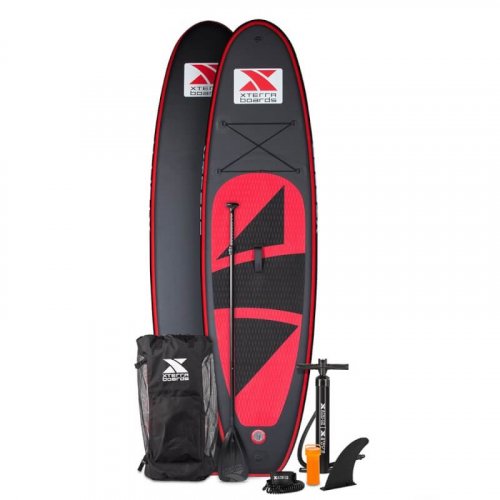 Quality-wise, the Xterra SUP board would surpass the previous entry. But, once again, the price has to be taken into consideration. It can be stored in the accompanying backpack and folds similar to a sleeping bag. The Xterra SUP board is fantastic. The steep price and relatively low capacity limit keep it from climbing any higher, but it is still tremendous.
Read more
Value
Without a discount, this can run your wallet dry in a hurry. Thankfully, the quality more than makes up for it.
Style
Built with military-grade drop stitch material, this board has enough reinforcement to drive a car over it; which is what Xterra did to test them.
Weight
As heavy-duty as it is, it is only recommended to keep people 225 pounds or lighter on it. Size, it reads 10' x 30" x 5.5".
Accessories
A repair kit, backpack, adjustable paddle, pump, three fins, and a leash are all included with the SUP board itself.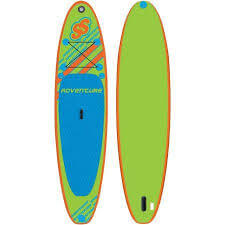 Getting down closer to the end, do not think that these SUP boards are not worth your investment. As you will see, the SportsStuff 1030 is worth an investment. Also included is a mesh backpack that will hold your rolled up, deflated paddle board. You get nothing but quality with this model and for people just starting out, this is a great option.
Read more
Value
Compared to the higher-end models, the price is pretty good. Because it is a SUP board, it can still be expensive for some but is mild compared to the competition.
Style
This is a paddle board with large anti-skid EVA pads to secure your footing.
Weight
There is a maximum capacity limit of 250 pounds, while it measures 10'6" x 30" x 4".
Accessories
All the goods come with the paddle board. This includes a hi-pressure hand pump, valve wrench, pressure gauge, board leash, removable fin, stainless steel tow rings, and removable seat.

Subscribe to our Newsletter