Best Kayak Paddles
In a
Hurry? Editors choice: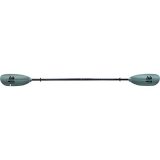 Test Winner: Bending Branches

Kayaking
is one of the best past times of the summer season when you are up at your cottage or a friends cottage. Or maybe you do not have a cottage and like to make day trips up to nearby lakes and explore with your kayak. Whatever the reason,
kayaking
is a time to paddles peacefully down a stream or river and be one with nature. Now, if you are an avid kayaker or just bought a kayak for this upcoming season, you are probably looking for some extra gear, and there is a no more important piece of gear than the
paddles
. The kayak paddles allow you to control your direction and momentum while cruising downstream, and if you are in the market for a new set, the below guide will lend a hand.
Standout Picks
Criteria Used for Evaluation
Materials
When it comes to kayaking, whether it's in the open ocean or handling a Class Three rapids, your paddle is an essential tool. Each time your kayak paddle passes through the surface of the water, there is a chance that it might be damaged by the water, a rock, or even debris or litter. Therefore, it's essential that the blade of the paddle be made of a material that is not only light enough to allow for good maneuverability but also strong enough to withstand what it may encounter.
With new innovations and designs, kayak paddles on this list make use of lightweight fiberglass or carbon fiber material, both of which are reasonably strong and lightweight, although they can have their disadvantages as well. Overall, when choosing your next set of kayak paddles, you want to ensure that the material will be tough and you can verify this by reading the customer reviews to see how the paddles held up from other customers who decided to purchase the paddles and put them to the test.
Style
Of course, what the blade is comprised of really pales in comparison to what the overall design is. There are quite a few different designs available, and what you need greatly depends on what type of kayaking you're planning on enjoying in your time on the water. If your adventures have you paddling through calmer waters, such as a lake or the open ocean, a Paddle Design that is suited for low-angle paddling.
These blades are usually long and narrow and require less effort and energy to move through the water. However, if you'll more likely to be in environments that require powerful strokes and quick, high angle movement, a paddle that has blades that are wider and designed to quickly move water out of the way is probably more beneficial.
Use
In one way, the shaft is the backbone of a quality kayak paddle. It's what you hold onto and move to perform your stroke. It needs to be light enough to be comfortable in your hands, long enough to provide propulsion, and strong enough to withstand a great deal of abuse. Plus, it also needs to allow for easier storage and transport out of the water. That's a pretty tall order.
Thankfully, most of the shafts in this list have found an ideal balance between strength, comfort, and durability without too much of a hassle. While not every shaft choice is not perfect for every situation, having a shaft that fits your needs generally speaking is a great idea.
Portability
Regrettably, you can't spend all your time testing the waves. Sooner or later you're going to have to bring your kayak paddles out of the water and put them into storage. Whether you're transporting them to the next location or hanging them up for another season, being able to easily break down the paddles and store them away is essential to making sure they last.
Thankfully, the shafts listed here are well made and relatively easy to break down and put back together when necessary. Chances are you won't have too many surprises here. Overall, the two factors you want to consider is if your kayak paddles compress or break apart in order to store more conveniently and that your paddle is lightweight to ensure when you are transporting it, it will not weigh you down. You already will have a kayak that you are transporting, you do not want any more extra weight then you need to carry.
Subscribe to our Newsletter