Best Kayak Trailers
In a Hurry? Editors choice: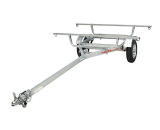 Test Winner: Malone Sports

What summer vacation is complete without some type of water sport? Kayaking is a wonderful water activity that is
a great workout
, not to mention incredibly fun. But getting to the lake or river or ocean with such long boats can be a hassle. That's where kayak trailers come in. They make the job easy and let you focus on what matters—having fun!
These products are designed in an endless variety of ways, and different designs are best for different purposes. Many of these products can be customized to fit your needs and some of them are adjustable. One of the best features of these products is that many of them can transport multiple kayaks at once which allows you to
make kayaking a group activity
. Let's look at the top ten models on the market so you can decide which one is best for you.
Standout Picks
Criteria Used for Evaluation
Use
Potential use is an important factor to consider.
When evaluating the products on this list, we thought about usage—both intended and potential. As part of product use, we also took into consideration factors such as how easy the product is to assemble, what tools are needed for assembly, what potential modifications will need to be made, and how well the product performs its intended use. Of every kayak trailer, we asked the question, "Can this be used for multiple boats and all different kinds of sporting equipment?" We know that if you're going kayaking, you probably want to take along other gear, too, and it would be really nice if you could store both on the same trailer. We chose products that are thoughtfully designed and are safe for use. Extra points were given to models that have extra features and that comes with everything you might need for assembly and use.
Durability
These get a lot of use and need to be durable.
Bouncing down the road while carrying a lot of weight is going to put a lot of wear and tear on these products. That's why we were careful to choose well-built products made out of quality materials. Since these are boat trailers, they're probably going to get wet, if not from a body of water, then most certainly from the weather. We gave priority to products that had rust-proof coatings and waterproof wheels. When you're out on a trip to go kayaking, you want to be thinking about all the fun you're going to have, and you don't want to have to worry about your equipment. We want your trip to the lake (or the river or the ocean) to be hassle-free and a fun adventure., That's why we made sure to only include products that are made out of high-quality materials.
Size
Size affects capacity and convenience.
We understand how important the sizes of a kayak trailer is and how that relates directly to capacity. We looked for ones that could handle anything from the very small and light watercraft to the very long and heavy.
Capacity
When you go on a trip, you may want to take all of your boating options. If you're going with a group of people, each person needs to be able to bring their own watercraft, and we chose the right kinds of products to make that possible. Many of the products on this list have great capacity in terms of both number and weight, as well as length. For safe road travel, these products need to be extremely strong and stable. We chose models that pull smoothly whether they are empty or full.
Value
These can be pricey and we want to make sure they are worth it.
There's no getting around the fact that these types of products come with quite the price tag. But that doesn't mean that they are more expensive than they should be. These can come with lots of parts and features and they are made out of quality materials. We went to great lengths to ensure that the worth of the product matched up with the price.
Top 10 Picks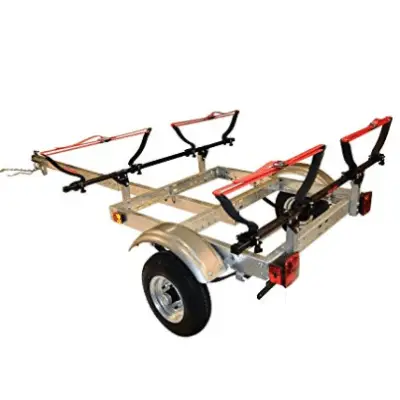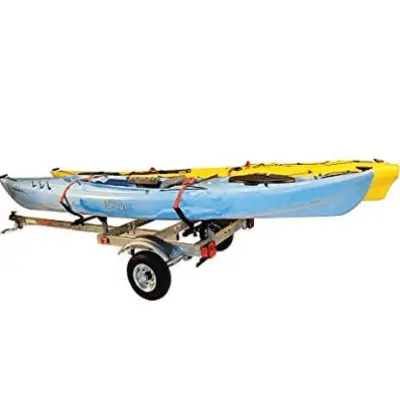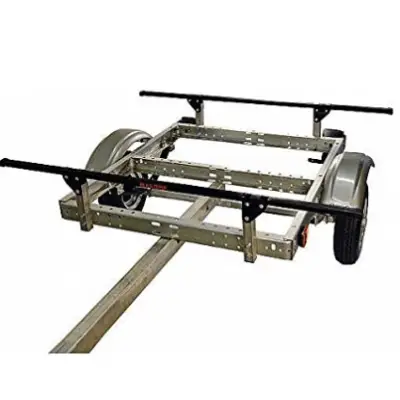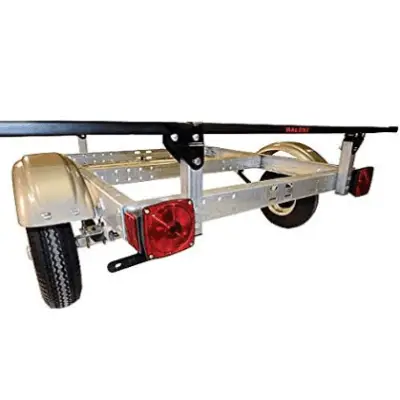 The Malone XtraLight is a great product for hauling one or two watercrafts. It is exceptionally well designed and is built out of sturdy materials. It can handle a lot of weight while still being safe for going down the road.
Read more
Use
Users have reported that the XtraLight pulls smoothly going down the road and that it can handle weight with ease. The product can be backed into the water on a boat ramp for easy loading and unloading. The XtraLight arrives in several boxes and must be assembled before use, but it does come with instructions for this and should be easily completed, especially for anyone who has had experience assembling products in the past. The v-shaped racks are extremely stable and provide peace of mind when going down the road.
Durability
The frame of the Malone XtraLight is made out of galvanized steel. It is extremely strong and sturdy. The 5-year warranty that is included shows that the brand stands behind the quality of their product. The wheels are also built out of galvanized steel and are made for high speed. The load bars are coated with steel for maximum durability.
Size
The product can hold 14 feet long boats. The wheels are 8 inches in diameter, and the load bars are 58 inches.
Capacity
The Malone XtraLight can hold two watercrafts at a time. Despite the name XtraLight, this product can actually handle quite a heavy load with its maximum weight capacity being 275 pounds. The Malone XtraLight is equally great for small boats. It can handle a variety of sizes and weights.
Value
As far as these kinds of products go, the Malone XtraLight is at the upper end of the price range. It is pricey, but it isn't unusual to find similar products around the same price. You do get what you pay for, and the Malone XtraLight is no exception. The quality of the product is excellent, and so it is worth the high price tag.
Overall
We love the excellent durability of the Malone XtraLight. It is made out of high-quality materials, and it comes with a 5-year warranty. The Malone XtraLight can be handled with ease going down the road, and it can be backed into a boat ramp just like any boat trailer. This product is well built and deserves the number one spot on this list.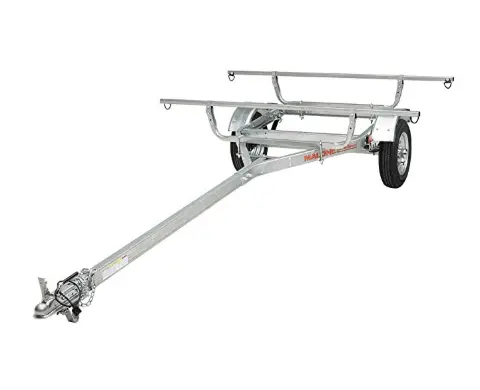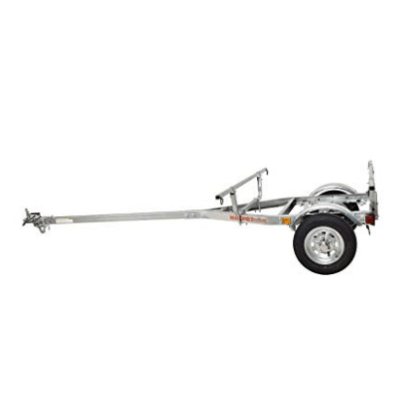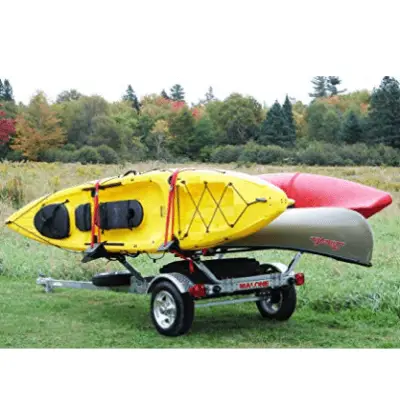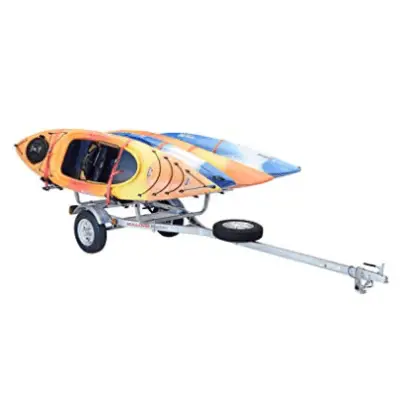 The Malone is an excellent choice for any trip to the water. The Malone has an amazing hauling capacity of four watercrafts up to 20 feet long. It is a well built, sturdy option perfect for a weekend getaway.
Read more
Use
One of the best features of the Malone is that it can haul so much at a time—four 20-foot kayaks and 800 pounds of weight. Like many of the products of this type, the Malone comes in pieces and must be assembled before use. The good news is that this product comes with award-winning instructions to make the process easier. Assembly time is approximately 2 to 3 hours.
Durability
The frame of the Malone is made out of galvanized steel, and the cross rails are made out of aluminum. The wheels have galvanized axles and the hubs and wheels are sealed so that they will not require any maintenance.
Size
The product is approximately 20 inches tall, 6 feet wide, and 8.5 feet long. The cross rails are 60 inches wide, and the axle is 54 inches wide. The wheels are 12 inches in diameter.
Capacity
This particular Malone model can handle four boats at a time with a total combined weight of up to 800 pounds and length up to 20 feet.
Value
The Malone is somewhat pricey, but definitely not surprisingly so. It is on the upper end of the price spectrum, but with its amazing capacity and durability, it is still definitely worth the cost.
Overall
We love that this product can handle four 20-foot boats at a time and amazingly, up to 800 pounds of total weight. The Malone is a great buy for any kayaking enthusiast, especially one who needs to haul several watercrafts at once for the whole family or for a carload of friends.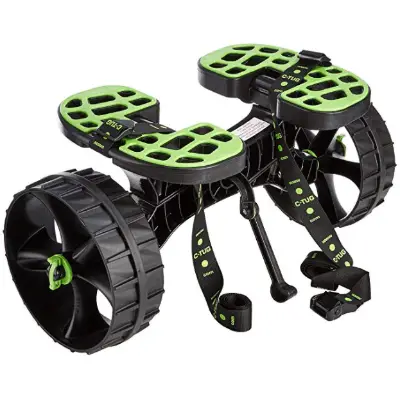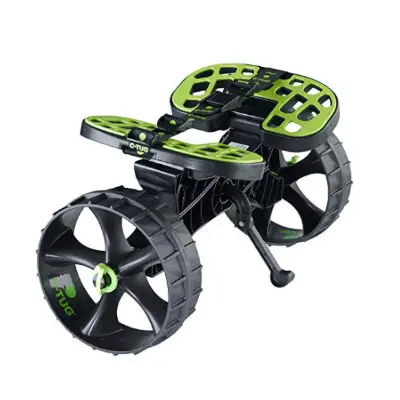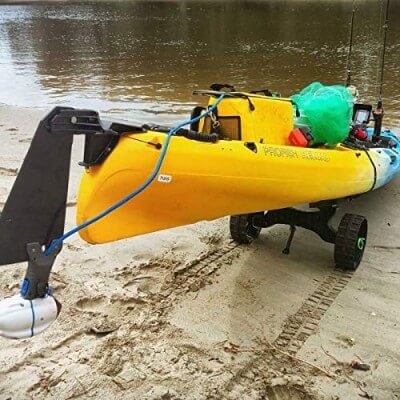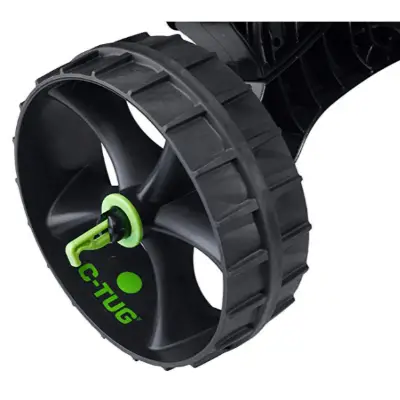 This addition from Railblaza is quite unique. We love the fact that it is rust-resistant and can not get a flat tire. Because of the fact that it is meant to be pulled by hand, it will not be a viable option for everyone. However, for those who have a nearby body of water to their home, it is a game-changer.
Read more
Use
While there is nothing that specifically says you can't use this option on asphalt, most reviewers use it for short trips from their house to the lake, usually on trails or grass. Putting it together and taking it apart requires no tools and takes just minutes and is very easy. A few people have initially been confused by the straps but quickly figured them out. Two straps are included, one is four feet long and the other is five feet long. There is a kickstand which is helpful for keeping the cart upright when you need a break. The ride is quite stable. It is easy for mud to get stuck in the crevices of the tires, but luckily you'll always be heading towards the water and can rinse them off!
Durability
If using this cart on asphalt for long periods of time, you may need to stop every couple of miles to throw some water on the tires to keep them from overheating. However, one of the best features of the Railblaza is that you never need to worry about getting a flat tire. The wheels are made from rubber and have a deep tread. The body is made from reinforced composite material. The axels are made from reinforced stainless steel and finished with elastomeric hull pads. The top of the cart, where your boat will sit, has rubber pads that not only provide protection to your boat but also help to keep it in place.
Size
The measurements of the Railblaza are six inches deep, ten inches high, and thirty inches wide. Once you reach your destination, you can easily disassemble the cart and store it inside the hatch of your boat. The cart itself weighs only 9.6-pounds.
Capacity
This little monster can support up to three-hundred pounds! Reviewers have mentioned that it requires some customization for certain boat styles, but works with the majority. If you are willing to stack your boats and have extra long straps, this could be used to transport more than one watercraft.
Value
In comparison to other models, this is a steal! However, this cart does have limited use. It is meant to be pulled by hand and does not attach to a car. It has proven to be very durable and easy to use. If you are looking for an easier way to get your boats down to the nearby lake, this is a great option.
Overall
The Railblaza will only work for some people, but for those people, it is a great product. It is a unique product that is built to last and has an impressive load capacity.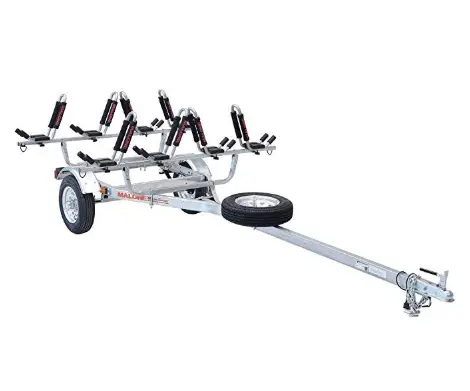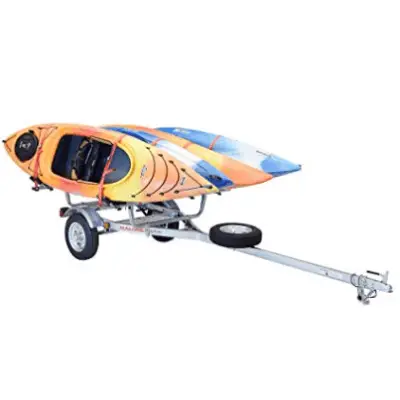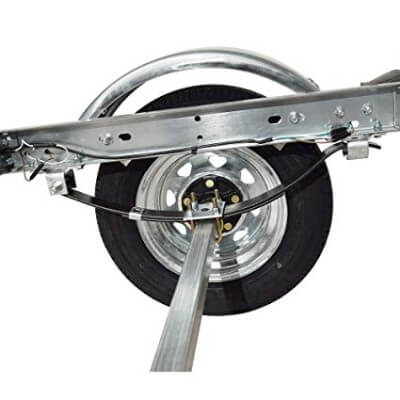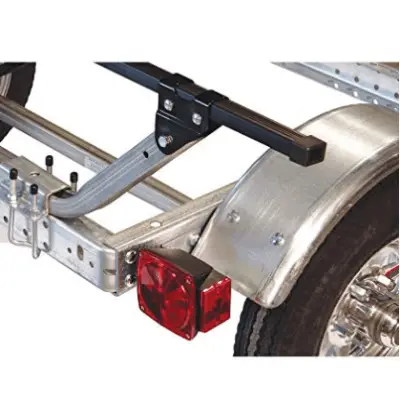 The MicroSport is a great option for anyone who needs to haul quite a few watercrafts at once. It can handle four or less, and another great feature is that the racks can be removed in case you want to use the product for hauling something else such as mountain bikes or any kind of sporting gear. This is a multi-use product that is sturdy while remaining lightweight.
Read more
Use
This is a great, heavy-duty trailer for hauling 4 kayaks at a time. The product comes in a kit and must be assembled. It includes all the parts and good instructions. Users found the instructions to be extremely clear and easy to follow, and the company was always willing to lend a hand and answer questions about assembly. One of our favorite features about the Malone MicroSport is that the racks have padding on them so they don't scratch or damage your boats in any way during transport. The manufacturer thought of everything on this product. It comes with a spare tire that can be attached and hauled with the trailer. It also has a security chain at the hitch for use when pulling the trailer behind a vehicle. It comes with a lighting kit for the tail and brake lights, and it includes ropes, hooks, and straps for securing the boats.
Durability
The MicroSport is strong yet lightweight. The steel frame is pre-galvanized and is marine-grade quality for use around water. The cross rails are coated with steel.
Size
The cross rails on the MicroSport are 78 inches, and the hitch is 2 inches. The weight of the product when empty is 197 pounds. The frame is 78 inches wide by 164 inches long.
Capacity
The MicroSport has a maximum capacity of 350 pounds and can haul 4 items at a time. It can carry many different lengths and weights of boats and is well balanced and sturdy for stability going down the road.
Value
Another mid to high price range product, the MicroSport is a great buy. It's exceptionally well built and designed and considering the price and quality of other options, this one is a great deal.
Overall
The MicroSport is both sturdy and easy to handle. It can be assembled quickly and comes with quality instructions and lots of features.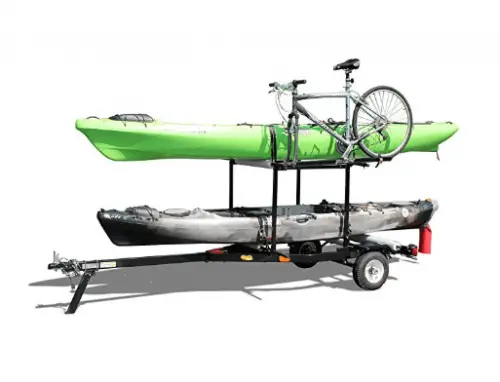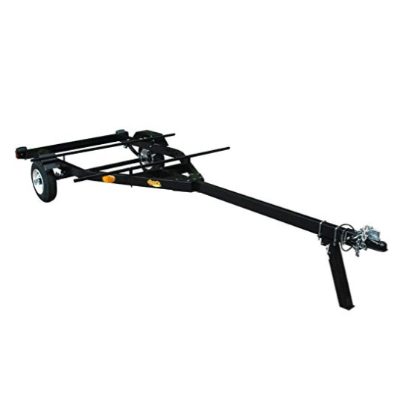 Great for all your sporting needs, the Right-On Multi-Rack can carry a lot of equipment at once. It is a great product for flexible vacation needs , and it is painted with a rust-proof coat for safe use around water.
Read more
Use
The Multi-Rack can carry your boats as well as bikes and other sporting accessories all at the same time. The watercrafts can be stored in many different ways for maximum efficiency. The Multi-Rack can store boats in two tiers, or kayaks can be stacked on top of each other inside the box style frame. This model can carry many items at a time—as many as six, possibly even more, that's how flexible the design is. Users report that the product is very easy and simple to assemble.
Durability
The metal frame is coated with a powder coat finish to prevent rust and preserve the trailer's durability.
Size
The crossbars of the Multi-Rack are 64 inches wide. The box frame is 31.8 inches by 32.1 inches by 36.8 inches.
Capacity
The great thing about the Multi-Rack is that it doesn't have a set capacity. Depending on how you stack your boats and how much space they take up, you would be able to store quite a few. Not only can you haul multiple boats, but you can also add on a bike or two, and some other gear, if you choose to do so.
Value
The Multi-Rack is quite a bit less expensive than other models. With the large number of features it has, it comes at an amazing and surprisingly low price.
Overall
We love the Right-On Multi-Rack because it is so extremely flexible. You can stack on a whole bunch of gear and equipment for all your sporting needs. This model is very easy to assemble and has a simple yet practical design.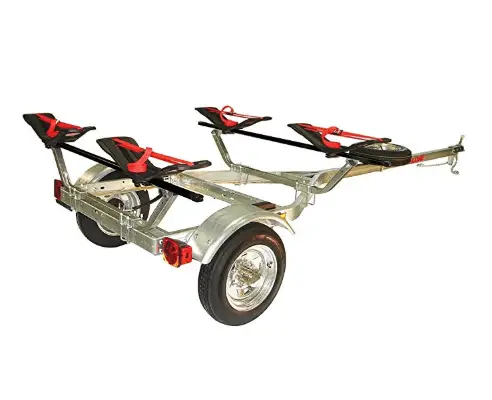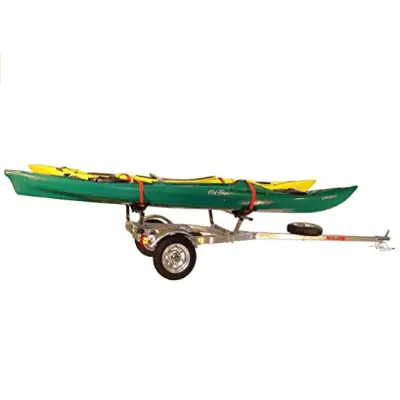 If you worry about the safety of your items when going down the road, then the SeaWing can provide some peace of mind. It features two v-shaped racks that cradle your kayaks and hold them securely for the drive so you can enjoy your time on the road instead of having to constantly check on the trailer.
Read more
Use
The SeaWing is a sturdy and secure product for carrying two items. What you give up in capacity, you get in security. While it only has two racks, they are extremely secure racks and you can be sure they will handle your boats safely without damage or any problems.
Durability
The wheels and the frame of the SeaWing are made out of galvanized steel, and the crossbars are made out of aluminum.
Size
The cross rails are 60 inches across. This product weighs 197 pounds when empty and measures 14.5 feet long. The brand offers a separate kit that you can buy to make the tongue retractable for shorter trailer length if needed. This would be handy if your watercrafts are short, river kayaks, or if you don't like pulling a long trailer.
Capacity
With this model, you can carry two boats with a combined weight of up to 355 pounds. The SeaWing can carry boats up to 18 feet long.
Value
The SeaWing is another good, sturdy option with a mid to high range price tag. It is meant to hold only two items, but it does do that very well since it is extremely sturdy. This makes it a good value option.
Overall
The SeaWing is a wonderful product that does its job very well. While only handling two boats at a time, it is sturdy and secure for ensuring the safety of its cargo going down the road.

7

. Ironton Personal Watercraft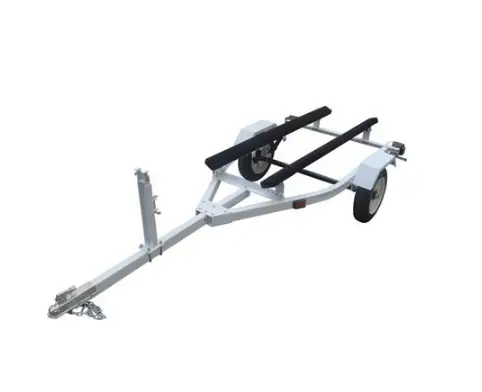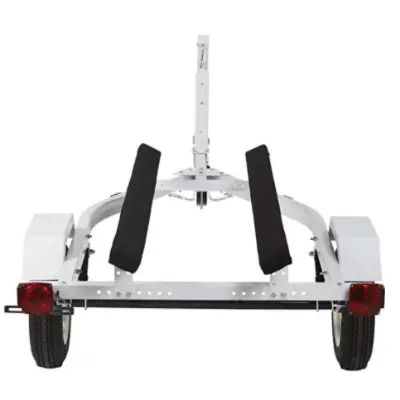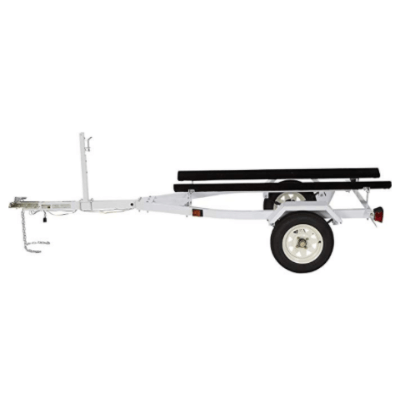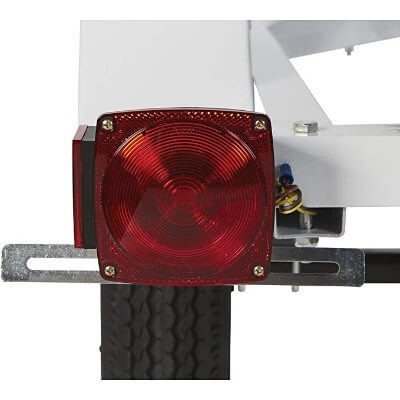 One excellent feature of the Ironton is its weight capacity. It can haul up to 610 pounds at a time. Even though assembly takes a bit more time, the result will be worth the effort and can serve your varied boating needs for years to come. We love how this model has flexible usage. It can be used for kayaks, other watercrafts, or it can even be used for a combination of boat types all at once.
Read more
Use
The Ironton is a great product that can carry kayaks as well as several other types of boats. It is extremely sturdy and can handle a huge load which means you could easily carry several boats at once, even carrying several types of boats at once. The product kit includes lights and wiring for the brake lights. The Ironton is a bit trickier to assemble than some models and requires a little more time and effort, but the end result is definitely worth it.
Durability
What is really nice about the Ironton is that it is coated with a white powder coat that prevents rusting and stays cooler in the sun for better durability. Even the wheels are coated with white. The Ironton is durable and strong, and another great feature is the fenders that protect the tires as well as protecting the cargo from any rocks that are kicked up by the tires.
Size
The tires are 12 inches in diameter. The bed is quite spacious at 77.25 inches long by 40.25 inches wide. The measurements of the entire frame are 126.75 inches long by 52.5 inches wide.
Capacity
With a weight capacity of 610 pounds, the Ironton is one of the most capable products on this list. Much like the Right-On Multi-Rack product, the Ironton is flexible in boat spacing and arrangement. You can choose how to stack your items to allow for maximum storage which means you will be able to carry all of them at once. With such a big weight capacity, you probably won't run out of room. You could even combine different types of watercraft like a couple of kayaks plus a canoe.
Value
The great news is that the Ironton is on the low end of the price scale, which is amazing considering all the features and capacity you get with this one. We are very excited about the great value of the Ironton.
Overall
The large bed size of the Ironton is a great feature, among many great features of this particular product. We love how the product can carry so much weight making it ideal for all your boating needs.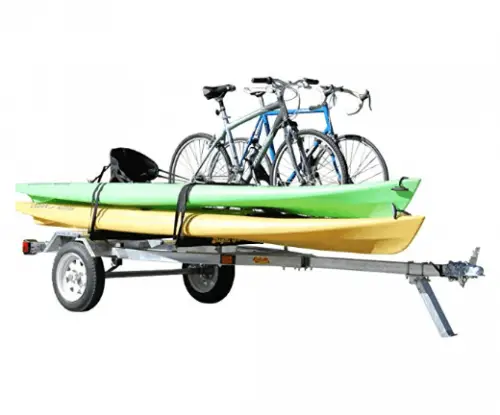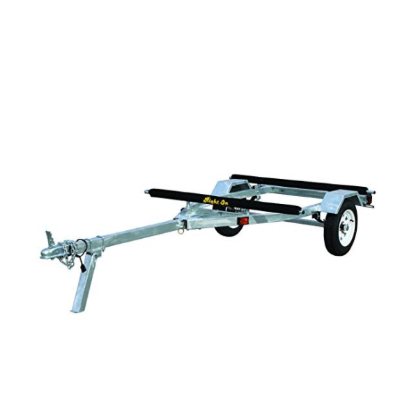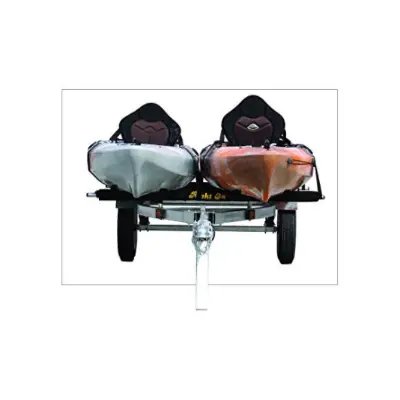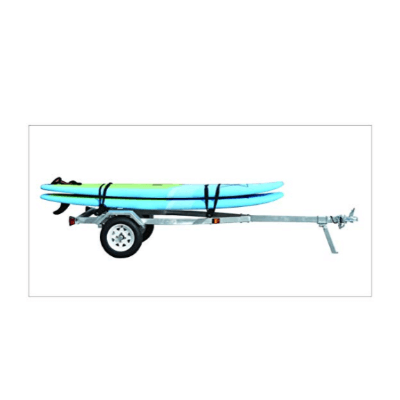 We are so excited to have found this wonderful product from Ruff-Sport. This product is incredibly durable and strongly built. It can carry 700 pounds at a time and has plenty of space for everything you need to tow.
Read more
Use
The great thing about the Ruff-Sport is its multi-purpose usage possibilities. It can carry several boats at a time, but it can also carry bikes or other types of cargo such as boxes of any kind or luggage, even a cooler for fishing. You could even use it for transporting lumber for a DIY construction project. But as for its main use—the kayaks can be placed side by side or stacked on top of each other, or both. This means there is not much of a limit on how many items you can bring. Assembling the product can take a bit of time if you don't have much experience with this sort of thing, but anyone can still do it if willing to learn, and many great learning resources can be found online. One handy feature of this product is the locking stand on the tongue which holds up the trailer when not in use.
Durability
The wheels are nice and big which gives the trailer more stability. The frame is galvanized steel and the lights are LED for long-lasting usage. The frame is sturdy and the wheels have soft springs for better durability on the road.
Size
The wheels of the Ruff-Sport are 4.8 inches thick and 12 inches in diameter. The crossbars are 64 inches wide. The product weighs about 200 pounds
Capacity
The great thing about the Ruff-Sport is that it can carry multiple items at once. If you stack the boats on top of each other as well as have two columns of them side by side, you can fit a lot on there. The Ruff-Sport has a weight limit of 700 pounds.
Value
The Ruff-Sport stands firmly in the low to mid-price range. With such a huge weight limit at 700 pounds, this product can handle anything you might need it for and so is a great value product.
Overall
We are impressed with the weight limit of the Ruff-Sport. This rugged product can handle an amazing 700 pounds of sporting gear.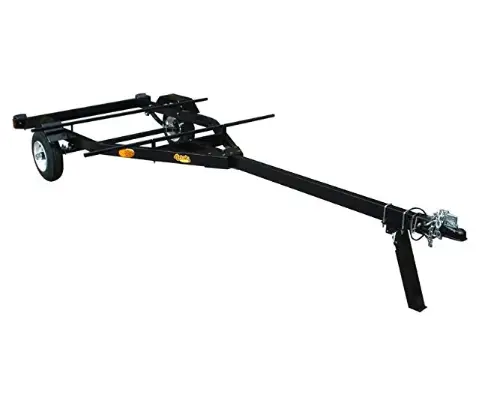 The Right-On Multi-Sport is a wonderful, simple product with a lot of versatility. It's great for kayaks as well as several other types of boats, bikes, and any other kinds of sporting equipment.
Read more
Use
The simple design of the Multi-Sport makes it ideal for attaching one or several boats. This product is easy to use and designed in a practical way for flexible usage.
Durability
The paint on the Multi-Sport protects it from the elements and discourages rust from forming. Users will want to check the paint periodically and do any repainting the product might need to stay durable.
Size
The Multi-Sport is 137.5 inches long and 60 inches wide. The crossbars are 18 inches high and the empty trailer weighs 165 pounds.
Capacity
The Multi-Sport can handle items up to 15 feet long and can carry up to 600 pounds, but it is better to stay under 300 pounds to go easier on the shock absorbers. This product can easily carry several boats at once. It can handle 4 without problems, and possibly, even more, depending on the weight.
Value
This product is a great value find. It's definitely lower in price than many of its competitors, but it's still a simple design with all the right features.
Overall
Simplicity is practicality in the case of the Right-On Multi-Sport. It is built for flexibility and ease of use and it has good all-around capacity and durability.

10

. Ecotric Truck Bed Hitch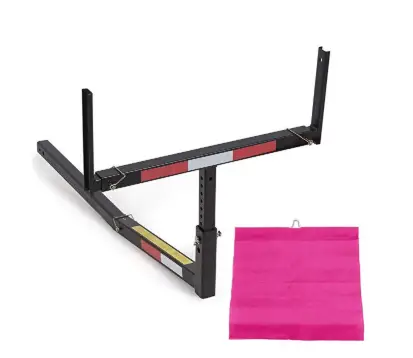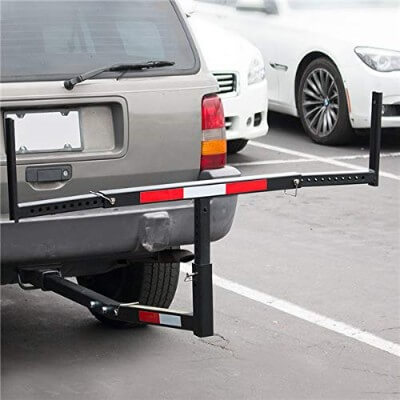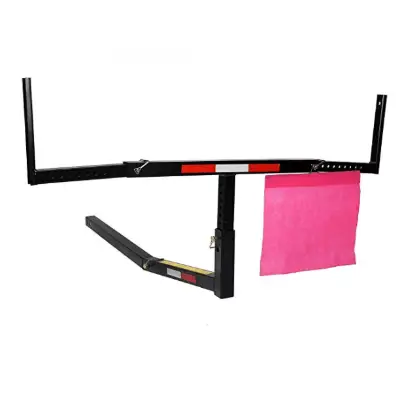 The Ecotric is such a great, simple design. It's hassle-free and requires very little assembly. It is smaller and simpler than some of our other options, but can still handle up to 750-pounds. It's a great inexpensive option.
Read more
Use
The Ecotric is a great option that is basically a wheel-less trailer which can be very convenient and makes turning in traffic much easier. Another great feature is the safety flag which is included and can be hung on the back of the product to get the attention of other drivers. The Ecotric is also foldable and can be stored in a very small space.
Durability
The Ecotric is made out of sturdy metal, and users report that it is very strong. The product comes with thick metal pins to hold it in place.
Size
The Ecotric is 55 inches long. Its height is extendable from 12 to 19 inches tall, and its width is also extendable from 29 to 49 inches wide. This product is extremely lightweight at 27 pounds.
Capacity
While it is smaller and lighter than many models, the Ecotric can still amazingly carry up to 750 pounds of weight.
Value
The design of the Ecotric is practical yet very simple, and it comes with a low price tag to match.
Overall
Well made and inexpensive, the Ecotric is a great, simple product that works well and doesn't take up much space.

Subscribe to our Newsletter