Best Kayak Trailers
In a
Hurry? Editors choice: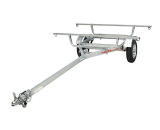 Test Winner: Malone Sports

What summer vacation is complete without some type of water sport? Kayaking is a wonderful water activity that is
a great workout
, not to mention incredibly fun. But getting to the lake or river or ocean with such long boats can be a hassle. That's where kayak trailers come in. They make the job easy and let you focus on what matters—having fun!
These products are designed in an endless variety of ways, and different designs are best for different purposes. Many of these products can be customized to fit your needs and some of them are adjustable. One of the best features of these products is that many of them can transport multiple kayaks at once which allows you to
make kayaking a group activity
. Let's look at the top ten models on the market so you can decide which one is best for you.
Standout Picks
Criteria Used for Evaluation
Use
Potential use is an important factor to consider.
When evaluating the products on this list, we thought about usage—both intended and potential. As part of product use, we also took into consideration factors such as how easy the product is to assemble, what tools are needed for assembly, what potential modifications will need to be made, and how well the product performs its intended use. Of every kayak trailer, we asked the question, "Can this be used for multiple boats and all different kinds of sporting equipment?" We know that if you're going kayaking, you probably want to take along other gear, too, and it would be really nice if you could store both on the same trailer. We chose products that are thoughtfully designed and are safe for use. Extra points were given to models that have extra features and that comes with everything you might need for assembly and use.
Durability
These get a lot of use and need to be durable.
Bouncing down the road while carrying a lot of weight is going to put a lot of wear and tear on these products. That's why we were careful to choose well-built products made out of quality materials. Since these are boat trailers, they're probably going to get wet, if not from a body of water, then most certainly from the weather. We gave priority to products that had rust-proof coatings and waterproof wheels. When you're out on a trip to go kayaking, you want to be thinking about all the fun you're going to have, and you don't want to have to worry about your equipment. We want your trip to the lake (or the river or the ocean) to be hassle-free and a fun adventure., That's why we made sure to only include products that are made out of high-quality materials.
Size
Size affects capacity and convenience.
We understand how important the sizes of a kayak trailer is and how that relates directly to capacity. We looked for ones that could handle anything from the very small and light watercraft to the very long and heavy.
Capacity
When you go on a trip, you may want to take all of your boating options. If you're going with a group of people, each person needs to be able to bring their own watercraft, and we chose the right kinds of products to make that possible. Many of the products on this list have great capacity in terms of both number and weight, as well as length. For safe road travel, these products need to be extremely strong and stable. We chose models that pull smoothly whether they are empty or full.
Value
These can be pricey and we want to make sure they are worth it.
There's no getting around the fact that these types of products come with quite the price tag. But that doesn't mean that they are more expensive than they should be. These can come with lots of parts and features and they are made out of quality materials. We went to great lengths to ensure that the worth of the product matched up with the price.
Subscribe to our Newsletter