Best Kayak Trailers
last updated:
Apr 06, 2020
What summer vacation is complete without some type of water sport? Kayaking is a wonderful water activity that is a great workout, not to mention incredibly fun. But getting to the lake or river or ocean with such long boats can be a hassle. That's where kayak trailers come in. They make the job easy and let you focus on what matters—having fun!
These products are designed in an endless variety of ways, and different designs are best for different purposes. Many of these products can be customized to fit your needs and some of them are adjustable. One of the best features of these products is that many of them can transport multiple kayaks at once which allows you to make kayaking a group activity. Let's look at the top ten models on the market so you can decide which one is best for you.
This is the best product on our list that is currently in stock: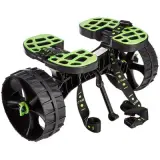 Railblaza
Why is it better?
Rust-resistant
Lightweight
Easy to assemble and disassemble
Can not get a flat tire
In a
Hurry? Editors choice: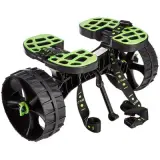 Test Winner: Railblaza

18
Researched Sources
14k
Reviews Considered
14
Hours Researching
18
Products Evaluated
Use
Durability
Size
Capacity
Value
By Default
Criteria Used for Evaluation


Use
Potential use is an important factor to consider.
When evaluating the products on this list, we thought about usage—both intended and potential. As part of product use, we also took into consideration factors such as how easy the product is to assemble, what tools are needed for assembly, what potential modifications will need to be made, and how well the product performs its intended use. Of every kayak trailer, we asked the question, "Can this be used for multiple boats and all different kinds of sporting equipment?" We know that if you're going kayaking, you probably want to take along other gear, too, and it would be really nice if you could store both on the same trailer. We chose products that are thoughtfully designed and are safe for use. Extra points were given to models that have extra features and that comes with everything you might need for assembly and use.


Durability
These get a lot of use and need to be durable.
Bouncing down the road while carrying a lot of weight is going to put a lot of wear and tear on these products. That's why we were careful to choose well-built products made out of quality materials. Since these are boat trailers, they're probably going to get wet, if not from a body of water, then most certainly from the weather. We gave priority to products that had rust-proof coatings and waterproof wheels. When you're out on a trip to go kayaking, you want to be thinking about all the fun you're going to have, and you don't want to have to worry about your equipment. We want your trip to the lake (or the river or the ocean) to be hassle-free and a fun adventure., That's why we made sure to only include products that are made out of high-quality materials.


Size
Size affects capacity and convenience.
We understand how important the sizes of a kayak trailer is and how that relates directly to capacity. We looked for ones that could handle anything from the very small and light watercraft to the very long and heavy.


Capacity
When you go on a trip, you may want to take all of your boating options. If you're going with a group of people, each person needs to be able to bring their own watercraft, and we chose the right kinds of products to make that possible. Many of the products on this list have great capacity in terms of both number and weight, as well as length. For safe road travel, these products need to be extremely strong and stable. We chose models that pull smoothly whether they are empty or full.


Value
These can be pricey and we want to make sure they are worth it.
There's no getting around the fact that these types of products come with quite the price tag. But that doesn't mean that they are more expensive than they should be. These can come with lots of parts and features and they are made out of quality materials. We went to great lengths to ensure that the worth of the product matched up with the price.
Expert Interviews & Opinions
Most Important Criteria
(According to our experts opinion)
Experts Opinion
Editors Opinion
Users Opinion
By Default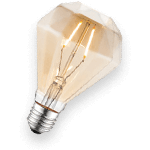 Size
To choose the right size product for your needs, first take inventory. How many kayaks do you have and what sizes are they? They can be longer than the trailer, as long as they don't hang off the end so much as to be a hazard to stability. Look for products that are rated for the size of boat you have. Also, look for products that can carry as many or more than the number of boats you have (you never know when you might need to pick up a friend or want to expand your collection).
Use
Make sure the trailer will work with your vehicle model. Does your vehicle have a trailer hitch? And if not, can you attach one? Make sure, too, that you have the right type of trailer hitch. Take into consideration your vehicle's pulling capacity. Some of these will work with small vehicles, others need to be pulled with some serious horsepower especially when fully loaded with heavy watercraft.
Capacity
The weight that these products are rated for is a very important thing to pay attention to. You definitely don't want to overload these going down the road or they could become a hazard. It's always good to get a trailer that goes a little above and beyond your needs just in case you ever need more capacity. You can't really have too much capacity, but you can have too little. Better to err on the side of caution with this choice.
Other Factors to Consider


Portability
Without a doubt, the kayak trailer will not spend its entire life connected to your car. When it is not actively hitched to your car, where is it? You may be scratching your head right now thinking, "oh yeah, where and how should I store it?" In terms of portability, we are talking about how they roll along with your car, we are talking about how easy these items are to un-attach and store when not in use.
Most people have the space to leave the platform whole and store it. If you do not, you will need to reverse put it together before storing it in a safe place. Either way, you store it, there are a few things to consider. The tires should not be left to bake in the sun or touching the hot asphalt. This will drastically decrease their durability. If possible, prop them up with a wooden wedge to keep the heat from the ground away from them. Other than the heat, the weight of the trailer itself can cause harm to the tires if it sits in the same position for too long. This weight weakens this one section of the tires if you do not take time to change the positioning every once in a while.
If you have the space to store the whole system inside your garage or shed and on its side, you are good to go. If not, there is no problem storing it outside in a secured area, but you may want to invest in a tarp to protect the materials and tires from the sun. This is typically a one-person job. Most of these items are not extremely heavy or difficult to move on their own.
Frequently Asked Questions
q:

Are these street legal?

a:

Generally, yes. That's what these products are for. But it never hurts to make sure. Check your local area's requirements and laws as well as the laws for the area you are traveling to. Also, make sure to get the proper license plate and registration for your new trailer.
q:

Why can't I just haul my kayaks on top of the vehicle?

a:

You can, but doing so tremendously increases the drag of the vehicle and makes it much less fuel-efficient. Pulling a trailer is a much better way to haul your kayaks if you are concerned about saving money on fuel. Additionally, lifting your boat over your head to place on top of the car is not always an easy job. Most transport systems that sit on top of the car require more than one person to load and unload.
q:

How much assembly is required?

a:

These products usually require quite a bit of assembly. There's just no getting around that. To cut down on shipping costs, they have to be shipped in pieces and they usually come in multiple boxes. Some of these products even include the tools and screws that are required for assembly. They all come with good instructions, though, and most can be assembled in a few hours' time.
q:

Will I need extra tools for assembly?

a:

Yes, you probably will need tools, but none of them should be too obscure. Common household tools should be enough. It's a good idea to examine the product's page and find out what contents will be in the boxes in order to determine if you will need to buy anything before you get started. You might also come across some handy accessories that you want to purchase to add to the product. Product reviews are great places to look for extra instruction.
q:

I'm having trouble assembling the product. What should I do?

a:

Most brands are wonderful about customer service and will happily help you figure out how to assemble their products. If you can't find the help you need by searching the internet or reading reviews, then be sure to reach out to the company and ask for help. Another great option is to check out YouTube. Surprisingly enough, many YouTubers upload videos of them assembling items to help others down the line.
q:

What's the best way to get right up to the water?

a:

If the model is waterproof, then go ahead and back down a boat ramp right into the water. Another great option is to unhook the trailer when you are in the parking lot, and then pull it by hand right up to the water's edge. Many of these models are designed for just that and are light enough to be pulled by one or two people.
q:

How long will these last and where can I find spare parts?

a:

These products are very sturdy and well built and with proper maintenance (such as painting touch up), they will last for years. If you need to replace parts, you can certainly buy them from the brand that sells the product, but another great thing about many of these products is that they are built to work with parts and accessories from several different brands. So that way you can mix and match parts based on whatever is easiest to get and least expensive.
Subscribe to our Newsletter