Best Tandem Kayaks
last updated:
Feb 07, 2020
Perhaps you want to go paddling with a friend but do not want to use a canoe or use separate kayaks. What are you left to do if this is the predicament you find yourself in? Well, it is quite easy. Have you ever heard of tandem kayaks?
You see, as their name indicates, tandem kayaks are merely kayaks that are designed for two people. And, while some of them can still be utilized solo, they are designed to perform the best with two users. However, understanding what they are is one thing as buying them is a different beast.
What you will learn throughout the context of this guide is there are loads of features and characteristics that you will need to look out for (such as build quality and comfort). Doing so will give you a better chance of buying a model you love.
This is the best product on our list that is currently in stock: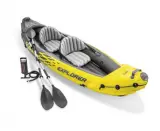 Intex Explorer K2
Why is it better?
Highly visible in the water
Designed with rugged vinyl
The Boston valves are really nice
In a
Hurry? Editors choice: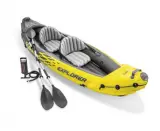 Test Winner: Intex Explorer K2

32
Researched Sources
41k
Reviews Considered
12.75
Hours Researching
17
Products Evaluated
Effectiveness
Comfort
Durability
Portability
Features
By Default
Our Top Picks for the Best Tandem Kayaks
Criteria Used for Evaluation


Effectiveness
The tandem kayak you buy needs to be able to perform to the standards in which you need it to.
If you took the time to go through this list, then you probably noticed that several inflatable and hardshell kayaks made appearances. And, as you probably guessed, there are several differences in their designs. Now, this is not an article that is debating whether or not inflatable or hardshell kayaks are better. But, the differences between the two styles need to be talked about.
Regarding performance, hardshell models are generally preferred. While inflatable kayaks can still be built with features to enhance their overall performance, they are not quite as rigid. But, the individual designs of such kayaks are often more important.
In general, tandem kayaks are more stable than their solo counterparts. However, the stability of any given model can be altered with its length. In general, longer kayaks are more durable as they displace more water. On the other hand, shorter models are a little easier to maneuver in tight spaces.
Also, there are certain accessories that can play a role in the performance department. For example, some tandem kayaks will sport skegs, and these deliver enhanced stability (especially in windy conditions). You will also see tracking fins, and while these work, in the same manner, they can't be retracted.


Comfort
Kayaks can be slightly uncomfortable at times. But, that does not mean you should pick one that is awful in this department.
Riding in tandem kayaks is not exactly going to be as comfortable as sitting down in your recliner. But, the last thing you want is to physically be in pain in the middle of your kayaking trip. So, it is in your best interest to seek out models that are comfortable to sit in.
And, to do this, first, assess the design of the seats. While some models will spot removable seats (some inflatable models do that) most of them will be built-in. Ideally, look for seats that are well-padded, ergonomically designed, and supportive. The good news, though, is you can always add some cushioning to the seats if need be.
It is also lovely when the seats are adjustable. This is a nice feature when you need to account for different riders. And, speaking of which, as these are tandem kayaks, you will need to ensure you have enough legroom.
Kayaks with deeper hulls will often provide extra legroom, and this can be nice for larger riders. You will be much happier with a two men kayak that is comfortable to sit in.


Durability
For sure, it will be in your best interest to buy a kayak that will handle some abuse.
The best way to attack this next section is to talk about hardshell and inflatable tandem kayaks separately. While the model you go with ultimately needs to be as durable as you need it to be, you need to look out for different things within the two types of kayaks.
Starting with inflatable kayaks, these will often be made with synthetic rubber and different types of polymers. With these, the concern is of them ripping and tearing. Outside of high-quality materials, look for models with high-frequency welded seams and multiple layers.
As for hardshell kayaks, these will typically be made with plastic, fiberglass, or composite materials. Fiberglass and composite tandem kayaks will often be quite expensive.
Plastic, even though it sounds scary, is a good alternative, but it depends on the type. Look for models that have been molded from high-density polyethylene as this provides excellent strength and stiffness.
Now, you also need to remember that heavier kayaks are not always going to be better. Just because a model is heavy does not mean it is durable. Plus, as you will learn in the next section, extra weight has a considerable consequence.


Portability
This is where inflatable tandem kayaks really hold an edge, quite honestly.
Alright, so it is no secret that hardshell kayaks are the more cumbersome of the two to transport (the other being inflatable kayaks). Because they can't be folded down or broken apart, you will either need a top rack or a trailer to transport them. And, with a top rack, you will physically need to lift the kayak on the top of your vehicle.
And, in general, tandem kayaks are more massive than single ones and tend to be anywhere from 70 to 100 pounds in weight. The good news is you will have more than one person around to help carry it. So, as such, you may want to look for models with a couple of built-in handles. And, for the record, you can find lighter tandem kayaks out there, but they will come at a price.
Moving on to inflatable kayaks, their main benefit is undoubtedly their portability. In addition to the fact that they are much lighter (as they are filled with air) than hardshell models, they can also be inflated and deflated. Often, they will be able to be folded down compactly and stuffed into tight spaces.


Features
This section is all about the storage space that you require with the model you buy.
Depending on your needs, you may settle for nothing less than a tandem kayak that supplies you with ample storage space. Whether you need a kayak for fishing or want to tag along with some food or some of your gear, owning a tandem kayak with storage space can be convenient.
If you have some equipment and gear that you would like to remain dry, look for kayaks with dry storage compartments. These are often located either underneath you or somewhere in the deck and can provide you with watertight locations for some of your items.
Of course, other models will sport cargo areas for you to utilize. And, speaking of which, you may also want to look for models that come with built-in bungee cords. These can be used to secure specific items that you want quick access too (such as any non-electrical items or even clothing).
Then again, if you want to go fishing while you kayak, then you are in luck. There are dedicated fishing kayaks that come with multiple rod holders and storage space galore. Consider designs like this for your convenience.
Expert Interviews & Opinions
Most Important Criteria
(According to our experts opinion)
Experts Opinion
Editors Opinion
Users Opinion
By Default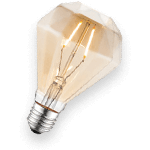 Effectiveness
As many of you are fully aware of, you can't expect every two-person kayak out there to perform in the same manner. That is only not going to be the case as certain factors will come into play. To name a few of them, the materials, length, hull design, and additional accessories can all play a role in performance.
Comfort
Kayaking is supposed to be a laidback and enjoyable experience. Well, is that even possible if you are riding in a two-seater kayak that is unbearable to sit in? Ideally, look for models that offer enough legroom for you and also seats that are comfortable to sit in. While no kayak alive is going to provide supreme comfort for hours on end, the one you buy needs to be tolerable at least.
Durability
When you are out in the water, you never know what you are going to encounter. Due to the unknown nature of such, it is wise to look for a tandem kayak that is built well. The standards will be a little different for hardshell and inflatable models, though. Then again, the fact remains that buying a model that is made with high-quality materials and craftsmanship will be in your best interest.
Frequently Asked Questions
q:

Where do you sit in them when riding solo?

a:

As was noted at the beginning of this guide, tandem kayaks can still be used by only one person. Well, some of them can while others are only optimized for two. Anyway, the best control you are going to get when riding solo is in the middle. If you want to consider other option for solo, take a look at our guide on SUPs.

If there is no middle seat or you can't move the seats around, opt for the backseat. In the rear, you should still have a decent amount of control. However, do not sit in the front as you will have inferior control of the boat.
q:

Will larger fishes tip over your kayak?

a:

If you do intend to partake in some fishing while out in the water, you may be interested in the answer to this question. Granted all your drags are set properly, there should never be a time where an attached fish would flip your kayak over.

Kayaks, especially tandem kayaks, are typically incredibly stable on the water. However, wear a floatation device to err on the side of caution if you are still worried.
q:

Is it dangerous to kayak in the ocean?

a:

Some of you only have intentions of kayaking down narrow rivers and such. But, some of you will be aiming to attack much, much larger waters. If you want to do some kayaking out in the ocean, you need to understand the dangers that are present.

Indeed, yes, kayaking in the ocean can be very dangerous. If nothing else, this is due to the nature of the ocean (more massive waves, sharks, its unpredictable nature, etc.).
q:

Are single or tandem kayaks easier to use?

a:

In a way, tandem models are a bit easier to use. There are a few reasons why, but the main reason is you have someone else with you. If you want to take a break from paddling, you can. Also, you can learn from someone who is an avid kayaker.

Additionally, tandem kayaks tend to be slower than single ones. Then again, let's not act as if kayaking is a problematic activity. Truthfully, it is pretty easy to get the hang of.
q:

Will you get tired after a while?

a:

There are two ways to look at this question. On the one hand, in the literal sense, your arms are going to get tired after a while, yes. But, the joy of kayaking is you can take a break from paddling and coast around for a while (depending on the narrowness of the water).

Now, regarding whether or not this activity gets boring after a while, that is simply a judgment call. It also depends on where you are kayaking as though lakes and oceans are more wide open; rivers tend to offer better sights and overall adventure.
q:

Can you sink them?

a:

Yes, realistically speaking, any boat in the world can sink. Regarding tandem kayaks, they are much more likely to tip than sink. Now, if your current kayak either gets a tear or significant damage that can cause it to leak, then it is going to be a different story.

This is why inspecting your model before you go out on an adventure is recommended. And, if you want to be extra cautious, you could always set your kayak in the water to see if any water gets inside.
Subscribe to our Newsletter