Best Tandem Kayaks
In a Hurry? Editors choice: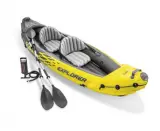 Test Winner: Intex Explorer K2

Perhaps you want to go paddling with a friend but do not want to
use a canoe
or use separate kayaks. What are you left to do if this is the predicament you find yourself in? Well, it is quite easy. Have you ever heard of tandem kayaks?
You see, as their name indicates, tandem kayaks are merely kayaks that are designed for two people. And, while some of them can still be
utilized solo
, they are designed to perform the best with two users. However, understanding what they are is one thing as buying them is a different beast.
What you will learn throughout the context of this guide is there are loads of features and characteristics that you will need to look out for (such as build quality and comfort). Doing so will give you a better chance of buying a model you love.
Standout Picks
Criteria Used for Evaluation
Effectiveness
The tandem kayak you buy needs to be able to perform to the standards in which you need it to.
If you took the time to go through this list, then you probably noticed that several inflatable and hardshell kayaks made appearances. And, as you probably guessed, there are several differences in their designs. Now, this is not an article that is debating whether or not inflatable or hardshell kayaks are better. But, the differences between the two styles need to be talked about.
Regarding performance, hardshell models are generally preferred. While inflatable kayaks can still be built with features to enhance their overall performance, they are not quite as rigid. But, the individual designs of such kayaks are often more important.
In general, tandem kayaks are more stable than their solo counterparts. However, the stability of any given model can be altered with its length. In general, longer kayaks are more durable as they displace more water. On the other hand, shorter models are a little easier to maneuver in tight spaces.
Also, there are certain accessories that can play a role in the performance department. For example, some tandem kayaks will sport skegs, and these deliver enhanced stability (especially in windy conditions). You will also see tracking fins, and while these work, in the same manner, they can't be retracted.
Comfort
Kayaks can be slightly uncomfortable at times. But, that does not mean you should pick one that is awful in this department.
Riding in tandem kayaks is not exactly going to be as comfortable as sitting down in your recliner. But, the last thing you want is to physically be in pain in the middle of your kayaking trip. So, it is in your best interest to seek out models that are comfortable to sit in.
And, to do this, first, assess the design of the seats. While some models will spot removable seats (some inflatable models do that) most of them will be built-in. Ideally, look for seats that are well-padded, ergonomically designed, and supportive. The good news, though, is you can always add some cushioning to the seats if need be.
It is also lovely when the seats are adjustable. This is a nice feature when you need to account for different riders. And, speaking of which, as these are tandem kayaks, you will need to ensure you have enough legroom.
Kayaks with deeper hulls will often provide extra legroom, and this can be nice for larger riders. You will be much happier with a two men kayak that is comfortable to sit in.
Durability
For sure, it will be in your best interest to buy a kayak that will handle some abuse.
The best way to attack this next section is to talk about hardshell and inflatable tandem kayaks separately. While the model you go with ultimately needs to be as durable as you need it to be, you need to look out for different things within the two types of kayaks.
Starting with inflatable kayaks, these will often be made with synthetic rubber and different types of polymers. With these, the concern is of them ripping and tearing. Outside of high-quality materials, look for models with high-frequency welded seams and multiple layers.
As for hardshell kayaks, these will typically be made with plastic, fiberglass, or composite materials. Fiberglass and composite tandem kayaks will often be quite expensive.
Plastic, even though it sounds scary, is a good alternative, but it depends on the type. Look for models that have been molded from high-density polyethylene as this provides excellent strength and stiffness.
Now, you also need to remember that heavier kayaks are not always going to be better. Just because a model is heavy does not mean it is durable. Plus, as you will learn in the next section, extra weight has a considerable consequence.
Portability
This is where inflatable tandem kayaks really hold an edge, quite honestly.
Alright, so it is no secret that hardshell kayaks are the more cumbersome of the two to transport (the other being inflatable kayaks). Because they can't be folded down or broken apart, you will either need a top rack or a trailer to transport them. And, with a top rack, you will physically need to lift the kayak on the top of your vehicle.
And, in general, tandem kayaks are more massive than single ones and tend to be anywhere from 70 to 100 pounds in weight. The good news is you will have more than one person around to help carry it. So, as such, you may want to look for models with a couple of built-in handles. And, for the record, you can find lighter tandem kayaks out there, but they will come at a price.
Moving on to inflatable kayaks, their main benefit is undoubtedly their portability. In addition to the fact that they are much lighter (as they are filled with air) than hardshell models, they can also be inflated and deflated. Often, they will be able to be folded down compactly and stuffed into tight spaces.
Features
This section is all about the storage space that you require with the model you buy.
Depending on your needs, you may settle for nothing less than a tandem kayak that supplies you with ample storage space. Whether you need a kayak for fishing or want to tag along with some food or some of your gear, owning a tandem kayak with storage space can be convenient.
If you have some equipment and gear that you would like to remain dry, look for kayaks with dry storage compartments. These are often located either underneath you or somewhere in the deck and can provide you with watertight locations for some of your items.
Of course, other models will sport cargo areas for you to utilize. And, speaking of which, you may also want to look for models that come with built-in bungee cords. These can be used to secure specific items that you want quick access too (such as any non-electrical items or even clothing).
Then again, if you want to go fishing while you kayak, then you are in luck. There are dedicated fishing kayaks that come with multiple rod holders and storage space galore. Consider designs like this for your convenience.
Our Top Picks for the Best Tandem Kayaks
1

. BKC UH-TK181 Tandem Kayak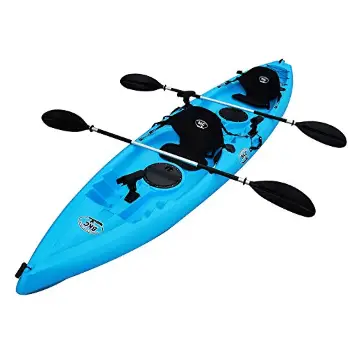 Tandem kayaks, when you want them to be premium, can get downright expensive. While this is a great example of one that is exactly that, the price is going to be worth it for some of you.
Read more
Performance
The primary reason so many users adore the design of this kayak is due to the 34-inch beam. With this in play, the stability and tracking of this kayak will still be above-average even through rougher waters.
Comfort
Even if two fully grown men need to get inside this boat, there will be plenty of room inside. Additionally, this comes with two secure paddle rests when you want to give your arms a break.
Durability
When compared to other top-end brands on the market, this compares fairly well regarding its overall construction and durability.
Portability
There is no need to sugarcoat it; this is a beast. Weighing in at 68 pounds, it is heavy. Now, the good news is multiple carrying handles are equipped, which makes it feasible for two to move this sucker.
Storage Space
Oh, this is a fishing kayak, by the way. It is equipped with waterproof storage hatches, four flush-mounted rod holders, and three articulated rod holders. And, this is all topped off with a rear cargo area.
Overall
Even though this is a downright beast in virtually every meaning of the word, it is worth every penny you will spend on it. This is particularly true if you have a keen interest in fishing.

2

. Lifetime 10-Foot Fishing Kayak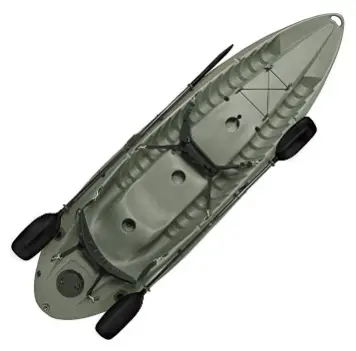 As with the previous model, this is optimized for fishing. Now, that does not mean that you need to fish in it as it is also highly competent for traditional paddling and kayaking adventures.
Read more
Performance
When utilizing this by yourself, the speed and tracking will not be nearly as good. However, with two people, the hull design ensures this remains incredibly stable while also delivering solid tracking.
Comfort
A couple of backrests are provided to you. Also, there are multiple footrest positions that can be achieved. This is ideal as it better accounts for different size riders.
Durability
As with many top-end kayaks, this kayak has been molded from high-density polyethylene. All in all, it can support up to 500 pounds and can handle a beating out on the water.
Portability
For whatever reason, there is only one handle built into this bad boy. This can make transporting and carrying it more cumbersome than it should have been, quite frankly.
Storage Space
Being a fishing kayak, this is equipped with a six-foot storage hatch and also three fishing pole holders.
Overall
At this price range, there are many people who would consider this a steal. Outside of the minor portability issues, it is a nearly perfect design that nearly everyone will love.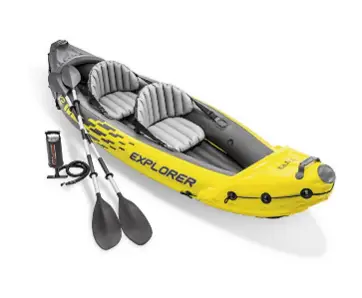 Intex is known for making some of the best inflatable kayaks known to man. And, their Explorer K2 model just might be their most popular and beloved. And, indeed, it is designed to be used with two paddlers.
Read more
Performance
It is noted in the description that the Explorer K2 is ideal for smaller bodies of water. Because it moves through the water more like a rubber raft than an actual kayak, you can see why this is.
Comfort
As with most inflatable kayaks, this lacks much back support at all. Still, the seats are adjustable and are not unbearably uncomfortable.
Durability
Without question, very few people are going to have issues with strength. Granted you are not careless on the water, the rugged vinyl construction of the Explorer K2 should hold up very well.
Portability
With Boston valves on each side of this kayak, inflating and deflating it are simple and easy. Plus, there is a grab handle at each end, which makes it incredibly easy for two people to carry this.
Storage Space
When two people are inside this, there is little to no storage space to speak of. If you need a ton of accessories accounted for then, this may not be your best option.
Overall
If you understand the performance limitations of inflatable kayaks and can deal with them, then you will probably be quite compelled to go with the Explorer K2.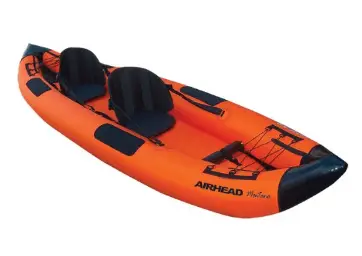 Inflatable kayaks are fantastic, for the right people. With this design and so many others, you just need to understand the performance will not be quite as good as you will get from a polyethylene kayak.
Read more
Performance
This double kayak, so to speak, does not track very well. Then again, the tubular I-beam floor does enhance the buoyancy of the design, as a whole, which is nice.
Comfort
The inflatable seats are both movable and removable. So, they could technically be replaced. Also, this kayak sports neoprene elbow guards which makes paddling much more comfortable.
Durability
In addition to the nylon and stainless steel hardware that is resistant to corrosion, the central core of this design sports rugged 840-denier nylon material. Oh, and water-resistant coatings have also been applied.
Portability
As this is an inflatable model, it can easily be transported from location to location. All you need to do is inflate and deflate it when required.
Storage Space
At both the bow and stern, six D-rings can be used to secure your gear. Additionally, there is a stretch net located in the bow.
Overall
As a whole, this is fantastic. Sure, it does not track the best, but it is easily portable, durable, and also sports D-rings to secure gear.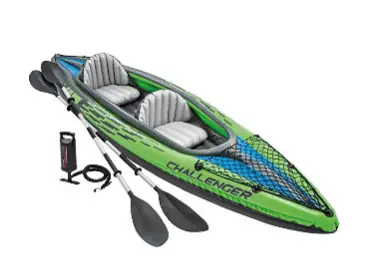 The Challenger K2 is another really good design from Intex and while it is not quite up-to-par to the Explorer K2, it is excellent in its own right.
Read more
Performance
This is designed with an inflatable floor, and this adds rigidity to the overall design. Also, the Challenger K2 is streamlined to allow for more comfortable paddling.
Comfort
As with the Explorer K2, the backrests of the Challenger K2 are not that comfortable. They are too flimsy to provide any back support, and this is unfortunate.
Durability
Intex does not make cheap tandem kayaks, relatively speaking. Their Challenger K2 is about as impressive as their Explorer K2 with its tough vinyl and UV-resistant core.
Portability
In addition to packing up small, this is also equipped with two air chambers. This ensures a pretty quick inflation time. However, the included pump does not deflate the kayak.
Storage Space
What is careful about this model is that a cargo net is equipped into the front. With it, you can store different types of accessories safely and securely.
Overall
With better backrests, this would be an even better tandem kayak. This is to be expected with an inflatable model, though. As for everything else, however, it is quite impressive.

6

. Advanced Elements Convertible Kayak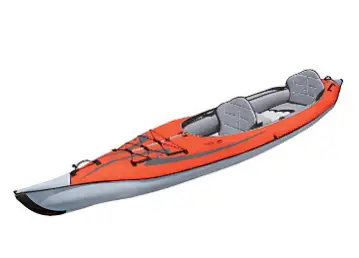 What makes this one of the most unique tandem kayaks on the market is the fact that it can convert from a single deck to a double deck. And, doing so can be achieved in mere seconds.
Read more
Performance
While the addition of some sort of backbone to provide enhanced stability to this model would have been nice, the aluminum ribs do improve the tracking and define the stern and bow.
Comfort
When compared to other inflatable kayaks, the padded and adjustable seats of this model rank pretty high. And, yes, they can be adjusted to account for different riders.
Durability
All in all, this has been built with three layers of material. With this construction philosophy, abrasions are less likely to occur and ultimately sink it.
Portability
For whatever reason, this does not come with a pump. So, you will need to account for one yourself. But, a duffle bag is included and that is a nice touch. Anyway, either way, at 52 pounds, this is one of the heavier inflatable models out there.
Storage Space
Indeed, this can be converted from a single deck to a double deck. Either way, both options sport multiple D-rings for your convenience. And, each deck style also sports unique storage options.
Overall
Better rigidity would have made this model even better. However, it still deserves recognition for its unique, durable, and comfortable design.

7

. Sevylor Coleman Colorado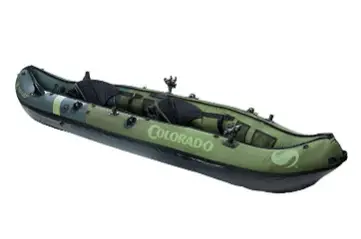 This is an excellent example of a design that is so close to being elite. But, alas, this tandem kayak barely cracks this list due to the minor flaws that prevented it from ascending higher.
Read more
Performance
While the mount to account for a trolling motor is quite flimsy, it can still account for a trolling motor. As is, this performs much as many other inflatable models do.
Comfort
There is not a ton of legroom in Colorado so be cautious of that. As for the seats, they are both padded and adjustable. Overall, they are not too shabby.
Durability
Alright, so the 1000-denier tarpaulin bottom and 18-gauge PVC construction of Colorado are quite impressive. However, you still need to be careful with this as some users have had issues with the seams ripping.
Portability
Past the fact that this is inflatable, it is equipped with a double-threaded Boston Valve. This makes inflating and deflating it much easier.
Storage Space
There are multiple rod holders and also mesh storage pockets for you to utilize. Speaking for the rod holders, though, they are somewhat flimsy.
Overall
The Colorado Fishing Kayak is a high-quality design, so do not think otherwise. But, some of the components could have been built better, admittedly.

8

. Sea Eagle Deluxe Kayak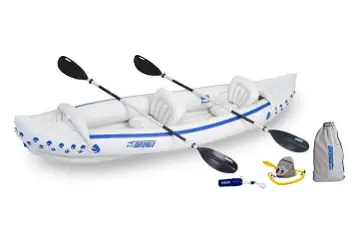 This is yet another two-person kayak that lives up to its name quite well. And, while the seats leave a lot to be desired, this model is built extremely well and is quite convenient to transport.
Read more
Performance
There are plenty of design features that enhance the overall performance of this model. You have the two molded skegs for improved tracking, the I-beam construction floor for improved rigidity and the 33-millimeter hull.
Comfort
Let's just come right out and say this; it may be in your best interest to invest in a different inflatable seat (or seats) for this kayak. The included ones do not even have enough support to stay upright.
Durability
Though the seats are pretty bad, the rugged nature of this kayak is the complete opposite. In addition to the high-frequency welded seams, this also sports thicker hull material for improved longevity.
Portability
As this is an inflatable model, it can be packed down small enough to fit into tight spaces easily. As for the total weight, this bad boy weighs 32 pounds.
Storage Space
There is a lack of storage space with this design that is for sure. This will not be a big deal for some of you but know that this design is not optimized for longer kayaking trips.
Overall
The way it is, many will find this too unbearable to kayak in. But, if you go out and buy some excellent inflatable seats, it will make all the difference in the world.

9

. Sun Dolphin Bali Kayak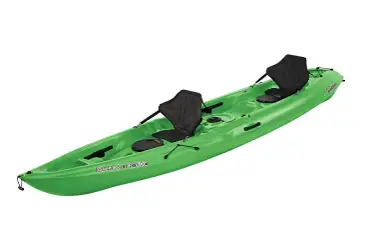 It is fair to say that some of you will expect a bit more out of this kayak given the price. Then again, it is a well-designed two-seater kayak. But, it does have a few hiccups in its design.
Read more
Performance
While not necessarily a hiccup, per se, this is not the fastest kayak out on the water. Its stability is remarkable, however, so there is that at least.
Comfort
The adjustable seats are good enough not to be awful. But, the padding is on the thin side. So, you may want to consider buying some boat cushions to go with them.
Durability
It is not as if this is cheaply-made. At the same time, though, previous reviewers have had issues with the base leaking.
Portability
For the size of this boat, it is manageable to carry (with two people). It also helps that the carrying handles are conveniently placed.
Storage Space
In addition to the onboard shock cord rigging capabilities, this also comes with three covered storage compartments. Without question, these can come in handy.
Overall
Past the leaking issues that some users have had, this is an excellent kayak. Just buy yourself some extra cushions, and you should be good to go.

10

. Lifetime Manta Tandem Kayak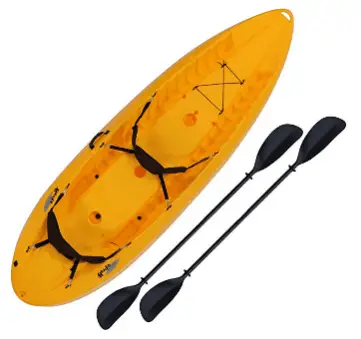 In regard to stability, this is one of the better tandem kayaks on this list. However, admittedly, the Lifetime Manta is limited when it comes to straight-up speed.
Read more
Performance
Indeed, this is not the best kayak for gaining insane amounts of speed. It is optimized for stability and is perfectly acceptable for dawdling around in the water.
Comfort
The good news is the included seats do keep you off of the bottom floor. However, at the same time, for longer sessions, you will probably grow tired of sitting in them.
Durability
The Manta has been engineered from low-density polyethylene. This same material is also protected against UV rays from the sun.
Portability
Thanks to the molded front and rear carrying handles, transporting this is not too difficult. Then again, it does clock in at 60 pounds and will be easier to carry with two people.
Storage Space
To secure some of your items, included are a few bungee cords for your convenience. While not a ton of storage space available, this is an excellent addition regardless.
Overall
The Lifetime Manta Kayak is one of the most popular models on this list. It is not quite the best, but there is still enough quality present to warrant a purchase.

Subscribe to our Newsletter