Best Snorkeling Gear
In a
Hurry? Editors choice: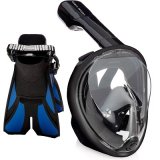 Test Winner: OCEAN VIEW SNORKEL SET

There is no hobby quite like snorkeling in all types of bodies of water. Watching the fish slowly swim by through blue water or being able to float above the top of the ocean makes you feel so alive. Being able to have durable snorkeling goggles that do not leak and a great snorkel to breathe safely through are very important while snorkeling. You can see clearer with great goggles especially ones that fit your face securely and have anti-fog features. While searching for your own snorkeling set look into what they are coming with as many sets come with flippers or bags to store them in. Many of the
snorkeling goggles
on our list are one size fits all so if you are looking for one more fitting make sure you research the sizes they are available in. Below we have listed the top ten best snorkeling gear.
Standout Picks
Criteria Used for Evaluation
Fit
When it comes down to the nitty-gritty, color and looks cannot hold a candle to how important fit and comfortability are. If you have to spend most of your dive time messing with and adjusting your mask you are not going to have a good time. Now yes this makes online shopping a little more difficult although most reputable online store, such as Amazon, have great return policies in case you need to send things back. This should be the number one thing to look at when purchasing a snorkel set making sure the fit will keep water out yet is a comfortable fit so, like earlier stated, you don't have to fidget with your mask and potentially allowing water to find its way in. Also, consider your beard. If you will notice we nicely labeled the gear in our list beard friendly or not under the Cons section. Some of these masks, the way they were designed, they just cannot get a good suction around your manliness. We suggest you always test your gear in a shallow and/or a controlled environment before setting out on any size adventure.
Size
As you might know or will soon find out, fins come in all sorts of shapes and sizes these days. The first thing to look for and decide on is either a full foot fin or an adjustable open heel fin. For most people, the adjustable option may seem the best viable answer for obvious size-changing reasons although be aware that all adjustable fins are designed to accompany a wetsuit or a dry type diving boot. These fins are supposed to go on the outside of the gear giving it something other than your bare skin to grip on to. That being said the adjustable options are more versatile and the best long term value choice. Now, on the other hand, you have the full foot fin. This option doesn't require an extra wetsuit or any gear because they fit right directly onto your foot. The downside to these is they might, just depending on what you demand from them, lack the overall power you are able to gain off kicking.
Value
Now for most of us, money is not just something we can throw here and throw there at no expense so being reasonable and frugal with your money might be a factor when making any purchase. For most hobbies, things can get expensive and quickly, but snorkeling is not only very family friendly but it is also economical as well! Don't be fooled by some of the prices out there and always consider other options like the majority of the snorkel sets on our list. Of the sets out there today you should be able to find the quality and features that you desire for a very reasonable price. So do your shopping, weigh your options, and utilize our list to help you make an educated and thrifty decision when you decide to pull the trigger on your new adventures.
Accessories
Fins might be one of the fun commodities of snorkeling. They allow you to move faster, see more, and all-around have a great time. But before you go throwing a pair on and jumping into the deep blue, make sure you have the right fins and are using them properly. To keep it simple we will just touch on the short and long fins here. The longfin allows you to move faster through the water and does it while exerting less energy it would take if you were using short or no fins, but they are called long fins for a reason. Unlike the long fins, the short fins are easy to stow and go and tend to be easier to maneuver. With that being said, the short fins are not as efficient but they sure do beat your bare feet! Now that you have got an idea of fin sizes there is one more very important thing to look out for and we just talked about it. Types of fit. Full foot fins you can slip right on and go but may slip around a little more whereas adjustable open heel fins allow for a snug fit but you will have to buy either a wetsuit or diving boots before you go slipping your foot in there.
Top 10 Picks
1

. OCEAN VIEW SNORKEL SET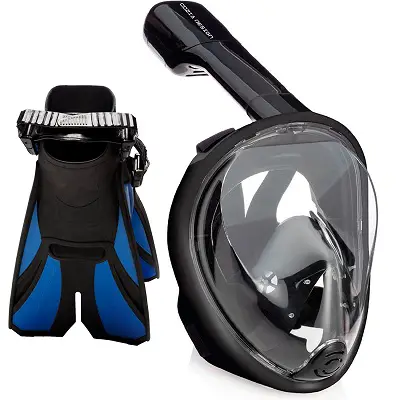 When it comes to snorkeling gear things can be really touchy when it comes to getting things right, but these guys are right on par. Advanced design flaunts a separate chamber meant for breathing that takes your airflow and directs it away from the main lens. By doing this it allows for a fog-free lens for your crystal clear viewing. The few color options are accompanied by a dry top snorkel, short split fins, and not to mention the shatterproof polycarbonate viewing window this set had to be at the top of our list.
Read more
Fit
Now disclaimer and first negative aspect of this design are that the way it suctions to your face makes its nearly impossible if not downright impossible for those with beards. Sorry guys but for proper fit and no water leakage you are going to have to shave your beard. Now, with that out of the way, the watertight seal on this product is amazing. It keeps water out fairly well and the only complaint you will see from other users, besides those who didn't follow directions on how to wear it properly, is maybe the possible reduction of airflow allowed by the breathing system. Other than that the comfort level is pretty high here.
Size
The design for this set is more in the nonconventional section of the snorkeling world and it blows the competitors out of the water. Having only a single lens allows for an uninterrupted 180-degree view in front of you with no fear of fogging with their anti-fogging lens. This snorkeling gear swims flippers are adjustable at 7.5(38) and 12.5 (44). This set of snorkeling goggles is one size fits all.
Value
Being at the top of the list, it does come with a bit of a price tag as far as snorkeling gear goes. But all and all that you are getting in this pack including fins and a kind of cheap like bag it does actually seem worth the price.
Accessories
With this set, you will receive a pair of short split-tip fins. The split-tip fins are supposed to make a sort of vortex behind the kink making acceleration that much easier, which is a good quality for a shortfin to have. This kit throws it all together by tossing in a mesh carrying bag to keep all your gear in one place nice and neat.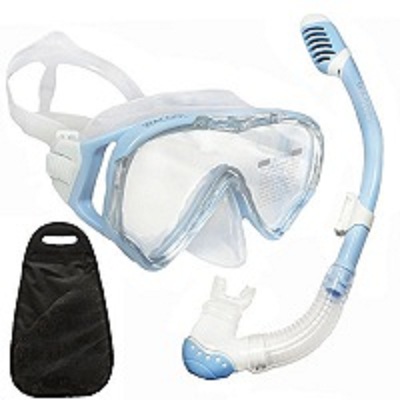 If you are looking for a set that is backed by its manufacturer to work every time all the time then Wacool has a very nice set that is backed by, yes, a lifetime hassle-free guarantee! Although this set is a basic set as far as what comes with it, this mask and snorkel combo is absolutely outstanding with its functionality and it even comes with a mesh carrying bag. With a lifetime guarantee backing you how could you go wrong?
Read more
Fit
As for the fit, this is where this set falls short just a bit. There is only a one size fits all option to these which means those with smaller or larger faces might have trouble with the mask fitting properly and keeping a seal. The other thing along with the one size mask is that the mouthpiece is a bit larger than most, but it is made of fairly soft silicone material so it will not be that hard plastic-like cheaper set may have. That soft material is also on the mask for that comfort factor. So if the one size fits all tactic fits and suits you then consider this product for sure.
Size
For this snorkeling gear and mask it comes in one size fits all.
Value
Now, this set is pretty sweet, but let us talk price for a minute. Yes, this set is an amazing and simple set although the price that it is set at you might expect a pair of fins too, or simply that the price just is a little lower. If you are thinking that this is the set you really want then the cool thing about the internet is that somewhere out there someone is always having a sale so take a look around places for instance Amazon.
Accessories
Now, this set does not really have many wowing extras such as fins and whatnot, it keeps things pretty upfront and simple. That being said this set does have a mesh bag that accompanies it which comes in handy for sure! Since the bag has meshed there is no need to make sure your equipment is fully dry before throwing them in its bag. As a quick tip as far as bags go, bags that do not mesh water can cause your set to grow mold since the water sits and can't evaporate. One last cool thing about this set is it does have color options which are a nice leisurely thing yes, but comes in handy if you and someone you snorkel with have the same set or similar sets as for you can tell them apart.

3

. WILDHORN OUTFITTERS 180 DEGREE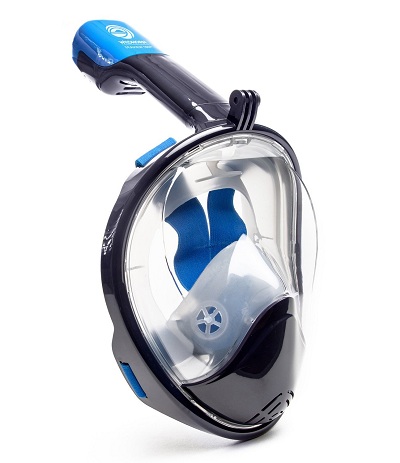 The full face lens on this kit allows for great views and the set itself has some pretty neat features. The design may throw you for a loop but the setup is quite good. The cool thing about this set is not only is it easy to use but it also comes in sizes to fit the entire family. This set is a tad behind in the extras department. Besides the GoPro mount that is already built into the frame of the mask, that is all you really get, if you don't count the user manual.
Read more
Fit
With all these features there is no way it can be this low on the list, you may be thinking. Well, this is one of two huge drawbacks to this mask and that is that having that large full-face design requires more surface area to cover therefore longer seal needs to be made. With a longer seal, it grants more room for failure, and it tends to happen if you don't get the mask on just right.
Size
The only other thing that is close to an extra is that it comes in six different colors and the sizes range from kids to adults of all kinds.
Value
This particular set is a bit different when it comes to prices. The prices are done in a range, ranging from a semi-okay price to very expensive all depending on the selection of color and size.
Accessories
The 180-degree view that you get from this set is practically unbeatable. With the anti-fog channels, that they designed to take the air you breathe away from the lens altogether, you will have no problem seeing clearly through the shatterproof glass installed in this set. We can't forget that built into the frame in actually a GoPro mount so you can film your dives and review everything you saw or did under the water!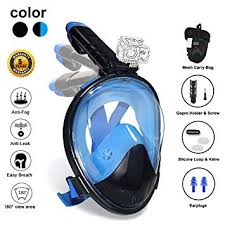 If you are out there looking for a lot of extras and add on items with your set well look no further. This snorkeling set made by UFANORE has every bell and whistle you could want when out snorkeling anywhere. This snorkeling mask is known for having an anti-leaking and anti-fog design to make sure water does not leak through the mask and as well through your mouth.
Read more
Fit
This Ufanore Snorkel Mask Full Face snorkeling mask has a detailed head strap for you to stay comfortable while wearing it. It fills nice and tight around your head with room to fit your poly tail through if you have long hair which is a great feature to make sure your hair does not get stuck. This mask fits all ages as it has an adjustable strap if you do have a smaller head or if your child is wanting to use it.
Size
This snorkeling mask fits all ages even children. It comes in small to medium as well as large to x-large. Its small and medium mask measures in at 3.94"/10cm for the face width and the eyebrow to chin size is 4.72"/12CM 5.52"/14CM. For the large to extra large size, it measures in at 4.72"/12CM for the face width and 5.52"/14CM from your eyebrows to chin.
Value
This snorkeling mask comes for a wonderful price value of just below $30.00 and for all the features it includes as well as being a mask and snorkel together it is a great deal. It does not come with snorkeling flippers but with the low price, you can purchase the flippers separately and still get a great deal.
Accessories
This Ufanore Snorkel Mask Full Face snorkeling mask has many great features including its GoPro camera adjustable mount on top of your head for you to record your snorkeling adventures hands-free, you get a drawstring bag for you to keep your mask in to reduce dust residue and to make sure you do not scratch the mask, and it comes with a foldable snorkeling tube. This foldable snorkeling tube helps with storing it easily and also makes sure you do not need to worry about it being damaged or falling off.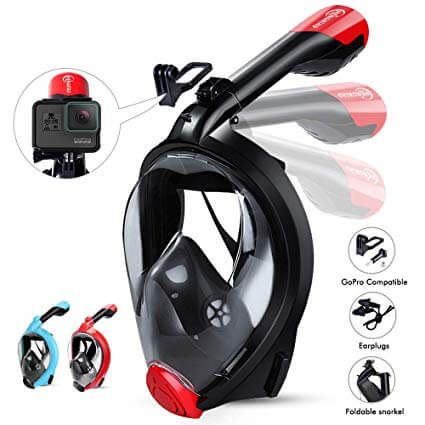 This is another full face mask with an extraordinary view. It is quite similar to the other mask like this on our list but has some great features that make it even more popular. It does make things a little easier for kids to breathe since they do not need to hold that snorkel tube in their mouth as it is an all in one snorkeling mask. It is also great for people who like to fully emerge themselves underwater as it does have a 180-degree view which helps with not having to turn your head to see a panoramic view. This snorkeling mask also features a shatterproof window which makes it extra durable.
Read more
Fit
This snorkeling mask has an adjustable head strap to make sure it fits you or your children securely. It has a great seal around your whole face to make sure water does not leak inside and you can see clearly while being emersed underwater. It also has a strong and durable silicone skirt to ensure water does not come into the mask and to make sure your goggles do not fog up.
Size
This HENGBIRD Snorkel Mask is known for being a one size fits all and also comes in kids and adult sizes. This allows your children to use your mask and fit them comfortably and securely without water having to leak into the mask.
Value
This snorkeling mask price value ranges depending on the size and style options. The beginning price is just $30.00 and it goes up to $70.00 for the highest quality mask with the most features.
Accessories
This snorkeling mask features earplugs for you to use while your head is underwater to keep water from going into them as well as a foldable snorkel option for you to adjust when you are not using the mask to keep the snorkel from being damaged. This snorkeling mask comes with a storage bag and a hands-free GoPro mount for you to record yourself while being underwater.

6

. PRODIVE DRY TOP SNORKEL SET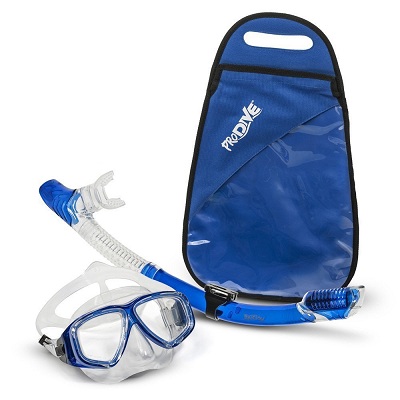 If you are not in the market for anything fancy but something more along with the simple approach then looks no further. This is what we were talking about when we said you can get a lot of features for a better price. But will this price reflect in its performance? Well, let us take a look. Looking for a cheap set for the kids or maybe wanting a set to just get out there and dive? This is your set! Granted the one size it comes in fits. Other than that spend a few extra dollars, and we mean few, to get a set that may fit a bit better and will most likely come with some extras you will enjoy.
Read more
Fit
These claim to be watertight although with the one size fits all idea in play here it all depends on the shape of your face and if it sits just right on your face or not. For those of you that these fit then yes, you will have a silicone seal although it tends to not be as comfortable as others out there.
Size
One size fits all when it comes to this snorkel set.
Value
Finally, a spot where you will not see much negativity at all. This set, as simple as it is, is very cost-effective. Even at this price, you are still able to get a set that allows you to dive deeper and explore without fear of water entering the tube.
Accessories
The frame for these goggles are exactly what you would expect when you think basic. If you close your eyes and picture a pair of basic goggles you are more than likely thinking of these. With two lenses and a huge silicone nose fashioned between you get these goggles with a simplistic look. Now sometimes simple is better and that's where the lenses shine bright. These have pressure and impact-resistant tempered glass for their lenses that will withstand just about anything you throw their way. If you are worried about things getting a tad foggy, worry no more for these have an anti-fog type design built in. Simple, again, is a good way to put this snorkeling tube just with a few upgrades.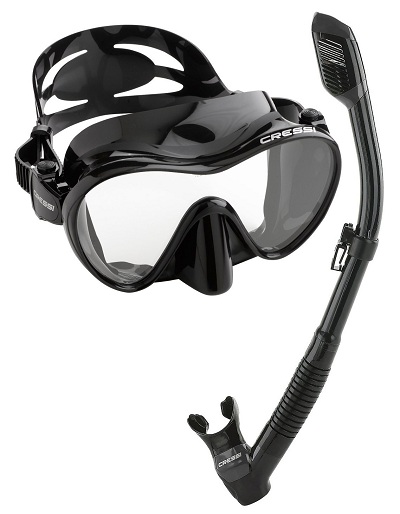 I told you to be on the lookout for this Cressi brand again. Like said previously, this brand tends to be used by many people and widely liked amongst the users. This set's name gives it away but this is the full package with fins included. A wide variety of sizes and colors so anyone in the family can join in on the fun. While the comfortability and features are almost all there, the features that are lacking along with the price it did land lower on our list.
Read more
Fit
For starters, the design of the frame is done so, so that it sits on the face in a comfortable fashion. To go along with that great frame design they threw in some extra soft hypoallergenic silicone to make it not only suction but to be as comfortable as can be. The suction on this mask has been known to leak time to time possibly because of the extra soft silicone allowing water to seep in.
Size
This snorkeling set sizes in at 16 x 2 x 2 inches and weighs 12.3 ounces.
Value
The price is the real zinger about this set. Sadly the price for a set like this is going to run you a bit more than the other pairs out there and especially on this list. For cheaper than this you can get the same features and possibly even more if you look around our list.
Accessories
The look of the frame is a bit dated but the shape is designed for maximum comfort. As far as the lenses go they are very run of the mill for this sport. They are just your simple tempered glass not permitting cracks or breaking of the lenses. Unfortunately, this pair of goggles is not fog proof making it a nightmare if they do end up fogging up. This is where this set steps up their game a bit. It does come with a dry top snorkel that you are able to dive under the water with. And to help out the dry top snorkel it is equipped with a splash guard for extra protection.

8

. CRESSI PANORAMIC SCUBA DIVING MASK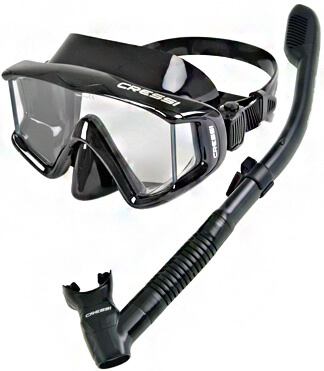 Cressi"s diving gear is fairly popular and they make a decent product so don't be surprised if they pop up again on our list here. Many people are seen using this pair in a sport typesetting such as hunters and even some underwater photographers. Looking at this pair of goggles we have a lot of really nice features to point out followed by a few that you definitely are going to want to look over so let's dive on in.
Read more
Fit
Along with a comfortably soft silicone mouthpiece, these goggles are made with all liquid silicone in the skirt allowing for a super comfortable dive not to mention it lets them fold flat for packing. These are a great choice for most teenagers and up since there is only one size, but the silicone skirt is pretty stretchy allowing for a good seal on most faces. It's the kids that may have a bit more of a problem with these fitting correctly.
Size
This scuba diving mask and set measures in at 3 x 15.7 x 2.5 inches and weighs 2 pounds.
Value
The price for these are getting very close to the pricey rang but do not think they are quite there yet. They have some great features such as the fully submergible snorkel that is worth its weight in gold and will definitely come in handy, but there are a few major places where they missed the really missed the mark such as not having an anti-fog defense. You can get more with others out on the market although some of these features still keep this set relevant.
Accessories
The nice feature on these goggles is that they are considered frameless. Now yes they have an outside frame that holds the lens in place but there is no centerpiece since this is a single lens goggle. Now, this single lens does help out a bunch in activities as I mentioned before, sports and photography because it gives you a nice field of view to see what is going on around you. So you are thinking I am not going to be doing either spots or photography, well no worries you don't need to, to enjoy these. The wide lens will allow you as well see everything in front of you crystal clear so you don't miss a detail. Not to mention this clear view will never crack and break due to it being all made of tempered glass. But be aware, this lens is not an anti-fog lens. Cressi kept the snorkel tube looking quite basic although the functionality of it is far from basic.

9

. PHANTOM AQUATICS SPEED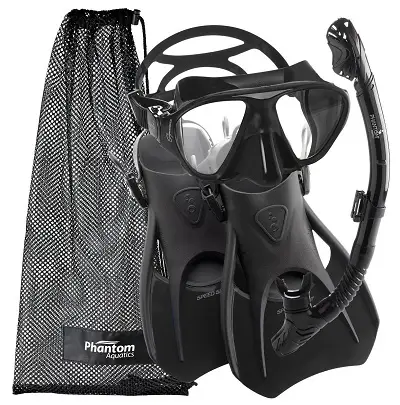 This set made by Phantom Aquatics is named a signature set and we will show you why. It does have some really awesome and very handy features like fins and color/size options but it does have a few drawbacks along with the good. Price may deter some for this is not for someone who is a once in a blue moon type swimmer. Considering that the top is not a full dry top limiting much diving and being prone to fogging does not make this a horrible set.
Read more
Fit
As long as the chance of seeing a tiny bit of frame of the goggles is not a comfort issue for you, then these are good to go as far as comfort goes. Their comfortable fit comes from their liquid silicone skirt that also makes sure to keep a watertight seal while diving.
Size
Another important feature is that these come in multiple sizes so you are able to get the right fit for you and don't have to deal with leaking or moving goggles.
Value
There are not many setbacks to this set, especially when you get all of these cool extras and color options, and price for what you are getting is not too bad at all either. You will find that this set falls in about the midrange of the majority of sets out there. With that said, most prices of sets are pretty consumer-friendly and midrange, where this pair lands, is still a great deal when you consider the fun to be had with it.
Accessories
Along with the goggles and snorkel, you will receive a pair of adjustable open heel short fins that will give you two times the speed while only using half of the effort it would normally take. But it does not stop there! This set also comes with eight different colors so each member of the family will be able to tell which is theirs. To round things off this set comes with a mesh bag that allows your gear to dry properly after a day of diving.

10

. CRESSI MEREA & SUPERNOVA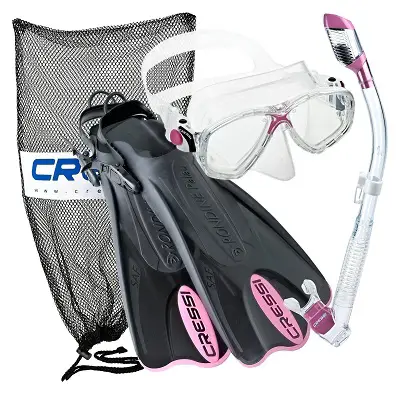 Last but not least, yes one last Cressi brand product. This brand has been making snorkeling gear since 1946 and is still around so they must be doing something right. This set is great for a beginner and it even comes in eight different color options.
Read more
Fit
Sadly the fit on these is a one size fits all deal although they do have a buckling system that allows for head size adjustments. No complaints on the comfort factor here but surely nothing to get worked up over neither.
Size
This snorkeling set measures in at 6.3 x 1.8 x 14.1 inches and weighs 14.9 ounces.
Value
Now sure this set is a decent set with a nice tube and okay goggles until you see the price. The price for what you are getting is ridiculous. You can no doubt find a better set on this list for much cheaper. Plain and simple.
Accessories
Coming in at one of the most rudimentary sets, there is not much in the way of extras, and the one extra it does have has a design flaw. A carrying case comes with this set and simply put, it has no open area allowing your gear to dry out while inside.

Subscribe to our Newsletter