Best Scuba Fins
In a Hurry? Editors choice: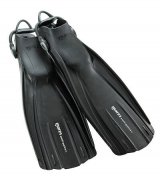 Test Winner: Mares Avanti Quattro

Have you ever tried to
swim for long periods
underwater at the beach or in your
backyard pool
? When you attempt to do so, it is difficult to gain speed and you almost feel as if you are getting nowhere. Well, this is the exact reason why another mandatory piece of
equipment for divers
is fins. In specific for this guide, scuba fins and allow divers to swim more efficiently and with greater power as they are modeled after fishtails.
But, there are different types and differently designed scuba fins and not everyone is going to like the same type. Our goal is to attempt to brief you on the vital and necessary information in regards to scuba fins. In the end, hopefully, you will be able to make a logical and worthwhile investment.
Standout Picks
Criteria Used for Evaluation
Features
The Design of the Blade
Given that the blade is the largest portion of a scuba fin, it only makes sense that we would begin with it first. While the performance end of things will be discussed in a bit, this section is focused primarily on the makeup and design of the blade. All in all, you want to choose a blade style that is ideal for you. However, and this may be a good or bad thing, there are several types to look through and ponder over.
To start off, you have your basic standard paddle fins and these are as basic as it gets. They are flat surface fins but provide a great amount of strength because of their reinforcements. Different from this would be a hinged or angled blade and this sports a pivot point where the blade meets the foot and the angle can actually be adjusted. Or, how about a channeled blade? Due to their heavy nature, these are more streamlined for advanced divers but a lot of power can be achieved. And, of course, you have split fin blades and these provide improved propulsion over a single blade and require less effort.
The Foot Pocket Design
Arguably, the two most important features of a scuba fin are the blade, which was just addressed, and the foot pocket. This is the section of the fin where you will physically insert your foot; as they are designed to be worn on your feet. When you are assessing the foot pocket by itself, you need to ask yourself one very important question. Are you going to be scuba diving in warm water or cold water (or both)? The reason this is vital is that there are two main foot pocket designs that you can look for.
Firstly, there is an open foot pocket and this is ideal if you want to dive in cold water. Because this type of design will accommodate boots, you can prevent your feet from freezing. On the flipside, closed-foot fins are better suited for warm water. The need for boots is not necessary if the water is warm enough; if you think about it.
Adjustability
What is important to note right off the get-go is not all scuba fins are going to be adjustable. If you invest in full-footed fins, for example, you are not going to be able to tailor the fin to fit. It is either going to fit your foot or not. However, the opposite is true when you are talking about open-heeled fins. In fact, there are different types of adjustment systems that these will employ. Probably the most basic system is to have a basic buckle that allows you to adjust the tension of the fin. The only problem with this is they can begin to loosen after a while.
A more convenient option is with a quick-release buckle system. Essentially, you only need to adjust it one time and the buckle stays in place. This is really nice because you never need to concern yourself with your fins becoming loose during your dive. The question of whether or not you need an adjustment system, though, is primarily up to you.
Effectiveness
Everything up until this point has been leading up to this and without a doubt, scuba fins will live and die by their performance. If they can't perform what they need you to do, what is the good of wearing them while you dive? The question is, what do you need them to do? Scuba fins are primarily designed to allow you to move with more efficiency and power while you are underwater. As such, all divers will prioritize how well they can kick and how much thrust is provided by their fins.
Thankfully, designers are aware of this and will integrate certain features to assist divers of this very desire. For example, with split fins, water channels are able to move through each blade and it basically resembles the physics of a whale or dolphin's tail. What happens is the kicking power is enhanced but the fatigue level is reduced. Also, you may see channels and this helps move the water through the fin. Again, this will increase your speed and efficiency as they offer less resistance to the water.
Style
Just like with any pair of water shoes you ever buy, the fit is everything. This concern is prevalent with scuba fins as, again, they are designed to be worn on your feet. That said, even with open-heeled fins being adjustable, you need to be sure to order the right size to ensure the fit is ideal as possible. Most of the time, you will see multiple size options to select from. But, as you noticed in this list, oftentimes they run either small or large. The thing to do is conduct proper research and glance over user feedback to see what the general consensus is in regard to the fitting.
As for the different color options, it goes beyond aesthetics. To ensure you are easily seen, go for a brighter color fin. Darker fins can make you hard to detect and this can quickly become worrisome if you happen to lose your group.
Top 10 Picks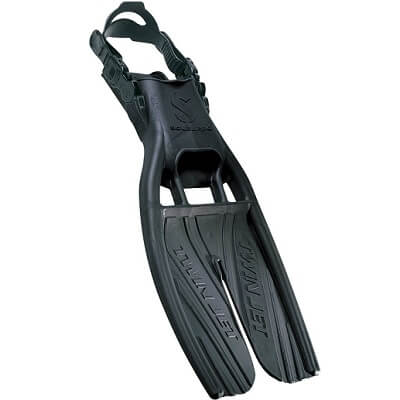 Not only are the blades on the Twin Jet Fin angled to provide enhances symmetrical power but the foot pocket has been engineered extra-wide to accommodate for drysuits and warm water boots. Not a bad gig, huh?
Read more
Features
Overall, a Monprene construction gives the Twin Jet the longevity that divers crave. But, the angled blades may be even more impressive as they deliver symmetrical power to create a stable and smooth kick every time.
Due to the extra-wide foot pocket, you should have no issues if you want to wear boots underneath the fins. Also, the extended soleplate on the foot pocket allows for maximized energy without wasting yours.
Adjustability
While spring heel straps are optional, the Twin Jet is equipped with a quick-connect swivel buckle system. Clearly, this makes putting on and off this fin much simpler.
Effectiveness
There are vents where the foot pocket and blade meet and it significantly reduces the drag of the fin. Additionally, the split shape of the blades allows water to flow between them and they mimic the propulsion of a propeller.
Style
Several different color options are available and they should adapt to most divers' styles. As for sizes, they range from small to extra-large. Be aware, though, a few users reported the fin runs a little large.
Overall
Scuba Pro is one of the leading manufacturers in the world of scuba diving and their Twin Jet Scuba Fin is a great example of why. Nothing about their fin is average or below-average and that truly says it all.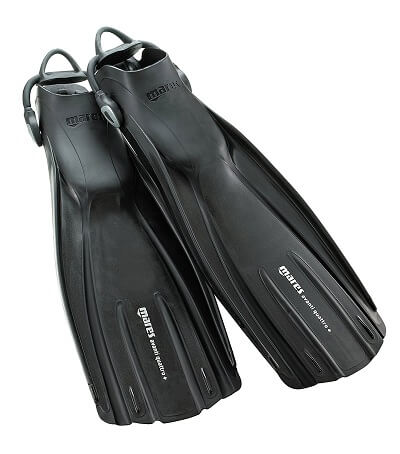 It is quite remarkable that Mares was able to take their original Quattro and add the one main issue it had. They have addressed the stiffness of the original by adding new high-flex materials and the result will put a smile on all divers' faces.
Read more
Features
A long time ago, the Quattro was marketed as the first four-channel blade. With their Quattro Plus, Mares has updated their old design and made their new blade a lot less stiff. By incorporating new high-flex material, this was able to be achieved.
For both an improved fit and a more efficient stroke, Mares designed their soft anatomical foot pocket with a ribbed insole. In addition, the foot pocket itself conveys more power to the blade.
Adjustability
Included with the Quattro Plus are bungee straps. As you may guess, this makes donning and doffing of the fins much easier as the straps are equipped with large loops.
Effectiveness
Due to the implementation of composite materials, Mares is able to produce a model that outperforms their original Quattro. As the Plus version uses channel thrust technology, it moves a tremendous amount of water for its size.
Style
Small, regular, and extra-large are the size options available and you can also select from a variety of vibrant and darker colors.
Overall
A lot of credit must be given to Mares for the improvements they made to their already impressive scuba fin. Their Quattro Plus seemingly does everything right and could easily be considered a must-have.



Despite the slight issues some buyers have experienced with the sizing and the heaviness, the XT Scuba Fins remain a popular choice amongst divers. A couple of primary reasons are its high-performance blade and marine-grade stainless steel heel strap.
Read more
Features
The high-performance blade on the XT Scuba Fin has been designed in a manner to accommodate a wide range of kicks. Kicks such as modified flutter, frog and power can all be performed with great efficiency.
One user commended the design of the foot pocket claiming it to provide a nice fit and that it was "just right".
Adjustability
Both a comfortable heel pad and removable pull tabs make the fin easier to get on; in addition to the marine-grade stainless steel spring-heel strap. To top it off, the buckle is also stainless steel and guaranteed not to crack.
Effectiveness
The combination of the Monoprene and the Monoprene center strip is ideal as it offers a great blend of flexibility and rigidly. In stiff currents, also, the power balance is much appreciated.
Style
You can either choose a black, red or gray variation of this fin. In terms of the sizing, it has been quoted by some to run small but there are options for small all the way up to extra-large.
Overall
The XT from Dive Rite is one of those products that is just too consistent to pass up. From the performance to the adjustment system, Dive Rite has compiled a hefty list of impressive features for their XT.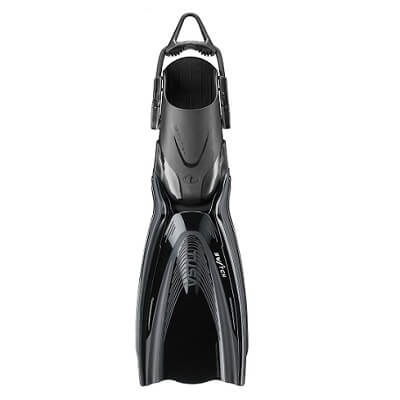 It is really hard to not fall in love with this next design. It may not have cracked our top five, but it still is an unbelievable design headlined by its Vortex Generator that manages to reduce the amount of water-resistance you experience when stroking.
Read more
Features
Tusa has developed its Hyflex Switch Fins with their polyurethane blade system. These blades produce a snappy response and the angled nature of them ensures maximum efficiency every time you kick.
The Hyflex Switch Fin has been engineered with a multi-compound foot pocket. Its biggest claim to fame is increasing the power transfer to the blade itself.
Adjustability
To adapt to a wide range of foot sizes, the quick adjustment system can be adjusted to five different positions. To make it even better, the fin strap is made with a heavy-duty elastic material.
Effectiveness
The aforementioned Vortex Generator actually consists of six performance ridges. They are strategically positioned behind the blade vent to reduce the water-resistance and to create a smoother kick.
Style
All the color choices are fantastic and appealing but be careful, the fin may be larger than you think. However, the sizes do come in extra-small all the way up to large.
Overall
It seems all great products have one or two features that make them special. For the Hyflex Switch Fin, it would probably be its Vortex Generator and polyurethane blade system as both propel this to another level.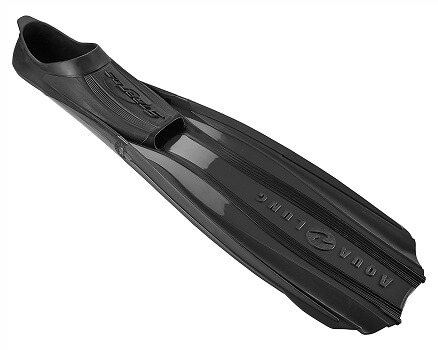 As the Stratos 3 is a full-footed fin, it is not going to be adjustable. From top to bottom, which you will find out in a second, this is an appealing and satisfying design. Yet, several users have noted that this fin runs large; so be wary of that.
Read more
Features
A four-channel structure has been implemented along this blade for better water canalization. On top of this, the blade is made up of elastic and rugged techno-polymers.
Inside the foot pocket rests a special grip effect finishing increasing the stability. As a whole, also, it is an ergonomic design engineered with a soft material for superior comfort.
Adjustability
The Stratos 3 is a full-footed fin and because of this, it is not an adjustable design. If it does not fit you properly, there is not much that you will be able to do about it.
Effectiveness
What is rather unique about this fin is the bending point has actually been moved backward to deliver a more powerful kick with less effort. Besides this, the anti-slip rubber pads improve your traction on slippery surfaces.
Style
If one or two users claim the size is off, it could just be their feet. But, when several begin to reiterate this fact, you may want to heed their advice. As it sits, several buyers have alluded to the fact that these fins run large.
Overall
Again, because this is a non-adjustable fin, it can't be drilled into your head enough that it needs to fit right the first time. Per user feedback, it seems you should order a size down from what you think.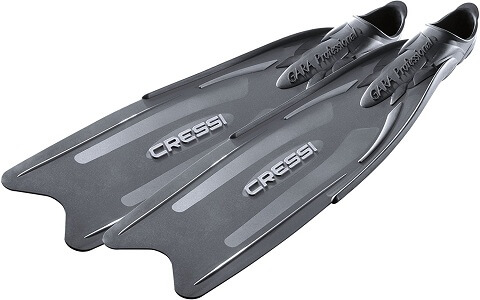 Cressi engineered their long blade fins with brand-new elastomer polypropylene and this enhances the flexibility of the blade. In addition to this, the foot pocket has an improved anatomy for increased comfort.
Read more
Features
As was just mentioned, Cressi implemented a brand-new design with these fins. The newly-engineered, elastomer polypropylene produces a blade that is more fluid and less demanding.
Besides the fact that the foot pocket has been designed with improved anatomy, the shoe pocket rests under the blade and this enhances the power you can reach.
Adjustability
There is a nice feature integrated on the heel tab and it allows you to easily slip your foot into the pocket.
Effectiveness
Cressi is fully aware of what divers are looking for, especially scuba divers. They engineered their fin to create a perfect union between the blade and the foot. The result is improved energy dispersion and efficiency while requiring less effort from you.
Style
Most divers will be able to find a size that contours to their feet as there are options from men's size 7 to size 13.
Overall
One interesting point to take note of is that these fins are a bit cheaper than some of the other models on this list. The lack of an adjustment system is an attest to that; so, consider this as a fantastic budget option.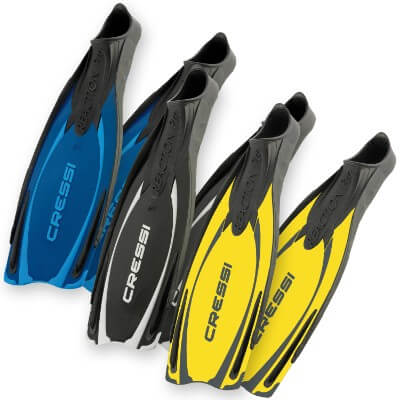 To guarantee a more uniform bending of their Reaction Pro, Cressi has designed their fins with differentiated thickness. What this means is the closer toward the edge of the blade, the thickness is thinned down. On top of this, there are six different sizes to choose from to ensure you get the right fit.
Read more
Features
Outside of the differentiated thickness that was alluded to, the blade is formed of dual-density polypropylene and, in conjunction with the silicone-based material, creates a nice channeling effect.
A thermos-rubber computer-designed foot pocket is on full display here. Outside of its increase in thrusting power, it is a very comfortable fit.
Adjustability
Once again, this is a full-footed and you know what this means; the Reaction Pro Fins are not adjustable.
Effectiveness
That channeling effect that was alluded to is what makes this is a high-performance fin. Besides the blade being more flexible and lighter, the fin is able to produce a high level of efficiency through both up and down strokes.
Style
While this fin may not suit divers with wide feet very well, there are six sizing options to select from. As a bonus, some of the additional color options come with a storage bag.
Overall
The Reaction Pro Fin is far from perfect but it is also very distant from average. It is not quite as good as the elite models but it still could be the best fin you have ever used.

8

. Atomic Aquatics Full-Foot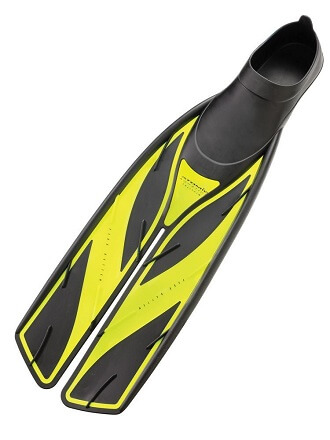 Up next on the list is the full-foot fin from Atomic Aquatics. What makes this model stand out is its split fin design which increases thrust and reduces fatigue while utilizing light materials to limit the amount of weight.
Read more
Features
Again, this does implement a split fin design. Besides the fact it creates less drag and more thrust by itself, integrated plastic polymer materials enable it to achieve high performance without having unnecessary weight.
Thanks to the anatomically contoured full foot pocket, this is fin is designed to fit on your foot with little to no stress points present.
Adjustability
Atomic Aquatics added a large heel pull-tab to their fin and while it is not adjustable, it does make donning and doffing of the fin a much easier process.
Effectiveness
The split fin design really affects performance in a positive way. First off, the two separate blades will almost act as propellers and enhance the lift and propulsion you experience. Plus, the multi-composite plastics allow you to perform a more powerful kick.
Style
One user actually suggested going a size up if you intend to wear this fin with boots underneath but as it stands, this fin is available in multiple sizes. Also, it comes in either black or yellow.
Overall
Full foot fins are interesting because you can't adjust them if they do not fit your feet properly. While this certainly is a tradeoff, the performance, design of the blade, and overall comfort delivered from this fan make up for it.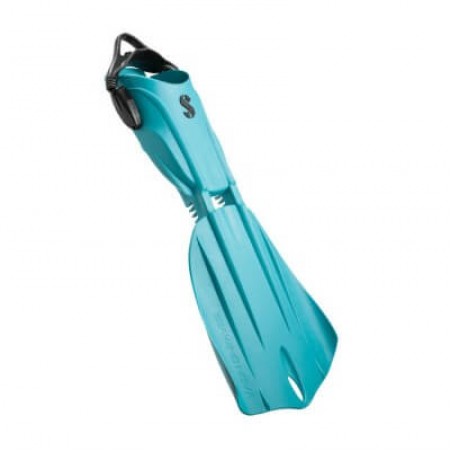 What sets the Seawing apart from the other great designs out there is it combines the acceleration and power of a paddle fin with the efficiency and comfort of a split fan. Oh yeah, the articulated joint also propels you through the water with ease.
Read more
Features
Thanks to the variable blade geometry that was implemented in the Seawing's blade, it mimics the back of a dolphin. Basically, when your foot moves downward the fin will flatten out and create an immense amount of power.
To ensure as much power as possible is delivered, without intensifying strain on your legs, the ergonomic foot pocket has been designed with an extended heel plate.
Adjustability
Coming equipped with these fins is the bungee heel strap. What this achieves is a more streamlined fit with little to no hassle. All you need to do is slide the strap over your heel and you are good to go.
Effectiveness
The real factor that makes these fins tick is their articulated joints. This allows the blade to pivot and the result is a blade that is able to generate surreal amounts of thrust. Plus, the pivot control technology will ensure maximum efficiency no matter the effort you put in.
Style
There are quite a few vibrant colors to select from and also sizes extra-small to extra-large. It is worth noting, though, that some users have claimed these fins run too large.
Overall
What does all this fantastic technology add up to? It is simple; it creates a once in a lifetime scuba fin that delivers unparalleled performance and efficiency when you are deep below the earth's surface.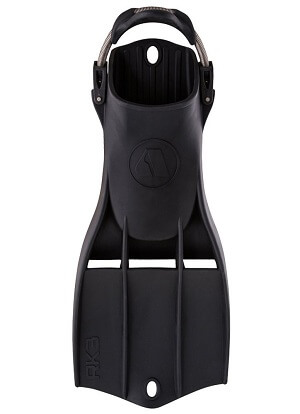 The Apeks RK3 Rubber Fin, made with an all-rubber design, has been updated with modern technology that utilizes stainless spring straps and thermoplastic rubber. What this means is it will hold up to tough environments and assist in doffing and donning.
Read more
Features
The all-rubber design of this blade allows it to hold up extremely well to tough abuse, temperatures, and environments that you will encounter underwater.
Because the RK3 features an oversized foot pocket, it is able to adapt to bulky drysuits or other boots that you wish to wear inside of the fin.
Adjustability
To assist both doffing and donning, this fin has been fitted with a stainless steel spring strap. Additionally, it sports a plasticized rubber heel pad and the strap is held together by a buckle system with push-pin retainers.
Effectiveness
Due to the vented design of the blade, you receive more thrust on the downstroke and reduced resistance on the upstroke. Plus, as the blade is short and wide, it produces excellent forward thrust to begin with.
Style
Four distinct color choices can be chosen from and also sizes for medium, large and super. However, a smaller size choice would have been ideal.
Overall
Given the smallest size of this fin is a medium, it is safe to say it may not be feasible for those of you with smaller feet. However, hopefully, you can find a size that suits you as the RK3 is too amazing to pass up.

Subscribe to our Newsletter