Best Inflatable Pools For Kids
In a Hurry? Editors choice: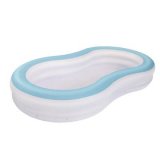 Test Winner: H2OGO! Color Wave

There's nothing better than relaxing in the backyard on a hot summer day, right? Well, that depends... is there a pool in your backyard? Digging a giant hole in the ground behind their property isn't feasible for everyone. For those of us who either don't have the means, the land, or the commitment to build a
pool
, there are inflatable pools!
Here, we are focusing on inflatable pools for children. These pools will keep kids entertained for hours and are typically small, easy to clean, and loads of fun. Allow your
toddler
to take a break from the
heat
this summer with one of these top-rated pools!
Standout Picks
Criteria Used for Evaluation
Size
Size matters, well, not all the time, but when you are a homeowner looking to keep your family cool, abide by HOA restrictions, and protect your yard from harmful summer practices, it can be a fine wire to dance! Included in all the product reviews are the sizes and dimensions for the pools. Included with most is how many gallons or liters any particular pool can handle. That helps when shopping for ball pits too!
Ease of Use
No one likes complicated and difficult installation. Just because you could figure out how to assemble a tough-to-build pool- why would you want to? Instead, spend time with your children cooling off in the sun while having fun! Not all pools include drainage plugs (part of de-installation) but when they are designed into it, we made sure to point it out and make a special note of it. You don't need a drain- some homeowners use a hose to pump it off their lawn– but it sure helps when you are looking for one!
Features
Specifications is the section where we list out all the special features that the pool comes with as stated by the product manufacturer. We try to keep this free of opinion, only offering it in this section when we think that it directly pertains. If a pool comes with sprinklers, or blow-up props, or is designed with a padded floor we will spell that out here. One product even comes BPA and PVC-Free, which is great for the health-conscious consumer, no more harmful toxins but all the fun that you knew as a kid playing in your own portable pool! Learn all the 'tricks' of your pool in this section!
Durability
How long something lasts is a big concern for a lot of reasons. We, of course, had to use it with our metrics but we wanted to leave it near the end as most inflatable pools don't have a long life expectancy. Sure they are 1000x better than when plastic was first started to be developed almost 150 years ago (inflatable pools weren't around quite yet), but we also expect a lot from them. Durability is important, but something can be a really good purchase and not last long, as long as you get your money's worth. Some pools will last several years (and others will too depending on the amount of usage it receives), but most will give you a solid season of use.
Value
Value is the sum of all the other metrics calculated against the price. A pool could have decent specifications that set it apart and a decent 'shelf life', but if the price is outrageous it won't be worth it. Then again, it could be a product that is only going to give you a few good usages out of it, but it could be highly stylish and cheap making it worth it. Value lays it all out one last time before we give you the Pros and Cons of every item so that you can get an overall grasp of the situation.
Top 10 Picks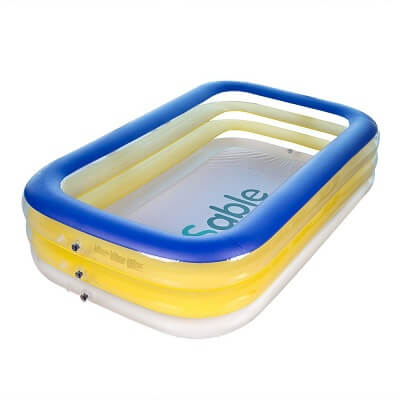 This pool is great for all the concerned parents out there. This company cares as much as you do! PVC and BPA-Free this adult sized pool is the perfect fit for every family out there! Durable and easy to inflate, this pool will be ready to play as soon as you are!
Read more
Size
74" W x 95" L x 34" H, it's bigger than others on this list so make sure you have the room (and ground level enough). It also holds up to 264 gallons of water, accompanying 2 adults or 3 children.
Ease of Use
There are 6 valves that need to be blown up, with 3 discreet airflow chambers. Doesn't take long at all with an air pump (which is not included). Just make sure to blow up on a wide and flat patch of ground you don't mind killing the grass under- or at least be able to move it t close by.
Features
If you care about the environment as much as we do, then you are going to fall in love with this environmentally friendly company. They design products to be PVC and BPA-Free so it is easy on you and your children as well as the earth. The pool does have a drain in the bottom, albeit a slow one.
Durability
This pool can withstand rough play! Three separate chambers allow for individual strength that lends into overall pool strength and durability. The material is heavy duty and is sure to serve you for many parties and fun times outside!
Value
Great price for the size! This pool comes in on the higher end of the mid-range price bracket, but you get a lot of bang for your buck! Great quality design and material, Sable has crafted a great pool!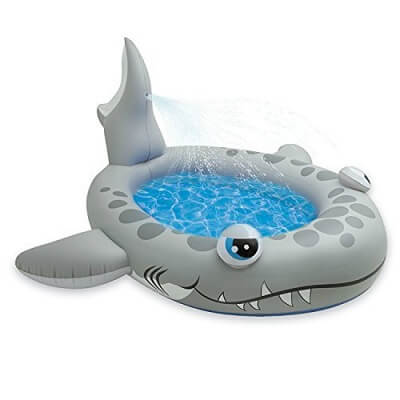 The leader in quality portable pools, this Intex model has lots of great reviews from consumers! For ages 2 on, this pool is great at keeping the kiddos cool in the summer! Designed with a built-in sprinkler the kids can wade in the pool while being rained on in even the hottest weather!
Read more
Size
When inflated this pools dimensions measure out to 90" W x 89" L x 42" H and can fill up with water about 7". The extra height in the dimensions is from the tail of the shark that is the hose attachment where the sprinkler jets out.
Ease of Use
The bottom of the pool is just thin (but sturdy) plastic. If you are using this on concrete or a hard surface, consider throwing some towels underneath the pool to act as a cushion. If you are using this on the grass or other parts of the yard, just make sure the land is free of sticks and stones- they may not hurt you, but they will tear your pool apart. You blow up with an air pump, and it is easy to move once it is fully inflated.
Features
As we have already been discussing, this stylish and cool shark shaped pool comes complete with a built-in sprinkler, just hook a hose up to it and you are ready to rock and roll- Ehh hopefully there are no rocks and no one will be rolling- but you know what I mean! The pool also comes with a repair kit so you can patch up any leaks that may occur. This pool is also designed with a drainage plug so it is easy to empty your pool, deflate, pack up, and save it for another year.
This pool is best for ages 2 on, that being said, if you have a child under 2, just don't fill the pool up as much as you normally would, and maybe (depending on the temperament of the baby) don't turn on the sprinkler. Toddlers and young kids love this stylish pool. Adults have actually purchased it for themselves and found that it was a great way to sunbathe and stay cool at the same time. Almost as if you are on the beach! Other consumers bought this to keep their dogs cool- and it worked! Dogs loved it just as much as their humans!
Durability
This pool is constructed with sturdy 11 gauge vinyl. The pool is nice quality, and fairly durable. Children often go hard on their toys, and pools are no different. Getting an inflatable pool through one summer of heavy children activity is worthy of note, but this one may get you to another season yet! The sprinkler does leak at times, but its spraying everywhere anyway, so is it a big deal?
Value
This pool is pricier than some of the competitors on this list, but it is still very reasonably priced. Children love the look of the pool; Sprinkler keeps the pool full even while kiddos splash it all out; consumers have very little negative aspects of this product to report.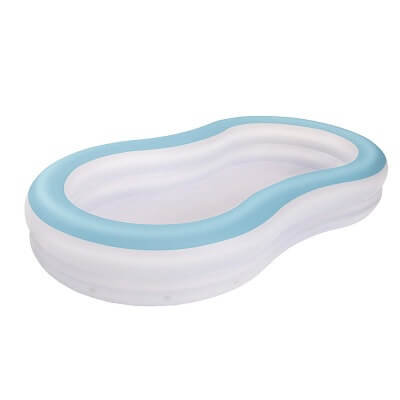 Ok, no more playing around- well, don't stop playing around, the whole point of getting a pool is to have fun! But we'll cut to the chase- you want pools for adults and teens, this is it! This pool is big enough for several bodies, either adult, child, or any combination! Or, if you are on your own, it is big enough to lay out in so you can be in the sun and still stay cool! Maybe you are into partying at night, well this pool is down for it all. In fact, nighttime might become your favorite time to use this LED lighted pool!
Read more
Size
Since it is 'bean' shaped, the pool is approximately 62" W x 110" L x 18" H and hold up to 147 gallons of water.
Ease of Use
Simple and straightforward air pump action.
Features
No other pool on the market is offering built-in LED color changing lights, 20 of them to be exact, and they change to a total of 7 colors! Includes a drain valve to ensure an easy time tearing it down. The lights require 4 C (LR14) Batteries which are not included with the purchase, make note of that!
Anyone aged 3 and older will find this pool incredible, under 3 and they will still think it's incredible, but H20GO recommends it for ages 3 and up.
Durability
Designed with sturdy I-beam construction, this pool has extra wide walls to ensure stability. Without too much wear and tear this pool will last you all summer! It will have a problem with its overall shape, however, its 'bean' shaped but doesn't hold it well. Consumers have reported that air leaks out around where the battery pack is located on the side- because of this is may not hold air well.
Value
20 LED lights, 7 colors, this pool will be the highlight of your summer party! This is a pricier pool, maybe the priciest, on the list, but consumers loved it. It may have some air leakage problems, but it still deserves to be on the Top 10 Inflatable Pools List!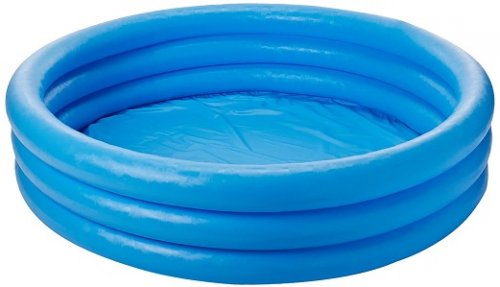 Leading the list here is the same dependable brand you and your family always count on when portable pool shopping- and that's with Intex! If you aren't into all of the children pools that we included on this list, and want something Intex but classic, this is the pool for you!
Read more
Size
45" in diameter and 10" in height it isn't a very big pool, so it doesn't take up much room, but it's reliable all the same. Can hold about 6 ½" of water at about 62 gallons total.
Ease of Use
This pool, unlike others, can be blown up by mouth, takes about 10-15 minutes. Of course, you can blow it up with an air mattress pump in a matter of a minute or so.
Features
Can act as a great pool, fun ball pit, or a doggy cool down spot. It doesn't have a drain so it may be a pain to drain, but it is also small and can easily be flipped.
The full family can enjoy this one! If you have little ones don't top off the water, or just make sure that you buy proper flotation devices so the little one in your life can enjoy the water in peace and safety too. Oh- and your dogs will love it as well! Don't forget about the hot doggy in your life!
Durability
This pool is likely to only last you one season, that doesn't mean it isn't worth the purchase, but it does lose air over time. Don't drag the pool though or it is known to develop holes.
Value
There is no beating this price, it is unbelievable! At the reasonable price it is, it's worth stocking up on a couple more to have for future events, or for that game of slip n' slide kickball, you and your neighbors have been planning!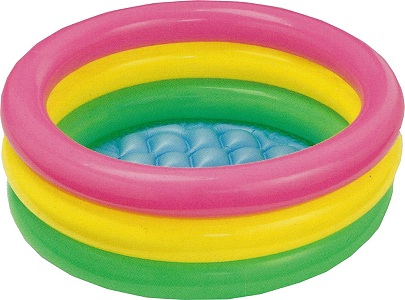 This great baby pool will come in handy when you are outside enjoying yourself, the little one can now also! This pool is colorful, has a well padded (inflates!) bottom. It is intended for little ones in water or as a comfy outdoor playpen but could be used up until maybe 6 years of age as a ball pit. This pool is great for so many things!
Read more
Size
34" W x 10" H this pool can hold up to 22 gallons.
Ease of Use
This pool is easily brought to life with an air pump.
Features
Soft inflatable floor to protect the soft backside of the youngster in your life. This kit also includes a repair kit should anything happen to the seal or plastic. This one may be a little bit small, it can be used for several purposes. Consumers have used this as an easy indoor/outdoor playpen, others have used it for a ball pit, of course, it's designed as a pool, and some use it for all those reasons. Consumers have even been known to protect their children from frostbite during a bad storm by inflating the pool and filling it with snow!
This pool was designed for babies but could be used until maybe 6 years of age depending on the little one's size.
Durability
This pool may not have the shortest lifespan of all the pools on this list, but it comes close. That doesn't mean that it won't last longer than others not on this list, it's just tight competition. Even if this pool only lasts the season or half the season, you will definitely get your money's worth out of it!
Value
This pool is cheap! Not cheaply made (although again it won't last multiple summers- but probably one) but very reasonably priced! It is also versatile, and can be used in numerous ways, that goes a long way in life these days! All and all, consumers were not disappointed with this purchase!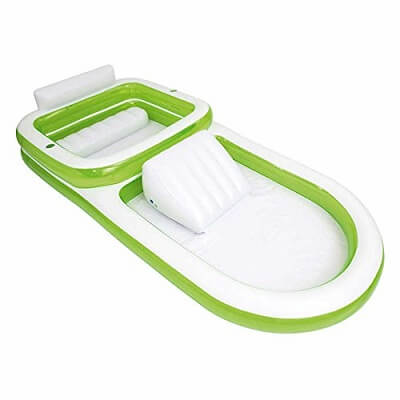 Parents, listen up! Finally, a pool you, your kids, and a spouse or friend can enjoy a pool together! Designed with a 'deep end' or 'adult' section with a slide into the 'shallow' or 'kids' section. The 'adult' end comes with an inflated seat to sit on to keep your head above water, but deep enough to submerge your whole body- and its designed with two cup holders so bring something tasty to sip while in the sun!
Read more
Size
This pools measures in at 74" W x 147" L x 27" H In the top pool it has a capacity of 273 gallons of water and in the bottom pool it has a water capacity of 101 gallons! That's a lot of water!
Ease of Use
The box claims that it is an easy setup, and it seems to be. Just make sure to have 12 feet of fairly level ground to work with- and set out a tarp underneath if you have that as an option.
Features
Dual- high capacity- pool connected with a slide for the youngsters. Two cup-holders in the deeper pool for the thirsty individual in your family. A heavy-duty repair patch is included with your purchase.
This pool is designed for the whole family! 3 and older is recommended, but any younger and just make sure to sit right there with them in proper floaties. Of course, that is to never say to leave any children playing in the pool unsupervised at any time- even responsible young kids can slip and have an accident. Supervise all of your children, but if you are directly next to children under 3 they can enjoy the water as much as fully grown adults can!
Durability
Constructed from sturdy pre-tested vinyl, this pool has extra wide walls for added support and stability. This pool is known to last longer than competitors. However, if something goes wrong it is going to be with the slide. The slide gets heavy (and often unforgiving) use so it is no wonder that the slide has issues.
Value
Overall this is a great product. It is a large pool intended for older and larger individuals than others on this list. It is fun and versatile and can be enjoyed by pretty much everyone. The price is not bad at all when you consider how much you are getting for that price, and for the amount of time and usages that you'll be able to get out of it!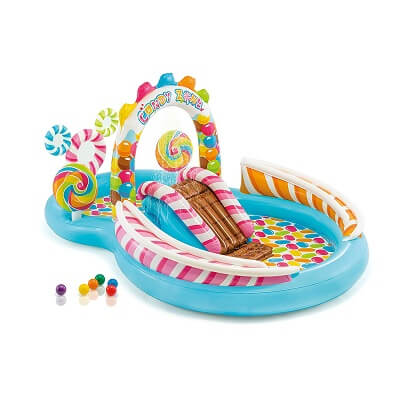 Remember that fun board you used to play around the dinner table? The one that didn't help our parents teach us how to control our sugar fixation? Yea, that one! Now Candy Land is available as an interactive water playland for your children! While this won't help you in teaching your children dessert is a special treat, not something to be consumed at the end of every meal, you will be tempted to join them in this bright, fun, and appealing sprinkler/slide/pool all in one!
Read more
Size
116" W X 75" L X 51" H and can hold approximately 1-2 feet of water. Doesn't require any special location, just make sure that it is free of sticks and stones or your children are likely to find them sooner rather than later- and you don't want injured bodies or torn pools.
Ease of Use
This will definitely take an air pump to blow up, your air mattress pump should suffice. No pump is included with this purchase, so make sure to have one ready, or add one to your cart now.
Features
Candyland has it all! Built-in waterslide and sprinkler, simply hook it up to your hose; 2 inflatable lollipops for water time fun; 6 plastic balls (with options to buy more!) and a rail that was designed into the pool to play with the balls; and a landing mat for the slide at the bottom makes this purchase a no-brainer!
Recommended age is 2 and older with a max individual weight of 178 pounds- even (big) kids can enjoy this pool all summer long!
Durability
Depending on what surface you install this on, you will want to pad with a tarp at least, but maybe some towels too if you are on hard packed dirt or concrete. A tarp will help support the underside from getting torn up- this pool is stylish and fun, but it wasn't the longest lasting pool on the market. Even if it last only for one summer your kids will always remember it!
Value
With great style and famous brands comes a price tag to go along with it. This pool falls in the more expensive bracket as far as prices go- but you get what you pay for. Long-lasting memories, reprieve from the heat, hours of activity. As a parent that's almost more than you can ask for in one single purchase!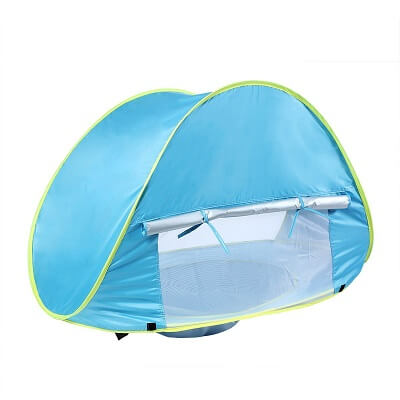 Do you love the beach but you find it hard to find effective sun protection for your infant? Does your infant love salt water but you are afraid to let them go into the ocean even with proper flotation? Well this pool coming in on Amazon Choice list is sure to be just what you are looking for! A handy sunscreen offers UV Protection of up to 50+ while the little wading pool keeps baby cool in any heat. Parents and baby can enjoy the beach together now!
Read more
Size
47.5" W X 34.5" L X 27.5" H and can hold up to 6 liters of water.
Ease of Use
Open the box from delivery; remove the tent from the included carrying case that it comes in the box in; tent automatically pops up and is ready to be buried in the hole that you dig for the wading pool to drop into. It is as simple as that. Make sure to dig a hole first, then just prop the tent around the hole, get the wading section in the sand, fill in the sides as need be. Stake down the sides so the wind doesn't knock baby and water over, and then relax knowing your baby is safe and content. Refolding can be a pain, you may have to watch a YouTube video- or two.
Features
UV Protection of 50+, so rest assured that you don't have to apply harsh and toxic sunscreen to your delicate babies body. Automatically pops up when removed from the carrying case (which is included in the purchase!), also includes four pegs so as to hold down the sides in windy weather. This bag travels with you well, in suitcase or beach bag!
While small toddlers can manage to squeeze their way into this- and honestly given some circumstances isn't a bad idea- this pool is only designed for the very young and small. 3 and under is what it is rated for.
Durability
If you aren't careful the wires on this can be bent or broken if folded up wrong. Therefore it is important to fully understand how to close the pool or you face mutilating your new purchase. If you fold it up and store it well, it could last through several babies!
Value
Monobeach Pop-up tent may not be the cheapest pool on the review list, in fact, it comes in as one of the more pricey, yet it gives you peace of mind when going to the beach with an infant. No one likes to be left out of the fun, not you or your baby. Now you can protect your baby while giving them some relief from the heat while you sunbathe or take turns watching over the precious baby. The price is worth the ability for everyone to relax while on vacation to the beach.

9

. Fisher Price 3-Ring Fun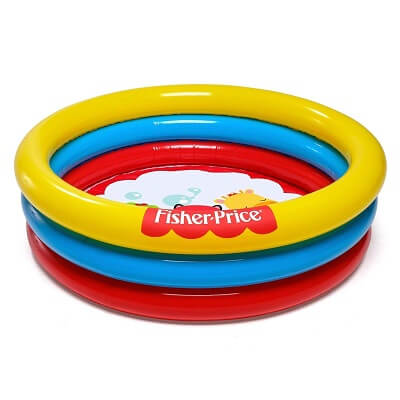 This pool is a classic- classic design and shape with vibrant and colorful rings. Just like you remember all your Fisher-Price products looking like, now available as a pool too! There are many reasons to fall in love with this product, no matter what age you are! Comes with 25 balls already- but can hold up to 250- you are set up for a fun time should it be wet or dry, summer or winter!
Read more
Size
The pool, when fully blown up, is 36" in diameter, and about 10" in height. It can hold up to 250 plastic balls, but only 25 are included in the purchase.
Ease of Use
3 valve system allows you to blow up all the rings separately, which also helps to increase the overall durability. The floor does not blow up and is not padded, although adorable images are printed on it. Place this pool anywhere, indoor or outdoor. There is no drainage hole on the bottom of this for easy drainage, however, it is small enough to flip easily.
Features
This pool is meant for indoor/outdoor use, year round. Comes with 25 plastic balls to create a ball pit, or play within the water. There is also a repair kit that is included so that when the inevitable leaking happens you will be able to patch it up all on your own without having to resolve to just buying a whole new one. Save the plastic, save the water, save the planet. It can be that simple.
The recommended age for this is 3-6 years of age and under- however, we did hear from adult consumers that they used these pools for different backyard wet activities with great results. We won't limit you or your choices- live your life!
Durability
This pool is sturdier than other competitors on the list. The three-ring system allows for independent strength that then combines to create overall durability in the product. Use this daily, it can handle it!
Value
Coming in at the mid-price range for the products on this list, you won't be disappointed with this pool. Fisher Price is a name that you know and you have come to trust. They've been around since our parents were young, they will be here when your grandchild come around. Quality material and build make this an exceptional buy!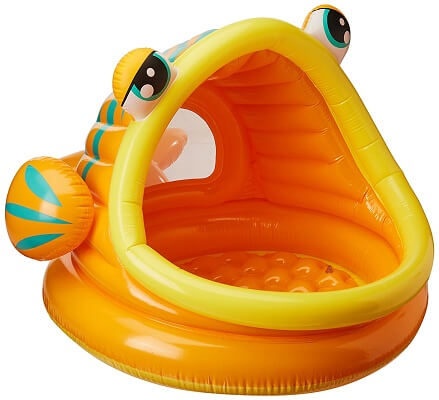 Looking for a shady and cool spot to place your baby while at the beach; or something of their own in the backyard while the bigger kids play in another; or even floating alongside you in the pool, while baby lounges dry and protected from the sun?
Read more
Size
43" W X 49" L X 28" H are the dimensions when fully inflated, the top of the fish head may come to around 31" in height. This pool can hold up to 22 gallons of water.
Ease of Use
Simply inflate this with an air mattress pump or any other kind of air compressor. It may be tricky at times with all the small areas where air needs to inflate, but it shouldn't be too hard if you have a good pump.
Features
The floor of this pool fully inflates so babies tush is never sore or uncomfortable. This pool also comes with a repair kit to help patch up any holes or leaks that may spring. The material isn't the most durable, so you may have to use the kit before you know it.
This pool is specially designed with baby in mind. The pool is best for babies and small toddlers, it isn't that big of a mouth opening or pool depth- but feasibly could be used until maybe 4-6 years of age. If your child doesn't like the water, or you are looking for something else to use this for, it works great as a ball pit too! Consumers have even reported filling it with snow in the winter during a bad storm so the children could play in the snow without worry of frostbite! Build snowmen inside without worry of melting waters!
Durability
This is not the most durable pool that was reviewed for this list- but that is also possibly because of the fact that consumers loved it so much and used it so frequently. Chances are you can find a way to use this daily.
Value
The price of this product is very reasonable when you consider its uses and how much you are probably going to be employing it. This product comes very highly recommended by consumers. While this pool may or may not last as long as some consumers would like, it's very likely because they simply love it to death. If you plan on having more than one child, chances are you'll be turning back to Intex every time you need a convenient way to keep the kiddos protected from the sun and cool.

Subscribe to our Newsletter