Best Inflatable Pools For Kids
last updated:
Feb 07, 2020
There's nothing better than relaxing in the backyard on a hot summer day, right? Well, that depends... is there a pool in your backyard? Digging a giant hole in the ground behind their property isn't feasible for everyone. For those of us who either don't have the means, the land, or the commitment to build a pool, there are inflatable pools!
Here, we are focusing on inflatable pools for children. These pools will keep kids entertained for hours and are typically small, easy to clean, and loads of fun. Allow your toddler to take a break from the heat this summer with one of these top-rated pools!
This is the best product on our list that is currently in stock: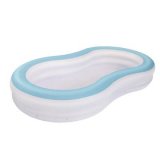 H2OGO! Color Wave
Why is it better?
Awesome light illumination
Long enough to lay in
In a
Hurry? Editors choice: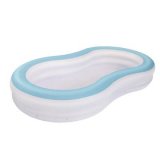 Test Winner: H2OGO! Color Wave

15
Researched Sources
1,892
Reviews Considered
14
Hours Researching
17
Products Evaluated
Size
Ease of Use
Features
Durability
Value
By Default
Criteria Used for Evaluation


Size
Size matters, well, not all the time, but when you are a homeowner looking to keep your family cool, abide by HOA restrictions, and protect your yard from harmful summer practices, it can be a fine wire to dance! Included in all the product reviews are the sizes and dimensions for the pools. Included with most is how many gallons or liters any particular pool can handle. That helps when shopping for ball pits too!


Ease of Use
No one likes complicated and difficult installation. Just because you could figure out how to assemble a tough-to-build pool- why would you want to? Instead, spend time with your children cooling off in the sun while having fun! Not all pools include drainage plugs (part of de-installation) but when they are designed into it, we made sure to point it out and make a special note of it. You don't need a drain- some homeowners use a hose to pump it off their lawn– but it sure helps when you are looking for one!


Features
Specifications is the section where we list out all the special features that the pool comes with as stated by the product manufacturer. We try to keep this free of opinion, only offering it in this section when we think that it directly pertains. If a pool comes with sprinklers, or blow-up props, or is designed with a padded floor we will spell that out here. One product even comes BPA and PVC-Free, which is great for the health-conscious consumer, no more harmful toxins but all the fun that you knew as a kid playing in your own portable pool! Learn all the 'tricks' of your pool in this section!


Durability
How long something lasts is a big concern for a lot of reasons. We, of course, had to use it with our metrics but we wanted to leave it near the end as most inflatable pools don't have a long life expectancy. Sure they are 1000x better than when plastic was first started to be developed almost 150 years ago (inflatable pools weren't around quite yet), but we also expect a lot from them. Durability is important, but something can be a really good purchase and not last long, as long as you get your money's worth. Some pools will last several years (and others will too depending on the amount of usage it receives), but most will give you a solid season of use.


Value
Value is the sum of all the other metrics calculated against the price. A pool could have decent specifications that set it apart and a decent 'shelf life', but if the price is outrageous it won't be worth it. Then again, it could be a product that is only going to give you a few good usages out of it, but it could be highly stylish and cheap making it worth it. Value lays it all out one last time before we give you the Pros and Cons of every item so that you can get an overall grasp of the situation.
Expert Interviews & Opinions
Most Important Criteria
(According to our experts opinion)
Experts Opinion
Editors Opinion
Users Opinion
By Default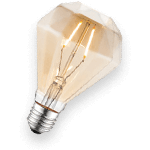 Happy Healthy Kids
Germs live on every surface, including babies and children. These smalls pools will not be chlorinated and there will be no chemicals to kill the spread of illness. It is best to only allow your children to share the pool when everyone is happy and healthy.
Other Uses
A kiddie pool isn't just a kiddie pool. Other great uses are: a ball pit, a bubble bowl, a sandbox, or even a place for the dogs to cool off. For the adults, you could even fill it with ice and keep beverages in it during a party, or use it as a garden!
Other Factors to Consider


Versatility
When it comes to buying pools, the first thing that you want to address is the range of ages that you are looking to buy for. That can range widely. Are you looking for toddlers and teens, something that needs to be a little deeper and wider? Or are you looking for an infant that you want to cool off in the heat while shading from the sun? Maybe you aren't a parent at all and you simply want something to lay in that will hold water while you sunbathe? These pools are all highly versatile as well. If you are looking for a playpen/pool/ball pit/dog bath, this is your one-stop shop for all of that with reviews tailored to all of those! Once you establish what you ultimately hope to get out of this venture, then we can continue. First, we want to remind parents that just because something is rated '3+ years of age' under no circumstances means that a three-year-old should be left alone unsupervised with a pool. It simply means as of 3 years of age they should be good to use it with no flotation, but always your supervision outside with them in eyesight of them.
Frequently Asked Questions
q:

Do you need to use a tarp under these pools?

a:

A tarp isn't specifically required but it does have its advantages. Laying out a tarp under your inflatable pool will help to increase the durability of the pool. Twigs and other possibly sharp items hide in the blades of grass and can puncture or wear down the bottom of the pool. Laying out a tarp will add an extra layer of protection between your pool and the ground. Some of the pools on this list are cheap (equally price wise and durability-wise) and it may not be important to you to try to keep intact for next summer. However, with some of the more expensive (and durable) models, you may want to further protect your investment by using a tarp.

Keep in mind that the tarp will be slippery when wet. If you do choose to use one, you have a couple of things to keep in mind. If the tarp is large, it will prevent mud from forming in the yard, keeping it beautiful. However, as mentioned, if it is a large tarp, it will be slippery and the children, or adults, may slip when entering or exiting the pool.
q:

Will the pool last more than one season?

a:

Well, this simply depends on which model you invest in! The more durable models will, obviously, last longer but they will also cost you more. Also, as mentioned before, proper care and the addition of a tarp will also protect the pool and prolong its life. To determine how long an inflatable pool will last, we recommend that you take a look at the materials used and the customer reviews. As you will see in this guide, we have already done that for you. You're welcome.
q:

Are the pools toxin free?

a:

Sometimes it seems as though the world we live in is trying to kill us, right? It's not totally ludacris. Many plastics contain PVC and BPAs. Unfortunately, almost all plastic products contain these hormone-irregulators, and a warm pool is a great breeding ground for them. The chemicals are released from the plastic and leech into the water, which is then absorbed by those in the water. The chemicals, which are similar to feminine hormones, can introduce carcinogens and also lead to growth issues.

With this said, you should do the research and see if the pool that you are interested in is PVC and/or BPA free. A typical rule of thumb that you can go by is the thicker the plastic, the safer it is.
q:

Does the color fade from the pools?

a:

It is definitely possible. As you know, leaving almost anything out in the sun for an extended period of time will fade (clothes, couch cushions, stuffed animals). For the pools, it really depends on the printing method that was used to apply the color or design. To help preserve the color and design of the pool, you should bring it inside or into the shade when it is not being used. Part of the beauty of these small pools is the fact that they are small, easy to fill, easy to empty, and easy to move.

Also, keep in mind that while the color or design might impress your children at first, they will learn to love this pool no matter how it looks. Think about how children are with their stuffed animals. They can lose an eye and have stuffing falling out of the armpit and the kids will still want to sleep with it.