Best Four Season Tents
In a
Hurry? Editors choice: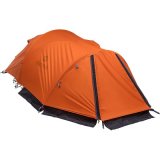 Test Winner: The Marmot Thor 2

Camping
is a great activity to spend some
quality time with your friends
this summer season. It is a time to create memories that will stay with you for a lifetime and brings you closer to mother nature at the same time. Now, when planning on going camping with some friends, there is some gear you will need to ensure you have the best time possible, and one of the most important pieces of gear is the
tent
. A tent will provide you with shelter and allow you to stay comfortable and warm so you can get a great night sleep and have enough energy to adventure the next day. Below, we have listed the top ten four-season tents, so you do not have to solely camp this summer and can continue the
fun
all year round.
Standout Picks
Criteria Used for Evaluation
Insulation
The reason someone normally chooses to get a 4-season tent is likely because they are thinking about maybe doing some winter camping, and they want it to be as warm on the inside of the tent as possible. A tent's main purpose is to protect you from the elements. It may keep you somewhat warmer because the wind, snow, or rain won't be physically hitting your body, but inside the tent will not be so much warmer than outside.
So, when trying to determine how warm a 4-season tent is, you should be looking at how good it holds up against the elements. You can pay attention to how thick or heavy it is, but you should also pay attention to how durable and strong it is. Do your research. Does the tent that you are about to buy have a history of not holding up good against hard winds? Is it a double or single layer tent? How good is it against rain, wi, d and snow? How much will the tent's floor protect you from the wet ground during and after a thunderstorm?
Weather Resistance
Your tent may be strong, but you have to position it correctly if you can foresee bad weather conditions. When you pick a spot to set up camp, try to find areas that have natural windbreaks. For example, look for lines of trees that you can pitch a tent near that will help block the harsh wind. If possible try to put the door of your tent opposite the wind, so that it hits your tent from the rear. If the rain is being blown by hard winds into the door, then there's a bigger chance of water seeping in through the zipper.
Some 4-season tents have two doors. If this is the type that you want you could protect your tent doors more from the wind (and rain) by getting one with an add-on vestibule. This is the part of your tent that covers the front entrance area, and some tents come with ones that can go over each door. People refer to them as a "porch" on their tent, and this cover is used for things such as providing a sheltered area where you can dig a hole to use for cooking so that you don't accumulate all that heat inside of your tent. But they are also very effective in blocking the wind from your doors.
Water Resistance
If you talk to any experienced camper or hunter (especially if they use a four-season tent regularly in cold conditions) they'll tell you that precipitation is one of your worst enemies on an outdoor expedition. What you want to do is get a tent that has waterproof walls and roof.
Lots of 4-season tents come with a rain fly. This is an outer layer that is over your tent that doesn't touch it but protects you from the rain. If you decided to get a single layer 4-season tent, then you are pretty much inside of a rain fly. The only difference is you have a floor and a rain fly that is added on to the tent does not. A rainfly allows you to open up a vent on, say, the roof of your tent, and let air flow through without any rain coming in.
You can also further waterproof your tent by utilizing a tarp. Lay the tarp down on the ground if it's damp or wet, then pitch your tent (which already has its own water resistant floor) on top of that.
Breathability
When you are at home, the way that you keep the house warm in the winter is to be sure the windows and doors are closed. But, in your 4-season tent, you have to do the opposite in order to stay warm when you're out in those conditions. I know how it sounds, especially if you're new to winter camping because it just doesn't seem logical to open the window to make a tent more comfortable when it's snowing outside. But, without letting a little air flow through that tent, you risk the chance of condensation that will show up in the form of frost the next morning on your inside walls.
You'll probably still get a little bit of frost anyway inside the tent if it's cold enough, whether it's double or single layered. Still, you don't want so much that it makes your sleeping bag and clothes wet – that could lead to hypothermia. Also, you should ventilate your mouth and nose while you sleep; don't breathe down into your sleeping bag. Your breath creates water when coupled with your body heat. You can actually produce about a liter of water overnight if you don't breathe outside of your sleeping bag. If you're worried about your face being warm while you're asleep, put on a knit ski mask.
Top Ten Four Season Tents
Subscribe to our Newsletter