Best Teepee Tents
last updated:
Feb 10, 2020
Everyone has seen a western film and seen a teepee tent, and many of you might have thought that these tents were only for the movies, but they are actually popular styles of tents that many choose to invest in for a family getaway in the woods. This style of tent is a little bit easier to set up than other tents, and they offer a lot more room to fit the whole family. Plus, they are typically set at a much lower price point than some of the other basic tents out there on the market while still offering a lot of room on the inside. Below we have listed the top ten teepee tents on the market and explained why if you are in the market for a new tent, a teepee may be the way to go.
In a Hurry? The test winner after 14 hrs of research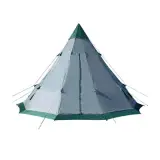 Winterial
Why is it better?
Lightweight design
Many vents for excellent airflow
Great at keeping snow and rain away
In a
Hurry? Editors choice: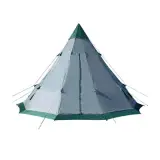 Test Winner: Winterial

15
Researched Sources
1.2k
Reviews Considered
14
Hours Researching
15
Products Evaluated
Ease of Use
Features
Capacity
Value
By Default
Criteria Used for Evaluation


Ease of Use
If you are in the market for one of these products, you are probably here because you want something that won't take that much time to set up. That's why we made sure to inspect each brand to ensure that it had a setup time that was within the realm of reason. We ensured quicky and easy setup times by looking at two things- instructions provided by the manufacturer, and feedback from past users. A seller might claim that their product is easy to assemble, but the proof is in the application. We were drawn to users that provided pictures of fully assembled designs and pick styles that users claimed were fast and easy to assemble.
What we discovered is that many of the most unreliable designs out there on the market often didn't come with a center pole. While some users are more drawn to the absence of the metal pole the runs right in the middle of the floor, designs that opted to stabilize their walls with outside PVC were often a little bit more droopy, and a lot more difficult to assemble. However, if the center pole is something that is a deal breaker for you, you may find that the poleless designs may be worth the little bit of extra time that they take to set up.


Features
While it might not seem like an important feature at first glance, innovative and smart design can make all the difference between a night of good night sleep and a soggy night sleep. There were many options out there that offered great ventilation systems to keep campers cool during hot summer nights, but some of those vents didn't actually help to keep campers dry. We made sure to read what users had to say about the waterproof factor of each design. These types of structures aren't widely regarded as being the best at holding up during bad weather the way standard models can, but they should at least keep you dry. One of the problems when it comes to vents is that they simply don't have enough of a structure to keep water from seeping in. That's why we made sure to select designs that have a PVC lining in their vents to shield water from entering through the sides.
Something else that we noticed wasn't standard on all models was zippered doors. We made sure to select designs that had quality zippered doors that are great about keeping critters from snuggling up beside you as you sleep. Brands that use drawstrings are a little bit more cost effective, and can work well at keeping out bugs and mosquitos, but might not be as effective at keeping out curious critters.


Capacity
This included features such as weight, dimensions, sleeping capacity, and materials used for the outside shell as well as the floor. We were drawn to designs that could sleep more campers because they could be used for a myriad of uses. If you are camping with a big group, it is nice to have one universal place for everyone to sleep to save on money. If you are camping with just a few people, the larger designs are great for multiple queen size mattresses, and some users set up tables and even build fires right inside (because the top of each unit is typically open). We also wanted to select designs that weren't too heavy so you can pack it up into your car and be able to carry it to your destination without too much strain.


Value
One reason campers are drawn to these designs is that they are typically a little more affordable than their walled counterparts. That's why we made sure to select designs that kept the cost low, while still using high-quality materials and designs. There were some options on our list that did carry quite the hefty price tag, but these options often held more people and had a few additional and innovative designs that made them stand out from the pack and justified their higher price point.
Expert Interviews & Opinions
Most Important Criteria
(According to our experts opinion)
Experts Opinion
Editors Opinion
Users Opinion
By Default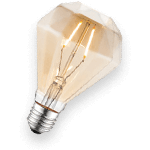 Sturdy & Quick to Assemble
Due to the fact that they almost all rely on a center bar to keep them upright, you won't run the risk of it falling down as long as you are confident that the center bar in 100 percent secure. Most of these designs can be set up under 5 minutes (if you ask for a little bit of help), which might come as great news to campers that are frustrated with spending half the of morning simply trying to set up their campsite.
Other Factors to Consider


Bottom Line
Before you make your final decision, take into consideration what you will be using this product for. If you often camp with a big group of people and you all want to split the cost of one space, the bigger options might benefit your trip better. However, if you are with a group that all wants to have their own space at the end of the day, you might want to opt for one of the smaller designs that come at a lower price point. Another thing to take into consideration is how much room it will be taking up. If you are somewhere like a tight campground or a festival, a unit that has a footprint that is almost 20 feet by 20 feet might be a little bit too big for your needs. The most important thing to remember is that these designs are generally not made for any extreme camping conditions in excessively rainy, cold, and snowy weather- unless explicitly stated in the brand description.
Frequently Asked Questions
q:

Why use this design rather than a walled design?

a:

This is all a matter of personal preference, however, there are a few distinct benefits from these designs that you can't get from standard models. The first benefit lies with the east of assembly. Instead of coming with a myriad of different poles of various sizes that are difficult to put together, these designs come with one center pole that the polyester fabric hangs from. These designs often have a lot more headroom and a larger footprint than standard wall models, and their larger size often comes at a much lower price point. The downside, however, is that they typically aren't made for extreme camping conditions because some designs are just not as water resistant.
q:

Are they easy to assemble?

a:

One of the reasons that camper gravitate towards these designs is that they are pretty easy and quick to assemble. While users can put them up on their own, it will go much faster with more than one person. Most companies claim that if you have just a little bit of help, these products can go from the carrying case to fully assembled in just about 5 minutes- which is music to any campers ears that often struggle with assembling their campsite.
q:

Are they good for extreme weather?

a:

With so many benefits, there has to be a downside- and the downside is that they aren't are resilient to extreme weather than standard four-walled designs. While there are some products out there that are specifically made to be used for all four seasons, they often come at a much higher price point. Generally, the standard designs that carry modest price tags are made for neutral weather. They can tolerate a little bit of rain and wind without taking much of a beating, but for torrential downpours, campers can expect to get a little wet.
q:

Do they generally come with a floor?

a:

Almost every design on our list comes with the addition of a base that is made from a lightweight waterproof material. There are some options out there that have bases that are simply clipped to the bottom so that you will have the option to detach them and wash them separately from the top material. Some users have found that many companies use base materials that are just a little too thin and don't perform very well at keeping out dew and moisture, so they supplement their base with the addition of a heavy duty tarp. This step might only be necessary if you are camping in very wet seasons that you feel might require an extra layer. For casual campers, the thin layer is often enough for their needs.
q:

Will it keep the bugs out?

a:

For the most part, yes. If you are looking for something that will keep 100 percent of bugs on the outside, you might want to invest in standard wall design. While there are a lot of designs out there that have screened doors and zippered vents and windows, the top of each design is typically left open. Each unit has a small tarp that will allow rainwater to run off of the side, but it is left wide open for a crafty insect to sneak right into the top.
q:

How should I care for it when not in use?

a:

As with any product that is made from polyurethane and has a waterproof coating, it is important that you ensure that it is completely dry before packing it back into its carrying case. If you happen to pack it away while it is wet, you run the risk of mold developing while not in use, and mold can weaken the fabric over long periods of time. To clean the base as well as the walls, you can simply wipe it down with a wet cloth, or mix up a little bit of water and dish soap to really ensure you get rid of dirt and stains. Users have even taken their garden hose and hosed down the exterior surface, and then let it dry in the sun before packing it away into storage for the winter.
q:

What are the walls typically made from?

a:

There are some designs out there on the market that are constructed from the canvas, which is great for holding in heat, but for the most part, they are made from polyester or polyurethane that has been treated with waterproof material. These materials are perfect for campers that want to travel light, as well as be able to store it in their garage or closet while taking up very little space. The majoring to the extra weight comes from the construction of the metal pole that runs in the middle. Due to the fact that this pole is mainly responsible for keeping the unit upright, companies ensure that it is made from heavy and durable steel that will stay in place even when it gets to be a little windy.
q:

Should I select a design with zippered doors or drawstring doors?

a:

Users tend to gravitate more to zippered doors because they are great at keeping bugs out as well as critters. The downside to zippers, however, is that when subject to the elements they can become weak, and over time they may not work properly- leaving you wide open and unable to completely close your doors or windows. Drawstrings save users a little bit of money, and they don't run the risk of breaking over time. The downside to this option, however, is that they won't work as well at keeping out bugs and critters they way a zipper could.
Subscribe to our Newsletter