Best Ski Poles – 2023 List
In a Hurry? Editors choice: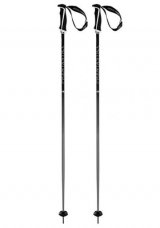 Test Winner: Volkl Phantastick

Investing in a good pair of ski poles is just as important as your skis! The design and build of poles you require depend upon your style of skiing. If you are just starting out, you can get away with more affordable designs that are slightly heavier to help you maintain balance and control. For advanced skiers, sleek carbon shafts will help you easily maneuver and pick up speed. We made sure to select designs from trusted brands for both novices and veterans alike that will hold up well over the years and help you maintain balance and control.

In this guide, we have provided a list of some of the best ski poles so you can focus more on the slopes ahead and less on your gear.
Standout Picks
Criteria Used for Evaluation
Materials
Skiing poles are usually designed out of one of two materials, or a combination of the two.
Those two materials are aluminum and carbon fiber. Both types of materials have benefits and drawbacks. Aluminum tends to be more durable, and also much more affordable. However, aluminum ski poles are also heavier and don't flex as easily.
Carbon fiber poles tend to cost more, are more lightweight, and aren't as durable. However, they have better flex and a boost in performance features. Some manufacturers make ski poles that combine both materials to offer the best of both worlds.
Weight
The weight of the pole is just as important, especially when it comes to backcountry or cross-country skiers.
The weight of a pole often relates to the material type, but that doesn't mean carbon fiber is the best option for a ski pole. Let's say if you're just starting out, aluminum poles are just your thing to start rolling and are moderately priced.
Lighter poles will come with a higher price tag and the added features won't add a ton to the performance. The thickness of the pole also plays a role. In some cases, a narrow shaft of any material type tends to be less durable and come with less stress tolerance, so you'd probably want to avoid choosing the lightest pole available.
Features
If you're into skiing, you must know you can't hit the slopes without a good helmet, goggles and a pair of ski poles.
In addition, it aids in releasing bindings, timing the turns, stabilizing hands, skating and hiking, maneuvering the steep slopes, but the most important use is to help initiate the new turn and actively carry energy between different turns. When you extend the new turn, your pole swings and touches the snow to the side and slightly ahead of the boots. In short, a pole is a great link between turns.
Think of your poles as an extension of your arms. When the pole comes in contact with the snow, it gives a little sensation that goes all the way through the arm and ultimately into the body. Stabilizing your upper body while your legs are moving actively and independently, is crucial to good skiing. It's all about timing and rhythm – the pole movements will happen naturally as you advance further. A perfectly-timed pole swing keeps your body perpendicular over the skis and moves in the direction of the new turn.
Value
Getting a nice deal is imperative to your selection but at the same time, it should satisfy your needs to the best of your interests.
That being said, aluminum is probably the most preferred choice of material, especially for beginners. For those who've just begun, it's not wise to spend a hefty sum on high-end poles. You can get a good deal without spending a fortune and that best serves your interests.
For your basic skiing needs, mid-range poles will do just fine. They are not only the best budget-friendly alternative to high-end ski poles but they also perform well on cross-country trails.
Ski poles can be expensive depending on the different manufacturers and shaft properties. But if you don't want to spend a significant amount of your hard-earned money on something that you're not so sure about, you might want to wait for the seasonal sales.
Top 10 Picks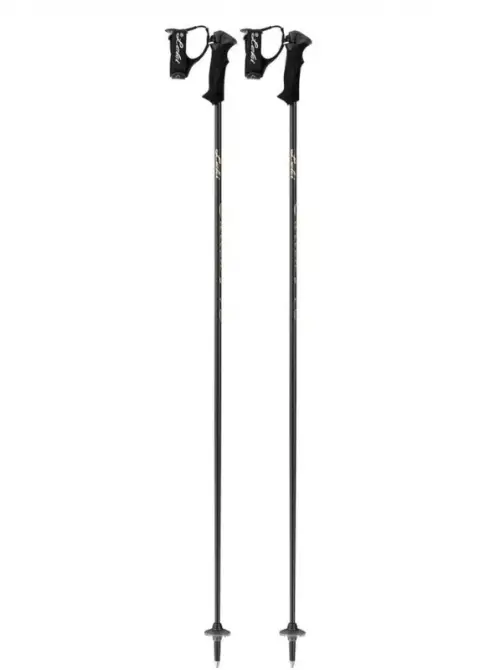 This latest model of the LEKI Carbon 14 S was released in 2020, and skiers that have gotten their hands on this model simply love it. It checks all of the boxes of what beginners and advanced users want in their poles. It's lightweight, incredibly durable, and has smart grips that you don't have to think about too much. It's slightly expensive, but we promise that this design is well worth it!
Read more
What really makes this design stand out from the pack is the Slalom Grip that is enhanced with the Trigger S System. These grips are slightly angled to fit comfortably in your hand, and the nylon straps affix to your wrist for an effortless grip that stays in place no matter what.
We also like that this design is made from super durable carbon materials that help to keep this set lightweight as well as durable. This design is a little thinner than some of the other designs that we have seen so far, which makes it easier to handle as well as lighter as well.
If you are in the market for a sleek design that is able to keep up with all of your snowy adventures, this updated design from LEKI is a great choice. The improved grips stay firmly in place as you pick up the pace, and the thing and lightweight shaft feel like you aren't wielding anything at all!

2

. Black Diamond Expedition 3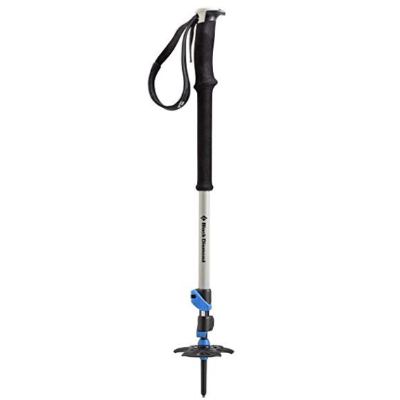 Black Diamond is no stranger to the world of winter sports. With these poles, you get a strong and reliable design at a low weight. These ski poles can be used in all seasons for trekking or skiing and include powder and trekking baskets.
Read more
These poles are made from 100% aluminum. Up and down the pole, the width changes from 14mm to 18mm. The grip of the poles is made from a comfortable foam. The beauty of aluminum is its ability to be both durable and lightweight at the same time. As a pair, these poles weigh 1.02-pounds.
Perhaps the best feature is their three-section design. Each section uses Black Diamond's FlickLocks that are reliable and easy to use. The strap is easily adjusted and fits well with or without winter gloves. When fully collapsed, the poles measure 25" long and are great for travel or to attach to your pack. Included with the poles are 4-inch powder and trekking baskets.
These poles can be used in all four seasons for a multitude of activities including walking, hiking, and skiing of course.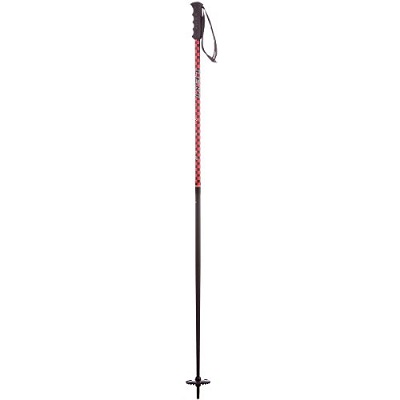 The Leki Checker X is the perfect option for a new school rider or a free rider who's looking for some action on the hill. The Checker X is made from durable lightweight aluminum to give it greater strength and stability.
Read more
These ski poles are made from 18mm aluminum. Each pole has an eye-catching checkered design. The pole tapers down to a smaller diameter towards the tip to save some weight. In turn, the poles weigh 15.7-ounces, just under one pound.
Aside from the funky graphics, the Soft Grip fits in just perfectly in your hands as you launch off of jumps or cruise down the mountain. Additionally, the strong steel tip can pierce through the snow easily and is built for heavy-duty performance. The Hard Snow Basket measures 90mm in diameter and snaps on tightly so you do not have to worry about it popping off.
These poles are priced affordably. We would have liked to see a bit more durability, avoiding scuffs and scrapes, but overall, we are impressed with this option.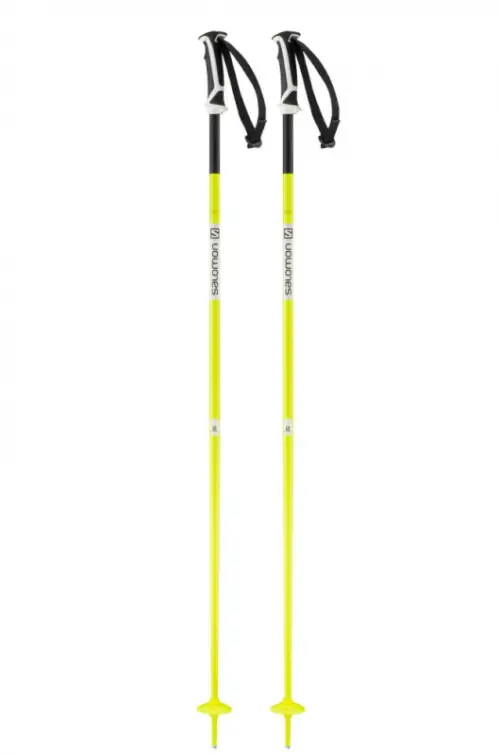 If you are working with a limited budget, this simple and lightweight design from Salomon is a great choice. Not only does this option come in at a super affordable price point, but they also boast a neutral design that is perfect for all styles and expert levels of skiers.
Read more
While they work for advanced skiers, we feel that this design is tailored more towards those just starting out. The neutral design is perfect for modest slopes, and they boast a lightweight 18 mm aluminum that weighs in at just 14 ounces. This makes them perfect for both men and women as well.
We also like that this design boasts standard baskets and tips that work quite well in freshly packed snow. The ergonomic handles are accented with grippy rubber panels that provide a surefire grip even when wearing bulky winter gloves. It also comes with nylon straps for added security as well.
This design from Salomon doesn't set out to reinvent the wheel. It is composed of lightweight and sturdy materials that work well for all skill levels of users. The best part of this option, however, is that it comes in at a super affordable price point that won't break the bank.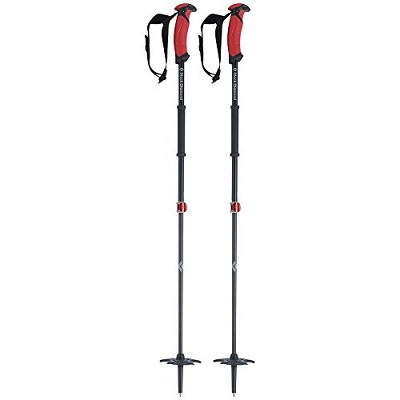 Combine the durability of aluminum poles with the low swing weight of a carbon fiber lower and you'll get your full-package all-in-one gear – the very versatile Black Diamond's Razor poles.
Read more
The carbon lower shafts provide decreased vibration and greater strength, and improved handling over all-metal poles, but at a competitive price. The rubber grip provides great comfort and a steady hand-feel. This lightweight yet stiff pole is destined for the long ski tours into the backcountry or for use as nordic walking poles. The set of poles weighs in at about 2-pounds total.
The Razor pole is outfitted with its very own FlickLock Pro technology to let you adjust the length of the pole on the fly and with a flick of your thumb. The all-new SwitchRelease breakaway technology allows you to ski tight trees without worrying about that dreaded jerk and the pop sensation in your shoulder.
These Black Diamond poles are on the more expensive end of the spectrum. However, they do come from a well-known and trusted brand and have great features and adjustability.

6

. Black Diamond Carbon Compactor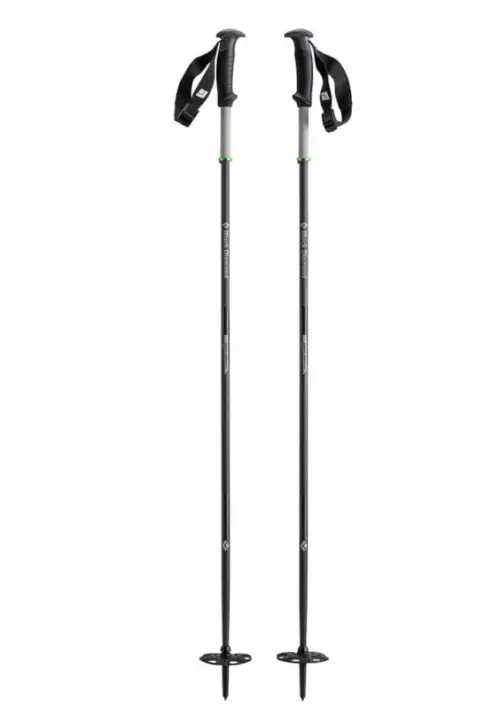 If you like the idea of a foldable design that is less cumbersome and easy to pack, the Carbon Compactor is worth a look. It is composed of super-lightweight materials that are great for novices and veterans alike and boasts a frame that makes your ride feel easy and effortless.
Read more
The most notable feature of this design is that it is quickly able to be folded down for easy storage. It boasts a mechanical folding mechanism that is able to be released even with a bulky pair of mittens. When you are ready to hit the slopes. Simple lock the poles securely in place.
We also like that this design is made from incredibly lightweight materials. A carbon frame is much lighter than aluminum models and weighs in at just over 1 pound. It also boasts baskets that are specifically designed for packed snow, and grippy rubber handles for a secure grip.
If you are in the market for something that is a little more compact than some of the other designs out there on the market, the Carbon Compactor from Black Diamond is a great choice. While it costs a little bit more than some of the other designs that we have seen, the added versatility makes it well worth the slightly higher price point.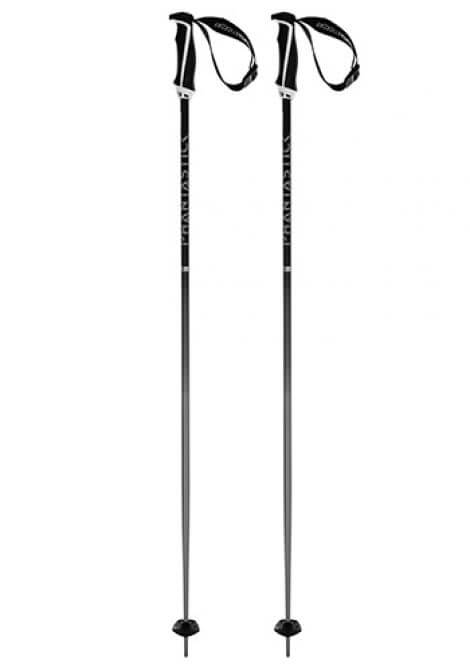 If you are looking for a reliable and visually striking pole, the Phantastick may be the one for you. These feature a unique and comfortable grip and are very lightweight.
Read more
Like many other ski poles on our list, these are also made of 18mm aluminum alloy. Aluminum is a great material for ski poles because of its durability and weight.
The grip of the Phantastick is a Soft Touch clear grip with 5 finger grooves for comfort. For most people, the grooves fit their hands well, but if you have especially small hands, you may have an issue. In addition to a great grip, there are also comfortable nylon straps.
These poles are available in four different sizes and four different striking colors. Each pair comes with powder baskets as well. The price isn't cheap nor outrageous. These are a great pair of poles that are lightweight and comfortable to use while maintaining their durability. To top it all of, Volkl offers a one-year warranty as well.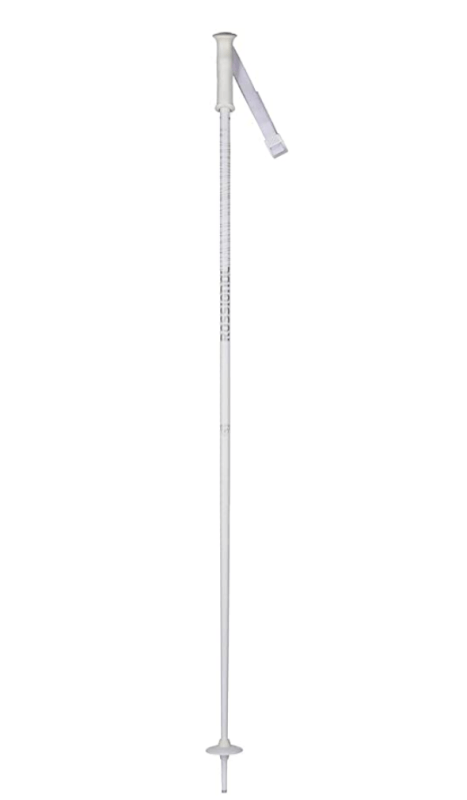 Traverse your way through any mogul field, powder face, icy slope, or whatever the wild mountain throws at you with the very versatile Rossignol Elektra ski poles. It's a great pole for the all-mountain skier who wants something that's lightweight and provides utmost flexibility.
Read more
The aluminum alloy shaft is made with 20 percent carbon to keep the weight down, and the 60mm basket works well with both on-trail and off-trail skiing. These are very lightweight poles. The pair together weighs in at 15.2-ounces. Less than one pound!
The grip offers a comfortable, secure hold, and the adjustable strap supports the wrist perfectly for better control and stability on the slope. Additionally, these poles have sleek looking matte graphics that make the pole look a little more interesting than the regular run-off-the-mill poles.
An almost perfect aluminum ski pole at such an insanely low price, there's really no reason not to go give it a shot!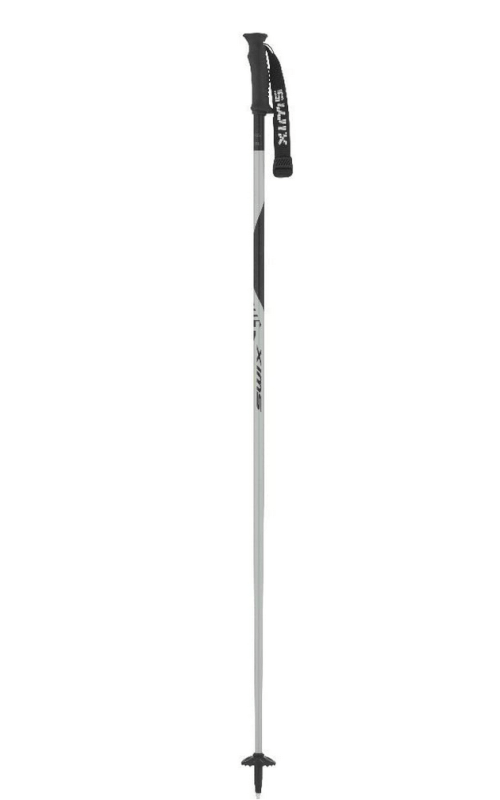 The Swix Techlite ski poles are made from high-strength aluminum and Swix single density handle. The medium-sized basket helps you maneuver with ease and the shaft diameter is good as well.
Read more
These poles are made from 18mm aluminum. The durable tips are made from hardened steel. Reviewers say the hardened basket system seems to be well made and reliable as well.
These poles are lightweight and great for beginners. They allow you to focus on proper hand placement and comfort instead of feeling weighed down. They offer the strength and stability you need on the slopes, but also the flexibility to tackle tougher slopes. The straps are easily adjustable, allowing you to focus on the task at hand. Additionally, the standard baskets are easily converted into snow baskets.
Although these are pretty basic for recreational skiing, for those who want an affordable set with all the technical properties to enjoy the day on the slopes, this is a wonderful bet.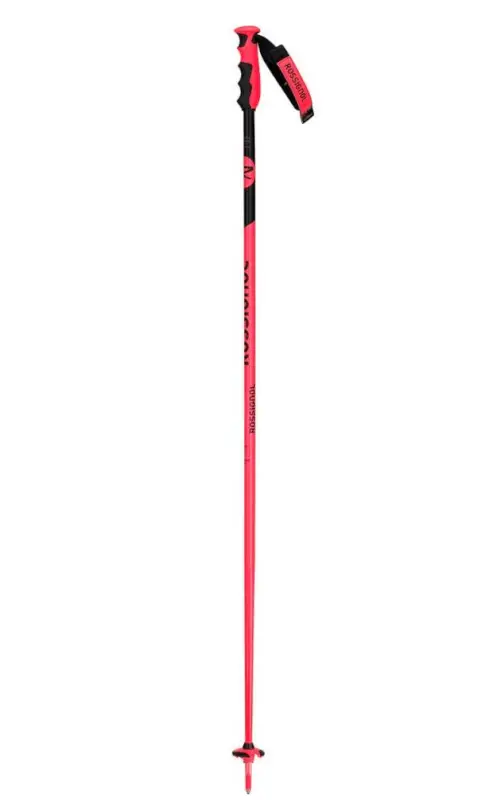 Do you have the need for speed? This aerodynamic and lightweight design from Rossignol is a great option for skilled skiers that need something that is able to keep up with their pace. We love that this design is made from quality materials that are a little more durable than most, and boast sleek features to help you pick up the pace.
Read more
The very first thing that we noticed about this design is the materials used for the construction of the pole. It is made from Aluminum Zicral which makes this design super lightweight as well as tough. It has a slight bend to it and is more resistant to breaking under pressure when compared to some of the other options that we have seen.
Another thing that we love about this design is the triangular-shaped race shaft. This means that the pole is thicker at the top and thinner at the bottom, which will allow you to really cut through the air as you reach top speeds. It also has asymmetrical handles that are more attuned to your natural grip.
If you are in the market for a design that is built to help you reach top speeds, this is a great choice. Not only does it boast a frame and materials that help you pick up the pace, but it is also built incredibly tough as well. It may cost a little bit more than most, but we feel it is worth every penny!

Subscribe to our Newsletter