Best Nordic Walking Poles
In a Hurry? Editors choice:
Test Winner: EXEL Urban Skier Nordic Walking Poles

Nordic walking is not that much different than traditional walking - other than the fact that you are aided by two long poles. Seems a bit ridiculous to be worth your time, right? Well, think again.
In addition to the fact that any age group can enjoy it, Nordic walking delivers a near
full-body workout
. It also burns significantly more calories than traditional walking, and it has become a rapidly growing activity around the world.
But, with this type of walking comes the need for special equipment. Nordic walking poles are almost mandatory if you want to get the most of the experience. Today, we are here to educate you about what makes them unique and what you can do to ensure you are 100% satisfied with your purchase.
Standout Picks
Criteria Used for Evaluation
Adjustability
Do you want a pair of poles that are adjustable or do you want them to be fixed?
One of the first things you need to realize about sticks for walking is that they can either be adjustable or fixed. Regarding which style is superior, each of them has its distinct advantages and weaknesses, quite frankly.
The more popular of the two, as you noticed on this list, are adjustable Nordic walking poles. Part of the reason why is they offer more flexibility as they can be adjusted on the fly. This can come in handy if you want to let someone else borrow them or if you want to travel with them comfortably. On the flip side, however, there is always the possibility of adjustable walking poles collapsing accidentally.
Regarding fixed-length models, these will require special preparation on your part. Most of the time, manufacturers who sell these types of walking poles will take the time to ensure that all their consumers get the correct size. The reason this is so vital is that you can't adjust these poles in the slightest. But, they do offer superior support and stability.
Of course, either way, you go, you need to be aware of your height. Clearly, with fixed-length poles, you will need to know your exact measurements. But, even with adjustable models, they will not be designed to work for users of all heights. Most of them, however, will account for most users out there.
Durability
For certain, you will want to buy some walking poles that will actually last.
When it comes to choosing Nordic walking poles based on their materials, the choices are not extensive. Most models out there will either sport carbon fiber or aluminum shafts. Everyone has their preferences, but you can't deny that carbon fiber holds several advantages over aluminum.
Then again, all-aluminum is not engineered in the same fashion. Aluminum itself is a lightweight metal that is quite flexible (but also durable). However, there are different grades of aluminum. While 6061-grade aluminum is quite common, 7075-grade aluminum is the most durable commercial-grade aluminum out there and can be found on some walking poles.
But, carbon fiber is just on another level when it comes to its lightness, stiffness, and overall strength. Carbon fiber is not a metal and is best considered a reinforced polymer. It is much lighter than aluminum (which is known for its lightweight nature) but, at the same time, is also much stronger.
Perhaps some of you, though, may point to the fact that aluminum could be seen as less brittle than carbon fiber and that is a fair point. You really can't go wrong with either aluminum (assuming it has a high grade) or carbon fiber walking poles. Granted you treat them with proper care, they should last you many years to come.
Versatility
If you want to be able to use your poles on any surface you want, you need to look for options that come with multiple tips.
It is easy to assume that you can take your walking poles with you nearly anywhere and use them. While this is somewhat true, it strictly depends on the tips that the seller provides to you. The included tips will dictate where you use your poles and when you use them. If you want to use them everywhere, then you need to look for options with multiple tips. If you want to use them for hiking, read here.
The first of which is wide, rubber tips. Sometimes you will need to buy these separately, but if you plan to use your poles on any hard surface, you are going to want to pick some of these up. The soft rubber tips work well on pavement, gravel, concrete, and even dirt roads that are heavily packed in.
On the other hand, you can also look for carbide or steel tips. These will be pointed and in addition to being perfect for walking on ice (as they deliver better traction), they are also great for walking on softer surfaces. This can include snow-covered terrain, grass, sandy beaches, and even mud. These metal tips will provide better traction as they will penetrate the ground.
Comfort
The best Nordic walking poles will come with well-designed grips that are actually comfortable to hold.
It may take some time for you to get used to walking poles. But, some specific design features can certainly make the transition much smoother for you. For starters, how about the design of the grips?
As opposed to trekking or ski poles, walking poles sport different kinds of grips. The most efficient ones will sport ergonomic designs that contour to the natural shape of your hands. With the grips of this nature, holding them will feel as natural as anything else you have ever held.
But, grips can also come in different materials. Choosing between the various elements, quite frankly, often comes down to when you plan to use your walking poles. Take two of the most common grip materials (rubber and foam) as examples.
With foam grips, your sweat is going to be absorbed like making them great for hotter climates, just like sweatbands. Plus, foam is soft to the touch. Meanwhile, rubber grips are much better insulators and are often preferred in the winter. But, rubber grips can leave your sweaty hands with blisters.
Also, besides the grips, you can't forget about the straps. Nordic walking sticks will be equipped with them to keep your arms attached. Look for the straps to be long enough to work for you comfortably.
Portability
If you have any aspirations to travel with your poles then you may want to stick to those that are adjustable.
If it already was not clear enough, this is where adjustable walking poles hold an advantage over their fixed-length counterparts. But, it only pertains to you if you plan to travel to many different locations with your walking poles on board.
If you know for a fact that you will be traveling with them frequently, then you may want to consider the sheer convenience that adjustable models will offer to you. As you can collapse them down to their shortest point, you can make them much more compact than they are.
Meanwhile, the same can't be said about fixed-length poles. You will need to store them and transport with them as they are. Depending on your height, you may need four-to-five-foot poles. And, you can quickly see where this could become a nuisance when traveling.
Also, just as a little bit of a side note, some sellers will include carrying bags with your purchase. You will typically only see this, however, with adjustable poles. While not mandatory by any stretch of the imagination, this is a neat little bonus that you can keep your eyes out on.
Our Top Picks for the Best Nordic Walking Poles
1

. EXEL Urban Skier Nordic Walking Poles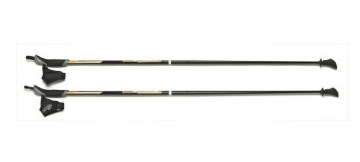 One of the reasons why these poles are the best in the business is the fact that the company takes the time to ensure that each of their consumers gets the perfect size for their needs.
Read more
Adjustability
The reason you need to get the right size is that these Nordic poles are not adjustable. While you would think this would be bad, it eliminates any possibility of the poles accidentally collapsing.
Durability
The carbon shafts that encompass these poles were made in Finland and are incredible. And, if that's not enough, they are also backed by a lifetime breakage guarantee.
Versatility
These come equipped with authentic rubber tips which are ideal for all sorts of terrains (such as cement, carpet, tile, and pavement). Additionally, durable carbide metal tips are included, and these work nicely for off-road adventures.
Comfort
The grips themselves are excellent, but what is worth pointing out are the patented straps. They are superior to loop straps and Velcro slings, providing added comfort on your walks.
Portability
These poles aren't easily portable because of their non-adjustable size but should fit easily anywhere your legs would.
Overall
In nearly every sense of the word, these are incredible. The quality is directly off the page, and you are allowed to get customized poles to tailor perfectly to your height.

Now, some people will be scared of adjustable trekking poles because they can collapse unexpectedly. Well, thanks to the advanced SpeedLock 2 system implemented here that will not be an issue.
Read more
Adjustability
As noted, the Traveller Poles are designed with the SpeedLock 2 system. Even over the original Speed Lock system, this upgraded version ensures fast and secure adjustments.
Durability
The shaft, top and lower section of these poles have been engineered with HTS 6.5 series aluminum. Overall, treat these the way you are supposed to, and they will last for years.
Versatility
On the end of the poles are flex tips and these ensure optimal grip on all types of terrain. Also, each pole sports a power grip pad, and these pads are great for use on paved surfaces.
Comfort
The included trigger shark straps can be individually adjusted to tailor to the size of your hands. But, doing so is a bit tricky, and you will need to get the hang of it.
Portability
In addition to the fact that the SpeedLock 2 system makes this both smaller and lighter, both of the poles can be collapsed down compactly for transportation.
Overall
LEKI makes some of the best walking sticks for hiking and other outdoor activities, so it is no surprise to see their Traveller Poles land so far high on this list. They are just tremendous.

3

. Tom Rutlin Exerstrider Walking Poles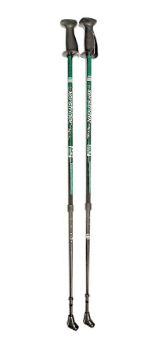 If you want some of the best Nordic walking poles out there then look no further. These were designed and developed with ergonomics, comfortability, and durability in mind, and delivered on all of the above.
Read more
Adjustability
These poles are a good fit for users from 4' 2" to 6' 2" in height. Each pole is equipped with a cam locking system, and this allows you to make quick and precise adjustments on the fly.
Durability
In addition to delivering world-class performance, these are also built incredibly well. Not only will they soften the blow every time they land on the ground, but they should also last a long time.
Versatility
Coming with your purchase is both CushionGrip and hardened carbide tips. The ability to switch between them allows these to be used on all sorts of surfaces.
Comfort
Indeed, these were engineered with comfort and ergonomics in mind. This can all be proven by the exclusive ergonomic strapless grips as they offer both unrestricted and unparalleled comfort.
Portability
If you do need to travel with these, then you can take advantage of the fact that they can adjust down to just 31 inches.
Overall
From top to bottom, it is hard not to be impressed with these walking poles. Though they only landed at number three, they could have easily secured the top spot.

4

. LEKI Spin Walking Poles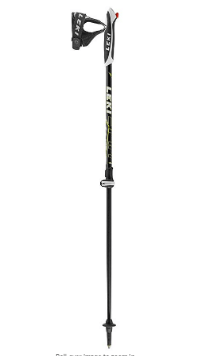 This is another set of LEKI walking poles and they are nearly as amazing as the Traveller Poles. They also sport LEKI's patented SpeedLock 2 system for improved adjustability and security.
Read more
Adjustability
Yes, these poles also utilize LEKI's SpeedLock 2 system. As was mentioned before, this system is world-class and is simply one of the most advanced adjustment systems out there.
Durability
Past the fact that the cam locks are made of reinforced fiberglass, the shafts sport aluminum constructions. And, this aluminum has been heat-treated for enhanced durability.
Versatility
The rubber fitness tips are specially designed to provide traction on both smooth and paved surfaces. When walking off-road, the included carbide flex tips will come into play.
Comfort
The actual grips are comfortable and well-designed. Most worth mentioning, though, is the trigger system that has been implemented. This ensures optimal support for your wrists.
Portability
Again, as noted before, the SpeedLock 2 system also makes these poles lighter. They can be collapsed, as well, for travel and storage purposes.
Overall
You just can't go wrong with this option. What is most striking is the fact that it did not even secure a spot in the top three of this list.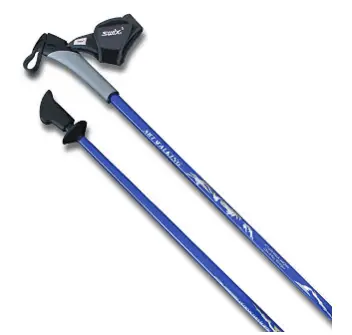 Much like the top option on this list, the SWIX Walking Poles are constructed with one piece per pole. This means that your poles will need to be customized before you buy them.
Read more
Adjustability
Nope, these do not adjust. On Amazon, you will see that you need to customize these before you buy them. The company's goal is to make sure all their consumers buy the appropriate size.
Durability
Past the high-quality materials that were utilized, the one-piece construction of each pole means these are less likely to collapse under too much pressure.
Versatility
Provided with your purchase are both rubber and durable carbide tips. Having both of these allow you to use these poles on virtually any surface you can think of.
Comfort
While mostly very comfortable, note that the included grips are made of neoprene. So, if you are allergic to this synthetic rubber, then stay away from this option.
Portability
Because these can't be adjusted, they can't be collapsed down for storage. So, if you need to transport them for whatever reason, it will be harder to do so.
Overall
It is hard to put into words just how incredible these Nordic walking poles are. The only reason you would want to bypass this option is if you need the poles to be portable.

6

. Montem Pro Walker Poles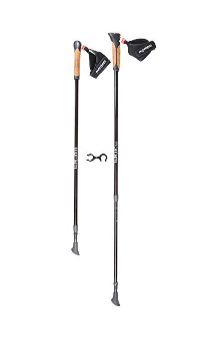 The Montem Pro Walker Poles are lightweight, perform well, and will fold down compactly for storage. While it's not the most affordable, it's worth the price.
Read more
Adjustability
The quick-twist locking system works wonders for these poles. Because of it, you can easily adjust these in mere seconds and do not need to worry about them collapsing.
Durability
The shaft on each pole is made of 7075 aluminum which boasts excellent strength. Some users, though, have felt the quality of these poles did not quite warrant the price.
Versatility
Coming with a pair of Nordic rubber tips, these will be great for trekking, walking, and general mobility.
Comfort
Thanks to the EVA foam handles, these poles are super comfortable to use. As others have noted, these destroy regulation hiking poles in the comfort department.
Portability
In total, these sticks measure just over a pound (combined), and both of them will fold down to right around 16 inches.
Overall
Sure, these may be a little pricy, but the quality does speak for itself. There is not much more to say other than this option is highly compelling.

7

. Foxelli Trekking Poles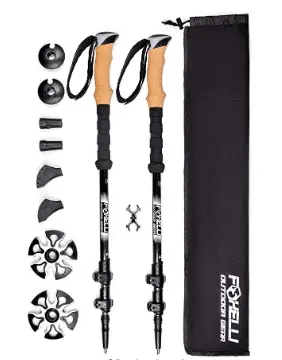 What many of you will appreciate about these poles is that they have been engineered with carbon fiber. In addition to being long-lasting, carbon fiber is also incredibly light and stiff.
Read more
Adjustability
These poles can be adjusted from 24 to 55 inches. Whether you consider yourself to be tall or small, it does not matter as these will account for pretty much everyone.
Durability
As noted, these are designed with carbon fiber. Carbon fiber is about as good as it gets due to its durability, weight, and stiffness. Bottom line, these will last a long time if you treat them well.
Versatility
With the included tips, you can take these virtually anywhere you want. This includes a tungsten carbide tip and also thermoplastic rubber tips.
Comfort
For whatever reason, multiple other reviewers have complained about the fact that they received their poles with wrist straps positioned in the same fashion. You could see where this would lead to some comfort issues.
Portability
In addition to the fact that the carbon fiber construction makes these poles only seven ounces in weight, a carrying case is included with your purchase.
Overall
Whenever an Amazon product has accumulated as high of a user rating as this has, you have to take notice. Outside of the straps, you can easily see why so many people have enjoyed these poles.

Subscribe to our Newsletter