Best Hiking Sticks
In a
Hurry? Editors choice: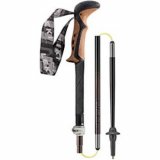 Test Winner: Leki Micro Vario

The use of hiking sticks can make a huge difference in the ease and
safety
of your hiking and can give you the extra edge to push that much further. There is a variety of different types of hiking sticks currently on the market, and each is tailored to different types of trails and support styles. Some hiking poles use lightweight and sturdy materials that will last throughout even the most treacherous
hiking
conditions for experienced hikers and others are built to offer specialized support for hikers that are not ready to hang up the hiking boots but want to still keep enjoying the beauties that nature offers. Whether you are looking to hike all over the world, or just want to explore
nature
in your hometown, there are hiking poles out there to fit those very needs.
Standout Picks
Criteria Used for Evaluation
Materials
When shopping for new poles, hikers are looking for two distinct features: lightweight and sturdy. Carbon fiber poles have been proven last throughout the most difficult trails and are light enough not to hold hikers back. Aluminum poles are considered to be a sturdy pole, however, they tend to be a bit heavier than the carbon fiber poles.
As for hand grips, hikers tend to gravitate toward cork and EVA foam hand grips, and many of the high-end hiking sticks utilize these materials. EVA foam is a great material for wicking away sweat and keeping hands dry, however, cork provides a more sturdy material that will hold up over time more so than EVA foam. The differences are subtle and both materials are excellent for hikers, especially in warmer climates. Rubber grips have a tendency to cause blisters, but significantly lower the cost of the pole.
Weight
Sometimes hiking sticks are a necessity, and sometimes they can tend to be an encumbrance- especially when hiking long distances. For this reason, we checked the weight and dimensions of each product. You will already be carrying a lot of weight with you and hiking sticks don't have to add to that. That's why many hikers opt for the hiking sticks that fold in three places, making it easy to pack away in a pack while not in use. Other users that have bought the type of hiking sticks that are not compact find it difficult to pack them away when traveling. Beware of buying lower quality trekking poles that have the options of folding in three pieces. Often times, when working with lower quality materials, poles that have this design tend to be less stable and are more prone to snapping in half.
Value
Price was an important factor when compiling this list. The more expensive Leki and Black Diamond poles are great poles for any type of trail- and that includes climbing. Those poles were designed to go just about anywhere. However, not all hikers scale treacherous terrain, therefore they would be paying more for a set of poles for a feature that they wouldn't need. Many of the mid-priced poles are a perfect fit for beginner to advanced hikers.
In addition to the price, we also took the durability, materials used, and other features into consideration when applying value to an item. The stronger the item, the more valuable it is. If a product included two poles instead of one, or extra tips and baskets, we also considered that to add more value as well.
Subscribe to our Newsletter