Best Crosscountry Skis – 2021 List
last updated:
Jan 12, 2021
Crosscountry skis are a little bit different than your standard skis. Due to the fact that you are propelling yourself forward, they need to be shorter and stiffer than Alpine skiing. We wanted to select designs that are made from high quality and durable materials that hold up incredibly well season after season. While the sport hasn't changed much in 100 years, the gear has improved a good deal. We selected current designs from trusted brands that are ideal for novices as well as veterans. Whether you want to hit top speeds or simply take in the scenery, we have you covered.
In the guide, we have provided a list of some of our favorite crosscountry skis to help you get the most out of the snowy season.
This is the best product on our list that is currently in stock: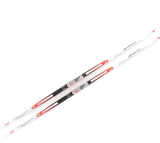 Madshus Propulsion Plus
Why is it better?
Great for fresh snow
Excellent handling
Full-length metal edges
In a
Hurry? Editors choice: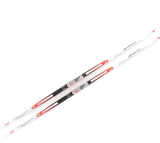 Test Winner: Madshus Propulsion Plus

13
Researched Sources
1,232
Reviews Considered
8
Hours Researching
8
Products Evaluated
Materials
Features
Ride
By Default
Criteria Used for Evaluation


Materials
When trying to determine what type of skiing you want to practice and what skis you'll need, you need to consider where you'll be skiing, and what the conditions will be like. Depending on this, the material of the ski is important.
If you prefer more on-track ski then you can opt for touring skis or race and performance classic skis. If you're a beginner hitting the ski tracks, you're probably better off with touring skis, since race and performance classic skis require more advanced skills and better technique.
If you're planning on going out off-track and hitting hard terrain, then you'll need some metal-edge touring skis.


Features
Cross-Country Ski Camber
You'll want to look at the camber, or the bow of the ski on your cross-country skis. Typically, cross-country skis are manufactured with a Nordic or double camber that features two different parts.
The first part of the camber helps you when you have equal weight on both skis when gliding down a hill. When you do this, the ski's "grip zone," or waist area stays arched upwards off the snow so that you can travel downwards more quickly.
The second part of the camber helps you when you put all of your weight onto one ski, and you flatten your ski against the snow for extra grip and traction before your kick forward. At this point, the ski is focused more on the grip than balance or movement.
Most crosscountry ski manufacturers design skis with both types of camber features, but some metal-edge touring skis do come with a single camber, making the arch more gradual at the center of the ski. Skis that have a single camber help equalize weight better over the whole ski base, making it easier to turn well.
When you're looking at the camber features on your crosscountry skis, you're likely to find that options feature double cambers, and this usually works just fine for what most skiers want to do. If you do plan on purchasing metal-edge touring skis and want to do more hardcore off-trail skiing, then you might want to consider that single camber.
Cross-Country Ski Flex
Another criteria point you'll want to consider when evaluating your skis is their flex, which dictates how well your skis will turn and how fast they'll move. Soft-flexing cross-country skis help you grip for better turning capability on softer snow and if you ski at slower speeds. On the other hand, a stiff flex works well when snow is firm and you're moving at high speeds.
If you know where you'll be skiing, how quickly, and what the snow will be like, then that can help you determine what type of flex you want in your crosscountry skis.


Ride
All components come together to create a smooth ride - shape, length, and materials. One thing that stands out on a smooth ride is how well waxed the skis are.
Waxless skis
These skis are very popular on the market since they give you grip. Waxless skis don't use kick wax to help you with your grip, but instead, have a textured pattern in the middle are of the ski. Even though waxless skis typically state you don't need to apply glide wax, they still perform better on hard terrain when you do.
Waxable skis
Waxable skis get grip from using rub-on kick wax that's placed on the middle area of the ski. You'll get great glide out of these skis and excellent grip.
Expert Interviews & Opinions
Most Important Criteria
(According to our experts opinion)
Experts Opinion
Editors Opinion
Users Opinion
By Default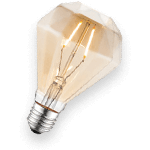 Pre-Slope Work Out
Skiing is an intense sport and provides a great cardiovascular workout. You wouldn't expect to run a 5k without any training, right? It's the same on the slopes. It is important to prepare your body and strengthen your muscles before hitting the Black Diamond.
Clothing
Clothing can be just as important as skis, ski poles, or wax. You will want to avoid cotton because it can easily soak up water and takes a while to try. Breathable materials and fleece are the best for this sport.
Other Factors to Consider


Terrain
Most crosscountry ski types fit one of three designs: touring skis, race and performance classic skis, or metal-edge touring skis.
Touring skis
These types of skis are made for groomed trails and tracks. The design is narrow, longer, and lighter in weight. Typically, the combination of this design makes touring skis very quick and efficient to use.
Race and performance classic skis
Like touring skis, race and performance classic skis are usually designed to be used on groomed tracks. Unlike touring skis, these types of skis are made for faster, aggressive types of skiing. With race and performance skis, you usually find that they are designed with a stiffer flex than most touring skis.
Metal-edge touring skis
If you plan on doing off-track skiing, then you'll want to opt for skis like this. Metal-edge touring skis are usually designed to be shorter than touring skis, making them easier to maneuver. Plus, metal-edge touring skis are also wider to give you more stability and flotation when you're hitting difficult snow.


Size
Remember that to determine what type of ski length you'll need, you're going to have to factor in your bodyweight. So, do you need shorter or longer skis? If you're a recreational skier or like rugged terrain types, shorter skis are usually slower on the trails, but a lot easier to use. Also, if you find that you're between sizes when you're measuring your body weight for your ski size, it's almost always better to go with the shorter length if you are still new to the game.
Ski width is usually a three-location measurement with most cross-country ski manufacturers. First, skis are measured at their tip or the widest point at the front part of the ski, then the waist, which is the narrowest part in the ski's center, and last, the tail found at the back of the ski. The hourglass shape made by most ski designs is known as the sidecut, and the three-point measurement of skis helps determine how this sidecut will appear.
The middle, narrow point of the ski, or the waist, sometimes has two parts dedicated to it on the ski and features a broad center. Skis made like this are designed to support ski boots.
If you're going to be hitting groomed tracks and trails when you ski, then you'll want the tip of your ski to be no wider than 70mm, which is the maximum width of ski tracks. Also, you'll want a small sidecut so that your skis can move along on a straight path more easily. If you are considering race and performance skis, remember that they'll be narrower than touring skis. Metal-edge touring skis should have a good width and an average sidecut so that you can glide well and turn easily.
If you're a skier that likes a lot of variety and wants a versatile ski that can cover everything, in-and-out-of-track skiing, then get a touring ski that's 65 to 70 mm and doesn't have metal edges. Or, you can get a narrow metal-edge touring ski. Either one of these ski types has a lot of versatility in the design.
Frequently Asked Questions
q:

What are some different characteristics in skis that can affect their performance?

a:

First, the width and weight of your skis will matter if you care about your ski velocity range. The base material's quality can also affect your speed. However, you'll also want to consider the camber or flex of your ski when figuring out how you'll be skiing, and whether you want a single or double camber.

Probably the most important thing you'll want to look at is your skill level when you're looking at characteristics that can affect how your crosscountry skis perform. Beginner skiers usually ski with their weight on the back while learning the sport, while an expert skier will put the weight forward.

With that in mind, a beginner skier is going to "kick" a ski differently than an expert will since an expert will get a lot more kick power with less effort (Remember that "kick" means pushing against the snow and compressing the camber to spring the ski back into its shape so you can glide more quickly).

Now, recreational skis are typically easier to kick and control and can work well for beginners but also limit how and where you'll be skiing. Also, if you know you'll be skiing a lot and are likely to improve quickly, you might want something else besides a recreational ski so you don't have to spend money on yet another pair of skis.
q:

What is the difference between XC skis and Alpine skis?

a:

Downhill skiing and cross country skiing require two different types of skis, as well as poles. When skiing cross country, you need to have more control of your range of motion. This means that XC skis are only attached to the toe, unlike Alpine skis that affix to your entire foot. To maintain control, these designs are a lot shorter, heavier, and stiffer than downhill skis.
q:

Should I buy skis for my current or goal skill level?

a:

You don't want to buy expert skis when you've never skied before and have quite a bit of learning to do. But, you do need some room for growth, and as long as you are realistic about that growth, you should consider purchasing a pair of skis that will help you learn.

If you're up to the point where you've got some skill and can handle yourself well enough to get around, you might want to consider racing skis. Racing skis are not that hard to use, and you can put wax on them if you have issues with grip. Plus, they're the types of skis that will grow with you.
q:

Can I wax my skis at home?

a:

Yes, you can wax your skis at home. Without wax, your skis will not glide easily. The process can be quite tedious, but it is possible.
q:

How long should my poles be?

a:

Don't forget about your poles! Unlike the Alpine pole, XC poles are slightly longer for a good reason. These poles are not only used for balance, speed, and maneuvering, but they also help you set the speed. That means they need to reach a little farther behind you than downhill poles.

So, how do you know what size is right for your body type? Measuring the right size is pretty simple. Measure the length from the ground to the base of your nose and that is the size that you need. If you inherited your poles or picked them up at a yard sale, you can cut them to fit your body type as needed.
q:

Where can I buy crosscountry skis?

a:

The availability of skis in your town is based on a few factors. Many local sports stores don't offer ski equipment because there is only a brief window each year where people buy them. For these stores, it is more cost-effective to sell them online. If you want to stick to your area, be sure to check out thrift stores, yard sales, and used sporting goods stores. Just keep in mind that used gear may not fit your body type as it should.

For gear that is made for your body type, frame, and weight, online is the way to go. Many manufactures provide detailed sizing charts so you can easily make the measurements to get the right size for you. Plus, with guides like ours, you can ensure that you are buying the best of the best!
q:

What should I wear when I ski?

a:

Without proper attire, your day on the slopes can be everything but fun and exciting. If you would prefer to stay at the lodge and sip hot chocolate, go ahead and skip this paragraph.

Let's start with base layers. A good skiing base layer will add a layer of warmth, be moisture-wicking, and comfortable. Wool is one of the most popular materials for a base layer because it is a great insulator and naturally wicks away moisture. There are also synthetic options available.

Depending on your ability to handle cold weather, you may have a mid layer, or just wear outerwear. Your outerwear should be durable, breathable, and waterproof.

Many outerwear options come with layers. There is sometimes an inner, warm, insulating layer that can be removed. This is a great feature to add extra warmth.
Subscribe to our Newsletter