Best Crosscountry Skis – 2021 List
In a
Hurry? Editors choice: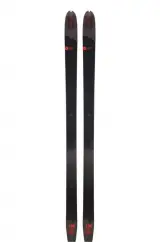 Test Winner: Rossignol BC 80

Crosscountry skis are a little bit different than your
standard skis
. Due to the fact that you are propelling yourself forward, they need to be shorter and stiffer than Alpine skiing. We wanted to select designs that are made from high quality and durable materials that hold up incredibly well season after season. While the sport hasn't changed much in 100 years, the gear has improved a good deal. We selected current designs from trusted brands that are ideal for novices as well as veterans. Whether you want to hit top speeds or simply take in the scenery, we have you covered.
In the guide, we have provided a list of some of our favorite crosscountry skis to help you get the most out of the snowy season.
Standout Picks
Criteria Used for Evaluation
Materials
When trying to determine what type of skiing you want to practice and what skis you'll need, you need to consider where you'll be skiing, and what the conditions will be like. Depending on this, the material of the ski is important.
If you prefer more on-track ski then you can opt for touring skis or race and performance classic skis. If you're a beginner hitting the ski tracks, you're probably better off with touring skis, since race and performance classic skis require more advanced skills and better technique.
If you're planning on going out off-track and hitting hard terrain, then you'll need some metal-edge touring skis.
Features
Cross-Country Ski Camber
You'll want to look at the camber, or the bow of the ski on your cross-country skis. Typically, cross-country skis are manufactured with a Nordic or double camber that features two different parts.
The first part of the camber helps you when you have equal weight on both skis when gliding down a hill. When you do this, the ski's "grip zone," or waist area stays arched upwards off the snow so that you can travel downwards more quickly.
The second part of the camber helps you when you put all of your weight onto one ski, and you flatten your ski against the snow for extra grip and traction before your kick forward. At this point, the ski is focused more on the grip than balance or movement.
Most crosscountry ski manufacturers design skis with both types of camber features, but some metal-edge touring skis do come with a single camber, making the arch more gradual at the center of the ski. Skis that have a single camber help equalize weight better over the whole ski base, making it easier to turn well.
When you're looking at the camber features on your crosscountry skis, you're likely to find that options feature double cambers, and this usually works just fine for what most skiers want to do. If you do plan on purchasing metal-edge touring skis and want to do more hardcore off-trail skiing, then you might want to consider that single camber.
Cross-Country Ski Flex
Another criteria point you'll want to consider when evaluating your skis is their flex, which dictates how well your skis will turn and how fast they'll move. Soft-flexing cross-country skis help you grip for better turning capability on softer snow and if you ski at slower speeds. On the other hand, a stiff flex works well when snow is firm and you're moving at high speeds.
If you know where you'll be skiing, how quickly, and what the snow will be like, then that can help you determine what type of flex you want in your crosscountry skis.
Ride
All components come together to create a smooth ride - shape, length, and materials. One thing that stands out on a smooth ride is how well waxed the skis are.
Waxless skis
These skis are very popular on the market since they give you grip. Waxless skis don't use kick wax to help you with your grip, but instead, have a textured pattern in the middle are of the ski. Even though waxless skis typically state you don't need to apply glide wax, they still perform better on hard terrain when you do.
Waxable skis
Waxable skis get grip from using rub-on kick wax that's placed on the middle area of the ski. You'll get great glide out of these skis and excellent grip.
Subscribe to our Newsletter