Best Trekking Poles
In a
Hurry? Editors choice: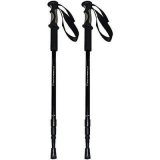 Test Winner: BAFX ANTI-SHOCK

When it comes to hiking there is much gear to be considered and with limited space, you have to make sure that the gear you are bringing will help you on your journey. If you have been hiking before and found that it took a toll on your legs or back and you wish you could have had a bit more support on your next
hike
, you may want to look into investing in a trekking pole. A trekking pole's purpose is to offer more stability and support and to let the rest of your body take a break instead of holding a majority of your body weight. If you have decided that you have the room and could use the extra support on your next adventure, then the
trekking
poles below may be a great addition to your gear.
Standout Picks
Criteria Used for Evaluation
Use
Hiking or trekking poles provide a wide range of potential services to their users. They can be used to provide extra support after a back or leg injury. They can also provide more stability for those with balance problems, or hikers navigating the unfamiliar and uneven terrain. They can also be a great way to shift the extra weight that comes from backpacks and equipment off more susceptible joints like knees and hips.
Because of the wide array of uses, hiking poles come with a lot of different features and types. Therefore, it is important to consider exactly what your purpose will be in using them. Are you a weekend hiker who enjoys leisurely strolls through the forest or the park? Chances are then, a basic yet sturdy model such as the Hungry Hiker or the Bafx Products Anti-Shock pole would be more than enough for your needs. Do you expect to go into the mountains and have the need to handle steep inclines, loose stone, or dirt? Then it might be best to get something with a bit more stability and weight to offer support when you need it most.
Ideal choices for that situation might include the Black Diamond Trekking Pro Shock or the Leki Micro Vario Ti Cortec options. And finally, if you're looking for something that can help you in a wide array of situations, from everyday use to extreme mountaineering, something that has good construction, is easy to use, and will support your weight is an invaluable choice. In that case, the MSR Talus TR-3 or the Black Diamond Carbon Alpine Carbon Cork are great choices.
Value
When hiking or trekking poles are purchased, an investment in the health and well-being of a person's joints is made. However, the overall value and price of the poles are certain factors to consider. Hiking poles can range in price greatly, and their quality and features are sometimes reflected in the overall cost.
So in order to determine the best value, we looked not only at the overall quality but whether or not the poles were affordable to most. Hiking poles, or trekking poles as they are sometimes called, can be a serious investment. It is possible to spend anywhere from $20 to $300 on a pair of quality poles. How much you spend is greatly dependent on what your needs entail and what your budget dictates. There are quality examples in every price category, but in most cases, poles that cost between $100 and $150 per pair serve most people's needs. However, if you require things such as shock absorbing technology, extra cushioning, or replacement parts, you may need to spend a little bit more.
Overall most trekking poles will serve the same purpose, the differences that you will find between different branded trekking poles is durability and extra features. So when you are shopping around for a new set of trekking poles, go into your shopping adventure with a budget in mind. That way you know how much you want to spend and will end up with a quality pair of trekking poles that did not bring you over budget and will last you many seasons to come.
Durability
Like most products designed for outdoor use, the quality of the construction is extremely important. In order to provide years of service and use, the materials used need to be top-notch, and the construction details need to be of high quality to withstand potentially rugged use and abuse. Just like the price, the quality and materials used in hiking poles can vary widely, and each has its advantages depending on how they are used, and in what environment. In this list, we have attempted to provide the reader with a wide array of quality choices that we feel would serve reliably based on their quality construction and the materials used.
Overall when you invest in a pair of trekking poles, you want to make sure that they will hold up in any wilderness situation you throw at them. The point of trekking poles is to make the stress of hiking on your body easier and for the trekking poles to take a majority of the stress. This is why durability is quite important as the last thing you want is to be out in the middle of the woods and your pole snaps and breaks and could possibly put you in harm's way. This is why it is important to check the customer reviews to see how the trekking poles held up for other customers that put them to the test.
Weight
When it comes to hiking or trekking poles, their overall weight can, and does make a huge difference when it comes to ease of use and comfort. The last thing that a hiker or an outdoor enthusiast needs or wants is a hiking pole that hinders instead of helping because of the weight. In most cases, a good hiking pole is one pound or under, but some of the heavier ones do have added features such as larger, more comfortable grips, a shock absorbing technology, and wider, more sturdy shafts that can add to the ease of use. Depending on the needs and desires of the hiker, the overall weight of the poles can be a deciding factor in which product to purchase.
This is such an important factor to consider as if you are planning on taking these poles backpacking you want to ensure they are lightweight and can be easily transported. When backpacking every pound counts, so make sure that when looking for trekking poles, they are a weight that you can afford to bring with you.
Subscribe to our Newsletter