Best Running Leggings
last updated:
Feb 08, 2019
Are you the type of person who scoffs at someone when you see them wear leggings? Chances are, you have seen mostly women wearing them in public. While they can be used as a fashion statement, oftentimes revealing a little too much and bordering on inappropriate, their designed purpose is more than just to accent the wearer's buttocks. Instead, most running leggings will actually offer performance enhancements due to their compression and can even offer aerodynamic advantages. Each pair you see will be different and you need to ensure that the model you select will live up to your standards. In order to accomplish this, you need to be fully aware of what you need to look for. Indeed, that is why you are here today but, first, let's take an in-depth look at some of the best brands currently on the market.
This is the best product on our list that is currently in stock: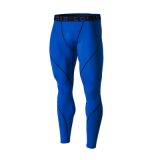 TSLA COMPRESSION PANTS
Why is it better?
They are designed for all seasons
The material is made of non-abrasion fabric
Will safeguard your skin against UV rays
In a
Hurry? Editors choice: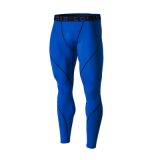 Test Winner: TSLA COMPRESSION PANTS

3
Researched Sources
24
Reviews Considered
3.25
Hours Researching
16
Products Evaluated
Overall Fit
Comfort
Breathability
Durability
Color
By Default
OUR TOP PICKS FOR THE BEST RUNNING LEGGINGS
Criteria Used for Evaluation


Overall Fit
Though these types of tights are designed to fit snug, they still need to fit you in a certain way in other areas.
In general, finding clothes that fit you correctly should be priority number one. However, this need is so much greater when you are purchasing running leggings. The main reason why is these are designed to deliver optimal performance and they are not merely a fashion statement or a random article of clothing that you wear. To provide all the performance and athletic benefits of compression gear, these tights will be designed to fit snug. This much you should expect but, at the same time, they should not be so tight that they begin to restrict your circulation.
Additionally, though, you need to pay attention to the length. Most of the time, you will not be able to directly select a length and it will be fixed. If you invest in a pair that is too long, you can get away with it a bit with a gather at the bottom. However, if they are too short then you may be left with exposed ankles. Also, do not forget about the design of the fastening system. To ensure a personalized fit, look for an elastic waistband that sports a drawstring or drawcord.


Comfort
Most users prefer wearing leggings because of their comfort but not all models will be equal in this area.
It goes without saying that the comfort is going to be a game changer here. With any type of article of clothing, it is going to be and here it is no different. The good news is there are some very specific features that you can look for that will enhance the comfort of any pair of leggings. To begin, you pretty much want to make it mandatory to select tights with flatlock seams. Without these types of seams, chaffing and irritation can result. Oh, and speaking of chaffing and irritation, it is also important to look for models that implement four-way stretch fabric. Not only is this going to enhance the comfort but it is also going to increase the flexibility and your overall range of motion.
Of course, you can also not forget about the blend of fabrics. Typically, you will see a blend of elastane (or spandex) and common materials such as polyester. In this case, the elastane delivers the stretchiness while the polyester delivers the durability and comfort.


Breathability
Nothing is worse than clothing that absorbs moisture so look to avoid that here.
Though this is the third criterion that is going to be documented, you can easily make the claim that it is the most important. It may end up barely losing out to both the fitting and the comfortability but the breathability is not to be underestimated. It is only natural that when your body begins to move at a frantic pace for extended periods of time, it will begin to sweat. This is going to happen when you run, even if the conditions are colder, and it means the leggings you wear need to be breathable.
The question then becomes, how can you ensure the option you select is breathable? There are two main design features to look out for and the first is side mesh paneling. With this implemented, airflow will be allowed to play a role. Secondly, the fabric that is utilized should be able to wick away moisture from your skin. This is essential because if moisture is allowed to build up, the article of clothing you are wearing will become drenched in sweat.


Durability
This one is simple; do you really want to buy a pair of tights that will last a few weeks?
It does not take a rocket scientist to understand that consumers prefer to invest in products that are going to be designed to last. So, why should running leggings be any different? The simple answer is they are not and they should be designed with high-quality materials. You typically need to analyze the denier count when attempting to assess the durability of any types of fabric. In this case, though, the material is not typically engineered to be thick. That being said, there are models out there that sports fabrics that are a little bit too thin, admittedly. There is a fine line between too thick and too thin and the best designers will find that happy medium.
You can also use the price to gauge the durability, but that is not always a telling factor. The best step you can take is to read through user feedback. If several previous buyers have commented on longevity issues, it may be the red flag you need to pass on that particular pair of tights.


Color
As simple as it may seem, the color can change your entire perspective about the model you are currently looking into.
At this point, you are probably pondering yourself an interesting question. That question is probably, more or less, how important can the color really be? In regard to performance benefits and enhanced comfortability, no, the color is not going to change much. With that being said, no one can deny that it will always come to the forefront with garments of any kind. It is best when manufacturers design their tights in multiple colors. This gives you more of a variety and it allows the model to appeal to more consumers. It is a brilliant marketing strategy when you think about it.
But, there could be a little more too it. If you intend to run in the morning or during the evening, you may want a pair of tights that allows you to be visible. This can be achieved with reflective zones but it can also be assisted with bright colors.
Expert Interviews & Opinions
Most Important Criteria
(According to our experts opinion)
Experts Opinion
Editors Opinion
Users Opinion
By Default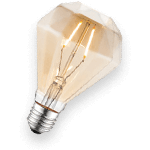 Overall Fit
There are certain articles of clothing that are specifically engineered to fit snug. Well, it is safe to say that running rights are much like this. Indeed, they need to fit snugly in order for you to reap the benefits of the compression performance. However, they should still not fit too tightly and should also be an optimal length. Without question, this should be your top priority right here.
Comfort
Even if a certain model fits you perfectly, it still may not be comfortable. Typically, sizing and comfort go hand-in-hand and that is present here, admittedly. Yet, still, there are other factors beyond the fitting that will enhance the comfort. For example, you want flatlock seams and four-way stretch fabrics. Both of which will significantly eliminate the chance of irritation and chaffing. And, clearly, this is only going to make the experience all that much better for you.
Breathability
Oh boy, now you want to talk about a true game changer? If you are not a fan of clothing that absorbs moisture instead of wicking it away from your skin and clothing that does not have ample airflow, then you need to ensure that the pair of tights you invest in are breathable. During your running regimens, you are going to sweat. There is no way to get around this and when you sweat, it means your clothing can quickly become overbearing if it is not breathable.
Frequently Asked Questions
q:

When should you use compression?

a:

Most would simply assume that you should only wear compression gear when you are actually working out. Well, while that is an ideal time to wear it, you can also wear it beforehand. What this can do is prepare your muscles for a big race, for example. Without going into full detail, compression tights can accelerate the warm-up process and reduce your risk of injury. Of course, as mentioned, wearing them during your workouts and runs will be beneficial. One of the main things they will do is reduce your muscular vibrations while you run and this will lessen the chance of injury and increase your overall performance.
q:

Should you wear underwear under compression?

a:

In regard to if wearing underwear will limit the performance of your running leggings, no it is not going to. You do need to remember that this article of clothing can be a little revealing. However, it is really up to you and if you do not feel the need to wear undergarments underneath your tights, then do not. On the contrary, if you do feel the need, you may want to invest in some sports underwear. With normal cotton underwear, the ability to wick away moisture will not be present. Ensuring that each and every one of your layers wicks away moisture will only enhance the comfortability of your runs.
q:

How do you put leggings on correctly?

a:

Does this seem like a completely ludicrous question to ask? For some of you, the answer may be yes. Here is the deal, though; running leggings are not ordinary pants that you simply put on. In order for you to achieve maximum support and comfort, you need to ensure you use them correctly. Some experts will even suggest sitting down while you are putting them on. What you really need to focus on are the support lines. Using both hands, slowly begin to roll the leggings up your legs. When doing so, ensure that the support lines are aligned symmetrically on both sides. Also look at the kneecaps as if there are too many wrinkles, the tights are not fitting you correctly. To wrap it up, you can adjust the waistband as you see fit.
q:

Any wash and care instructions?

a:

Anytime you are dealing with performance gear and athletic wear, you need to be a little wary on how you wash them. In this case, you want to do so carefully in order to protect the fabric. That does not mean that you can't use a washing machine as you can. However, if you do, then you should use warm water and like colors. Also, avoid using bleach when you wash them. In regard to how you should dry them off, it is better to allow them to air dry. Oh yeah, and avoid ironing them.
q:

Will washing these less prolong their usefulness?

a:

In a weird way, the philosophy that is alluded to in this question can make sense. After all, it would make sense that the fewer times you wash your tights in a rigorous washing machine, the less likely that they would become damaged in some way. You need to throw this philosophy right out the window. The reality is the compression profile of any pair of running tights can be negatively affected by both body oils and dirt. So, it is recommended to wash them as often as you use them. Additionally, they will begin to give off a potent odor if you do not.
q:

How long can compression tights be worn?

a:

If you are thinking that there is some detailed duration of how long you should be wearing compression gear of any kind, really, then think again. The reality is, this type of athletic wear can be worn for as long as you wish. That is, granted it remains comfortable then you can keep on wearing them. Now, if the compression is very extreme (exceeding 30mmHg) then you may not want to wear them casually (unless you have chronic circulatory problems).
Subscribe to our Newsletter