Best Tent Poles
In a Hurry? Editors choice: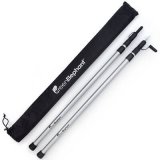 Test Winner: Green Elephant

They're the bones of our shelter in the
outdoors
and give a
tent
its shape, tension, and basic strength, but we rarely think beyond what we're given. They'll do the job, and aren't as important as the waterproofness, space inside and how many
lantern
hooks you have, right? A good quality tent or tarp pole can be anything from a lightweight alternative to your savior in a bending or breaking emergency. Whether you need to replace or fix your tent, or set up and all-important tarp shelter over the porch, you'll need a strong pole, which fits with your other equipment, and holds up under pressure. Go pole to
pole
with our range of picks and get to know what's holding you up, or possibly bringing you down.
Standout Picks
Criteria Used for Evaluation
Size
Much of the importance of size will depend on the function of your tent poles. If they're for replacing and fixing, they'll need to fit your existing tent or poles. They come in a wide variety of materials and sizes, so do make sure you check this carefully. If you're using the poles for a porch or awning, you'll also need to make sure that the poles extend to the right height to be useful, especially if you're planning to stand at full height underneath your structure.
The other consideration when it comes to size is how the poles can be packed. Whether telescopic or collapsible, all poles will start out or fold into a smaller size. This is really worth checking, and perhaps even comparing and testing, especially if you're planning to backpack or trek with your poles. Whatever you're using them for, ensure that when compacted, the poles will fit where you need them to. Most of camping is about traveling, so the poles need to be able to transport well.
Materials
While most original or provided tent poles are made of fiberglass, most replacement pieces and separate tarp poles are made of aluminum or steel. Fiberglass is strong but heavy and can break under pressure. It can also be hard to fix. However, an aluminum replacement piece can be slotted in to replace a broken fiberglass section, whilst leaving the rest of the pole as fiberglass – there's no need to match the material, just the length, and dimensions.
Aluminum or aluminum alloy is light yet strong. High-end dome and lightweight hiking tents have flexible alloy poles. Not only are they lighter, but more reliable than fiberglass. These can't really be fixed when they break, but it's easy to replace a section, as with fiberglass poles.
Steel is heavy but durable. If anything, you're more likely to see freestanding solo structures featuring steel poles. It's usually cheaper and can take more of a battering.
Flexibility
Fixing and fastenings are most important on free-standing poles. Tent poles, by design, need to be flexible, so typically have a piece of smooth metal or a tube which covers the join of two ends of a pole to connect them, but doesn't extend far down them to retain their movement. A tarp or standalone pole needs to lock fairly straight in order to support the weight.
Some poles are telescopic, although this is less common. This means that they remain one unit, and the length simply extends out of the base. Sometimes you can adjust this by not extending the pole fully and fixing it in place. Mostly, these poles come in pieces and are slotted together and then fastened. A push-button fastening is common, but these can weaken over time, or be difficult to click fully. Another type is a knob that screws the sections together. This can be reassuring as you can control the tightness. A twist and lock mechanism is more usual with telescopic poles as they are wrap around the outside and control the extension of the pole in sections.
The fastening method isn't the most important feature to consider, and it's unlikely it will be the deciding factor. You're much more likely to go for the material, weight and variable length, with the fixings only really important if you know you need something extra-tough.
Weight
Weight is often an important issue when considering camping gear. Weight is related to the material in that steel is heavier than aluminum as mentioned, and fiberglass is midweight to heavy.
Weight may or may not have a bearing on your decision. If you know that you need to carry your gear for a while, you might want to bring the lightest possible repair or replacement poles. It's also unlikely that you'll be carrying freestanding poles, so don't need to worry about weight there. If you're only worried about repairs, why not consider small, short replacement tubes. They slip over two ends of a section and join them – no cutting or rethreading needed. Some weight-conscious travelers may even replace all the poles of their tent for lighter aluminum ones when they're not broken.
Top 10 Picks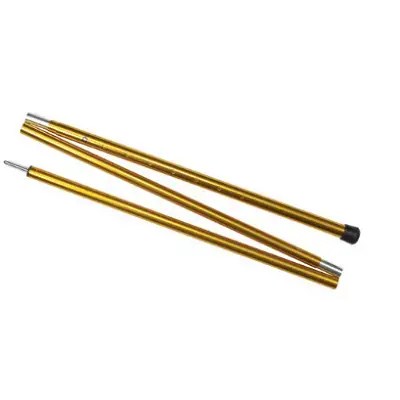 Kelty is a well-known name in the outdoor gear world, and these poles are versatile, strong and adjustable. Kelty has been around for more than 60 years, and take a fun and practical approach to developing their range.
Read more
Weight
1.6 lbs
Material
Aluminum
Length
Between 80 and 99 inches. Be aware that if trekking, they will stick out of a 60-liter backpack as they pack down to around 29 inches.
Durability
The Kelty is strong and can handle a large canopy in adverse conditions. It can handle hammocks, heavy tarps, clotheslines, etc. Predictably, they work well with the Kelty Noah tarp.
Adjustability
Length can be varied by almost 20 inches using a push-button.
Mechanism
Uses a 2-inch grommet pin tip, which is relatively long and so creates a secure attachment. There are some sharp edges, but the ends have rounded rubber feet.
Summary
They're the poles that fans buy again and again - a trusted go-to. They come with their own carrying case and hit all the bases. Although not the cheapest poles, it's worth it, and they're not so prohibitively expensive that you couldn't buy a few.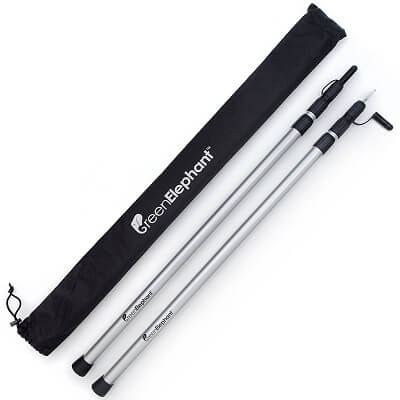 These poles look like they mean business, with slick and user-friendly features which will make you feel confident in whipping them out whenever you need a semi-permanent structure.
Read more
Weight
The poles come in a set of two and weigh 17 oz each.
Material
Aluminum alloy, which explains the lightweight.
Length
The poles pack down to around 31 inches, so will be slightly too large to be carried in a 60-liter backpack without sticking out.
Durability
The Green Elephants come in their own carry bag and impressively have a rust-free guarantee. Each one can support more than 85 lbs! They don't flex or bend, with no lateral movement when locked, holding an awning tarp for four days in fairly severe conditions.
Adjustability
They can get as tall as 7 feet 6 inches, and have three easy to use adjustment points and so three lengths, the smallest being their packed size of 31 inches, around 3 feet.
Mechanism
1.5-inch grommet pins and twist-lock adjustable points. One feature we like is the small plastic tip covers to prevent the grommet pins tearing fabrics when in use or not, as well as rounded rubber feet.
Summary
Green Elephant really care about their products, and about their customers if you make a purchase. These poles look great, hold weight, are super-tall and overall do the job. They're also great value for money as a set of two.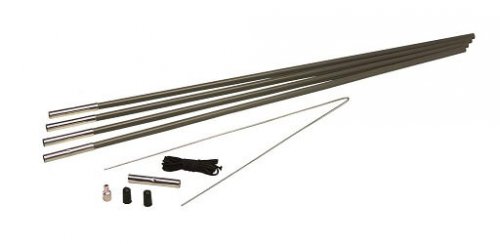 This product from Tex Sport represents the other major market for tent poles - repairs. They're durable, easy to use and have everything you need. Tex Sport is another long-established company dedicated to bringing you an authentic experience.
Read more
Weight
Less than 1 lb for the whole kit.
Material
Fiberglass and zinc-coated ferrules.
Length
The set comes with four poles, each of around 25 inches each. Overall, there are 7 feet 16 inches of replacement pole in the kit.
Durability
They work well, replacing poles on various brands of tent, and standing up to the challenge.
Adjustability
They're not adjustable in and of themselves, but the relatively versatile length of 25 inches means that they're a useful length for most repairs, but shouldn't need to be cut too much if you need smaller pieces.
Mechanism
The kit comes with the poles, the ferrules, vinyl coated pole caps, grommet tips, 10 feet of elastic shock-cord and a 29-inch leader wire.
Summary
The Tex Sport set is everything you need, and at a very reasonable price.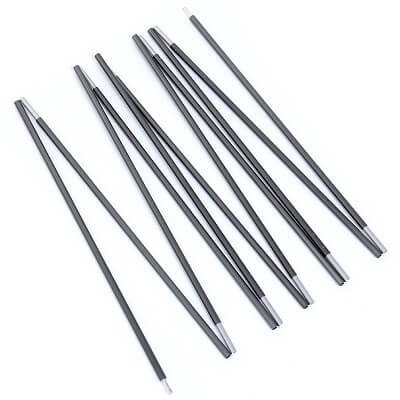 WEANAS are a US-based company which provides a range of home, sports, and outdoor equipment. These poles are thinner and look more like traditional tent poles, fitting together end-to-end.
Read more
Weight
Just over half a pound each (set of two), which is lightweight and easy to carry.
Material
7001 series aluminum. This is the highest yield strength before the pole bends or breaks, so these poles are stronger than they look!
Length
They come in six lengths ranging from 11 feet 3 inches to 20 feet.
Durability
These poles are so strong and durable, some users actually replace the fiberglass poles which came with their tents. You can of course just use them as a repair kit, but if you're confident of the measurements you need, they might enhance your existing tent and reduce the weight.
Adjustability
They're not adjustable, but come in sections of 13.5 inches, so it's unlikely you'll need to cut them, just cut and rethread the cord through as many sections as you need.
Mechanism
Smooth connectors and shock-cord threaded through the poles.
Summary
These great replacement poles aren't just for repairs but are easy to use if you do need them for that, as they look and behave like traditional tent poles. They also come with a 12-month warranty.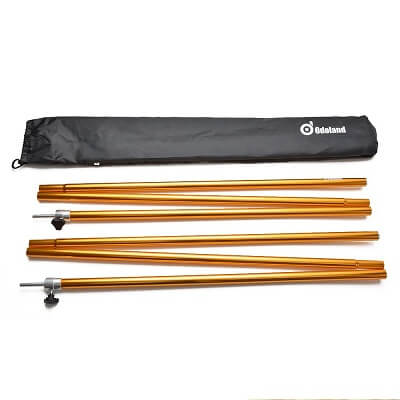 Odoland is a newer, web-based brand. This makes their products low cost and efficient. These adjustable poles are for propping up a tarp, tent porch, hammock, and awning or any outdoor structure.
Read more
Weight
1.8 lbs for two, which makes them very reasonable to carry.
Material
Aluminum alloy
Length
Folded and collapsed, the pole sections are just under 27 inches.
Durability
They're strong and work with most structures, but we recommend a guyline to avoid bending. However, they do hold up well in a strong straight wind storm.
Adjustability
There are three sections and aren't adjustable, but when put together each measures 8.2 feet.
Mechanism
These poles use a twist bolt and screw to fasten each section, which is an unusual fixing method. The core is elastic paracord. They can be difficult to collapse after being used.
Summary
The Odolands are a good, standard pole, with a reassuring twist mechanism so you feel confident that you've secured them. There's a carry bag too.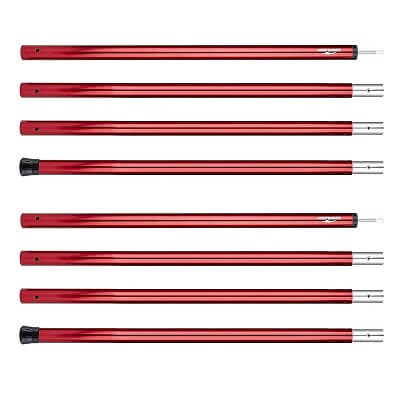 Apart from being a stylish red, the Soomlooms are a set of two sturdy poles, which each have four sections for a wide range of heights.
Read more
Weight
1.5 lbs for the set of two, which is heavier than some.
Material
Lightweight aluminum
Length
Each section is around 25 inches.
Durability
Great support, holding up a tarp in eight hours of steady rain. The red also helps with visibility and safety on the campsite.
Adjustability
They're not adjustable themselves, but the four lengths can be used alone or together to make up a full length of around 7.8 feet, in 25-inch sections.
Mechanism
Fix together with a spring-lock and push-button mechanism. There are grommet pins and rounded rubber feet for protection.
Summary
Although mid-range in price, they're popular with fans and are a classic repeat buy. The Soomlooms are sturdy and come with their own storage bag.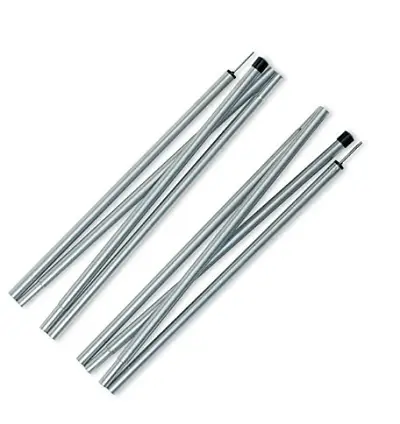 Less commonly used because of its weight, steel is nonetheless a strong material for supporting a structure. Mountainsmith is a well-known and trusted tent brand, which works in their favor with these poles.
Read more
Weight
1.65 lbs for two
Material
Powder-coated steel, which means it's got a protective skin which is factory-applied and becomes integrated with the material.
Length
They're thin, at a ¾ inch in diameter, and only 22.5 inches when collapsed, which make the Mountainsmiths some of our most compact poles.
Durability
As expected with this treated steel, they weathered heavy rain and thunderstorms with no problem. The inner shock cord is also steel-woven.
Adjustability
They're collapsible, not adjustable. The four just over 20 inch poles can be put together to reach 6.8 feet.
Mechanism
They fix into each other in overlapping sections. This is a bonus on some push-button models which can weaken and fail over time.
Summary
Mountainsmith's hallmark is durability, and that's what these poles are all about. They're mid-range in price, but for a strong set of two, it's worth it. They also come with a stylish carry bag.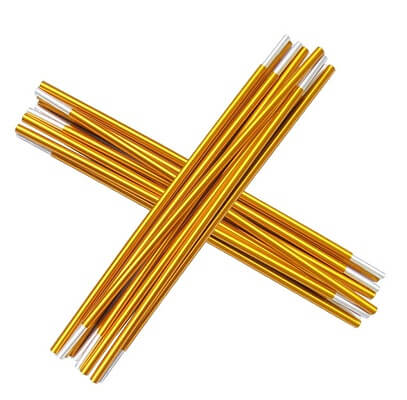 Deruicent isn't well-known, but they scored well for their lightweight and durable poles. These can be used as full replacements or repairs out on the road.
Read more
Weight
1 lb for two.
Material
Aluminium alloy resistant to corrosion.
Length
Each of the 11 sections is 15.7 inches each, so pack up to be very small. The diameter is also only 0.3 inches.
Durability
As well as the corrosion-resistant material, the lightweight and versatility mean that they can replace your existing poles if you're looking for a lighter weight overall. The shorter pieces also mean that they're not as vulnerable in the wind as one long piece can be.
Adjustability
They're adjustable in length by sawing or cutting the poles and bungee cord. Otherwise, they collapse easily like a regular tent pole. Completely extended, the poles reach 13.3 feet.
Mechanism
The joins are covered joins, to which an anodizing process has been applied for smoothness.
Summary
These poles have a supreme overall length and so will work with a lot of sizes of tent if you do want to completely replace your poles. In general, they would work for a 3-4 person tent. They're super-thin yet strong and lightweight for carrying.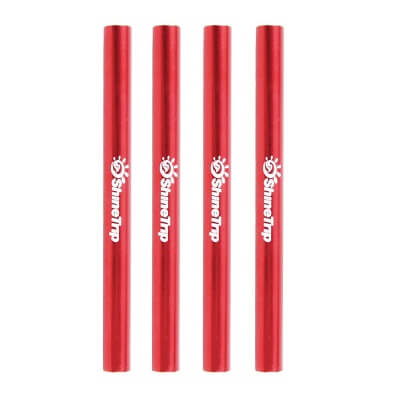 The TRIWONDER kit is short pieces for repairing and strengthening specific sections, rather than whole poles for a structure or replacement parts. For some, this will be all that's needed and all that you want to carry.
Read more
Weight
Each pole piece weighs 1.4 oz, so overall they're nothing to carry as a four.
Material
Aluminum alloy, which contributes to the low weight.
Length
Each piece is just under six inches long and 0.43 inches in diameter. As they are designed to slip over but fix securely around your poles to work properly, check all your measurements carefully to make sure they'll be effective.
Durability
They work perfectly for their purpose, repairing poles for the long term, not necessarily just a quick fix until you can replace the pole entirely or find a permanent solution.
Adjustability
Not designed to be adjustable, and at their short length, they shouldn't need to be cut down. They're thin enough that you could without too much trouble, but beware of compromising the support provided to the original pole; a small link could put pressure on the join and make it vulnerable.
Mechanism
They work pretty simply as hollow tubes which slip over the two ends of your broken poles to connect them again.
Summary
The TRIWONDER kit is cheap, compact and easy to take on a long journey. If you need a fix and don't want to be measuring and cutting, this four pack is ready when you need it. We thought it was a worth inclusion in our list as an alternative to tent poles.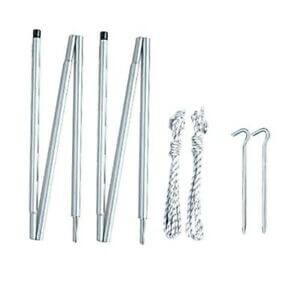 While Snow Peak isn't a pole-only brand, they do specialize and pride themselves on being an authority in these structural supports. While by no means cheap, they're capable of holding a lot in tough conditions.
Read more
Weight
Three sizes of 1lb 9 oz, 2 lb 3 oz or 2 lb 6 oz each - so they're certainly heavier than most.
Material
Aluminum
Length
The Snow Peaks range from 6 feet 11 inches to 9 feet 2 inches, so begin to justify that weight as great sized poles.
Durability
They worked well and held up a 12 x 12 feet tarp in a strong wind.
Adjustability
Depending on the overall length, each pole has four sections. They're not adjustable but are modular in that they can be used in up to three lengths.
Mechanism
A classic push-button, with a rubber foot on the base pole and grommet pin on the top one.
Summary
A sturdy, well-made, tall pole which does the job. They are our most expensive pick, but Snow Peak is a brand worth the money.

Subscribe to our Newsletter