Best Tent Poles
In a
Hurry? Editors choice: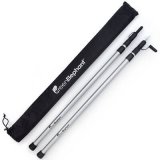 Test Winner: Green Elephant

They're the bones of our shelter in the
outdoors
and give a
tent
its shape, tension, and basic strength, but we rarely think beyond what we're given. They'll do the job, and aren't as important as the waterproofness, space inside and how many
lantern
hooks you have, right? A good quality tent or tarp pole can be anything from a lightweight alternative to your savior in a bending or breaking emergency. Whether you need to replace or fix your tent, or set up and all-important tarp shelter over the porch, you'll need a strong pole, which fits with your other equipment, and holds up under pressure. Go pole to
pole
with our range of picks and get to know what's holding you up, or possibly bringing you down.
Standout Picks
Criteria Used for Evaluation
Size
Much of the importance of size will depend on the function of your tent poles. If they're for replacing and fixing, they'll need to fit your existing tent or poles. They come in a wide variety of materials and sizes, so do make sure you check this carefully. If you're using the poles for a porch or awning, you'll also need to make sure that the poles extend to the right height to be useful, especially if you're planning to stand at full height underneath your structure.
The other consideration when it comes to size is how the poles can be packed. Whether telescopic or collapsible, all poles will start out or fold into a smaller size. This is really worth checking, and perhaps even comparing and testing, especially if you're planning to backpack or trek with your poles. Whatever you're using them for, ensure that when compacted, the poles will fit where you need them to. Most of camping is about traveling, so the poles need to be able to transport well.
Materials
While most original or provided tent poles are made of fiberglass, most replacement pieces and separate tarp poles are made of aluminum or steel. Fiberglass is strong but heavy and can break under pressure. It can also be hard to fix. However, an aluminum replacement piece can be slotted in to replace a broken fiberglass section, whilst leaving the rest of the pole as fiberglass – there's no need to match the material, just the length, and dimensions.
Aluminum or aluminum alloy is light yet strong. High-end dome and lightweight hiking tents have flexible alloy poles. Not only are they lighter, but more reliable than fiberglass. These can't really be fixed when they break, but it's easy to replace a section, as with fiberglass poles.
Steel is heavy but durable. If anything, you're more likely to see freestanding solo structures featuring steel poles. It's usually cheaper and can take more of a battering.
Flexibility
Fixing and fastenings are most important on free-standing poles. Tent poles, by design, need to be flexible, so typically have a piece of smooth metal or a tube which covers the join of two ends of a pole to connect them, but doesn't extend far down them to retain their movement. A tarp or standalone pole needs to lock fairly straight in order to support the weight.
Some poles are telescopic, although this is less common. This means that they remain one unit, and the length simply extends out of the base. Sometimes you can adjust this by not extending the pole fully and fixing it in place. Mostly, these poles come in pieces and are slotted together and then fastened. A push-button fastening is common, but these can weaken over time, or be difficult to click fully. Another type is a knob that screws the sections together. This can be reassuring as you can control the tightness. A twist and lock mechanism is more usual with telescopic poles as they are wrap around the outside and control the extension of the pole in sections.
The fastening method isn't the most important feature to consider, and it's unlikely it will be the deciding factor. You're much more likely to go for the material, weight and variable length, with the fixings only really important if you know you need something extra-tough.
Weight
Weight is often an important issue when considering camping gear. Weight is related to the material in that steel is heavier than aluminum as mentioned, and fiberglass is midweight to heavy.
Weight may or may not have a bearing on your decision. If you know that you need to carry your gear for a while, you might want to bring the lightest possible repair or replacement poles. It's also unlikely that you'll be carrying freestanding poles, so don't need to worry about weight there. If you're only worried about repairs, why not consider small, short replacement tubes. They slip over two ends of a section and join them – no cutting or rethreading needed. Some weight-conscious travelers may even replace all the poles of their tent for lighter aluminum ones when they're not broken.
Subscribe to our Newsletter