Best Tent Poles
last updated:
Feb 10, 2020
They're the bones of our shelter in the outdoors and give a tent its shape, tension, and basic strength, but we rarely think beyond what we're given. They'll do the job, and aren't as important as the waterproofness, space inside and how many lantern hooks you have, right? A good quality tent or tarp pole can be anything from a lightweight alternative to your savior in a bending or breaking emergency. Whether you need to replace or fix your tent, or set up and all-important tarp shelter over the porch, you'll need a strong pole, which fits with your other equipment, and holds up under pressure. Go pole to pole with our range of picks and get to know what's holding you up, or possibly bringing you down.
This is the best product on our list that is currently in stock: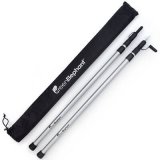 Green Elephant
Why is it better?
In a
Hurry? Editors choice: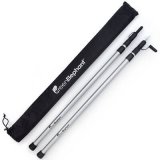 Test Winner: Green Elephant

12
Researched Sources
2.1k
Reviews Considered
15
Hours Researching
18
Products Evaluated
Size
Materials
Stability
Weight
By Default
Criteria Used for Evaluation


Size
Much of the importance of size will depend on the function of your tent poles. If they're for replacing and fixing, they'll need to fit your existing tent or poles. They come in a wide variety of materials and sizes, so do make sure you check this carefully. If you're using the poles for a porch or awning, you'll also need to make sure that the poles extend to the right height to be useful, especially if you're planning to stand at full height underneath your structure.
The other consideration when it comes to size is how the poles can be packed. Whether telescopic or collapsible, all poles will start out or fold into a smaller size. This is really worth checking, and perhaps even comparing and testing, especially if you're planning to backpack or trek with your poles. Whatever you're using them for, ensure that when compacted, the poles will fit where you need them to. Most of camping is about traveling, so the poles need to be able to transport well.


Materials
While most original or provided tent poles are made of fiberglass, most replacement pieces and separate tarp poles are made of aluminum or steel. Fiberglass is strong but heavy and can break under pressure. It can also be hard to fix. However, an aluminum replacement piece can be slotted in to replace a broken fiberglass section, whilst leaving the rest of the pole as fiberglass – there's no need to match the material, just the length, and dimensions.
Aluminum or aluminum alloy is light yet strong. High-end dome and lightweight hiking tents have flexible alloy poles. Not only are they lighter, but more reliable than fiberglass. These can't really be fixed when they break, but it's easy to replace a section, as with fiberglass poles.
Steel is heavy but durable. If anything, you're more likely to see freestanding solo structures featuring steel poles. It's usually cheaper and can take more of a battering.


Flexibility
Fixing and fastenings are most important on free-standing poles. Tent poles, by design, need to be flexible, so typically have a piece of smooth metal or a tube which covers the join of two ends of a pole to connect them, but doesn't extend far down them to retain their movement. A tarp or standalone pole needs to lock fairly straight in order to support the weight.
Some poles are telescopic, although this is less common. This means that they remain one unit, and the length simply extends out of the base. Sometimes you can adjust this by not extending the pole fully and fixing it in place. Mostly, these poles come in pieces and are slotted together and then fastened. A push-button fastening is common, but these can weaken over time, or be difficult to click fully. Another type is a knob that screws the sections together. This can be reassuring as you can control the tightness. A twist and lock mechanism is more usual with telescopic poles as they are wrap around the outside and control the extension of the pole in sections.
The fastening method isn't the most important feature to consider, and it's unlikely it will be the deciding factor. You're much more likely to go for the material, weight and variable length, with the fixings only really important if you know you need something extra-tough.


Weight
Weight is often an important issue when considering camping gear. Weight is related to the material in that steel is heavier than aluminum as mentioned, and fiberglass is midweight to heavy.
Weight may or may not have a bearing on your decision. If you know that you need to carry your gear for a while, you might want to bring the lightest possible repair or replacement poles. It's also unlikely that you'll be carrying freestanding poles, so don't need to worry about weight there. If you're only worried about repairs, why not consider small, short replacement tubes. They slip over two ends of a section and join them – no cutting or rethreading needed. Some weight-conscious travelers may even replace all the poles of their tent for lighter aluminum ones when they're not broken.
Expert Interviews & Opinions
Most Important Criteria
(According to our experts opinion)
Experts Opinion
Editors Opinion
Users Opinion
By Default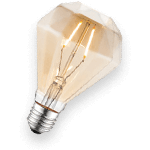 Replacements
Replacement tent poles or pieces tend to be narrower and thinner. They also have an elastic cord running through them to allow the pieces to be pulled apart and collapse but remain tied together and strong. Usually, the fixings between the sections aren't more than a smooth covering, overlapping two sections and eventually creating a complete length when all the pieces have been joined. These poles are more flexible, as they need to bend to the shape of a tent and pull the walls taut. Some campers buy a set of new tent poles to replace those that came with their tent, even if it is new, just to make it stronger and lighter.
Other Factors to Consider


Style
There are many types of poles, one type of pole is a fixed, standalone pole which is used to hold up a non-enclosed, less permanent structure like a tarp roof or porch. These poles can have sections as well, but they're either telescopic or in separate pieces which are fixed together. The main thing here is that the poles should be securely fastened at each section and placed on solid ground. The other thing to look out for is the style of the end. Most of these poles have a pin end to fit in a grommet, or ring in a tarp or tent, but sometimes they'll have a hollow end for clipping onto a notch. They may also feature a rounded rubber foot to provide a solid surface and cover sharp ends.
When it comes to a tarp for your structure, there isn't much variation, your main concern will be the size. Tarp, or Tarpaulin, is a piece of canvas or polyester, often coated with polyurethane, or a piece of polyethylene plastic. The next important thing for camping use is that the corners have reinforced grommet holes for securely attaching to your tent poles. As well as poles, these grommets can also be threaded with guy ropes and attached to hooks for extra tension and sturdiness. This is particularly important in the rain so that water doesn't pool and add weight to your structure. The tarp is cheap and durable, so along with the right poles, is a viable option for creating an extra structure.
Frequently Asked Questions
q:

What should I use to cut a tent pole?

a:

A small hacksaw should be enough to get through most poles. It's really important to only use a saw if you know how and have a safe and sturdy surface. You might also like to get someone to help you if you're less experienced. If you need to carry a saw with you for repairs on the road, ensure that you store it carefully. When cutting poles, measure and double check the lengths you need as you can't uncut them! If you're not confident cutting poles, go for one piece repair joints or smaller lengths.
q:

How can I tell what type of pole ends I need?

a:

Check the poles that came with your tent. If the end has a pin of around 1-2 inches on the end and your tent or tarp corners have metal holes or eyelets, you've got what are called grommets, and you need a pole which fits into these. If your poles are hollow, they'll likely clip onto small pins which stick out of the tarp or tent. Be aware of this as poles are not universal.
q:

Can I repair a bent pole?

a:

For the time and effort involved, it's not advisable. Replacement poles and repair kits are relatively cost-effective. Furthermore, trying to bend a pole back could weaken it considerably or even make it snap. Unfortunately, once it's bent, it's likely unusable. Research your options and decide whether a whole pole is worth it, or whether you're confident to measure, cut and replace pieces.
q:

How do I know how much or how large a weight my poles can take?

a:

Test them! Really though, the manufacturer's instructions may advise you on the weight capacity. Most poles should be able to support a porch or tarp, it's really about creating enough tension to support the structure, but not so much that the poles will wobble or bend. You also want to avoid sagging in the middle, as collected water could increase the weight and pressure. As a guide poles hold up tent plastic, fabric-like material, which are relatively light, so they're not for holding up wood or heavier material. Make sure they're carefully fixed together, secured to the tent, and on a solid, even surface and they should be able to support most tents and tarps.
q:

What's the best material for a tent pole?

a:

There is no best material, really, it's about what you're able or willing to carry. Aluminum is the lightest material, with steel being the strongest yet heaviest. Many poles are now made of aluminum alloys for added strength yet lightness. What's better is if there is a rust-proofing or anti-corrosion treatment as the poles will spend a lot of time outside in the elements. However, most poles are durable enough to withstand the weather. Incidentally, most provided tent poles are made of fiberglass, but replacement poles are usually aluminum or steel.
Subscribe to our Newsletter