Best Gardening Shoes, Clogs, and Boots
In a Hurry? Editors choice: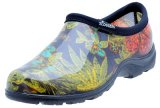 Test Winner: Sloggers

How many of you love to garden out there? Chances are if you have stumbled across this guide today, you are either an avid gardener looking for a new pair of shoes, a novice of the field looking to begin, or are
searching for a gift for gardeners
who you know needs a new pair of garden shoes. No matter which demographic you fall into, this guide is being constructed to assist you in the buying process. As opposed to a
pair of running shoes
or maybe
walking shoes
, gardening shoes are a bit different. However, there are still common traits that you will need to look for. So, if you are all ears, or eyes in this case, then let's get started.
Standout Picks
Criteria Used for Evaluation
Water Resistance
One of the main reasons you want separate shoes for gardening only if you do not want to ruin your other types of footwear. As you and every other gardener around the world are fully aware of, things can get messy when you are doing it. Thus, one of the primary features you will want to look out for is water protection. This will go a long way to deciding which type of shoe you want because there are several different types. For example, you have boots, clogs, and regular shoes.
Boots are going to deliver the most protection as they are fully enclosed and come up past your ankle (sometimes all the way up to your calf). But, during warmer days, they may generate too much heat. As for regular garden shoes, they will resemble a normal pair of sneakers. Then there are clogs and they offer the least amount of protection. While they can still be waterproof, a lot of times they will be able to be slipped on thanks to their low heel. Either way, you go, ensure that the materials utilized are waterproof.
Fit
This is an absolute staple when you are looking to invest in any sort of footwear. If a shoe does not properly fit your foot, you are not only going to risk injury but it will also most certainly be uncomfortable to wear. The key is to find a model that fits your foot perfectly and admittedly, this can be difficult at times. This issue is enhanced when ordering online as you can't physically try them on, as well. So, one of the keys is to glance through user feedback to see what others have claimed about how well a certain model fits. Some will run large, others small and others true to size.
As for how they should fit in the first place, they should not be too tight to cut off your circulation. Yet, they also should not be too loose as your feet should not be moving around vigorously. Then again, the sizing of garden shoes is not going to be as strict as long distance running shoes, for example.
Comfort
Just a real quick question here, do any of you enjoy wearing clothing and footwear that is uncomfortable? Every single person should answer no to this because everyone strives to be comfortable, period. While achieving the right size certainly goes a long way to determining the overall comfortability, so do the soles. First off, let's talk about the insoles (which are physically inside the footwear). Depending on the type of gardening you are going to partake in, you may either want light or heavy soles. You see, for light work around the garden, you could get away with an insole that is very lightweight (but still comfortable).
Then again, if you are going to be partaking in more intensive work then you may want a heavier-duty sole that is going to protect your feet, as well as deliver stability and comfort. Speaking of stability, you can also look for soles with patterns and tread. Oh and this also leads to another consideration. You may want to invest in more than one garden shoe to account for light and heavy work on chilly or steamy afternoons.
Style
Ironically, the last section was more important for these types of footwear and this section is less important for these types of footwear. You see, most of the time, you will not be wearing your new pair of garden clogs or boots in public. So, why would you even pay any mind to the visual appeal? Well, if nothing else, some people are self-conscious about their appearance no matter where they are so there is that.
But, what happens if you do go out in public with them? It may surprise you to know that some of these gardening shoes can be great to take a stroll with or to take a quick ride to the store. In these instances, you may be more wary about what they look like. If not, though, then pay no mind to it.
Top Ten Gardening Shoes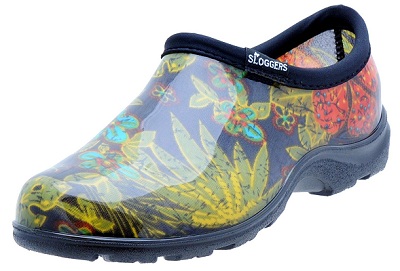 As it seems by the general consensus of our top model, you would be hard-pressed to find many consumers that dislike it. In fact, it is so good that you will probably end up forgetting about the fact that it is actually affordable.
Read more
Water Protection
There is no need to worry about rainy days or standing water as these bad boys are fully waterproof.
Size and Fitting
It is actually mentioned in the product description that consumers who wear half sizes need to order a size up. Per consumer feedback, this seems just about right.
Comfortability
One of the advantages of the Sloggers is the fact that an exclusive all-day-comfort insole is utilized. Due to this, the upper is super soft and flexible for maximum satisfaction.
Ease of Cleaning
For starters, because these are fully waterproof, they can be hosed off when they need to be cleaned. Also, the insole is removable and can be soaked to clean.
Visual Style
With the vast array of styles that are available, everyone should be able to find one that suits them. But, as one buyer noted, the shiny coating seems to fade quickly.
Overall
In the modern world, it can be shocking to find gardening clog that is both superb and affordable. Well, let's just say that the Sluggers fit that description like a glove.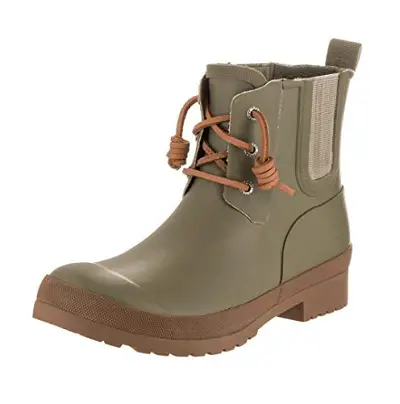 These are the best rubber boots on the market at the moment. Due to this, it is naturally waterproof and is ideal for those rainy days where you still want to peak around your garden.
Read more
Water Protection
Sperry went with rubber for the upper section of their boots and it is hard to argue with that. For certain, these waterproof boots are going to keep your feet dry during the rainy season.
Size and Fitting
Though it is claimed these run true to size, a few reviewers felt that they ran a little small. Another buyer pointed out, though, that there were no half sizes available.
Comfortability
Sperry did not add an interior lining so to stay warm during colder climates, wear socks underneath these. But, one characteristic of the interior is that it is soft.
Ease of Cleaning
When these do happen to become dirty, you can wash them in the same manner as you would with most waterproof footwear.
Visual Style
While you probably can find other color options for this rubber garden boot, the olive color that is depicted is quite stylish in its own right.
Overall
Due to some sizing and longevity issues that some consumers have experienced, this is only able to notch the seventh spot on this list. Still, it secured a spot for a reason.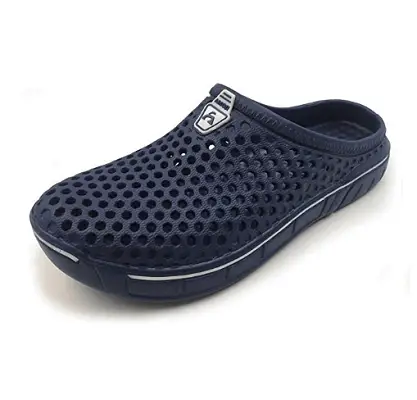 These really resemble the previous model in a lot of ways. And, in fact, you may think it is merely a clone. But, again, for the right gardeners, these could be just what the doctor ordered.
Read more
Water Protection
Much like the previous model, there are holes integrated into this shoe. However, the material is not designed to absorb any water that it comes in contact with.
Size and Fitting
Inaccuracies are present here, unfortunately. One buyer felt the size was too small while another thought it was too large.
Comfortability
Now, the EVA resin foam that is used offers comfort. Yet, due to the thin nature of these shoes, they can be punctured easily and will not protect you from sharp objects.
Ease of Cleaning
As you probably assumed, these gardening clogs are incredibly easy to clean and can be soaked in soap and water.
Visual Style
Amoji is another seller that does not want their consumers to be disappointed with visual appeal. So, they account for nearly everyone with a plethora of different available colors.
Overall
In similarity to the last model, these shoes with holes in them are only going to be suitable for the right people. As obvious as this sounds, it could not reign truer here.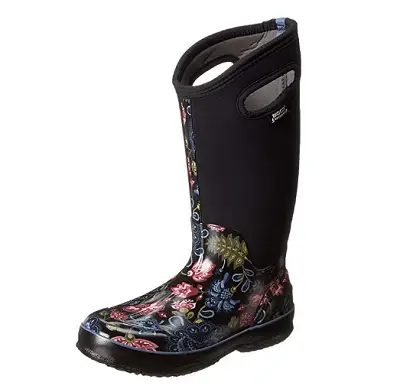 Perhaps you are not looking for a gardening shoe and instead are seeking a boot. If this sounds like something you could be interested in, keep reading because this one is good.
Read more
Water Protection
As with the last option, this also sports an upper that is made of rubber. Once again, this ensures waterproofness.
Size and Fitting
Sizing for this model seems to be pretty straightforward. In fact, some buyers have claimed that these muck garden shoes can be a little roomy. In the winter, this can account for heavy socks.
Comfortability
First off, the dual-density contoured EVA footbed will provide the initial comfort you need. But, the four-way stretch inner bootie will keep your feet warm and the lining wicks away moisture.
Ease of Cleaning
As you expect, because these are waterproof, they can easily be cleaned if you happen to get them dirty while messing around in your garden.
Visual Style
Those looking for subtlety may not be too crazy about the visual design. It certainly is colorful and unique and for that, though, other consumers will love it.
Overall
During the tail end of the gardening for the year, these boots will work terrifically. During hot summer days, however, these will be a little too heavy to wear regularly.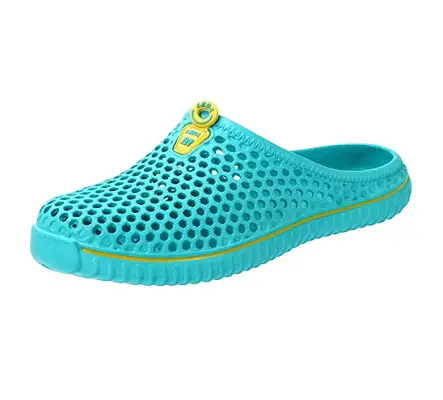 Here is the deal with this next option; they are only ideal for those of you who do not need to worry about stray objects around your garden. After all, they are not the most protective option on this list.
Read more
Water Protection
These are actually recommended for community showers and pools so they can handle water. Yet, due to the holes on the top, they will not protect you from rain.
Size and Fitting
Based on various reviews, the sizing appears to be mostly true to size. However, the general consensus is also that they are a little wide.
Comfortability
In addition to the lightweight nature of these garden clogs, they are also designed with EVA midsoles. This adds necessary comfort for your feet.
Ease of Cleaning
It would be hard to find footwear that is easier to clean. The integrated holes allow these to dry even quicker and yes, they can be soaked in water.
Visual Style
From dark colors to light colors, Aleader pretty much offers a style for everyone here.
Overall
Some of you may consider these a bit of a stretch for gardening. However, this is really only true if you are an avid gardener. For casual folks, these can work quite well.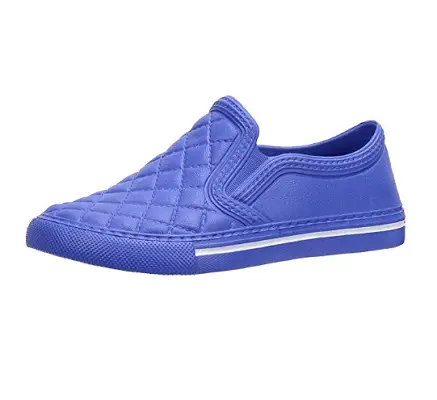 In a world filled with several highly competent and acclaimed garden shoes comes arguably the most comfortable pair in the world. Just wait until your feet slip inside these true delights.
Read more
Water Protection
Though these are advertised as waterproof, there are actually two holes in the interior. Due to this, the ventilation is enhanced but water can leak inside.
Size and Fitting
First off, these are slip-on gardening shoes. But, based on user feedback, the sizing appears to be inconsistent. Some claim it is too roomy while others warn to buy larger than you normally would.
Comfortability
On top of being lightweight, these are also made with EVA memory foam. These soles are fantastic in delivering comfortability for extended periods of time.
Ease of Cleaning
Water is really not the enemy here so you can wash these as you would a normal pair of sneakers. Just avoid machine washing them, for the record.
Visual Style
The casual look that is present here will certainly appeal to a vast crowd. Plus, there are a solid amount of color options available including red, black, purple, and blue.
Overall
Because these garden shoes are slip-on footwear, you need to be extra cautious you select the proper size. Due to the inconsistent sizing, this can be tough but the end result will be worth it.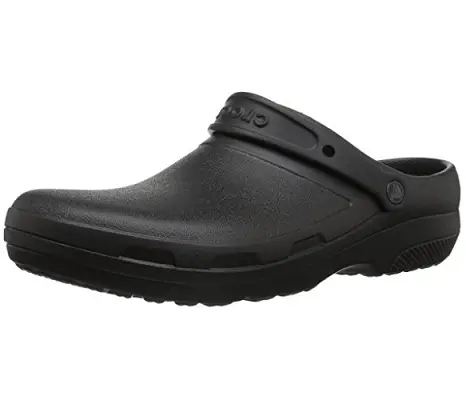 Perhaps you would not initially believe that a pair of Crocs would work well as gardening shoes. Well, throw those initial feelings out the window because guess what, they do.
Read more
Water Protection
One of the main reasons these crocs garden shoes will be just fine during rainfall is due to the Croslite foam construction. Because of this, the clogs will not absorb water.
Size and Fitting
The general consensus appears to be that these run large. Heck, it is even stated in the product description that if you order half sizes you need to order a size down (so, for example, 10.5 to 10).
Comfortability
Though Crocs are not very supportive, these are still engineered with a thicker metatarsal area and a contoured footbed. Plus, the enhanced arch support and higher heel protect your feet.
Ease of Cleaning
For the most part, you should not run into much trouble here. Typically, you will be able to either use a sponge or even a magic eraser to clean these.
Visual Style
Each of the available color choices (white, navy and black) look splendid. They are not outlandish and instead are vivid enough to be stylish.
Overall
Who knew that a pair of garden crocs could work so well in the garden? However, once you slip these bad boys on, you will probably never want another garden clog again.

8

. The Original MuckBoots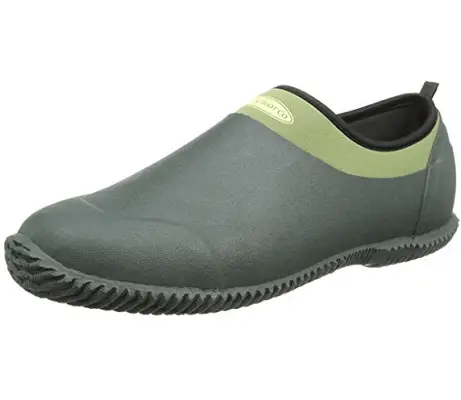 It is difficult to find a better second option than the Original MuckBoots. Thanks to their natural rubber construction, these garden boots are fully waterproof and also sport an insulated shell.
Read more
Water Protection
Thanks to the fact that the upper has been constructed with rubber, these MuckBoots are 100 percent waterproof.
Size and Fitting
One thing to note about these gardening boots is the fact that they do not come in half sizes. But, the design is unisex so they are designed to fit both women and men.
Comfortability
In addition to the durable natural rubber upper, the MuckBoots also sports an insulated shell and a lined footbed that will control moisture and keep your feet warm.
Ease of Cleaning
Either with a spray of water or even a gentle scrubbing with soap and water, you can clean this pair of garden boots very easily. Plus, the outsole is self-cleaning.
Visual Style
Both of the styles available, garden green and mud muck brown, are appealing in their own right. In fact, both are versatile enough to be worn as a casual shoe.
Overall
Finding the right size can be the only real obstacle of the Original MuckBoots. Once accomplished, though, revel in these fantastic gardening boots.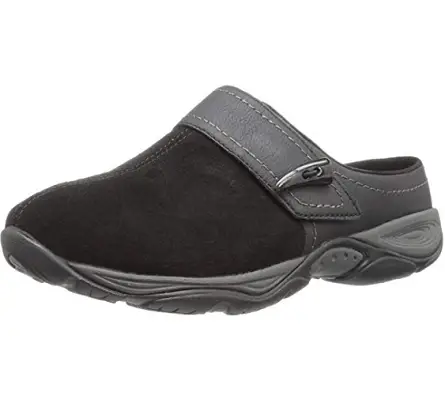 Those looking for style and function may need to look no further. What is also nice about the Eliana Mule is the fact it is engineered with Velcro to allow for proper fitting.
Read more
Water Protection
These are made of leather and rain can damage said leather. But, you can actually apply a durable water repellent (DWR) to make them waterproof shoes for gardening.
Size and Fitting
Even though some consumers have noted these can run narrow, they come equipped with Velcro. With this, you can slightly tailor the fit to your needs.
Comfortability
Both the leather uppers and the removable insoles are designed to deliver you all-day comfort. Additionally, these garden shoes are lightweight for even more comfort. Though, the soles themselves are quite hard.
Ease of Cleaning
Due to the fact that you are dealing with leather, you should clean the Eliana Mule with a damp cloth (that can consist of water and a moisturizing soap).
Visual Style
At the end of the day, you really can't go wrong with the appeal of leather. In fact, these garden clogs just might be the most stunning on this entire list. Of course, the plethora of available styles also helps.
Overall
It would not at all be surprised if some of you found the ticket right here. The power of leather can't be denied but do yourself a favor and apply a DWR coating to these bad boys.
Also read about best waterproofing spray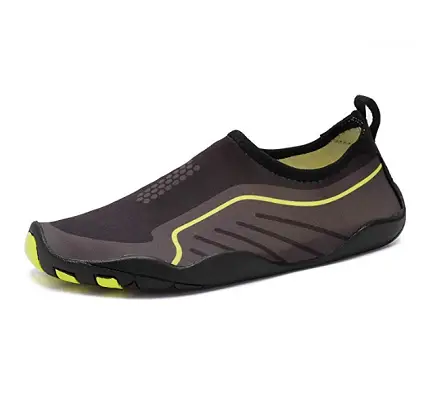 Some of you may believe this next option is a bit of a stretch. Even though these water shoes for garden may have been intended for swimming, they can actually be comfortable and suitable for other outdoor needs.
Read more
Water Protection
Clearly, these are waterproof. But, what is nice is that the soles are engineered with quick-dry drainage holes and these will allow the water to flow out of them.
Size and Fitting
CIOR designed these to be suitable for men, women and kids. But, based on feedback, you may want to order a size down as they tend to run large.
Comfortability
Though these are super comfortable with breathable fabrics utilized throughout, the rubber soles also provide protection for the bottom of your feet.
Ease of Cleaning
One of the other advantages of the drainage holes is when you go to clean these. It will allow them to dry much quicker and because they are water shoes, you can soak them.
Visual Style
No matter if you are a woman, man, or a child, you are certain to find a style that suits you as there are a plethora of options to select from.
Overall
Admittedly, not everyone is going to be looking for an option like this. However, when you stop and assess the design, it is hard to argue with the benefits and the overall results.

Subscribe to our Newsletter