Best Summer Tents
In a Hurry? Editors choice: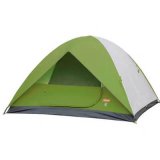 Test Winner: COLEMAN SUNDOME

Summer vacation
is coming upon us and one of the best things to do with friends and family is summer camping. Having a tent that can comfortably fit your whole family or friends is important when it comes to camping. Also having a tent that has good ventilation so you are able to breathe comfortably is crucial in the hot climates. If you know that your summer adventures include time spent in the woods or in the mountains, having a tent that will protect you from animals, and the weather may be a better option. A quality summer tent will provide a place of shelter and equipment storage during your next camping adventure, but it also provides a
great place for friends and family
to gather and create some great memories. We have reviewed the top ten best summer tents on the market today.
Standout Picks
Criteria Used for Evaluation
Materials
Tents, even ones used during the summer months have to hold up to serious amounts of abuse. Let's face it, camping adventures aren't exactly for the faint of heart. Animals, other people, and especially the weather can all play a factor. Making sure that your tent is strong enough to withstand the rigors of your adventure is very important. Some tents, like the Luxe Tempo and the MSR Mutha Hubba, are made from materials that are designed to resist tears and holes. Others, such as the Zomake Pop up tent is a bit more lightweight but still can offer a good amount of protection.
Breathability
Adequate air flow in and around the tent is also important. After all, trying to sleep in stale air can make for a long, and sleepless night. Most of the tents on this list solve this problem through the use of mesh windows, doors or canopies, or a mesh hybrid material that allows air to pass through it, without allowing moisture or insects to get in.
Weather Resistance
One of the main purposes of a tent is to protect the user from inclement weather or to shade them from the heat of the sun during the hot summer days. While each of these tents offers a measure of protection from the elements through the use of such things as rain-fly or shields, water-resistant materials, and the ground tarps and footprints to protect the user from the cold ground.
Value
Of course, the overall cost of the summer tent is another important factor to consider when buying one. Depending on the size of the tent, and the materials used to create it, the price can be relatively cheap to moderately expensive. Chances are there would be a summer tent that fits into your budget.
Top 10 Picks


The Eureka Suite Dream 2 is a great option for your summer tent. It's versatile, If you're looking for a summer tent that is easy to use and take along the trail, this is a great choice at a very reasonable price. While it does have a few issues when it comes to the rain-fly and ventilation, it is by far a viable option.
Read more
Materials
This summer tent is designed for efficiency and ease of use. The one-pole setup design easily complements the mesh hybrid material, and the zippered entrances and vestibule divisions are easy to use one-handed
Breathability
Airflow in this particular summer tent is achieved through the material used to create it. The hybrid mesh material allows for great airflow without allowing too much moisture to get in.
Weather Resistance
For the most part, this tent easily prevents moisture, sun, and wind from affecting the user in any measurable way. However, it should be noted that when the rain-fly is attached, it drastically decreases the amount of airflow in the tent.
Value
At $249, this is a sturdy, well-built tent. There are lots of pockets, a gear loft, and 2 entrances. This is a great investment for your summer camping trips.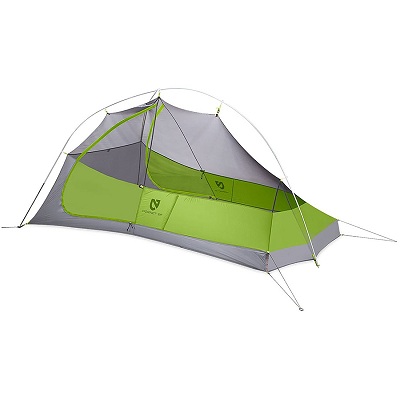 This compact summer tent is specifically designed for that person who is thirsting for adventure and wants to tackle the warm nights on their own terms. With an overall floor area of twenty-one square feet and a maximum ceiling height of about three and a half feet, this is one tent that is clearly designed for single occupancy. So if you're a solo adventurer, and you are pressed for space at your summer campground, this might be a viable option for you.
Read more
Materials
While the tent may be a bit small for some people, the quality of the construction and the features included make up for it. A large side door makes for easy entry and exit for you and your gear, and the volumizing guy lines allow you to maximize the available space. Add to that the true tub floor construction and the sealed seams mean that water will be hard pressed to get in.
Breathability
Ventilation in this tent is achieved through a large side door and breathable fabric. While air circulation is not as good as it could be, there is more than enough for a single person to sleep comfortably.
Weather Resistance
While the tent itself offers a little protection from the rain and wind, attaching the included rain-fly makes it nearly impossible for the rain to reach the tent itself. Also, if the tent is put up correctly, it should be elevated from the ground slightly, which can protect the user from the dampness of the morning dew.
Value
The tent is a bit on the expensive side for a one person tent, but it is solidly put together and should give the user years of enjoyment. If the great outdoors calls to you like nothing else for a solo adventure, the Nemo Hornet 1P Tent is a great choice. Roomy enough for one person and their equipment, it's a great compact way to protect yourself from the element.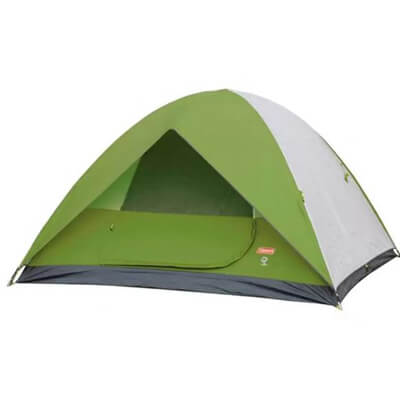 The Coleman Sundome is a great tent when looking to get away with the family or on a solo adventure this summer. This tent is crafted by Coleman who knows how to make quality gear. While the tent is rated for four people, it does have quite a bit of room. You should be able to fit four average size adults comfortably. Not only stylish but also quite easy to set up this is defiantly a summer tent to check out!
Read more
Materials
This summer tent is not only designed to be strong but also very lightweight. The aluminum poles offer a decent amount of strength, and the polyester material offers superb breathability without sacrificing protection from the elements.
Breathability
The ventilation points on this summer tent are on large windows and also there is a ground vent for maximum ventilation.
Weather Resistance
Everything about the design of the tent is made for keeping the weather outside, and you inside safe and dry. Short of setting up camp in the middle of a river, or surviving a flash flood, there is little that would cause water to enter the interior of this tent.
Value
The price is a great price and a good quality product for your next camping adventure. This may be one of the most affordable and durable summer tents on the market today, the superior protection and relatively easy set-up make it a great choice for those who love testing their skills against the great outdoors.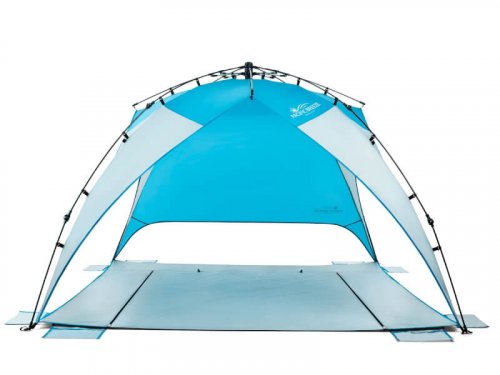 With its circular design, the Battop 3-4 Person Tent offers a great way for a small group of people to enjoy a few summer nights of camping. Add to that the moderate price, and quality construction, it's little wonder why this one made it high on our list. Generally speaking, this summer tent will be able to fit two adults comfortably or four children. Three adults can also find the sleeping room, but it is a bit cozier than some might enjoy. This tent Includes a durable carrying case, 5 sand pockets for added stability in windy conditions, and 4 stakes to help the tent stay put in windy conditions.
Read more
Materials
Although it's not quite as rugged and dependable as the first entry on this list, this summer tent doesn't shy too far away from being one of the most well-made tents in this price range. The poles are constructed of strong yet lightweight fiberglass material, and the flooring, walls, and ceiling are made of a durable yet lightweight polyester material that has been treated for waterproofing. It is also UPF 50+ sun protection to help protect the tent itself and you in it while camping or laying on the beach.
Breathability
The 2 large mesh roof vents and the three XL windows offer great ventilation, even when the tent is fully occupied.
Weather Resistance
This Pacific beach tent is made from breathable polyester and is water repellent to help with making it great for all types of weather conditions. The beach tent provides great protection from the sun, rain, and wind while adventuring and camping in the outdoors.
Value
This tent is moderately priced, but still relatively inexpensive, considering how many times you and your family will be using it during this summer. If you're looking for a great tent for a small family, the Pacific Breeze 3-4 Person Water Resistant Camping tent can be a good, affordable choice. Not only is the tent fairly easy to use, but it also offers superior protection from the elements at a great price.

5

. ZOMAKE POP UP TENT BEACH CABANA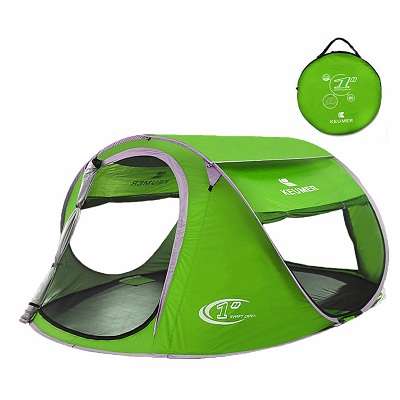 If your summer plans include camping at the beach, the Zomake Pop Up Tent is a great choice. It's roomy, easy to set up, and offers great ventilation. The Zomake Pop Up Tent may not be suitable for every campground, but it does provide a great shelter for a day at the beach.
Read more
Materials
This tent is one of the easiest to set up based on the fiberglass framing and hoop design. Simply take it out of the carry bag and allow it to put it on the ground and watch it unfold. The flooring is made from a heavy tarp material, which is easy to clean and protect you from rocks and sharp items on the ground.
Breathability
Two doors, two windows, and a ventilated top/skylight area provide adequate airflow, even in the warmest of situations.
Weather Resistance
This tent is designed for protection from the sun and wind, but offer little protection from heavy rain. It is a perfect summer tent for a nice day at the beach.
Value
This is perhaps one of the most economical choices when it comes to summer tents on this list.

6

. KELTY GRAND MESA 2 TENT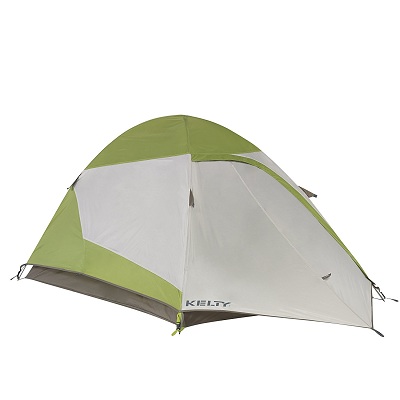 If you want a summer tent that can keep up with your solo camping adventures quite easily, the Kelty Grand Mesa 2 Tent is a great choice. This summer tent is rated for two people, but for the most part, it is more comfortable for one person who enjoys spending time in the great outdoors.
Read more
Materials
This lightweight backpacking tent is perfect for surviving and thriving during a summer camping trip. The compact aluminum poles and easily foldable tent material make it easy to store the tent in the backpack, leaving plenty of room for other essentials. The mesh body is designed for both ventilation and privacy, and the zippers are easy to use and easily last through many uses. And finally, the free-standing set up makes it so that you don't have to rely on the environment to set up a place to rest.
Breathability
Instead of having a few vents here and there, the Kelty Grand Mesa 2 Tent uses the entire canopy as a source of ventilation by using a tightly woven no-see-um mesh material that allows for great airflow while still providing for privacy. There are also a number of additional ventilation panels for stargazing and enjoying the warm summer breeze.
Weather Resistance
The guy-lines help the tent to provide great stability against the stronger winds, and the non-stretch polyester fly offers a great way to re-direct any precipitation that may fall in your vicinity. The Kelty Grand Mesa 2 Tent is a great choice for those backpackers who want to enjoy a warm summer evening in the great outdoors. The combination of great ventilation, ease of use, and the compact nature is a great one indeed.
Value
Another great factor in this choice is the overall price. It is extremely reasonable considering the quality of the material and ease of use.

7

. LUXE TEMPO BACKPACKING TENT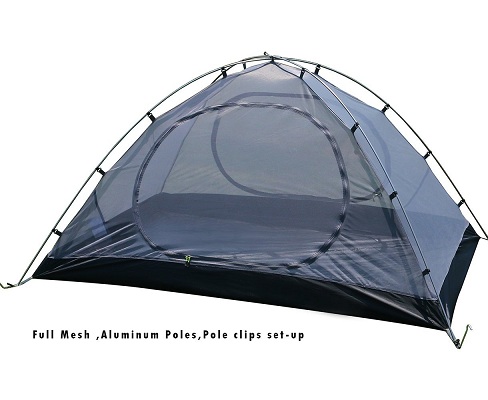 This summer tent is designed for years of ongoing use and is a breeze to set up and take down. While it may be a bit small for a family outing, the affordable price and great quality make it an easy purchase to make – multiple times. The Luxe Tempo Backpacking 2 Person Tent, as the name suggests can easily accommodate two average size adults. The tent footprint once set up measure approximately 30 square feet in size and measures about 3.5 feet at the highest point in the tent. So while two people wouldn't be able to necessarily stand up in the middle of the tent, they will have plenty of room for sleeping.
Read more
Materials
One of the many areas where this summer tent outshines the others available is through the quality of the materials used and the construction. The fabric is comprised of high-denier rip-stop polyester for increased rugged durability, and it's also coated with polyether, which adds to the ability to keep you safe from the elements. Finally, the zippers, fiberglass poles, and guy-lines are designed specifically for their strength and durability.
Breathability
This tent provides plenty of ventilation with two zippered doors and a canopy of 210T Breathable Polyester No-see-um B3 Mesh. Essentially, the canopy offers both privacy and the ability to allow air to flow in and out of the tent.
Weather Resistance
While it may seem like the wind and the rain would be your sleeping buddings during the night, the truth is the solid construction of this summer tent and durable poles make it easy to withstand even the fiercest summer storm. In addition, the easy to use rain-fly can easily be implemented to create two large vestibules perfect for gear storage and keeping you dry and comfortable.
Value
Another great feature of this summer tent is the very budget-friendly cost. Considering the quality construction and ability to keep two people comfortable while camping, the moderate price is truly a great investment. While not the most expensive or expansive summer tent on this list, the Luxe Tempo Backpacking 2 Person Tent offers just the right combination of protection, roominess, and ease of use for a great price.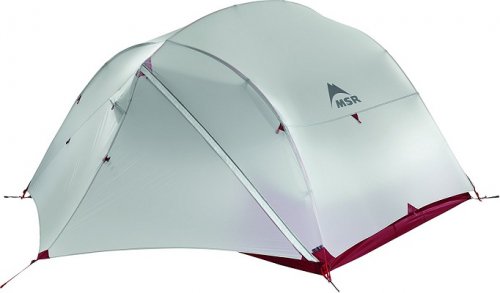 If you're looking for a summer tent that has a lot of elbow and headroom for you and your partner at a reasonable cost, the MSR Mutha Hubba NX 3-Person should be on your list. While this summer tent can technically fit three people, it is much more comfortable with only two people. With two people, there is plenty of headroom and legroom, even with the standard camping equipment kept inside the tent.
Read more
Materials
This tent is solidly built and designed to withstand many of the rigors of camping life. The tent walls, flooring and rain-fly are constructed of a strong 20-denier high-tenacity rip-stop nylon-polyester blend. It may not be as strong as some materials on this list, but for most situations, it is more than adequate.
Breathability
Strategic ventilation ports in the canopy and the two large doors allow for adequate airflow when properly deployed.
Weather Resistance
While this summer tent can easily withstand the warm winds and dampness from the ground, there have been some reports of the rain-fly not keeping all the water away during a strong thunderstorm. So if you have sensitive equipment, it's probably best to keep those pieces in waterproof containers just in case.
Value
Considering the construction and overall ease of set up, the moderate price is fairly reasonable. This tent is designed with the weekend warriors in mind. The relatively strong materials used, the roominess, and the ease of use make this a solid choice if the weather doesn't include a torrential downpour.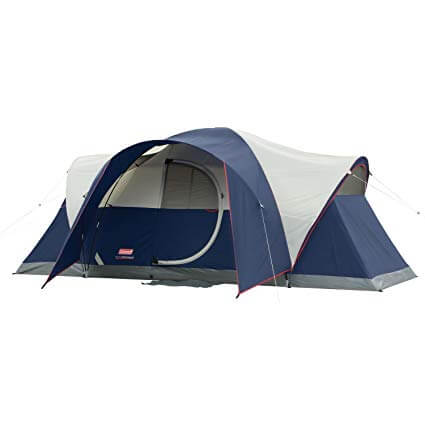 If you want a tent that is designed to accommodate a large group of people during your next summer outing, the Coleman Montana Tent is a great choice. This is perhaps one of the roomiest tents on this list. It can easily house eight average-sized adults in two separate rooms with space to spare. It is known for being easy to packs up into an expandable carry bag with a rip strip so you can be off to your next campsite or adventure quickly. It has an extended door awning that helps to create a dry space to store gear or even for you to relax in as it rains outside comfortably. Inside the Coleman Montana Tent, there is enough room to stretch out even three queen-sized airbeds to fit your whole family in one area and even comes with a storage pocket help to keep personal items or small items and keep you nice and organized.
Read more
Materials
The people who designed this summer tent managed to find the balance between lightweight ease of use and protection from the weather outside beautifully. The lightweight aluminum frame is relatively easy to set up, and the combination of polyester fabric and polyethylene shielding allow for both great ventilation and protection. The one complaint we had was the overall quality of the zippers associated with the polyester outer layer.
Breathability
The two large doors with zip up mesh or full polyester shielding offer a good deal of ventilation when fully used. This Coleman tent features angled windows that help keep air circulation as you can keep the windows open in the rain and help keep the water out.
Weather Resistance
The large size and overall shape of this summer tent not only offers great protection from the wind and rain but also easily shields the occupants from the rays of the harsh sun. While we wouldn't suggest it for a day at a windy beach, for the most part, this tent will keep the weather outside where it belongs. It comes with a limited one-year manufacturer's warranty to make this tent an even better deal. It is also made with WeatherTec system which means it has patented welded floors and inverted seams that help to keep water out on rainy days or damp days.
Value
This is by far the most well-priced example on our list. With all it has to offer, it is very reasonably priced especially accommodating up to 8 people comfortably. The Coleman Montana tent certainly lives up to its name and reputation by making it easy for a large group of people to enjoy a summer tent with reservation. If you're willing to make a sizable investment, and you have a large group, this is certainly one to consider.

10

. MARMOT TUNGSTEN 3P TENT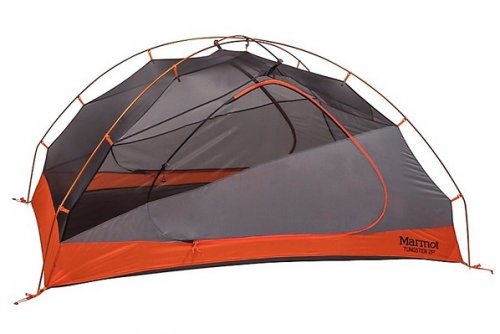 When you're on the hunt for a great two or three person tent to use for your next summer adventure, the Marmot Tungsten 3P Tent should certainly be on your radar. The Marmot Tungsten 3p tent provides great protection and comfort for you and two of your friends during your next summer camping trip. Although in a slightly higher price bracket than some others, it's still worth the investment. This tent is one of the few that actually delivers on its boast of being able to house 3 people with room to spare. The tent has been designed to maximize the livable space, with two distinct areas, either for sleeping or gear storage. The two doors make entering and leaving the tent quite easy.
Read more
Materials
This tent is designed specifically to withstand the harsh elements that can happen, even on a summer evening. The use of a seam taped, 68-denier polyester fabric on the floor and fly of the tent offers great protection, while the mesh canopy offers a great view of the sky while keeping the bugs at bay. Add to that a convenient lampshade pocket for your headlamp or flashlight, and those late-night map readings for the next day will be easier than ever.
Breathability
With the two large doors and the mesh canopy, air circulation won't be a problem with this particular tent.
Weather Resistance
The design and polyester material used makes for great protection from the weather, although condensation near the doorways has been known to happen with frequent use in humid environments.
Value
The price of this summer tent is a bit steep, but not unreasonable considering the roominess and comfort that it provides.

Subscribe to our Newsletter