Best Pop Up Tent
In a Hurry? Editors choice: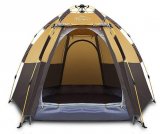 Test Winner: Toogh

So you've pulled a large duffel
bag
out of the car, dragged it what seems like miles to your spot, and convinced some of your fellow campers to help. Wouldn't it be great if you could just chuck your stuff inside the tent and get the campfire going? But that is the tent; all that work and your tent aren't even up yet. If the thought of opening the bag to find miscellaneous, seemingly unrelated
poles
, inner and outer sheets, and no instructions make you want to turn around and
book
into a hotel, a pop-up tent might be for you. The clue is in the name, and it's really not too good to be true – many pop up
tents
spring up quicker than you're ready for them. Overall, they're easier and faster to put up, lighter and more compact to carry, and often cheaper.
Standout Picks
Criteria Used for Evaluation
Ease of Use
Firstly, not all pop-up tents are created equal. That is to say, it's become a bit of a "catch-all" term for any kind of tent you don't have to put together from separate parts and a cover. Essentially, there are two types, commonly referred to as "pop up" and "instant" tents. We'll briefly discuss them here.
Pop up tents are exactly as they sound – sometimes to our surprise as you'll see from our choices! They are comprised of lightweight, spring-like, folded poles, which are usually coiled into a packed shape. When released, they "pop" out to their full shape. True pop up tents should be one complete piece including all supports and cover and should be fully set up in one to two minutes or less. These tents were designed so that you could just pull them out of a bag, throw them in the air, and a fully-formed tent would land. There are also hybrid pop-ups. These are similar but might require a bit more manipulation to get to their full shape and size. They're still springy and simple, just not a "one pop shop".
Instant tents are similarly simple as compared to regular tents. They mainly work using hinged and folded bars, ready-connected to the cover, which you pull up or out yourself. Rather than a pop-up, it's more like unfolding. The most common mechanism is like that of an umbrella if you were opening it from the top instead of underneath. In fact, many users find these tents quicker and easier to put up than a beach umbrella!
Our picks are split about half and half between these two types as they both offer a range of advantages and cool features.
Size
Camping isn't just about people. Sure, it wouldn't be as much fun without them but it can be very difficult if you don't have your equipment too! And all of that stuff needs somewhere to go. When looking at the capacity of a tent, think about your pets, gear, shoes, and anything else you want to keep in your tent. If you're not camping, think about what it is you usually need to store and how much room it will need.
Despite this, tents are most commonly measured in terms of a number of people. A warning and well-known bugbear are that these stated sizes often aren't how many you'll comfortably sleep. As you'll be housing more than just people as above, we recommend imagining the capacity the tent comes with is how many adults could sit in the tent, not stand or sleep. If you think about that, you can then gauge how much space your group will need to sleep, and how much room you'll have for your stuff. Our other general rule is that if the budget allows, go one size bigger. Tents won't increase in size exponentially, and the packed up size will be hardly any bigger so won't make a difference to your packing.
A thought to go along with this, as it will make a difference to how much floor space you need, is whether the tent offers any off-ground pockets, storage, and hooks.
Another factor directly related to how many people will be sharing the tent is how you'll get in and out. If you've got more than three people, we recommend looking for something with two or more doors. It just saves disturbing each other and feeling even more cramped. Windows with mesh are also important for ventilation.
Compatibility
When it comes to taking your tent down, if pop up and instant tents are new to you, firstly you might want to think about how easy yours will be to take down. Mostly they have a particular folding method to get them back to the right size and shape for their bag and this takes practice or a few goes to get it right. If you choose a tent that's more complex to take down or taller, think about whether you'll have someone to help.
Something that's always a consideration with outdoor gear is how small or compact it is and the weight. On average, pop up and instant tents are less heavy than traditional ones. This is because they tend to use lighter metal for the frame as it's flexible, and are also tasked with being confined to one piece, which keeps the weight low. What is common, particularly with true pop up tents is that the bag or package when folded is circular, which isn't the most convenient for packing efficiently or carrying in a backpack. Think about how far and where you're taking the tent, and this will help you decide how compact you need it to be. The chances are, if you're looking for a pop-up or instant tent, you're not going to be going on a long, mountainous trek with it strapped to your back.
Durability
Even though these tents are marketed to the casual user, it's still your home for a night out in the elements, or your shelter for a day on the beach. As such, you'll want the same protections as a regular tent, albeit not necessarily for such extreme conditions.
Most of these tents have some level of water-resistance and some even claim to go further with sealed seams and coated base material. You'll usually want to make sure you've got a rain fly and only go for a thin, single-skin tent if you know you're not going to be sleeping in. You can add extra protection by erecting a tarpaulin over the tent, using one underneath as a base, and spraying the tent with a waterproof sealant.
The UV protection is also common, especially with beach tents. If you know you're going to be inside the tent on sunny days, or if children will be using it, look for a UPF – typically 50+.
Top 10 Picks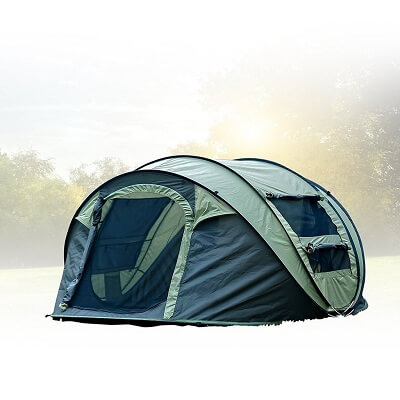 The aptly named FiveJoy is certainly bringing it and to a lot more than five people. This one pops up on everyone's list and fans can't get enough. Its strength is that it covers all bases well and is good quality on top.
Read more
Capacity
The FiveJoy is advertised as being for 2-3 people, and for once with tent capacities, this is pretty honest. It's roomy and could fit two with an air mattress, their boots and a bag each. So if you go with the usual rule and go for bigger than you need it'll be very comfortable for two people. The floor area is almost 80 x 80 inches and it's 47 inches at the tallest point. This is a nice size for a regular, still compact tent.
Setup and Pack Up
The FiveJoy springs up in seconds - it's more the case that you need to make space and be ready. Packing can be a bit difficult the first few times, but mainly from the point of view of getting used to the folding method.
Packed Size
Packs to a 36-inch diameter circle, one of its only drawbacks as they aren't great for space-saving packing or carrying in backpacks. But it does come with its own bag and there is no difficulty in fitting it in once folded.
Access
Two doors for ease of access for multiple occupants. There are also four mesh windows covered by solid nylon flaps which can be converted into rain flies.
Protection
Made of PU coated 190T (taffeta) polyester with UV protection. The base or floor is PU coated waterproof Oxford polyester. It's heavily water-resistant, but we would advise an extra, free-standing tarpaulin, to survive a night of rain. Despite the PU coating, the base may also need a tarp underneath. It's not for extreme weather but FiveJoy does state this.
Sturdiness
Stood up well to the wind; the tent comes with eight galvanized iron tent pegs, which should always be used. Seams are reinforced and zippers are strong.
Extras
There is a vestibule, which is a massive plus with pop-up tents as it's unusual to find multiple sections in such a convenient design. Along with this, there are the expected (and necessary) lantern loops and storage pockets.
Summary
Point after point, the FiveJoy just gets it right. Because it doesn't claim to be extreme-weather proof, the cost isn't overspent there. It's able to deliver general protection and functionality, and well.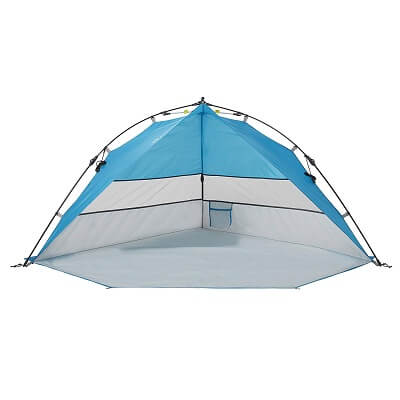 This is an unexpected high entry, mainly because it is primarily a lighter use, beach tent. However, as convenient pop-up styles will appeal to a variety of users, it's worth highlighting as camp credentials aren't required by everyone.
Read more
Capacity
There is no stated capacity as it isn't a camping tent, but we found it could fit an adult and two kids, or a few kids comfortably. Most of the time, however, you'll just be in and out of this one, using it as a shelter at the beach. The space inside is approximately 80 inches by 40 inches, by 40 inches high.
Setup and Pack Up
A few minutes each way. This tent is the "instant" style, working from a "tag and pull" system at its center, lifting from the ground up. It's as easy, if not more so, to put up and take down than a beach umbrella.
Packed Size
It comes with its own carry case, which is 34 inches in length, small enough for a backpack. This is especially useful as more often than not you'll be carrying it some distance to the perfect beach spot. Along with this, it weighs only 3 lbs when packed up.
Access
The tent is a pentagon shape, open on three sides for easy shelter access. There is a mesh window which runs all the way around.
Protection
As you'd expect for the beach, the Lightspeed is UPF 50+ protected. It's also water resistant, which works fine, as it's unlikely this will be out in heavy weather, just splashes and spray from the sea. One drawback is that the mesh windows have no covers or flaps so leave the tent always open.
Sturdiness
Once erected, use the stakes and guylines to secure. The tent also comes with sand pouches to help weigh it down; you might find that you need some more weight. More durable than you'd expect as the tent holds up well after a couple of years of use.
Extras
There are pockets inside, which are especially useful for the beach.
Summary
Overall, the Lightspeed is a nice surprise for a beach tent, which is why it made our list. Sturdier and easier to use than we were expecting, it's a great beach, park or temporary shelter tent.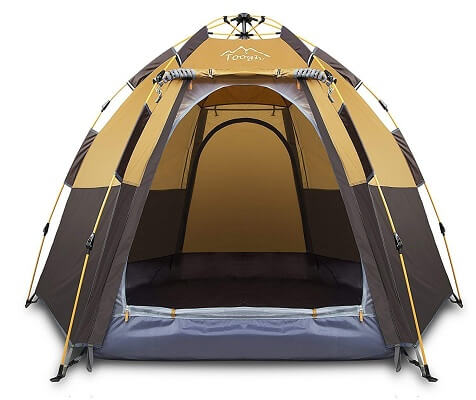 Toogh is a lesser known brand but the quality speaks for itself. We really like the dome shape, which is unusual in instant and pop up tents. It looks like a traditional tent with the ease of a pop-up.
Read more
Capacity
The stated capacity is 2-3 adults, but two is plenty. It's a nice size for two, or possibly two and a child. The height inside is 6 feet, and the base is an 80 x 55-inch hexagon (for the dome shape). We found that someone of 5'10" was about the limit before it would start feeling cramped.
Set Up and Pack Up
The Toogh is another instant tent, rather than a pop-up. The mechanism is an umbrella-style concertina within the center of the dome. Set up in 60 seconds, and after some practice, the takedown will be as quick. We found it was slightly more difficult than setting up and needed further instructions.
Packed Size
Packs to a 10 x 30 inch, backpack-sized, 9 lb package in its own bag. It's not round, which is another bonus as compared to many instant and pop up tents. This means that it will fit more snugly and easily when packing a car, as well as in a backpack.
Access
There are two large, mesh doors for access. One downside is that there are no windows, however, there are side vents with mesh to protect against bugs.
Protection
The frame is made of tubular metal, which means that the tent can withstand heavier weather. The material is 190T polyester, with taped seams so the tent is pretty water-resistant. There is also an attached, removable, rain fly which will help in wet weather. It's useful but could be larger.
Sturdiness
We found the Toogh to be really strong and didn't always need the stakes, although we always recommend using stakes and guy ropes, even in good weather.
Extras
The Toogh is quite plain inside and doesn't offer many extras, but it does come with a two-year limited warranty.
Summary
The Toogh has a mix of features, making it great for casual campers or short trips, but perhaps not hardcore treks. Its unique shape also means you avoid losing space to tiny tent corners.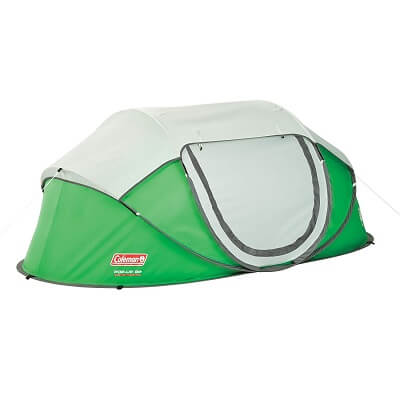 If the FiveJoy had a second man in its camp, it would be the Coleman FastPitch. Coleman is an outdoor gear favorite across the board, and this tent is one of the most popular. It's simple, sleek, and versatile.
Read more
Capacity
The FastPitch comes in a 2 and 4 person size. If the budget allows, we recommend going up to the 4 person as it is a bit of a smaller feel in practice. You might even find it just right for one! Indeed, the height of the 2 person is only 40 inches. The base is 110 x 78 inches. A rare tent where someone of six feet tall sleep without curling up!
Setup and Pack up
As expected, the FastPitch is truly speedy, taking 10-60 seconds depending on how practiced you are. If anything, it pops up too easily and you need to make sure that you've got a big space ready! It will become less swift after multiple uses. The pack away is the 'taco' method of folding.
Packed Size
It packs up to a 30-inch wide round shape, which isn't always that useful for carrying in a backpack, but it is thin rather than bulky.
Access
There is a single door and there are no windows, unfortunately. However, there is a mesh in the door for some ventilation with bug-protection.
Protection
This is an area where the FastPitch excels. Coleman has really concentrated on this with their WeatherTec technology, which makes sense given their place in the outdoor market. It's made from 185T (thread count) 68D (denier) polyester. It has a 3000mm waterproof rating, which is the equivalent of the average downpour. The seams are taped, but Coleman goes one further and offers a package with a waterproof sealant. We'd also recommend a tarp underneath. The main thing to watch out for is that if there is water on the roof, be careful when opening the door! The FastPitch is also fire-retardant.
Sturdiness
It's a nice, strong tent, even with only two guy ropes. Ensure you use these and the hooks. The relatively small, rounded shape means that it stays quite compact and doesn't catch the breeze too much
Extras
There are two internal pockets, large enough for equipment and camping gear, not just phones and keys. There's also the all-important lantern hook.
Summary
The Coleman FastPitch is a nice all-rounder and lives up to the brand name. Anything it lacks is made up for by its compact exterior, yet deceptively roomy interior. A truly "one tent, one piece" tent.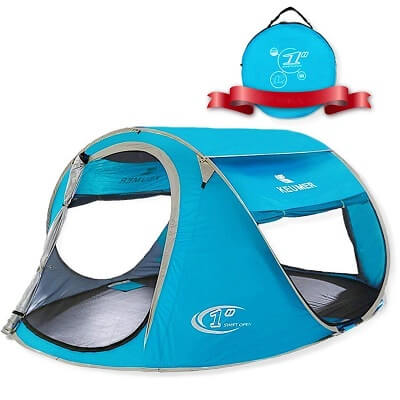 The ZOMAKE is fun and sporty and looks really sleek. It's got great openness for air and keeping an eye on the beach, but can also be fully closed for privacy.
Read more
Capacity
As it's not a camping tent, it's not a sleeping capacity, but the ZOMAKE can easily fit 3-4 for relaxing. In fact, it's 95 by 70 inches, large enough for a queen mattress. It's also 40 inches tall, which is more like a camping tent height, so there'll be more room than you'd expect.
Setup and Pack Up
It's a very easy throw, pop-up method. As with many tents, the folding technique might take a few tries to get right, but the instructions are sewn into the included carry bag, which is a clever idea.
Packed Size
The ZOMAKE packs into its 30 inches wide, circular carry bag. There's also a handle, which is useful as the circular packages are often hard to fit into a backpack. However, it only weighs 5 lbs, which is lighter than most.
Access
There are two large doors and windows, which can be opaque, mesh, or completely open. There is also a skylight on top for starry beach nights! It's rare that a tent offers such variation in terms of full and light shelter.
Protection
As expected for the beach, the ZOMAKE offers UV 50+ protection via silver lining. It's made from 190T PU-coated polyester and 210D Oxford fabric, and the floor is welded polyurethane, so it can stand more water than an average beach tent. However, we'd still advise a tarp as a base if you know you're facing some rain.
Sturdiness
The poles are fiberglass, which makes them flexible and light. The ZOMAKE also comes with eight Hogan hook stakes for stability - another rarity for a beach tent.
Extras
It doesn't offer much in the way of extras, but most users are impressed enough already!
Summary
While designed for the beach, for fewer hardcore trips you might like to use the ZOMAKE for an overnight stay as well because of its ease, space, and quality. The multiple windows and combinations make it a versatile shelter. It's the beach tent with camping credentials; a real sleeper hit.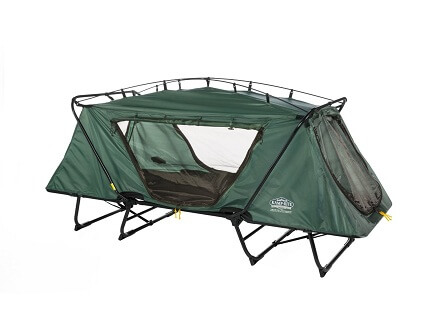 The Kamp-Rite is something a bit different, but worth including in our list as a popular tent with a unique audience. Truly a tent for one, it's a real individual camping experience with a couple of extras.
Read more
Capacity
The Outsunny is 90 x 32 inches, so really just right for one person. As its entire indoor space is taken up with the bed space, it wouldn't be comfortable or practical for more. It will handle someone of six feet tall just fine. What's surprising is the 36-inch height, but again, it's not for standing in, and much of this will be due to the attached legs keeping the tent off the ground at 11 inches. The weight capacity is an impressive 350 lbs.
Setup and Pack Up
It's not a pop-up or instant tent as we've seen so far. The ease and convenience come from its "foldable" billing. Poles and canvas are ready-attached. Setup times are around 5-10 minutes, worth it among the speedier models for such a self-contained tent.
Packed Size
This might be the area where the Kamp-Rite divides opinion. It's a not insignificant 34 x 7 x 34 inches when folded, which is pretty large as a package. It's not going to be for hardcore trekkers who need to carry all their gear, but perhaps none of the pop-up tents are. It's also around 25 lbs in weight.
Access
Access is via one door within one of the long edges, window style. There is also a mesh, closable window, and vent at each end. This is useful as along with the dark material it could feel like a very small space otherwise.
Protection
It's fairly heavy-duty, being made of 210D polyester. It's wind and water-resistant and the rain flies help with this. The water-resistance works pretty well on its own, but as with many tents, an extra tarp shores up the waterproof credentials.
Sturdiness
The relatively high weight capacity bears out, which scores points for the Kamp-Rite as it is our only pick on legs or a platform like this.
Extras
The Kamp-Rite comes with the cot which forms part of the frame. We love this because it means it can be used as a cot or adjustable sunbed on its own without the tent element.
Summary
The Kamp-Rite is an innovative idea, and for its fans, it truly fits the bill. Because of its size and configuration options, it can be used in a variety of situations. If you camp solo, this is the tent for you.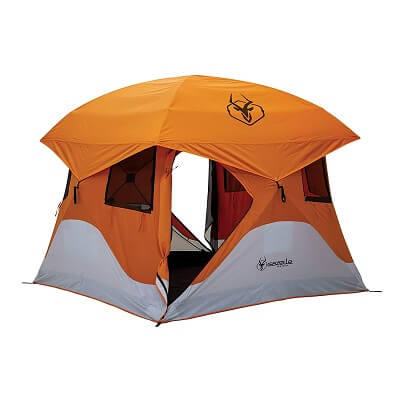 The Gazelle is a great size, another one which won't seem like a pop-up. It's got great protection and loads of space. More like a portable hut.
Read more
Capacity
The Gazelle is large - with 60 square feet of floor space it should sleep four easily. It's also got a near-unprecedented 78-inch height.
Setup and Pack Up
Another fold-out option, it's all attached, so just pull out and pull up. The first-time setup took around two minutes, which could be as quick as 30 seconds, which is great for such a large tent. Adding the rain fly will take some additional time.
Packed Size
The Gazelle packs into a 68-inch duffel bag, which is large. But it's slender for the size, and feels more like a group of poles than like you're carrying a large tent. It weighs just over 27 lbs.
Access
There are two D-shaped doors, which do require some careful stepping as the opening doesn't fully reach the floor. However, there are six covered mesh windows, which adds to the hut or cabin feel. Underneath the rain fly, the roof is also made of mesh for some extra light.
Protection
The large rain fly provides amazing water protection, with no leaks at all during a night of rain. The seams are also taped and the zippers strong on this polyester tent. Some users report that the protection holds even when they're not completely closed.
Sturdiness
As you might expect for a large and heavier tent, there aren't any issues with how strong the Gazelle feels.
Extras
There's a one-year limited warranty. The floor is also removable for shaking out and cleaning but attaches strongly with velcro hooks and loops so it's not going to pull free while you're using it.
Summary
Great if you have a larger group and can't risk feeling cramped in a smaller tent which isn't true to size. Its strength is in its size and durability, a great family or group tent.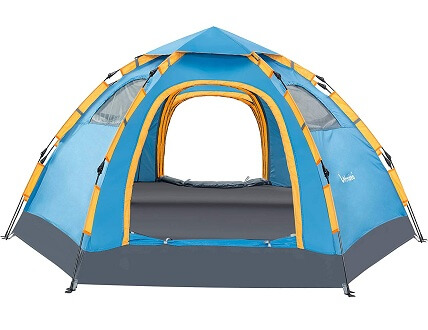 The Wnnideo is a simple, instant pull up tent design. It's reasonably priced and has a dome shape, which should provide a more spacious feel.
Read more
Capacity
Despite being billed as a 5 person, perhaps predictably this works for 3 at most if you want to be comfortable. It's got a relatively large footprint at 10 x 8 feet. It's also deceptively tall and can accommodate someone of up to six feet standing. Another one with a dome shape, there is less chance of being squashed into a corner here.
Setup and Pack Up
The umbrella mechanism really is up and down in two minutes; one of few of our picks which is as easy to pack as to set up.
Packed Size
The duffel-style carry bag is relatively small and the Wnnideo only weighs 8 lbs when packed.
Access
Entry and exit are via two large doors, and there are four small, mesh windows on the remaining sides of the hexagon shape.
Protection
The polyester material is coated to be water-resistant up to 3000mm (the average downpour). It's also UV resistant. One downside of the low cost and simplicity is perhaps that the Wnnideo isn't going to survive prolonged rough weather. There is a small rain fly, however, to aid protection.
Sturdiness
Wnnideo says the poles have been engineered to be stronger, and while we didn't experience any issues, the tent doesn't come with any stakes or guy ropes. We'd always recommend some kind of anchor, even with a hardy tent.
Extras
There are a storage pocket and a lantern hook.
Summary
A simple, lightweight "does-the-job" tent. The Wnnideo is one of our best value picks and for those that want the ease of an instant tent, with some bonus space, this could be the one for you.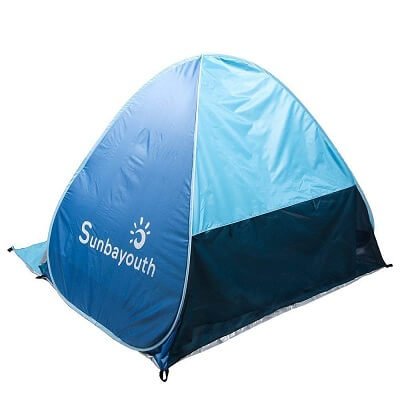 Our final beach-specific pick, we thought it was important to include this great quality tent designed for kids. Getting some shelter for children quickly and easily is often the time many people will need a pop up, and it doesn't just have to be for the beach.
Read more
Capacity
Primarily for children, Sunba says that it can take up to four. As it's not designed for sleeping in, you can be more flexible with sizing as you don't need as much space. A couple of adults could fit in it to grab some shade. Its dimensions when open are 40 x 54 inches and 46 inches tall. The floor space increases when using the removable mat extending out like a porch.
Setup and Pack Up
Very quick spring mechanism, sometimes tricky to close the first time, but that's common when getting the knack of folding up. There is also a useful manufacturer's instruction video to help with packing up.
Packed Size
Although a circular package, it has a very small 19-inch diameter when packed, so should be able to fit in some backpacks. Otherwise, the bag itself can be backpack-style, which is a huge bonus. It's also very lightweight at only 2.2 lbs.
Access
The Sunba is designed to be open most of the time, with pretty much all of one side opening curtain-style. There are no windows or other ventilation but again, the primary purpose of this one isn't to stay inside with the door closed.
Protection
As you might expect with children in mind, it's silver-lined, UPF 50+ protected. The polyester material is thin and breathable. We wouldn't advise using as protection in a prolonged downpour.
Sturdiness
The Sunba actually comes with eight metal stakes and has attached sandbags for security. This is great in a beach tent but also necessary as it's so light.
Extras
Accessories include pockets and hooks, as well as a removable and retractable mat for porch-style seating outside the entrance. This is great as it means that you can sit inside and out when seeking shelter.
Summary
For its light weight, and very reasonable price, the Sunba Youth can be brought along almost anywhere to provide some valuable shade. Too good to be kept just for the beach.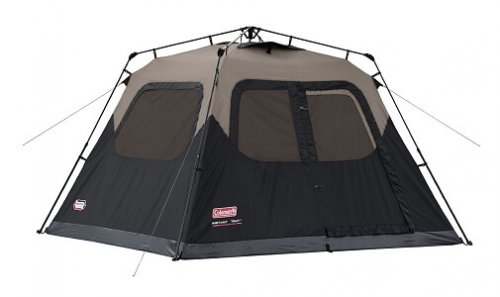 And for our final pick, it's another from Coleman. It instantly looks hardy, almost like a marquee, and so you'd expect a lot of it. We don't think you'll be disappointed, and Coleman to are proud of their weatherproof credentials.
Read more
Capacity
We looked specifically at the 6 person, but it also comes in 4 and 10 person sizes. The 10 person features technology which blocks 90% of light for sleeping-late - a novelty on a campsite. The 6 person comfortably fits four sleeping across or 2 queen size airbeds. The floor space is 10 x 9 feet, and the height is 6 feet. The unique thing here is that it's got the flattest roof of all our choices, so gives the most all-over standing room coverage.
Setup and Pack Up
Unbelievably it can be put up in under a minute by one person, although two might be advisable as you'll need help to take it down, but still in less than five minutes. It's a simple instant, pull-up rather than pop up tent, with an umbrella style central mechanism.
Packed Size
It's fairly long and large when packed up - 48 x 9 x 9 inches. At 25 lbs to carry, it's also too heavy for backpacking, but that really isn't the primary market with the Instant Cabin.
Access
Entry is via a set of mesh-window double doors, with further large mesh windows on the other three walls.
Protection
The Instant Cabin is made from double thickness 150D taffeta with Coleman's WeatherTec technology and has welded floors and inverted seams. They've really focused on making it survive the rain and for the most part, it's paid off. A major downside is that it doesn't come with a larger rain fly as standard, so we'd recommend getting one of those, a mat and some sealant to be sure.
Sturdiness
Certainly achieves the sturdy cabin feel, especially when the including ground stakes and guy ropes are used. Can stand 50 mph winds with slightly stronger stakes than provided.
Extras
There are the usual pockets and hooks for storage.
Summary
Overall, another instant tent which not only functions as a regular one but perhaps even better than some, so a real bonus that it's so simple to put up. For all this quality, it's also reasonably priced - a deserved favorite.

Subscribe to our Newsletter