Best Pop Up Tent
In a
Hurry? Editors choice: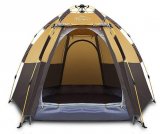 Test Winner: Toogh

So you've pulled a large duffel
bag
out of the car, dragged it what seems like miles to your spot, and convinced some of your fellow campers to help. Wouldn't it be great if you could just chuck your stuff inside the tent and get the campfire going? But that is the tent; all that work and your tent aren't even up yet. If the thought of opening the bag to find miscellaneous, seemingly unrelated
poles
, inner and outer sheets, and no instructions make you want to turn around and
book
into a hotel, a pop-up tent might be for you. The clue is in the name, and it's really not too good to be true – many pop up
tents
spring up quicker than you're ready for them. Overall, they're easier and faster to put up, lighter and more compact to carry, and often cheaper.
Standout Picks
Criteria Used for Evaluation
Ease of Use
Firstly, not all pop-up tents are created equal. That is to say, it's become a bit of a "catch-all" term for any kind of tent you don't have to put together from separate parts and a cover. Essentially, there are two types, commonly referred to as "pop up" and "instant" tents. We'll briefly discuss them here.
Pop up tents are exactly as they sound – sometimes to our surprise as you'll see from our choices! They are comprised of lightweight, spring-like, folded poles, which are usually coiled into a packed shape. When released, they "pop" out to their full shape. True pop up tents should be one complete piece including all supports and cover and should be fully set up in one to two minutes or less. These tents were designed so that you could just pull them out of a bag, throw them in the air, and a fully-formed tent would land. There are also hybrid pop-ups. These are similar but might require a bit more manipulation to get to their full shape and size. They're still springy and simple, just not a "one pop shop".
Instant tents are similarly simple as compared to regular tents. They mainly work using hinged and folded bars, ready-connected to the cover, which you pull up or out yourself. Rather than a pop-up, it's more like unfolding. The most common mechanism is like that of an umbrella if you were opening it from the top instead of underneath. In fact, many users find these tents quicker and easier to put up than a beach umbrella!
Our picks are split about half and half between these two types as they both offer a range of advantages and cool features.
Size
Camping isn't just about people. Sure, it wouldn't be as much fun without them but it can be very difficult if you don't have your equipment too! And all of that stuff needs somewhere to go. When looking at the capacity of a tent, think about your pets, gear, shoes, and anything else you want to keep in your tent. If you're not camping, think about what it is you usually need to store and how much room it will need.
Despite this, tents are most commonly measured in terms of a number of people. A warning and well-known bugbear are that these stated sizes often aren't how many you'll comfortably sleep. As you'll be housing more than just people as above, we recommend imagining the capacity the tent comes with is how many adults could sit in the tent, not stand or sleep. If you think about that, you can then gauge how much space your group will need to sleep, and how much room you'll have for your stuff. Our other general rule is that if the budget allows, go one size bigger. Tents won't increase in size exponentially, and the packed up size will be hardly any bigger so won't make a difference to your packing.
A thought to go along with this, as it will make a difference to how much floor space you need, is whether the tent offers any off-ground pockets, storage, and hooks.
Another factor directly related to how many people will be sharing the tent is how you'll get in and out. If you've got more than three people, we recommend looking for something with two or more doors. It just saves disturbing each other and feeling even more cramped. Windows with mesh are also important for ventilation.
Compatibility
When it comes to taking your tent down, if pop up and instant tents are new to you, firstly you might want to think about how easy yours will be to take down. Mostly they have a particular folding method to get them back to the right size and shape for their bag and this takes practice or a few goes to get it right. If you choose a tent that's more complex to take down or taller, think about whether you'll have someone to help.
Something that's always a consideration with outdoor gear is how small or compact it is and the weight. On average, pop up and instant tents are less heavy than traditional ones. This is because they tend to use lighter metal for the frame as it's flexible, and are also tasked with being confined to one piece, which keeps the weight low. What is common, particularly with true pop up tents is that the bag or package when folded is circular, which isn't the most convenient for packing efficiently or carrying in a backpack. Think about how far and where you're taking the tent, and this will help you decide how compact you need it to be. The chances are, if you're looking for a pop-up or instant tent, you're not going to be going on a long, mountainous trek with it strapped to your back.
Durability
Even though these tents are marketed to the casual user, it's still your home for a night out in the elements, or your shelter for a day on the beach. As such, you'll want the same protections as a regular tent, albeit not necessarily for such extreme conditions.
Most of these tents have some level of water-resistance and some even claim to go further with sealed seams and coated base material. You'll usually want to make sure you've got a rain fly and only go for a thin, single-skin tent if you know you're not going to be sleeping in. You can add extra protection by erecting a tarpaulin over the tent, using one underneath as a base, and spraying the tent with a waterproof sealant.
The UV protection is also common, especially with beach tents. If you know you're going to be inside the tent on sunny days, or if children will be using it, look for a UPF – typically 50+.
Subscribe to our Newsletter