8 Best Snow Tubes – Winter 2023 Review
In a Hurry? Editors choice: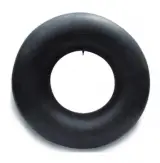 Test Winner: Flexible Flyer

Winter can bring some baggage with it, let's just say that. Drivers need to be more alert on the roads, the weather becomes freezing, and all your driveways and sidewalks get packed with snow.
But, one of the reasons so many people get excited about the winter is to go sledding. Well, it just so happens that snow tubes are some of the best options when you go
sledding
.
Not all of them will be and you need to learn how to spot the phonies, so to speak. With the assistance of this guide, soon, you will be able to do just that. First, though, let's take a look at some of the best options on the market right now.
Standout Picks
Criteria Used for Evaluation
Durability
When you are riding down the slopes, the last thing you want is for your tube to puncture.
Can you think of anything worse than using your snow tube just a few times only to have it punctured after one of your rides? Clearly, this is something you want to avoid and the best way to do this is to assess the build quality of each and every single model you have any interest in.
But, how do you do that? Well, there are quite a few factors to keep in mind. Firstly, what are the main materials that are used? Common materials will be vinyl, rubber, polyester, nylon, and polyethylene. All of which are durable in their own right. But, you can assess the denier count of any fabrics to get an idea of how durable they are. For certain, the higher the denier count the thicker and tougher the material will be.
In addition to this, you can also assess the design of the seams and stitching. Ideally, look for models that are double-stitched to add a nice layer of puncture-resistance. Oh yeah, and most models should be coated to handle colder temperatures or implement materials (such as K80) that can better withstand extremely cold climates.
Effectiveness
Not all models will possess the same speed and control so be sure to find the models that suit your preferences.
Even if a specific model is built to last, it may not be what you are looking for if it can't perform. What some buyers will crave is a snow tube that can pick up insanely fast speeds. While other factors will come into play, such as the angle of the hill and the terrain you are sliding on, some models will simply be faster than others.
The main area of assessment here is the bottom. Look for bottoms that are super slick and even coated with anti-friction technology if all you want is top-end speed. Of course, if you want to go with the safer route (as snow tubes can be hard to control) look for a more textured bottom to minimize the speed (this is ideal if you are shopping for your children).
In regard to the control, you can look out for integrated handles as this can help a little bit. However, snow tubes, in general, can't be controlled too much. Still, having handles to hold on to and to help turn it can come in handy from time to time.
Portability
Not only will you have to haul the tube back up the slopes but you will also have to haul it from home to the hill, in the first place.
There are two main reasons why it is crucial for you to pay attention to the portability of any type of sled, quite honestly. Firstly, you will need to haul it back and forth from your home to wherever you go sledding.
Secondly, once you have slid down the hill with your tube, you will need to haul it back up the hill. To make things easier on you when it comes to transporting them to the actual hill from your home, they will be inflatable. So, you can leave them deflated in the car and simply inflate them when you arrive.
With this in mind, pay attention to the design of the valves as you ideally want the most efficient inflation and deflation processes possible.
As for bringing them back up the slopes, this is where the weight comes into play. Without overcomplicating the situation, the heavier your tube is the harder it will be to pull or carry. Oh yeah, and speaking of which, with the larger and heavier models you should look for integrated tow straps. This can make things much, much easier.
Size
It is simple; the tube needs to fit as many people as you desire.
One of the questions you need to ask yourself before you even think about buying a snow tube is who will be using it and how many people do you want to use it at the same time. Okay, so that is two questions but they play off of one another.
The main reason these questions need to be answered is it will help you determine what size you will need to buy. Not all models will possess the same diameter (which is the measurement to look for due to snow tubes being circular).
If you maybe want to sled with yourself and your children, you should look for larger models (probably over 50 inches in diameter).
However, for two children, you could probably get away with a mid-sized model (say 43 to 47 inches or so). It also depends on the individual people who will be riding.
Not to call anyone out but everyone is not made equal and two skinnier lads could probably make a mid-sized model work just fine (while someone with a bit more girth may need all the room to themselves to be comfortable). These are just some factors to keep in mind.
Style
Who's to say you can't have the best of both worlds (a model that performs well and looks good)?
So, for a bit of fun, you can make this as important as you would like. If you really want to invest in a model that is stylish (according to your standards) then go right on ahead.
Yet, if you could absolutely care less, then do not make it a priority. Of course, with that said, never allow the visual style to trump other vastly superior attributes (such as the performance and the build quality).
Oh, and one last thing, if you are interested in selecting a model that is visually appealing to your standards then it helps when the seller provides you with several design and color options.
OUR TOP PICKS FOR THE BEST SNOW TUBES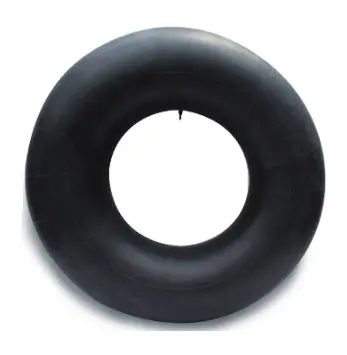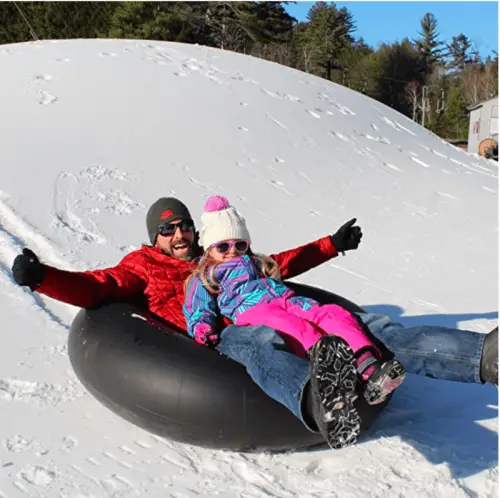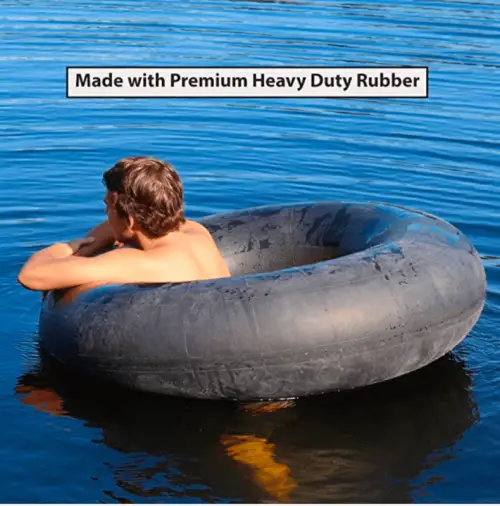 This tube is built from heavy duty commercial rubber and this means lots of stability and protection for adults and children. In terms of reliability, this tube is very unlikely to puncture and this is why it's so popular during snow season.
Read more
Build Quality
Made from durable 100% commercially graded rubber, the quality and performance has stood the test of time and remains very popular because of it's durability, stable ride and levels of safety.
Performance
When snow tubing started to become popular, this design was the first choice for users because the heavy duty material used to make these is highly durable and not at all easy to damage. No damage means lots of continuous fun performance, safely. The rubber used in making this tube is smooth and friction free so high speed performance is easily achieved.
Portability
It is not overly heavy to carry, very user friendly in terms of portability.
Physical Size
You get choices depending on the age of the user. For teenagers and adults' there is the impressive 48-inch tube and for children the size friendly 32-inch tube.
Visual Style
Jet black and looking strong, no colors or imitation fun animal features; this looks like a heavy duty durable tube offering stability, safety, speed and durability because this is exactly what this tried and tested design gives for users.
Overall
There are many snow tubes available on the market and many of them are good. Heavy duty rubber tubes were first and the durability and stability of these tubes is beyond questioning. Years ago, people started using truck inner air tubes for rafting and snow sports. It seemed a logical choice because of the durability, stability and portability factors.
Manufacturers saw the huge potential, made a few alterations such as a shorter valve feature and the popularity of snow tubes increased with the passing of each year. This tube is a good investment and it is a design which is known to be very good.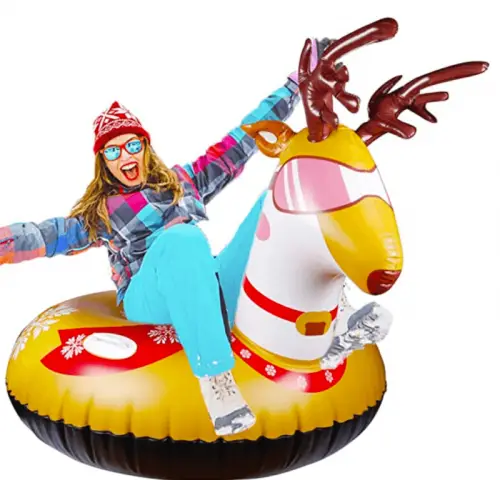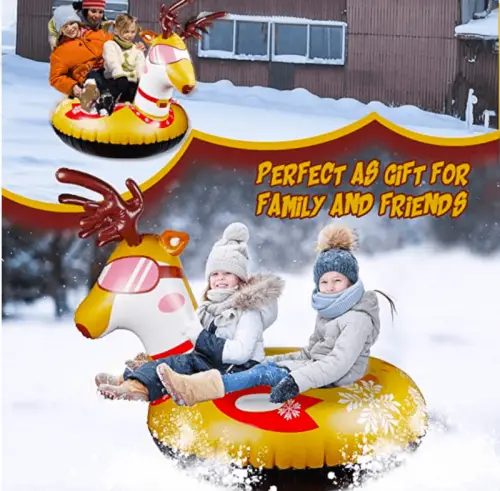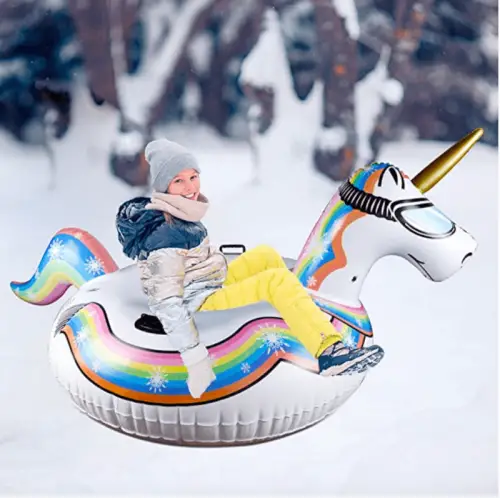 This Glintoper Elk gallops comfortably into being a highly ranked snow tube. The features are appealing and this is something which allows adults to double up with a young child safely or go it alone. The Elk looks good but it's also a safety feature and good for holding onto as the tube whizzes down a snowy slope.
Read more
Build Quality
K80 PVC and PVC coated laminated-fabric is claimed to be friendly to the environment. This material retains good performance right down to a cold minus 40 degrees.
Performance
The environmental coating on the fabric has another good angle, it allows the tube to slide quickly over the snow. In terms of performance, this sled can carry multiple people and adds more fun to the fun of snow sports.
Portability
This will inflate very quickly with any standard electric pump; can also be deflated quickly for ease of portability. The valve has a double-lock design to stop the tube losing air.
Physical Size
The fun Elk snow tube has a diameter of: 45 inches which is an impressive size easily capable of carrying more than one person. Also available is the Unicorn design which is even larger at 49 inches.
Visual Style
Offered in a choice of Unicorn or Elf, this is a great design with features for safety such as grip handles. These are designed to be visually cheerful and add to the fun of snow tubing. Lots of color, features and fun.
Overall
This tube is a combination of fun, attractive design and colors, safety features and able to carry more than one person. For parents this means they can ride the tube with a young child. This tube is all about safety and lots of fun.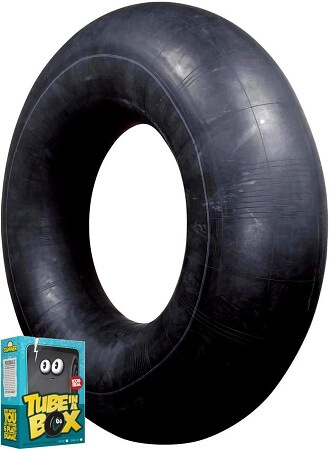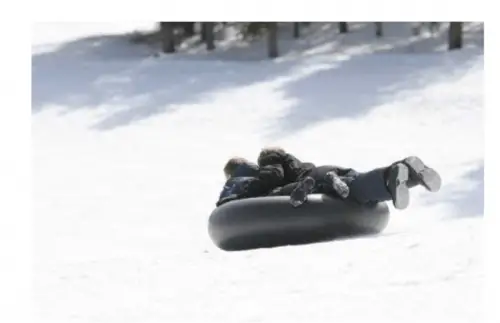 Not just for sledding but this right here is one of the most popular models in the world because of its versatility. You have to buy the inner tube separately, which is a bit of a downer.
Read more
Build Quality
Not only is this model made of commercial-grade rubber, but it is also UV-resistant which means it can withstand the rays of the sun.
Performance
There are no handles integrated and when it comes to performance, this is simply adequate when compared to some of the other models on this list.
Portability
If you get the monster tube, then you will have a huge hassle hauling it around. But, the other sizes are not too bad (though no straps are included).
Physical Size
Multiple sizes are available and if you wanted, you could go with the 68-inch model. If you and a bunch of friends want to have a good time, this may be the way to do it.
Visual Style
Overall, this is a pretty generic design; even though it is far from ugly. For just about everyone, this will do just fine.
Overall
To say the Tube in a Box is popular, is an understatement. When it comes to the tubing of any kind, this can get the job done extremely well.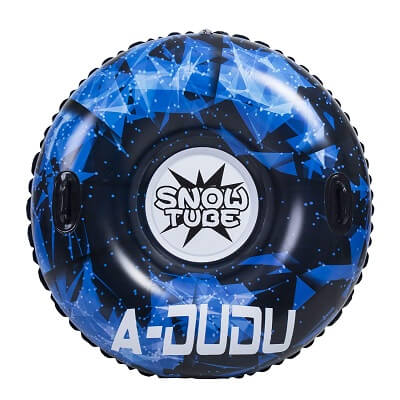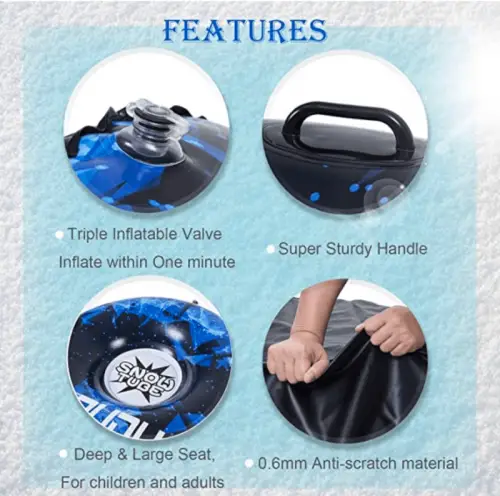 If you are not willing to spend over 100 dollars, on a simple tube then there are more affordable options out there that are still generally high in quality. This right here is one such example.
Read more
Build Quality
The good news is even though some buyers have seen small punctures form, most of the time they can be patched up. Also, this uses K80 to better tolerate colder temperatures.
Performance
The deeper and smoother bottom design allows this to gain some adequate speed down the slopes. However, the built-in handles are quite small and are not ideal for larger hands.
Portability
Being equipped with a three-in-one inflatable mouth and a double-locking valve, it is as easy as ever to inflate and deflate this bad boy.
Physical Size < Despite the cheaper price, this is actually sized very well. It measures 47 inches in diameter and is suitable for both children and adults. Visual Style
Each separate color option (black, blue and white) has its own unique design. Each design is quite stylish and should turn some heads on the slopes.
Overall
Just understand what you are getting here and you should be satisfied. It is sized well, coated to handle colder temperatures and comes in a few different stylish designs.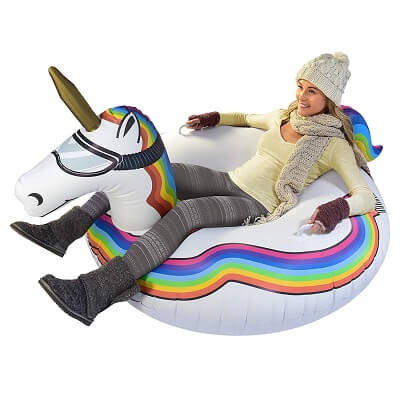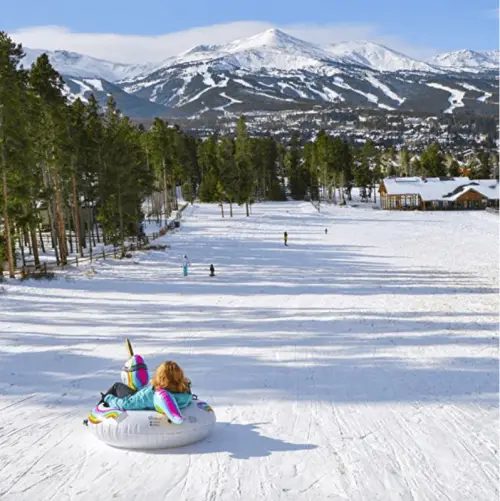 Another option that is terrific for kids is this one right here and it is mainly due to the fun designs that are available. But, to ensure optimal performance, each design has been treated to handle cold weather.
Read more
Build Quality
Though this is made of vinyl and said to be 100 percent thicker than the competition, various buyers have had issues with small punctures developing over time.
Performance
As opposed to normal everyday sleds, this should be faster. Adding on to this is the two built-in handles that manage to enhance the control.
Portability
While there's no tow strap integrated, GoFloats designed their model with a rapid-inflate valve. This is going to cut down on the inflate time for your convenience.
Physical Size
At 45 inches in diameter, this is large enough for adults to use (as well as kids). It is probably best suited for either one adult or two small kids.
Visual Style
Some very cool design choices are available. But, with options for a penguin, flamingo, polar bear, ice dragon, and unicorn, you can tell this is tailored to younger riders.
Overall
While not too many grown men will be sledding around with one of these, it sure is a fantastic design for the right demographic. Also, it is an affordable option for your kids.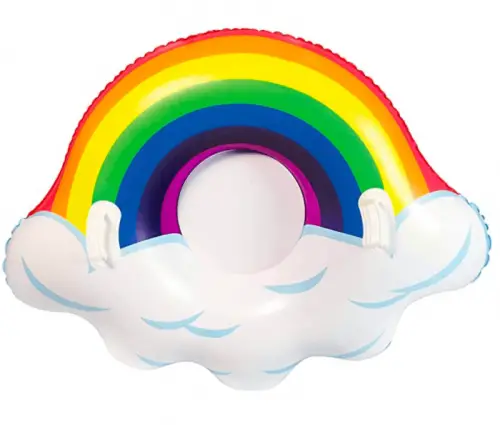 This will certainly bring some appealing color to the snow slopes. This tube can carry a single person up to 250 pounds in weight. Made from heavy duty PVC with a good amount of durability. Fitted with grip handles for control and stability.
Read more
Build Quality
Built with heavy duty PVC materials, this option has a nice level of durability and the material is effective down to a cold -25 degrees.
Performance
The performance capability is standard along with the tubes structural design; grip handles will give you some control. This can move quickly if you are experienced and know how to use snow tubes.
Portability
Not heavy, easy to carry, this inflates very quickly and also deflates quickly. No issues with portability. The overall weight is around a pound when deflated.
Physical Size
At around 39 inches diameter, this ring is designed at a comfortable size for either adults or children.
Visual Style
Rainbow colors, bright and cheerful, lots of visual appeal out on the white snowy slopes.
Overall
A standard size snow tube with a very attractive rainbow combination of colors. The size is good for teenagers, adults and should be ok for children. There are grip handles which mean safety and a fair amount of control. Durability is fine and this is easy enough to inflate, while portability is carry friendly.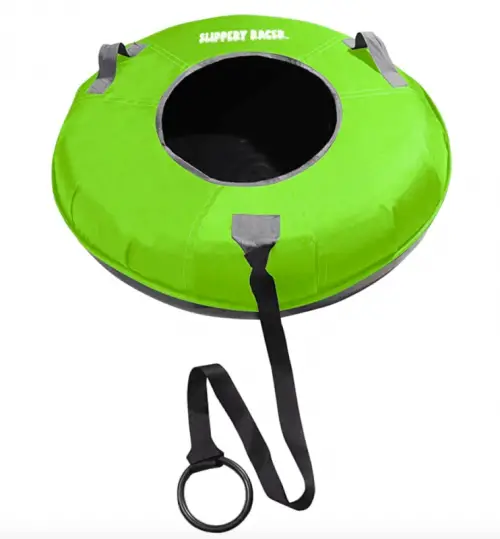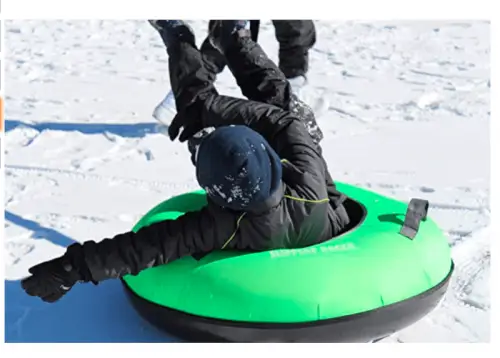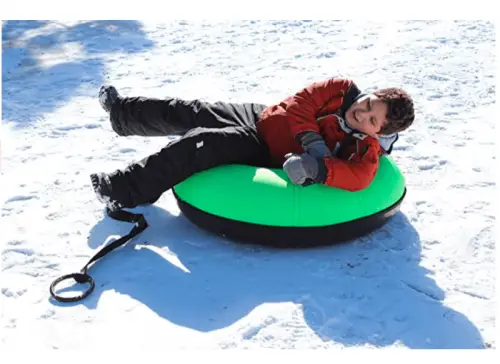 The Grande XL is a model that is not cheap. This is in regard to the build quality and price. Although, some buyers have claimed the outer tube rips a bit too easily.
Read more
Build Quality
Okay, so the tube itself has received some criticism for not holding up. But, this is made with a polyethylene base and is coated with IceVex (which is a cold-resistant treatment).
Performance
The polyethylene base also comes in handy when you are trying to gain some intense speeds. It is super slick and will ride the slopes incredibly well.
Portability
While the Grande XL is heavy to be hauled back up from the hill, this includes a high-strength pulley rope to help make it easier.
Physical Size
At 42 inches in diameter, this is not the largest nor is it the smallest model you will find. It falls right in the middle and is suitable for adults and children.
Visual Style
Slippery Racer designs their Grande XL in a multitude of colors and this only benefits you.
Overall
Some may feel the Grande XL is overpriced and this is somewhat warranted due to the slight durability issues with the tube itself. However, everything else is up-to-par.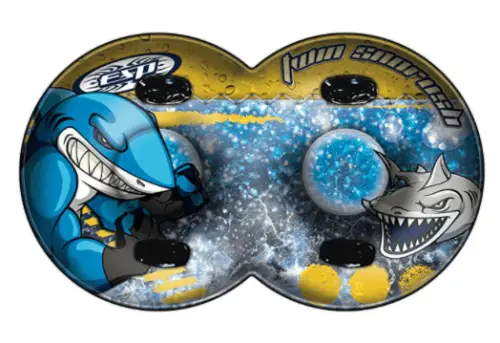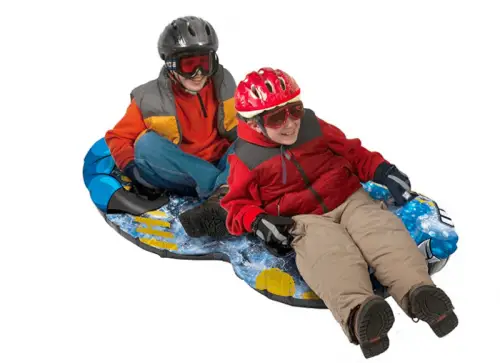 When young children first enter into snow tubing, safety is important and this tube design meets those needs. This is a good design, it's all about safety for children or friends double riding while having a lot of fun.
Read more
Build Quality
Built from a thick durable vinyl with anti-freeze capability so that the material stays pliable and durable during cold weather.
Performance
Vinyl is smooth and this means very little traction while zooming over the snow quickly. This twin tube is fitted with safety handles for children to hold onto for extra safety.
Portability
Very light and folds down to a small size for easy carrying; these twin tubes do not need and special type of pumps and are quick and easy to inflate.
Physical Size
This twin design is 61 inches long and this means it can easily carry an adult and child, two teenagers and even two adults. Though not specifically meant for use by two adults, it is better to stay with the purpose of the design, an adult and a child.
Visual Style
Nice graphics and colorful, these are designed to look fun and they are fun.
Overall
Filling a niche in the market, this option is a good design and allows a parent to join a young child on a fun snow ride while ensuring adult supervision.

Subscribe to our Newsletter