8 Best Snow Tubes – Winter 2021 Review
In a
Hurry? Editors choice: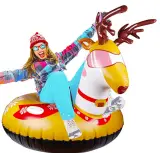 Test Winner: Glintoper Winter

Winter can bring some baggage with it, let's just say that. Drivers need to be more alert on the roads, the weather becomes freezing, and all your driveways and sidewalks get packed with snow.
But, one of the reasons so many people get excited about the winter is to go sledding. Well, it just so happens that snow tubes are some of the best options when you go
sledding
.
Not all of them will be and you need to learn how to spot the phonies, so to speak. With the assistance of this guide, soon, you will be able to do just that. First, though, let's take a look at some of the best options on the market right now.
Standout Picks
Criteria Used for Evaluation
Durability
When you are riding down the slopes, the last thing you want is for your tube to puncture.
Can you think of anything worse than using your snow tube just a few times only to have it punctured after one of your rides? Clearly, this is something you want to avoid and the best way to do this is to assess the build quality of each and every single model you have any interest in.
But, how do you do that? Well, there are quite a few factors to keep in mind. Firstly, what are the main materials that are used? Common materials will be vinyl, rubber, polyester, nylon, and polyethylene. All of which are durable in their own right. But, you can assess the denier count of any fabrics to get an idea of how durable they are. For certain, the higher the denier count the thicker and tougher the material will be.
In addition to this, you can also assess the design of the seams and stitching. Ideally, look for models that are double-stitched to add a nice layer of puncture-resistance. Oh yeah, and most models should be coated to handle colder temperatures or implement materials (such as K80) that can better withstand extremely cold climates.
Effectiveness
Not all models will possess the same speed and control so be sure to find the models that suit your preferences.
Even if a specific model is built to last, it may not be what you are looking for if it can't perform. What some buyers will crave is a snow tube that can pick up insanely fast speeds. While other factors will come into play, such as the angle of the hill and the terrain you are sliding on, some models will simply be faster than others.
The main area of assessment here is the bottom. Look for bottoms that are super slick and even coated with anti-friction technology if all you want is top-end speed. Of course, if you want to go with the safer route (as snow tubes can be hard to control) look for a more textured bottom to minimize the speed (this is ideal if you are shopping for your children).
In regard to the control, you can look out for integrated handles as this can help a little bit. However, snow tubes, in general, can't be controlled too much. Still, having handles to hold on to and to help turn it can come in handy from time to time.
Portability
Not only will you have to haul the tube back up the slopes but you will also have to haul it from home to the hill, in the first place.
There are two main reasons why it is crucial for you to pay attention to the portability of any type of sled, quite honestly. Firstly, you will need to haul it back and forth from your home to wherever you go sledding.
Secondly, once you have slid down the hill with your tube, you will need to haul it back up the hill. To make things easier on you when it comes to transporting them to the actual hill from your home, they will be inflatable. So, you can leave them deflated in the car and simply inflate them when you arrive.
With this in mind, pay attention to the design of the valves as you ideally want the most efficient inflation and deflation processes possible.
As for bringing them back up the slopes, this is where the weight comes into play. Without overcomplicating the situation, the heavier your tube is the harder it will be to pull or carry. Oh yeah, and speaking of which, with the larger and heavier models you should look for integrated tow straps. This can make things much, much easier.
Size
It is simple; the tube needs to fit as many people as you desire.
One of the questions you need to ask yourself before you even think about buying a snow tube is who will be using it and how many people do you want to use it at the same time. Okay, so that is two questions but they play off of one another.
The main reason these questions need to be answered is it will help you determine what size you will need to buy. Not all models will possess the same diameter (which is the measurement to look for due to snow tubes being circular).
If you maybe want to sled with yourself and your children, you should look for larger models (probably over 50 inches in diameter).
However, for two children, you could probably get away with a mid-sized model (say 43 to 47 inches or so). It also depends on the individual people who will be riding.
Not to call anyone out but everyone is not made equal and two skinnier lads could probably make a mid-sized model work just fine (while someone with a bit more girth may need all the room to themselves to be comfortable). These are just some factors to keep in mind.
Style
Who's to say you can't have the best of both worlds (a model that performs well and looks good)?
So, for a bit of fun, you can make this as important as you would like. If you really want to invest in a model that is stylish (according to your standards) then go right on ahead.
Yet, if you could absolutely care less, then do not make it a priority. Of course, with that said, never allow the visual style to trump other vastly superior attributes (such as the performance and the build quality).
Oh, and one last thing, if you are interested in selecting a model that is visually appealing to your standards then it helps when the seller provides you with several design and color options.
OUR TOP PICKS FOR THE BEST SNOW TUBES
Subscribe to our Newsletter