Best Snow Sleds
In a Hurry? Editors choice: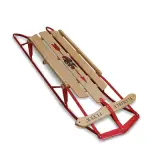 Test Winner: FLEXIBLE FLYER METAL RUNNER

The
winter
season is fast approaching and that means that several of you will be pulling out your snow sleds once again. However, be honest with yourself for a quick second, has the sled you are taking out reached an expiration date? Perhaps it is time for you to upgrade to a newer model. The process of selecting your newest model is not too tricky with this product as you need to focus on common characteristics such as performance and durability. There are
toddler
-specific and
kid
-specific sizes out there, as well as designs for adults. It ultimately is up to you, though.
Standout Picks
Criteria Used for Evaluation
Durability
You need the sled to last you years to come and also handle the vigorous abuse of sledding.
Given the nature of snow sleds, it is only practical for durability to be a main point of emphasis. With most outdoor products that are expected to handle abuse, that is going to be the case. The truth is, these come in a plethora of different styles and materials. Some of the most notable and common manufacturing materials you will see will be plastic, foam, vinyl, wood, and metal. If you are looking for a serious ride and really do not want to worry about any chance of breaking, models designed with metal frames may be your best bet (perhaps even with a wood top).
The most common models out there are made of either foam, plastic, or vinyl. All three of these materials can be prone to breaking or tearing and a lot of it depends on how you ride and where you ride. For instance, with vinyl, which is typically used for tubes, rugged terrain can rip it to shreds in no time. The same issues can arise with plastic and foam so you can't treat them like indestructible objects.
Comfort
Going down the slopes can be painful enough so having a sled that is optimized for comfort is never a bad thing.
When it comes to sledding down slopes at insane speeds, it is only logical that there will be a chance for something to go wrong. The positive to this, of course, is if you crash then you are doing so on snow which can be more forgiving than doing so on other terrains. But, what about the duration of your sledding experience? In other words, do you really want to be in pain and in discomfort all the way down the hill? Presumably, you probably do not and that is why you need to assess the comfort level of any model you are looking into. In some sense, the level of comfort of a particular sled is influenced by its style. For instance, plastic toboggan styles will typically not have much padding and may not absorb any impact.
This is where foam can hold an advantage. Not only can dense foam absorb some of the impacts you will endure down the slopes, but it also provides a comfortable base to either sit or lay on. Of course, even with models that do not have foam or padding, look for smooth and non-abrasive surfaces.
Effectiveness
How effective the model is will go a long way to determining your happiness. Look for optimal speed and ease of steering.
If the performance was irrelevant, then you could take a piece of cardboard and sled down a hill with it. That is just simply not the case, though, as the performance is going to mean everything for some buyers. Some of you may be content with anything or have children that feel the same way, but others will not. What dictates ideal performance? Well, it really comes down to speed, distance, and maneuverability and, to be honest, the best way to assess performance is to look at the individual styles one by one.
For example, let's start with snow tubes. These look similar to what you would find in the water but they actually work very well in this manner. Plus, they are offered in different shapes and due to their vinyl bottoms typically will perform very well (but they may be hard to steer). There are also toboggan models and saucer models. The former can really fly if the conditions are right and can be controlled with small shifts in weight. As for saucer models, they tend to go a bit faster but also are harder to control and steer. Lastly, you have models such as snow racers which are pretty much optimized for impeccable performance in all facets.
Size
Not all models will be optimized for all age groups. Plus, not all designs will be outfitted for more than one rider. You may want a certain size.
Truth be told, this section is entirely up to you (the buyer). But, it is important to understand, and this is something you are no doubt aware of, that not all snow sleds will be optimized for all age groups. Some will be designed specifically for toddlers, some for mid-sized children and others for adults. You may also see designs that can work for both children and adults. Depending on your needs and who you are buying for, you will need to look for specific sizes.
In fact, you can actually reference the styles again as they are typically outfitted for a certain amount of riders. Take toboggan style sleds, for example. Most of the time, you will be able to fit a couple of people on them at the same time (if you are interested in buddy sledding). But, for saucers and tubes, it becomes much more difficult to do so. Also, pay attention to the weight limit. If you are a 300-pounder and the weight limit is 200 pounds, do the math.
Portability
Snow sledding has one major issue; you have to bring the sled back up the slopes. Doing so can be made easier, though, with a model that is lightweight and portable.
Never forget about this criterion because it is huge. Typically, any product that you invest in that will be used in locations outside of your home will need to be easy to transport. However, in this case, it is even more important than that. While that is undoubtedly a consideration for you, perhaps even more vital is how easy the model is to drag back up the slope. When you go sledding, you need to start at the top of a hill and clearly, when you go down you will need to walk back up. This can become exhausting quickly and can be made even worse with a sled that is heavy and hard to drag or carry.
Ironically, this is one of the reasons why some models are made with flimsier materials and plastic. But, what you really need to look for is an integrated tow strap for dragging. Or, even integrated handles that give you a place to carry the sled. Of course, without question, the less it weighs the easier it will be to do so.
Top 10 Picks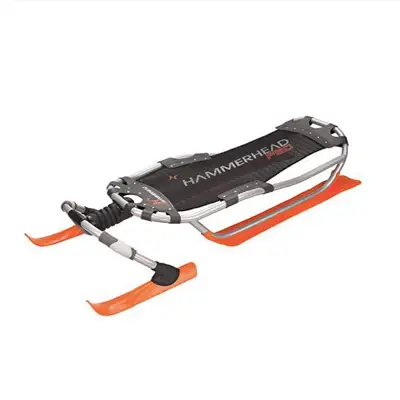 One would not think that a metal model would be the best, due to the extra weight. Yet, in the case of the Hammerhead, it is masterful as it combines superb performance and durability with a lightweight core.
Read more
Durability
Let's just say the Hammerhead is built to last. It is designed with an aluminum frame that has been powder coated for protection and also a stainless steel leaf spring steering system.
Comfortability
To make it easier on both your lower back and your spine, the Hammerhead is equipped with an Aeron chair that manages to absorb most of the impact you will take down the slopes.
Performance
Despite the construction, the steering is quite nimble and this is thanks to the precision engineering. That said this model does struggle a little bit to perform in deep powder.
Physical Size
Though this is the number one model, it is not quite made for larger individuals. On the official product page, it is listed that the Hammerhead has a weight capacity of 200 pounds.
Portability
In addition to the fact that this only weighs 10 to 15 pounds maximum, the integration of the mesh ensures that snow does not stay on top while you are dragging it upward.
Overall
Granted you are not attempting to perform with the Hammerhead in deep powder, your experience should be incredible if you are under the weight limit. It really is as simple as that.

2

. FLEXIBLE FLYER METAL RUNNER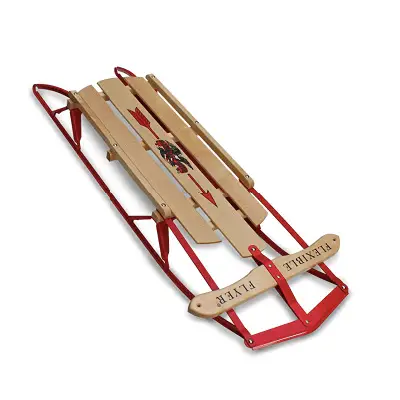 Is there anything that beats a gold old classic wooden sled? While the number one model on this list certainly does, enough can't be said about the quality of this design here.
Read more
Durability
On top of the smooth birch wood construction, Flexible Flyer has also designed this with powder-coated steel runners. Also, this features double knee construction for support and strength.
Comfortability
For adults, the 48-inch length of this sled may not ensure a comfortable ride. But, if you are a shorter individual, you should be just fine on this bad boy.
Performance
Any way you want to go about it, whether with your feet or lying down with your hands, you can carve turns with the utmost control here. Also, the steel runners offer insane speeds down slick hills.
Physical Size
Again, the 48-inch length may not be suitable enough for some adults. However, this is rated for kids ages five and up and can handle up to 250 pounds of weight.
Portability
Even though a rope is not included with your purchase, there are pre-drilled holes implemented that allow you to attach your own custom rope. Without the rope, though, this is still easy to pull back up the hill.
Overall
At the end of the day, it is hard to go wrong with the combination of wood and metal. In this case, though, the fantastic performance can actually overshadow the superb build quality.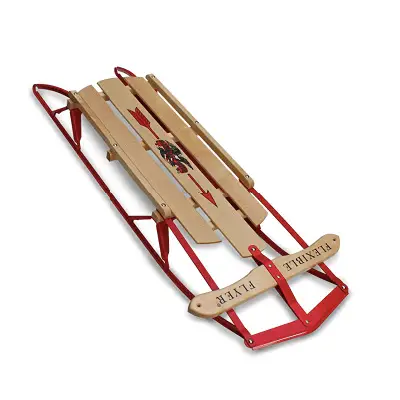 Even though you may initially believe that this next model belongs in the water, it actually works efficiently down snow hills. In fact, it performs much better than you may think.
Read more
Durability
Though some buyers have reported rips in the seams, the overall build quality here is impressive. The bottom is made of an industrial-grade vinyl and the canvas of 600D mildew-resistant polyester.
Comfortability
While there is a nice slick bottom that covers the center of the tube, there actually is not an insert to help lighten the impact. But, you could always stuff one inside yourself.
Performance
First off, the same vinyl bottom that was alluded to previously is also made with RapidGlide anti-friction technology and this allows for an enhancement in speed. Also, there are two sewn-in handles.
Physical Size
When this is inflated, as this is a tube and needs air to work properly, it measures 50 inches across.
Portability
When you are actually using this tube, there is a tow strap that allows for easy towing. However, when transporting it from location to location, it can be deflated to save space.
Overall
This type of sled is not going to be for everyone. For the right demographic who is looking for this sort of thing, you are probably not going to find a better option out there.

4

. FLEXIBLE FLYER SNOW SCREAMER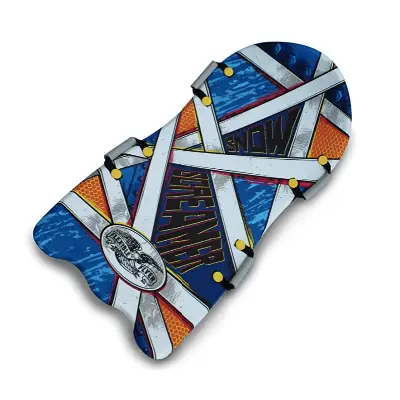 Here is another option from Flexible Flyer and they have dubbed this bad boy the Snow Screamer. Everything from the top to the bottom is superb here except for the fact that the bottom is prone to separation.
Read more
Durability
The main issue with this model is the longevity, to be honest. It is not poorly built but the dense foam top layer tends to separate from the hard plastic bottom over time.
Comfortability
While the durability can be a bit questionable, the comfortability of the Snow Screamer is not. The same dense foam provides a thick cushioning system which will absorb bumps and impacts.
Performance
It really does not matter what type of snow you use this on, it is going to perform extremely well. In fact, for even more speed, you can wax the bottom. But, the speed is also ideal without wax.
Physical Size
Flexible Flyer recommends that users aged five and up use this model. But, it is large enough for two people to ride at the same time; granted it is not over the 250-pound weight limit.
Portability
With handles on both sides, you can easily carry this back up the hill or merely drag it along the ground. Either way, the process is fairly painless due to the weight.
Overall
Man, it is too bad the adhesive that holds the foam and the plastic together was not stronger. When this lasts, it can provide hours of entertainment and pure joy for anyone.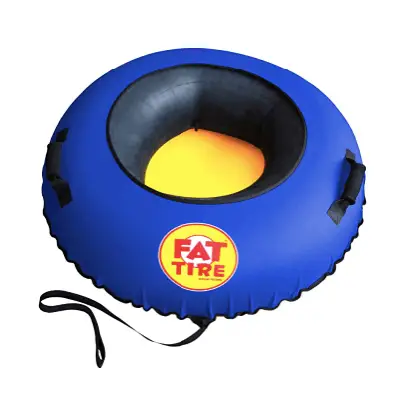 This is actually another tube design and while it is clearly on this list for a reason, it is worth noting that it is not ideal for consumers looking for top-end straight line speed and distance.
Read more
Durability
The top shell of this tube is crafted of 1000D nylon and in addition to this, is both water repellent and mildew-resistant. Plus, the inner tube is also made of high-quality materials.
Comfortability
If you invest in the Deluxe Edition of this model, you can receive a foam pad. With this pad, it can add cushion and impact-resistance to the middle of the tube.
Performance
Even though the bottom of this model is designed with a vinyl bottom that is supposed to enhance the speed, several consumers have reported that this is a bit slow and that it does not travel too far.
Physical Size
Though this is recommended for kids aged 10 to 14, it is actually large enough for adults to try. But, for kids, it could hold possibly more than one at a time.
Portability
Given the fact that this is a snow tube, it is inflatable. In addition, the seller also provides you with a four-foot long leash that makes it easier to haul back up hills.
Overall
If this bad boy performed with a little more speed and distance, it could have landed in the top three of this list. Although, it does hit the nail on the head in just about every other area.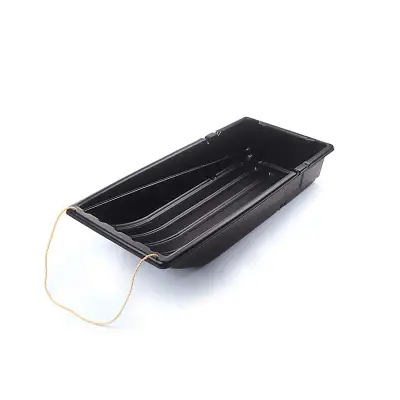 Ironically, Terrain's snow sled may actually end up being more useful for other activities for you due to its massive capacity. At its core, it still is great for good old sledding.
Read more
Durability
Being engineered with high-impact polyethylene, this is going to handle some abuse. With that said, this is still plastic and could have been more heavy-duty, all things considered.
Comfortability
Even if you wanted to let your little ones enjoy this sled, it is deep enough to keep them comfortable and secure. It is not the most comfortable design out there, but it suffices.
Performance
Due to the ribbed bottom, this is optimized to travel on snow and ice. However, you are really not going to steer this unit, which is a bit of a disappointment.
Physical Size
The sheer size and internal depth of this design make it ideal for both sledding and a multitude of other tasks. It can work terrifically for adults and children alike.
Portability
Part of the reason why the plastic is not overly thick is to ease the effort you must expend when hauling this model back up the slopes. Oh yeah, it also comes equipped with a heavy-duty tow rope.
Overall
Though there are some slight issues with the build quality and the performance, this overall design will be right up to the alley for some consumers out there.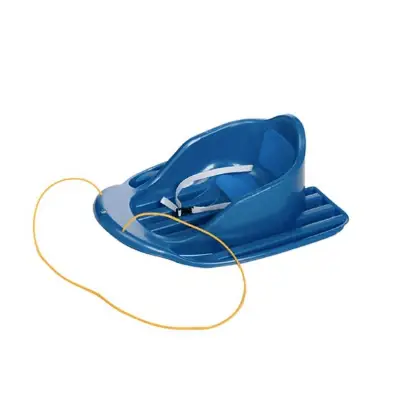 Right from the get-go, understand that this next design is intended for toddlers. If you feel they are ready to go on an adventure, buy them a design that has been engineered for safety such as this.
Read more
Durability
Though plastic is really a high-quality manufacturing material, it could have been a little more heavy-duty here. But, it is also not as if it will break within the first 30 minutes.
Comfortability
Without question, this has been engineered for both safety and comfort. This is headlined by cushioned paddings on the seats, the raised seat with a wide base and also the included seat belt.
Performance
Given this is for your toddler, they probably are not going to know how to steer so the concern is not there. Yet, this has a diamond polished underside for thrilling speeds.
Physical Size
Again, this is specifically designed for toddlers (aged three our younger). But, even some taller toddlers can find it awkward to sit in this.
Portability
Even though this is already portable, it can actually be folded up to make it even more compact. Heck, your little one could even drag it up themselves.
Overall
Why should you and your teenagers have all the fun this winter? Although you may be apprehensive about the thought of your toddler sledding, this is about as safe as it gets.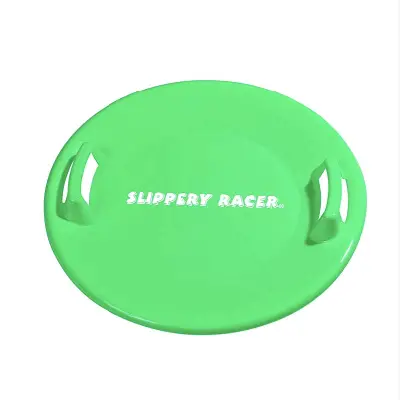 Some consumers out there only require a simple plastic saucer for sledding and that is exactly what you are getting here. But, it is plastic which could be a deal breaker for some, to be honest.
Read more
Durability
One nice aspect about this pro saucer is the fact that it has been coated with an IceVex cold-resistant treatment, making it suitable in cold conditions. But, the plastic can be prone to cracking.
Comfortability
While there really are no design features added to increase the overall comfort, the inside surface is smooth and is not uncomfortable to either sit or lay on.
Performance
It is amazing how nothing more than a sphere could perform so well. But, due to the fact that this is engineered to bend without breaking and that integrated handles are in play, that is the case here.
Physical Size
The actual diameter of this saucer is 26 inches but do note that the integrated handles do take away some seating space. Still, it is big enough to fit kids of most sizes.
Portability
This is about as easy as it gets when it comes to portability. Whether you are analyzing how easy this is to transport or how easy it is to carry back up the slopes, it is irrelevant.
Overall
For serious sledding enthusiasts, this may not cut it. But, if you want to surprise your children with an excellent Christmas gift then it could be.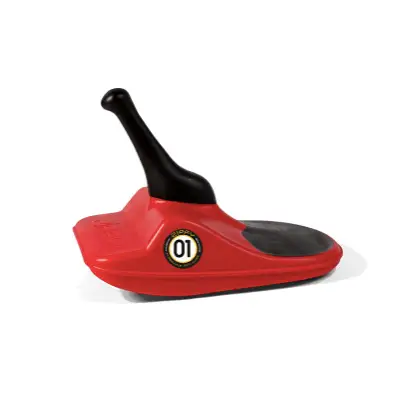 Now this design here is unique, to say the least. It almost looks like a joystick is implemented into the middle of the sled but it does allow for an exhilarating downhill adventure.

10

. LUCKY BURNS SNOW SLED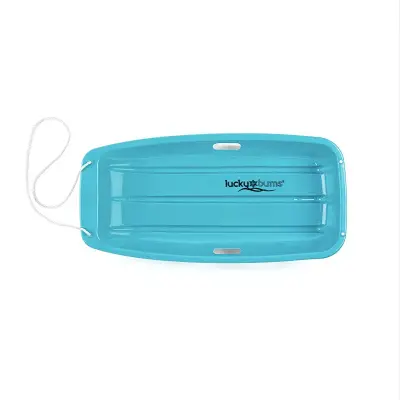 Chances are this last option resembles one of the sleds that you grew up with or one you are familiar with. Once again, it is plastic and will not be able to withstand too much abuse.
Read more
Durability
Is the most durable design on this list? No, it is not but given its plastic core that should be expected. And yes, the plastic here is a bit flimsy so be cautious of that.
Comfortability
There is no implemented padding or anything like that but the grips are smooth and will not scrape your hands if you do not have gloves on.
Performance
When the speed does pick up, you can hold on to the handles on the side for security and also help maneuver the sled. But, the side handles do tend to fill up with snow.
Physical Size
If the 33-inch length is not suitable enough, there are also options for 35 inches and 48 inches. Each model will be suitable for a certain age group, so be aware of that.
Portability
No matter the length you choose, portability is made easier with the included pull rope. Also, the model itself is light in weight, to begin with.
Overall
This may not be the most spectacular model out there but you know what, it does the job very well. Granted you do not require the best of the best, this is a solid option.

Subscribe to our Newsletter