The Best Carry-on Luggage For Travel
In a Hurry? Editors choice: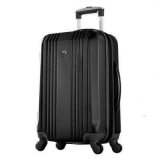 Test Winner: Olympia Apache Ii

Next to your chosen personal item, your carry-on is your best friend while traveling. You typically don't have to separate from each other and it can come even come with you to the
bathroom
if need be. As such, investing in a high quality, durable, and stylish piece is
important
. Many
suitcases
get thrown (literally) through the wringer during travel. If you do choose to check this bag, you'll want to know that it will survive the harsh conditions of traveling in the belly of the plane. With millions of options to choose from, it can be difficult to decide where to start. If you've gotten this far, you're on the right track.
Standout Picks
Criteria Used for Evaluation
Top Ten Carry-On Luggage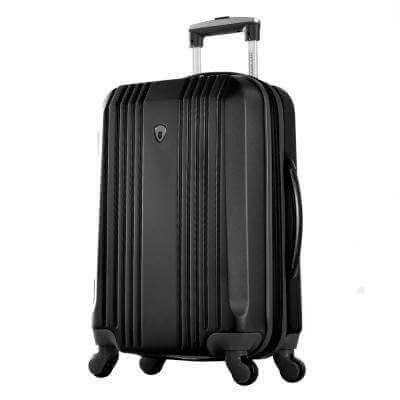 This carry-on luggage is the next generation of carry-ons. This luggage may look simple but is packed with extra features to make your travel experience relaxing and convenient. It also looks stylish too, definitely a carry-on to look at if you're in the market.
Read more
Materials
This luggage comes with an aluminum handle to ensure it will last and will be strong enough to pull the weight of your carry-on. Built with a tough exterior this luggage can take a beating and still look great. If you have experienced your previous luggage damaged from tough airline abuse, this is one that will hold up.
Features
This bag features a number of extra features such as 4 wheels that spin to ensure that mobility is ease for the operator. This carry on also comes with a hidden compartment to store your electronics or anything that needs to be accessible while traveling. There is also an expansion zipper that gives the bag about two extra inches, allowing you to bring back souvenirs for everyone.
Motion Control
As mentioned, this suitcase has 4 spinning wheels. This allows you to walk with the suitcase instead of dragging it behind you. The wheels spin 360-degrees and the bag can be pulled sideways, backward, or pushed in front of you.
Ease of Use
This suitcase is very easy to use! As long as you don't overwhelm yourself while packing, stay calm and organized, there is a place for everything.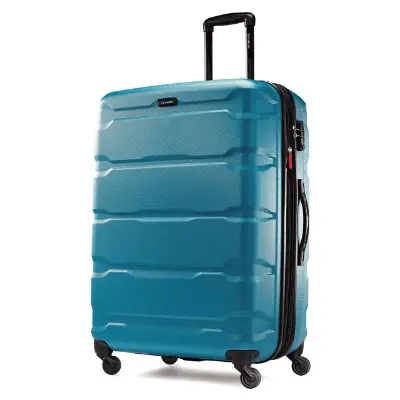 If you're looking for an affordable choice for your luggage, then you might want to check out what the Samsonite Omni PC has to offer. Designed for easy use and packed with extra features that ensure organization, this bag offers a lot of functionality.
Read more
Materials
The shell of this suitcase is made out of 100% polycarbonate. It features micro-diamond technology that resists abrasions. The lining of the bag is made from polyester.
Features
This luggage will fit in most overhead compartments, but won't always meet carry-on standards. If you choose to expand the bag on the sides to fit more clothes or souvenirs, it may get flagged as being too big. A TSA lock is also integrated into this suitcase, keeping your items secure.
Motion Control
This suitcase also features 360-degree spinner wheels and is very easy to transport through the airport.
Ease of Use
With this bag, you get a full-zip interior, divider, and cross-straps to help you better organize your items when you pack.

3

. Amazon Basics Softside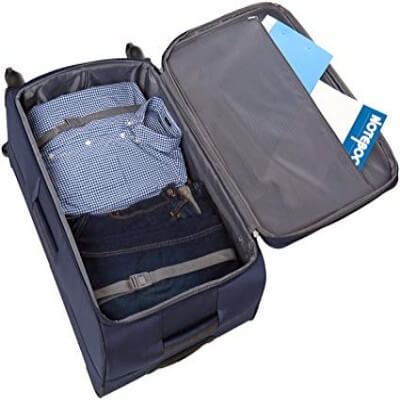 This next piece comes from a site, a brand, a friend that we all know and love. It is a soft-shell carry-on spinner suitcase which is ideal for international flights or weekend getaways.
Read more
Materials
The material of this suitcase is very durable and the outside is lined with a protective layer in order to avoid scratching and damage. The purpose of the lining is functional but also looks very nice. This carry-on luggage is also very lightweight and it weighs only 5, 5 pounds. The volume of it is 9 liters.
Features
Since it doesn't have the two-shell method of organizing your belongings inside, it does have interior pockets that will assist with the organization. This Amazon Basics suitcase has an option of expanding. This means that you could choose to use it as a smaller carry-on suitcase in case you have less stuff for a shorter trip. Or you could expand it to 25% and get additional packing capacity in which you will be able to fit most of your stuff. Although it is not recommended that you over pack your suitcase, the zippers are very durable if you don't take the overpacking too far. Inside, there are also clipping straps that will keep your stuff lined up. This is a feature that organized people will know to appreciate. There is also a zippered compartment inside that will allow you to physically separate the dirty stuff for instance from your clean ones.
Motion Control
There are 4 wheels that could move in any direction and the rolling is pretty smooth. However, the sizes of the wheels suggest that this suitcase choice is not too convenient to be used for rough terrains. If you are looking for such an option, look through our other suggestions.
Ease of Use
The handle system is telescoping and the pulling is smooth and effortless. There is a push button on the top of the handle which allows you to activate it. The soft side design of the suitcase will allow you to squeeze it into small spaces, in order for it to fit the tight space. Of course, if your packed belongings allow this. Even though this is a characteristic that all soft-shell suitcases possess, the hard shell ones would crack if you push too hard to fit them in a tight space.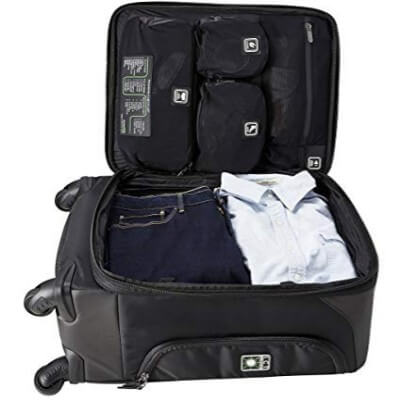 The Genius Pack G3 is a neat option in luggage choices and features an integrated air valve to compress clothing. That means you can pack a lot more into this bag than you could with some other luggage options.
Read more
Materials
Designed from high-quality 840-denier ballistic nylon and polyurethane coated trims, this bag is made for durability. It also features a strong honeycomb frame that can take a lot of abuse. This bag is designed with a 100% aluminum telescoping handle that has two locking positions. You also get a memory foam-filled top area that makes the bag more comfortable.
Features
This bag can expand out an extra two inches, providing 20% more packing space when you need it. It also has a checklist embedded inside of it so you always know what to bring with you.
Motion Control
This is another suitcase that features 360-degree rolling wheels. You can carry or roll this suitcase anyway that makes you happy.
Ease of Use
In terms of packing, this bag is very easy to use. It features a removable laundry bag, designated compartments, and exterior pockets. In terms of rolling, this bag is also a dream.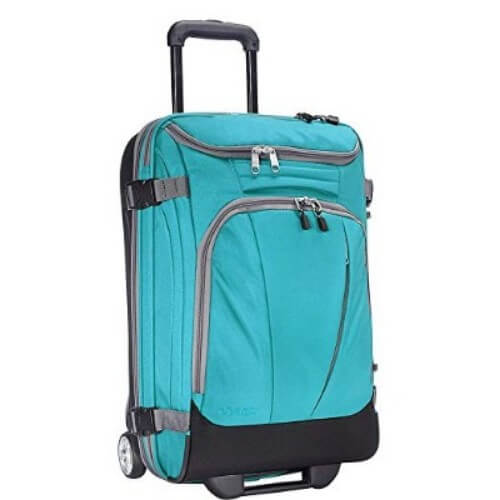 Founded by five friends in 1998, eBags has become one of the online leaders of luggage sales. They were recently bought out by Samsonite International but continue to produce top-quality travel gear at affordable prices. The TLS Mother Lode is available in eight different colors and offers 'lodes' of organization.
Read more
Materials
This suitcase is made from 840D and 900D twisted polyester. Apart from the suitcase, you will also receive two fiberglass rods that assist with the stability of the bag, keeping it upright when standing. These are essential pieces and you should insert them before using the suitcase for the first time. The bag is a carry-on size for almost all standard airlines. It measures 21.5" x 15" x 9". It weighs eight pounds and eleven ounces.
Features
The TLS Mother Lode features two external pockets, one small but wide pocket on the top of the suitcase, and one large pocket. There are three zippered mesh pockets inside. One of the most favored features by reviewers is the removable movable shelf divider in the main compartment. Each section of the exterior zippers leaves enough room to add a lock. There is also an expansion zipper that gives you an extra 1.5" inch of space.
Motion Control
This suitcase has two large wheels. They do not wobble and ride smoothly on many surfaces. As for motion control, that's really up to the driver with this bag. It can easily be pulled behind you, or if you would like to practice your driving skills, you could push it in front of you.
Ease of Use
With all of the additional features in this bag, it's very easy to use and organize. The zippers are smooth and lockable (lock not included). The handle can be adjusted to three different height levels. Some reviewers had issues inserting the fiberglass balance rods but eBags has recently put out an extra instructional video to assist users with the issue.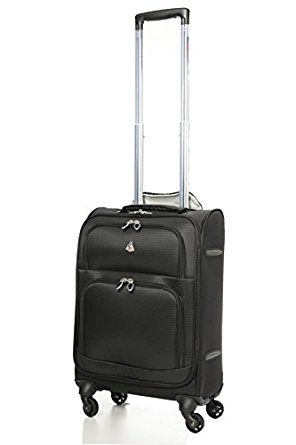 This Aerolite carry-on luggage is made specifically for frequent flyers that are using domestic airlines. The dimensions fit most USA Airlines as well as Southwest Airlines. And what makes it a good and safe choice is that it comes with a 10-year guarantee, which enables you to buy this product with confidence.
Read more
Materials
The material this suitcase is high quality 600 denier polyester which is resistant to ripping and very durable. The entire suitcase is made with durable but lightweight materials.
Features
Compared to other suitcases, this bag is more spacious and it can carry more weight. Its weight limit is 38 liters which is 20% more than competitive models. The corners of the luggage are also reinforced in order to protect your belongings from damage. This is also a regular feature in suitcases, although many lightweight luggage alternatives don't have it.
This suitcase comes with its organizational properties. This Aerolite choice has two front pockets which can be closed with a zipper. The zipper is dual closed so you are able to easily access your belongings from every angle. The upper pocket is perfect for your passport, entertainment device or charger.
Motion Control
The handle is also retractable, like many other models from this price range and level of quality. The retractable handle can be put to use with the push of a button. It enables you to pull your suitcase on two wheels. Or you could also push it around on four wheels. The four wheels are not integrated into the suitcase, but that is rarely an option in bags in this price range. However, the wheel system is reinforced and conveniently placed so there is minimum impact in case you or someone else drops it.
Ease of Use
Even though the dimensions are perfect for most airline overhead departments, this suitcase is not able to fit under the seat. However, this only applies to the economy class. It is also convenient that you have the freedom of movement with it if you decide to push it on four wheels. It doesn't go only in one direction, but it also swivels.
This Aerolite carry-on luggage suggestion is one of the lightest suitcases on the market. With its weight of only 4, 6 lbs you would be able to carry it through airports easily. It is available in various color designs as well as other sizes. The company also offers a 10-year guarantee in order for you to make a more confident decision, in case you are not sure of your purchase.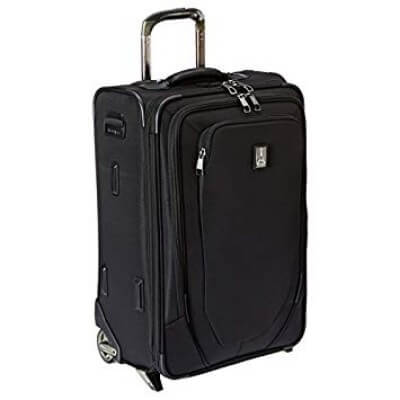 The TravelPro Crew 10 is a strong nylon bag that's made to roll easily and not wobble. It's durable and features a high-quality design and great materials.
Read more
Materials
The material designed into this bag is 100% nylon, and it also features a nylon lining on the inside. The frame is made from solid, durable aluminum that is built to last.
Features
The interior of this bag comes with a full lid and also has a deluxe suite inside it, so your clothes won't wrinkle when you travel with them. Also, this bag comes with a limited lifetime warranty. The bag features corner guards, side feet and skid guards to help make your luggage last longer.
Motion Control
This suitcase has only two wheels. This makes motion control very manageable. With only two wheels, unless you're on a steep incline, there is really no chance of your bag rolling away from you.
Ease of Use
Designed with a power scope aluminum extension handle, this bag holds itself upright well and also gives you several stops with the handle. The bag is fairly easy to handle alone, at 8.8-pounds.

8

. London Fog Coventry UL Collection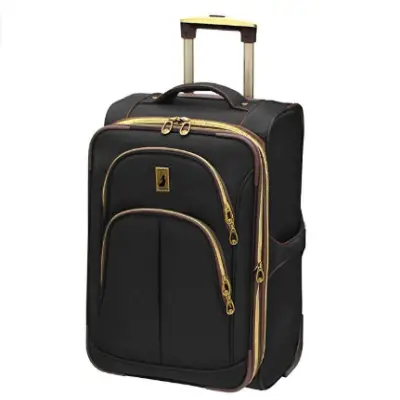 This London Fog carry-on luggage has a great design and even greater quality. Its design is made to fit almost all domestic airlines and their overhead compartments.
Read more
Materials
The frame is made from high-quality corner guards that are helping the luggage look as new for a long time. The outside of it is made out of a hard synthetic material which is scratch-resistant. The back of a suitcase usually provides the strength of the bag for carrying heavier items, but, in this case, this luggage has reinforced back frame that is able to withhold a greater weight. The frame of the luggage is made with a honeycomb structure that gives it strength without making it extra heavy. This results with an ultra-light carry-on luggage with strong support for your heavier items. The weight of this luggage is only 7.5 pounds and the dimensions are 9 x 21 x 14 inches.
Features
The handle system is made from high-quality aluminum parts that work smoothly and without disruptions. The aluminum handle material also gives the luggage strength so you are even able to lift the suitcase by its handle and it wouldn't break. However, this is only done for testing; it is not recommended for regular use. The aluminum handle system is reinforced with channels for extra strength.
The exterior is rich with pockets that will make your traveling more organized. However, the interior is also well organized with shoe pockets so that you don't mix up the "dirty" shoes with your clean clothes and a mesh pocket which is zippered placed on the lid of the bag.
Motion Control
The wheels are incorporated in a wheel system with protective corners in order to ensure that they are protected during the transport. This is a two-wheeled system which means you will be able to use it as a carry-on suitcase for a long time. Since the wheels are placed inside a frame, the luggage is also convenient to use on rough terrains. However, you wouldn't want to since it looks very elegant and well designed.
Ease of Use
The linear dimensions are 13 inches when it is fully expanded. It is also very stable when standing on its own. Some cases tend to fall forward when they are over packed. However, this carry-on luggage doesn't have that issue; it could certainly stand free regardless of its packing content.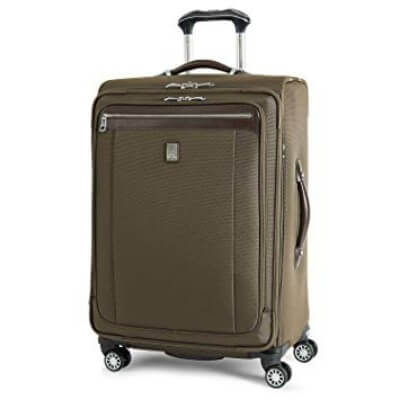 The Platinum Magma 2 is designed to give you a well-balanced bag that isn't prone to tipping. It also offers you a smooth rolling option in luggage choices.
Read more
Materials
Designed out of 100% nylon and featuring a nylon fabric with DuraGuard coating, you get a powerful aluminum frame. Also, the aluminum handle extension on this luggage is very strong.
Features
There is a zipper closure designed into this bag, and the bag also features a leather top with side carry handles. Its total weight is 7.7 pounds.
Motion Control
Unlike some other suitcases on our list, this particular piece comes with not 2, not 4, but 8 wheels! Each pair is magnetic and self-aligning and allows for a 360-degree range of motion.
Ease of Use
The expansion capabilities on this bag are up to two inches, and the bag is designed with a leather top and easy carry handles. You'll be able to easily carry and take this bag along with you.

10

. Briggs And Riley International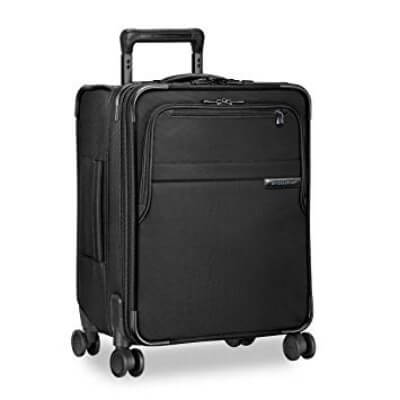 Briggs And Riley International's bag is made with high-quality materials and brings you a lot of durabilities. This bag is built to last and carry heavy loads, and it's very easy to bring along with you when you travel.
Read more
Materials
Briggs and Riley designed their bag out of a durable 100% nylon material. The frame is made from quality aluminum and is built to be strong and durable.
Features
This bag features expansion compression, meaning you can actually expand the bag out when you need to pack additional items. This part of the bag also compresses in when you no longer need it.
Motion Control
This specific bag has two wheels, however, the company also makes a four-wheeled version. The two-wheeled version provides simple motion control and is easiest to pull the bag from behind.
Ease of Use
The zipper closure used on this bag makes it very easy to pack your items and take them along with you. Plus, the inside of the bag features a large, flat interior and compression panels.

Subscribe to our Newsletter