Best Hard-Shell Luggage
In a Hurry? Editors choice: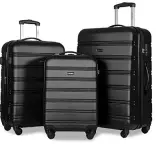 Test Winner: Merax Travelhouse

Getting ready for a trip can be stressful. Whether it is for
business
or pleasure, you'll need to be cautious with what you plan to bring and how you pack it. A great way to ensure the safety of your items is by using a hardshell suitcase. These suitcases typically feature one large compartment with a buckle strap to keep all your belongings in place. Because of their hard exterior, there are no outdoor pockets or compartments included.
When choosing a great piece of luggage, there are few things to keep in mind, such as size, materials, durability,
weight
, ease of use, and of course, the style. The market is flooded with travel suitcases and
accessories
now and that makes it difficult to know where to start. Here, we have compiled a list of the top 10 hardshell suitcases available today.
Standout Picks
Criteria Used for Evaluation
Top 10 Picks
1

. Traveler's Choice Freedom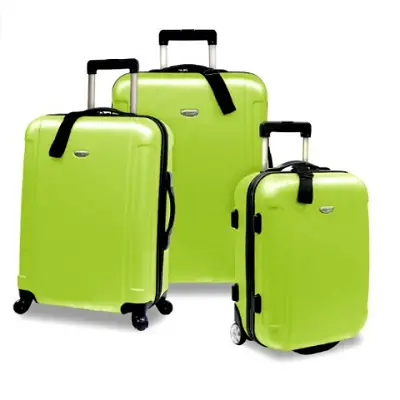 This 3-piece set offers one for every member of the family, or you can use it for that month-long vacation you have been planning to take. The features and design, along with the easy-to-maneuver wheels make this luggage a breeze to pull through those busy airports.
Read more
Features
Inside the walls of this hard-shell luggage, you will find an elegant wardrobe lined with polyester. There are plenty of pockets to fit everything from toiletries to shoes. The zippered divider provides a place to keep your clean clothes separated from your dirty clothes, and on the opposite side you can organize your clothes and keep them secure with the cross straps that are attached to the inside wall. These are a perfect size offering a 29 and 25-inch bag to check and the 20-inch will make a great carry-on, so you can keep all the important things with you that you will need on the go. A rare feature, this one provides an extra strap on the top of each one that can be attached together for easier toting. When they are not in use, they will nestle inside each other for convenient storage. Included with this luggage is a set of TSA locks with the keys for your added security.
Style
With the modern design of this luggage, you will have heads turning as you stroll through the airport. They come in three attractive colors with your choice of bright apple green, pleasant arctic blue, or a soft dusty rose. With these color options, you will spot your luggage quickly as it floats through the sea of other luggage. The retractable handles are designed for an easy comfortable touch to the palm of your hands, and the other handles are positioned just right for versatility and comfort.
Construction/Durability
Constructed of durable polycarbonate ABS, this luggage will put up a fight against the abuse of the airline baggage process. The handles are sturdy and should hold up without a fight, however, the wheels may not be as resilient and after a couple of years they could tire out. Otherwise, this set appears to be sturdy and one of the most durable on the list.
Ease of Use
Using this set of luggage is a breeze. The handles retract at the push of a button and the rest of the handles are easy to grab and carry without discomfort. There are four wheels that spin smoothly on the two larger bags, and the smaller, carry-on bag glides smoothly over inline skate wheels. They turn and roll without getting stuck, but they do have a history of snapping or breaking after a couple of years of hard use.
Value
The price of this set leans toward the lower end compared to some of the others on our list. Actually, for a set of three bags, the price is a bargain. The set is sturdy and will last a long time. It's safe to say this is a great set of luggage at a bargain price.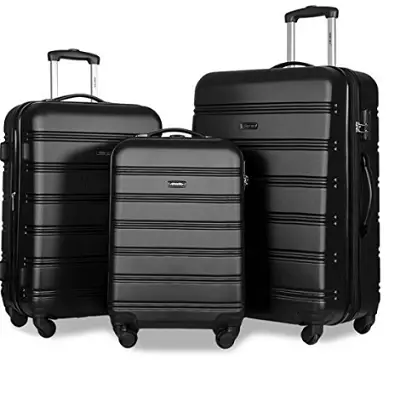 Bring your style, along with your wardrobe, in this adorable set of luggage. You can use the largest, and your children can share the medium one. You can all pull the load of your books, and other fun stuff behind you in the carry-on.
Read more
Features
The hard shell of this luggage keeps all your belonging safe and secure inside the zipper closure. You will open it up to find plenty of space on the inside with a divider to keep things organized and the cross straps will keep all your things secure and in place during travel. There are three sized bags in this set; 28, 24, and 20-inches are perfect for checking and the smallest of the three will make a good carry-on to keep your important things with you. Unfortunately, this luggage doesn't come with TSA locks, but they do come with combination locks that you can use for your own safety. When you are not traveling, you can keep the luggage packed inside each other allowing more space in your closet for other things.
Style
You will appreciate the ridge design and ten bright color choices this luggage provides. The integrated handles on the sides and the tops make it easy to lift them and stack them. A unique feature of this luggage is the way the retractable handles have their own storage space on the outside so that they don't take space away from the inside like most of the others do. You will be pleased with the spacious design and modern look from this luggage set.
Construction/Durability
The impressive quality of this luggage will make you wonder why you waited so long to make this choice. It's constructed with a durable ABS material and the ridges are designed in the right places to hide any scratches that your luggage might endure, because let's face it, no matter how durable, the luggage will get scratched in the terminal. The handles are sturdy, and the wheels are quiet and secure.
Ease of Use
Using the side and top handles, it's easy to lift this luggage and put it on the scales. The retractable handle adjusts easily and slides into its storage space with ease. The zippers are smooth and the wheels spin and move with little effort.
Value
This set of hard shell luggage is priced well and should fit into most budgets. The quality is impressive, and the design is modern and attractive. This set of three pieces holds a price tag that can easily be found on one piece alone, now that's a bargain.

3

. Victorinox Spectra 2.0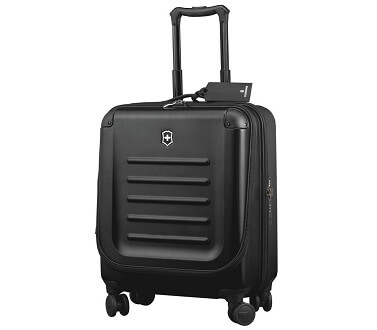 If you're a frequent traveler for work, then you probably have a lot of valuable things you need to keep with you like your laptop and other important things. If that is the case for you, then this piece of carry-on luggage is your best choice.
Read more
Features
This bag features a hard shell that won't break, and it will keep your valuables safe, so you can relax and enjoy your trip. In the outer part of the bag, you can keep your laptop safely secured along with all your other important essentials. When you open the bag, you will notice that it is a smaller version of a larger piece of luggage, and it is wider than most carry-on bags. There are a zippered divider and cross straps, so you can carry a change of clothes if you are going for an overnight trip. If you don't need to carry your laptop with you, you have the option of removing the outer portion of the bag. It makes the perfect piece of luggage to carry on or take with you for a quick weekend trip.
Style
The clean, professional look of this bag will show off your personality as you venture through the airport. One handle is molded to the top for an easy-to-grab option, or you can pull it behind you using the retractable handle. It's designed with versatility, it offers a spacious compartment for all your needs, and it comes with a travel lock. You have the option of black or red, either color will reflect the same elegance of this piece.
Construction/Durability
Constructed of polycarbonate materials, this piece of carry-on luggage will tolerate all the abuse handed to it. It's durable and won't break, so you can keep your computer and other electronics safe. The zippers are smooth, and the wheels are durable. This is a high-quality piece that is built to last.
Ease of Use
For the simplicity and ease of traveling, this is a perfect bag. The retractable handle easily locks into various positions and the wheels glide smoothly as you pull it with ease. The laptop compartment opens sideways and can be a bit awkward, but it does open and close easily and can be removed without sweat when you're ready.
Value
The price is the highest on the list, and you could probably get three pieces for the price of this one, but you won't find one with all this versatility and quality. Think about the convenience of carrying your valuable laptop in the same bag with your clothes, and not having the worry of it getting broken. So, it's like having two bags for the price of one here; a suitcase and a laptop bag, but all in one piece.

4

. Rockland 20" Polycarbonate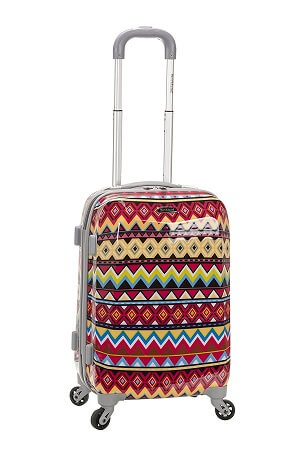 From the young, to the old, this bag brings forth a different and fun design that can be appreciated and loved by all ages. It's a great carry-on that can be pulled behind by even your children.
Read more
Features
From the outside, this bag might not look big, but when you open it, you will be surprised when you find the zippered compartments and the cross straps. There is enough room in this one for an overnight or quick weekend trip, and you will find an appreciation of the zipper pouch inside that will keep your toiletries separate or use it for the quick grab items you will need during your travels.
Style
This 20-inch bag offers an artistic, glossy design that is a bit more unique from the others. The fun colors and designs range from animal prints to flowers, hearts, and geometric shapes and you will see that they are pleasantly carried to the inside lining as well. There are even a few plain, more laid-back pieces for you to choose, so you can see that there is something here for everyone. It's covered with ABS polycarbonate material and the flat handles on the top are designed so you can carry the bag, or you can pull it behind using the retractable handle.
Construction/Durability
You might find this one to be flimsier than the others, but that is probably because it was designed with all ages in mind. It might be better suited for a young person with lighter articles than a larger person with heavier articles. The materials are durable, and the bag seems to be sturdy wit stands on the reliable wheels. The handles and zippers are all strong, but again, the handle might not perform as you would expect since it is geared toward lighter packing.
Ease of Use
This bag is simple, but functional. It provides an easy to retract handle and the wheels will perform with little effort from you. It's easy to open and close and all the inside parts are easy to use, so you can be rest assured that your child or elderly parent will have no problem with using this reliable bag.
Value
This is an affordable carry-on that can be used by everyone in any age bracket with any taste. It will fit into any budget, and it will show off your personality, there is a lot to be said of a product with this much quality and functionality.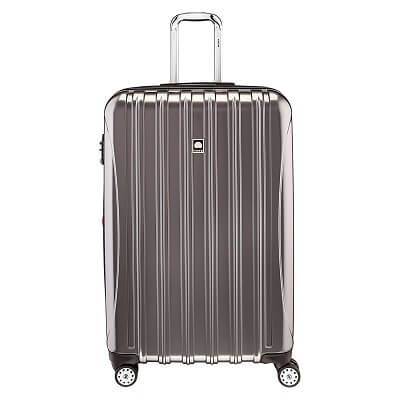 This is a classy look that would be the perfect companion on your business trip. Although the size of this one will probably not be acceptable as a carry-on, you will be rest assured in knowing that it is sturdy and will hold up through the baggage claims.
Read more
Features
This high-quality, classy 29-inch bag makes travel stress free. The inside provides more room than you would expect at first glance. There is a zipper divider to keep your clothes and shoes separate, an additional zipper pocket will keep your small items organized and all your clothes will stay remain neatly folded and secure beneath the hooked cross straps. There is a TSA lock that has been molded into the side and the bag will close securely with the heavy zipper.
Style
You will love the glossy look of this bag, and the colors will blow you away, not to mention the eight different attractive colors you have to choose from. Everything about this bag screams class. The wheels are designed better than some with a set of four, dual-wheels that make gliding across the floor much easier. There is a durable grab handle on the top and the retractable handle holds the same classy look like the rest of the bag.
Construction/Durability
You will never have the worry of this bag being too flimsy, in fact, it tends to get a bit heavy when it's full. The heavy polycarbonate covering will prevent permanent dents, and the classy ridges will hide the scratches. The handle is strong, and the wheels are exceptionally durable compared to some. The inner lining is made of quality and so are the zippers. This bag is made to be indestructible.
Ease of Use
This bag is probably one of the easiest when it comes to gliding and the zippers are simple to open and close. You might need a little practice with the TSA lock, but that is probably true with all the locks. Overall, this bag glides smoothly and is simple to use. Just be aware, that it will get a little heavy when it's full, but that's where the top grab handle comes in handy.
Value
This bag is a great size and made of exceptional quality. The price is right where it should be for a bag of this degree. It's roomy, classy, and well worth every dime spent.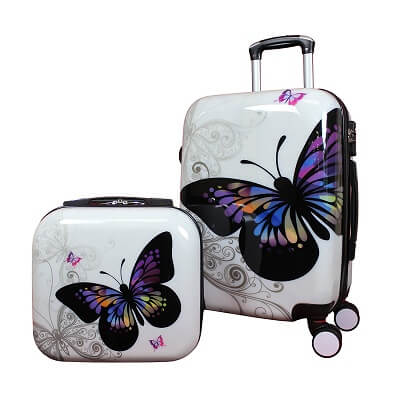 This is another unique set that is suited for all ages, and both pieces can be used a s a carry-on. It's perfect for families with two young girls because they can each have one of their own.
Read more
Features
Not only is this bag appealing on the outside, but you will be amazed when you open it. The inside is lined and provides zipper pockets and cross straps. It is more spacious than it looks. The retractable handle on the 21-inch bag allows room for the smaller, 12-inch bag to strap onto it so you can easily pull them both together through the airport. The smaller bag doesn't provide a shoulder strap, but it does provide an integrated handle so even your child can carry it. The luggage is complete with a built-in, TSA lock for added security.
Style
When you see this pretty butterfly bag rolling through the terminal you will be sure to smile. The glossy look makes it stand out, and if you check this bag, you will find it quickly while the other passengers are fishing through the baggage claim for theirs. Its clever design allows for both to be hooked together and the dual-wheels make it simple to pull. The molded handles along with the retractable handle on the larger one will give you different options for carrying it, and the smaller one provides a molded handle for easy carrying when it's not attached to the larger one. They close tightly with a strong and secure zipper.
Construction/Durability
The outer shell of the bags is constructed of polycarbonate which makes it tough enough to protect your contents, but this one might not be a tough as some, so if you check this bag, don't be surprised if it comes out with a few dents. This is normal for this type of bag though, and most of the time the dents can be pushed out. The wheels are dual to make the bag sturdy, the zippers are durable, and the handles are secure. The biggest complaint is that the paint does have a history of peeling on this bag. That is cosmetic though and doesn't affect its durability.
Ease of Use
With the dual wheels, you will find this bag is easy to steer and your children shouldn't have a problem controlling it. The zippers are easy for opening and closing. The hardest part to operating this bag will be the lock, but once you get used to it, it's a piece of cake.
Value
This set is like getting two bags for the price of one. It's a durable set and perfect for any age. The versatility allows you to carry on one or both of the bags, and the ability to hook them together builds up the value.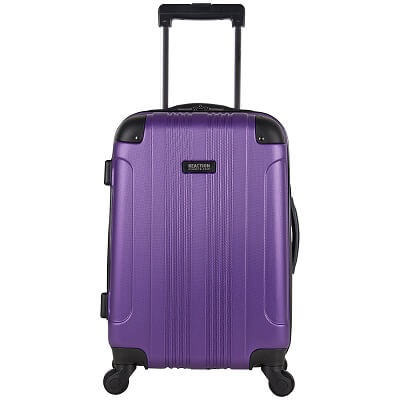 With popping colors and a lot of space, you will find this stylish carry-on to be larger than the average. You can check this bag, or carry it on, either way, you won't be disappointed with its quality and functionality.
Read more
Features
You will be pleased with the spacious room inside this 20-inch carry-on. Just like a larger piece of luggage, this one offers a zippered wall to keep the dirty clothes separate from the clean ones, and the other side provides a cross strap, so you can keep all your belongings safe and secure. There is an additional zipper pocket just big enough to keep your toiletries organized, and it's complete with three different handles for your carrying needs.
Style
Designed with bright colors for the vivacious personality, or choose one that is a little more modest, either way, there is one here that will suit everyone. There are handles on the side and the top for easy grabbing, and if you want to wheel this one behind you, just pop out the retractable handle and you will be on your way. While there is no lock with this one, it does secure tightly with a heavy zipper to keep your things tight inside.
Construction/Durability
The outside is constructed of a flexible, yet durable ABS material that will resist all the abuse it will go through at the airport. The inside is just as durable and made of the same quality as the outside. The wheels are single as opposed to the dual wheels that some of the others have, but that doesn't make them any less durable. The handles are securely attached, and although the zippers might not be as sturdy as some, they do seem to open and close as you would expect.
Ease of Use
This bag glides smoothly across the floor and the handle retracts with ease. The zippers are easy to operate, and the interior is simple to pack without complications. The choice of handles makes it easy to lift, carry, and move this bag around.
Value
This is a high-quality piece of luggage that's easy to maneuver and it comes with the lowest price tag of all the others on this list. It has so much to offer, it's loaded with quality, and so for the price, it makes this an all-around great bag.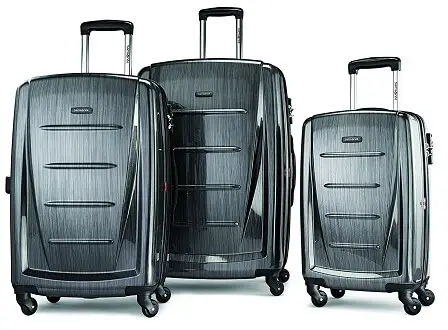 Samsonite has been known to travel the world with people for many years, and this set of luggage is just one example why they continue to travel today. With this set, you will have enough room to pack up all your clothes and go for months at a time.
Read more
Features
The inside and out of this fine luggage shows quality and great workmanship. This set provides enough luggage for everyone in the family. The largest is 28- inches, the middle one is 24-inches, and the smallest is 20-inches, just the right size to be used as a carry-on. The two larger bags come with molded handles on the sides and tops, and all three have a retractable handle on the top. They all have four wheels on the bottom and integrated TSA locks on the sides. On the inside, you will find plenty of room between the zipper divider and in the mesh pockets. The opposite side of the inside comes with a cross strap that can be clipped together to keep all your clothes in place during travel. The bags all close securely with heavy zippers.
Style
The modern design of these bags come in a choice of attractive colors and designs that show-off a semi-glossy clean look, and some might even appear to be cloth from a distance. No matter which design you choose, you won't go unnoticed as you walk through the airport terminal. The handles are designed for easy grabbing and the wheels are made to rotate so the bag won't tip.
Construction/Durability
Constructed of polycarbonate, these bags are built to last. Although the wheels are single and not dual, they are strong and sturdy. The inside is durable, and the cross straps are strong. There are plenty of zippers, but they might not be as durable as you would expect, and they might break given time. The handles seem to be strong and secure. Overall, this is the same quality you would get from any bag with the Samsonite seal.
Ease of Use
This bag is extremely easy to carry and maneuver. The zippers open and close with ease, and the wheels spin and rotate with little effort from you. Once the locks are set, they are easy to use, and the retractable handles adjust without a problem.
Value
With a product from Samsonite, you can always see the quality and feel the durability. This set of luggage is priced in the mid-range but is still considered to be affordable considering you will be getting three pieces instead of one.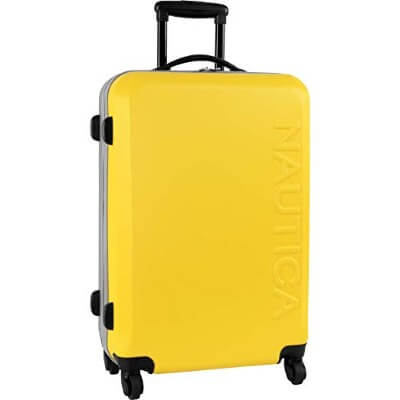 You will find this bag to be precisely functional for your quick weekend trip. It's lightweight, spacious, and one of the best bags we have on the list for brief travel.
Read more
Features
This fully functional 21-inch carry-on provides as much radiance on the inside as it does on the outside. When you open the bag, you will see that there is plenty of space to carry all the things you will need for a weekend trip. Each bag has its own style, so the compartments and zippers will vary, but each one provides a divider for separating your shoes or dirty garments, and they each provide extra storage pockets for toiletries and other belongings. Each one comes with a convenient cross strap, so you can keep your clothes neatly organized. The bags all close with a zipper and none of them offer a lock.
Style
Just like the features, each bag has its own design. They are all covered with a polycarbonate shell, but the colors and styles of each one varies. No matter which bag you choose, you will have use of a convenient top and side carry handle, and they all have a retractable handle for easy pulling. Some of the designs feature dual wheels and some have single ones.
Construction/Durability
All of the bags are made of the same quality materials and they are all equally durable. The wheels are all sturdy no matter which ones you have, and the handles, cross straps, and zippers are all hefty and secure. Overall, this is a solid bag and a delight to carry on a light trip.
Ease of Use
Each design offers the same simple ease of use. They all open the same way with a zipper that glides smoothly, and the wheels are easy to spin no matter which ones you choose. The handles are easy to operate, and the bag is lightweight to carry even when it's full.
Value
Nautica is known for their high-quality products and this piece of carry-on luggage is no exception. It offers plenty of functionality, it's easy to look at, and the price is exceptional. All-in-all, this bag is filled with value with a bargain price.

10

. Samsonite Cruisair DLX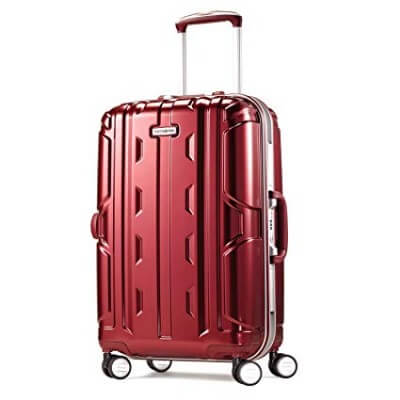 This one offers a classy look with the modern colors and style it carries. You can use this one to carry-on and it's big enough to accommodate more than you will need for a weekend away.
Read more
Features
You will appreciate the spacious room this 21-inch bag offers. The inside provides a divider, but unlike the others, it is firmer and clips together instead of using a zipper. On the front side of the divider, you will find a mesh zipper bag that is perfect for undergarments or toiletries. In the opposite side, you will notice the cross straps that are in place for keeping your clothes organized and neat. Another small zipper compartment lays in between the two sides and can be used for your chargers or other small electronic devices. For added security, a TSA lock has been molded into the side.
Style
The bright colors are attractive and easy to spot from a distance. The spring handles are in place on the top and the side for easy grabbing or pull open the retractable handle to pull the bag behind you. The bag stands on top of four, dual spinner wheels and will turn a 360 without a problem. This one is designed to seal with an aluminum frame instead of a zipper.
Construction/Durability
Made of durable polycarbonate, this piece of luggage will withstand any abuse it might encounter. The durable handles will not disappoint, and the retractable handle is sturdy and strong. Since the wheels are dual, that makes them sturdier than others with single wheels.
Ease of Use
This one is easier to open than most because there are no zippers involved; just pop open the latches and you have access to the inside. The dual wheels make it easier to steer, and the snaps and few zippers on the inside are easy to handle.
Value
This is another great product from Samsonite that is well-built and spacious. You don't have to hassle with many zippers and it has a built-in lock, this carry-on is great and for an affordable price too.

Subscribe to our Newsletter