Best Laptop Bags
In a
Hurry? Editors choice: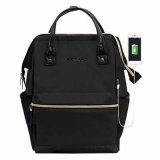 Test Winner: KROSER

If you have the advantage of working abroad or at home from the office a couple of days a week, most likely you have your trusted
laptop
by your side which allows you to connect to the web and complete your work. Now, the problem is with all the traveling around with your laptop, how do you transport it? Maybe you have a backpack or, just a protective case that wraps around your laptop for a thin layer of protection. If you do not have any protection for your laptop or a bag to carry it in and have decided it would be best to protect your investment and ensure that your laptop which is your source of income is protected, the guide below is for you, as it lists the top ten laptop bags of 2019!
Standout Picks
Criteria Used for Evaluation
Capacity
When choosing one of the best laptop bags for your needs, one of the primary things to be considered is the overall size of the bag itself. In addition, the capacity, or how much it can hold is also a very important factor. What type and what size of bag you decide to get depends greatly on the overall size of your laptop, what else you will want to carry in the bag, and how much protection from impact damage you think you will need.
As you can see from this list, there is a wide array of different capacities in laptop bags, and finding the right one to fit your needs may take a little bit of time, but it is well worth the effort.
Comfort
With a few exceptions, laptop bags by their very nature are meant to be carried by an individual. Therefore it stands to reason that choosing the best one for you depends partly on finding one that is comfortable to carry on a regular basis. There are a number of factors that can play into this characteristic including what kind of handle or strap it has, the overall weight of the bag, what kind of profile the bag itself has, and whether or not it can be carried multiple different ways.
These laptop bags, for the most part, present quite a few options when it comes to the style of carrying, and also have weights and profiles that fit well into an active person's busy lifestyle. Some, like the Utopia Home Laptop Bags, offer ways to make sure that the weight is distributed more evenly over the body, leading to less fatigue and muscle strain.
While this might not be the most critical factor, it is certainly still an important one to consider.
Style
There truly are as many designs for laptop bags as there are laptops to be housed in them. While each design is different, the best ones have a few things in common. One, the design should offer some level of protection for the equipment being stored within. Some examples on this list, such as the Jakago 15.6" Laptop Bag / Messenger Bag Briefcase clearly focused on this aspect in their design. Others, like the Wow Box Messenger bag, focused more on the overall capacity and ability to house multiple items. Still others, like the Case Logic 15.6" Laptop Bag tried to find a good balance between the two.
Materials
Without quality materials, chances are the laptop bag wouldn't be very useful at all. It simply wouldn't last through the rigors of daily life. Therefore, considering what the bag is made from, or the materials used are still quite critical. Thankfully, the bags presented here offer a collection of very durable and versatile materials that have been shown to withstand the test of time.
Overall, you want a laptop bag that will comfortably hold your laptop and not cause damage to it as it is rugged and tough material. You also want to make sure the bag will hold up if you get caught in some nasty weather. When looking for your next laptop bag, make sure to pay careful attention to what material the bag is made from as this will let you know how durable the bag will be and how well it will protect your laptop.
Subscribe to our Newsletter