Best Laptop Bags
In a Hurry? Editors choice: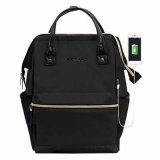 Test Winner: KROSER

If you have the advantage of working abroad or at home from the office a couple of days a week, most likely you have your trusted
laptop
by your side which allows you to connect to the web and complete your work. Now, the problem is with all the traveling around with your laptop, how do you transport it? Maybe you have a backpack or, just a protective case that wraps around your laptop for a thin layer of protection. If you do not have any protection for your laptop or a bag to carry it in and have decided it would be best to protect your investment and ensure that your laptop which is your source of income is protected, the guide below is for you, as it lists the top ten laptop bags of 2019!
Standout Picks
Criteria Used for Evaluation
Capacity
When choosing one of the best laptop bags for your needs, one of the primary things to be considered is the overall size of the bag itself. In addition, the capacity, or how much it can hold is also a very important factor. What type and what size of bag you decide to get depends greatly on the overall size of your laptop, what else you will want to carry in the bag, and how much protection from impact damage you think you will need.
As you can see from this list, there is a wide array of different capacities in laptop bags, and finding the right one to fit your needs may take a little bit of time, but it is well worth the effort.
Comfort
With a few exceptions, laptop bags by their very nature are meant to be carried by an individual. Therefore it stands to reason that choosing the best one for you depends partly on finding one that is comfortable to carry on a regular basis. There are a number of factors that can play into this characteristic including what kind of handle or strap it has, the overall weight of the bag, what kind of profile the bag itself has, and whether or not it can be carried multiple different ways.
These laptop bags, for the most part, present quite a few options when it comes to the style of carrying, and also have weights and profiles that fit well into an active person's busy lifestyle. Some, like the Utopia Home Laptop Bags, offer ways to make sure that the weight is distributed more evenly over the body, leading to less fatigue and muscle strain.
While this might not be the most critical factor, it is certainly still an important one to consider.
Style
There truly are as many designs for laptop bags as there are laptops to be housed in them. While each design is different, the best ones have a few things in common. One, the design should offer some level of protection for the equipment being stored within. Some examples on this list, such as the Jakago 15.6" Laptop Bag / Messenger Bag Briefcase clearly focused on this aspect in their design. Others, like the Wow Box Messenger bag, focused more on the overall capacity and ability to house multiple items. Still others, like the Case Logic 15.6" Laptop Bag tried to find a good balance between the two.
Materials
Without quality materials, chances are the laptop bag wouldn't be very useful at all. It simply wouldn't last through the rigors of daily life. Therefore, considering what the bag is made from, or the materials used are still quite critical. Thankfully, the bags presented here offer a collection of very durable and versatile materials that have been shown to withstand the test of time.
Overall, you want a laptop bag that will comfortably hold your laptop and not cause damage to it as it is rugged and tough material. You also want to make sure the bag will hold up if you get caught in some nasty weather. When looking for your next laptop bag, make sure to pay careful attention to what material the bag is made from as this will let you know how durable the bag will be and how well it will protect your laptop.
Top Ten Laptop Bags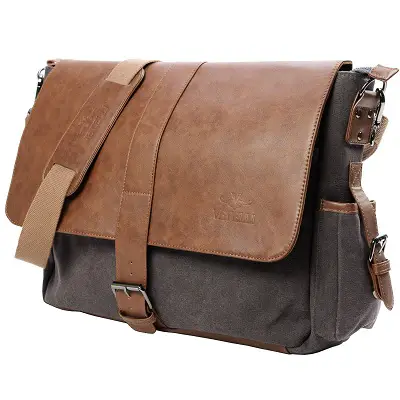 If you're looking for a laptop bags that can easily blend into the crowd at your local coffee shop as well as the independent bookstore, this messenger bag inspired computer bag may just be the ticket.
Read more
Capacity
Designed to easily carry a laptop up to 15.6 inches in size and your daily essentials, the bag measures 19.5 inches by 4.5 inches wide and 12.5 inches high. There is one main compartment that is split into a laptop sleeve and two areas on either side and a small zippered pocket for smaller items
Carrying Ease
This laptop bag features a wide leather shoulder strap that allows it to sit nicely against the hip of most adults. This makes for a more balanced carrying, which helps to decrease overall fatigue. We would have liked to see an additional handle on the bag, but that is a minor issue overall.
Overall Design
Inspired by the useful and popular messenger bags, this bag can easily be used for multiple purposes besides carrying a laptop. And while that is a welcomed change from many laptop bags, it can also be a small flaw. The laptop sleeve offers little overall protection from impact, and the other contents that share the interior portion can easily be shuffled around and damaged during transportation.
Materials Used
Fashioned out of genuine leather, canvas material, and metal fastenings, this is one laptop bag that looks at home on the street corner, the local coffee shop or the university campus. In addition, the interior is felt lined and the canvas material is waxed, which provides a moderate amount of protection against moisture, although not complete protection.
While this laptop bag looks remarkably good, it falls short somewhat short when it comes to protecting your laptop and other electronic equipment. The canvas and leather exterior offers some protection from moisture, but nowhere near the same amount as other laptop bags listed here.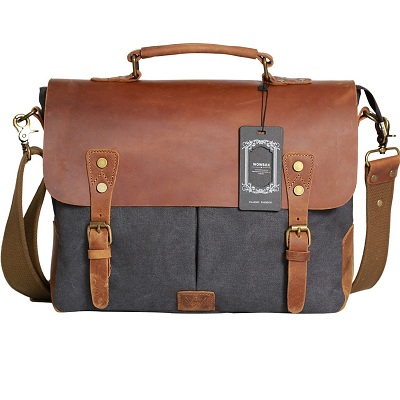 This type of satchel styled laptop bags is a great way to transport your laptop computer, books and notebooks and other accessories from home to work, school and beyond.
Read more
Capacity
This bag features a number of different sized compartments, each designed to house particular items including your 14 inch or less computer, notebooks, computer accessories, and wallet or phone. Each compartment is sized differently, but there still is a great deal of room in each one.
Carrying Ease
This bag features both a shoulder strap and a handle, allowing for a bit more versatility when it comes to carrying ease.
Overall Design
While we adored the roomy interior and the overall design with multiple pockets, we found that the few different fasteners including magnetic or zipper closures didn't always function well, often breaking or malfunctioning at inopportune times.
Materials Used
Made of a combination of leather, canvas, and metal hardware, the bag is fairly well put together with the exception of the magnetic fasteners.
This bag is certainly a well thought out bag, but once again the protection that it offers specifically for laptops is somewhat lacking. It offers only moderate protection from moisture through the leather and canvas material and offers very little if any protection from impact.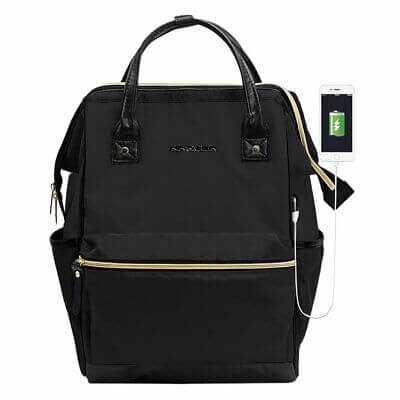 This type of stylish laptop bags are a great addition to your gear and will offer protection to your laptop and also keep you looking stylish at the same time.
Read more
Capacity
This laptop bag has quite a bit of room, as it is not solely built to fit your laptop but also has extra room for any other gear. This backpack also comes with several pockets externally and internally to help you conveniently pack any other clothing or gear you need to bring with you that day.
Carrying Ease
This laptop bag not only has a convenient and comfortable handle on top of the bag if you need to carry it quickly. It also has backpack straps if you want a comfortable fit and feels for longer trips. The option to have both ways to carry is convenient depending on where you are and where you need to go.
Overall Design
The fact that this laptop also doubles as a backpack is a great feature. This is not only a stylish laptop bag but can be used as a multiple purpose bag to help you bring your gear and laptop to where ever you are headed.
Materials Used
This laptop bag is made from durable material which is actually water resistant to ensure if you get caught in some nasty weather that your laptop and gear will be protected. The main material used is nylon and leather.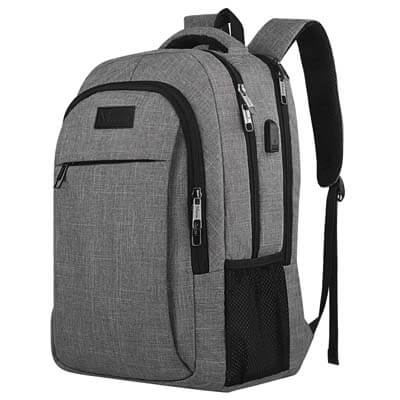 This backpack from Matein is a part of a great laptop bags models and not only will conveniently store your laptop but also has enough room for all your other gear that you need for the day. This laptop bag comes in a variety of colors and styles, so no matter your style Matein will have a backpack for you.
Read more
Capacity
This laptop bag comes with a ton of room and will not only fit your laptop perfectly but will also have room left over for your other gear that is needed for your day. This laptop bag comes with a variety of pockets internally and externally so you can store even more gear.
Carrying Ease
This laptop bag can be carried comfortably as a backpack which is convenient for short and longer trips. This laptop bag molds to your back and makes transporting your laptop easy and efficient.
Overall Design
This laptop bag comes in a variety of styles so that no matter your personality and sense of style, you will find the bag for you.
Materials Used
This laptop bag is water resistant so if you get caught in some nasty weather your laptop and gear will be protected without issue. This laptop bag is made from polyester to ensure that this bag holds up to abuse and will last you many years to come.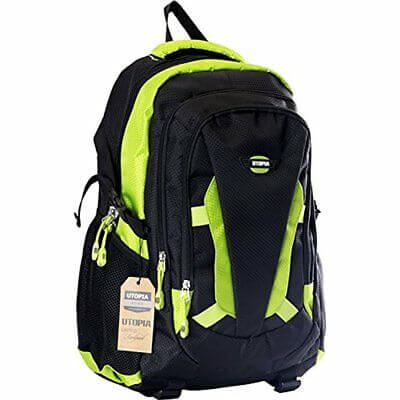 If you prefer to carry your laptop computer around on your back instead of in a traditional bag, there are quite a few options available to you. The Utopia Home Laptop Bags is one of the best in our opinion.
Read more
Capacity
The overall dimensions of the backpack measure 16.9 by 12.9 by 19 inches in size, but where it really shines is with the multiple components that can easily hold your laptop as well as a number of different accessories, books, and notebooks as needed.
Carrying Ease
In addition to being able to carry the backpack in the traditional fashion, the Utopia Home Laptop-Backpack also includes the ability to be carried one-handed through a strong grip at the top of the bag. This is a great option for when the shoulders are getting a little tired from carrying the heavy load.
Overall Design
In addition to offering an interior design that protects the laptop computer with a padded sleeve, and compartments that are user-friendly and accessible, this backpack laptop bag also excels in that the overall weight distribution along the back is well portioned across the whole back to help prevent muscle fatigue.
Materials Used
This backpack is made with sturdy synthetic material and molded plastic hardware that is not only easy on the eyes but also relatively easy to use.
While the backpack certainly provides limited protection from impact due to its overall size, padding, and weight distribution, it doesn't offer any protection from water or any real water resistance.

6

. ESTARER VINTAGE CANVAS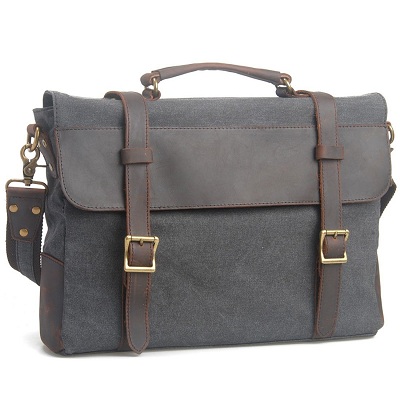 If you like the look of a classic canvas messenger bag, but still want the capacity to take your laptop and all it's accessories with you while you travel, this is one bag that should certainly be on your list.
Read more
Capacity
With an interior area measuring 11.81 by 17.72 by 7.09 inches, this laptop bag can easily fit a 15.6-inch laptop or smaller with plenty of interior space within the three main compartments and smaller ones for notebooks, paper, pens, and computer accessories.
Carrying Ease
The wide handle and attached shoulder strap provide a number of options when it comes to carrying, and most people find it easy to travel with this bag, no matter their preference.
Overall Design
While we like the overall design of the bag, we wish that we could see more interior protection measures taken to keep the laptop shielded from impact and water damage.
Materials Used
Made from a durable canvas material with genuine leather trim, this bag has a very classic but understated look that fits in just about anywhere.
While it does offer some protection for your equipment because of the secure fasteners and durable canvas material, there is very little padding or protection from impact or against water.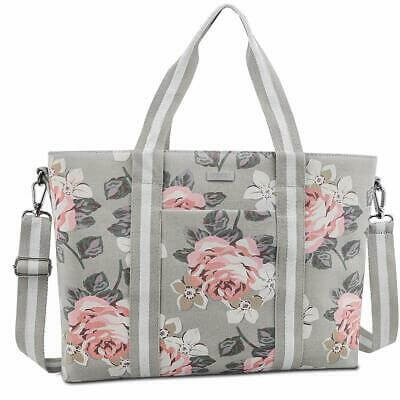 The stylish laptop bags from Mosiso come in a variety of floral patterns, so you will have no problem finding the perfect style for you. It also not only will conveniently fit your laptop but also fit other gear you need to bring with you that day.
Read more
Capacity
This is a great laptop bag if you are looking for something to transport your laptop around the school, as this laptop bag will not only transport your laptop efficiently but also has enough room for your books and smaller gear.
Carrying Ease
This laptop bag has two ways to carry it with you. The first is two carrying handles at the top of the bag, which is great for quick access and transport. The second is a strap that wraps around your body for a more comfortable and supported feel.
Overall Design
The design of this laptop bag is quite stylish as it is different than your typical bland laptop bag and rather comes with a variety of stylish floral designs to choose from.
Materials Used
This laptop bag is made from canvas which will protect your laptop from damage. This material could be more waterproof so if you get caught in the rain, your laptop will be protected.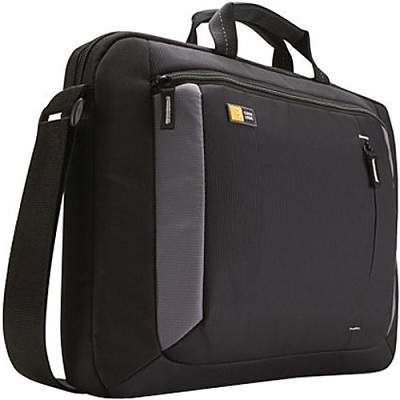 This laptop case by Case Logic offers a great sleek look that can handle the medium sized laptops with ease. If you're looking for something that can easily fit into an office or a home setting, this is a great choice.
Read more
Capacity
Measuring large enough to fit devices that are 15.2 by 1.7 by 10.5 inches in size, this bag also sports a sizable slip pocket designed to keep documents safe, and a front pocket panel that's great for daily accessories. While we would have liked to see a bit more interior room overall it is still a very sleek and stylish case.
Carrying Ease
Featuring both a solidly constructed handle and a detachable shoulder strap, there are quite a few ways that someone can carry this laptop bag comfortably. In addition, the bag itself is relatively lightweight, so unless you load it up with heavy electronic equipment, you'll hardly know it's there.
Overall Design
The overall design of this bag is very professional looking, and it's fairly simple to access everything you would need, even on the go. The padded notebook compartment offers a fair amount of protection, and depending on the size of your laptop there really isn't much wiggle room, which keeps your equipment safe.
Materials Used
Made from polyester material and molded plastic fixtures, this bag doesn't feature all the bells and whistles that you may see in other bags, but that's a good thing. By not worrying about the add-ons, Case Logic was able to focus on what's really important-- creating a laptop case that is designed to protect your equipment.
In most cases, this laptop case will be more than sufficient to protect your larger laptop and the equipment that you use with it. The zippered compartments and padded interior portions help to prevent damage from accidental falls, although minimal protection at best.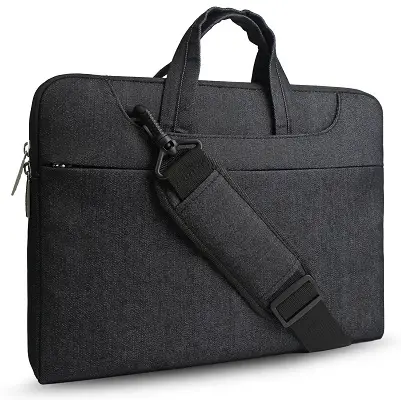 If you have one of the small, thin laptops that seem to be all the rage, you sometimes worry about transporting them with adequate protection. Thankfully the Hseok Laptop Shoulder Bag Sleeve Briefcase is designed to not only offer superior protection but to do so with a space-saving profile.
Read more
Capacity
The main compartment in this laptop bag measures 13.58 by 9,84 inches, so it can easily fit the smaller and thinner laptops that are so popular today. In addition, there are outside zippered pockets that can store smaller items such as a charger, a cord, or a note pad. While we would have liked to see additional interior capacity overall, what is provided is acceptable considering the overall slim profile.
Carrying Ease
This particular laptop bag can be carried a number of different ways without too much trouble or strain on the physical body. The detachable shoulder harness can easily be used both as a cross body brace and hanging off the shoulder. In addition, the sturdy handhold at the top of the bag can be hidden away to make the profile of the laptop bag more like a sleeve.
Overall Design
This particular design is meant to hold only what you need for your laptop and not much else. While we certainly applaud its efficiency, having the ability to carry something else besides the computer necessities in the same bag would be a plus.
Materials Used
The materials used in this laptop bag include neoprene, impact resistant foam, and a soft fabric layer. The shoulder strap is attached using molded plastic hardware.
In addition to the shock absorbing foam, this laptop bag also offers protection through the use of water-resistant neoprene shells as well as the soft interior fabric that is meant to protect the laptop from everyday scratches and the like.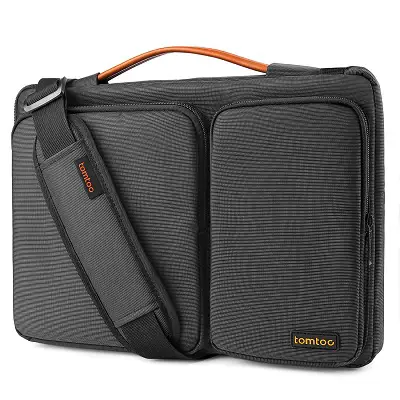 Small and ever so efficient on space, the Tomtoc 13 is a fantastic choice from our laptop bags list if your needs call for great use of space at a very reasonable cost.
Read more
Capacity
This bag will fit most small laptops and measuring 13.5 inches or less, along with most if not all of the common accessories needed. The main compartment can easily fit the laptop, and the two sealed pockets add another layer of security and protection for your cables, mouse and mouse pad, phone and wallet – or whatever you happen to need.
Carrying Ease
With a detachable shoulder strap, a leather handle, and fairly compact profile, carrying your computer, in this case, is fairly easy. It can easily fit up against you on a crowded subway train or in your backpack or briefcase without too much of a hassle.
Overall Design
While this certainly looks like a typical laptop bag, it actually is designed somewhat differently, with the side pouches being regulated to a single side, with zippered enclosures. This simple change makes the accessories easier to find in a hurry but also leaves them more open to potential impact damage when the bag is dropped or hit suddenly from that side. It is also relatively small and thin and doesn't leave much room for small things such as hand sanitizer or a USB splitter, even with the additional pockets.
Materials Used
These laptop bags feature an outer shell that is made from a spill resistant material as well as molded plastic zippers and a foam padding material on the inside.
This laptop bag does offer quite a bit of protection for the laptop including such things as a self-locking zipper, lightweight foam padding, reinforced corners to protect against impact, and a spill and moisture-resistant surface designed to combat the occasional spilled coffee.

Subscribe to our Newsletter