Best Sling Bags
In a
Hurry? Editors choice: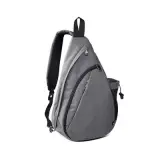 Test Winner: Outdoor Master

Navigating your way through your next trip or even through your everyday life can require a lot of gear, and pockets on your jeans just aren't going to work. If you typically hate
carrying totes
or backpacks because they get heavy and uncomfortable, a great option for you is going to be one of the best sling bags. These products give you all of the comfort and security as the classic fanny pack without giving you that look of a 1980's tourist. Users love them because they hug their bodies, are usually small and compact with lots of pockets, and come in at a reasonable price point. Plus, you can wear them across your chest so that
your valuables will always be close
and secure. In this guide, we have compiled a list of some of our favorites to keep your day organized and stylish.
Standout Picks
Criteria Used for Evaluation
Style
This is going to be a reflection on your personal style- so we wanted to give you a lot of choices.
We were drawn to brands that allowed users to select from a wide variety of colors and styles. For the most part, many companies stuck with the most popular color options such as black and gray. These colors are going to be the most versatile for carrying to work or travel, and they are also going to be less likely to show dirt and dust which means you won't have to clean them as frequently.
There were a few brands out there on the market that offered interesting and unique patterns and colors, but those designs were in the minority. We also wanted to make sure that we selected a wider range of structures as well. The most popular shape for a sling bag was the teardrop shape- wider at the base and tapered at the top- because it is able to really hug your body without adding a lot of pressure to your upper back.
However, we also wanted to make sure that we selected designs that were a little more boxy, which would allow users to carry more gear. These designs may be a little rougher on your back, but they also make it easier to carry things like tablets and notebooks.
Materials
The quality of materials used is going to dictate how long it is going to last, as well as how easy it will be to clean.
Leather is a great option because it is the most durable material out there on the market, but it often comes in at a much higher price point and it is a little more difficult to clean. The most popular material choices for these products are going to be canvas or nylon.
Canvas is great because it is incredibly soft and easy to clean, and most have been treated with a water-resistant coating that makes them perfect for when you get caught in rather soggy conditions. However, canvas often is a little less water-resistant than nylon, and it absorbs odors more than nylon.
Nylon, on the other hand, isn't going to be as soft and comfortable as canvas, but it is going to be much easier to care for. Due to the fact that nylon isn't very porous, it is less likely to hold on to water, and users typically don't need to clean them at all because dirt and odors don't penetrate the surface they way they do with canvas options.
Features
Pockets and shoulder straps are one of the biggest reasons that users land on a particular design, and it was something that we really considered in-depth for most designs.
Pockets are the main reason that you are considering one of these designs, so we wanted to select options that are going to work for your needs. A large main zippered compartment is a must because it allows you to carry a lot of your bigger gear such as a notebook and tablets. Smaller pockets are also important because they provide a space for miscellaneous but important items.
Separating the big compartments from the smaller compartments is important because it means you can stay more organized and there will be less time spent rummaging for items.
Shoulder straps are also something that we really considered because one of the biggest features of these products is the fact that they are comfortable. One of the most popular features, we found, was a shoulder strap that came with a buckle that the base that made it easier to take on and off without the need of lifting it up over your head. We also liked designs that added a little bit of extra foam to the shoulder for additional comfort.
Size
The dimensions of a product are going to dictate how much gear you are going to be able to carry.
One big thing that we noticed when researching these products is that users often found that they were much smaller than they had anticipated. When looking at a style, be sure to consider all of the dimensions. It may measure to be 15 inches long, but the teardrop shape means that you are going to lose a lot of space towards the top. Another thing to keep in mind is how deep each design runs. The average depth of these designs measures to be about 3 inches- which isn't all that deep.
To avoid being disappointed by the smaller shape of these products, you need to keep in mind that they aren't designed to be your average backpack or tote- they are made to provide you with some extra pockets without weighing you down. If you did want something that is a little bigger, there are designs that are made to be over 3 inches deep. However, we have found that users often complain that the larger options feel awkward and uncomfortable on their backs.
Value
As always, we want to save you a little bit of money when we can.
Luckily, these products often come in at a really affordable price point that, on average, will set you back about the same amount that you may spend on a large pepperoni pizza. However, there are a few exceptions to this rule. If you opt for a material that is considered to be a higher-end, such as genuine leather- you are likely to pay twice as much as you would for some of the more affordable options. Another exception to this rule depends on the dimensions of the product. On average, most measure to be under 3 inches deep and under 8 inches wide. If you venture to products that measure to be above this average, be prepared to pay a much higher price point.
Another great product we reviewed is the Patagonia Atom Sling Bag, so make sure to check it out as well.
Subscribe to our Newsletter