Mi Suny – Solar iPhone charger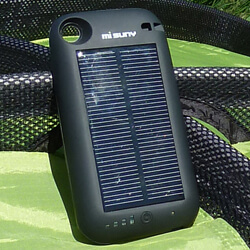 Something strange is going on.
As I type I'm gazing out of the living room window to see the garden bathed in what can only be described as bright sunlight. I've read about it in books and stuff. It has been on-and-off like this for maybe three weeks now and I'm starting to worry about it.
What if I find myself wanting to buy flip-flops? And how would the elderly and infirm react to my pasty white legs if I broke out the short trousers?
Red-faced and bare-chested sweaty blokes are already a-plenty as they guzzle Kestrel on the sofas in their front gardens, and you can barely move round here for gaggles of chain-smoking fat lasses in undersized bikini tops pushing buggies containing their screaming offspring. They start emerging when the Jeremy Kyle Show finishes, don't you know.
The point is that it has been very sunny of late, and this is uncommon. Not as rare as we grumbling Brits would admit, but still an event worth talking endlessly about when it happens. What normally happens on an average sunny day, if there was such a thing, is that we get a glimpse of the sun followed by a spell of cloud, followed by a bit of sun then cloud, sun, cloud, etc, etc, etc. It can be bright and warm, but not necessarily endless sunshine.
This Mi Suny solar charger works best on the days we get comparatively few of – endless sun. And although that's the case for all solar panels this is one of its sticking points when it comes to UK use.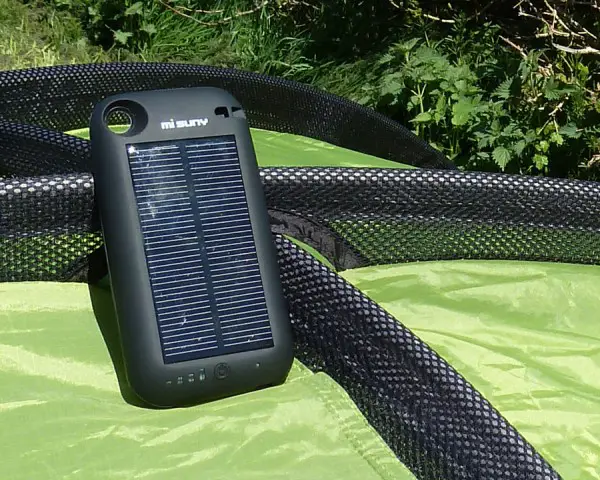 First of all allow me to tell you what it is. The Mi Suny is a sleeve for your iPhone (model specific – another sticking point), on the back of which is a solar panel to soak up the rays and charge the in-built 2400mAh battery. The front is designed to accommodate your iPhone securely and features a dock through which the stored power is transferred from the unit to the handset.
It's a very simple, neat design that weighs about as much as the iPhone it houses and although the Mi Suny is a bit chunky it's nice to hold and fairly tactile because of its rubberised finish.
The idea is to give it an initial charge of at least eight hours through your computer (using the supplied retractable cable) in order to prime the internal battery, even though it seems to come with a small pre-charge as indicated by four blue LEDs on the back. This is where you will also find the power button and a tiny red light which glows when the unit is being charged by the sun.
Andy and I were lucky enough to each be given one of these to test, but even though my esteemed colleague's phone started charging using just the pre-charge in his Mi Suny… my unit turned out to be duff. Even after leaving it to charge overnight through the USB cable it did absolutely nothing to my phone, Mrs Muz's or those of two people at work. So it went back to the company and was replaced by one which did as it was supposed to. For a while.
I want to take a quick moment to mention the USB cable. It lives on a spring-loaded wheel so feeds/retracts at either end to take up as little space as possible rather than leave a tangled mess in a drawer, but it's not all that good. Bearing in mind it weighs next to nothing the spring inside is far too eager to snap back if it's not locked-out and the mini USB plug which fits into the unit isn't all that tight and pops out again pretty easily. It all works well enough but it's flimsy and unpredictable. Andy even managed to snap his cable shortly after getting it out of the box.
Using the Mi Suny is simple. Once charged, switch it on using the power button and the four blue lights will tell you how much juice is stored. Press the button again to make the lights flash briefly, and you can then slide your phone into the dock to start charging. Leave it overnight as you normally would and in the morning you should have a fully-charged iPhone.
But getting the Mi Suny charged through the solar panel is another matter.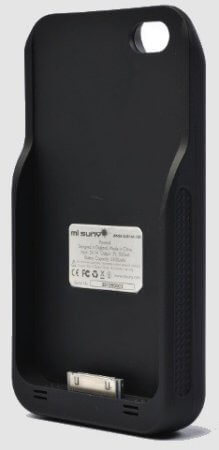 On our recent GearWeAre camping fest it worked fine for a few days and although I didn't get it out in the sun every day and I didn't use the phone much I managed a couple of full-ish charges during wall-to-wall sunshine and I was pretty pleased with it. The instructions/website don't tell you how long it takes to charge in ideal conditions, but a similar device I have on test says that around eight to nine hours of full sun will be about right. Turn down the sun though and you quickly enter hit-or-miss territory.
On a typical British sunny day you might be lucky to get half a charge, although (according to the instructions) it'll still deliver enough juice to your phone for a full charge. This isn't ideal because it might chuck it down for the next week (another sticking point – it's not water resistant) and you'll be struggling to get any power at all, even though the Mi Suny can apparently charge under any kind of light – albeit much, much slower. We're talking in multiple days now. I'm not overly impressed with this and Andy appears to be even less-so.
But there's another, much more serious issue. My replacement unit has packed in.
Remember the little red light I mentioned that tells you when the internal battery is charging through the solar panel? It no longer lights up and the unit no longer receives a charge in this way. I've discovered that randomly pressing gently on the panel reconnects something inside - sometimes - and the light comes on for a few seconds but goes off again as soon as you turn your back. It's not just a dicky light either, because I left it like that for a full day in full sun only to find it as empty as when I'd left it in the morning. There's no visible damage to the unit and the only rigours it has suffered are general packing ones, and this was in a dedicated pocket in my bag, so it has been treated better than most of my other stuff.
I guess next time I can USB charge it before I head off on my hols, but that's not really the point, is it?
SUMMARY: I really want to like the Mi Suny because of its potential and to some extent I do. The idea is there, so if it was more reliable it would be a very useful piece of kit - although the hefty price tag, length of time it takes to charge, lack of weather resistance and the inability to use it on anything other than your specific i-device (3G/3GS or 4 or iPad) means it still wouldn't be perfect.
If it wasn't for the problems I've had this might get three hammers (maybe 3.5 but we don't do half hammers), but I've been left very disappointed despite the 12-month - extendable to 15 months - guarantee.
In fact I'm close to tears here.
Hold me, someone.
Anyone.
Hello?

Price: An eyebrow-raising £69.99
From: misuny.co.uk
More info: misuny.co.uk
Tags and search info for this review: This is a solar charger review. GearWeAre.com tests and reviews solar chargers, solar gear, portable chargers, outdoor gear and camping equipment.
Subscribe to our Newsletter