9 Best Leather Gloves – 2021 Guide
In a
Hurry? Editors choice: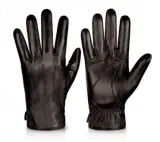 Test Winner: Alepo

Leather gloves provide users with a host of benefits. They give you a polished look and add an air of sophistication and chic-ness that only leather can provide. When coupled with the right insulation type on the interior portion of the gloves, they can be incredibly warm as well.

The problem therein lies in the fact that there are so many different types to choose from. The good news is that we have waded through the over 30,000 leather glove listings on Amazon to bring you the ten best options currently available on the market.

Let's take a deep dive into each of these 10 gloves to see what exactly they provide consumers and why you should spend your hard-earned money on them.
Standout Picks
Criteria Used for Evaluation
Materials
The materials the gloves are made from will always make or break a pair of gloves.
This might come as a bit of a shock to some readers, but there is more than just one type of leather. As we began our research for this buying guide, it became clear right away that cow leather isn't the only option on the market. Each type of leather comes with its own laundry list of pros and cons, so let's take a moment to see what types you might come across in this buying guide.
1. Nappa Leather – This material is usually dyed and can come from a number of different animal skins – goats, lambs or calves, just to name a few. Because it can be made in a variety of ways, there is no certain set of boxes manufacturers need to check in order to call their material "Nappa leather." In the world of lather, this kind is usually recognized by its flexibility as it tends to be more supple than other types.
2. Suede – This material is made with the underside of lambskin though other animals are also used as well. It is characterized b its napped finish. Suede is softer and more flexible than leather made from the outer layer of skin, but it's not typically as durable.
Since all leather is not made from cowhide, it is important to note that each animal type brings its own characteristics to its leather.
Leather made with cow or buffalo hide is the most durable of the lot. It's typically stiffer, heavier and less comfortable than other types. It's often used in the production of protective gear for motorcyclists.
Sheep and lamb leather is more lightweight and flexible than cow leather, but it still retains its durability. Sheep leather lovers often refer to the feeling as "buttery."
Pig leather is usually very thin, fake-looking and won't last nearly as long as other types. It's a good choice for folks on a tight budget as pigskin leather is often very cheap.
Goatskin leather is also on the affordable side, durable and soften than cow leather. It's lighter in weight, as well as flexible and comfortable.
Style
Good style makes for a good glove.
Not all leather gloves are created equal. Some of the options on our list are more fashion-forward than others. Some are labeled as specifically men's or women's design which will change the way that the gloves look slightly.
You might want to invest in a pair of leather gloves because they're warm and will keep your hands toasty all winter long. You may be looking at purchasing a pair because they're classy and you want to showcase how upscale you are as a fashionista. No matter your reason for purchasing, we have a style on our list that will suit your needs.
There are some that are a little longer around the wrist for added flair. Some options have ruching, zippers, and buttons on the wrist for that little extra something. Some of the gloves on our list feature nice-looking details that make the gloves 'pop.'
No matter which gloves you choose, you can rest assured that the options you've found in our buying guide are of the best quality and the most stylish on the market today.
Insulation
There are many different types of material out there pick what's right for you.
If you're in the market for something that is going to keep your hands warm this winter, look no further than the options on our list.
Leather is notorious for its heating capabilities just by nature, but some of the gloves you'll find in our buying guide actually have extra properties that provide even further insulation. Whether this extra heat is provided by faux fur lining, cashmere, wool or another type of material, you can ensure that the gloves you're investing in will provide unprecedented warmth.
That said, because leather is a naturally warm material by nature, one must take this into consideration as they decide if leather gloves are right for them.
Durability
The durability of the gloves will vary from person to person.
No one wants to drop a lot of money on a pair of gloves, even if they're of high-quality leather construction, only to have them breakdown after one winter. Durability is a huge factor we took into account as we compiled our top ten list.
We were able to gauge durability by seeing what materials manufacturers used in the construction of their leather gloves as well as by taking a look at the review section online.
Through these reviews from current owners of the gloves on our list, we were able to determine whether or not the products were as durable as they claim to be.
Value
You can't judge a glove by the price.
Leather is often looked at as a high-quality material and, as we all know, higher quality products usually come at the cost of a much higher price tag.
This is why we thoroughly researched not only the best leather gloves on the market, but also ensured we included ones that cater to everyone's budget. You won't find any gloves in our buying guide priced higher than $60.00 and most of them are in the $20-$30 range.
While this is a bit of an investment at first glance, you must take into account the fact that purchasing leather gloves usually means you will have a durable product that will last much longer than other glove types on the market.
Subscribe to our Newsletter