9 Best Leather Gloves – 2023 Guide
In a Hurry? Editors choice: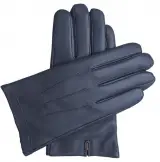 Test Winner: Downholme

Leather gloves provide users with a host of benefits. They give you a polished look and add an air of sophistication and chic-ness that only leather can provide. When coupled with the right insulation type on the interior portion of the gloves, they can be incredibly warm as well.

The problem therein lies in the fact that there are so many different types to choose from. The good news is that we have waded through the over 30,000 leather glove listings on Amazon to bring you the ten best options currently available on the market.

Let's take a deep dive into each of these 10 gloves to see what exactly they provide consumers and why you should spend your hard-earned money on them.
Standout Picks
Criteria Used for Evaluation
Materials
The materials the gloves are made from will always make or break a pair of gloves.
This might come as a bit of a shock to some readers, but there is more than just one type of leather. As we began our research for this buying guide, it became clear right away that cow leather isn't the only option on the market. Each type of leather comes with its own laundry list of pros and cons, so let's take a moment to see what types you might come across in this buying guide.
1. Nappa Leather – This material is usually dyed and can come from a number of different animal skins – goats, lambs or calves, just to name a few. Because it can be made in a variety of ways, there is no certain set of boxes manufacturers need to check in order to call their material "Nappa leather." In the world of lather, this kind is usually recognized by its flexibility as it tends to be more supple than other types.
2. Suede – This material is made with the underside of lambskin though other animals are also used as well. It is characterized b its napped finish. Suede is softer and more flexible than leather made from the outer layer of skin, but it's not typically as durable.
Since all leather is not made from cowhide, it is important to note that each animal type brings its own characteristics to its leather.
Leather made with cow or buffalo hide is the most durable of the lot. It's typically stiffer, heavier and less comfortable than other types. It's often used in the production of protective gear for motorcyclists.
Sheep and lamb leather is more lightweight and flexible than cow leather, but it still retains its durability. Sheep leather lovers often refer to the feeling as "buttery."
Pig leather is usually very thin, fake-looking and won't last nearly as long as other types. It's a good choice for folks on a tight budget as pigskin leather is often very cheap.
Goatskin leather is also on the affordable side, durable and soften than cow leather. It's lighter in weight, as well as flexible and comfortable.
Style
Good style makes for a good glove.
Not all leather gloves are created equal. Some of the options on our list are more fashion-forward than others. Some are labeled as specifically men's or women's design which will change the way that the gloves look slightly.
You might want to invest in a pair of leather gloves because they're warm and will keep your hands toasty all winter long. You may be looking at purchasing a pair because they're classy and you want to showcase how upscale you are as a fashionista. No matter your reason for purchasing, we have a style on our list that will suit your needs.
There are some that are a little longer around the wrist for added flair. Some options have ruching, zippers, and buttons on the wrist for that little extra something. Some of the gloves on our list feature nice-looking details that make the gloves 'pop.'
No matter which gloves you choose, you can rest assured that the options you've found in our buying guide are of the best quality and the most stylish on the market today.
Insulation
There are many different types of material out there pick what's right for you.
If you're in the market for something that is going to keep your hands warm this winter, look no further than the options on our list.
Leather is notorious for its heating capabilities just by nature, but some of the gloves you'll find in our buying guide actually have extra properties that provide even further insulation. Whether this extra heat is provided by faux fur lining, cashmere, wool or another type of material, you can ensure that the gloves you're investing in will provide unprecedented warmth.
That said, because leather is a naturally warm material by nature, one must take this into consideration as they decide if leather gloves are right for them.
Durability
The durability of the gloves will vary from person to person.
No one wants to drop a lot of money on a pair of gloves, even if they're of high-quality leather construction, only to have them breakdown after one winter. Durability is a huge factor we took into account as we compiled our top ten list.
We were able to gauge durability by seeing what materials manufacturers used in the construction of their leather gloves as well as by taking a look at the review section online.
Through these reviews from current owners of the gloves on our list, we were able to determine whether or not the products were as durable as they claim to be.
Value
You can't judge a glove by the price.
Leather is often looked at as a high-quality material and, as we all know, higher quality products usually come at the cost of a much higher price tag.
This is why we thoroughly researched not only the best leather gloves on the market, but also ensured we included ones that cater to everyone's budget. You won't find any gloves in our buying guide priced higher than $60.00 and most of them are in the $20-$30 range.
While this is a bit of an investment at first glance, you must take into account the fact that purchasing leather gloves usually means you will have a durable product that will last much longer than other glove types on the market.
Top 9 Picks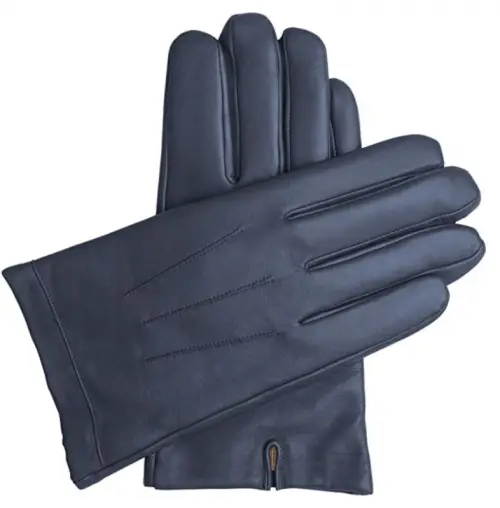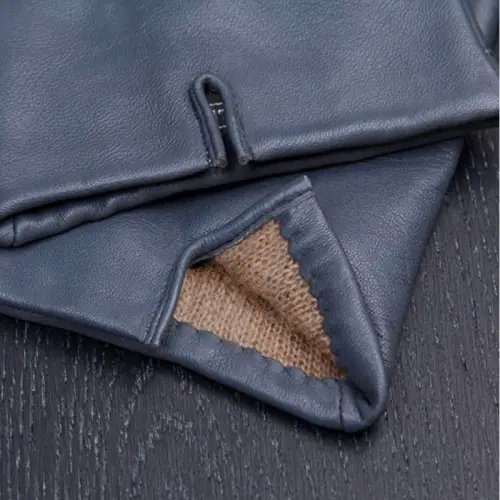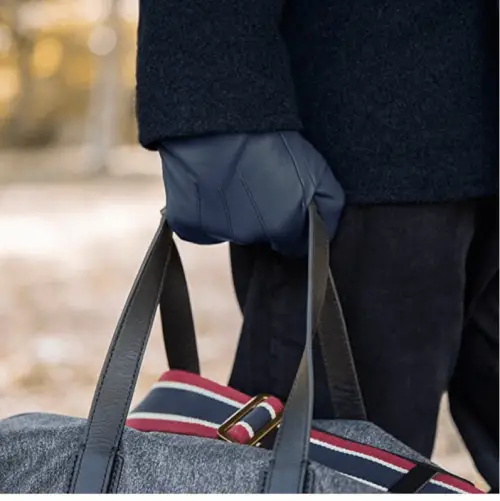 While these are the most expensive gloves on our Llist, we think that this product from Downholme offers plenty of perks that make it more than worth the price tag associated with them. High-quality leather, warm interior, classic and sophisticated design, these gloves from Downholme check all the boxes.
Read more
Materials
Made with a superior sheepskin leather material, these gloves from Downholme are so soft and conform nicely to each individual hand. Users should find this material to be wear resistant. They will provide plenty of protection without taking away from the dexterity you've come to know from non-gloved hands.
Style
They are marketed for men. They have a sophisticated design and are available in five different colors – black, grey, tan, dark blue or brown. They have a slit on the wrist area that helps when putting the gloves on and taking them off. Their sleek design makes them a great choice for a pair of driving gloves.
Insulation
These feature a 100% cashmere lining. This adds a lush layer of warmth and will help to make sure your hands are comfortable inside your new gloves.
Durability
Despite their soft material, the Downholme gloves are surprisingly durable. Most current users of these gloves didn't mention these prematurely wearing down. One reviewer did say in their review that the stitching came out but the product was quickly replaced by customer service.
Price
These are the most expensive gloves on our list. But, as far as leather clothing items go, they aren't that expensive at all really. We think that sometimes you need to pay a little extra to get a higher-quality product.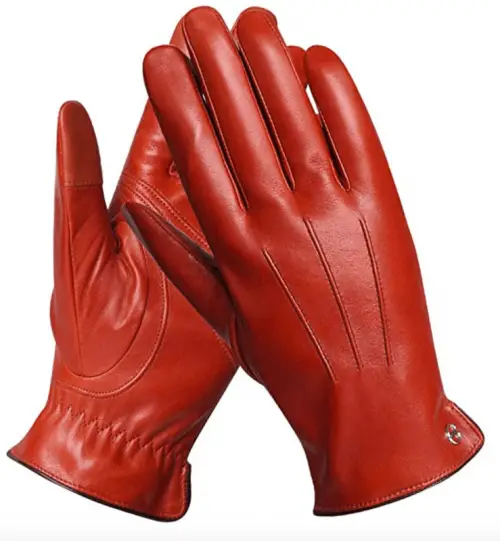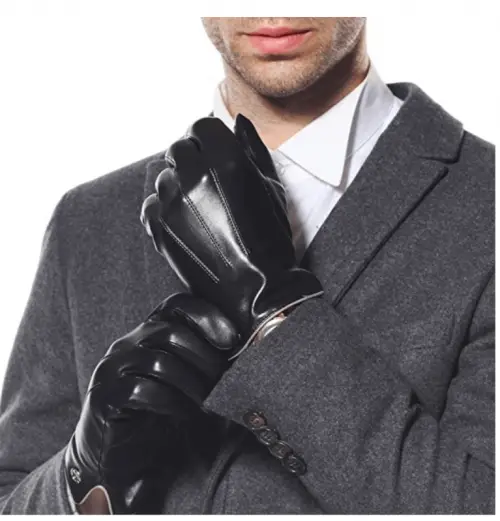 These gloves from Elma are a great investment for anyone who is in the market for an affordable and well-made pair of leather gloves.
Read more
Materials
These gloves are made from Italian Nappa leather which means that users will find that they are flexible, supple but yet will not crease. Nappa leather, by definition, has an intact top-grain which makes it more breathable than other leathers.
Style
The Elma leather gloves are marketed as an option for men and are slick and sophisticated looking. They have a 3-line design element on the top of the glove as well as a grip component on the palm side. At the base of the glove, there is a slit in the fabric to allow for easy on and off as well as a slight ruching around the wrist. These gloves are available in black, brown or a color Elma calls "saddle brown."
Insulation
Though these gloves have do offer a lot in terms of insulation, reviews suggest that they wouldn't be the first choice for folks who live in cold climates. They don't add much in terms of genuine winter element protection. Consumers can choose between cashmere, wool or a fleece lining.
Durability
For consumers who live in areas of the world where it doesn't get exceedingly cold or wet during the winter, these gloves from Elma should do the trick. Reviewers were generally impressed with the durability of these.
Price
Priced on the lower end of the spectrum in comparison to other options on our list, we think that these are more than worth the investment, especially with the ability to be able to customize your color and lining options.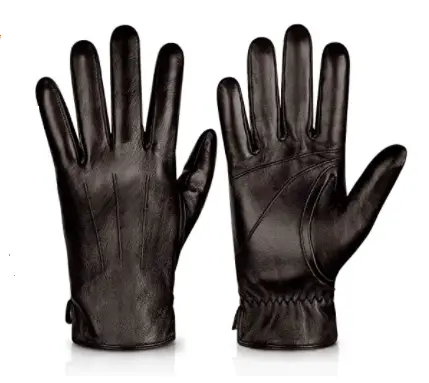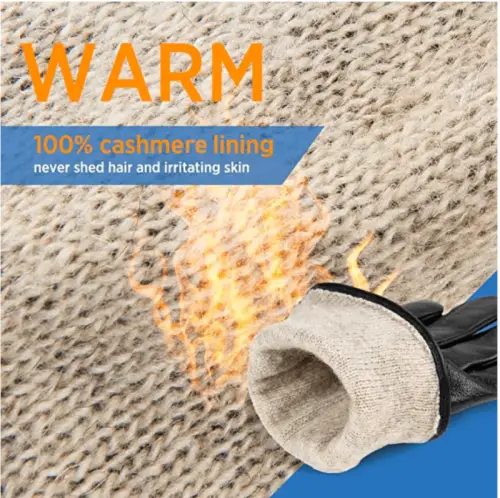 Real leather sheepskin gloves are good for casual, formal, on a bike or motorbike with extra warmth via a cashmere full lining inside the gloves. These glove have a touch-screen design so that you can send texts on those very chilly days.
Read more
Materials
Put together with real sheepskin leather and an inner cashmere lining so that the whole construction of these is from durable materials. These are designed to last while giving lots of protective warmth. The materials allow touch-screen use for those who want to keep on their gloves while sending a text on a bitter cold day.
Style
Stylish standard men's design, with stitched reinforcing in the palm areas and anti-slip for gripping handlebars. These leather gloves have a somewhat business style mixed with casual, they are a very stylish design.
Insulation
They are lined with a faux fur material. This helps to protect users from cold weather while ensuring that those winter breezes stay out of the interior of your gloves.
Durability
Sheepskin leather and cashmere are both durable materials, they have a long lifespan. They are reinforced in the palm areas for more durability if the gloves get used for motorbike or bike riding. The leather is flexible and not prone to stiffness in cold weathers.
Price
Available at a really buyer friendly price which gives durability, style, assured warmth and available in brown or gray.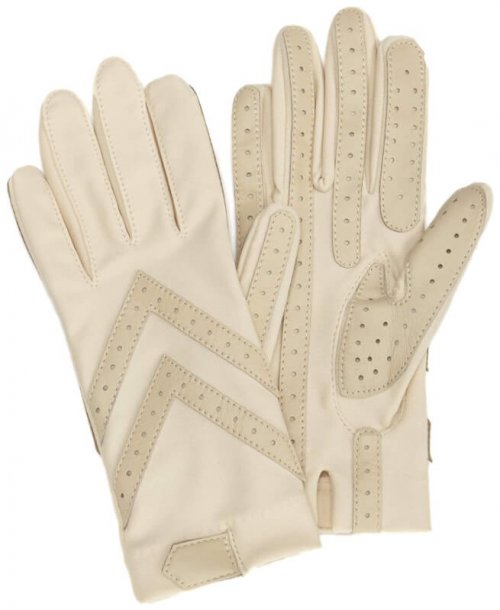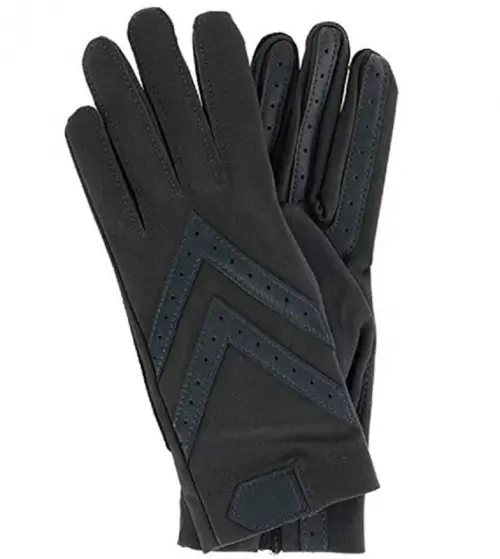 Isotoner is a big brand name in all things gloves, hats and slippers. They've been marketing these products since 1910 and, as such, have brand longevity on their side.
Read more
Materials
These shell of these are made from 100% genuine stretch leather and that is combined with spandex to help ensure a fit that is both contoured to your hands and comfortable.
Style
These are marketed as gloves for women and as such are a bit feminine in style. They feature a beautiful ruching design on the top of the wrist as well as a grip component on the inside of the gloves. They are available in four different colors – black, brown, red or 'luggage' (a lighter brown).
Insulation
These leather gloves are equipped with a soft fleece lining. Users should find that this material gives them a comfortable and contoured fit inside the gloves while providing warmth as well.
Durability
Our research indicates that this is a high-quality product. Isotoner is a well-known brand name that takes pride in its offerings. If you ever find that the durability of these gloves from Isotoner comes into question, you should know that they arrive with a one-year guarantee that should help to settle your concerns.
Price
The price point for these gloves depends upon the size you're looking for as well as the color option that calls to you. While the higher end of the spectrum does require a bit of an investment, we love the fact that these come with a one-year guarantee.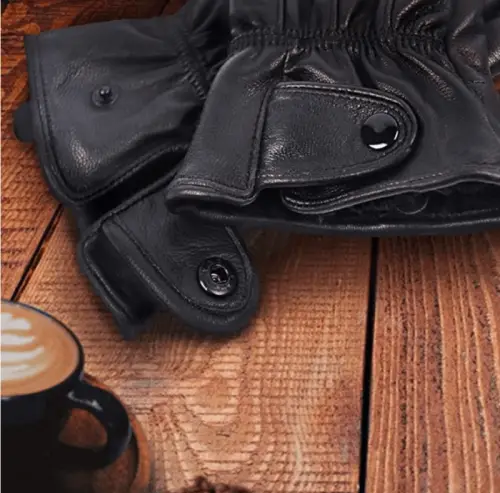 These gloves from Anccion feel a bit like you're stealing. They're priced so low that everyone can afford these and with such a warm interior and high-quality leather construction, we think you'll love them.
Read more
Materials
This option is made from genuine sheep leather making them not only tough but supple and lightweight as well. This material is often referred to as "buttery" and these gloves are no exception to this rule.
Style
These are marketed as a men's glove. They feature a stylish ruching detail just below the palm of the hand as well as a button up feature on the wrist.
Insulation
These gloves feature a 3M Thinsulate lining. This material is a lightweight insulator that will help to trap in your body heat while still promoting a breathable inner environment. This insulating material is meant to stand up to -20°C (-4°F) weather.
Durability
Most current users found that these gloves hold up extremely well during everyday use. They will 'wear in' during such heavy usage, as any pair of gloves will, but shouldn't rip or tear. There were some complaints from current users of these that brought quality control into question but most of our research suggests that these are durable, especially for the price tag.
Price
Priced much lower than most of the other options on our list, investing in a pair of these gloves from Anccion should feel like you've won the lottery. Gloves of this caliber usually come with a much higher price tag so we were surprised to see such a low cost for a high-quality item.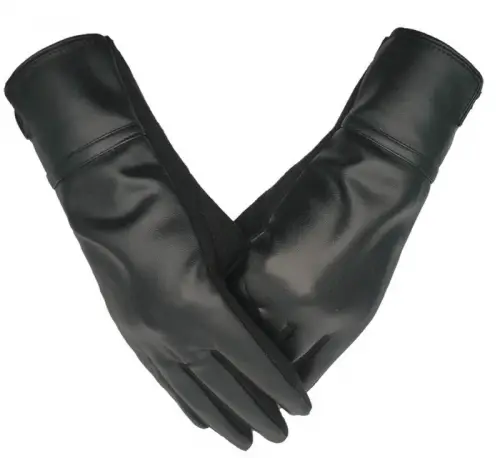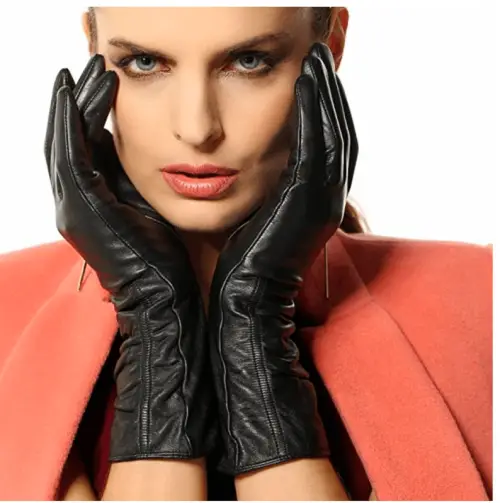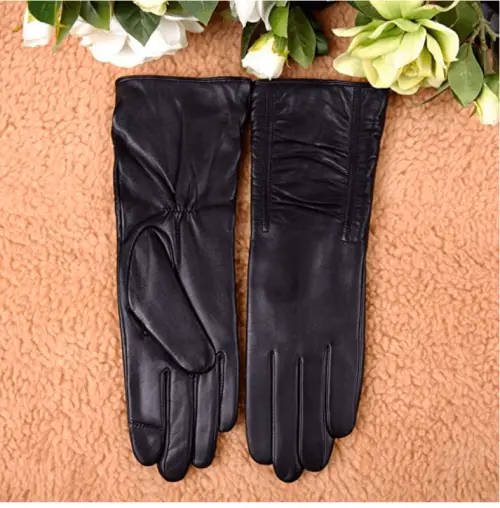 These particular gloves have been well-received by hundreds of current users and use a premium leather material that makes them durable, warm and stylish.
Read more
Materials
These gloves from Warmen are made from lambskin leather. This material choice makes these soft to the touch, flexible and durable.
Style
These are marketed as a ladies touchscreen glove. They are longer than the other options on our list, extending well past the wrist. They are very chic in design and feature a precision touchpoint on the index finger so that users are able to operate their touchscreen smartphones while wearing them.
Insulation
These are fully lined with a luxurious feeling plush fleece to help keep your hands warm during the colder months of fall and winter.
Durability
Warmen is a well known and respected proponent in the glove industry and these gloves are a testament to the power their name has. They are incredibly durable and have hundreds of positive reviews on Amazon backing them up.
Price
These are priced about the middle of the line in comparison to other products on our top ten list. We feel that the price associated with them is more than worth it considering the value you get in return.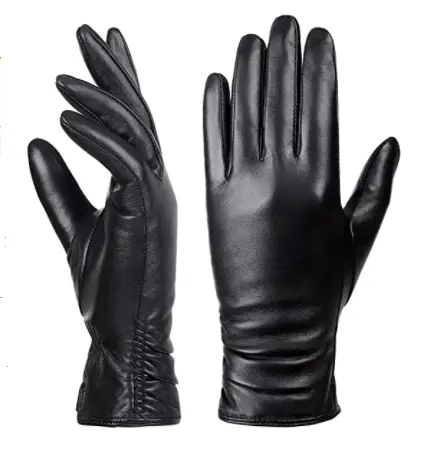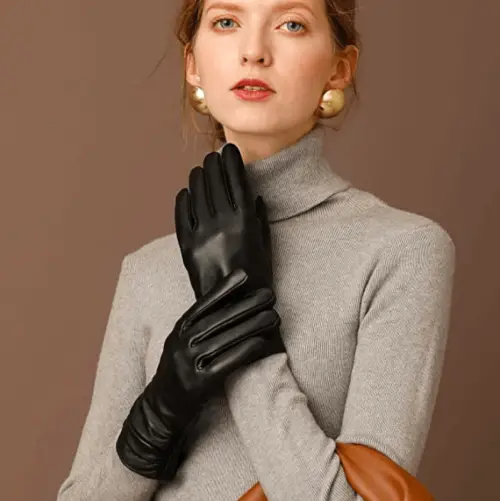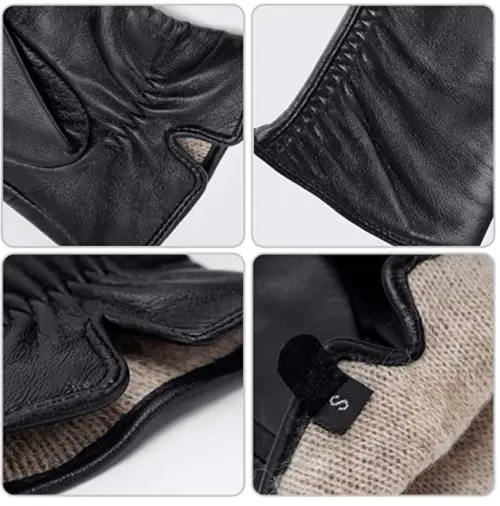 From the ever stylish Dsane, this gently supple lamb-skin are absolutely real genuine leather gloves and they have a comfortable full-long fleece polyester-wool inner lining. These have touch screen capability which can be very useful when using a smart phone on a cold winters day.
Read more
Materials
100% leather gloves, the inner lining is full size and gives effective insulation against the cold while feeling warm and comfortable. Touch screen technology built into the gloves allows the wearer to use smart phone touch screens.
Style
These are a sleek stylish design for ladies, elegant features and soft supple lamb-skin; the winter gloves are an appealing dark black.
Insulation
These gloves have a full polyester and wool lining which gives very effective insulation and hold in warmth. The wrist area is designed to fit close so that cold air cannot get in.
Durability
The soft lambskin is known to be very durable, even in very cold conditions these gloves stay supple. Leather is easily one of the best durable materials for gloves.
Price
Considering the chic elegant and sophisticated design, the use of high quality supple leather and the warmth giving inner lining, these gloves are very affordable. You get style, durability, style and sophistication for a moderate outlay of money, a very good purchase.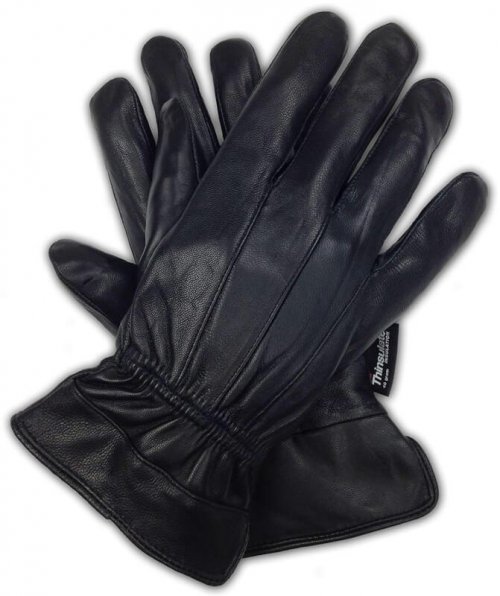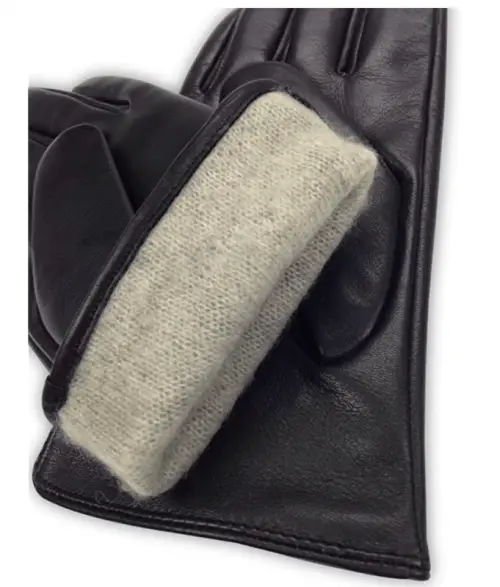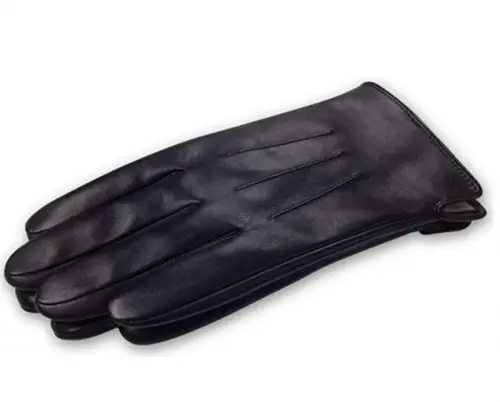 The Livativ sheepskin gloves are a luxurious option priced at a low enough point that everyone can afford them. These are sure to be a hit whether you're wearing them for driving, going out on a date or just casually.
Read more
Materials
These gloves from Livativ are created with genuine sheepskin Nappa leather which adds elements of luxury, softness, and suppleness to the product. The leather makes these so lightweight and flexible, everyone should be comfortable with these.
Style
These are marketed as men's gloves. They feature a stretchy cuff that provides a more secure fit that will ensure the gloves will not slip off in the middle of your activities. There is a small slit in the wrist portion of the glove to aid in getting them on and off.
Insulation
These gloves are equipped with 3M Thinsulate 40g insulation. This material will provide users with a soft layer of warmth that will help keep your hands cozy during cold weather. 3M Thinsulate is designed to provide twice the level of warmth in comparison to other linings from other companies.

Durability
These leather gloves provide an adequate amount of durability when they're used as they are intended to be used. They are, more or less, a dress glove and aren't necessarily made for rugged use.
Price
These are one of the most affordable options on our top ten list. We loved that they feel like a high-quality product but are priced at a low-end price point.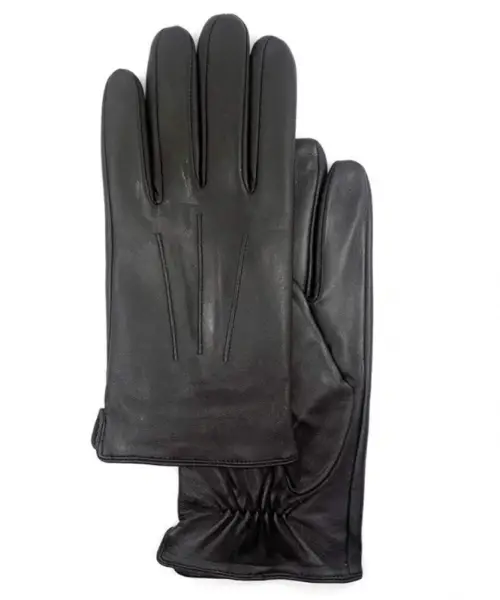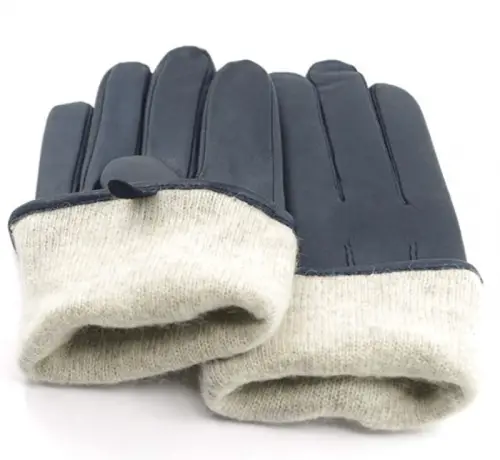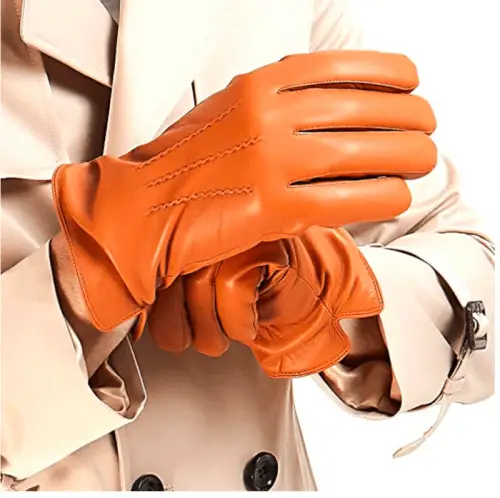 Built to last from lambskin-leather with a nice warmth giving cashmere lining, these are durable, comfortable and highly practical for very chilly weather. Also very comfortable for wearing while driving and available in a good range of colors.
Read more
Materials
With a style that is tried and tested as popular, these gloves are certainly durable as they are made from lamb-skin leather; lots of flexibility and good grip, the inners are cashmere so warmth is assured.
Style
These are typically men's designs. These look good and are very practical.
Insulation
The inner lining is good quality cashmere and this is the type of effective insultation used by many glove manufacturers because it is easily a very effective type of insulation.
Durability
Lambskin is known to be a highly durable leather which remain supple in even very chilly weather conditions. These are built for longevity and durability is very good.
Price
On the market at a low middle price range, these are well worth the investment when looking for a quality glove, with very good insulation, good weather protection and a tried and trusted design.

Subscribe to our Newsletter