Best Touchscreen Gloves
In a Hurry? Editors choice: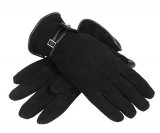 Test Winner: Ozero Winter

In the twenty-first century, people are becoming more fixated on their technology devices, specifically, devices that utilize a touchscreen interface such as smartphones, tablets, etc.
For those who live in an area that experiences colder climates, it becomes problematic to function these devices outdoors because your hands are then exposed to the blistering cold weather. Conversely, if you have your hands covered with gloves to
protect from the cold
, you run into another problem; when you go to use your device, you will have no response as the touchscreen will not recognize your finger.
This is where touchscreen gloves come into play as they combine functionality and protection from the inclement weather. Anyone who can't stay off of their touchscreen device for more than a few hours while outdoors can benefit from a pair of these gloves. Check out our top picks, thoroughly reviewed, below.
Standout Picks
Criteria Used for Evaluation
Use
The entire reason these types of gloves exist is to provide you with the ability to access your touchscreen device while the gloves are on your hands. This especially comes in handy in the wintertime when you do not feel like exposing your hands to the frigid conditions outdoors (check our guide on the best winter gloves).
But, anyone who has ever navigated with a touchscreen interface knows that they can be finicky from time to time. Especially, if you are doing so with fabric on your fingers. But, designers individually craft their touchscreen gloves to be able to jump this hurdle.
Some will design touchscreen technology in all facets of the glove, but you will almost always have the functionality at the fingertips (which is the primary body part that will access touchscreen devices).
However, its performance is solely based on its sensitivity and precise control. The most annoying aspect of touchscreen interfaces is when the screen will not react to your inputs until you smash your finger on the buttons that you want to press. The higher the sensitivity, the easier it will be for you.
Materials
Each designer may prefer a different fabric, and there is nothing wrong with that. Though, those who are avid clothes, shoppers may take a liking to specific materials over others. As such, it is important to analyze the fabrics that the manufacturer utilizes to construct their gloves.
This could range from everything from leather to polyester, and each fabric has its advantages. For a quick example, materials such as acrylic and leather are excellent because one has a high tendency of wicking away moisture from your body (acrylic) and one is exceptionally visually appealing and attractive (leather).
But, the grip that the gloves provide for you is also a vital design element. As these are designed to use with touchscreen devices, it means that you will be holding your technology devices with the glove.
Thus, there must be an exceptional amount of grip to prevent the device from slipping out of your hands and smashing on the ground. Typically, this grip will be centered around the palm of the glove (which makes sense as you have the most control in your palm).
Weather Resistance
Not all gloves are designed to keep you warm in the winter (such as sporting gloves), but touchscreen gloves most certainly are. If you think about it for a second, if you are not using touchscreen gloves in the winter, then why is it an issue to access your devices without the gloves on?
The entire purpose of these gloves is to keep your hands warm as you navigate through your touchscreen devices. But, as has been mentioned previously, the ability of these gloves to perfectly combine warmth and functionality is difficult. Most of the time, one is excellent, and the other one (while not bad by any means) is average.
No matter, though, warmth is vital, and many design factors come into play. For example, what kind of insulation is present? This could be a double-lining, a 100 percent polyester interior, etc. Also, is there a way for the gloves to trap in the heat to prevent it from escaping (such as an elastic cinch). Lastly, do not forget about wind control. If the gloves are not knitted correctly, wind could blow through it instead of the fabric blocking it (which can get your hands colder faster than anything).
Fit
With some winter gloves, you can get away with sizing issues. Take, for example, if the gloves are just a little too big. As long as you do not treasure dexterity, these could still suffice.
However, this does not work with touchscreen gloves. If they do not fit your hands correctly (especially if they are too large), they will compromise the glove's ability to perform on touchscreen interfaces. For starters, some gloves are designed for both sexes and some for specific sexes. Pay attention to that as a man's small is not the same as a woman's small.
If you ever have apprehension about the sizing, then you should reference the manufacturer's size chart to ensure that the gloves will fit your hands. If nothing else, most sellers do include some warranty and guarantee and should allow you to order a different size if the current one does not fit your hand. Of course, some gloves are made to be one-size-fits-all, leaving you with no room for error. Again, just as before, reference the sizing chart of the seller for the most accurate sizing.
Style
When it comes down to it, gloves are no different than shirts, pants, hats, or jackets in the sense that the color design and scheme matters. From one person to the next, it may matter more or less, but it still plays a pivotal role.
Plus, some love mixing style with function, and there is nothing wrong with. Why else do you think that many manufacturers design their gloves with several different coloring options? They know that all people have different styles, so there is plenty of options that you can choose from and find the ones that suit you the best.
Top Ten Pairs of Touchscreen Gloves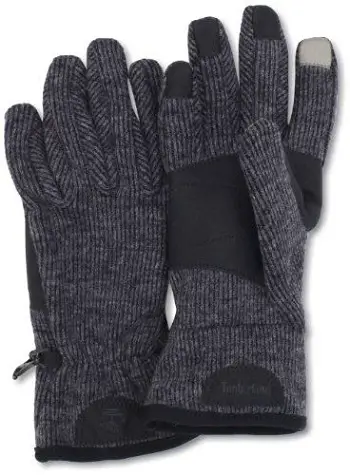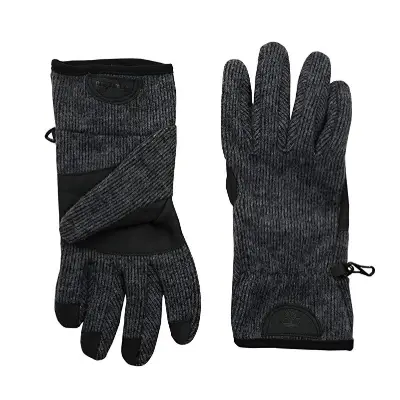 While one would think that wool gloves would be sensationally warm, these gloves excel more in the area of touchscreen functionality. With that being said, on mildly cold days, they will keep your hands toasty. But, may not be enough in freezing temperatures.
Read more
Use
The sole of the touchscreen technology is integrated at the fingertips here, and they are incredibly touchscreen-friendly as a whole.
Materials
The shell of this glove is crafted with conjunction of nylon, wool, polyester, and polyurethane. While most are used for warmth (or attempt to be), the polyurethane aids in grip as it is centered at the palm of the gloves.
Weather Resistance
Anything constructed from wool, due to its properties, is going to provide you with warmth. Though, the big issue here is how the gloves are knitted. Because, they will not block the wind and instead, the wind goes through the material.
Fit
Men, this is designed for you, and you have size options available from medium up to extra-large.
Style
Unfortunately, those who genuinely appreciate options in this area will be disappointed as there are no further color options available. Nope, instead, it is either brown or nothing.
Overall
When the wind is not howling, you will get the most out of these gloves from Timberland. The wool craftsmanship does deliver warmth, but the knitting design is slightly flawed and will allow wind to enter in.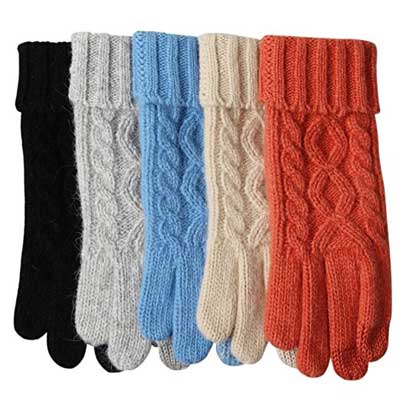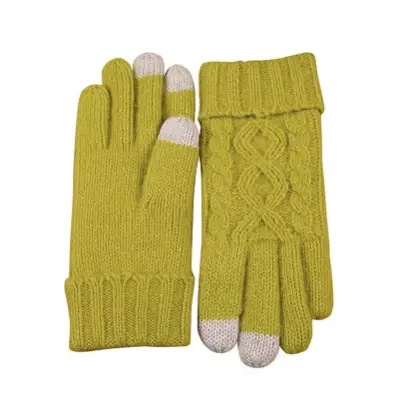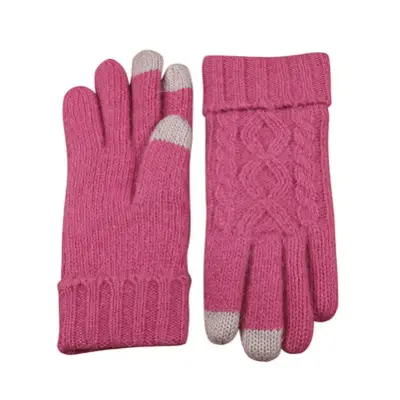 Ironically, this is a great example of the other kind of glove that people tend to run into. ELMA constructed their Cold Weather Gloves to deliver superb warmth and insulation, but they could have made the fingers a little less thick for accuracy reasons.
Read more
Use
The combination of the wool and nylon fabric makes for a respectable experience when using your touchscreen devices. However, the bulkiness at the fingertips sometimes makes it difficult to be precise.
Materials
Elma combines wool, nylon, rabbit fur, and a 100 percent polyester lining to construct their gloves. With so many terrific fabrics utilized into one piece of apparel, how could this not be exceptional?
Weather Resistance
What creates such a warm and comfortable feeling is the polyester lining. While the thickness at the fingertips is problematic at times for functionality, it certainly succeeds in keeping your hands warm.
Fit
As opposed to other gloves on this list, this is a one-size-fits-all model for women. With this, some claim it fits small and some large.
Style
Each woman will find the perfect color for them with selections of beige, black, blue, fuchsia, green, orange, purple, white and yellow.
Overall
It seems to be impossible for both warmth and functionality to be excelled. However, do not think that this is incompetent in navigating your touchscreen devices. But, the fingertips could get on your nerves at times.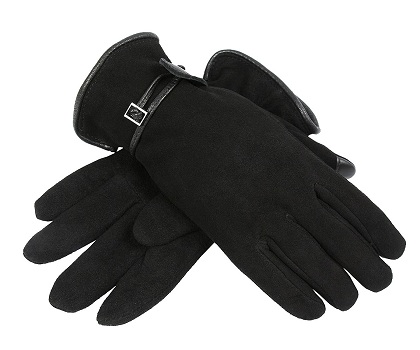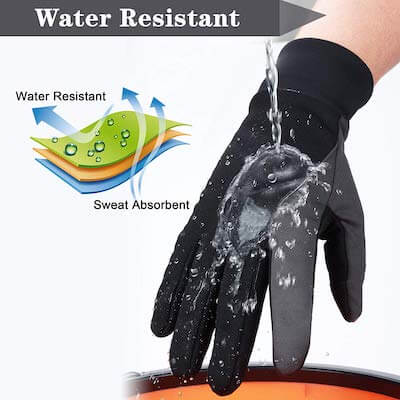 It is truly a shame that OZERO decided to only integrate their touchscreen technology on the right glove as if not, this could have been even higher. But, yes, the left glove is not designed to properly function a touchscreen device.
Read more
Use
For whatever reason, the touchscreen functionality is only present on the right glove and not the left. No matter, it is exceptional and has a high-sensitivity in the index fingers and thumbs. It just seems odd that they only implemented this for one glove.
Materials
Thanks to the American deer leather that this is crafted from, the feeling that is provided is skin-like (in terms of softness). But, OZERO also delivered overall sturdy stitching for a long-lasting glove.
Weather Resistance
OZERO rates their gloves to withstand temperatures that drop as low as -10 degrees Fahrenheit. Past this, while the gloves are thin, they will block the wind and possess an insulated velour lining. All this combines to create a warm and insulated glove.
Fit
For women, you have the sizing options for small, medium, large, and extra-large.
Style
While there are no extraordinary color selections designed for this glove, women will appreciate the options for black, brown, purple, and red.
Overall
If this list was just judging one glove, then this would most likely reign supreme. Guess what, the other glove kind of matters. For left-handed individuals, you will not appreciate only having the touchscreen technology integrated into the right glove. Although, for what it is, "the glove" is outstanding.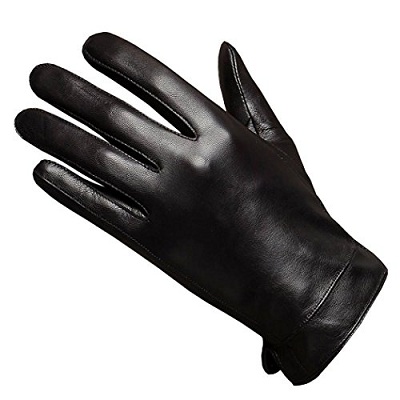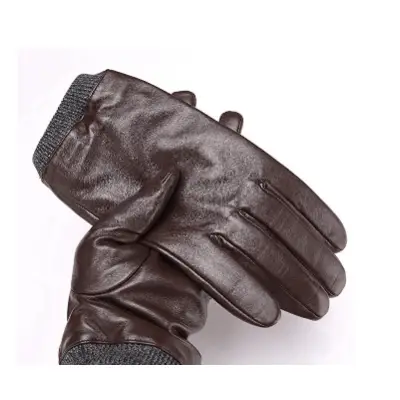 No doubt, leather is an extremely popular and visually appealing material. Though, besides its luxurious appeal, it is also useful for touchscreen gloves. In particular, Harms designed a version that is fully lined and one that features intelligent touchscreen technology.
Read more
Use
What sets this pair of gloves apart from the competition is the implementation of Nanotechnology to produce precision touch point control when utilizing touchscreens with these gloves on your hands.
Materials
These leather gloves have been hand-made by professional artisans who only utilized touch stitching and overall beautiful craftsmanship.
Weather Resistance
Though you may think leather gloves are primarily practical for visual appeal and functionality, these gloves also provide an excellent amount of warmth. Because they are fully lined, they will keep your hands toasty in chilly conditions.
Fit
While these are designed to contour to a man's hand, there are options for small up to XX-large. For women, you could find a size that adapts for you.
Style
The leather comes in two different variants. You can either select a black or brown version of leather.
Overall
For a pair of leather gloves, it is rather remarkable how much warmth these bad boys deliver to your hands. But, the Nanotechnology is genuinely what you will appreciate here as it makes for superb touchscreen functionality.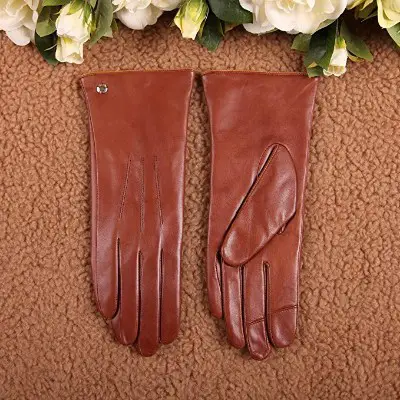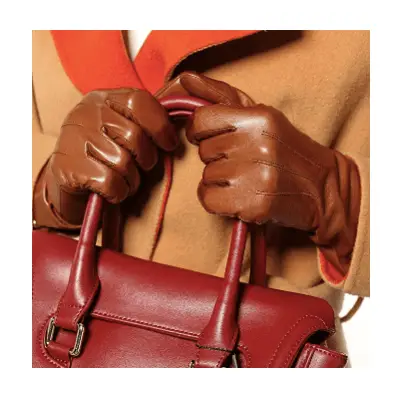 Elma's Classic leather gloves give you attractive eloquence without being too flashy. They are available in seven different colors and go well with just about every outfit. One of our favorite features is the 100% cashmere lined interior.
Read more
Use
The touchscreen capabilities in these gloves lie in the thumb, index, and middle finger. It is only on the pad and tip of the finger, sometimes making it difficult to type with your thumbs. If the sensitivity extended to the sides, the gloves would be much more touchscreen compatible.
Materials
These gloves are made from soft hair sheep leather. For added comfort, they are lined with 100% cashmere. While they look and feel great, there have been a few concerns with the overall durability. This might not be the ideal pair for everyday use.
Weather Resistance
The cashmere lining provides comfort and warmth to your hands. Reviewers recommend these gloves for sightseeing or running errands. As you can see, they are not very sporty. It would be best to avoid getting them wet for aesthetic reasons, but they will keep your hands dry.
Fit
The Elma Classic glove is available in standard U.S sizes, from 6.5 to 8.5. Historically, it seems that the gloves used to run slightly small but it seems as though Elma has fixed that error and they now run true to size. They are comfortable but do not stretch.
Style
Chic would be a good adjective for these gloves. They have a sleek design and pair well with almost any outfit. They are available in seven different colors, including violet and burgundy.
Overall
These have been a best-selling glove for quite some time. They look great, feel great, and provide great protection to your hands. With proper care, and avoiding submerging them in snow and water, we think these gloves could last you for quite a while.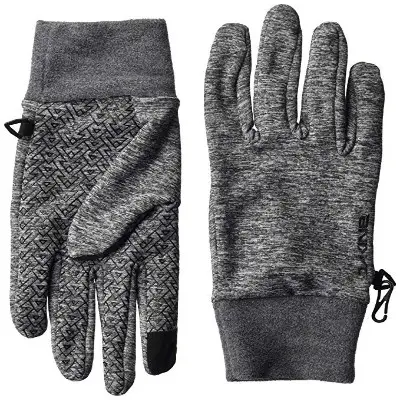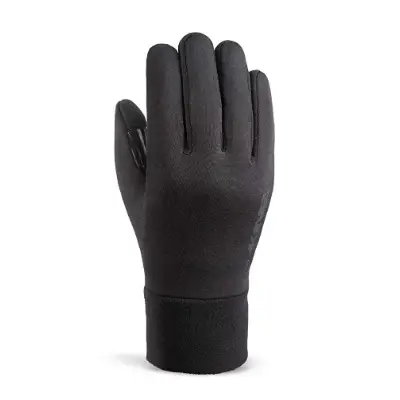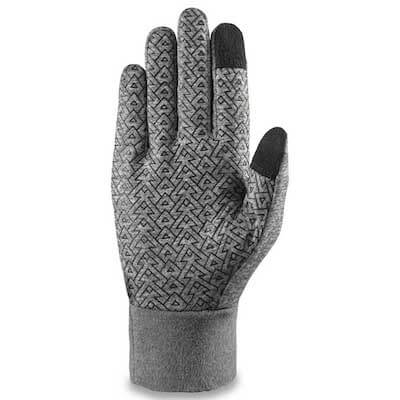 The Dakine Storm Liner is a versatile glove that can be used on its own or as a liner under a heavier glove. It isn't waterproof but it does seem to slightly repel water and dries quickly. If you are looking for a comfortable and versatile glove, this is a great choice.
Read more
Use
The Storm Liner gloves feature touch screen capabilities on both hands on the thumb and pointer finger. They are very responsive and easy to use. There is also a grippy palm to help you avoid dropping your phone.
Materials
These gloves are made from midweight 280g stretch fleece. The grippy palm that we mentioned earlier is patterned and made from silicone.
Weather Resistance
On Dakine's warmth scale of one to five, these are only a one. They are marketed as a liner that can be paired with a thicker glove. However, they work well on their own as a lightweight glove. They are not waterproof, but they do slightly repel water and dry quickly.
Fit
These gloves are available in a wide range of sizes, ranging from XS to XXL. Generally, they tend to fit true to size. However, there have a few complaints about them running slightly large.
Style
The color options for the Storm Liner are Black or Shadow. Shadow is a feathered gray color. Each pair has the brand name, Dakine, printed in black on the top of the hand. They are great non-attention calling gloves.
Overall
While there are warmer options on our list, it all depends on what you're looking for. This glove can be used as a liner or a lightweight glove on its own. While there aren't many color options available, the black and gray are quite stylish.

7

. GliderGlove Copper Infused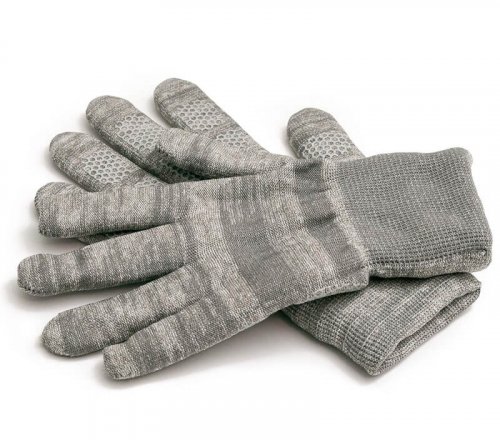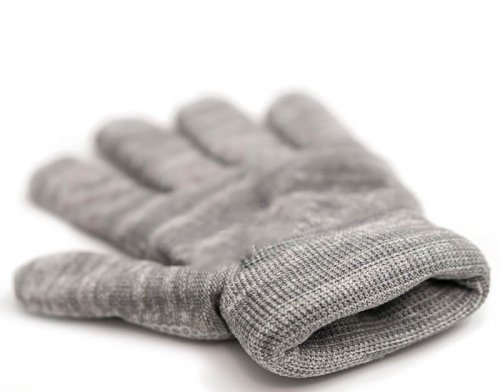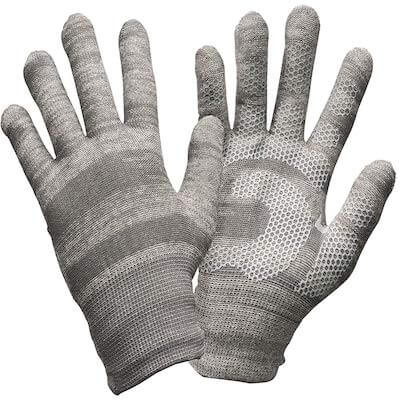 GliderGlove themselves claim that their gloves fit best for smaller hands and if you have small hands, it is hard to get better than this. With a double-layer of fabric, these gloves do a tremendous job of blocking the wind while also allowing enough grip for ideal dexterity.
Read more
Use
With these gloves on your hands, you are left with a seamless touch response when you are accessing your touchscreen device. But, because the functionality is dispersed between the entire hand and your fingers, you can swipe, pinch, tap, and touch your screen with ease.
Materials
GliderGlove decided to integrate conductive copper yarn and weave it with the nylon, acrylic, and spandex craftsmanship. Plus, there is a sensational amount of grip and traction in the palm of this glove.
Weather Resistance
Thanks to both the double-lined soft brushed interior layers and the extended cuff that holds in the insulation, warmth is undoubtedly not going to be an issue for you.
Fit
There are several sizes, both for urban and winter styles, from small to extra-large. Though, the seller states that this glove is intended for smaller hands and may not fit large hands adequately.
Style
Three different styles are available, and they include black, gray, and honeysuckle.
Overall
There are no two ways about it; this is not intended for large hands. If you can understand this and are sure you can find a correct size (you can measure your hand), then there is no reason you can't enjoy all the benefits that these gloves provide for you.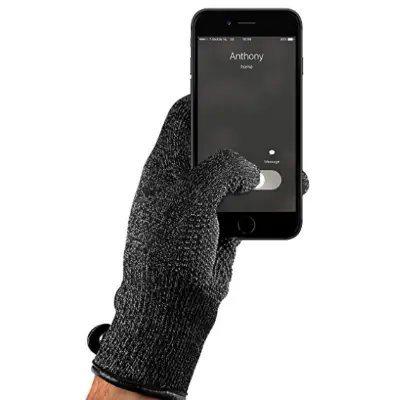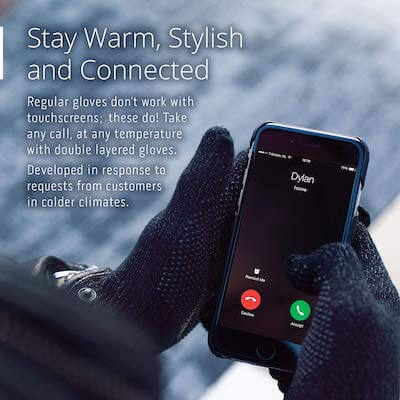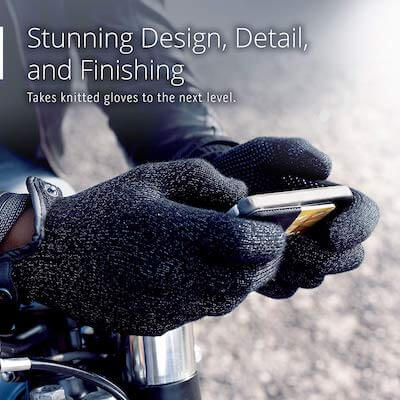 Do you like to use your knuckles to answer your phone? Do you like to text with your pinky finger? You can do it all with these gloves from Mujjo. The entire glove is touchscreen compatible. Additionally, you can choose from single or double-layered depending on your warmth preferences.
Read more
Use
There are no restrictions with these gloves, the entire glove is touchscreen compatible! If for some reason you prefer to text with your pinkies, you can. Additionally, there are small silicon dots on the palms to help you have a secure grip on your phone.
Materials
These gloves are made from anti-pilling yarn that provides great comfort and warmth. The touchscreen capabilities come from the silver-coated nylon fibers that are woven into the gloves. Additionally, there is a leather strap that crosses over the wrist to provide a secure fit. Overall, the gloves weigh 3.52 ounces.
Weather Resistance
For warmth, you can choose between single or double-layered in each size. The double-layered gloves have more insulation to keep you warm in harsh environments. Unfortunately, these gloves are not waterproof.
Fit
These are available in sized Small, Medium, and Large. If you are in-between sizes, it is recommended to go up. They have a slim fit and a decent amount of stretchiness. There is a size chart listed on the Amazon page to help you measure your hand.
Style
These are good looking gloves. However, they are only available in one color. The gloves are black but you can see the silver-coated nylon fibers as well. The leather strap at the wrist gives the gloves a unique and polished look.
Overall
Seeing as how this is the second version of this glove, Mujjo has made tons of improvements. One of the main concerns in the previous model was the lack of insulation. Now, you can choose from double or single-layered to fit your climate.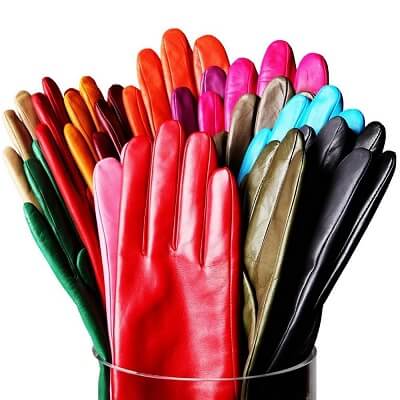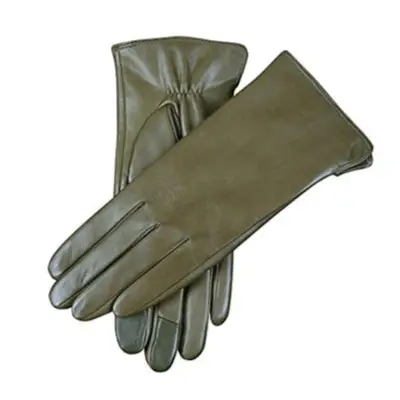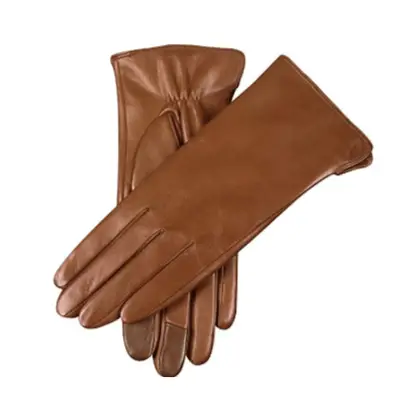 The great feature of these Warmen Women's Genuine Nappa Gloves is that they come in a wide variety of colors, such as green, black, grey, brown, red, pink, and the list continues. Along with the aesthetics of these gloves, you will feel very luxurious in the materials of these gloves.
Read more
Use
These gloves offer you the ability to flawlessly surf the web, scroll, or double-tap on any Instagram post easily.
Materials
These gloves are crafted with a shell of 100% soft sheepskin, 30% cashmere interior, and supplemented with wool for optimal warmth.
Weather Resistance
The combination of wool, sheepskin, and cashmere makes these gloves warm for winter days and chilly autumn afternoons. While they might not be your every day go to in the coldest of weather, they will undoubtedly keep the chill out of an average cooler day.
Fit
One size is designed to fit most women's hands, and they fit with a sleek design.
Style
Good luck deciding on a color choice here as that is how many are present.
Overall
These gloves feel and look luxurious. They do very well with most testers, and they have become so popular that some sites counterfeit them. With that in mind, be sure to buy these from a reputable seller like Amazon or their own site.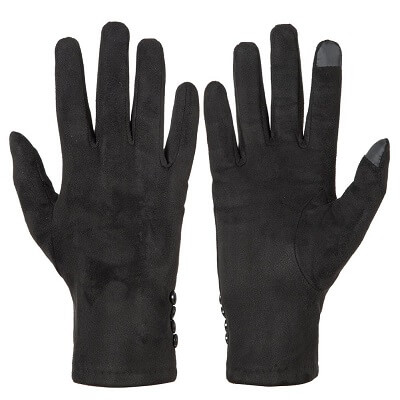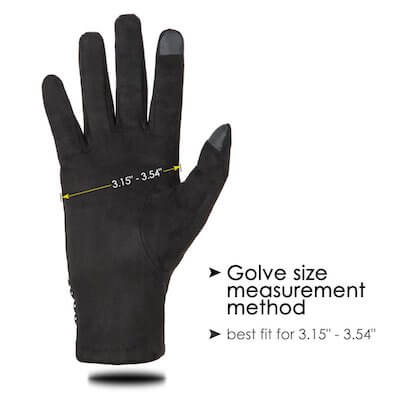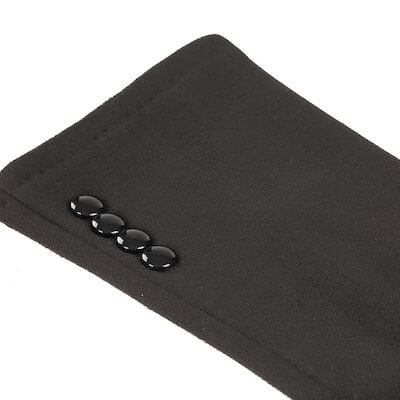 These Gloue Women's Touch Screen Gloves will not only offer you the flawless ability to text, swipe, and surf the web, but they are stylish, too.
Read more
Use
The thumb and index finger on each hand are the only fingers with the capabilities to use the touch screen efficiently. But with that in mind, they do a seamless job of it.
Materials
These gloves are made from soft suede and come in many colors. They are well made and form-fitted with elastic to fit any hands.
Weather Resistance
The soft, full lining in these gloves will keep you warm throughout autumn and winter days.
Fit
These are designed for women's hands, so they are not as large as a unisex pair of gloves, and they are quite form-fitting.
Style
They come in various colors, but namely, they are most easily found in black and grey.
Overall
These leather gloves are made of smooth, soft, and comfortable suede. They feel great to wear, and they are very fashionable and sleek.

Subscribe to our Newsletter