Best Touchscreen Gloves
In a
Hurry? Editors choice: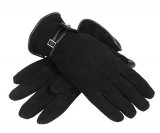 Test Winner: Ozero Winter

In the twenty-first century, people are becoming more fixated on their technology devices, specifically, devices that utilize a touchscreen interface such as smartphones, tablets, etc.
For those who live in an area that experiences colder climates, it becomes problematic to function these devices outdoors because your hands are then exposed to the blistering cold weather. Conversely, if you have your hands covered with gloves to
protect from the cold
, you run into another problem; when you go to use your device, you will have no response as the touchscreen will not recognize your finger.
This is where touchscreen gloves come into play as they combine functionality and protection from the inclement weather. Anyone who can't stay off of their touchscreen device for more than a few hours while outdoors can benefit from a pair of these gloves. Check out our top picks, thoroughly reviewed, below.
Standout Picks
Criteria Used for Evaluation
Use
The entire reason these types of gloves exist is to provide you with the ability to access your touchscreen device while the gloves are on your hands. This especially comes in handy in the wintertime when you do not feel like exposing your hands to the frigid conditions outdoors (check our guide on the best winter gloves).
But, anyone who has ever navigated with a touchscreen interface knows that they can be finicky from time to time. Especially, if you are doing so with fabric on your fingers. But, designers individually craft their touchscreen gloves to be able to jump this hurdle.
Some will design touchscreen technology in all facets of the glove, but you will almost always have the functionality at the fingertips (which is the primary body part that will access touchscreen devices).
However, its performance is solely based on its sensitivity and precise control. The most annoying aspect of touchscreen interfaces is when the screen will not react to your inputs until you smash your finger on the buttons that you want to press. The higher the sensitivity, the easier it will be for you.
Materials
Each designer may prefer a different fabric, and there is nothing wrong with that. Though, those who are avid clothes, shoppers may take a liking to specific materials over others. As such, it is important to analyze the fabrics that the manufacturer utilizes to construct their gloves.
This could range from everything from leather to polyester, and each fabric has its advantages. For a quick example, materials such as acrylic and leather are excellent because one has a high tendency of wicking away moisture from your body (acrylic) and one is exceptionally visually appealing and attractive (leather).
But, the grip that the gloves provide for you is also a vital design element. As these are designed to use with touchscreen devices, it means that you will be holding your technology devices with the glove.
Thus, there must be an exceptional amount of grip to prevent the device from slipping out of your hands and smashing on the ground. Typically, this grip will be centered around the palm of the glove (which makes sense as you have the most control in your palm).
Weather Resistance
Not all gloves are designed to keep you warm in the winter (such as sporting gloves), but touchscreen gloves most certainly are. If you think about it for a second, if you are not using touchscreen gloves in the winter, then why is it an issue to access your devices without the gloves on?
The entire purpose of these gloves is to keep your hands warm as you navigate through your touchscreen devices. But, as has been mentioned previously, the ability of these gloves to perfectly combine warmth and functionality is difficult. Most of the time, one is excellent, and the other one (while not bad by any means) is average.
No matter, though, warmth is vital, and many design factors come into play. For example, what kind of insulation is present? This could be a double-lining, a 100 percent polyester interior, etc. Also, is there a way for the gloves to trap in the heat to prevent it from escaping (such as an elastic cinch). Lastly, do not forget about wind control. If the gloves are not knitted correctly, wind could blow through it instead of the fabric blocking it (which can get your hands colder faster than anything).
Fit
With some winter gloves, you can get away with sizing issues. Take, for example, if the gloves are just a little too big. As long as you do not treasure dexterity, these could still suffice.
However, this does not work with touchscreen gloves. If they do not fit your hands correctly (especially if they are too large), they will compromise the glove's ability to perform on touchscreen interfaces. For starters, some gloves are designed for both sexes and some for specific sexes. Pay attention to that as a man's small is not the same as a woman's small.
If you ever have apprehension about the sizing, then you should reference the manufacturer's size chart to ensure that the gloves will fit your hands. If nothing else, most sellers do include some warranty and guarantee and should allow you to order a different size if the current one does not fit your hand. Of course, some gloves are made to be one-size-fits-all, leaving you with no room for error. Again, just as before, reference the sizing chart of the seller for the most accurate sizing.
Style
When it comes down to it, gloves are no different than shirts, pants, hats, or jackets in the sense that the color design and scheme matters. From one person to the next, it may matter more or less, but it still plays a pivotal role.
Plus, some love mixing style with function, and there is nothing wrong with. Why else do you think that many manufacturers design their gloves with several different coloring options? They know that all people have different styles, so there is plenty of options that you can choose from and find the ones that suit you the best.
Top Ten Pairs of Touchscreen Gloves
Subscribe to our Newsletter