The Best Insulated Pants
last updated:
Feb 07, 2020
Whether you are a beginner in a winter sport or a professional, the fact remains that you will need insulated pants. As the temperatures get lower, more insulation is required in order to remain comfortable outside. These pants have different features. Finding your perfect pair could be made easier if you are well educated about the features the manufacturers have to offer.
Every feature of your chosen alternative should accommodate your needs. In this buying guide, we will explain everything there is to know about insulated pants which will help you in finding the best ones that match your requirements. We listed the top ten pants in the market today. We are also including our experts' suggestions that we have reviewed and rated.
This is the best product on our list that is currently in stock: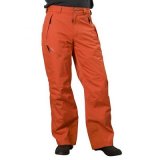 Mountain Hardwear Returnia
Why is it better?
Durable
Medium breathability
Medium ventilation
In a
Hurry? Editors choice: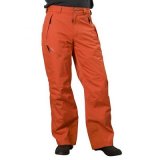 Test Winner: Mountain Hardwear Returnia

14
Researched Sources
2.2k
Reviews Considered
15
Hours Researching
18
Products Evaluated
Insulation
Weather Resistance
Materials
Water Resistance
By Default
Criteria Used for Evaluation


Insulation
In this buying guide, we are looking only into pants which provide insulation to your body. This means that they will keep you warm at a certain temperature. In this context, you should focus on the destination you are traveling to and the weather conditions there. This is very important since if you get pants with high insulation properties you would constantly feel hot while wearing them and you wouldn't feel comfortable.
Or if you get pants with not enough insulation, you would end up freezing, so your whole trip would be ruined due to "bad weather conditions". In fact, there are not bad weather conditions; there are only inappropriate types of clothing. In order to avoid these situations always prepare for the weather; not more, not less.
If you are not sure when or where are you going to use your insulation pants, you should balance between the insulation and the ventilation properties. More about ventilation you can learn in further in this guide.
Another important factor to consider when it comes to insulation is your personal heat preferences. There are some people who prefer increased temperatures, while others are always cold and can't stand the winter temperatures. If you are a "hot" person, make sure you focus on the ventilation, rather than the insulation. This way, you wouldn't feel stifled inside. In this case, another great idea for you would be the unlined pants which are allowing maximum breathability. This also makes them more lightweight, therefore perfect for backcountry skiing.


Weather Resistance
Have you ever noticed that birds have no trouble staying in the water at extremely low temperature? The first thing we should mention when discussing down insulation is that this is used only for optimal weather conditions when the temperatures are really low. Otherwise, you might feel challenged not to take off your pants and ski in your thermal underwear. The down options on the market are duck and geese down and it has consisted of a combination of down and feathers.
Down, however, is not all with equal quality. There is down which is more consistent in composition and other which is not. This is called fill power of the down material. If you are looking for a high quality down material you should stick to the range above 700. However, be advised that down insulated pants are very expensive and hard to maintain. If you choose to purchase down insulated pants, make sure you take them to a professional instead of cleaning them by yourself. If the fill power of the down is not stated on the label or by the distributor, you should check the fluffiness of the material. The down created from the most mature birds is fluffier and has more dead air between feathers. This dead air is trapping more heat, thus making your pants more resilient to cold weather.


Materials
Since synthetic insulation is cheaper than down, most suggestions we provided are using this technology for creating warmth. The synthetic insulation is providing the user a similar amount of warmth as down even though it is made from polyester fibers. Its biggest advantage, other than the price is its ability to trap heat once it gets wet. Even though it is not pleased that you are wearing wet pants, if somehow they do get wet, at least they won't lose their healing properties.
There is also a rate of synthetic insulation which varies between 40 and 120 grams. With this being the case, the heavier the weight of the pants, the warmer they are. So if the synthetic insulation rating is not stated, simply check the weight of the pants.
A nice example for a high-quality synthetic insulation rating is Prima Loft technology which some of our suggested models have. The Prima Loft is indeed a number one when it comes to synthetic insulation. It is compared to down insulation filled with goose feathers with a filling density of 500.
All in all, synthetic insulated pants are usually the better choice, except if you are practicing sport on extreme temperatures such as -20 degrees Celsius. Everything above this temperature should be satisfied with synthetic insulation. Also if you are involved in activities where the moisture is higher, such as hiking in the marine climate you are also recommended to go with the synthetic alternative.


Water Resistance
You have probably owned a fleece jacket before. It has a nice feeling against your skin right? Fortunately, it is used for manufacturing insulation pants as well. It is a breathable material which will keep you warm and cozy inside. However, it is also a fabric which is highly absorbent which makes it unsuitable for manufacturing ski clothes. Nevertheless, companies have decided to combine these fabrics with a waterproof shell which will make a less expensive and a product with higher quality. Having this in mind, fleece pants are as good as the outer shell is waterproof.
Expert Interviews & Opinions
Most Important Criteria
(According to our experts opinion)
Experts Opinion
Editors Opinion
Users Opinion
By Default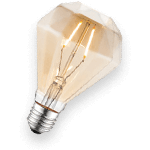 Check the Fit
When looking at investing in a pair of insulated pants, make sure you try them on before purchasing as you want to make sure they fit comfortably. You want your insulated snowpants to fit comfortably around your waist and reach down to your ankles, so you get max protection during the cold weather.
Other Factors to Consider


Style
The maintaining of synthetic pants is also easier than the maintenance of the down material. You should only read the instructions on the label and you would be fine.
Other than the Prima Loft, there also other synthetic insulation brands which are considered as quality ones such as:
Thinsulate – is known to provide warmth while also maintaining the thinness of the material. This is the thinnest insulation material currently on the market. Thinsulate is very suitable for those who are not keen on the bulky look.
Heatseeker – is an insulation technology most commonly used from the North Face brand.
Coreloft – provides synthetic insulation and is characteristic of the Arc'teryx brand. It provides excellent insulation and not so excellent water resistance properties.
Frequently Asked Questions
q:

Do the insulated pants all come with waterproof material?

a:

All insulation pants which are suggested and rated in this buying guide are water-resistant. However, the waterproof rating they have is quite different in each and every one of them. Their waterproof rating depends on many factors, one of them being the outer shell fabric which is used in the manufacturing process. To start from the top-down, pants with the highest waterproof rating are made from Gore-Tex materials or event fabrics and they are considered as hard-shell pants. There are not many hardshell or softshell pants that are also insulated pants. Hardshell pants usually focus on breathability properties.

Nevertheless, you probably don't need to choose a pants alternative with highest water-resistant properties. In fact, you should also compare this feature with your preferences and the destination you are planning on using them for, but also consider the sport you are into. In this case, the region where you are skiing, for instance, would play a great role. Dry and cold areas suggest that you could get pants with lower water resistance rating. The wet and cold areas, on the other hand, would require that you spend a little more than expected and get pants with high insulation and high water resistance ratings.

If you are going to spend most of your wintertime in an area with harsh weather conditions, there is no point on saving and you should certainly require pants with high quality that you can rely on to make you feel comfortable and dry during the whole day.
q:

If I buy an expensive insulated pair of pants does that mean they will be better quality?

a:

All of the products on our guide are all a great well known high-quality pair or insulated pairs. If you look at all of the products in our top ten list you will see each product's quality depends rather on what you are looking for or what you will be using them for. The pricing for each product differs but still various around 50-$100 for a great high-quality pair or insulated pant. For a product that will help you stay warm or even truly stay waterproof you will need to spend a bit more as their use is very important. Take a look through the list and keep your eye on which product features the right qualities for you.
q:

What are the benefits or downsides to have down pants?

a:

Unfortunately, down pants are not breathable, therefore they are not recommended for mild temperatures. They are, however, recommended for mountaineering on high altitudes or snowboarding or skiing as they are also highly compressible and durable. Another weakness of the down insulated snowpants is the moisture. If the down itself gets in touch with any amount of water, it loses its ability to trap heat and become just fluffy pants without any useful features. In order for this not to happen, the shell is usually made from a waterproof material which prevents water from coming in, and it is protecting its insulation properties.
q:

Is it better to have fleece insulation?

a:

The main downside to the fleece material is that it is not compressible so it is not suitable for backpacking trips since it would take much space. If you choose a fleece alternative, make sure you also choose a high-quality membrane which will keep you away from winds and moisture.

Fleece insulation pants are mainly made for mild weather conditions, rather than very low temperatures. They also have more competitive prices comparing to other insulation types. If you are planning on using fleece insulation for lower temperatures, make sure you use a highly thermal base layer of clothes in order to compensate.
q:

Why are insulated pants needed for outdoor cold weather?

a:

If however, you are not looking forward to the snow and the temperatures it brings, make sure you get as more insulation as you can. Another option for these people is to wear thermal underwear under the pants which would provide them additional comfort and heat. As for the materials which are used for insulating the pants, there are different synthetic blends or down options.

The synthetic blends are the more common preference among skiers. The ones who prefer hiking in the mountains, however, prefer more natural materials such as down because it creates more heat. Hikers need more heat during their activity since usually, it requires less effort and more hours spent out in the cold. The skiers, however, require more breathability because they lose more energy which causes more heat to be created.