Best Ski Boots
In a
Hurry? Editors choice: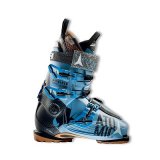 Test Winner: Atomic Waymaker Carbon

Imagine whooshing down the
slopes
with no connection between your mind and your feet. It would be a disaster, right? Ski boots are arguably the most important piece of equipment when skiing. They are the connection between your intention and the reality of what's going to happen. A great pair of ski boots will not only
keep you warm and comfortable
, but they will also improve your overall performance.
Just like our skiing styles, each pair of boots is different. What works well for your buddy might be uncomfortable for you. To narrow down the thousands of options that currently flood the market, we have rounded up the overall top ten here, keeping all levels and styles in mind.
Standout Picks
Criteria Used for Evaluation
Materials
Ski boots aren't made to be difficult to understand and are manufactured so you can use your body along with the boots to improve your skiing performance. While materials and features can vary depending on the type of ski boot you buy, all have the following parts, which you'll want to take a close look at when you decide on what you want to purchase.
Ski Boot Shell
The shell of a ski boot means the hard, plastic outer area of the boot. Shells are going to determine the weight and stiffness of a ski boot, although many of them can be adjusted by professional boot fitters to help you make them fit better. Some boots, like the Salomon X-Pro 130, come with a heat-moldable shape so that you can personalize your fit better.
Ski Boot Liner
The liner of a ski boot is made up the removable soft inner part of the boot that's found inside the boot's shell. You do want to take a close look at the boot's liner when making your selection because the liner determines a lot about fit, warmth, and comfort. Some boots are made with heat moldable liners, although they tend to cost more, they will help create a perfect fit and boost performance.
Typically, you'd bake the moldable liner in your oven ahead of time, then place it in the shell, put your foot inside, buckle the boots, and wait for the liner to fit your feet perfectly. These types of liners also fit you better the more often you ski in them, and give you a custom fit.
Ski Boot Sole
The sole of alpine ski boots are made to be DIN compatible, so they can work well with regular alpine ski bindings. Boot soles can be made to be a continuation of the shell or may be made up of parts that can be removed and replaced as the boot gets worn out.
Buying a boot with interchangeable soles is a great idea if you want to save money in the long run, because you can simply replace that part of the boot rather than having to purchase a full new set of boots. Plus, the more your boot sole wears out, the worse its connection to the binding will be, and the less safe you'll feel overall on the slopes. However, if you need to save money immediately and not in the long run and opt for a boot that doesn't have removable soles, avoid walking on pavement, dirt, and other hard surfaces in your boots so you increase the life of your boots.
Ski Boot Footbed
The footbed of a ski boot helps to increase the support you get and can vary based on the brand. Footbeds tend to be thin pieces of foam won't give your feet much support, and it's almost always a good idea to get an aftermarket footbed so that the boot will fit your feet better and keep your feet healthy.
Ski Boot Power Strap
The power strap on ski boots let you tighten or loosen the top cuff area of the boot so you get the boot to fit comfortably to your shin. Many power straps come with Velcro to help with some closure, while others have a buckle. Wide power straps tend to be better than skinnier straps since you'll get more Velcro to hold the boots in place, and this will prevent the boots from slipping.
Flexibility
Flex can vary depending on what your skill level is, and your weight and height. The more experienced you are, the taller you are, and the more you weigh, the greater the flex you'll need. Most expert and advanced skiers go for skis with higher flex ratings, while beginners will seek out boots with lower flex ratings. If you are a newbie, then you'll want a boot with a flex below 100 as you learn. If the flex range is 120 and up, then the boots are made for more advanced skiers.
Features
The features of a ski boot are what make them unique and stand out from the crowd. You might not notice these features just by looking at them, but you'll appreciate them when you're wearing them. The two main features that we are seeing in ski boots these days include Walk Mode and Ski Boot Rocco Reflectors.
Many ski boots now come with a walk mode and a ski mode, and you usually find this in all mountain ski boots. The walk mode in a ski boot lets you more easily disengage the cuff from the bottom of the boot, so you can move your ankle and walk uphill more easily. If you know you'll be walking uphill often, this is a nice feature to have in your ski boot since it will make the entire process much easier for you.
Recco reflectors are found in some ski boot brands, and they are a reflective system that's used by rescue teams worldwide to find people buried in an avalanche. The reflector works as a chip that can be picked up by a unit, and it works much like an avalanche beacon. Obviously, this enhances the safety and quality of your boot, and if you ski where there might be an avalanche, it's a great benefit to have.
Overall Fit
The overall fit of your ski boot should be snug but without uncomfortable pressure points. Simply sliding your foot into a boot won't give you an accurate representation of how the boot fits. To get a true feeling, you'll need to try them on with socks, buckle them up correctly, and then get into position.
First things first, socks. While it may seem counter-intuitive to choose a normal/thin pair, a thicker pair (or doubling up) can create pressure points in the boot. A synthetic or wool sock is your best choice for overall comfort and warmth.
After you have the socks chosen, it's time to try on the boot. Bring your socks with you and try them on with the boot. Start by unlocking and opening all of the straps and buckles and then open the tongue of the shoe, making a wide opening for your foot. After stepping into the boot, you may want to tap your heel on the ground a couple of times to wiggle your foot into place, at the back of the boot. Next, fasten the power straps and the top two buckles. After fastening the top two buckles, your foot may shift slightly and this would be a good time to re-tighten the power straps.
Now you should stand up and flex the boot. Your foot will also slightly shift to the back of the boot here, and now is the time to fasten the bottom buckles. As we know, ski boots are typically locked into your skis and not ideal for walking. To determine a true fit, either lock into your skis for a true feel, or you can stand up and flex boots and rotate side to side to get a feeling. The fit of the boots should be snug, but not uncomfortable and should not create points of pressure.
Subscribe to our Newsletter