Best Packing Cubes
In a
Hurry? Editors choice: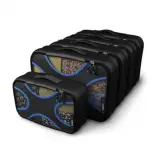 Test Winner: Shacke Pak

When traveling, the
most exhausting part
is the packing! This is a process we all dread as we have to decide what we are going to bring, and then once we have decided what we are bringing the next step is to get everything
fitted into our luggage
. This process can be a pain, but if you have the proper accessories it can be a breeze and you will be that much closer to relaxing with your friends or family. The main
accessory that helps packing
be efficient and go quickly is a little invention called the packing cube. The packing cube comes in a variety of sizes and its purpose is to condense and compact your clothes so they are organized and fit into your luggage like Tetris blocks. These packing cubes will reduce time and stress and make packing easy.
Standout Picks
Criteria Used for Evaluation
Style
The design of these compression cube sets can vary depending on the materials used and the different types of reinforcements that add to the product's durability. With these cube sets, you typically see two different types of materials, and one is far more popular than the other. The most popular material you'll see is nylon fabrics, and when nylon is used to make the cube, it is also manufactured to be abrasion resistant and tear resistant.
That type of strength that nylon offers will protect your clothes well, and also can withstand a lot of mishandling on the road. Some of these nylon cubes also feature waterproof and dirt proof protection. The other material we see is spill-proof PVC, which usually also provides abrasion resistance, durability, and waterproof protection.
Features
Most of these packing cubes offer similar features, but their overall design and structure can vary from brand to brand. What we typically see with the various compression cube sets is a bevy of zipper types, different seam styles, and mesh paneling. Some brands use very strong zippers, like YKK zippers, which are the best zippers you can use. You'll also see less durable zipper types, which is something to look out for since you certainly want working zippers to add to the durability. Check to see if the zippers are snag-proof as well so you can protect the fabric from tearing, and the zippers from breaking or snagging when you open or close the luggage packing cubes.
Seam styles can vary, but some of these sets come with double seams which can also be reinforced. Double seams are going to double the durability of the seams in the cube because with double seams you have two sets to increase strength. Watch out for cubes that are single seamed only, since they won't last as long.
Also, mesh paneling is offered on all of our listed products, and those panels allow for your items to ventilate while you travel, but also exist for another reason. Mesh panels allow for security checks to easily scan your bags without you having to open your luggage. That will save you time, and also means your clothes won't get shuffled through.
Durability
Materials matter a lot when you look at the overall durability of one of these products. Nylon is the most common material used, and as long as the nylon can resist abrasions and tears, then you'll have an effective product. You'll also see some luggage compression packing cubes that are made to keep dirt out and moisture with water-resistant or waterproof materials. Most packing cubes not only compress and organize your clothes but also help to protect your items while you are traveling.
The other material mentioned on our product list is waterproof PVC materials, which are also very durable and made to keep out moisture and dirt. Waterproof PVC will prevent abrasions and tears even if there are mishaps and allow your clothes to arrive wrinkle-free and completely safe.
Value
Value can be measured by a few things, including affordability, durability, features, guarantees, and warranties. The price of these packing cubes can vary and really depends on what brand designed them. More affordable compression cube sets still offer durability since you'll usually see nylon fabrics in them. Also, features can matter, depending on exactly what you need in the product, but usually the more features, the more expensive the price. Also, since guarantees and warranties can be important, you'll want to check that out, too, when you think of value.
Subscribe to our Newsletter