Best Travel Pants
In a
Hurry? Editors choice: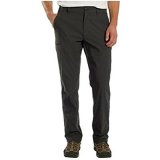 Test Winner: Union Bay Rainier Travel Chino

You may be gearing up for that dream trip you've been planning for years, or it is just that time of the year where you and your family need to get away and make some
memories
. You may be headed to ancient ruins, feast on local cuisine, dive into the culture and history of a rich and gorgeous landscape. Or, perhaps, you have an upcoming
business
trip, and you will be exploring the local trails during your downtime. Whatever your next adventure looks like, you'll want to be well-clothed for it, and feel comfortable while you travel. Whether you're on the road or prefer exploring local sights, quality travel pants are a basic necessity for any
adventurer
.
Standout Picks
Criteria Used for Evaluation
Top Ten Travel Pants
1

. Union Bay Rainier Travel Chino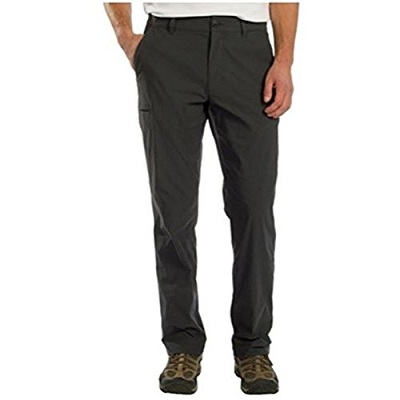 The Union Bay Men's Rainier Travel Chinos are an excellent option for the traveler who needs ultimate versatility and comfort without spending a fortune. Throw these into a small travel case and you've got pants in which you can spend a day in the elements, a day in the workplace or a nice dinner out with coworkers. They are classy and sophisticated and allow for ease of movement throughout all your trip's activities.
Read more
Comfort
Made of 94% Nylon and 6% Spandex, these travel chinos are made to be comfortable, stretchy, light and durable. They are stain-resistant and will hold up well for a full day's work or days on the road. They include an adjustable waistband for maximum controllable comfort.
Weight
Shipping at only 3.2-ounces, these pants are super lightweight and fold down to almost nothing for packing.
Breathability
The breathability of these pants is decent. Some reviewers suggest unzipping all of the pockets for ultimate airflow.
Water Resistance
They are both water-resistant and quick-drying. Instead of packing a pile of pants for the journey, you can easily wash these, hang them up and they'll be ready to go the next day, giving you the advantage of packing ultralight.
UPF 50 is built into the Rainier chinos for extra sun protection, making these a smart option for a long day outdoors.
Style
Made for style and performance, the Rainier Travel Chino has a classic flat front with stylish color options like black, khaki and charcoal. They have a slimmer cut and are nice enough to be business casual, but also hardy enough to spend an afternoon in the woods.
There is plenty of pocket space with two mesh-lined front pockets, one side leg phone-sized cargo with zip closure and two rear mesh-lined, zippered back pockets.

2

. PrAna Men's Stretch Zion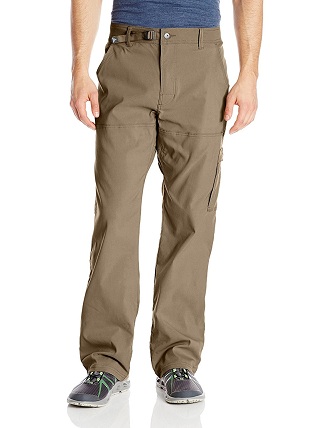 The prAna Men's Stretch Zion pants are bestsellers for their reliability, versatility and functional comfort. With plenty of pocket space, lightweight comfort and ultimate durability, they are perfect for any outdoor or travel lifestyle.
Read more
Comfort
The prAna Stretch Zion pants are made of 97% Nylon and 3% Spandex and. Original stretch Zion fabric creates a comfortable pair of pants that are light, breathable, abrasion-resistant, wrinkle-resistant, stretchy and durable all at once.
Weight
These pants weigh about 13.6-ounces, taking us less than one pound of your overall luggage allowance.
Breathability
They have an adjustable waistband and a ventilated inseam gusset with ventilation holes so that your legs stay cool throughout the day.
Water Resistance
These pants are woven with a water-repellent finish, DWR (durable water repellent), enabling them to resist the saturation of water and dry quickly. Additionally, they are made with UPF (ultraviolet protection factor) 50 for protection against the sun's rays.
Style
Three-season, straight-leg, loose fit pants, they include roll-up leg snaps for securing the bottom section up above the shoe should you need to trek through water or the day's temperatures get too hot. They come in eight different color options and easily transition from the plane to a day on the trail.
The Zion pants include a side-entry cargo pocket that's well-integrated into the leg with zippered dual-entry, front open pockets with deep mesh for optimum breathability and rear pockets with flap closure.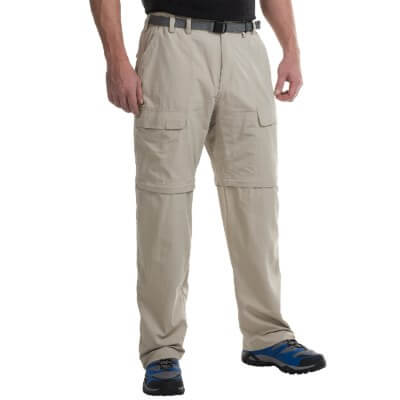 These travel pants are the definition of comfort and convenience. With there ability to become shorts is a great feature if you are headed from a colder climate to a warmer climate and do not want to change your pants. These travel pants are also stylish and a great piece of clothing to add to your gear for the price.
Read more
Comfort
Woven with 100% nylon, the White Sierra travel pants are midweight, non-bulky, wrinkle-resistant, and abrasion-resistant. They also have a UPF sun protection fabric to protect you against the sun. They're comfortable yet durable for whatever the day may entail.
Weight
These pants weigh about 13-ounces, depending on the size and gender.
Breathability
Reviewers say that the breathability of these pants is better than they expected. In high humidity and warm environments, they will heat up but not nearly as much as a pair of jeans.
Water Resistance
They have a water repellent finish to repel and shed splashes, spills, and light rain. They're easy to spot wash and will quickly dry.
Style
These year-round pants are convertible to shorts with zip-off legs. A relaxed fit makes them appropriate for outdoor sports, work, all day travel or hanging out casually. They are available in eight different neutral colors that could be paired with almost any color shirt.
This pair of travel pants have a good amount of pockets but they could be bigger to store more. They are tight so if you are looking to store a lot in your pockets, make sure the items are not too bulky.

4

. Royal Robbins Discovery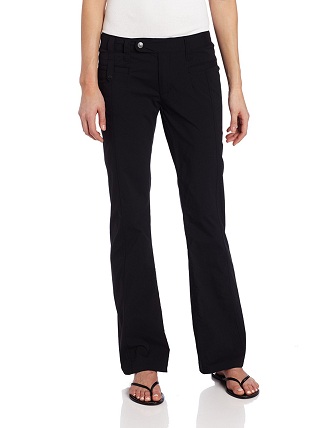 The Royal Robbins Women's Discovery Pant is quick-drying, wrinkle-resistant, lightweight bootcut pants that will be a nice addition to any compact travel bag. They are flattering, practical, and high-performance with plenty of stretch and movement for the journey.
Read more
Comfort
The Discovery Pant is made of lightweight, four-way stretch fabric that's 96% Nylon and 4% Spandex. They are wrinkle-resistant and durable while being non-restricting.
Weight
These lightweight pants will take up only 10-ounces of your luggage allowance and fold down to almost nothing.
Breathability
Nylon isn't exactly known for being breathable. Another material added into these pants would have been a nice addition for extra comfort and breathability.
Water Resistance
Royal Robbins created the Discovery Pant with travelers in mind. It is quick to wash and dry and wicks moisture away on warm days. It has Dri-Xtreme™ mesh inside the waistband. These pants are made of eco-friendly fabric and have built-in UPF 50 sun protection.
Style
It has a classic, bootcut leg with a pleat down the front. Roll-up legs with securing tabs and good color options provide for versatile wear for almost any occasion and any weather condition.
The Discovery pants have two rear back pockets with zip security and drop-in front pockets with secure closure on one side.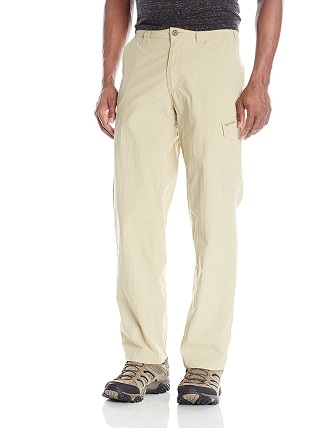 The Ex Officio Men's Nomad Pant is a great choice for cool to warm weather travel conditions. If you leave cool weather at the airport and arrive at your destination to warm temperatures, this lightweight pant will keep you comfortable.
In fact, it's so incredibly light that it's a no-brainer to pack and ideal for backpackers and frequent travelers.
Read more
Comfort
Both functional and durable, the Nomad pants are a relaxed fit and made of light and thin 100% nylon material.
Weight
The Nomad pant is extremely lightweight at around 9.9 oz, making it a great option if weight and space are critical.
Breathability
They include a full inseam gusset and partial elastic waistband for excellent breathability and stretch.
Water Resistance
They repel water easily, wick moisture and are easy to clean and will dry quickly.
Style
Their light material, streamlined style, and stealth pockets make them ideal for either urban venues or wilderness environments, or both.
These pants include one zip pocket on the back, a small left leg zip pocket, a large right leg pocket, and two front pockets. An inner pocket loop is also attached for extra security.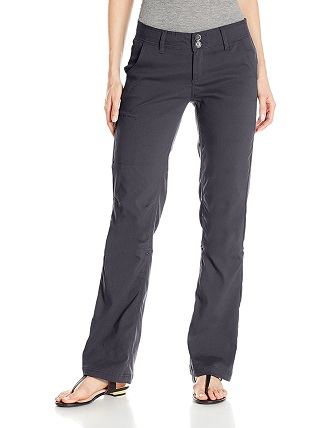 The prAna Women's Halle Pants are ideal for those who like adventure as well as comfort. They're a solid choice for hiking and rock climbing without restriction as well as traveling for hours in cramped quarters. You may buy these for hiking or traveling and end up wearing them every day for their easy versatility and incredible comfort.
Read more
Comfort
Stretch Zion fabric that's crafted of 97% stretch Nylon and 3% Spandex makes for a light and comfortable pant. They are a mid-rise fit, drape nicely overshoes and have a four-way stretch design with a knee area that is reinforced for maximum movement.
Weight
On average, these pants weigh only about 12.2-ounces.
Breathability
They stretch when you move, breathe in humidity and rising temperatures and allow wrinkles to fall right out when unpacked and after use.
Water Resistance
These pants include a DWR finish so that water beads up and slides right off as soon as it hits, instead of saturating your clothing. It's quick-drying so that if you do need to wash them out, they'll be ready to wear again in time for your next venture.
Style
The Halle Pant is a trouser style with button closure, zipper, and built-in belt loops. They are available in a wide variety of colors. The attractive fit allows you to effortlessly move from a professional workday to an after-work climb to an evening out. They also have a roll-up pant leg with a button for securing for extra comfort in outdoor conditions.
There are two typical front pockets, as well as two good-sized back pockets with flap and button-front closures for security. In addition, there is a subtle, extra upper leg pocket that provides extra space but doesn't create any unwanted bulk.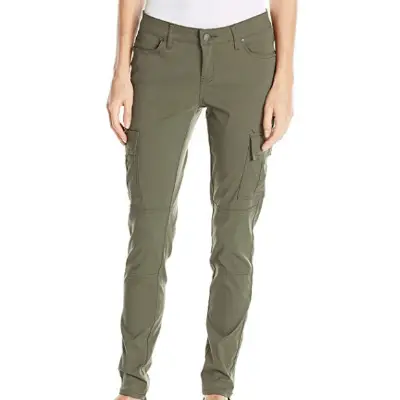 For the traveler that is looking for a stylish pant that they could wear in everyday life, this is it. The Meme pant is constructed from prAna's own signature fabric, Stretch Zion. The pants are comfortable, breathable, and stretchy with a skinny leg and mid-rise. We would have liked to see a few more color options but they got the basics covered.
Read more
Comfort
These pants are made from prAna's own Stretch Zion fabric, which is made from 97% Nylon and 3% Spandex. They provide you with ultimate comfort and four-way stretch. Additionally, they have a UPF rating of 50+. They are a top choice for traveling because of their resistance to wrinkles, water, and over-stretching.
Weight
Like almost all travel pants, and as a travel pant should be, these pants are lightweight. On average, each pair weighs about 11.7-ounces. They will not be the item that puts your luggage weight over the limit and they are small and easy to pack.
Breathability
Customers have been thoroughly impressed with the breathability of these pants. If the weather gets too hot, you won't find yourself sitting in a pile of sweat.
Water Resistance
The Stretch Zion fabric is interwoven with a Durable Water Repellent finish, allowing water droplets to simply roll right off these pants. Also, in the event of a rain shower or after washing the pants, they dry very quickly.
Style
The Meme pant has the style of skinny leg pant and a mid-rise fit. They could easily pass as an everyday pant and could be styled to be worn casually or even to a nice dinner. They have a very versatile look and are available in three different neutral colors, including cargo green, black, and quartz.
These pants feature plenty of pockets, including a traditional five-pocket design, as well as two side cargo pockets.

8

. Outdoor Research Ferrosi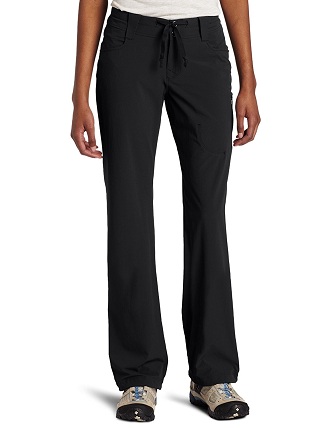 The Women's Ferrosi Pant by Outdoor Research is a nice-looking pant made of sturdy fabric that will withstand just about any adventure sport you tackle. They are light in weight, which will save you valuable backpack space and keep you comfortable on long trips. Their ruggedness and versatility will take you from the mountaintop to the campsite to the café and back again, day after day.
Read more
Comfort
The Ferrosi pant is of a high-quality 90D stretch women material made of 86% ripstop and 14% Spandex and hardy stitching. It is made with a snap and zipper closure with a drawstring for quick tightening. It's a lightweight pant that's tough, wind-resistant and abrasion-resistant, but also comfortable enough for any adventure.
Weight
They come with a lifetime guarantee and are super lightweight at an average of 10.3 oz.
Breathability
These lightweight pants provide great breathability. The manner in which the material is woven allows the fabric to quickly absorb wetness and bring it to the surface to evaporate.
Water Resistance
These pants nicely repel rain, spills, and splashes. Should they become saturated or need a wash, they dry quickly and free of wrinkles.
Style
Outdoor Research has made these pants to be the perfect staple for camping, backpacking, and casual wear. They include an ankle drawstring so they can be secured up above the shoe optimum function when out in the elements.
They include two good-sized front pockets as well as two back pockets and a thigh pocket that are zippered for extra security.

9

. Columbia Saturday Trail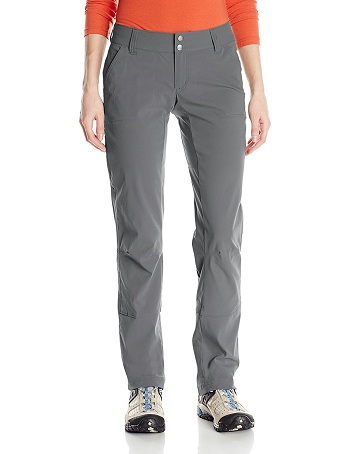 The Saturday Trail Stretch Pant from Columbia is a great travel pant for women. It won't take up much space or weight when packed, it has lots of stretch and give for activities that require a good amount of movement, it's made of comfortable material and it has a classy design that's versatile for all your traveling needs.
Read more
Comfort
The comfort stretch fabric of the Saturday Trail pant is Omni-Shield Summiteer Lite 96% nylon and 4% elastane. They are mid-rise with a double-snap closure, articulated knees, and gusset detail for excellent breathability and ease-of-movement.
Weight
These are very lightweight. Depending on the size that you order, the weight slightly varies. As a reference, a size 4 pants weighs just under seven ounces.
Breathability
There is no doubt about it, this a breathable pair of pants! Their construction paired with the materials, technologies, and style will keep you comfortable in warm and humid conditions. They can also be rolled up into capris if you really find yourself overheating.
Water Resistance
Built-in Omni-Shield repellency works to move water away from the body and make for an easy-dry pair of pants.
The Saturday Trail pants are made with Omni-Shade UPF 50 for the most sun protection while out of doors.
Style
They are made with a straight-leg design that's convertible to a cool Capri pant. Both stylish and functional, they easily move from camping in the backcountry to everyday lounging to evenings out on the town.
They include side-entry front pockets and low-key back zip closure security pockets.

10

. Columbia Silver Ridge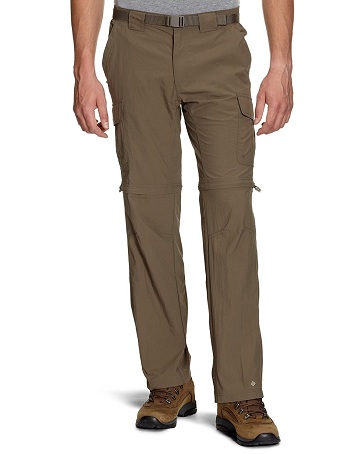 The Columbia Men's Silver Ridge Pant is one travel pant you can't go wrong with. It's tough for withstanding the outdoors, it has plenty of pocket space for traveling and work purposes, it's convertible for cool to hot weather conditions, and it's lightweight for compact and simple packing.
Read more
Comfort
The main body is crafted with 100% nylon ripstop and mesh panels that are 57% recycled polyester and 43% polyester mesh. The soft material, gusset detail, and a partially elastic waistband make for optimum comfort. It wears well at the knee for a hardy and non-restricting choice of pants.
Weight
Very lightweight, these pants weigh only about ten ounces. This makes them comfortable to wear and very easy to pack.
Breathability
The blend of fabrics creates a fabric that breathes well in all environments and keeps you comfortable all day.
Water Resistance
Omni-Wick moisture-wicking high-performance technology creates a pair of pants that work to keep unwanted moisture off the body and speeds up the drying process from what you'd experience in a thicker, more typical pair of pants.
Style
The Silver Ridge pants are optimized for outdoor performance. They are warm enough for a cool morning, but if it gets hot on the trail or warm in the plane, there are zip-off legs for quick comfort. The excess pieces can be rolled compactly and stored in the cargo pockets.
There are six mesh-lined pockets built-in to the men's Silver Ridge pants. There is one side zipper pocket, one side Velcro and flap pocket, two back pockets with a flap and hook and loop closure and two front pockets. There is also an easily removable, integrated belt, Omni-Shade built-in sun protection and a good variety of color options to choose from.

Subscribe to our Newsletter