Best Climbing Equipment
In a
Hurry? Editors choice: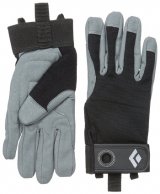 Test Winner: Black Diamond Crag Climbing Gloves

Climbing can be quite exhilarating and give you the adrenaline rush that you have been searching for, and with the summer season approaching, this may be an activity you have been itching to give a try. if you have decided that you want to give climbing a try this summer, and have been hitting the indoor climbing gyms to get ready than there is some gear you are probably on the hunt for. Without the proper gear, you will most likely be putting yourself in dangerous way, so to be
prepared and safe
while you climb you will want to get some climbing equipment as well as
rock climbing gear
. If you are on the hunt for some quality climbing gear but do not quite know where to start, the below guide will help you as we have listed the top gear of 2019.
Standout Picks
Criteria Used for Evaluation
Ease of Use
The best climbing equipment is not designed to keep you safe, but it's also designed to be easily used. After all, the last thing you want to think about is how to adjust your helmet to keep it from sliding down your face while you're climbing. So the easier a device or piece of equipment is to use, the more natural and instinctive the use will end up being. That way you can concentrate on what's important – mastering the climb.
Use
Any climber will tell you that when a piece of equipment doesn't perform the way it should, it's pretty much useless. There really is no instance of "well if I just make this adjustment.." when you're life is on the line. A belay either works or it doesn't. The climbing pants will either allow you to stretch to the next hold, or they won't.
While there are countless innovations available when it comes to climbing, only the ones that are truly useful and practical rise to the top. So when trying to find the best climbing equipment, we asked ourselves, "how practical and useful is this innovation to climbers?"
Versatility
There are countless different forms of climbing, from indoor to outdoor, from bouldering to sport, and of course top line and traditional climbing. For each type of climbing adventure, there is the proper type of equipment to use. By deciding what type of climbing you'll most likely be trying out, you can more easily determine what type of climbing equipment you're going to need.
Terrain
In essence, there are only two different places that you can climb: indoors or outdoors. Each one has advantages and disadvantages. Climbing on an inside wall or bouldering field offers you the ability to climb no matter what the weather is like outside. However, you might not get the fantastic views and challenges that you can get from climbing a rock face in nature. Also, if you're climbing a public wall, you might have to rent or use equipment that someone else has previously used. That might be considered a deterrent. If you climb outside, though, you'll have to deal with the elements, and potentially put yourself in more dangerous situations. If you are rock climbing, safety is very important. Having the best rock climbing gear will ensure your safety.
Top Ten Gear for Climbing
Subscribe to our Newsletter