Best Quickdraws for Rock Climbing
In a Hurry? Editors choice: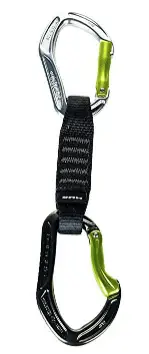 Test Winner: DMM Alpha Quickdraw

It always seems puzzling to search for buying guides about simple devices, does it not? We are not going to lie, quickdraws are not complicated devices. They are not
like GPS devices
or anything like that. Rock climbers use them to attach
their rope
to certain pieces of protection. And, they only consist of two carabiners attached together with a textile sling.
So, as simple as they are, they must be easy to buy, right? Well, while that may be true, there is more than meets the eye, much more. There are different types of quickdraws for rock climbing on the market so you need to know that not all of them will operate quite the same.
With the help of this guide, though, you will be educated on what it takes to buy the right quickdraws for rock climbing for your needs.
Standout Picks
Criteria Used for Evaluation
Our Top Picks for the Best Quickdraws for Rock Climbing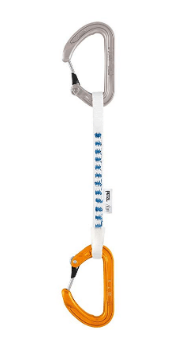 Whenever you can look at something and have a hard time finding anything wrong with it, you know what you have is gold. Well, let's just say that this climbing gear is kind of like that.
Read more
Style
This includes combinations of Ange L and Ange S carabiners. Thanks to the MonoFil KeyLock technology that has been implemented, these carabiners are robust, durable, and also light.
Longevity
First off, the rope end carabiner is held in place, and it protects the webbing from unnecessary abrasions. Also, this sports durable Dyneema webbing that is designed to last.
Size
There are different sizes that you can choose from. The option is yours from either a 10-centimeter or 17-centimeter quickdraw for rock climbing.
Strength
With a major axis strength of 22 kN, it is safe to say that this rock climbing quickdraw is not going to break under the stress of you and your gear.
Weight
As impossible as it seems, the carabiners equipped here are only a combined 62 grams in weight. The combination of strength and weight from them makes this model one of the very best.
Overall
There you have it, can you find something wrong with this rock climbing quickdraw for us? It is just a masterful design and, to be quite honest, is going to be ideal for just about anyone.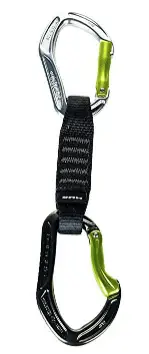 Literally, the only thing that holds the Alpha back (and not by very much) is its total weight. In regard to durability, strength, practicality, and convenience, though, it is one of the best around.
Read more
Style
This handles as well as any other model out there, count on it. It is equipped with dual hot-forged carabiners. The bottom one is built with an ultra-bent gate, additionally.
Longevity
Let's say that the Alpha has been engineered to be robust. In other words, it is quickly going to handle repeated falls and the abuse that you are sure to endure it through.
Size
In addition to the fact that this also comes in 18-centimeter and 25-centimeter sling lengths, the basket depth has been made more profound. This offers better security once this has been clipped.
Strength
The sling for rock climbing is equipped with a load strength of 22 kN and the carabiners with a load strength of 24 kN. Just know that both can handle more than two tons of weight.
Weight
All in all, for the 12-centimeter length, this measures 3.8 ounces. While this is nowhere near outlandishly heavy, it is heavier than other options out there.
Overall
Granted you can deal with a little extra weight; you can get one of the most stellar quickdraws for rock climbing that you will ever find. Yes, the Alpha lives up to all its hype.




The Spirit Express is another wonderfully-designed quickdraw for rock climbing from Petzl. Though it is a little heavier than their other version, its smooth operation is literally incredible.
Read more
Style
All in all, both the straight and bent gates have snappy actions. This makes clipping and unclipping them an absolute breeze and also a joy each and every time you do it.
Longevity
In addition to the thick H-frame construction, this is also designed with wider contact surfaces. This ensures enhanced rope glide and also less wear and tear on the carabiners.
Size
Petzl climbing quickdraw offers you two different sizes. Out of the two (12 and 17 centimeters), the longer of the two is going to be more popular. It just offers more versatility as a whole.
Strength
With a major axis strength of 23 kN, this is rated to handle loads similar to other quickdraws. There is nothing out of the ordinary here, in other words.
Weight
The longer of the two sizes weighs right around 100 grams. Meanwhile, the shorter of the two measures 93 grams. Either way, you go, there are lighter options available.
Overall
To be quite honest, these top three quickdraws for rock climbing are so close in quality that it can be hard to choose between them. For certain, this will be an excellent choice for any of you.

4

. Black Diamond Livewire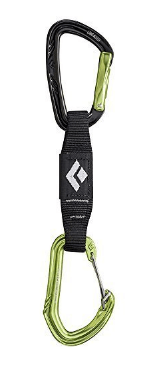 Black Diamond is about as elite a brand as you will find when seeking out the right device for rock climbing. Their Livewire is just incredible in just about every way imaginable.
Read more
Style
Past the snag-free and Nitron carabiner that is on the top, the bottom carabiner has been designed with HoodWire Technology (and also includes a metal wire over the nose). This technology helps to prevent snags.
Longevity
As several users have come to know and love about Black Diamond quickdraws for rock climbing, they are all made expertly. Well, add the Livewire to that list.
Size
This measures 12 centimeters in length, which is not that long, quite frankly. Additionally, the dogbone also measures 27 millimeters in width.
Strength
This sports a closed gate strength of 25 kN. This makes it one of the strongest on this entire list and the whole market.
Weight
Coming in with a total weight of 3.8 ounces, this is nowhere near hard to transport. Then again, it is a bit heavier than some of the other options you can find.
Overall
From a quality perspective, the Livewire is world class and about as good as it gets when it comes to rock climbing quickdraws. It is somewhat more substantial than other models but is worth the extra weight, no doubt.

5

. EDELRID Bulletproof Quickdraw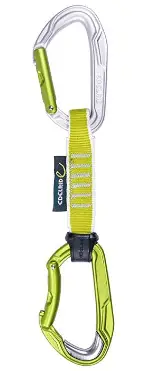 As with so many of the other top-end rock climbing quickdraws on this list, this option is ideal if you are looking for strength and longevity (and smooth operation). But, it does so at the expense of its portability.
Read more
Style
There are one slide gate and one that is bent, for the record. Anyway, the slide gate is designed to be auto-locking quickdraw. So, it can easily be operated with one hand.
Longevity
As this is dubbed Bulletproof, it better be built to last and it most certainly is. This is made even better when you realize that all critical parts of this model have been reinforced with steel inlays.
Size
You have the option of choosing 12 or 18 centimeters (regarding the length). Though subtle, this option is excellent to have if you wanted a longer sling.
Strength
Overall, this can handle right around 6075 pounds of force. For the record, the actual gate closed strength rating is 27 kN.
Weight
The carabiners measure 117 and 122 grams, respectively. Aluminum was utilized to minimize this weight but, as you can see, these are not the lightest carabiners on the market.
Overall
Put, you can't go wrong here due to the sheer quality and handling. Those are two very critical features, after all.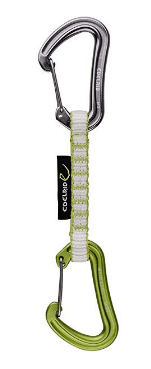 If what you really want is the lightest equipment for rock climbing possible, then you will like this option right here. And, at the same time, the Nineteen G remains strong and practical.
Read more
Style
While those of you with larger hands may find this a little difficult to operate, it is smooth overall. Also, the H-profile construction is about as ideal as it gets.
Longevity
As you expect from EDELRID, their Nineteen G is beautifully crafted. Let's just say that this rock climbing bad boy is going to easily handle multiple falls and come back wanting more.
Size
There are two lengths that you can choose from. However, with choices of 10 or 18 centimeters, there is not much leeway room to work with.
Strength
Even though the major axis strength of this brand is a bit less than other popular brands (20 kN), it is not going to be much of a concern for you, to be completely honest.
Weight
Both the 10-centimeter and 18-centimeter options are extremely light in weight. At either 45 or 47 grams, respectively, both the options are about as light as it gets.
Overall
The Nineteen G is not necessarily flawed in many ways but it is also not flawless in its design. While that sounds like a contradiction, it actually sums up the rock climbing quickdraw quite well.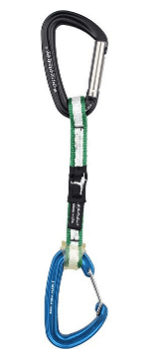 When compared to other quickdraws for rock climbing, this stacks up well. But, with that said, the Bravo is also not quite as well-designed and elite as others on this list.
Read more
Style
The Bravo is equipped with both straight and wire gate carabiners. Both of them ensure easy clipping and unclipping while you are operating this rock climbing quickdraw.
Longevity
As with so many of the other quickdraws for rock climbing on this list, the Bravo is going to handle multiple falls time and time again. It is built incredibly well, let's say that.
Size
This is measured in inches, for whatever reason, and the sling measures six inches. To put this in perspective, this works out to the right around 15 centimeters in length.
Strength
With the ability to handle nearly 5000 pounds of force, it is safe to say that this rock climbing quickdraw is not going to let you down. It will easily handle your weight and all your gear.
Weight
The Bravo is right in the middle of the pack when it comes to weight. It weighs 3.1 ounces in total, which is not the lightest or the most massive model on the market.
Overall
To sum up the Bravo, it is an excellent model that falls short of being elite. But, on the other hand, it is more affordable than some of the top-end quickdraws for rock climbing.

8

. Black Diamond Freewire Pack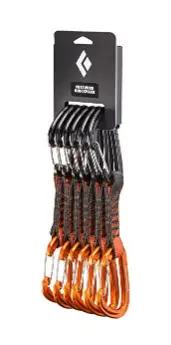 What is really nice about this option is you get six quickdraws for rock climbing with your purchase. Of course, each one of them is also made by Black Diamond so that certainly does not hurt.
Read more
Style
There are cold-forged wire gate biners located on both the bottom and top of these rock climbing quickdraws. Also, including the straitjacket insert, this ensures optimal performance.
Longevity
The worst one user said about these quickdraws is that the carabiners' paint began to chip off after several months (nothing severe). But, this can be a common problem with carabiners anyway.
Size
While it would have been a nice touch to package different sizes together, every one of rock climbing the quickdraws that are included measure 12 centimeters in length.
Strength
Both the bottom and top carabiners are rated with a closed gate strength of 24 kN. For the record, this means that both of them can handle well over 5000 pounds of force.
Weight
At 3.5 ounces in total weight (for each quickdraw that is), there is nothing out of the ordinary here.
Overall
The Freewire is just another phenomenal choice from a long list of them on the market. Of course, what is nice here is that you receive six climbing quickdraws with your purchase.

9

. Mammut Crag Indicator Express Set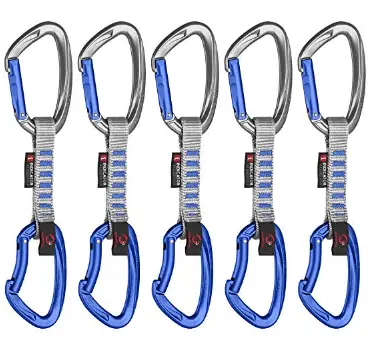 With a straight carabiner clip and also a bent one, this is an optimally-designed rock climbing quickdraw. Of course, you also receive five of them with your purchase (which is quite nice).
Read more
Style
Both of the carabiners sport keylock noses. These will ensure snag-free performance and clipping. Additionally, the bent gate is equipped with a rubber retainer for superior stability.
Longevity
Each sling on each rock climbing quickdraw that you receive sports Indicator Technology. Basically, there are red fibers that are hidden underneath the slings that indicate when it is time to get rid of them.
Size
At 10 centimeters in length, each one of these quickdraws is somewhat short. It also would have been nice if somewhat of a variety was included for you.
Strength
The major axis strength of each individual quickdraw is about what you would expect (24 kN). None of them will have any issues keeping you safe and secure while climbing.
Weight
What do you know? Would it shock you to find out that there are lighter options on the market? That is becoming somewhat of a broken record, is it not?
Overall
Outside of everything else, the addition of Indicator Technology makes these extremely convenient to own. They also perform quite admirably which is also a huge plus.

10

. Mad Rock Super Light Draw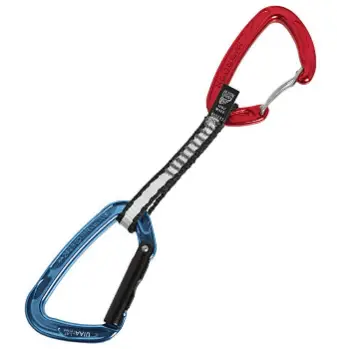 The main reason to go with this option is if you really are trying to save as much weight as possible. However, admittedly, the operation of this quickdraw for rock climbing could be better and it does show.
Read more
Style
Overall, this is stiff in its operation and there is no reason to sugarcoat it. In specific, the gate tension just feels stiff. Also, this can snag on your rope and other climbing equipment from time to time.
Longevity
Even though this does not operate as smoothly as other models, it is still built incredibly. Fall after fall, this is going to come back asking for more.
Size
This is another model that is measured in inches (it measures five inches which works out to 12.7 centimeters). Also, it is only 10 millimeters in width so keep that in mind.
Strength
There is not going to be too much for you to worry about here. This will easily handle the weight that you put it through.
Weight
One of the reasons why this can be a good choice is due to its lightweight core. It only weighs 2.4 ounces, making it one of the lightest options on this list.
Overall
While imperfect in its design, there are still many reasons to be compelled to buy a rock climbing quickdraw such as this. This includes its build quality and weight, for example.

Subscribe to our Newsletter