Best Nose Clips
In a Hurry? Editors choice: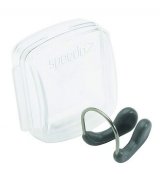 Test Winner: SPEEDO COMPETITION

When you were kids, did you pick on your friends because they always had to plug their noses when they went underwater? Well, if you were one of those individuals then it seems extremely ironic that you have found yourself here today. Look, through years of life comes maturity and wisdom and you probably now realize that keeping your nose plugged underwater has its benefits. Of course, doing so manually is not going to be ideal most of the time. This is exactly why there are these little things called nose clips on the market. With these, you will have free range of motion in the water while simultaneously having your nose plugged. Of course, you could easily end up buying a dud so you need to pay attention to the details to ensure you buy a model that will be effective for you.
Standout Picks
Criteria Used for Evaluation
Comfort
It is not as if these are going to be incredibly comfortable to wear but they should not be painful, either.
For some of you, you may be convinced that there is not a single nose clip on the market that will be comfortable. Perhaps you have even tried several different options and have yet to find one that is. Much like with headphones, after a certain amount of time, they will all be somewhat uncomfortable. The key is to find models that are not unbearably uncomfortable right from the word go. To avoid this, you need to assess what the main materials are.
Most engineers will design their clips with silicone. This is almost a hybrid of synthetic rubbers and synthetic plastic polymers. But, it will not be extremely comfortable by itself so you should also look for integrated padding. This usually comes in the form of TPR (thermoplastic rubber). And, if nothing else, you can always glance through consumer feedback to see what other users have had to say. After all, if most users rave about the comfort (or heavily criticize it) then you will have a good idea of what to do.
Stability
This can be a major issue with some models and the goal is to look for options that minimize it.
Without question, the biggest nuisance of wearing nose clips while you swim is that they tend to come off. If you have done any extensive swimming with them on then you have probably experienced this. But, do all models out there have stability issues? Well, it is fair to say that some options on the market will contour to your nose and fit better than others. The tricky part is finding these models but with a few pointers, you should be able to do it.
Firstly, the model you pick needs to properly fit your nose. Much like with a shoe, this should be one of your top priorities. After all, if it is too tight then it may end up breaking or just falling off. Along the same line, it can't be too loose because then security will continue to be an issue. Ideally, you need to find a clip that fits snug without being uncomfortable. Past this, though, anti-slip padding and materials can also help to enhance the stability of any one design. The last thing you want is for this to be an issue so prioritize features like this.
Value
Many options come in packs but if all the clips are poor in quality, the value will still not be that great.
As soon as you begin your search for your ideal nose clip, you will begin to notice something right away. With many options on the market, sellers will offer them in packs. Sometimes you will see them offer their models in packs of 3, 4, 10, or even 14 and beyond (it really just depends on the seller and the package). Yet, in spite of this, there are also designers out there who will sell theirs individually. While there is no one superior method, it really comes down to your intended use and preferences.
You see, if you have a group of friends that you would like to share these with then you may be interested in sets. Oh, and as far as the price is concerned, this is not expensive technology so do not worry about that. However, something else that needs to be alluded to is the fact that nose clips can be easily lost. Once they come off, they will sink to the bottom of whatever area of water you are in (which is why keeping them in the pool is advised). So, buying more will lessen the severity of losing one accidentally. Just something to think about is all.
Durability
This goes back to the value as you do not want your clips snapping on their first use.
Even though these are incredibly simple devices at their core, they can still be cheaply made and these are the models you want to avoid. Thankfully, however, most manufacturers will opt to engineer their designs out of high-quality materials. One of those materials is silicone and it is no surprise to see why it is such a popular material within this technology. This hybrid material was touched on earlier but what makes it really astonishing is its durability.
Silicone gets linked to rubber quite a bit but the one advantage it holds over rubber is its longevity. On average, it will last four times as long and it is also not a very expensive material to manufacture (it is just twice as much as rubber). Of course, there will be models out there that also opt for cheaper bands. The bands are what hold the two end pieces together and you want to avoid those that are flimsy. If they are simply cheap plastic, they will break much too easily. So, do a little about of research beforehand. Also, again, it is never a bad habit to see what previous users have had to say about the durability.
Accessories
While not mandatory, looking for something like an included storage case can be nice.
For most of you, this right here is not going to be a deal breaker. In fact, out of all the other sections, this one probably holds the least importance in the long haul. In spite of this, some sellers out there will include additional accessories with your purchase. Of course, more accurately, this is more like an accessory as what you are looking for is an included storage case. Due to the size of these devices, though, this may seem a bit silly to you.
And, admittedly, even if you are not provided with a special case, you could always use a Ziploc bag or something to transport your clips. But, for the icing on the cake, a lot of you will be happy to receive this type of an accessory. Again, while not a game changer, it can be a small incentive to go with a particular option.
OUR TOP PICKS FOR THE BEST NOSE CLIPS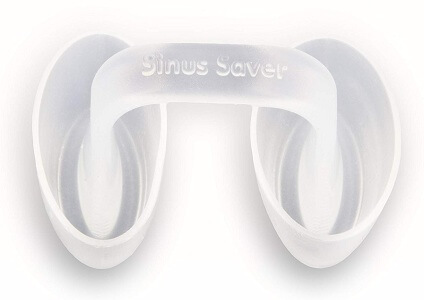 What is interesting about this top option is they were designed to be better than conventional nose clips. The brains behind the design worked hard to come up with an improved option for all their consumers and they pulled it off.
Read more
Comfort
Due to the soft and pliable cups, these are much more comfortable than inferior models on the market. Also, the low-profile means you will barely notice these.
Stability
In order to ensure you get the right size, as there are different sizing options available, you can contact the seller with any questions you have. This will ensure you buy a size that will stay firmly on your nose. However, various users have claimed the sizing process is overly complicated.
Quantity
Okay, so you only get the one pair with your purchase but the quality is so high that you will probably not feel the need to have more than one.
Durability
Over time, these are not going to break or dissolve under normal use due to the high-grade (and medical-grade) silicone that is utilized.
Accessories
Sinus Saver, the seller of this product, does not include additional accessories with your purchase so be aware of that.
Overall
If conventional models simply will not get the job done for you, then it is highly advised to think long and hard about investing in this one.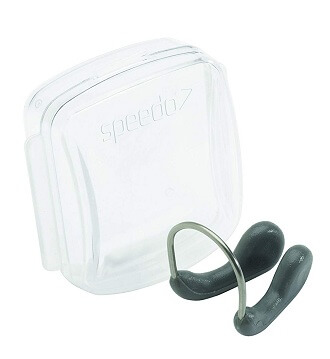 Speedo has engineered some very impressive models and this one stands above the rest of the pack. What separates it is its stainless steel frame and ability to be adjusted.
Read more
Comfort
Thanks to the TPR nose pads, this is pretty comfortable overall. The lightweight nature also helps, however.
Stability
As mentioned, this is equipped with a stainless steel frame and it sets the overall design apart because of it. This frame is also adjustable meaning you can always re-tighten this when you need to.
Quantity
As with the last option, you only receive one clip with your purchase here. But, for the record, there are a few different color options for you to choose from.
Durability
In addition to the stainless steel, which is coated in rubber, this is made with high-quality TPR nose pads (which were documented earlier).
Accessories
As a bit of a bonus, you actually receive a plastic storage case with your purchase. With this, you can ensure that you never lose the clip when you travel with it.
Overall
When it comes to this type of technology, it is no wonder that Speedo is one of the best as all you need to do is look at the design they put forth here.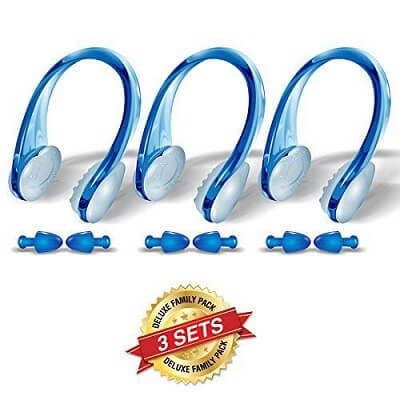 A lot of times, you will find sellers offer their models in various packs. This seller is among them and in addition to the three clips, you will also receive three high-quality earplugs.
Read more
Comfort
In addition to the ergonomic design of each and every one of the clips, they are also designed with medical-grade silicone to enhance the comfort even more.
Stability
Thanks to the anti-slip designs, these will not easily slide off your nose. The anti-slip nature of them is merely the special dotted designs that have been integrated.
Quantity
It is noted that the three-for-one offer only runs for a limited time so you may miss your chance if you wait too long. With the special bundle, you receive three earplugs in addition to the three clips.
Durability
Even though there have been a few buyers who have noted that these can snap pretty easily, they are made of high-grade silicone.
Accessories
In addition to the earplugs, a convenient case is also included with your purchase. With this, you can safely store and transport all the accessories you receive here.
Overall
If you receive the limited offer bundle, then this is more than worth your money. You may want to be gentle with them, though, as longevity issues have been documented.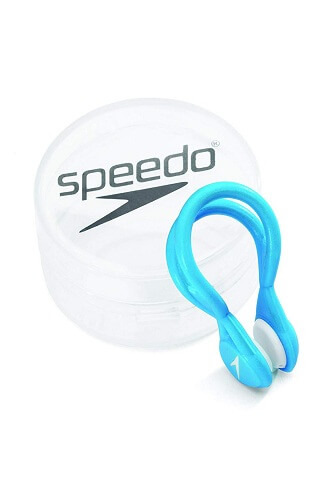 Yep, this is another option from Speedo and while it is not quite as good as the previous model on this list, it is equipped with a nylon frame and comes with a plastic storage case.
Read more
Comfort
If nothing else, previous users have raved about the comfort of this model. Of course, it is lightweight, has a low-profile, and is made of comfortable material so this is not shocking.
Stability
For the record, one size is going to fit most here. What helps with the stability is the improved shape of the flexible nylon frame, though. Oh, and the TPR pads also enhance the tightness of the fit.
Quantity
Though there are a few color options available for you to choose from, you actually only receive one device with your purchase.
Durability
If there is one major improvement that could be made here it is with the plastic bands. They simply snap too easily so be careful with them.
Accessories
Once again, Speedo does you a solace and packages their model with a plastic storage case. This simple accessory is a nice addition for sure.
Overall
Yes, the plastic bands could be better. But, the comfortability and stability that are provided by this option are simply too compelling to pass up.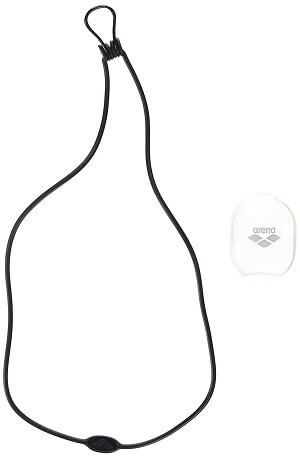 As you can see from the photos, most notable about this design is the fact that it comes with a strap. While this may seem like a nuisance, it can come in handy if the clip comes unattached from your nose.
Read more
Comfort
Thanks to the soft padding that has been implemented, the comfort is enhanced. This same padding should prevent any painful discomfort from manifesting.
Stability
Here is the good news; the included strap will prevent this from being lost as it will merely fall down around your neck. In spite of this, the clip itself has been known to slip from time to time.
Quantity
Granted this does not break, you will most likely never lose it thanks to the strap. The reason this is important is that with your purchase, you only get the one model.
Durability
The frame is made of plastic and will not withstand too much abuse. Also, high-quality silicone is utilized for both durability and comfort.
Accessories
In a way, the strap that has already been documented is an accessory. As for anything else, there really is not much to speak of.
Overall
The question you will need to ask yourself is do you believe that the quality warrants the price here? For a single model, it is a bit expensive but hey, the quality is very good and you do receive a strap.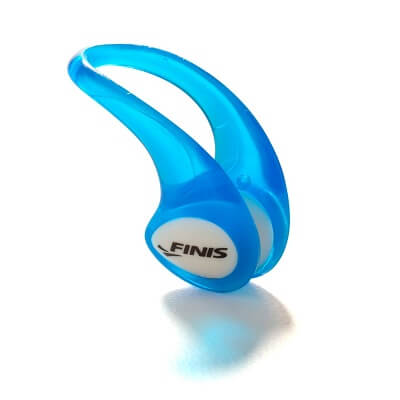 Along the same line as many of the great models out there, this is equipped with silicone for maximum comfort. Additionally, high-quality nylon has also been utilized.
Read more
Comfort
First things first, the anatomic design of this is going to fit your nose more naturally and improve the comfort. Secondly, this is not stiff and is made of high-quality silicone.
Stability
At first, this is going to stay in place very well. However, as one buyer pointed out, after several uses, it will lose its firmness and become less stable.
Quantity
If you really wanted to, you could always buy more than one of this model. As is, though, it is sold individually and not in packs.
Durability
The pads themselves are indeed made of high-quality silicone but the rest of the design is made of nylon (which is another durable and long-lasting material).
Accessories
This is another seller that includes a carrying case with your purchase. During travel and storage, this helps to keep the clip protected and clean.
Overall
It may be in your best interest to buy multiple of this model if you intend to get several hours of use out of it. Do not be mistaken, though, this really is a great option.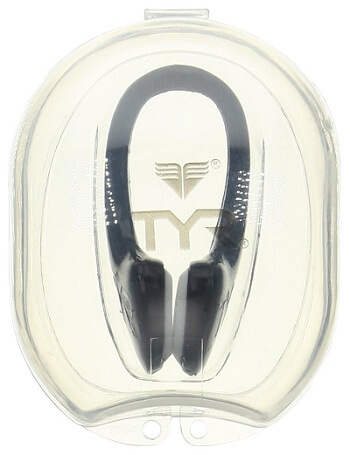 This is another option that you only get individually. And, even though some previous users have noted it can shift a bit while you swim, the high-quality materials that are utilized make it worth it.
Read more
Comfort
The combination of the low-profile design and the implemented pads make for a very comfortable design overall.
Stability
Now, there is non-skid material that is utilized here but as one previous buyer made mention of, it did not do them too much good. Let's just say this is not the most stable option out there (though it will fit both adults and youth).
Quantity
Once again, this is a model that needs to be ordered individually if you wanted more than one. Also, there are a few color options available.
Durability
Both the TPR nose pads and the polyurethane frame are designed to hold up to mild abuse. Granted you treat this with care, it should last you through quite a few swims.
Accessories
What you see is what you get here but from the looks of one of the photos, it appears that this will come packaged in a case.
Overall
If you ever used nose clips before then you understand that they are not foolproof. While this is a prime example of that, both recreational and professional users around the world have gotten great use out of it.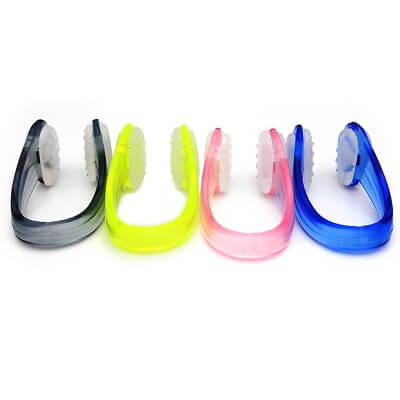 For the price of admission, it is quite fantastic that you receive four individual nose clips with your purchase. Each one is also designed with optimal stabilization to prevent irritating slipping issues.
Read more
Comfort
Being made of soft and comfortable silicone, you will not experience discomfort when you have these attached to your nose.
Stability
It is actually noted by the seller that these may not be suitable for younger kids (those who are under 10 years of age) due to how big they are. For the right noses, they do provide adequate stability.
Quantity
Not only do you receive four individual models with your purchase but they are all different colors and this is a nice touch.
Durability
The utilized materials are not cheap but here is the thing, after several uses, these are going to stretch out and lose their ability to perform sufficiently.
Accessories
For your convenience, each clip is actually individually packaged. Though, if you wanted to transport them all, it would be easier to toss them in a storage sack.
Overall
Are these going to win any awards or blow you away? Most likely not but the price is fair and the quality is warranted. Really, what more could a minimalist ask for?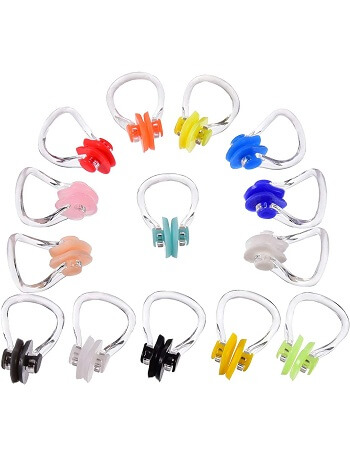 It is hard to believe that with the price point of this set, you receive 14 individual clips. Each one may not be able to compete with top-end models but as a complete set, the value can't be overstated enough here.
Read more
Comfort
Though some users have noted that these can fit very tightly, they are designed to contour to your nose bridge. But, there are more comfortable options out there.
Stability
Once your nose gets wet, these can be hard to remain on. This is a common complaint amongst previous users. Yet, if you put them on when dry they should do just fine.
Quantity
Good luck finding a set on the market that can match the value here. With your purchase, you receive an astounding 14 clips for you and your friends (possibly).
Durability
With the combination of PC and silicone (which makes up the frames and pads), these are well built and were not cheaply manufactured.
Accessories
For most of you, the sheer amount of clips that you receive will make up for the fact that no additional accessories are provided with your purchase.
Overall
Admittedly, the quality of just one of these is not going to compete with other individual models on this list. However, collectively, it is hard to be too upset with this option.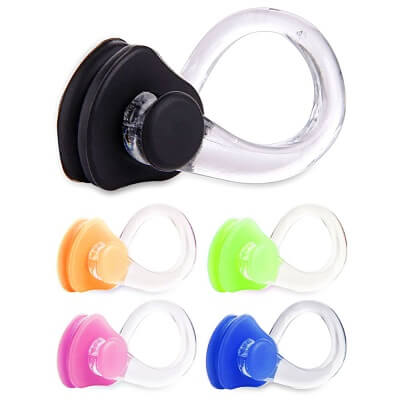 As the product description indicates, each of the clips you receive is manufactured from premium and soft material. For sure, the bang for your buck here is ideal.
Read more
Comfort
The material of each and every one of these is the catalyst behind their great comfort. But, their ergonomic designs also do not hurt, either.
Stability
While not perfect, the non-slip grips that are provided here are enough to keep these secured on your nose most of the time while you are in the water.
Quantity
For the record, there are different packs available for you to choose from. This one, in specific, provides you with 10 different colored models.
Durability
Though the high-quality silicone needs to be commended, the plastic bands need to be improved. As is, you will need to be somewhat cautious with them as they can snap pretty easily.
Accessories
This is a great example of an excellent bang for your buck. But, as for other accessories, there are pretty much none to speak of here.
Overall
Looking past the questionable durability of the plastic bands, these perform what they were intended to do quite well. Plus, again, you get several nose clips to use.

Subscribe to our Newsletter