Best Dive Computers
In a
Hurry? Editors choice: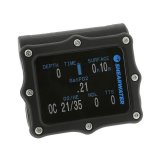 Test Winner: Shearwater Petrel

Are you at all interested in the
sport
of
diving
? If you have stumbled across this guide today, you are likely looking for more comprehensive information on dive computers. Dive computers, sometimes referred to as personal decompression
computers
, are devices that are used to keep a diver aware of his body nitrogen levels level to remain
safe
from decompression sickness. However, with the amount of technology that is incorporated into higher-end models, they are so much more than that. We've created the guide below to help you learn what you need to know to choose the best dive computer for you. Check out our top picks, fully reviewed
Standout Picks
Criteria Used for Evaluation
Application
You need to know real fast if you want a basic dive computer or advanced dive computer. The choice really depends on how often you dive and if you want an advanced model, there are certain features you need to look out for. One astronomical feature that oftentimes is the deciding factor when buying a dive computer is the compass.
It can be a scary thought when you are deep underwater and have no idea where you are going. Your field of vision is compromised a bit and a digital compass can be a lifesaver. But, most lower-end models will not sport a compass and you will need to bring one along which can be an inconvenience. Of course, other simple features such as a stopwatch, having audible alarms, an ascent rate indicator, or even an integrated heart-rate monitor can influence your choice one way or another.
Connectivity
Most dive computers will come pre-built with a certain amount of log hours and once this limit has been reached, it must be cleared to add more data. This is another important aspect to consider, not only the number of log hours you are provided, to begin with, as some dive computers will be designed with Bluetooth technology. With Bluetooth built-in, the computer can wirelessly communicate with other compatible Bluetooth devices so you can transfer the data. Some manufacturers may even have a dedicated app for this purpose which allows you to use your smart devices.
But, cheaper models will probably not have Bluetooth and might not even include the USB cable that is needed to transfer the data. If this is the case, consider buying the necessary cable as freeing up your device for more log data and seeing your data at any given time on your personal device are very convenient.
Style
One may believe that this section contradicts one of the later sections, referring to extra features, as would not an abundance of features create a complex and dysfunctional mess? Not necessarily and it all depends on how the dive computer is designed. A computer with 20 functions could be easier to operate than one with eight functions if it is designed well. The entire key to making the experience as simple as possible is to make the operation as intuitive as possible. Okay, so how do you do this, you may be thinking?
A strong way to start is with the button design. Some dive computers will have two, three, or even four and the key is for them to be logical and easily understood. The manner in which they are configured and mapped is important as it should allow you to use common sense. If you find yourself needing a tutorial every two seconds the design is probably not very good. However, it goes without saying that some experience with other technology devices is not going to hurt.
Visibility
It is not so much important for the design of the display to be stunning to your peers, but more so for your convenience. After all, when you are diving underwater it is nice when all you need to do is take a quick glance at the interface to see the critical information you need. One way to ensure this is possible is by analyzing the physical makeup of the screen. In other words, is it designed with an LCD display, OLED display, or even a dot-matrix display? As far as which type of screen is superior, the iPhone X was the first iPhone to use an OLED display if that says anything.
Also, the backlighting and overall readability are critical. Not all situations will call for an intense backlight so having the ability to adjust the brightness is ideal and having it bright enough, to begin with, is also crucial. Plus, you want the fonts and the configuration of them to be easily readable and seen with your eyes.
Subscribe to our Newsletter