Best Dive Computers
In a Hurry? Editors choice: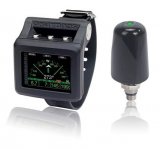 Test Winner: ScubaPro G2

Are you at all interested in the
sport
of
diving
? If you have stumbled across this guide today, you are likely looking for more comprehensive information on dive computers. Dive computers, sometimes referred to as personal decompression
computers
, are devices that are used to keep a diver aware of his body nitrogen levels level to remain
safe
from decompression sickness. However, with the amount of technology that is incorporated into higher-end models, they are so much more than that. We've created the guide below to help you learn what you need to know to choose the best dive computer for you. Check out our top picks, fully reviewed
Standout Picks
Criteria Used for Evaluation
Application
You need to know real fast if you want a basic dive computer or advanced dive computer. The choice really depends on how often you dive and if you want an advanced model, there are certain features you need to look out for. One astronomical feature that oftentimes is the deciding factor when buying a dive computer is the compass.
It can be a scary thought when you are deep underwater and have no idea where you are going. Your field of vision is compromised a bit and a digital compass can be a lifesaver. But, most lower-end models will not sport a compass and you will need to bring one along which can be an inconvenience. Of course, other simple features such as a stopwatch, having audible alarms, an ascent rate indicator, or even an integrated heart-rate monitor can influence your choice one way or another.
Connectivity
Most dive computers will come pre-built with a certain amount of log hours and once this limit has been reached, it must be cleared to add more data. This is another important aspect to consider, not only the number of log hours you are provided, to begin with, as some dive computers will be designed with Bluetooth technology. With Bluetooth built-in, the computer can wirelessly communicate with other compatible Bluetooth devices so you can transfer the data. Some manufacturers may even have a dedicated app for this purpose which allows you to use your smart devices.
But, cheaper models will probably not have Bluetooth and might not even include the USB cable that is needed to transfer the data. If this is the case, consider buying the necessary cable as freeing up your device for more log data and seeing your data at any given time on your personal device are very convenient.
Style
One may believe that this section contradicts one of the later sections, referring to extra features, as would not an abundance of features create a complex and dysfunctional mess? Not necessarily and it all depends on how the dive computer is designed. A computer with 20 functions could be easier to operate than one with eight functions if it is designed well. The entire key to making the experience as simple as possible is to make the operation as intuitive as possible. Okay, so how do you do this, you may be thinking?
A strong way to start is with the button design. Some dive computers will have two, three, or even four and the key is for them to be logical and easily understood. The manner in which they are configured and mapped is important as it should allow you to use common sense. If you find yourself needing a tutorial every two seconds the design is probably not very good. However, it goes without saying that some experience with other technology devices is not going to hurt.
Visibility
It is not so much important for the design of the display to be stunning to your peers, but more so for your convenience. After all, when you are diving underwater it is nice when all you need to do is take a quick glance at the interface to see the critical information you need. One way to ensure this is possible is by analyzing the physical makeup of the screen. In other words, is it designed with an LCD display, OLED display, or even a dot-matrix display? As far as which type of screen is superior, the iPhone X was the first iPhone to use an OLED display if that says anything.
Also, the backlighting and overall readability are critical. Not all situations will call for an intense backlight so having the ability to adjust the brightness is ideal and having it bright enough, to begin with, is also crucial. Plus, you want the fonts and the configuration of them to be easily readable and seen with your eyes.
Top 10 Picks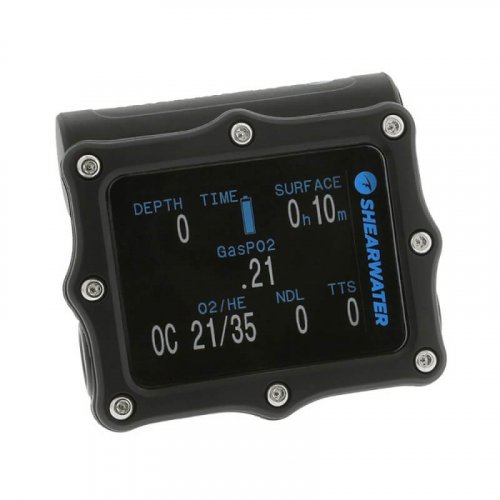 What makes the Petrel Diving Computer so good? Wow, that is a loaded question. The mere fact it integrates everything anyone would ever need a diving computer into an easy-to-navigate two-button interface is a good start.
Read more
Primary Software Features
While compared to the other dive computers out there that aim for a far less conservative approach, the Petrel is a bit more conservative with its decompression model.
The Display
As compared to their Predator, Shearwater's Petrel is around 40 percent smaller but it does not sacrifice its display. Instead, it sports an impressive 2.4-inch LCD display with a high-resolution.
Ease of Navigating
A two-button design has been incorporated into this computer and the decision by Shearwater to do this should be commended. Because of this, everything is kept simple and the well-labeled and logical menus top it off.
Data Transfer
One bonus of this dive computer is it integrates Bluetooth technology which allows it to communicate wirelessly with your Bluetooth-enabled devices. In addition, a built-in 1000-hour drive log is almost incomprehensible.
Extra Software Features
Several extra features are included here and just a few are an adaptive safety stop, NDL bar graph that shows depth and time (among other metrics), and a digital three-axis compass for navigation.
Overall
While there may not be such a thing as a perfect device, the Petrel Dive Computer sure comes close to staking that claim. With a little more appeal for a watch, though, this could have easily done so.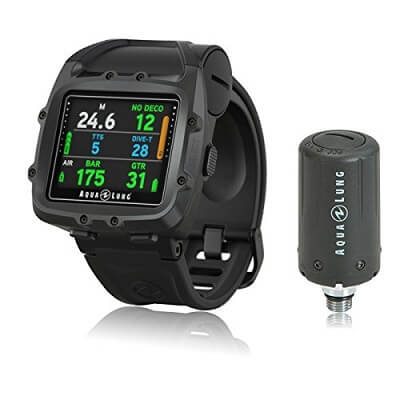 First off, one can't help but marvel at the fact that an OLED display is featured on a diving computer. In addition to this, Aqua Lung implements hoseless gas integration to provide up-to-date calculations in real-time for your convenience.
Read more
Primary Software Features
Aqua Lung has designed their i750T with their patented gas time remaining algorithm and not only does this deliver accurate gas management, it also provides calculations in real-time for the best results.
The Display
Indeed, this dive computer sports an OLED display and that alone makes it worthwhile. Additionally, you can adjust the intensity of the brightness to adapt to sunlight or darker environments.
Ease of Navigating
Thanks to the three-button navigation system, operating this dive computer is very intuitive. Plus, the manner in which the menus are structured helps you to monitor all the key information you need while diving.
Data Transfer
In conjunction with the DriverLog app, which can be downloaded on both iOS and Android platforms, you can transfer your data from this device to your Bluetooth-enabled device. Also, once you pair the transmitter to your computer once you will never need to again.
Extra Software Features
Despite the audible alarms and color-changing segments that provide additional cautions for enhanced safety, the true noteworthy extra of this computer is the three-axis compass with a bearing lock and reciprocal heading.
Overall
Novice divers will be fearful of this dive computer due to the price alone and as such, this is probably better suited for serious divers. If diving is something you may do once or twice a year, you may deem this too expensive for your time.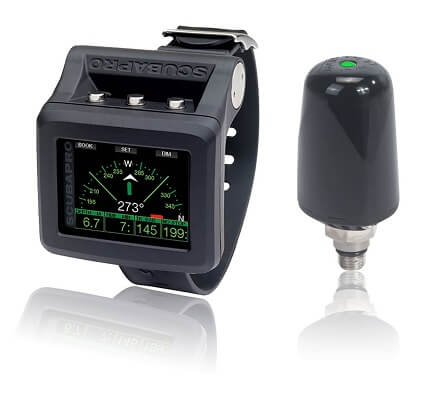 While there is so much to love about this next diving computer, it all begins with its advanced algorithm that can program up to eight different nitrox and trimix mixes. As a bonus, the G2 computer is also Bluetooth compatible for wireless syncing.
Read more
Primary Software Features
As just mentioned, Scubapro uses an advanced Uwatec algorithm that programs up to eight different mixes to handle all sorts of diving scenarios. In addition to this, this does possess hoseless air integration.
The Display
It may not be quite as impressive as an OLED display, but the full-color Thin-Film Transistor (TFT) dot matrix display still produces vibrant colors and ensures maximum readability in most situations.
Ease of Navigating
Operating the G2 is made simple because of the three-button control system. Overall, it is intuitive enough for both experienced and beginner divers to wrap their heads around it.
Data Transfer
Just like the previous two dive computers, this is another that is Bluetooth compatible. Because of this, you can easily sync this to your smartphone or tablet for data transfer. Plus, this system can hold an impressive 1000 hours of profiles.
Extra Software Features
All the bells and whistles are included with this design and that not only includes a digital compass, but also an integrated heart-rate monitor that will measure your heartbeat and skin temperature.
Overall
One could easily consider this an all-in-one device given its advanced decompression algorithm, digital compass and integrated heart-rate monitor. It also helps that the TFT screen uses less energy as compared to other screens to enhance the battery life.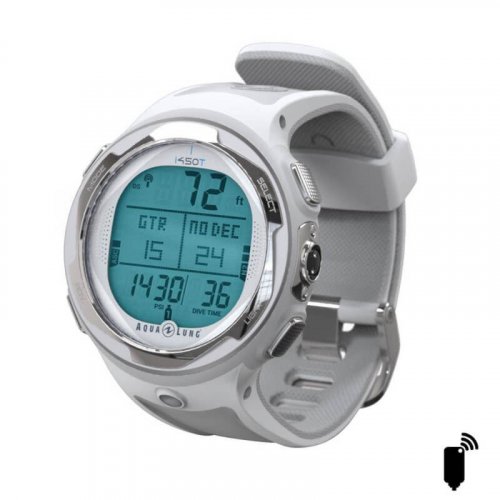 As compared to their i750T Dive Computer that has already been documented, Aqua Lung's i450T feels more like a traditional wristwatch. However, it has all the implemented technology that makes it one of the best dive computers out there.
Read more
Primary Software Features
Once again, Aqua Lung engineered their i450T with their patented gas time remaining algorithm that works much like it does for their i750T. As with the i750T, it also can manage up to three Nitrox mixes.
The Display
An average individual would think you are wearing a traditional wristwatch given the display and interface of this computer. Overall, its backlighting, size, and structure make it easy-to-read in most situations.
Ease of Navigating
Much like most dive computers, this was specifically designed to deliver an intuitive and easy experience to the user. It is safe to say that Aqua Lung accomplished just that with this design.
Data Transfer
This time, in order to transfer data from the i450T to your computer you must utilize the DriverLog software on either PC or Mac platforms. Unfortunately, this software must be purchased to be used.
Extra Software Features
There is an integrated free dive mode that allows you to see the depth, bottom and surface times of your diving. Also, there is a digital compass with a return bearing, declination adjustment, and north reference.
Overall
Despite the fact that Aqua Lung's own i750T is a bit more advanced than this model, their i450T is still compelling and competent in its own right. In fact, per its placement, it is still one of the best in the world which says something about Aqua Lung.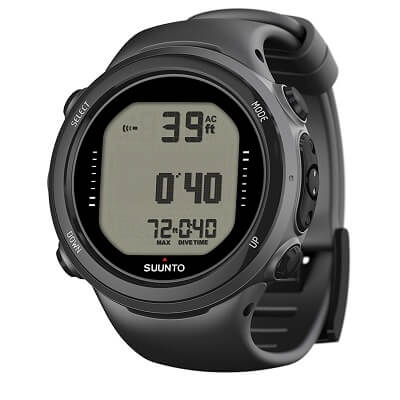 Truth be told, one of the few aspects missing from this dive computer to make it on par with some of the higher-end models is a digital compass. With that said, though, if the main complaint of a device is one feature it does not have, that is not too bad.
Read more
Primary Software Features
One of the better features of this dive computer is that it can be connected with a wireless air transmitter. But, at its core, it is run by a full-continuous decompression algorithm.
The Display
The display gets the job done with its dot-matrix design and strong backlight. However, it is not going to blow you away but it does provide all the information you need at a quick glance.
Ease of Navigating
According to one user, they were able to function this computer with relative ease without the need of directions. While you still need to be comfortable with a technology device, it is not too tricky to navigate.
Data Transfer
Included with your purchase is a USB cable extension that allows you to transfer your log files from this device to your desired USB-enabled device. The 80-hour internal log time is not the best but will suffice, though.
Extra Software Features
This is the first dive computer on this list that does not have a digital compass but it does have a free diving mode and four different modes for air, free, nitrox, and an off apnea timer.
Overall
Few dive computers can compete with the D4i. Now, it does lack a digital compass but for those of you who could care less about this, you could be looking at your next dive computer.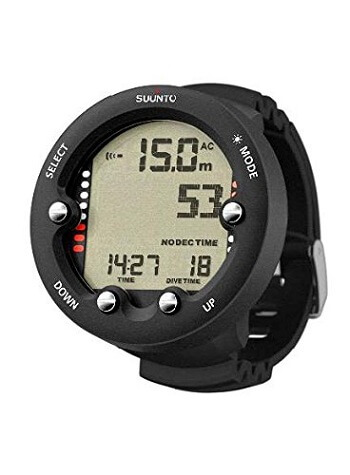 This is yet another dive computer from Suunto and this just might be the best entry-level diving computer on the market right now. However, some of the top-end features are missing that professional divers may desire too much.
Read more
Primary Software Features
Suunto implements their own algorithm into their Zoop Novo and it follows the Reduced Gradient Bubble Model (RGBM). Of course, arguably its most notable feature is you can adjust how conservative the algorithm is.
The Display
The size of the display is what makes this computer so easy-to-read. When you are immersed in water and diving downwards, the ability to easily see critical information at a glance is convenient.
Ease of Navigating
This is one of the few dive computers to engineer a four-button operation and it is optimized to be as simple as possible for beginner divers. Not only this but the buttons are ergonomically mapped that allow them to easily be operated with thicker gloves.
Data Transfer
On the dive computer itself, you can hold up to 140 hours of log data. When you want to transfer this data over to your other devices, though, you will need the separately-sold USB cable and specific software.
Extra Software Features
The Zoop Novo is not overflowing with extra software features and truth be told, it is one of the reasons this is tailored more for beginner divers than experienced divers.
Overall
There really is a huge difference between people who dive for recreation and those that do so for a living. Due to this hypothetical line, some dive computers are better suited for recreational use and this is one of them.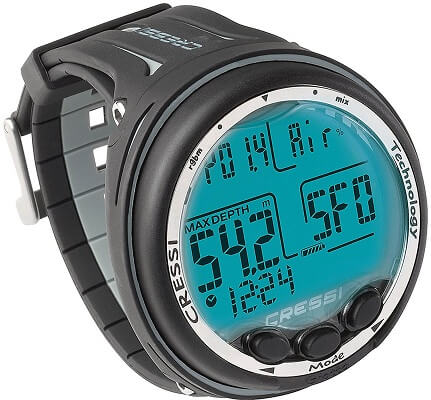 If you take away the fact that the wrist strap is enormous, which could be an issue for some people, the Giotto Dive Computer is going to be perfect for a wide range of divers.
Read more
Primary Software Features
Giotto features sophisticated software and it takes into account the quantity of inert gas that is contained in the different mixtures that are being used. Also, is can make saturation calculations for both air and Nitrox.
The Display
Cressi utilizes a Priority Compartment Digit Display and it allows you to see all the information on the interface quite easily. It may not be the best display out there but it is far from an issue.
Ease of Navigating
One reviewer raved about the simplicity of this design because of the three-button navigation but also criticized how hard it was to create a dive plan. With this, they had to reference the instruction manual as it was not self-explanatory.
Data Transfer
When the time comes when you need or want to transfer any data from this computer to your personal devices, it can be connected to a personal computer.
Extra Software Features
Besides its main functionality as a decompression computer, it also provides you with a calendar, clock, and chronograph.
Overall
What the Giotto Dive Computer provides to users is an easy-to-use interface combined with a stylish design and decompression algorithm. Sure, it misses some top-end technology that others possess but that is okay.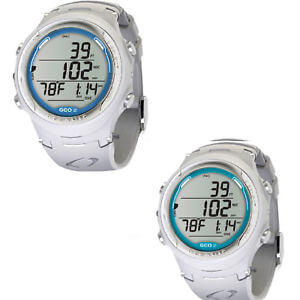 There is something to be said about Oceanic's ability to combine the style of an everyday wristwatch with the functionality of a diving computer. Plus, to keep their Geo 2.0 Watch up-to-date, you can download updates for the firmware.
Read more
Primary Software Features
You have the ability to switch between up to two Nitrox mixes to 100 percent O2 and past this, the Geo 2.0 Watch is powered by Oceanic's exclusive dual algorithm.
The Display
The design of the display is very sleek and the user interface has been re-designed as a whole. A nice integration, though, would have been a more intuitive naming system for the menus as they are merely labeled with their starting letter.
Ease of Navigating
Besides the four buttons that are used for navigation, most notable here is the Step Back feature. What this allows you to do is go forward and backward through menus while you are navigating.
Data Transfer
With the optional cable, you can actually receive firmware updates for this system. This keeps it up-to-date and functioning properly over time.
Extra Software Features
Outside of its functionality as a dive computer, this can also be used as a watch (with a daily alarm and countdown timer), and a gauge with a run timer.
Overall
Yeah, let's just say that the Geo 2.0 certainly looks the part. It has a completely upgraded look and it shows when you see it. Thankfully, though, its performance also holds its own.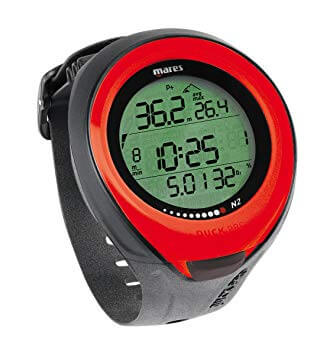 If simplicity is the main attribute that you are looking for, the Puck Pro Dive Computer from Mares may be what you have been looking for all along. No, this does not sport the bells and whistles that professional-caliber dive computers possess but it gets the job done.
Read more
Primary Software Features
The Puck Pro Dive Computer utilizes Mares-Wienke RGBM algorithm and this incorporates the idea of preventing micro-bubbles from forming.
The Display
For such a cheap dive computer, in terms of the physical price, the display is very, very impressive. Due to the mineral glass makeup and intense backlighting, in conjunction with the oversized digits, the readability is through the roof.
Ease of Navigating
Let's just say this; navigating through this software is not going to require a Master's degree in computer engineering. It is very simple and can even be operated in all conditions.
Data Transfer
If you want to transfer your logged dives from this system to a computer, you will need to invest in the optional USB cable.
Extra Software Features
While this is an entry-level dive computer, it actually does sport several extra features including uses as a stopwatch, regular watch, date and temperature functions, audible alarms, and an ascent rate indicator.
Overall
To be honest, everyday divers would probably throw this in the trash. That is not indicative of the computer's quality but more so its lack of features. But, this might just be the best starter dive computer in the world today.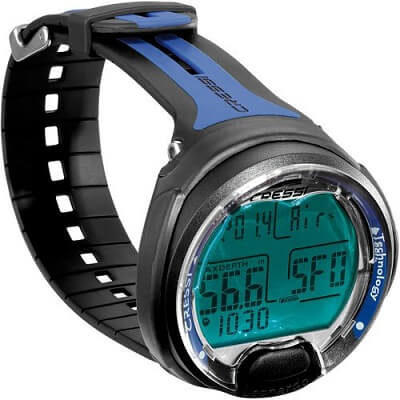 Outside of a few minor issues, Cressi delivers yet another dive computer that is worthy of praise. Outside of its software features, one of the most impressive features is its rugged exterior capped off by its UFDS display.
Read more
Primary Software Features
You can program gauge, Nitrox and air modes with ease and the algorithm incorporates both RGBM and Deep Stop.
The Display
Despite the fact that this is a travel-friendly and compact design, the wide UFDS display is very sufficient and provides you with a high-resolution. All in all, it is easy-to-view in most scenarios.
Ease of Navigating
Much like other diving computers that Cressi has manufactured, their Leonardo is fairly easy to program and operate.
Data Transfer
While it is not included in your investment, you can invest in the optional USB cable to connect this device to your PC. It is worth noting, though, that the software is also compatible with Mac computers.
Extra Software Features
A few features that can be taken for granted in dive computers are audible alarms and a battery life indicator and both are present in this model. Also, it has a reset option and complete Nitrox management.
Overall
Once again, this is a limited dive computer but if you understand what you are getting here, anyone can get serious use out of this device. It also helps that the visual design is quite compelling.

Subscribe to our Newsletter