Best Dive Watches
In a Hurry? Editors choice: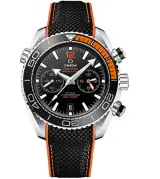 Test Winner: Omega Seamaster Ocean 600

There are so many different styles of
watches
in the world that it can be hard to decipher which one you need. However, for divers or any people who enjoy
underwater
activities, the answer is very clear. Yet, what exactly is a
dive
watch? Per its name, it is a watch that is designed for underwater diving and has specific features that are optimized for diving. Not all watches can be diving watches as true contemporary models will be in accordance with the ISO 6425 standard. As you will soon find out, there is a lot that goes into making a superb
diving
watch and it goes beyond their waterproofness. But, beware; some of the models that will be presented to you today may be vastly beyond your budget.
Standout Picks
Criteria Used for Evaluation
Water Capacity
There are two extremely important characteristics of dive watches that you need to pay close attention to. The second one will be addressed later but the first is undoubtedly its resistance against water. A watch that can't withstand water is not a dive watch, plain and simple. However, there are two critical components that allow dive watches to be submerged in water and they are its gasket and crown. Starting with the gasket, this needs to be integrated inside of the crown as it forms a seal between the stem of the crown and the movement of it. But, it needs to be a heavy-duty gasket as they can lose their elasticity over time.
For the crown, ideally, it will be designed to screw down into the watch. While you still can't open it up to adjust the watch underwater, this provides the necessary seal and in conjunction with the gasket, the watch's water-resistance. Now, not all dive watches will be rated the same and if you want to be safe for diving, it is ideal to look for 200 meters or more. Although, you can still theoretically dive with a less watertight watch just not as far.
Durability
Overall, the case and its components are the lifeblood of watches. For starters, outside of looking for a screw down crown, you want to ensure that the case as a whole is well-built. Typically, you will see most cases made of stainless steel. No matter what material it is made out of, though, it can't be prone to leaking because that will kill a dive watch faster than anything. But, you also may want to glance at the specifications of the case. For example, take a peek at how thick it is, how large the diameter is, and how heavy the watch is. These types of measurements are really just a matter of personal preference as it depends on how lightweight and large you want the case to be.
But, you need also pay attention to the screen. Most of the time, designers will build their dive watch with some sort of scratch-resistant sapphire crystal screen and this keeps the watch looking sharp. However, a watch that sports a non-reflective mineral glass display can also pay dividends as you want to be able to easily see the screen.
Features
The last section leads perfectly into this section as we are going to continue our focus on the case. However, let's analyze the internal components of a watch's case. Harping back on the topic of readability, it is more important than you may realize. In fact, the ISO has actually documented which components on a dive watch must be readable from 10 inches or further. This includes the elapsed time on the bezel, the time and an indication that the watch is running. To do so, many designers will add luminescent markers and glowing components.
However, and this is the second most important feature of these particular types of watches, the bezel needs to be uni-directional. The bezel is used on a diving watch to determine how long you have been underwater and this is crucial. The reason you want it to be uni-directional is that accidentally rotating it backward underwater can have ill effects and risk your air supply. Remember you are underwater and humans were not meant to breathe without oxygen; so the bezel is ridiculously important.
Style
Everything up until this point has been alluding to why dive watches are unique and the specific factors that make them function as dive watches. However, it really does not matter which type of watch you are talking about, albeit GPS watches, wristwatches, or even dive watches, the overall appeal of them is always going to come into play. Wearing a watch is a fashion statement no matter what it is designed to do. It should not be the primary reason you invest in a watch, but it is a nice perk.
Only you can decide what is appealing but to be honest, most all of the watches on this list are visually stunning. Watches with ideal color combinations and specific band materials (you may like the look of stainless steel over rubber, for example) can provide you with a sense of style which is certainly not a bad thing.
Top 10 Picks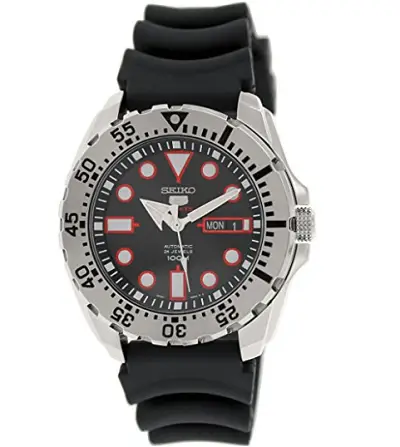 Seiko makes back-to-back appearances to close this list out and their Diver Watch is very similar to their Sea Urchin. One special note is the appeal takes a more conservative approach and if that is up your alley, you will appreciate this.
Read more
Water Protection
Again, the crown does not screw down and the water-resistance is limited to 330 feet making it suitable for relatively shallow diving.
Case Design
Much like with their Sea Urchin, Seiko's Diver Watch integrates hardlex crystal for protection. The case itself measures 44 millimeters in diameter and is engineered from stainless steel.
Watch Features
This watch utilizes a self-winding mechanical movement that can be both manually hacked and wound. Plus, the markers and hands are luminescent and it features a 40-hour power reserve.
Band Design
Even if you do not like the included rubber strap, you can remove it and install your own personal strap.
Aesthetics
One thing is for sure; this watch is probably not going to turn any heads. It features a more casual style and could be exactly what you are looking for.
Overall
Ironically, the Seiko Diver has very similar limitations that can plague the Seiko Sea Urchin. Between the two of them, honestly, it could be a toss-up.

2

. Omega Seamaster Ocean 600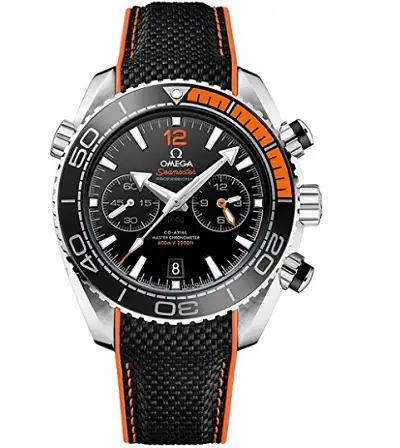 The minute you glance at the striking appeal of the Ocean 600 Diver Watch you will instantly be in-love. Beyond its unbelievable visual appeal, it also sports an absolutely incredible waterproof rating of 600 meters (or 2000 feet).
Read more
Water Protection
As was just mentioned, this watch can endure waters down to 2000 feet in depth. This is by and large the most impressive water-resistance on this list and one of the deepest depths you will find, period.
Case Design
There are different models of the Ocean 600 and the cases range from 39.5 millimeters, 43.5 millimeters, and 45.5 millimeters and are made of either stainless steel or 18K Sedna gold. Either way, the dials and bezels have been designed from ceramic.
Watch Features
Omega engineered their Ocean 600 watches with a self-winding automatic master chronometer and outside of time functions, it also displays the date. In addition, the indexes are coated with a Super-LumiNova so they can emit a blue glow.
Band Design
For both comfort and functionality, the band on this watch has been made from rubber. As a bonus, the material has been coated with an anti-bacterial treatment to prevent odor build-up.
Aesthetics
The bottom line is this is one of the most visually stunning watches you will ever see. All the colors (with orange and black being prominent) and materials combine gloriously to create a vibrant diving watch.
Overall
If you are not blown away by the Ocean 600 then there is something wrong with you. The price tag is immense, that is for sure, but for those of you who possess the funds the splurge could be worth it.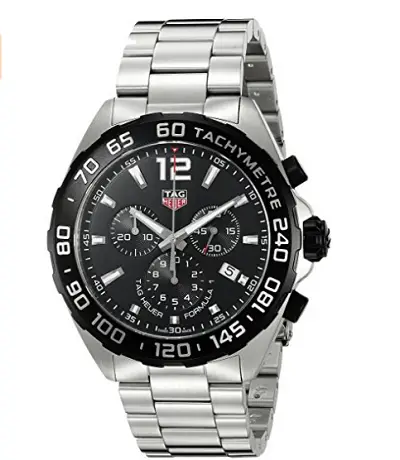 One of the few legitimate gripes that anyone could have with this next dive watch is that it is not automatic. Yet, due to its luxury style, functionality as a chronograph, and ideal water-resistance it still remains one of the best.
Read more
Water Protection
Tag Heuer's dive watch falls right into the ballpark of various other dive watches in terms of its resistance to water. It can withstand depths of water down to 660 feet making it ideal for professional marine activity.
Case Design
The case is made of stainless steel and measures 44 millimeters in diameter. It features a fixed black carbide-coated titanium bezel and also sports a scratch-resistant sapphire crystal screen.
Watch Features
There is a chronograph feature and there are three sub-dials for 60 seconds, 30 minutes, and 1/10th of a second. Additionally, it sports a black dial with index hour markers, luminous silver-tone hands, and Swiss-quartz movement.
Band Design
Being made of stainless steel, the band is both durable and highly appealing. Also, it measures seven inches and can be adjusted to adapt to smaller wrists.
Aesthetics
According to a few users, the photos of this watch just do not do it justice. As impressive as it looks online, it is even more stunning in-person and is a luxury style watch through and through.
Overall
Some users may prefer an automatic movement watch over a Swiss-quartz movement and that is one of the few aspects that could scare people off here. Of course, so could the price but the quality of the watch is the reason for that.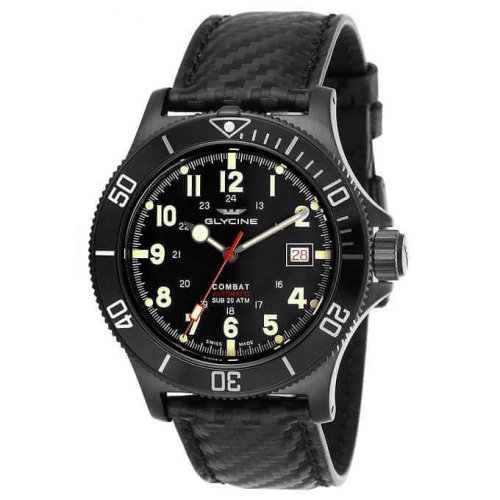 Despite the fact that this appears to be a watch that is much too flashy, it maintains a strong balance while still being a wonder to look out. But, it also sports the go-to features needed for a diving watch such as 660-feet water-resistance and a rotating stainless steel bezel.
Read more
Water Protection
While you can't go too deep given the 200-meter water-resistance rating, it is still suitable for diving granted you do not go any deeper than that.
Case Design
The case itself is made of silver-tone stainless steel and features a screw down crown. However, the bezel is also noteworthy as it is uni-directional and designed with blue coloring that reflects sufficiently in direct light.
Watch Features
Both the blue dial and the gold-tone hands blend very well and Arabic numerals indicate the hour markets. In addition, there are minute markers around the outer rim, functions for the date, hour, minute, and second, and also an automatic movement.
Band Design
The gold accent of the stainless steel bracelet is quite appealing as there is literally a strip of gold down the middle of it.
Aesthetics
As one user pointed out, this is not too flashy and instead is a nice blend of blue and gold. Overall, very few people will not be appealed to the visual design of Glycine Combat Watch.
Overall
Perhaps you prefer a watch with greater water-resistance or a different color scheme? That is fair enough but truth be told, the indecisiveness ends there as this is a brilliant watch top to bottom.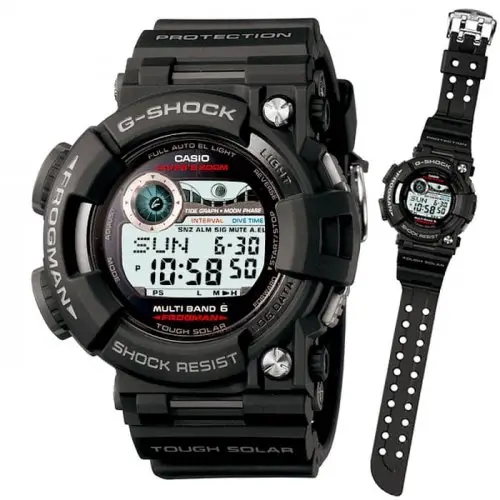 The Frogman G-Shock Solar Watch from Casio happens to be one of the most rugged and highly-functional dive watches on the market. It may lack the appeal of a flashy watch but few can compete with its insane durability and plethora of design features.
Read more
Water Protection
Due to the screw lock back, the Frogman G-Shock Watch is safe from moisture while you are diving or swimming. Overall, it can withstand depths of down to 200 meters.
Case Design
As you can tell from the pictures, this sports a rugged design and it starts with the case. Not only is it designed of stainless steel and resin, the dial also features mineral glass and the entire case is shock-resistant.
Watch Features
There are a plethora of features integrated into this watch including a dive time with increments of one second up to 24 hours, the ability to switch to up to 31 different time zones, an auto-calendar up to the year 2099, multiple alarms, and a Tide graph.
Band Design
One reviewer, in particular, commented on the resin band and claimed it to be very comfortable. Not too many others have had negative comments about the band.
Aesthetics
To be honest, Casio designed a watch that is more aimed towards functionality and durability. While it is far from unappealing, it is also not flashy or sporty by any means.
Overall
Out of all the dive watches on this list, the Frogman G-Shock Solar Watch stands out the most. It is unlike any of the others thanks to its solar power, rugged and tough design, and digital interface.

6

. Citizen Eco Drive Promaster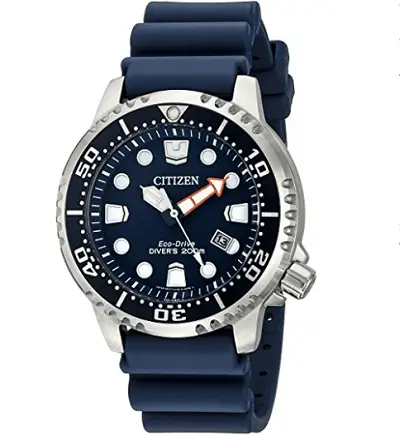 Citizen proves that you can make a high-quality dive watch at an affordable price. Their Eco-Drive is not going to break your bank but you would not know it when looking at its appeal and suitable design features.
Read more
Water Protection
The Eco-Drive Promaster does not pull any punches as it meets the ISO 6425 standard for dive watches with its 666-foot water resistance rating.
Case Design
The quality of the case is certainly not indicative of the lower price. It is made of stainless steel and features a non-reflective mineral glass display. Also, it has a thickness of 12 millimeters and a diameter of 43 millimeters. But, it almost weighs one pound which is quite heavy for a watch.
Watch Features
Being built with a ratchet mechanism, you can hear the audible clicks as the clock turns. Also, it sports classic minute markings, up to 60 minutes of elapsed time, and ten-minute markings.
Band Design
This band is rather unique as instead of stainless steel or leather, it is made of blue polyurethane rubber. Additionally, there is a stainless buckle clasp.
Aesthetics
If you have a fondness for blue, it will not take you long to fall for this watch. Outside of its blue bland, the dial is light blue and will also alter its color under certain lighting conditions.
Overall
Not everyone is going to be able to afford a $5000 watch but you do not want one with cheap quality, either. But, the Eco-Drive Promaster Diver Watch is an unbeatable combination of affordability and quality.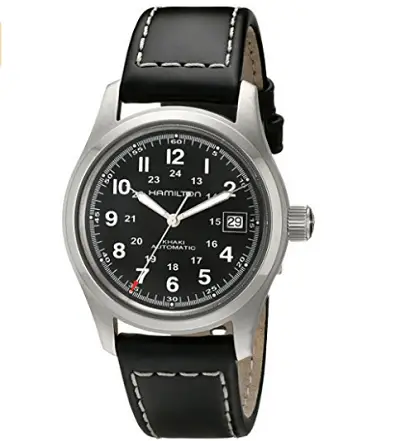 As opposed to various other watches that are designed with a stainless steel band, Hamilton decided to go with black calfskin leather for their band and the appeal is worth it alone. But, this watch is probably not suitable for intense diving.
Read more
Water Protection
Because this only sports a water-resistance rating of 100 meters, which works out to about 330 feet, you probably will not be able to perform serious diving.
Case Design
In proportion with the rest of the watch, the dial is actually quite small. But, it is designed of stainless steel and features a scratch-resistant sapphire crystal screen.
Watch Features
This is a Swiss self-winding automatic movement watch and it sports a black dial with luminous hands and Arabic numerals to represent the hour markets. Also, there are minute markers on the outer rim and a date at the 3 o'clock position.
Band Design
When you first wear the watch, the calfskin leather is quite stiff but this will lessen over time. Plus, there is a buckle closure that provides a secure fit.
Aesthetics
It is up for debate, but this watch may feature the most visually stunning band of any watch on this list. Given that it is calfskin leather that is not much of a surprise.
Overall
The small dial of the Khaki Field Watch could actually be an issue for some people. However, if you can look past that, this is an elegant diving watch with a very impressive band.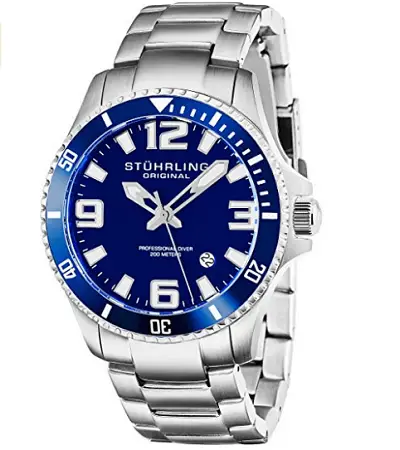 This is yet another case of an affordable diving watch actually being one of the best. While the overall durability has been brought into question by various users, it still is a stunning combination of appeal and functionality.
Read more
Water Protection
To ensure that this is suitable for underwater use, the crown has been screwed down and sealed with rubber gaskets. The result is water-resistance down to 660 feet.
Case Design
The entirety of the case measures 42 millimeters and per usual, it is made of steel. It is also built with a scratch-resistant hardened mineral crystal, as well.
Watch Features
Underwater, the hands and indices of the watch will glow for a short time because of their luminescent coating. Also, the bezel is uni-directional and the watch features a quick set date and blue dial.
Band Design
This is a fully adjustable band that is comprised of solid stainless steel. However, one user did note that the band dug into their wrist.
Aesthetics
Not even including the radioactive alpha emitter that allows the hand and indices to glow, this is a stunning watch. The glowing blue dial and stainless steel band combine to create a vibrant design.
Overall
Other top-of-the-line watches are a little more durable and comfortable than this watch but that certainly does not insinuate it is a bad product. Thankfully, its appeal and functionality make up for it.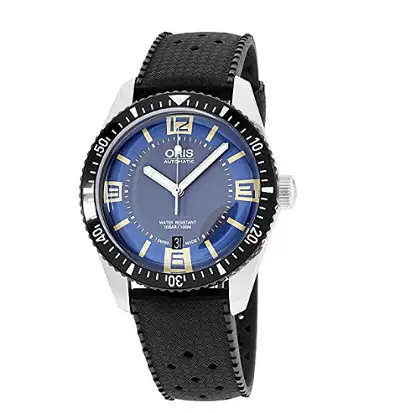 For such an expensive watch, it is a little surprising that it is only water-resistant to 330 feet. Still, the watch itself is designed with an automatic movement and a 38-hour power reserve which is nice.
Read more
Water Protection
Being able to only withstand depths down to 330 feet, you need to be a bit cautious when diving with this watch. Deep sea diving may not be feasible, though.
Case Design
For specifications, this case measures 40 millimeters in diameter and 13.14 millimeters in thickness. It is also comprised of stainless steel and a scratch-resistant sapphire crystal screen.
Watch Features
Again, this is designed as an automatic movement watch and features an analog dial type. Plus, it has Arabic numerals that mark each quarter position and a date display at the 6 o'clock position.
Band Design
Do not get the wrong impression with the band as it is far from bad. However, it is not the highest quality band you will see on a diving watch and is more ideal for casual wear.
Aesthetics
This really is a jack of all trades appeal as it can fit in with more formal looks but can also be very casual. Also, it has a retro-appeal that will warm the hearts of some people.
Overall
Granted the band could have been improved for a watch of this caliber, it still is an all-around fantastic design headlined by its case design and features.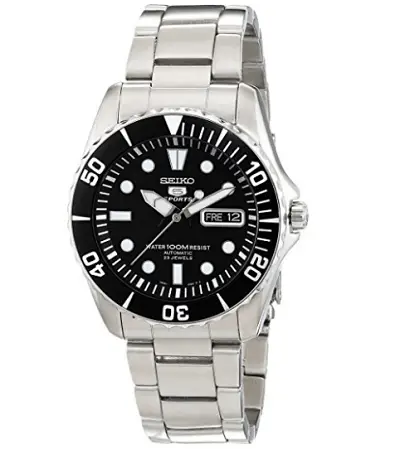 This next watch from Seiko has been dubbed the Seiko Sea Urchin and it actually looks and wears as if it is a much-more-expensive watch. It sure would have been nice if the crown screwed down for enhanced water-resistance but that just means you can't dive as deep.
Read more
Water Protection
Unfortunately, this watch begins a sort of a sour note. The crown is not screwed down so, at its peak, it could handle water depths of around 100 meters.
Case Design
Seiko actually integrates their own personal version of hardened mineral crystal, called hardlex crystal. Past this, it is ideal for an average man's wrist size at 41 millimeters in diameter.
Watch Features
One thing to note, outside of the uni-directional bezel and rectangle markers, is that this is a mechanical movement watch utilizing non-stem-winding and non-hacking elements.
Band Design
There is a possibility that the 22-millimeter strap width will be too substantial for some users but no one can complain about the double lock clasp and stainless steel core.
Aesthetics
If you are looking for a sporty dive watch, look no further than the Seiko Sea Urchin Watch. It is not overloaded with colors and features a classic black and steel appeal.
Overall
At the end of the day, there are only two features that may stop you from choosing the Seiko 5. Firstly, is the mechanical movement and secondly is the limited water-resistance.

Subscribe to our Newsletter