Best Stopwatches
In a Hurry? Editors choice: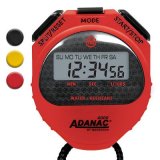 Test Winner: MARATHON ADANAC 4000

Be honest for just one second, do you believe that this guide is a waste of time? If you do, you may have the mindset that stopwatches are incredibly simple devices that are so easy to buy that you could blindly select one from a random selection. And, even though they really are very simple at their core, this ideology could not be further from the truth. The reality is that while all models will allow you to stop and record time, some options will allow for more. Additionally, there are different styles and not every model will be built to last. Of course, if you are not convinced yet then why don't you just keep on reading.
Standout Picks
Criteria Used for Evaluation
Features
Outside of the basic functionality, you expect from a device such as this, there are other features to look out for.
At their core, all stopwatches will come with the ability to take cumulative times. In other words, they will all be able to count up from zero until you hit the corresponding button to stop the time. For certain, though, you should look for models that can count hours, minutes, and seconds (and do so in accuracy within 1/100 of a second). But, and this was mentioned in the beginning, most models are not going to stop there and will integrate some extra features. For instance, some engineers will equip their devices to double as a clock and a calendar. While not mandatory, this can add versatility to the device. Also, some will even sport functionality as an alarm clock.
Of course, there are also two other features that can end up being game changers. The first is what is known as split time (which will be explained in-depth later) and the second is memory recall capabilities. The latter is super convenient because, with this integrated, you will be able to see previous split and lap times that you have had. While you can log them manually, this is a nice feature to have regardless.
Ease of Use
For this section, pay attention to the interface and the ease of operation.
Really, anytime you are in the market for any type of watch, the interface and the subsequent ease of operation are always going to come to the forefront. And, when you talk about the interface, one of the first factors most people think of is the display. Indeed, choosing a stopwatch that has a well-designed display is going to have some importance. If nothing else, you will be glancing at it quite frequently to read the data that is on the screen. As such, this is made much easier with a display that is both large and easy to read. Of course, the font should also stand out to ensure you do not need to squint your eyes to read it.
Now, the interface is more than just the display. You also need to analyze the intuitiveness and programming of any given model. Generally speaking, stopwatches are not complex devices but some models can take some time to get accustomed to, admittedly. This can be helped with well-designed buttons and also included instructions. Always remember, however, that practice makes perfect so the more you operate the device, the better you will be at operating it.
Durability
For sure, look for models that sport durable shells and possibly even water-resistant cores.
It is not as if your typical stopwatch needs to be able to survive through a war but it should also not be so poorly built that it breaks after one accidental drop. What you really should look for are models that sport well-designed housings. A housing is what encases the internal components of a device and it is the portion that is going to be beaten up the most. Most models will not sport heavy-duty, metal housings, though. This is not really needed, however, and all you really need is a rugged shell that is made out of hard plastic or rubber. In this case, in the instance where your model drops to the ground, it will be more likely to survive (also look for the housing to be shock and impact-resistant).
Now, what about the issue with water? Indeed, from time to time, your model may succumb to splashes of water or even slight rainfall. Due to this, it is ideal to look for options that are water-resistant. Be careful with this as you need to remember that devices that are water-resistant are not waterproof. For example, if a stopwatch is rated to be water-resistant to 100 feet it does not mean it can be submerged in 100 feet of water. A rating such as this would make it suitable to handle light splashes and such.
Style
In addition to the visual appeal, there are different styles on the market.
One of the most interesting aspects of any timepiece is there are several different variations available. For stopwatches, for example, you will see both digital and mechanical models. What exactly is the difference between them, though? It actually all comes down to how they are powered as mechanical models are powered via a mainspring that will require periodic winding. Meanwhile, digital models utilize the power of batteries to function. Generally speaking, you will want to stick with digital for this specific timepiece. In addition to being more accurate, they are also more convenient as you can quickly glance at a digital display to access all the information you need.
In addition to this, what about physical appearance? For wrist watches, the visual appearance is as important as any other factor, quite frankly. But, given that you will not be wearing a stopwatch on your wrist, its "wow" factor is not as important. Still, it can play a role as it is never a bad idea to buy a device that you think looks "cool".
Accessories
Really, what you are looking for here is an included lanyard.
Another advantage of this type of device is that your prototypical model is going to be very compact and light in weight. So, it makes it easier to carry with you. If you glance through photos of athletes and trainers who use these watches, though, you will notice that most of them wear them around their neck. Indeed, that is what this next section is all about. You see, with the addition of a lanyard, you will be able to wear this device around your neck for convenient access and operation. Of course, some sellers will include this accessory with your purchase and others will not.
Even if the model you end up buying does not come with a lanyard, you should at least ensure that it sports a ring that will allow you to connect one of your very own. While you can always carry this device in your pocket with ease, you will find that doing so around your neck will be much more convenient.
OUR TOP PICKS FOR THE BEST STOPWATCHES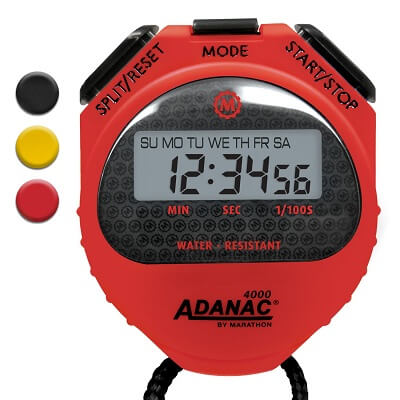 In the world of stopwatches, the Adanac 400 simply stands above the rest. It tops this list for many reasons and its laser tuned accuracy and water and dust-resistant core are just two.
Read more
Features
For your convenience, the split mode allows you to time either single or split events. Also, this is fully equipped with time and calendar functionality. Oh yeah, and it also sports an alarm.
Interface
Now, the large display is a welcome sight and is very easy to glance at. However, the buttons are a little stiff and the programming can be complicated until you get used to it.
Build Quality
It is worth noting that the seller specifically addressed one user's question and claimed that the Adanac 4000 could survive swimming. That said, avoid prolonged submersion. Additionally, this is dust-resistant.
Style
This is a digital model that is actually available in a few different color options (black, yellow and red).
Accessories
With your purchase, you are provided with a 46-inch black lanyard. This can be used as a strap around your neck to eliminate you needing to hold the device at all times.
Overall
Look, it is not as if this device is going to compete with top-end GPS watches but that is not the point. For its designed purpose, this is the best of its kind.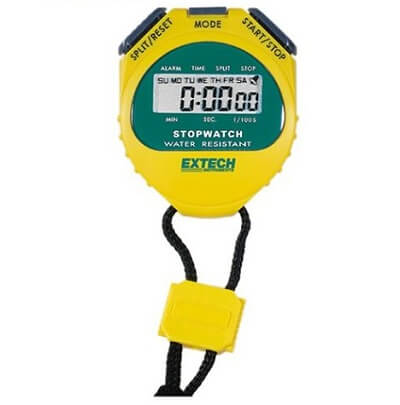 Though there is certainly nothing flashy about this next model, it functions as a clock, as well. Oh yeah, it too sports a rugged, water-resistant housing that makes it ideal for outdoor use.
Read more
Features
In addition to the fact that this can count up to 23 hours, 59 minutes, and 59 seconds, it also can function as an alarm and provide you with either a 12 or 24-hour clock.
Interface
The interface is nothing flashy but most certainly, it gets the job done with its large stature. Of course, for the operation, it may take some time to get accustomed to the programming.
Build Quality
From the photos, it may appear as if this is a cheaply built device. But, its water-resistant housing is actually fairly rugged and allows this to handle mild abuse.
Style
One thing about it, the bright yellow core is highly visible. For some of you, though, this will not equate to stylish. Also, this is a run-of-the-mill digital device.
Accessories
Extech indeed includes a handy neck strap with your purchase and it provides you with a convenient means of carrying this device.
Overall
Do not judge this book by its cover. Though the photos may not indicate that this device is anything special, it is well-designed with diverse functionality and a resilient housing.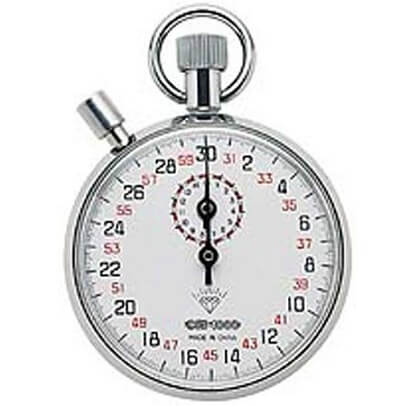 For some of you, a mechanical stopwatch is going to be too old-school. But, it is tough to argue with the greatness of this particular design due to the appeal, ruggedness, and lack of a battery.
Read more
Features
Truth be told, this device is very simple in its functionality. It sports one hand that counts up to 30 seconds and then a second hand that informs you of how many minutes have gone by.
Interface
Be aware that this does not sport a digital interface and instead is a mechanical watch. As for the push-buttons, they feel a little coarse when you press them.
Build Quality
Now, the case is made of steel and this provides a fairly rugged housing. However, the glass face merely feels like plastic, which is not that big of a deal.
Style
Due to the fact that this is a 13-jewel mechanical device, it requires winding. What this means is that battery power will not be required, which is a nice bonus.
Accessories
For the record, a lanyard is not included with your purchase. But, there is a built-in loop that allows you to attach one to this device (for use around your neck).
Overall
Without question, you will be disappointed with this model if you need a digital interface. But, the sheer appeal of a mechanical stopwatch may be enough to sell some of you here.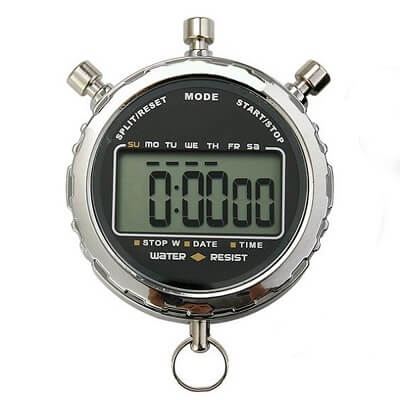 For a digital model, this may be the best-looking on the entire market. Of course, when it comes down to it, this is a highly functional device that can even withstand mild inclement weather.
Read more
Features
Unlike basic models, this sports several extra features. First off, it has two memories and also a chronograph function. Additionally, this sports a daily alarm with a snooze function.
Interface
Again, the interface and overall appeal of this model are terrific. The HD display is very sleek, clean and easy to view from a distance. Yet, with that said, the included instructions are lackluster.
Build Quality
Overall, this is a well-built device that is rated to be water-resistant. In addition, it sports an anti-magnetic and anti-shock housing for enhanced protection.
Style
Again, this is a digital model and as for the style, its silver and black core are stunning in their appearance (at least for a stopwatch).
Accessories
With the integrated loop, you can use a lanyard or any type of strap with this (though you will have to account for the actual strap yourself).
Overall
It is not like stopwatches are designed to be striking in appearance (as that is really not the basis of their design) but this one is. Of course, it also delivers the goods on the software end of things.

5

. ACCUSPLIT PRO SURVIVOR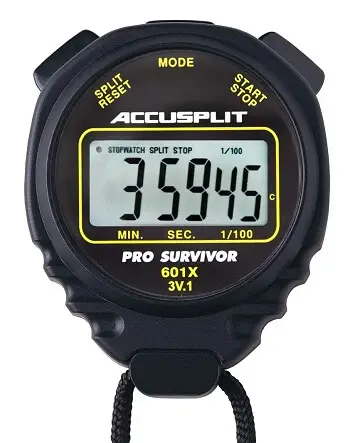 Some stopwatches out there are so poorly built that one fall on the concrete will leave them battered and useless. However, the Pro Survivor lives up to is moniker and is both water and shock-resistant.
Read more
Features
The Pro Survivor works on the WOS 2.5 operating system and has a 24-hour time range. It can also display the month and the date. Although, much like other models, it actually can't be turned off.
Interface
Sometimes, the best interfaces are those that keep things simple. Well, it is safe to say that is the case here. Also, the Magnum XL display makes for easier viewing.
Build Quality
Okay, so this does live up to its moniker, for the most part. You see, it is water-resistant up to 100 feet and also shock-resistant. Yet, the plastic housing is not the most heavy-duty, admittedly.
Style
This is another digital model that has been tested and calibrated for accuracy. Furthermore, there are several different color options available for the case (some of which are translucent).
Accessories
Included with your purchase is an attached lanyard. Chances are, you will find yourself using this around your neck frequently.
Overall
When it comes down to it, you have to admire this design. The plastic housing may repel some of you but granted you do not go around chucking this thing around, everything should be okay.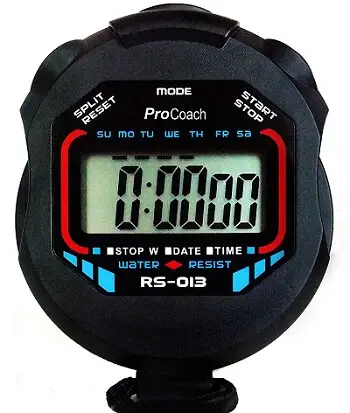 Really, for this price, it is hard to gripe about too many flaws with the RS-013. Yes, the price is not the number on criterion but in this case, the RS-013 is a high-quality device at an unbeatable price.
Read more
Features
For counting time, this can measure up to 23 hours, 59 minutes, and 59.99 seconds. Also, it can be used as an alarm if you so desire.
Interface
Though this is not the most intuitive device out there, the display is quite large and potent. So, you can view your current time with just a glance (just not in low-light conditions).
Build Quality
ProCoach engineered their RS-013 to be resistant to water. With that said, this is not waterproof and is not built to handle submersion. This is merely suitable for light rain and instances of that stature.
Style
The hint of baby blue and red on the interface make the design stand out, as a whole. As mentioned, also, this is a digital model and not a mechanical one.
Accessories
From the photos, it appears that a lanyard does come with your purchase. Even if for some reason one is not included, though, you can always use your own.
Overall
With the functionality and the overall design of this model, you would probably never guess it would be this affordable, would you? That pretty much says it best, does it not?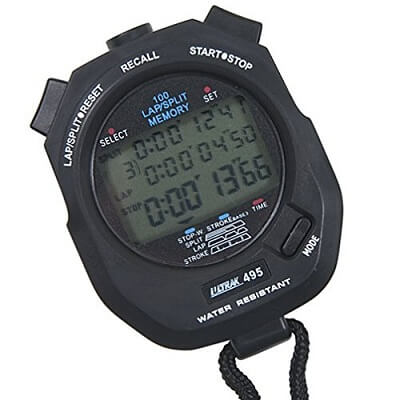 From the looks of the display, you would think this is from the 1990s. Admittedly, this design does feel outdated but its software still gets the job done with flying colors.
Read more
Features
This has the capability of measuring up to 10 hours, for the record. Additional features include a calendar and alarm, lap and cumulative splits, and also 100 dual split recallable memory.
Interface
Even though the three-row display is actually well-thought-out, the display and font do not really fit the bill. Also, the buttons are a bit heavy and bulky to press.
Build Quality
No, the build quality is probably not going to blow you away here. On the plus side, this is water-resistant and will hold up well during mild rainfalls.
Style
A five-year lithium battery powers this digital stopwatch. As for the style options, you can choose between yellow and black cases.
Accessories
To allow you to wrap this around your neck for convenient carrying and use, Ultrak includes a lanyard with your purchase for free.
Overall
In this modern world, consumers are typically not chomping at the bits to get ahold of devices with outdated interfaces. In this case, though, it can be forgiven due to the vast features of this model.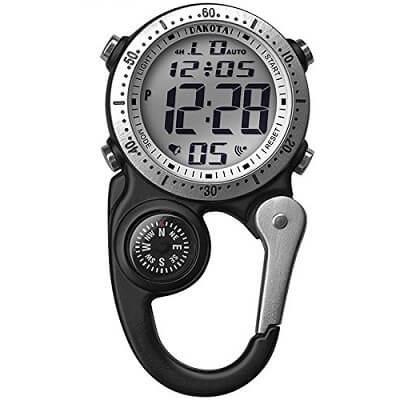 From an interface that feels outdated to one that feels like it belongs, this offering is from Dakota. What makes this model stand out is its sheer amount of features. Of course, the integrated compass has been criticized for its performance.
Read more
Features
This really is loaded with extra features such as an alarm, dual time zones and also a compass. While the former two are great, the latter is practically useless (according to a few buyers).
Interface
Overall, the display here is pretty gorgeous. Of course, the buttons are a different story. Very easily, you can accidentally press them as they stick out quite a bit.
Build Quality
One of the better aspects of this device is its build quality. In addition to its stainless steel alloy casing, it sports a water-resistant rating of up to 100 feet.
Style
Each design style is black and silver but it is altered a little bit with each option (such as with the bezel and the handle). And, yes, this is another digital watch.
Accessories
This here is designed a bit differently as there is actually an integrated handle. With it, you can attach this to your belt loop or even your backpack (thanks to the spring carabiner).
Overall
What hurts this device is its button-design and its dysfunctional compass. In spite of this, it sports an impressive housing and looks the part extremely well.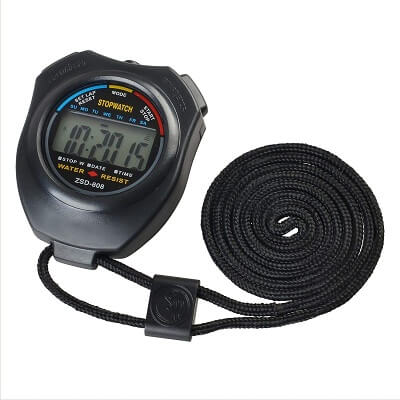 Perhaps all you really want is a stopwatch that gets the job done without being too flashy. Well, if that describes what you are seeking, then this could be the lucky ticket here.
Read more
Features
For being a simple device, this does come equipped with several features. It will show hours, minutes, seconds, months, dates and also days of the week. Also, it has an alarm function with a four-minute snooze.
Interface
Though the LCD display is certainly nothing extravagant, it is easy to see (for the most part) and that is the main thing. Of course, the operation is made more difficult due to the poor instructions that are included.
Build Quality
ABS plastic was used for the housing of this device and while this is not cheap, you should probably avoid dropping this on cement too many times.
Style
Truth be told, this is about as bland as generic as it is going to get. It is a digital stopwatch, though, so this is not going to bother everyone.
Accessories
A 43.3-inch nylon neck strap is included with your purchase so that is a nice bonus.
Overall
In a way, you could consider this a prototypical model. After all, it sports a very generic appeal with a suitable display and a few extra features past basic timing.

10

. LEARNING RESOURCES LERO808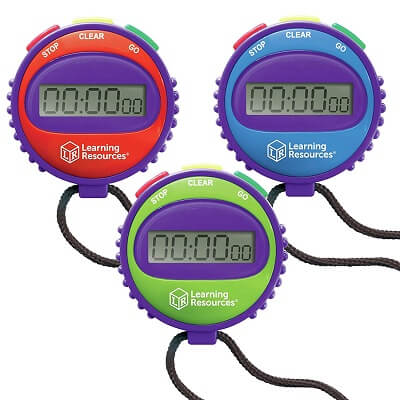 Okay, so this is the epitome of simple. What is really nice though is you can use it for basic tasks and so can your children. Heck, it could even make a great tool for teachers.
Read more
Features
Most certainly, this is as basic as it gets. There are literally three buttons that allow you to start, stop and clear the time. It gets the job done, however, so you can't complain about that.
Interface
Everyone who gets their hands on this will understand how to operate it, as it is as intuitive as it gets. As for the display, it is suitable but nothing special.
Build Quality
Though not the heaviest duty model on the market, there are raised snubs and these allow you to achieve a more comfortable and secure grip.
Style
For whatever reason, you can't pick the color you receive (and the color is going to vary). This is an odd option to omit but either way, this is a basic digital model.
Accessories
This comes with its own lanyard and even if this one happened to snap, you could always replace it with one of your own.
Overall
For very simple and basic tasks, this can come in handy. Heck, it can also be a great tool to use for your child (as they can improve their speed with certain tasks).

Subscribe to our Newsletter